Welcome to 31 Days of Organizing and Cleaning Hacks. I will be sharing my favorite organizing and cleaning hacks everyday throughout the month of October so be sure to check back here often for new ideas. Don't worry if you miss a day though, I will have all the links here.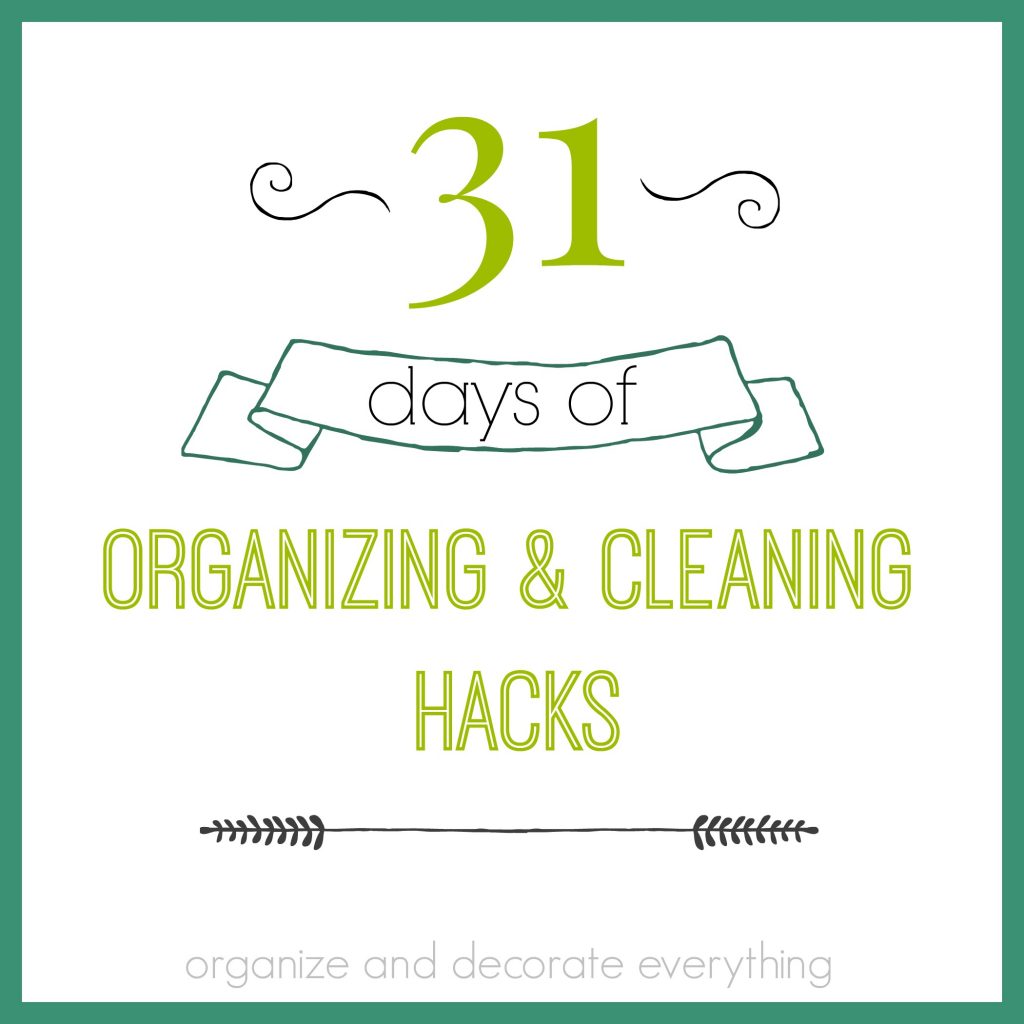 I love October for so many reasons. Fall is my favorite season and it's the beginning of the holiday season. It's also my favorite time to declutter which leads to lots of organizing before guests arrive for the holidays. I love hiking and being outside in the Fall weather, since I live in the desert it's the perfect time of year. And I've been participating in the 31 Days series for 6 years now. It's been a wonderful way for me to share my organizing and decorating ideas in a series that's broken down into daily posts.
On top of sharing Organizing and Cleaning Hacks everyday I will also be sharing my regular craft, organizing, and decorating posts a couple times a week. So be sure to keep an eye out for those too.
(this is a rough draft of the projects that will be shared. some might be adjusted at the last minute. the links will be highlighted once the post is live)
Day 1: Quick and Easy Lampshade Cleaning
Day 2: Bed Sheet Storage
Day 3: School Lunches for the Week
Day 4: Tangle Free Necklaces during Travel
Day 5: Earrings Organized for Travel
Day 6: 3 Organizing Ideas using a Cardboard Dish Carrier
Day 7: Personal First Aid Kit
Day 8: Quick Laundry Room Hacks
Day 9: Easy Shelf Clean-up
Day 10: Organizing Cords
Day 11: Jewelry Organizing
Day 12: Kindle Cover
Day 13: Easy Way to Clean Ceiling Fans
Day 14: Donation Box
Day 15: Organizing Small Toys
Day 16: Bobby Pin Storage
Day 17: Removing Sticky Labels
Day 18: Easy Way to Clean Toys
Day 19: Grocery Bag Storage
Day 20: Fabric Covered Diaper Boxes
Day 21: Picnic Utensil Organizer
Day 22: Activity Bags
Day 23: DIY Air Freshener
Day 24: Medication Expiration Dates
Day 25: Remove Pilling from Fabric
Day 26: Use the Back of Doors and Cabinets
Day 27: Remove White Spots from a Table
Day 28: Regularity of Washing Clothes
Day 29: Baskets for Cord Control
Day 30: DIY Dusting Spray
Day 31: Mopping Solution
Check out my other series over the past 6 years. Use the ideas now or pin them for later. I think you'll really enjoy them!
31 Days of Loving Where You Live
31 Days of Getting Organized by Using What You Have
31 Days of 15 Minute Organizing
31 Days of 15 Minute Craft Projects