I'm excited to be participating in the 31 Days challenge again this year. This will be my 4th year participating and it has been a great way for me to challenge myself to post everyday.  Due to some time restrictions this year I have decided to make it a little easier on myself and chose 31 Days of 15 Minute Craft Projects as my series. I know a lot of you are the same as me and don't have hours a day to spend crafting, but I hope we can find at least 15 minutes to use our creativity.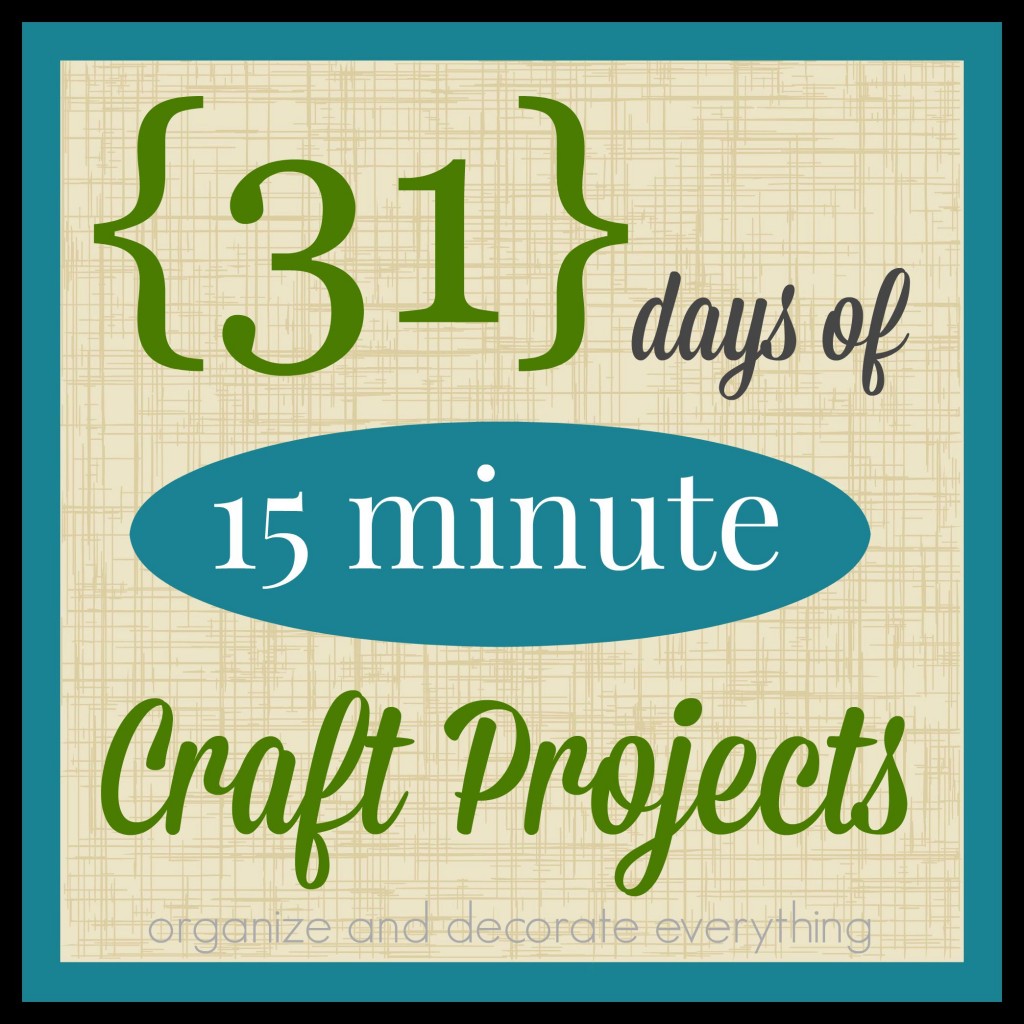 I hope you'll join me for a quick craft every day through the month of October. If you miss a day I'll have links to all the days on this page. I will have a variety of Craft Projects so that hopefully you will find several that appeal to you. You might even find some perfect for upcoming holidays or gifts.
I will be posting a picture relating to the blog post everyday on Instagram. If you choose to follow along you can also post your pictures using the hashtag #15minutecrafts and tagging me @odeleanne . I might even feature some of your craft projects throughout the month. I think this is going to be a really fun series and I love seeing how others use their creativity. I can't wait to see your projects!
You can also follow along on Facebook, Twitter, Pinterest and Google+.
Day 1: Embroidery Hoop Pumpkin
Day 2: Burlap Ribbon Trees
Day 3: Mason Jar Lid Ornaments
Day 4: Felt Ball Garland
Day 5: Button Snowman
Day 6: Mason Jar Pin Cushion
Day 7: Magnetic Bookmarks
Day 8: Ring Holder Frame
Day 9: Framed Heart Map
Day 10: Paper Plate Basket
Day 11: Googly Eyes Craft Projects
Day 12: Birthday Cake Banner
Day 13: Binder Clip Photo Holder
Day 14: Burlap Can Vases
Day 15: Balloon Dipped Mason Jars
Day 16: Leather Hair Bow
Day 17: Stamped Christmas Clothespins
Day 18: Autumn Printables
Day 19: Washi Tape Tile Coasters
Day 20: Decorative Clay Pots
Day 21: Cookie Treat Bags
Day 22: Reindeer Clothespin Ornaments
Day 23: Leather Earrings
Day 24: Twig Stars
Day 25: LEGO Flash Drive
Day 26: Glitter Candle Holders
Day 27: Dry Erase Board
Day 28: Mini Washi Tape Flags
Day 29: Decorative Paper Clips
Day 30: Simple Place Card
Day 31: Jingle Bell Tree
Happy Crafting!!!
Check out my other series or pin for later. I think you'll really enjoy them:
31 Days of 15 Minute Organizing
31 Days of Getting Organized by Using What you Have