Come back everyday in the month of October for a free printable during my 31 Days of Free Printables series.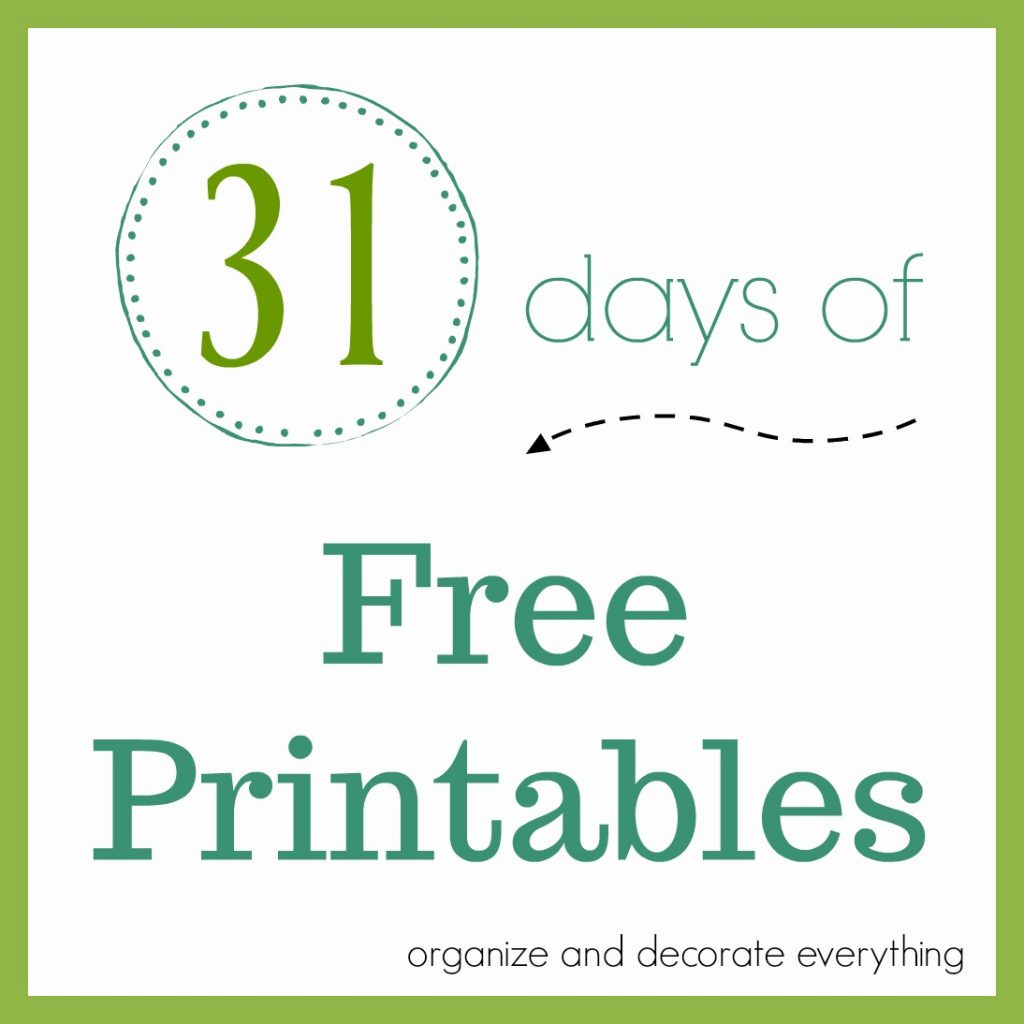 Hi Friends! Since 2012 I have participated in a 31 days challenge where I write a blog post for every day in October. I wasn't going to participate this year, because to be honest, it just seemed a little too overwhelming with everything else I have going on right now. I decided at the last minute to participate, but came up with an easier series this year. Please join me everyday throughout the month of October for a free printable you can print out and use however you want in your home. The first post (free printable) will be later today and I will have links to every post this month on this landing page. If you miss any printables you can come back here for the link.
I will also be posting regular posts at least twice a week so you won't miss out on decorating, organizing, crafting, or DIY posts I will be sharing. Over half of the printables will be holiday related since that's where my mind is at right now.
Day 1: Halloween Subway Art
Day 2: I'm So Glad I live in a World Where There are Octobers
Day 3: October 31
Day 4: Today is a Good Day to Have a Good Day
Day 5: Autumn is a Second Spring
Day 6: Happy Halloween Spooks
Day 7: I Put a Spell on You and now You're Mine
Day 8: Be the Good
Day 9: Over the Mountains and through the Woods
Day 10: Trick or Treat
Day 11: Hello Fall wreath
Day 12: Give Thanks
Day 13: Fall Fun List
Day 14: Come in for a Bite
Day 15: What You Create Doesn't have to be Perfect
Day 16: Let's Go on an Adventure
Day 17: Retro Merry Christmas
Day 18: Fresh Cut Christmas Trees
Day 19: It's the Most Wonderful Time of the Year
Day 20: Live Each Day with Thanks and Giving
Day 21: Peace on Earth
Day 22: Peace Joy Noel
Day 23: It's so Good to be Home
Day 24: Merry Christmas Presents
Day 25: Give Thanks for a Little and You will Find a Lot
Day 26: Do Small Things with Great Love
Day 27: The Best Way to Spread Christmas Cheer
Day 28: Joy Wreath
Day 29: Days Until Christmas
Day 30: Wi-Fi Password
Day 31: New Years Subway Art
If you're interested in any of my other 31 Days series just click on the links below to be taken to the landing page for all of the posts.
31 Days of Loving Where You Live
31 Days of Getting Organized by Using What You Have
31 Days of 15 Minute Organizing
31 Days of 15 Minute Craft Projects