Every day for the whole month of October I will be posting on the topic of Getting Organized by Using What You Have. I'm excited for this topic because it's something I try to follow in my own life. There are lots of pretty organizing supplies out there but I want to show you that you can get organized without spending much money, if any.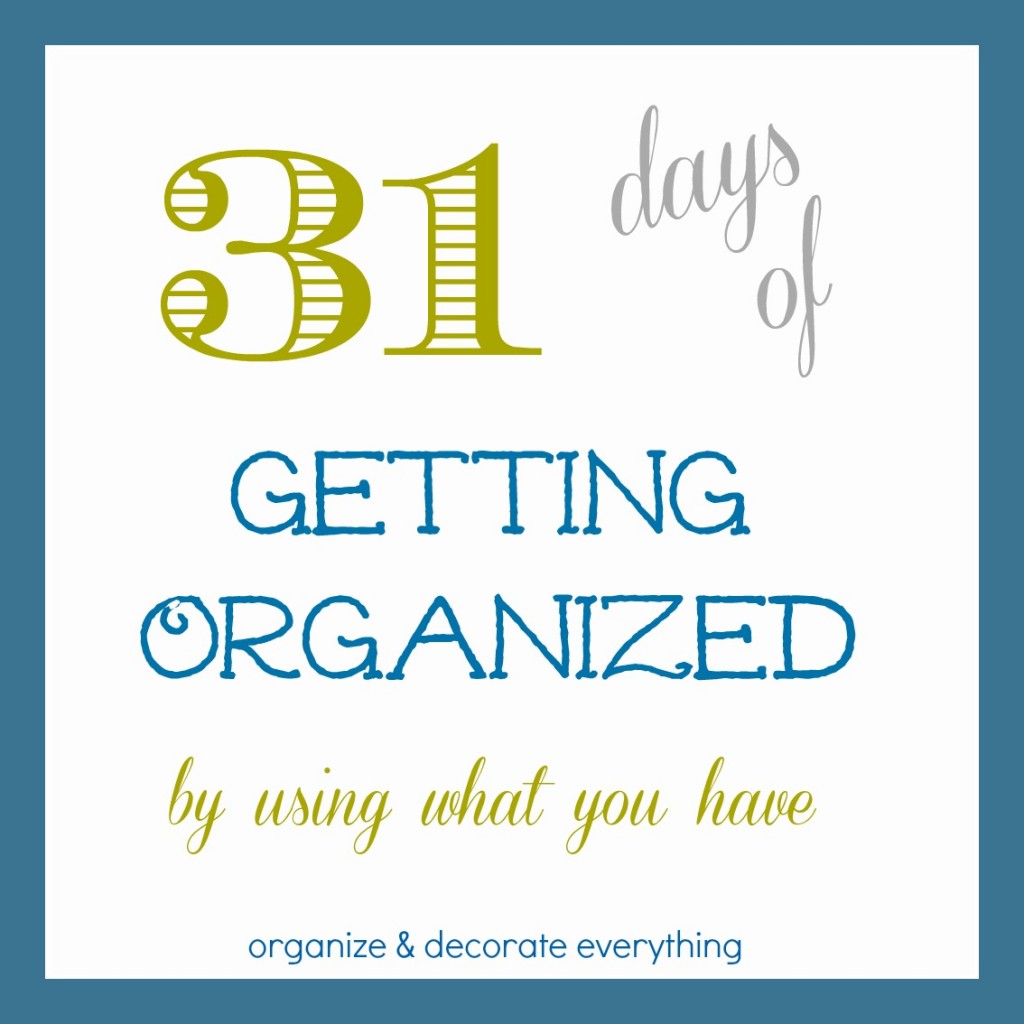 Day 2: Organize with Jars in the Bathroom
Day 3: Organize with Jars in the Craft Room
Day 4: Organize With Jars in the Kitchen
Day 5: Organize With Jars in the Office
Day 6: Organize the Kids Using Jars
Day 7: More Ideas for Organizing with Jars
Day 8: Organize With Egg Cartons
Day 9: Homework Box Using Recycled Items
Day 10: Organize with Crystal Light Containers
Day 11: Organize Your Cords Using TP Rolls
Day 12: Organize with Cans
Day 13: Organize with Bowls
Day 14: Mail Holder and Sorter
Day 15: Portable First Aid Kit
Day 16: Organize Your Drawers Using Baskets
Day 17: More Organizing With Baskets
Day 18: Organize Using Clothespins
Day 19: Organize With Trays
Day 20: Organize With Bags
Day 21: Organize With Clipboards
Day 22: Organize Using Food Containers
Day 23: Organize With Shoe Boxes
Day 24: Organize With Labels
Day 25: More Organizing With Labels
Day 26: Simple Phone Charging Station
Day 27: Organize With Over-the-Door Shoe Organizers
Day 28: Organize With Hangers
Day 29: Jewelry Organizer
Day 30: Organize With Cardboard Soda Bottle Carriers
Day 31: Think Outside the Box
Everyday I will be sharing ways to get organized using things you already have. I would love for you to follow along so I can help you get your spaces organized creatively and inexpensively. I will be adding a link to each day for the whole month on this introduction page so if you miss a day you can come here to see what you missed. If you would like to pin this to one of your Pinterest boards that would be a great place to be able to keep track of this series.
This is going to be a busy month for me because I won't only be blogging about this series but I will also be writing posts on decorating, crafts, DIY and other projects so be sure to check back often so you don't miss anything.
I would love for you to follow me on other social media where I will be sharing some sneak peeks and other fun things:
Facebook
Pinterest
Twitter
Instagram
Google+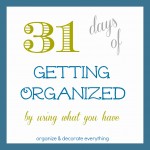 I will be using the hashtag #gettingorganized if you would like to tag also.
I also participated in the 31 Days series last year where I blogged about Loving Where You Live if you would like to check it out.