Who has a big budget for a home makeover? Not me! That's why I came up with these 28 Mini Home Makeovers. These makeovers are from free to just a few dollars and can take as little as a few minutes to a couple hours. You can pick one room to update or do the whole house in a weekend. I love making little changes in my home to make it more personal and reflective of our lifestyle. Which mini makeover are you going to tackle first?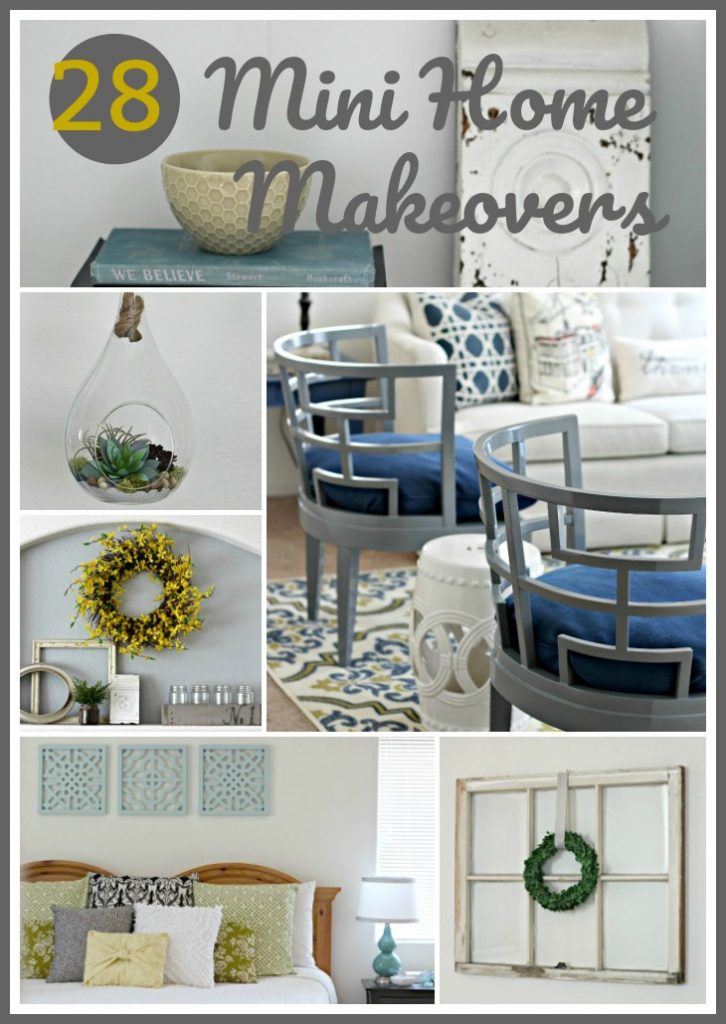 28 Mini Home Makeovers
Paint Something – Paint is an inexpensive way to add color to a room. I like to use spray paint on small projects, it's fast and easy and goes on smooth. There aren't as many color options as a can of paint so for more options use paint and a brush.
Change Pillows – Change your pillows seasonally or with the holidays. There's no need to have dozens of pillows hanging around your house, simply use pillow covers or better yet make your own.
Add a Plant – If you don't think you can keep a plant alive buy a fake plant. It adds greenery and life to a room. No one has to know it's not real.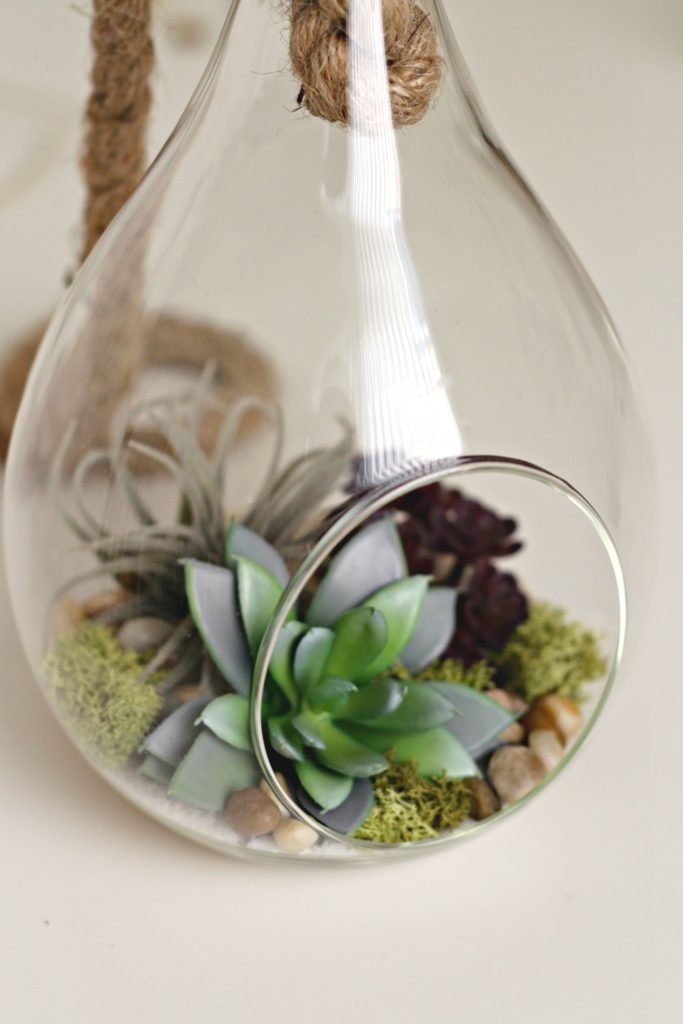 New Kitchen Towels – Towels are useful but also another way to add design and color to the kitchen.
Wrap Books – You don't need to wrap every book in your bookcase, but wrap a few in pretty gift wrap for decoration and to add color where you want it. Marbled paper is so pretty and adds color and design to the space.
Fresh Flowers – Add fresh flowers to your home. You can buy an inexpensive bunch from Trader Joe's or another grocery store while you're out. They add life and color to any space.
Rearrange a Room – Rooms can start to feel stale and drab after being the same year after year. Switch things up for zero cost and get a whole fresh new look.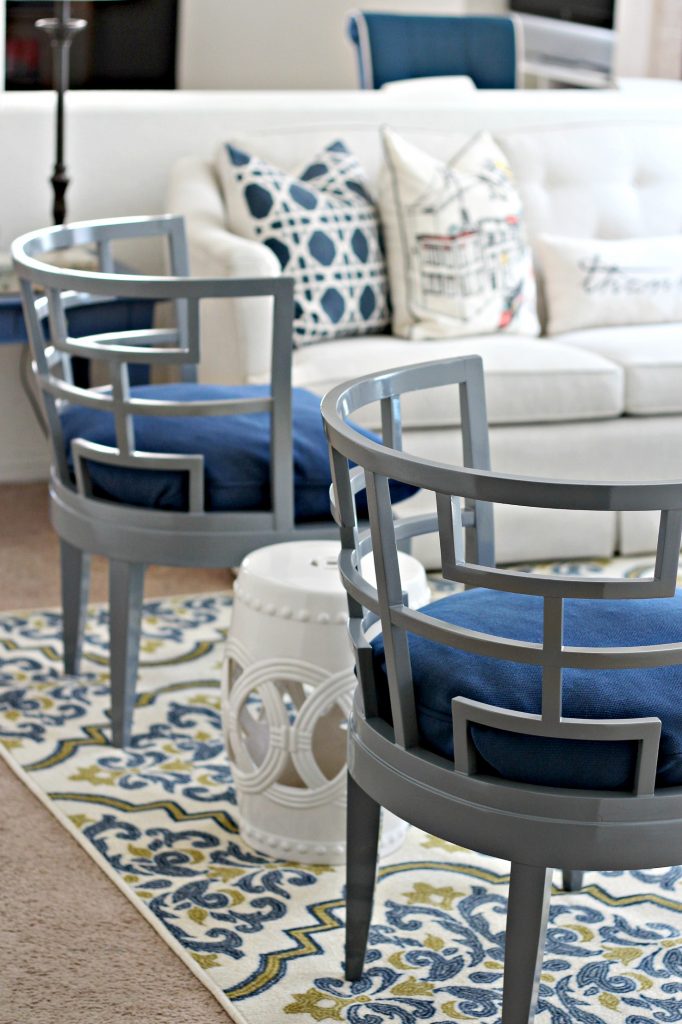 Change out Knobs – You can change the whole look of a dresser or cabinet by changing the knobs. It's quicker than painting and is still pretty inexpensive.
Add a Wreath – A boxwood wreath is beautiful year round. I change the look of mine by adding something different to the center seasonally. You can also change the ribbon with the season or holidays.
Cover Switch Plates – You can easily make custom switch plate covers inexpensively using scrapbook paper and mod podge. Cover them to match any room.
Add a Throw – Another way to add easy color is by adding a throw to the sofa or ottoman. No matter the weather I always seem to need one while watching TV.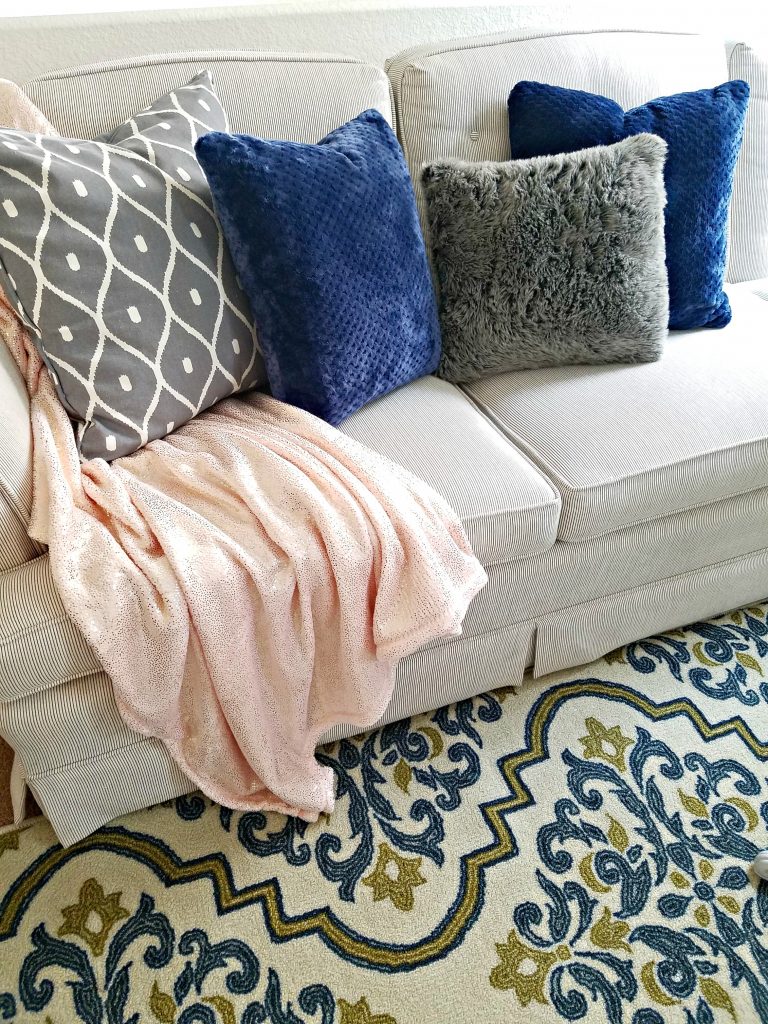 Embellish a Lamp Shade – Use ribbon, clips, buttons, or even paint to add a design or trim to a shade. I've used ribbon as trim with double-sided tape so it can easily be changed with the decor.
Add House Numbers – Most of us already have numbers on the house but they are usually boring. Add some new numbers with character or to match the style of the house. You can even make a piece of wood or some other hard material to put them on.
Change a Rug –  How long has it been since you've changed any of the rugs in your house? It can make a huge difference in a room. You could even try moving them from room to room so there is no cost involved.
Gold Leaf Something – I love trying a new decorating and crafting medium and gold leaf can easily be purchased at most craft stores. I think I'll try my hand at something small first, like a frame or bowl.
Unexpected Piece – Sometimes a room can be too perfect and not show enough personality of the people who live there. Add an item with a bright color or an unexpected decorating piece to each room.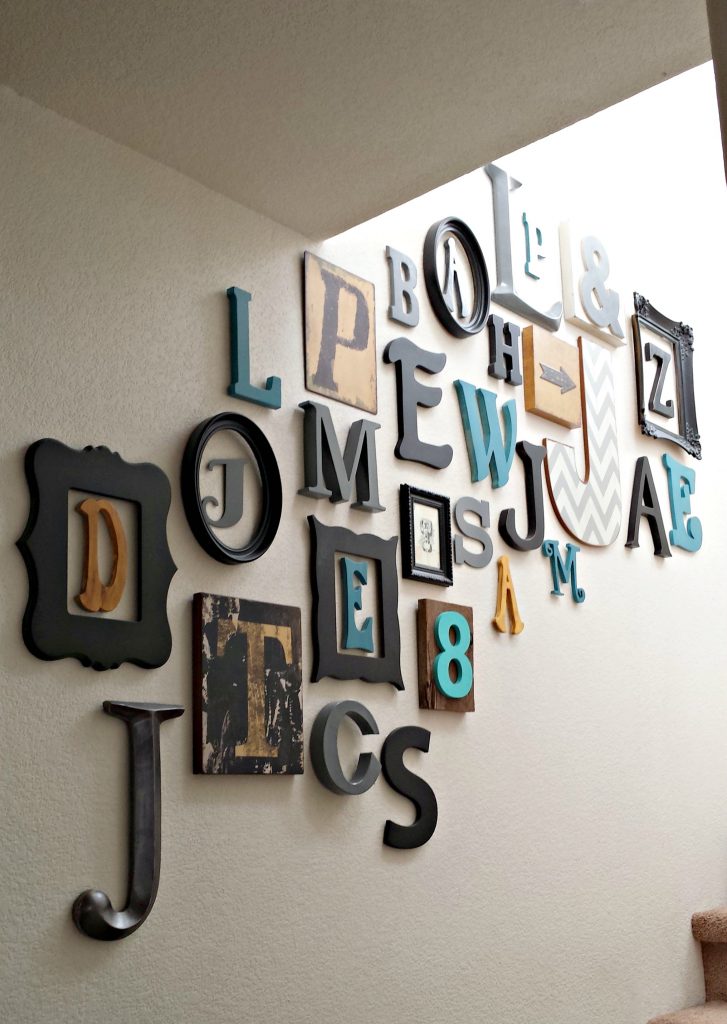 Add Curtains – Curtains are another great way to add color and dimension to a room. Make sure to hang the curtains close to the ceiling and have them puddle on the floor about an inch for the most popular look.
Paint a Nook – I'm renting so I can't paint a large space, but whether you're renting or own your home a painted nook adds character to the area.
Change the Shower Curtain – It's amazing how something as easy as changing the shower curtain can change the whole look of the room.
Restyle the Bookcase – I love no cost decorating ideas. Change the look of the bookcase by rearranging the books and display items. Go through your house and gather items you already have.
Use a Tray – I love trays! There are so many great ways to use them and they're great for containing items. One of my favorite uses is to place one on an ottoman to turn it into a coffee table.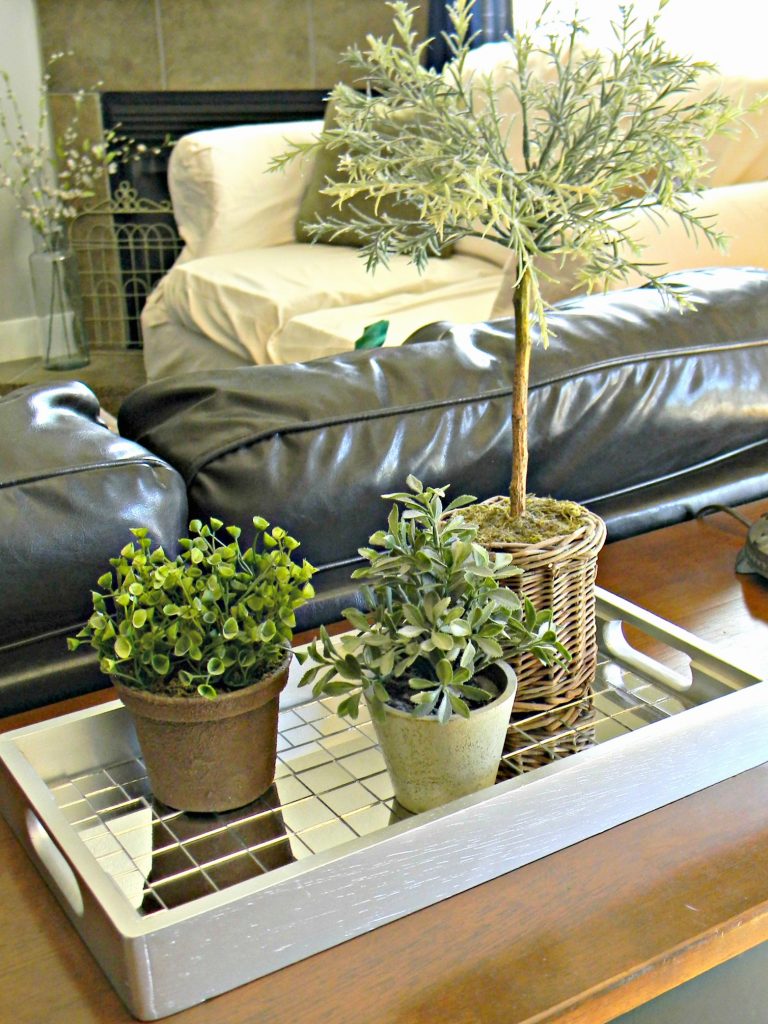 Reversible Fabric Items – I love the option of reversible fabric items. Bedspreads are a great option, especially in different colors. I made some pillow covers for my bed in different fabric and a slightly different color so I could change the look whenever I want.
Gallery Wall – Gather frames, favorite photos, quotes, monograms, and other hanging pieces to create a gallery wall. Lay it out on the floor first to get the look you want then transfer it to the wall. It's a great statement piece and you can use what you already have.
Washi Tape – Use washi tape to trim something. Anything from a lamp shade or frame to a door. It's perfect for renters because it comes off easy. My doors are flat so I'm thinking they're in need of some washi tape soon.
Guest Soaps – You don't have to stop at guest soaps in pretty shapes, you can also make a whole guest basket full of needed supplies. It can help your guests to feel even more welcome in your home.
Add Dimmers – They don't cost much, they're simple to install and they can change the whole mood of a room. I especially like them in the dining room and family room.
Pretty Dishes – I use dishes or bowls in almost every room to keep small items together and contained. One would also be great in the entry to hold keys, glasses and wallet.
Mix It Up – Gather accessories together from all over your house, then mix them up. There really isn't a need to keep purchasing new items when you can move them from room to room in your home. I always have friends asking me where I got something and it is usually from another room, they just haven't seen it in that setting yet.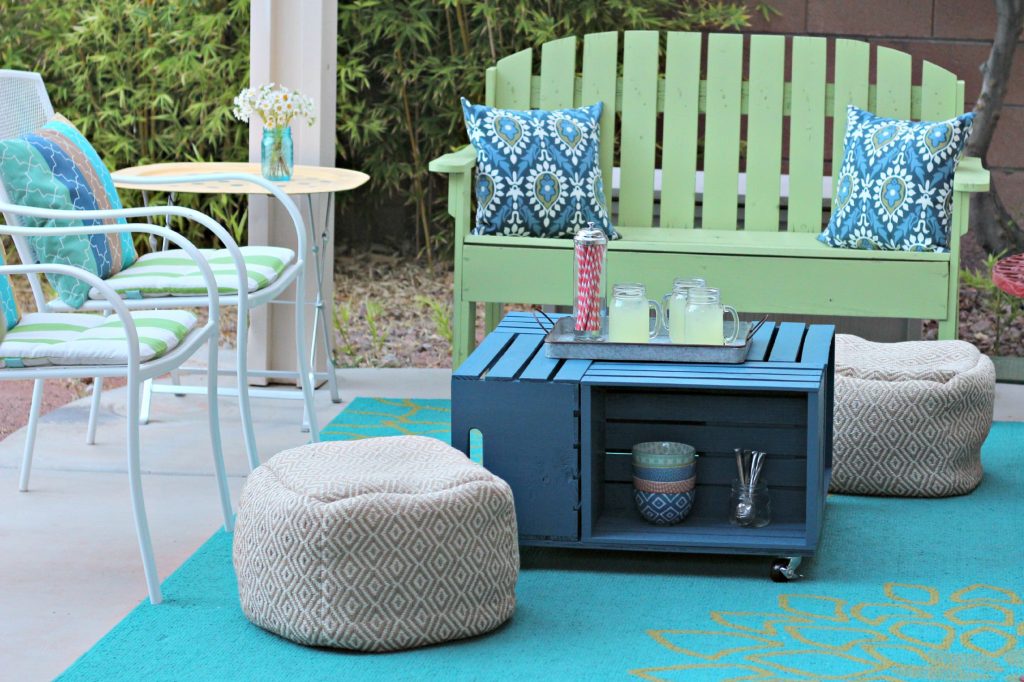 What is your favorite of the 28 Mini Home Makeovers?
Pin it for later: 28 Mini Home Makeovers