I love Country Living Magazine and the ideas I get from perusing through the pages of the magazine. It seems like there's something I want on every page. I found these, and fell in love, but couldn't pay $16 each. Especially if I wanted one for every room of my house.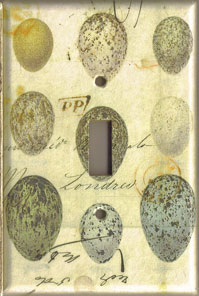 So what's a girl to do? Make her own, of course. I thought I'd start with my bedroom, so I raided my scrapbook paper stash searching for the perfect paper to go in my room. I love this pattern and thought I'd be happy with it for a long time. I cut it close to the size I'd need, but left extra to wrap around to the back of the cover.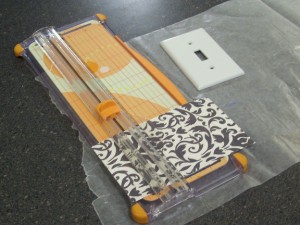 I applied the mod podge to the cover and centered the patterned paper where I wanted it on the cover. I used the roller again to make sure to get out all the bubbles.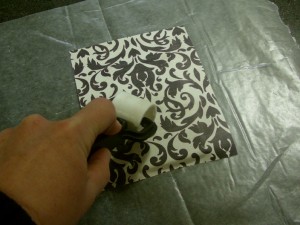 It was at this point when I realized this was going to be a little harder than I thought because of the curved edges. So I decided to do 2 sides at a time, by applying the mod podge on the edges and back and holding the paper in place for a few minutes. Then I sat it down and let it dry a few minutes before I did the other 2 sides.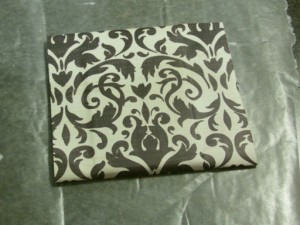 I cut off the excess paper on the sides, applied the mod podge and wrapped it around again.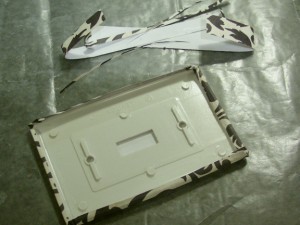 I folded the corners like if I were wrapping a present to get them to lay flat. Then I held it in place for a few minutes again. I sat it down and let it dry some more before the next step.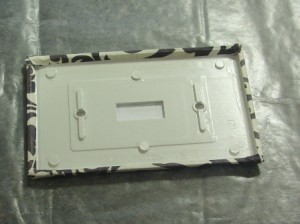 To cut out the hole for the switch I used these tools that are actually for ceramics, but they worked. Any small sharp knife or blade would work. I used them to make the holes for the screws too. I didn't worry about them being perfect because they were going to be covered by the screws anyway.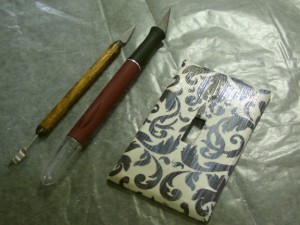 Then I applied 2 coats of mod podge. It's going to be touched a lot so I need to be able to wash the surface off.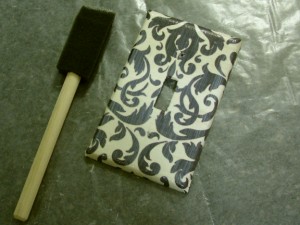 Wait for it to dry and then put it back over the switch. Ta-Da!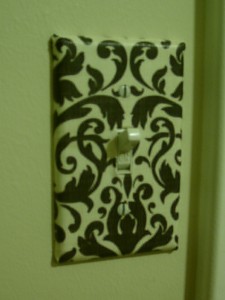 I really like it. I tried to center the pattern over the switch. I was only off a little, so I'm pretty pleased.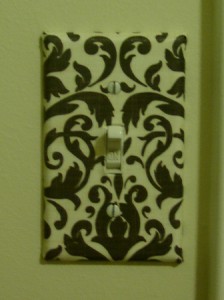 While I was looking through the scrapbook paper I found one that will match the hall bathroom perfectly. I think I'll have to make some more this weekend. I could probably do every switch cover in my house for under $16. Especially if I just use paper I already have.