I started out with this mantel, but I wasn't happy with it. It was a little too symmetrical and too sparse.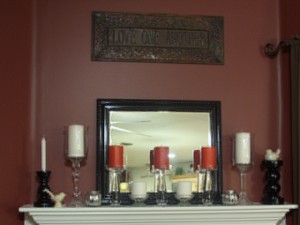 So then I added the vinyl cutouts and moved pieces around a bit. Better, but still not exactly what I was hoping for.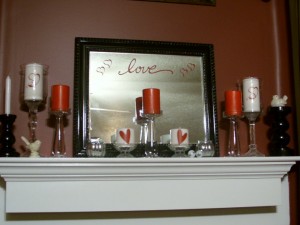 By adding a few more birds, some berry garland and the banner I finally got the look I was going for.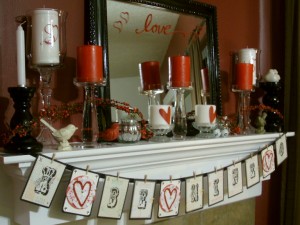 I'm happy with it now. The banner was made from the alphabet cards I bought at Joann's, again. I love how I can keep reusing them.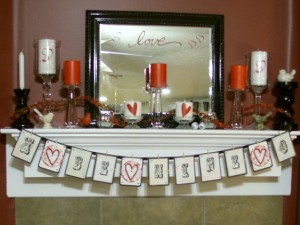 I added some heart cards, I made, between the words to add some color to banner. Here's how I made the cards. I cut the inside of a doily out.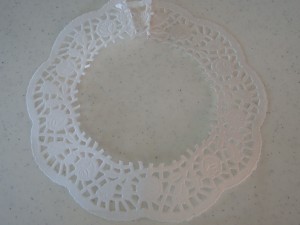 I pleated and gathered it to form a circle then adhered it to the red circle.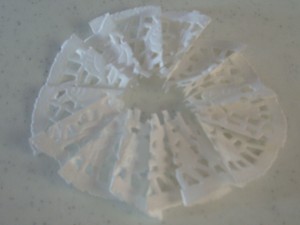 I cut black and white paper the same size as the alphabet cards and adhered the circle to the card. It still needed something so I added the crystals.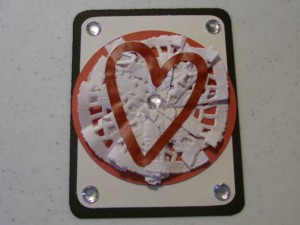 I only spent $4 on my mantel this year. I've been on a "trying not to spend money on crafts" thing lately and just using what I already have at home. I found I've been more creative with my supplies and have been using more of them since I started challenging myself.