Sorry I'm late today. It's Why Not Organize Something Wednesday. I've been asked in the past, "What papers, bills, statements, receipts, etc. do I have to keep and for how long?" Since it's the beginning of a new year and we want to purge some of those old papers, plus we're thinking about getting all our paperwork together for tax purposes I thought now would be a good time to go over what to toss and what to not. In January of last year I did a post on a Retention Schedule. You can go over to that post from here and you can print out the sheet if you'd like. Just remember, this is what I have learned from others and what I have done for years. I'm not an accountant (nor do I play one on TV).  I have never ran into any problems, but if you have any questions or concerns, it might be best to speak to a real live accountant.
Here's how I file things I still need to get my hands on through out the year. This basket sits next to my desk and I have everything, I need, readily available to me. You can go here to find out more about filing.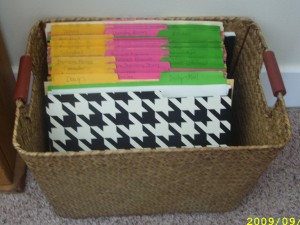 There's a file in the basket marked "taxes". I put everything in there I'm going to need to be able to file my taxes for that year. Most papers from mortgage companies, credit cards, utilities, etc. start coming in about now. All you need to do is stick them in the file until you're ready to work on your taxes. I think April 14 is a good day. Just kidding (you accountants out there).
Okay, I'm not one to keep things I don't think I'm ever going to need again, but I keep all my tax papers along with copies of the filed tax return forever and forever. Call me paranoid, but in this case I'd rather be safe than sorry. They don't take up much space, so I don't have a problem with keeping them. This will be the only time you will hear me say you can put papers in a manila folder and pack it away. Just make sure the description and year are on the outside. I just wrote mine on with a sharpie marker. You can use a label maker, but I didn't want to waste my tape on something that's packed away in a box.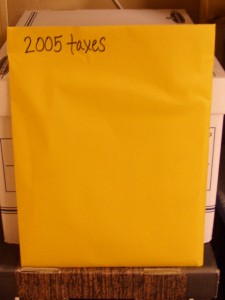 Then pack it away in a bankers box. It's the perfect size, they stack well and they're cheap. Okay I probably should have used the label maker for the box, but it's in a storage area so I really don't care (or maybe I do and I'll make a label later).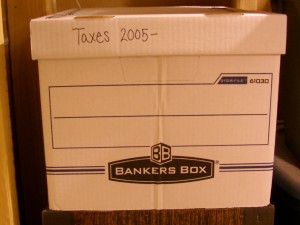 I keep all my tax folders in one area, by year, so if there is a problem I can find them easily. Wow, that was a boring post. Sorry about that, but I hope I gave you some good information about keeping and storing important papers.