I have to be honest and say going from owning a home to renting a home has been a struggle. The rental home is smaller so that makes it even more difficult, plus I sold about half of my furniture before the move to fit everything into the rental. I ended up with stuff I really didn't want and really didn't go together. The rest of the house isn't bad but the living room was a mess. After feeling sorry for myself I decided to do something about it and get my living room the way I want it to look for a minimal cost. I'm sharing my tips to Decorating a Rental on a Budget.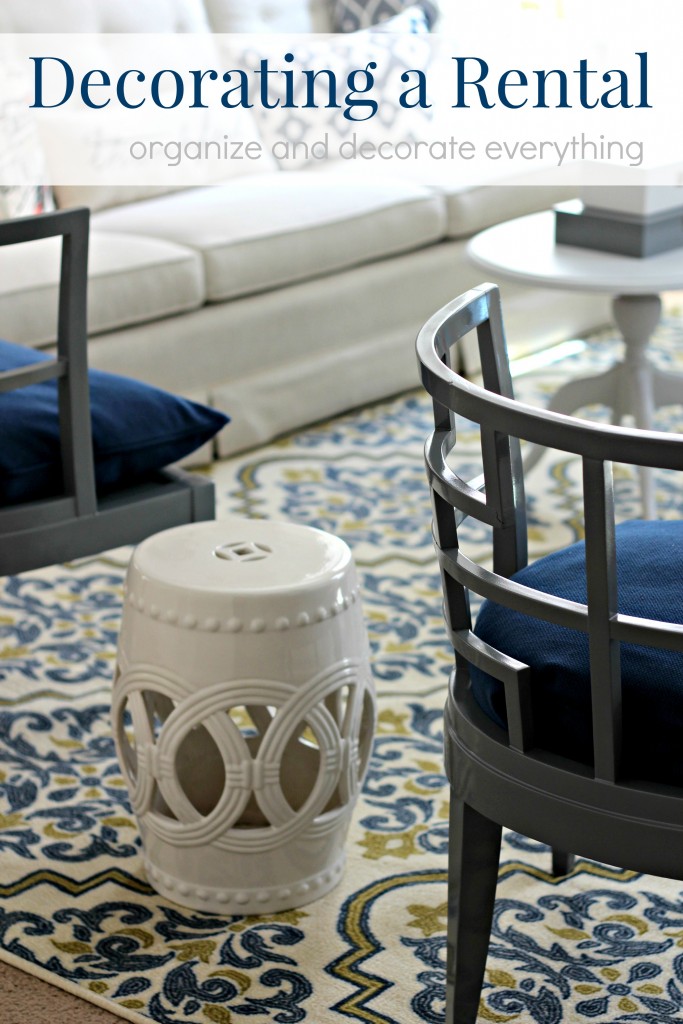 This is a sponsored conversation written by me on behalf of Kohl's and Mohawk Rugs. All text, photos, and opinions are 100% mine.
Let's take a look at the before. As you can see nothing really went together. It was basically just a modge podge of furniture I had left over from the move. This room is also very small for a living room but we still have 3 kids at home so I needed to have enough sitting space for everyone and guests, if possible.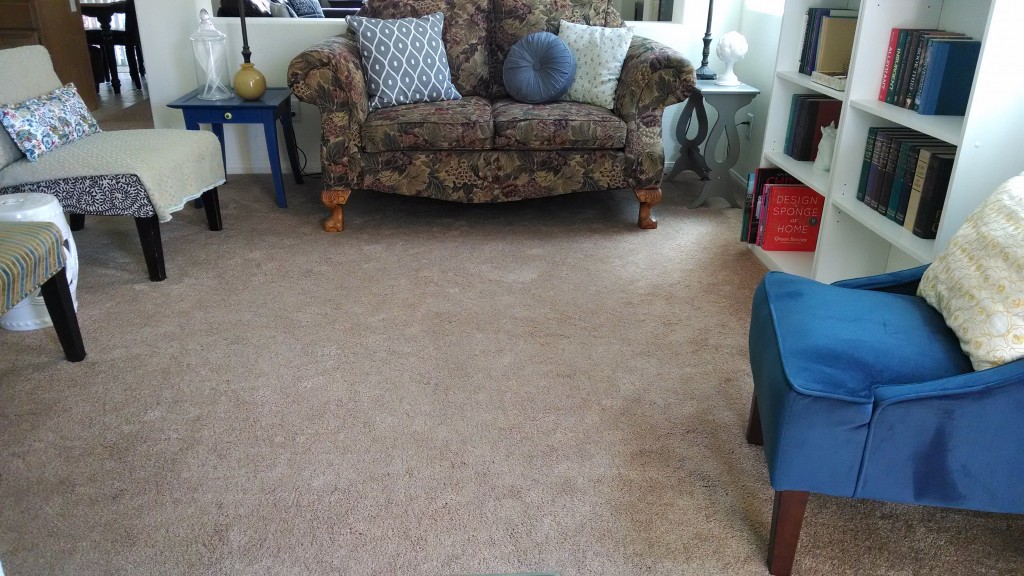 Sale and Free Items: I wanted to get a longer sofa with smaller arms to fit in the same area but offer more sitting space. I found this newly reupholstered sofa on our local facebook sale site for $125. It was a great price and doubled our seating. Then I gathered pillows from around the house that would look great on the sofa and give it a little color. All of these were free since I already had them. Since they were purchased a while ago I don't know if they're still available but here are the stores from left to right: Ross, Home Goods, Deseret Book, Home Goods, Ross.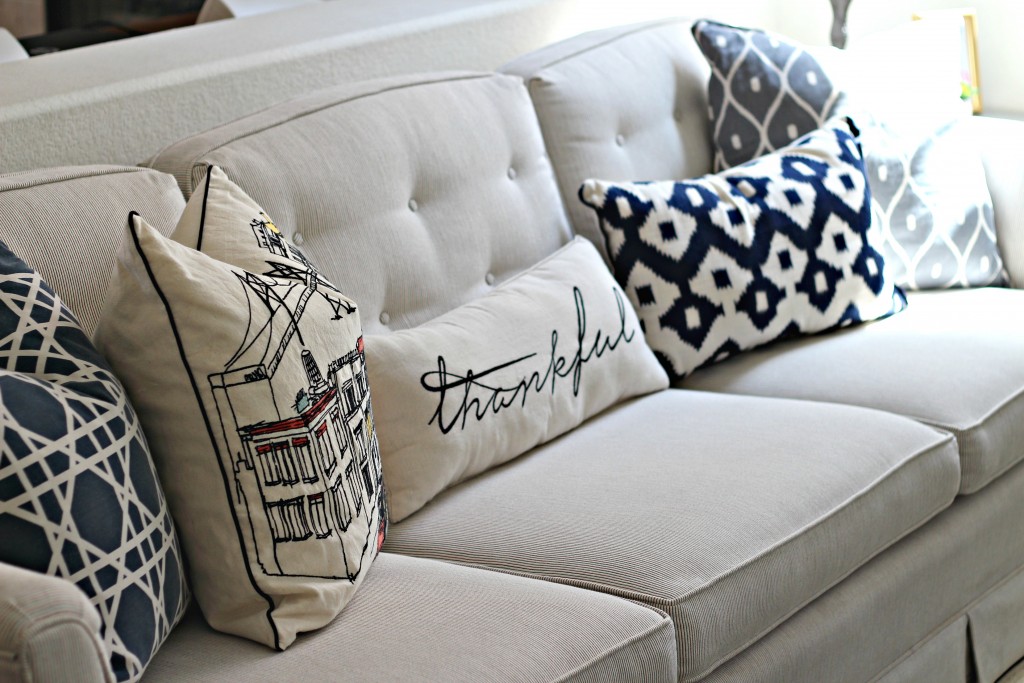 Temporary Flooring: Even though I can't change the horrible carpet in this house I can cover it up. The Mohawk Home Woodbridge Napa Medallion Rug was the inspiration for the rest of the room and pulls it all together so beautifully. Even if you're not in a rental, a rug is the perfect piece to give your room a finished look. Since I don't have much pattern in the room I decided to choose a patterned rug. That made it easy to pull colors from the rug to incorporate in the room.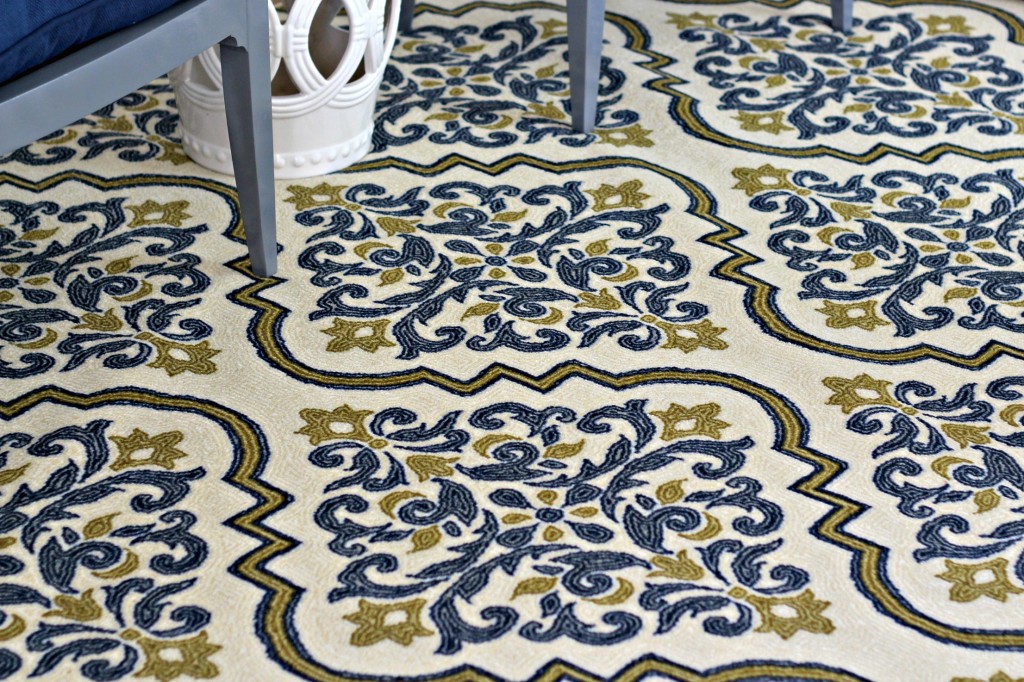 Add Paint: I purchased these chairs last year and had them in my bedroom until now. They were yellow and while I didn't mind the color it wasn't the look I was going for in this room. Painting them the right color and adding the cushions made them fit in perfectly in this space. Because they have an open back they don't seem as big and bulky as the chairs they replaced, even though the seating size is about the same. You can see the before and after of the chairs in this post. Take a look, it's a great transformation. One of the chairs that used to be here is now in the master bedroom and the other one was donated.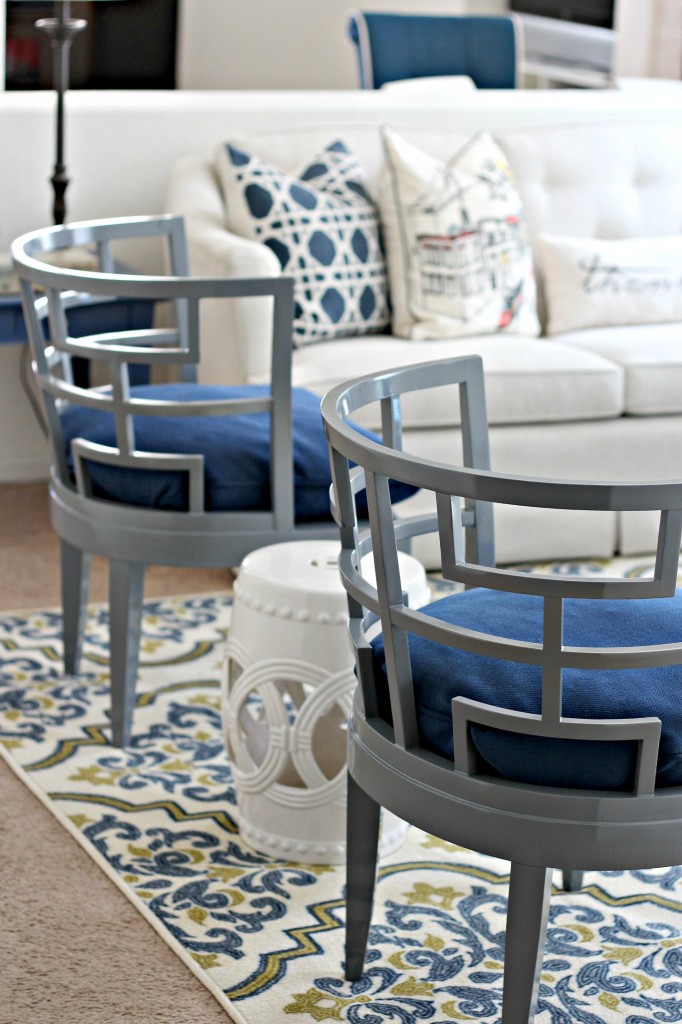 I also painted this small coffee table. It was my husband's grandpa's table and it was in rough shape. While I wouldn't usually choose a table this small, I love that it's from family and I wanted to keep it. Because the room is so small it's not too bad. I used a different technique in painting this table that I'll share with you on Friday. I love how it turned out.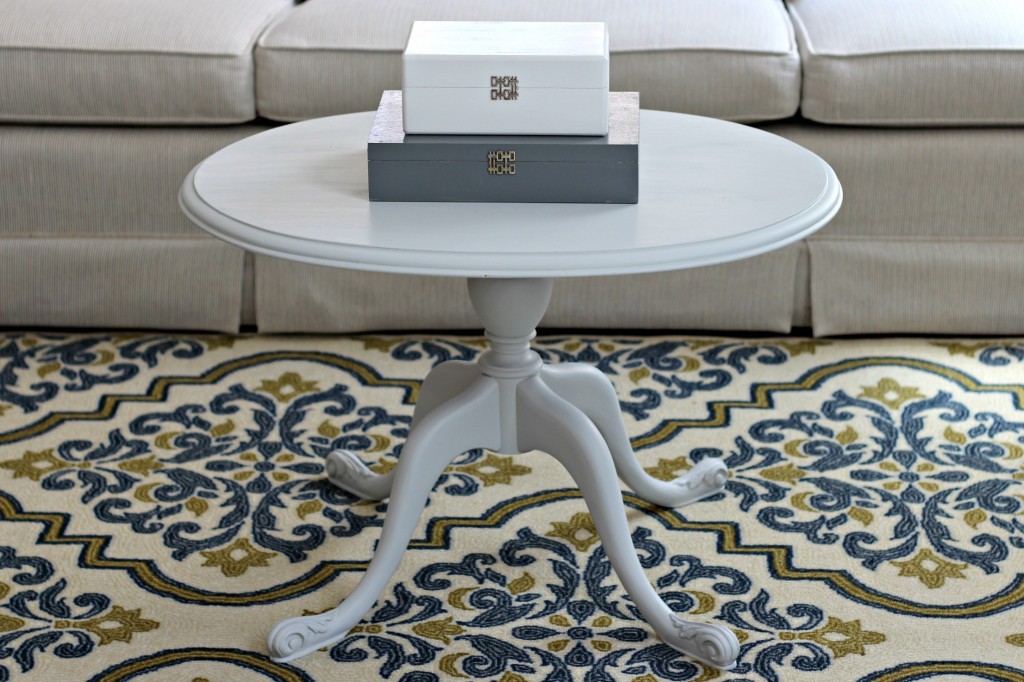 Vertical Space: This sounds crazy but we're not allowed to put nail holes in the walls. Vertical space is so important in decorating so I have a few things I've done to make it possible without one single nail hole. I use command hooks when possible, but our walls are rough so sometimes they don't like to stay up if the object is too heavy. I also prop things against the wall. I used bookcases in this area to hide the biggest, ugliest mirror that we weren't allowed to remove. The mirror still showed a little above the bookcases so I added a chalkboard and map to the top and now the whole thing is hidden. This reminds me that I need to add something to the chalkboard.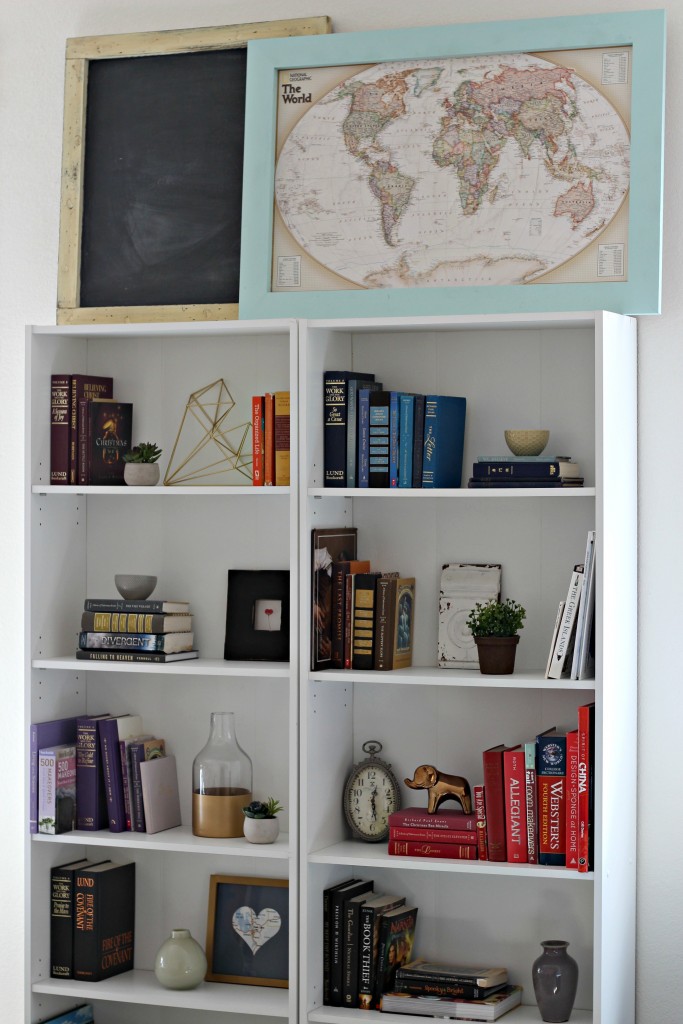 Color: I choose the colors for the living room based on the rug. It helps that these are my favorite colors and I already had pillows and some furniture in these colors. Kohl's has a huge selection of area rugs in many colors and styles. It's easy to find many that will fit a variety of decorating styles.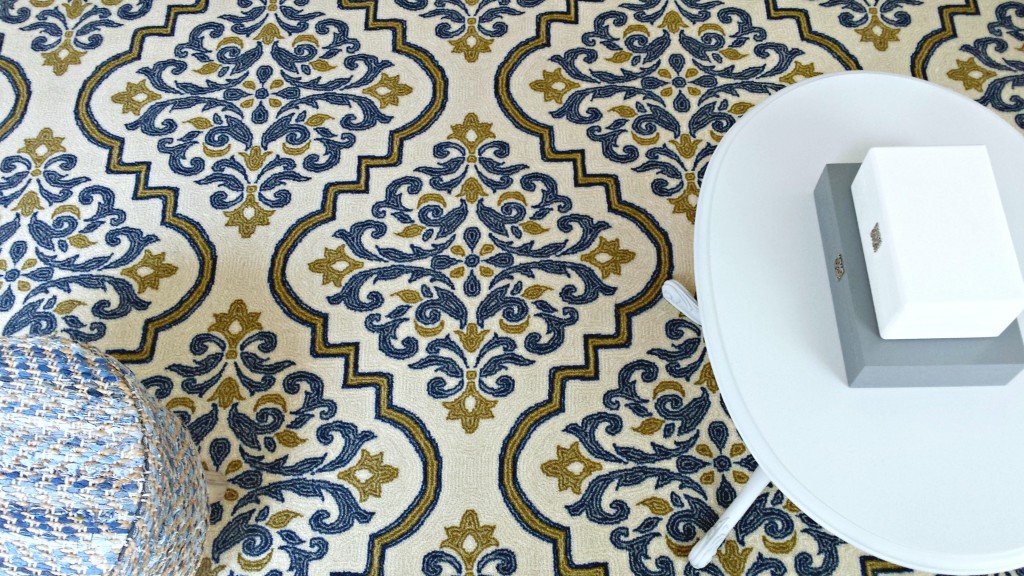 Remember how this space used to look? Quite the transformation, don't you think? I love how much brighter the space is now. My kids even like the space more whether they know it or not. I find my son in here reading or listening to music almost every morning before school. He was never in the living room before.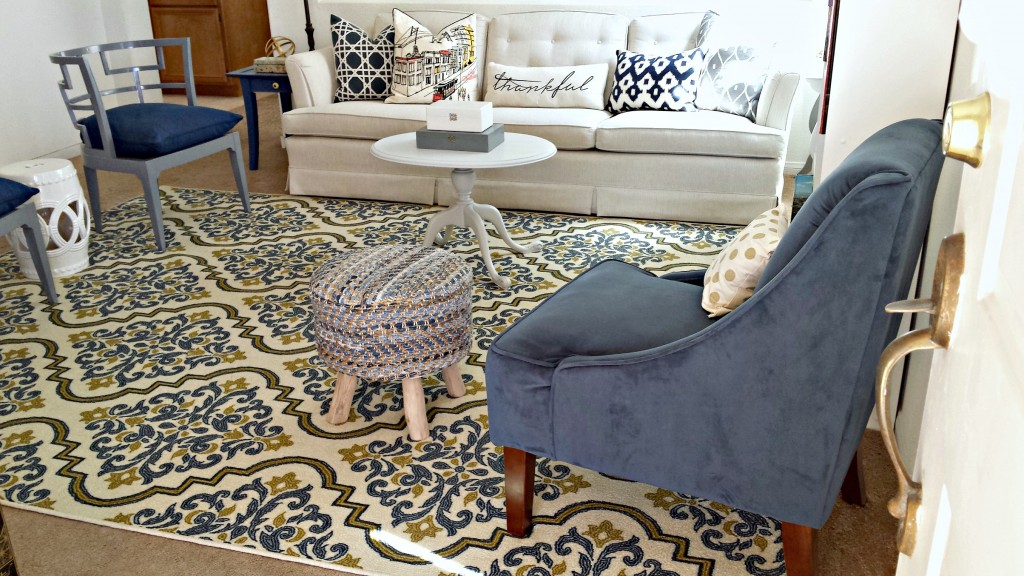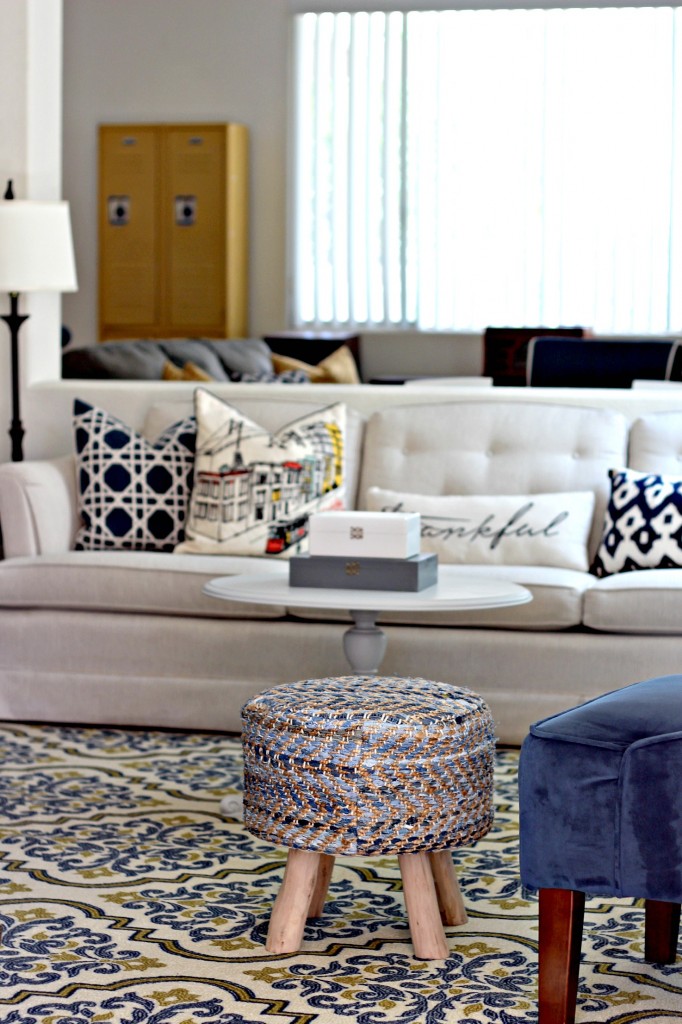 I can't believe what a huge difference rugs make in a space, especially if you don't like the flooring and can't change it. I'm trying to decide on rugs for the family room and master bedroom now. I'll let you know which ones I choose. Hop over to Kohl's right now for some huge savings on my favorite rugs.