Decorating a Rental on a Budget
Having a strict budget and renting a home can make decorating extra challenging. Here are some decorating ideas to make your home feel special even if you are renting and have limited funds.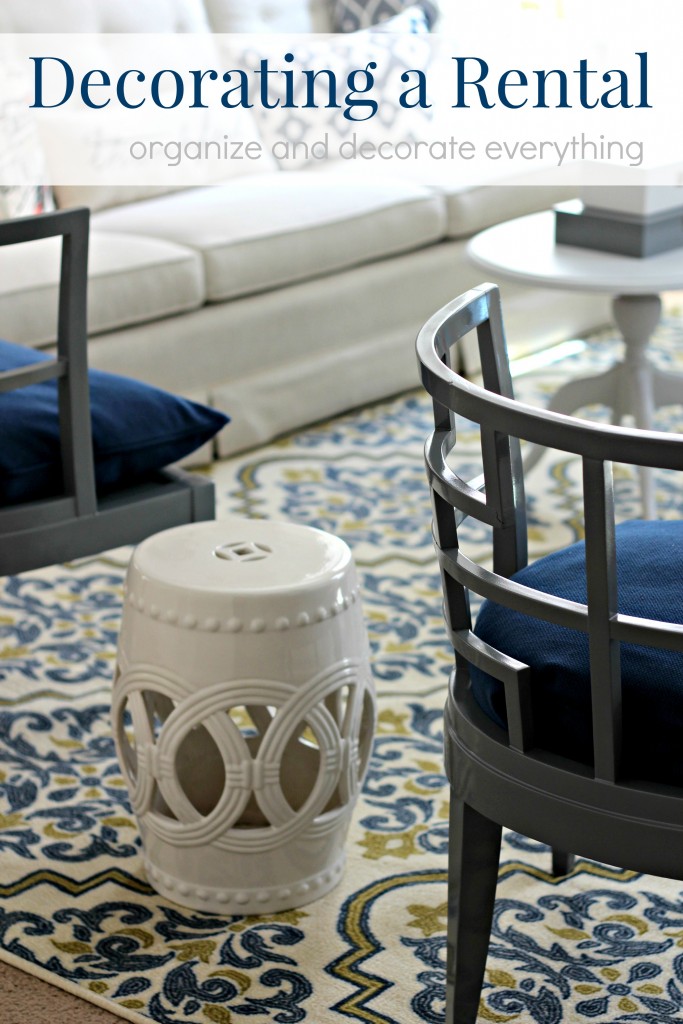 Great Ideas for Decorating a Rental on a Budget
I have to be honest and say that going from owning a home to renting was a struggle. The rental home was smaller so that made it even more difficult. Selling about half of our furniture before the move still made it pretty tight. I ended up with stuff I wasn't sure I really wanted and it didn't go together well. The rest of the house wasn't too bad but the living room was a mess. After feeling sorry for myself I decided to do something about it. It was time to give my living room a makeover for a minimal cost.
Everyone loves a before and after. Let's take a look at the before. Don't judge, or do. It was pretty bad! As you can see nothing really went together. It was basically just a mess of furniture I had left over from the move. This room is also very small for a living room but I wanted to make sure we had enough sitting space for our family and guests.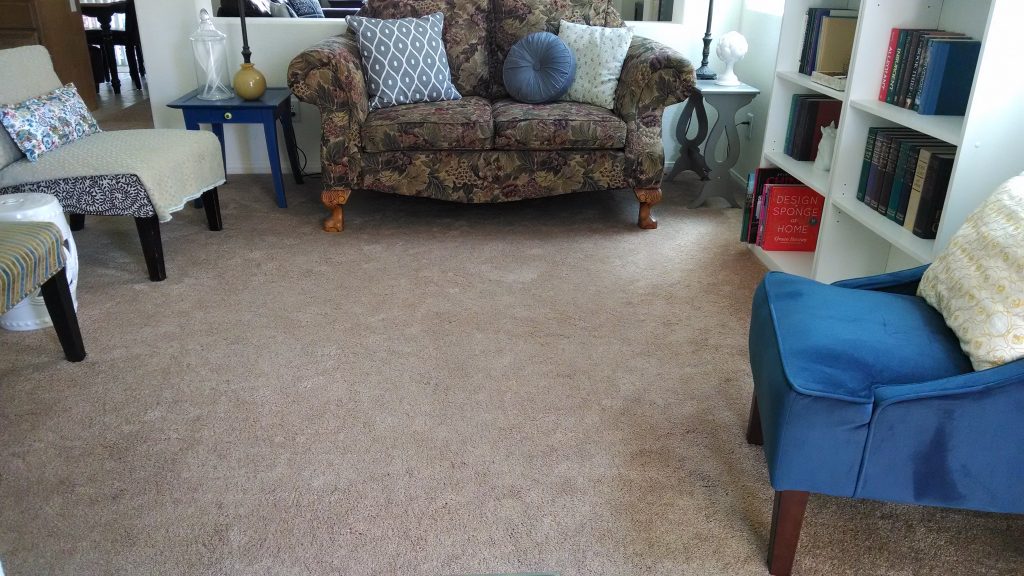 Sale and Free Items: I wanted to get a longer sofa with smaller arms to fit in the same area but offer more seating. I found this newly reupholstered sofa on our local facebook market place for $125. It was a great price and doubled our seating. Searching on facebook and yard sale pages might be a little more time consuming but you can save hundreds of dollars.
Now it was time to gather pillows from around the house. All of these were free since I already had them. They were purchased a while ago so I don't know if they're still available. Here's the stores where they were purchased from left to right: Ross, Home Goods, Deseret Book, Home Goods, Ross. Pillows are such an inexpensive way to add your personality to a room.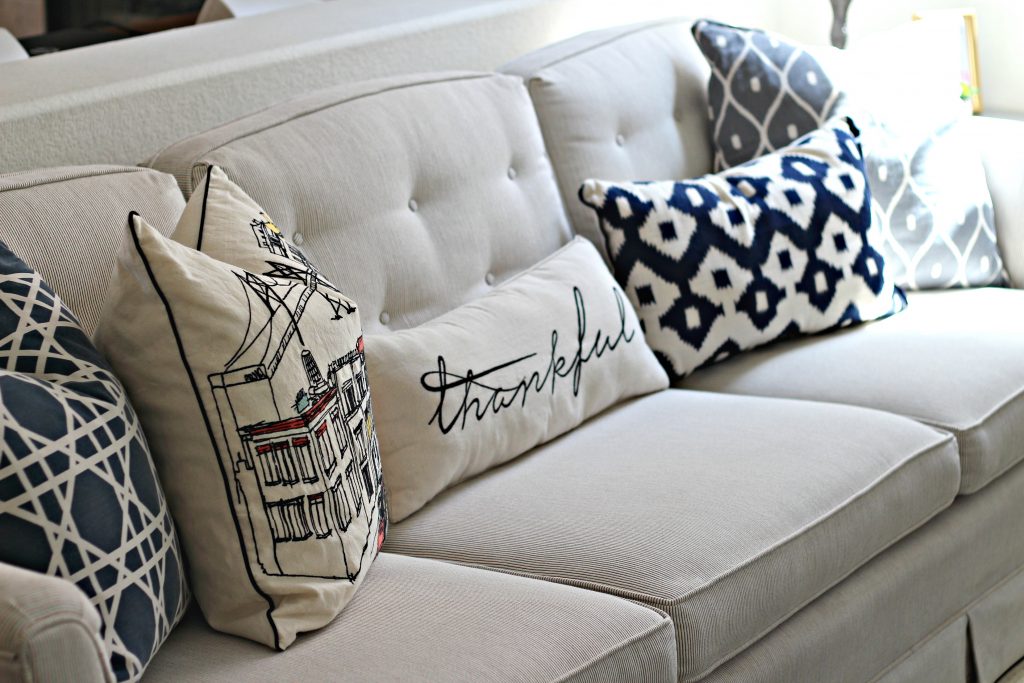 Temporary Flooring: Even if you can't change the horrible carpet you can cover it up. This rug is the inspiration for the rest of the living room and pulls it all together beautifully. If you're not in a rental, a rug is still the perfect piece to give your room a finished look. Since I don't have much pattern in the room I decided to choose a patterned rug. That made it easy to pull colors from the rug and incorporate them into the room. If you're decorating a room from scratch I would recommend starting with the rug.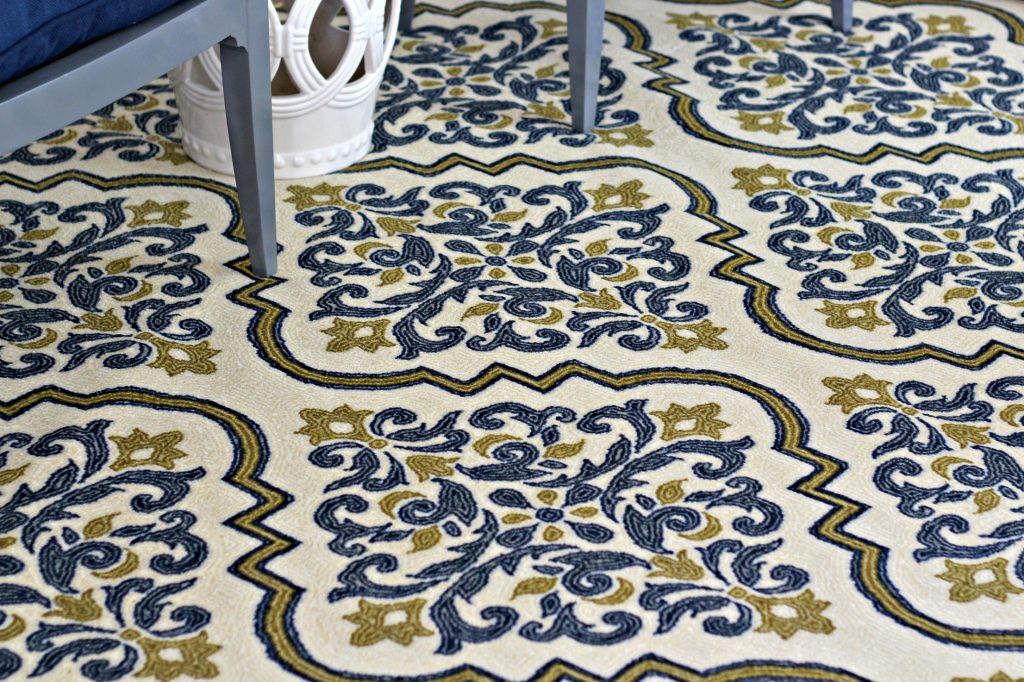 Add Paint: If you can't paint the walls there are many other things that can be painted. I purchased these chairs a few years and had them in my bedroom for a while. They were yellow and while I didn't mind the color it wasn't the look I was going for in this room. Painting them the right color and adding the cushions made them fit perfectly in this space. Because they have an open back they don't seem as big and bulky as the chairs they replaced. And the seating size is about the same.
You can see the before and after of the chairs in this post. Take a look, it's a great transformation. One of the chairs that used to be here is now in the family room and the other one was donated. These chairs were only $15 each plus the $8 cushions and a can of spray paint. They're one of my favorite pieces of furniture now.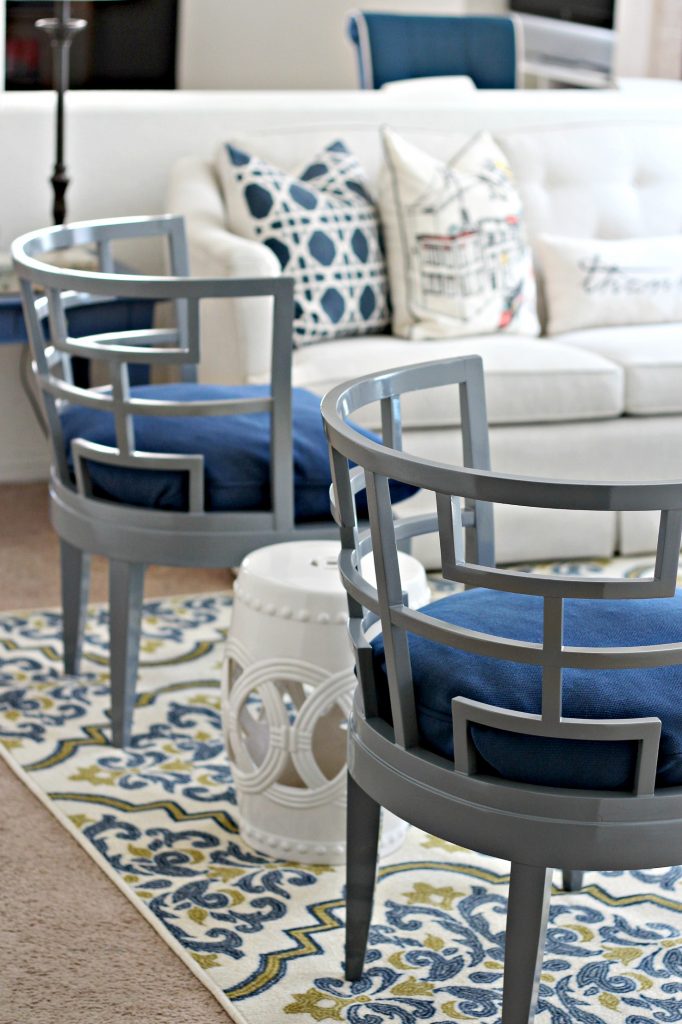 I also painted this small coffee table. It was my husband's grandpa's table and it was in rough shape. While I wouldn't usually choose a table this small, I love that it's from family and I wanted to keep it. Because the room is so small it's not too bad. This was the first piece of furniture I painted with chalk paint and I love how it turned out.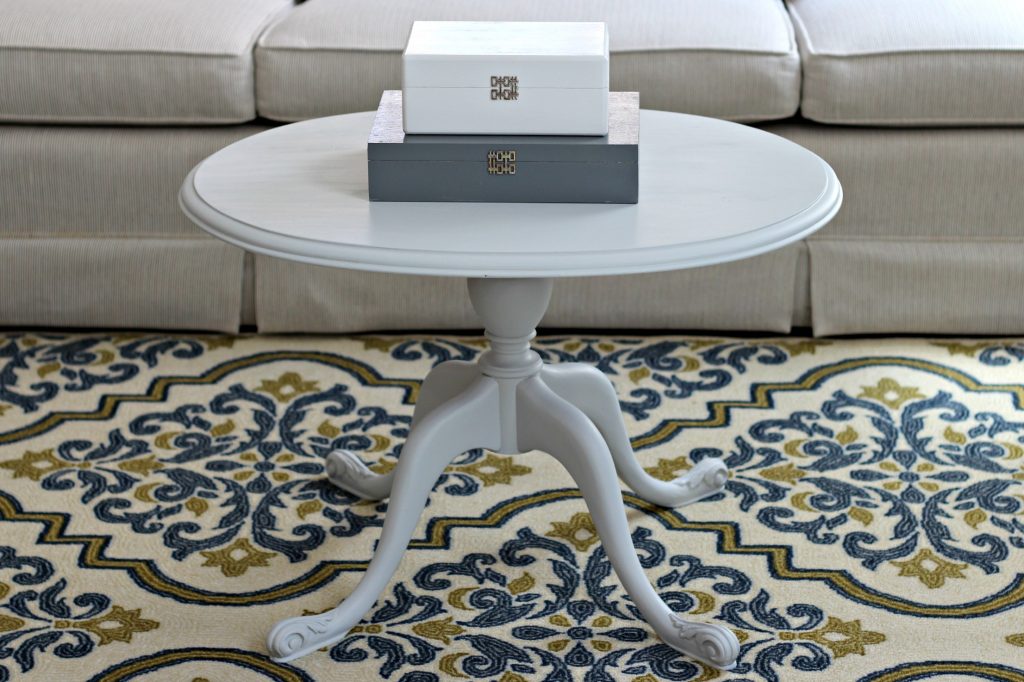 Vertical Space: This sounds crazy but we weren't allowed to put nail holes in the walls. Vertical space is so important in decorating so I have a few things I've done to make it possible without one single nail hole. Use command hooks when possible to hang things. Prop pictures and other home decor against the wall. I also used bookcases in this area to hide the biggest, ugliest mirror that we weren't allowed to remove. The mirror still showed a little above the bookcases so I added a chalkboard and map to the top and now the whole thing is hidden. The bookcases add a ton of vertical space and hides an eyesore.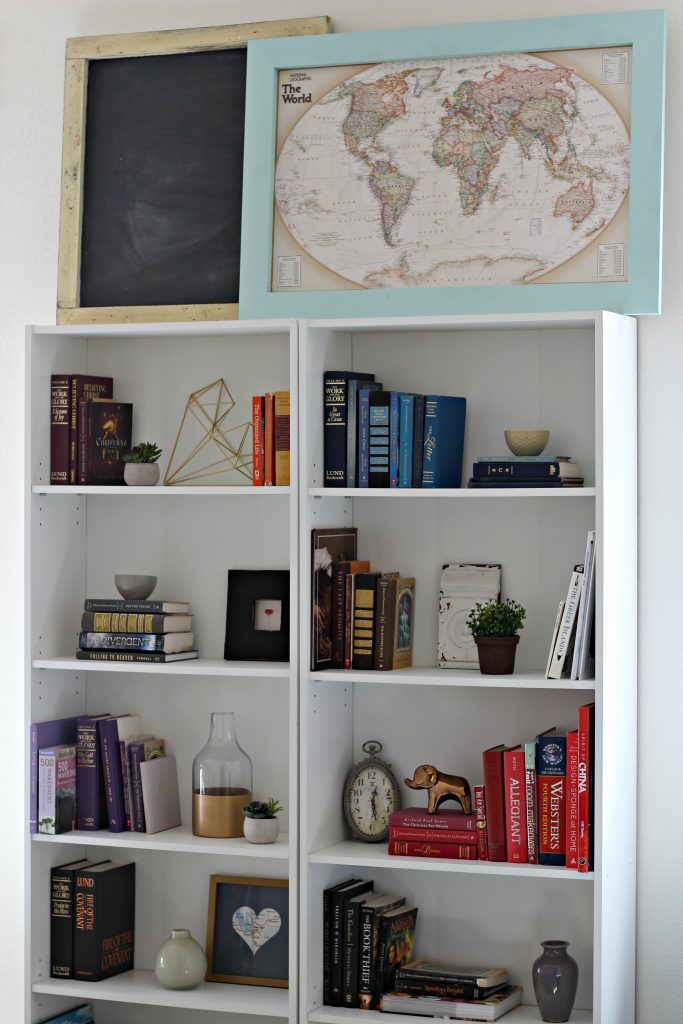 Color: I chose the colors for the living room based on the rug. I would recommend doing that in your space also. It helps that these are my favorite colors and I already had pillows and some furniture in these colors. It's easy to find rugs that fit a variety of colors and decorating styles. You would usually start with the rug and build the room around it. You can also just pick your favorite colors and build the room around them.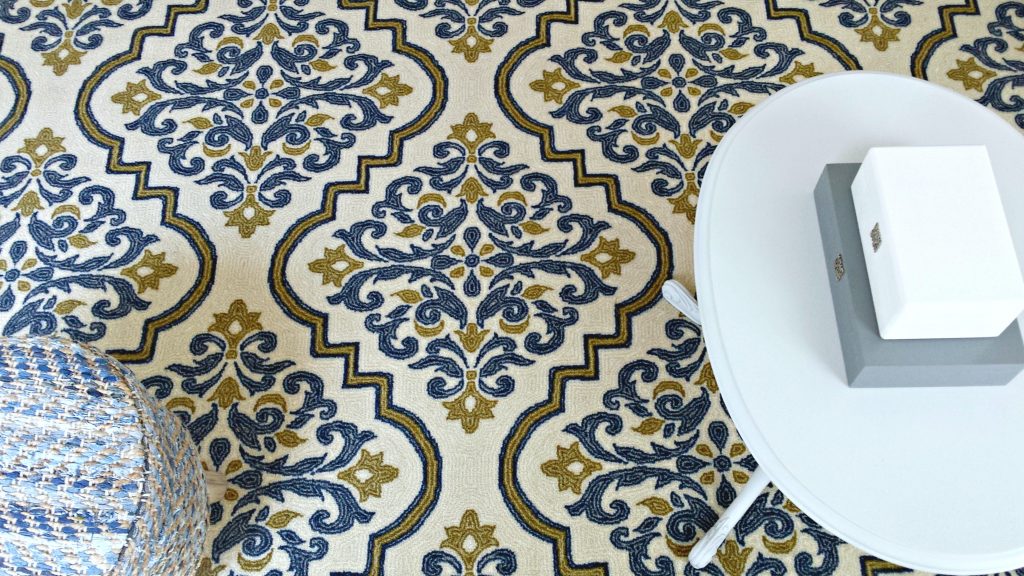 Remember how this space used to look? Quite the transformation, don't you think? I love how much brighter the space is now. It's so much more inviting and reflects our decorating style. I feel like this represents our family so much better now too.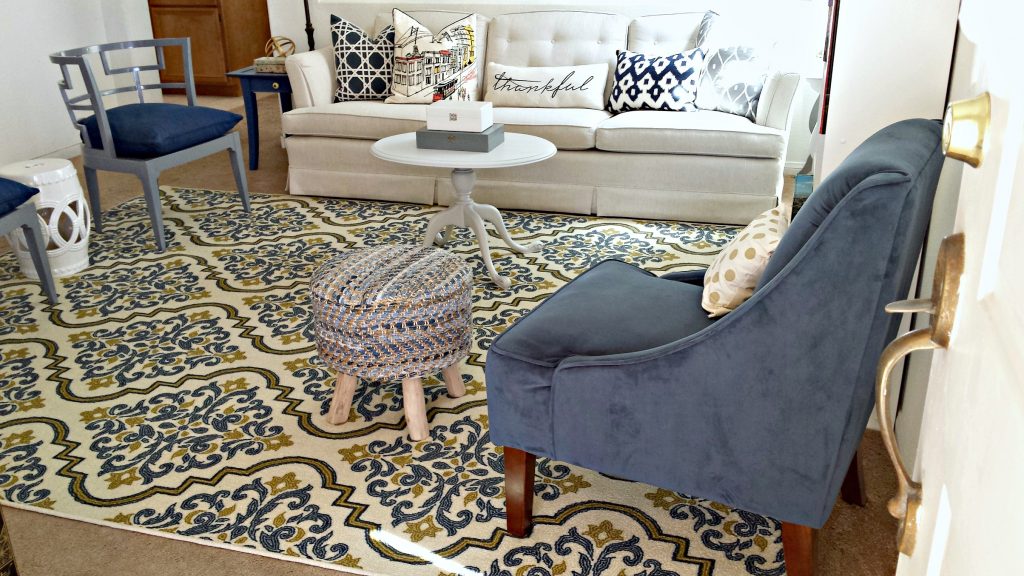 Like I said before you don't have to spend a lot of money to decorate and design your home to represent you and your family. Even if you own your home you can use these ideas to decorate easily and inexpensively.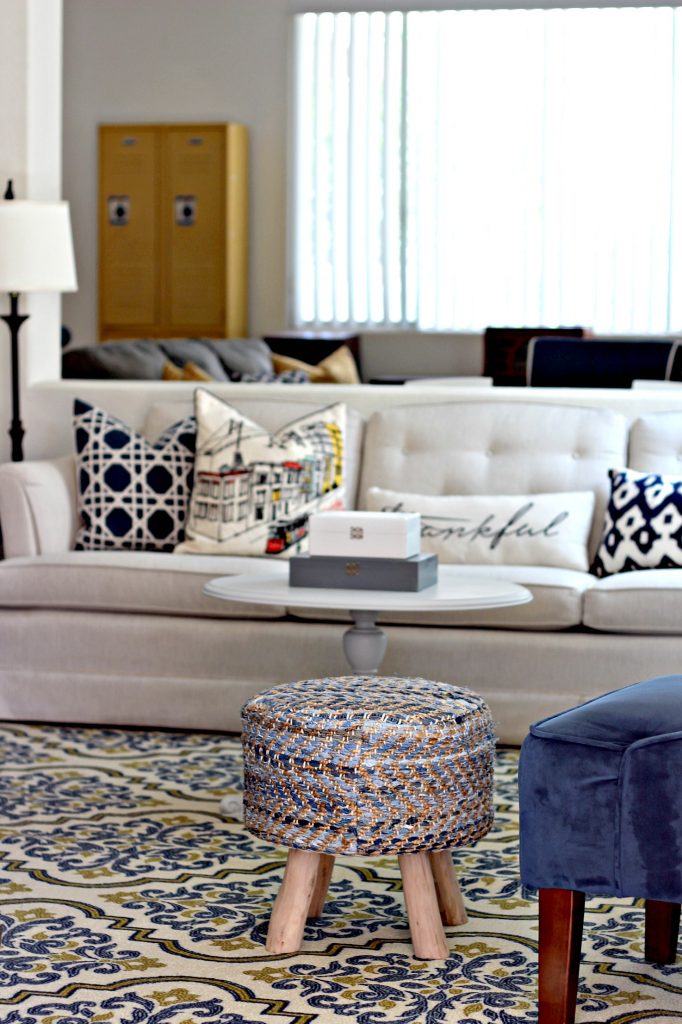 I can't believe what a huge difference these little changes have made. A rental can easily feel like home if you just give it a little love.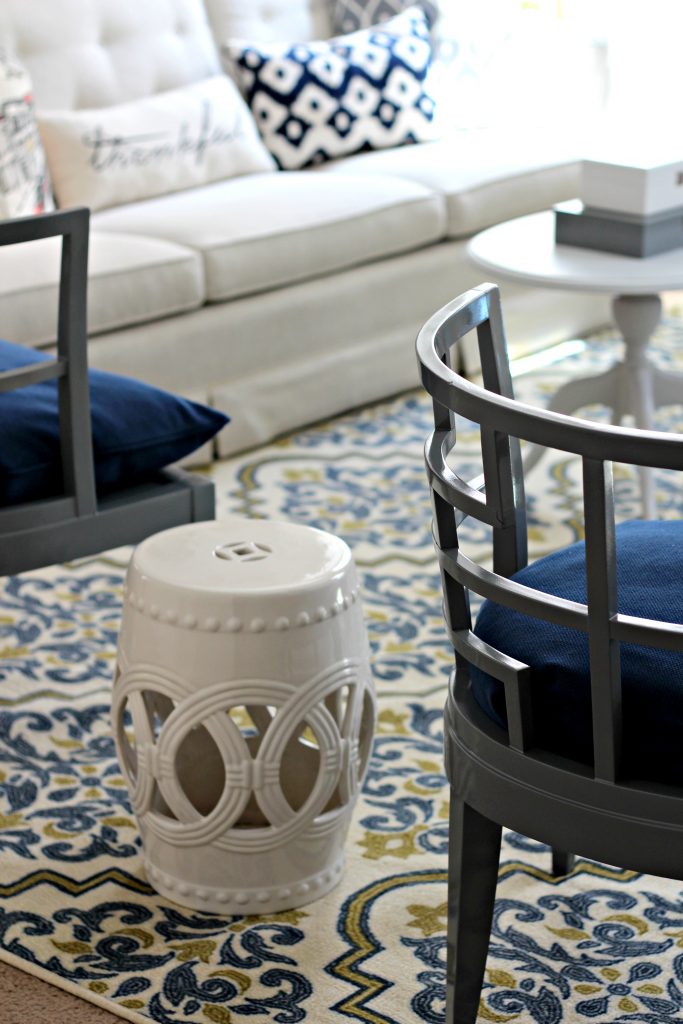 Pin it for Later: Decorating a Rental on a Budget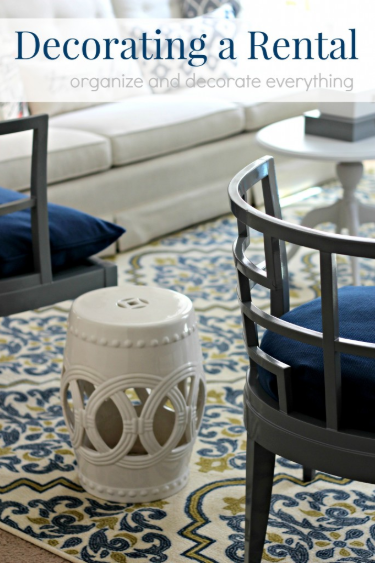 You might also like:
10 Measurements to Use While Decorating Your Home
28 Mini Home Makeovers