A Valentine's Day Candy Bouquet is a sweet gift for your favorite chocolate lover.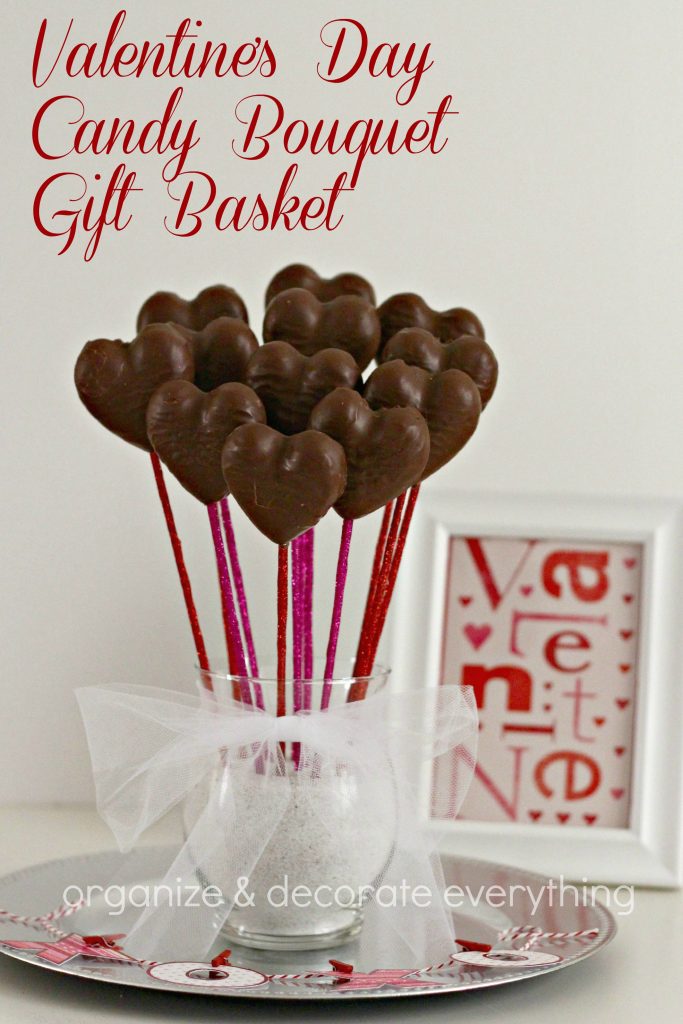 I love holidays and giving gifts. Gift baskets are fun to give but I like to think outside of just using a basket. Think of anything that can be used as a container, such as decorative boxes, vases, trays, jars or anything else that can hold gifts. My hubby is hard to buy for so I thought I'd sweeten his tooth and make him a Candy Bouquet Gift Basket to go along with some other gifts this year.
Here's what you'll need to make the Candy Bouquet:
12 Marshmallow Chocolate Hearts (or make your own)
12 Wood Skewers
2 Rolls of Glitter Tape (red and pink)
Bag of Decorative Sand
Vase
Silver Charger
2 Valentine's Day cards
5×7 Frame
Red Twine
Small Clothespins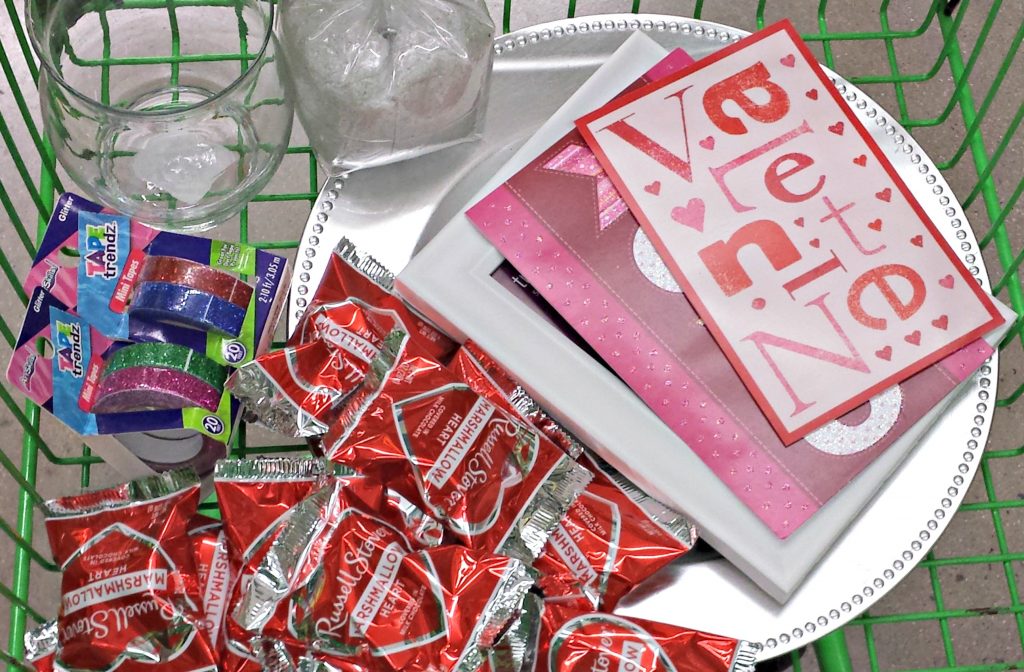 Cards can be used for more than just cards and for only $1 they were a great price. I framed one of the cards for hubby's desk and made another one into a banner. Cut the X's and O's out from the card and attach them to twine with small clothespins. Such a cute little banner and it can even be hung in his office.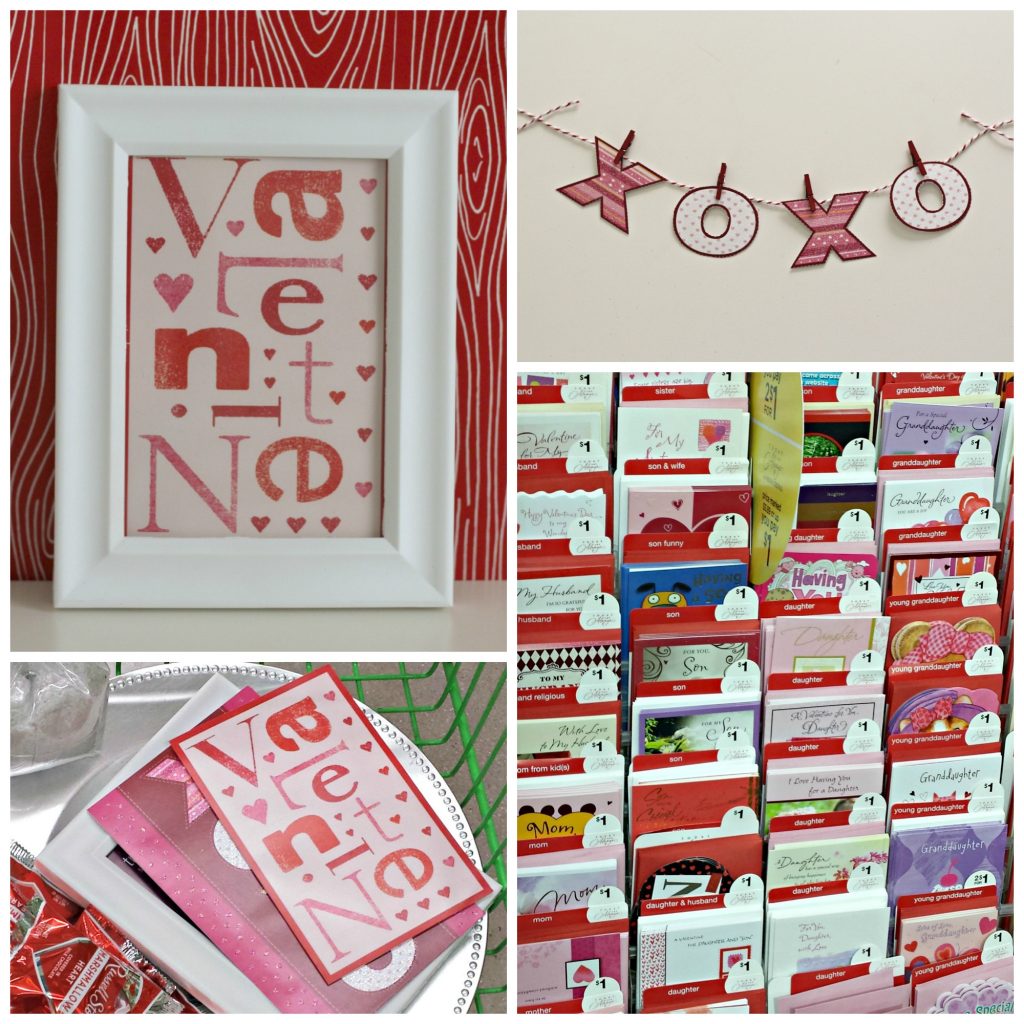 Now let's make the bouquet. Start by wrapping the skewers with the glitter tape. I had to hot glue the tape in a few areas because the glitter got on the sticky part and made it less sticky. It still turned out well, just be warned. Leave about an inch or two on the pointed end of the skewer free of tape so glitter doesn't get on the candy. Cut the skewers at different heights for the bouquet by scoring them with scissors then snapping them off. Push the Marshmallow chocolates onto the pointed end. Be careful while pushing them on so they don't crack. I bought 2 extra chocolates in case I cracked any of them. If you want to make it extra special you can make your own chocolates.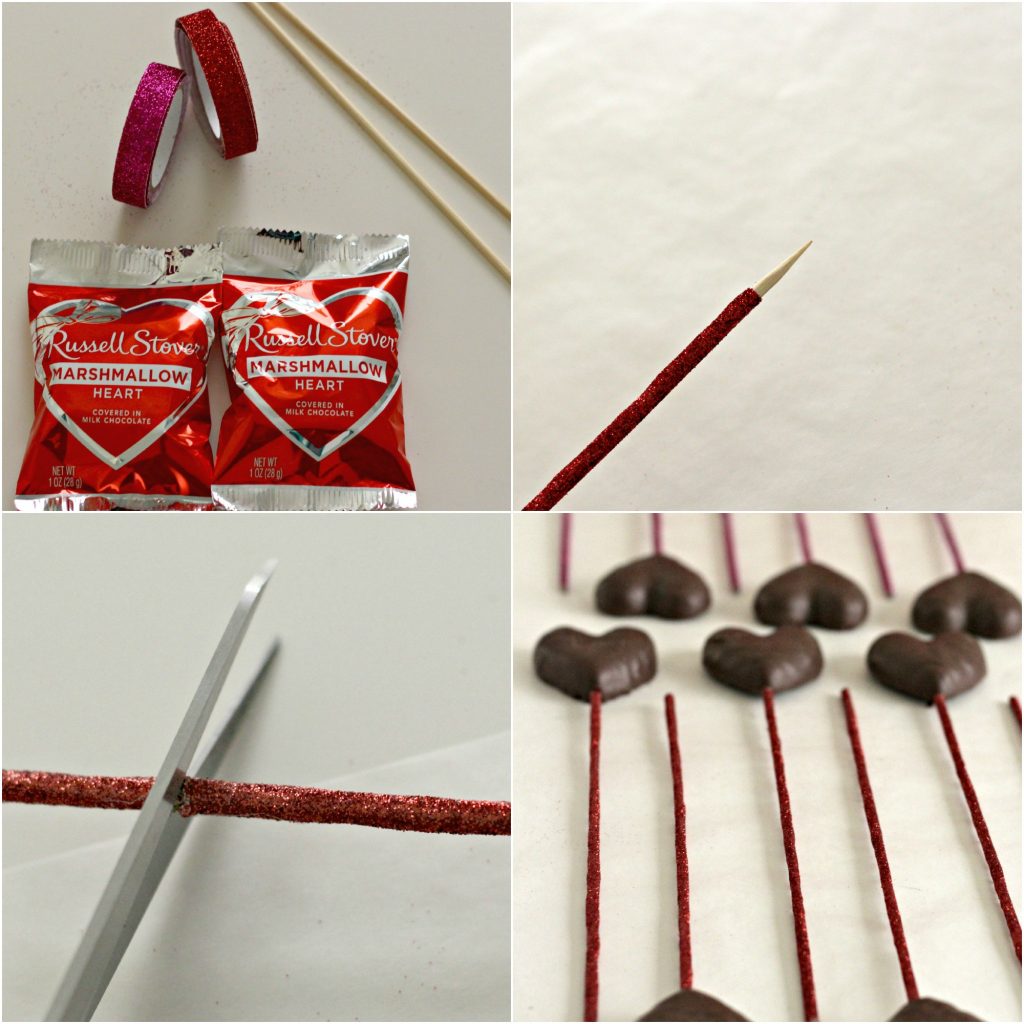 Pour the sand in the vase then arrange the candy flowers in the sand.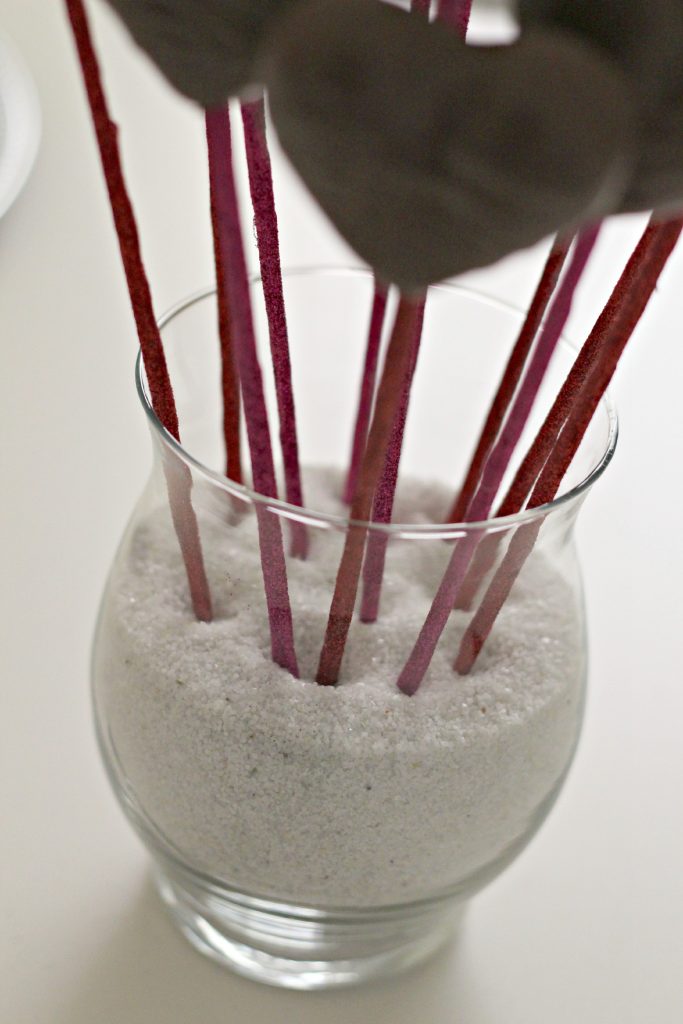 Tie a piece of tulle around the top of the vase. You could also use ribbon or twine or whatever you have handy to add a little something extra to the clear vase.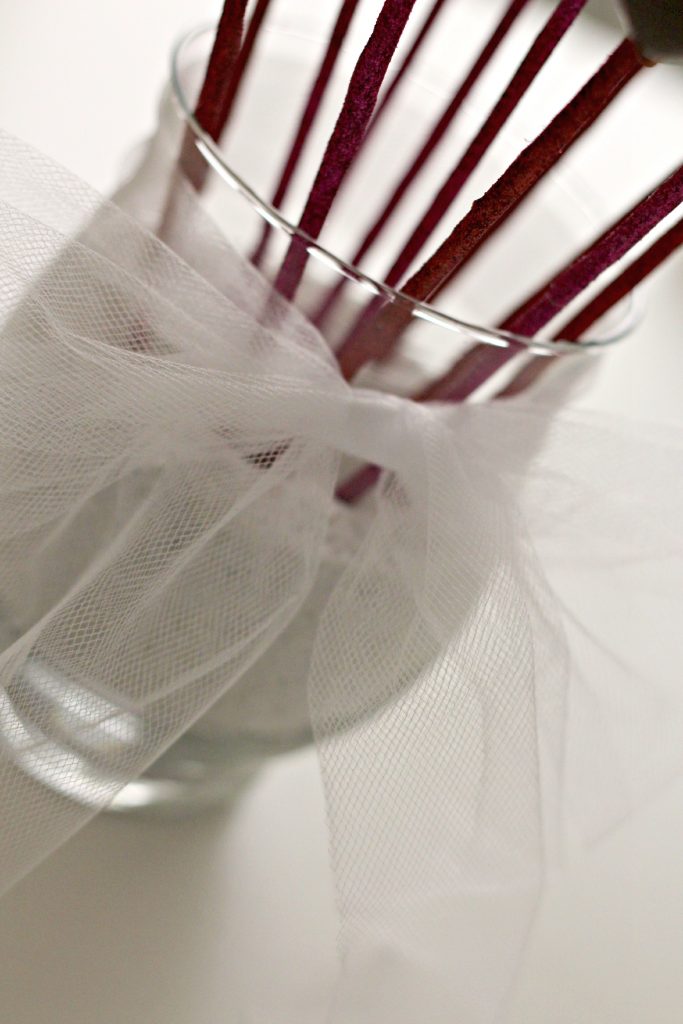 I made 12 chocolate heart flowers because, you know, a dozen. 14 would also be a fun choice since Valentine's Day is always on the 14th. I was able to get the hearts at different heights by cutting a little off the bottom of some skewers, as shown above.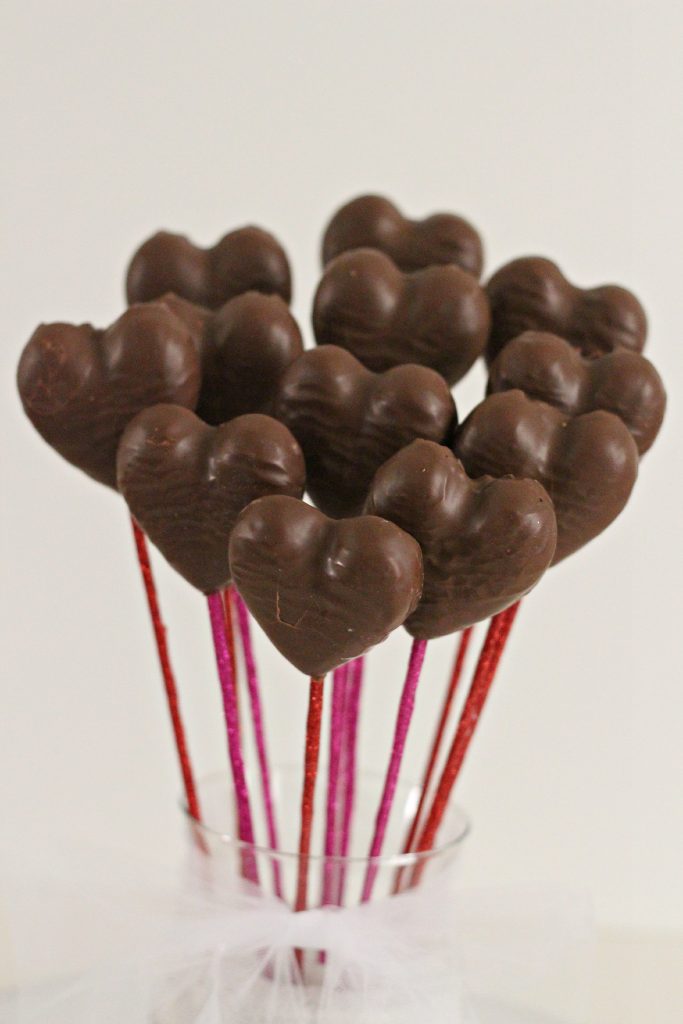 Place the vase on the center of the charger and add the XOXO banner to the front. Then place the framed card next to it. What a cute Valentine's Day gift and display.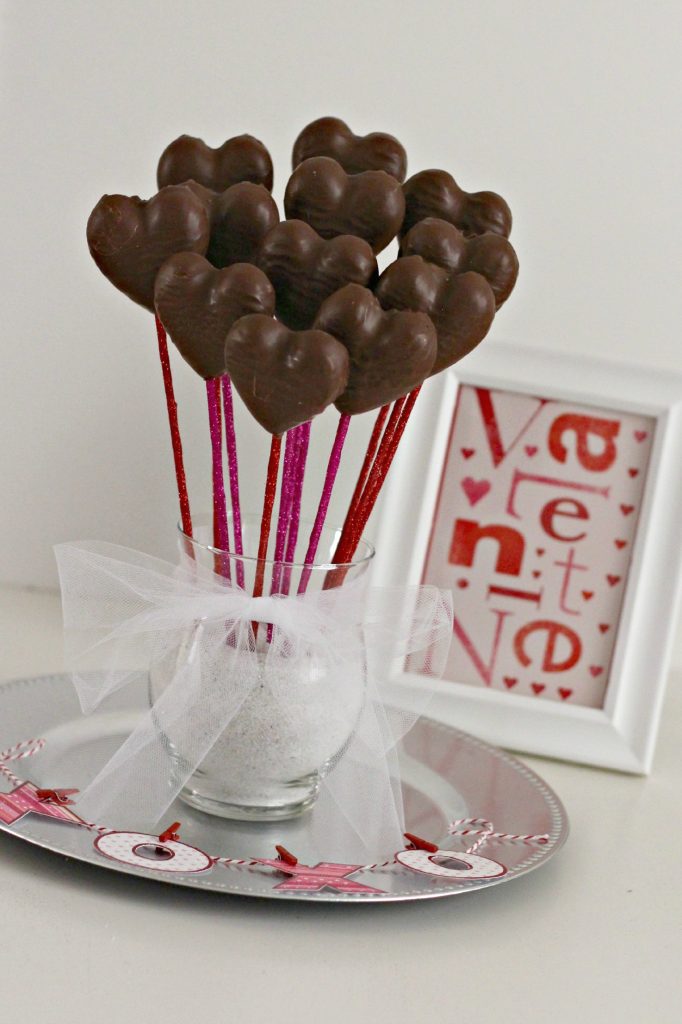 Did I mention that chocolate marshmallows are hubby's favorite? You could probably also use peanut butter hearts or even creme filled hearts.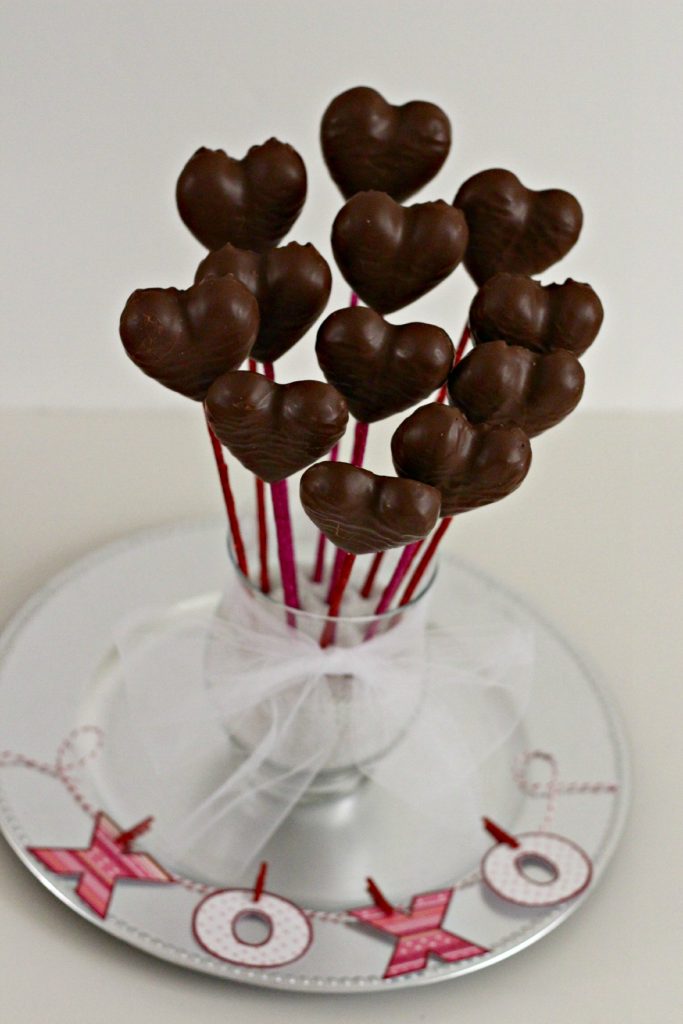 Pin it for later: Valentine's Day Candy Bouquet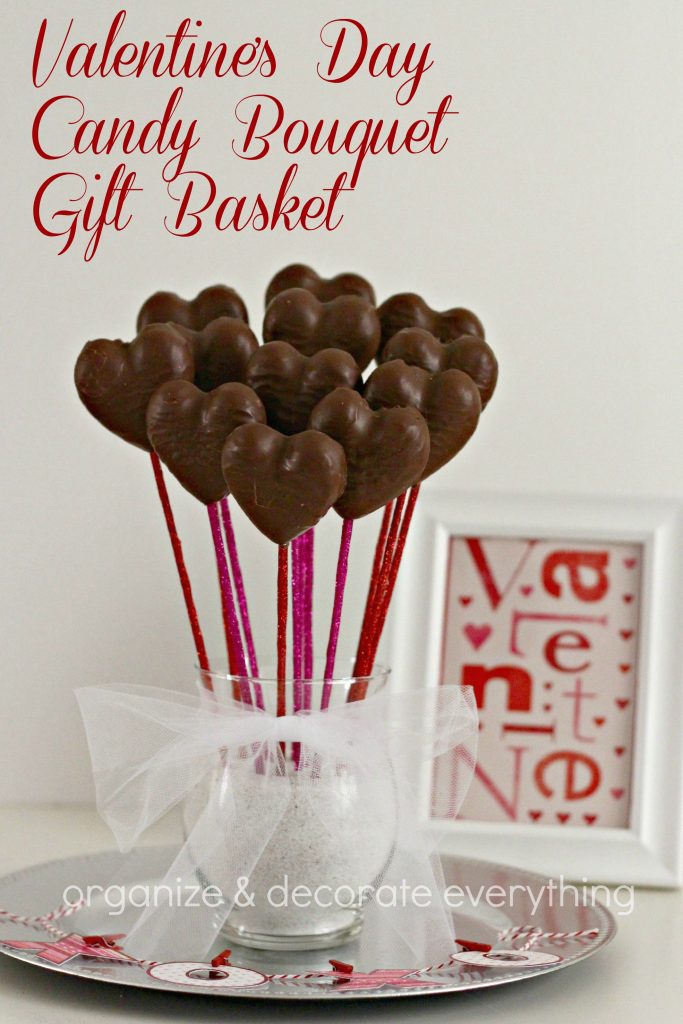 You might also like:
Paper Fortune Cookies
Cupid's Arrows
I Heart U Printable