Mornings can be rough, especially if you're trying to get kids ready for school and yourself ready for work. And it's not just the jobs you have to do in the morning to get yourself out the door, it's also the way you feel depending on how the house looks. Having an Evening Routine for a Productive and Organized Morning is something I always strive for. Even if I fall a little short some days I'm still ahead of the game.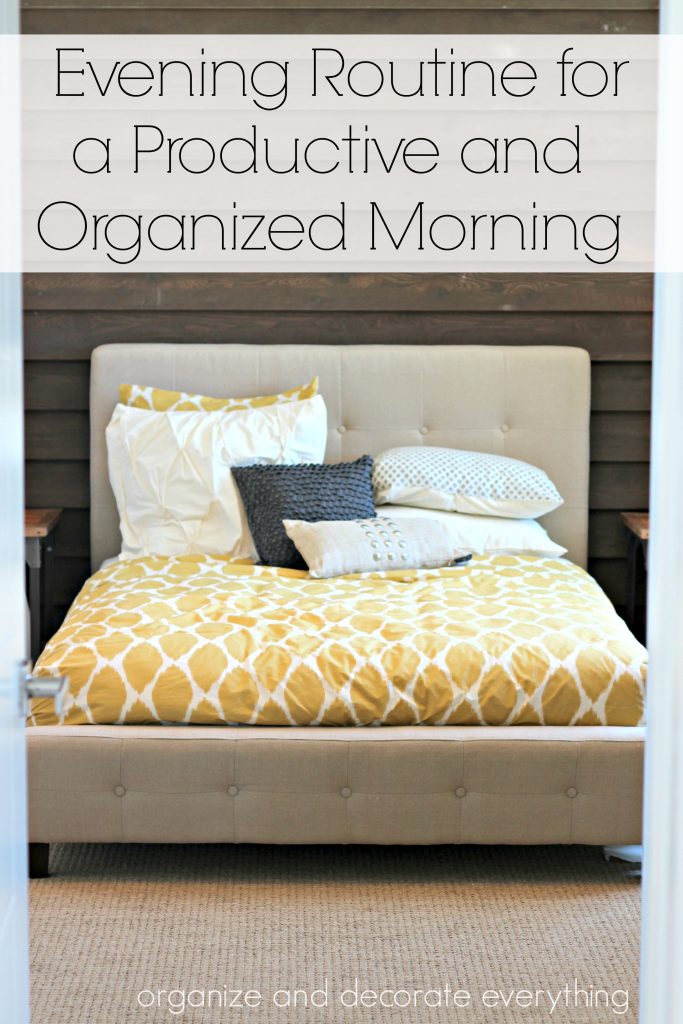 Here are 10 things I try to do every evening to make my mornings easier. Even if you don't work outside the home these ideas can work for you. I have found that I'm in a much better mood if I wake up to a clean house and my mornings aren't as rushed.
* Quick Clean the Living Room – Have a 5 minute pick up of everything in the living room and family room before bedtime. Turn on music and have everyone in the house race to see who can grab the most stuff and put it where it goes. Everyone loves a competition, especially little ones.
* Tidy the Kitchen – Wipe down the counters and table and start a load of dishes as soon as you're finished with dinner. It's done and you won't have to think about it later. My whole house feels clean when my kitchen is.
* Pack for Tomorrow – Have the kids make sure all their homework is done, papers signed, and placed in backpacks. Prepare lunches for the next day right after dinner so once you clean the kitchen it is more likely to stay that way. Check your own bags to make sure everything is ready for the next day.
* Clear off Flat Surfaces – Having the kids pick up their school papers and homework should take care of a lot of clutter. Also toss any junk mail and put away anything that isn't where it belongs.
* Pick up the Floor – Hang up the backpacks and jackets, straighten the shoes, and pick up any toys.
* Put Away Clothes – Don't just take off your clothes and toss them on the bed or a chair. Take a few minutes to fold them, hang them up, or toss them in the hamper. You will save time in the long run by taking care of things in the moment.
* Lay out Tomorrow's Clothes – I like to have small kids clothes picked out for the whole week or at least a couple days. I also like to pick my clothes the day before so there's absolutely no clothing decisions to be made in the morning. Check the weather report so you can plan accordingly.
* Go over your To-Do List – You've probably already made your to-do list for the week, but go over what you need to accomplish the next day and make any last minute adjustments. I always leave a few empty time slots so I can be flexible if something unexpected comes up.
* Charge Electronic Devices – We have a charging station for all the kids electronics and they have to be there during sleeping hours. It's the perfect time to remember to plug them in so they are fully charged in the morning.
* Give Yourself some Quiet Time – I like to prepare ahead for the next day but it's also important not to run yourself ragged at night or you won't want to keep up on the evening routine. Finish everything at least 1/2 hour before bedtime so you have time to unwind and relax.
What do you do in the evening to prepare for the next day?
Pin it for Later: Evening Routine for a Productive and Organized Morning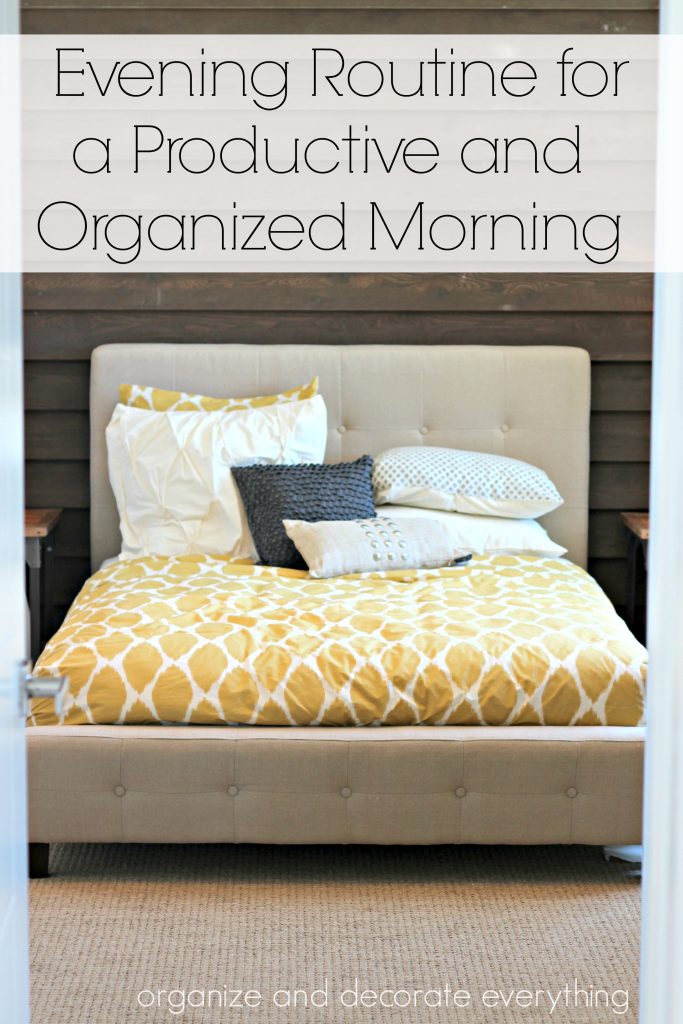 You might also like:
Time Management Tips
Meal Planning 101