By the time Spring comes around I am so ready to give my house a little decorating face lift. What about you? Easter is the perfect time to bring in the fresh colors of Spring along with flowers, bunnies, eggs, nests, and even sheep. I'm sharing 5 Easter Mantel Decorating Ideas to help you with ideas to create a beautiful Easter mantel that represents the holiday and season to you.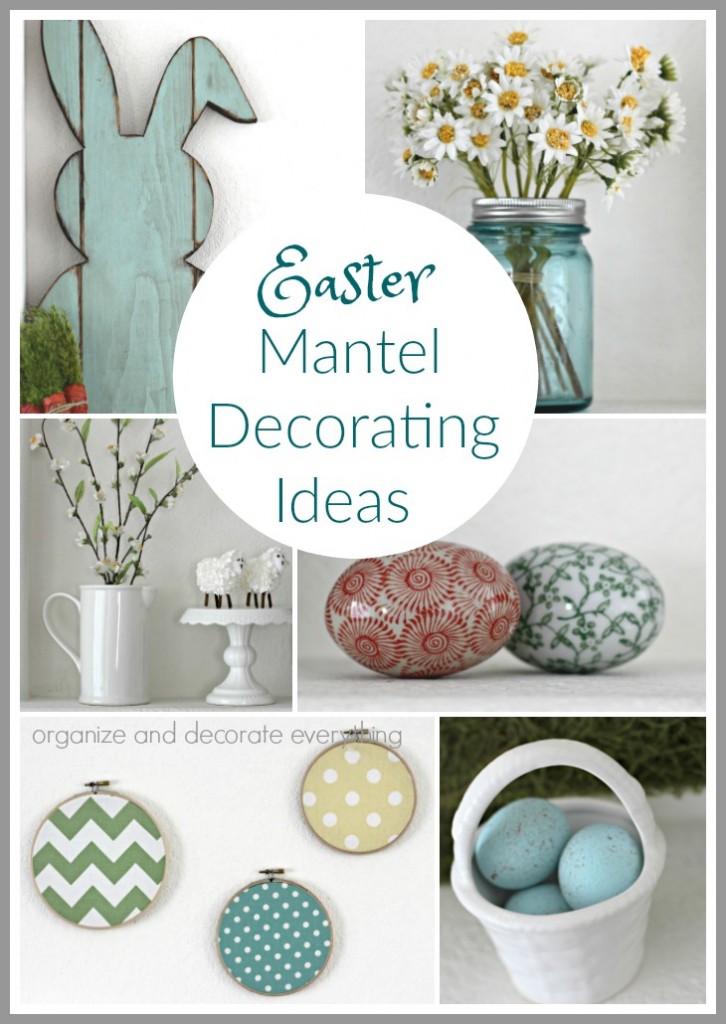 White is always super fresh and perfect for your Spring or Easter mantel. This mantel is pretty easy to create using a lot of things you already have. Gather white pitchers or vases, a terra cotta pot painted white, a dessert stand and a little white basket as your basics. Pop some flowers in the vases, add a greenery ball to the pot and place a few eggs in the basket. I made the Easter sign, click over to see how. I found the sheep at a grocery store but you could substitute them with bunnies, chicks, or birds. The banner is just different scrapbook paper I cut to shape and strung on twine. I love the relaxed and comfortable feel of this mantel.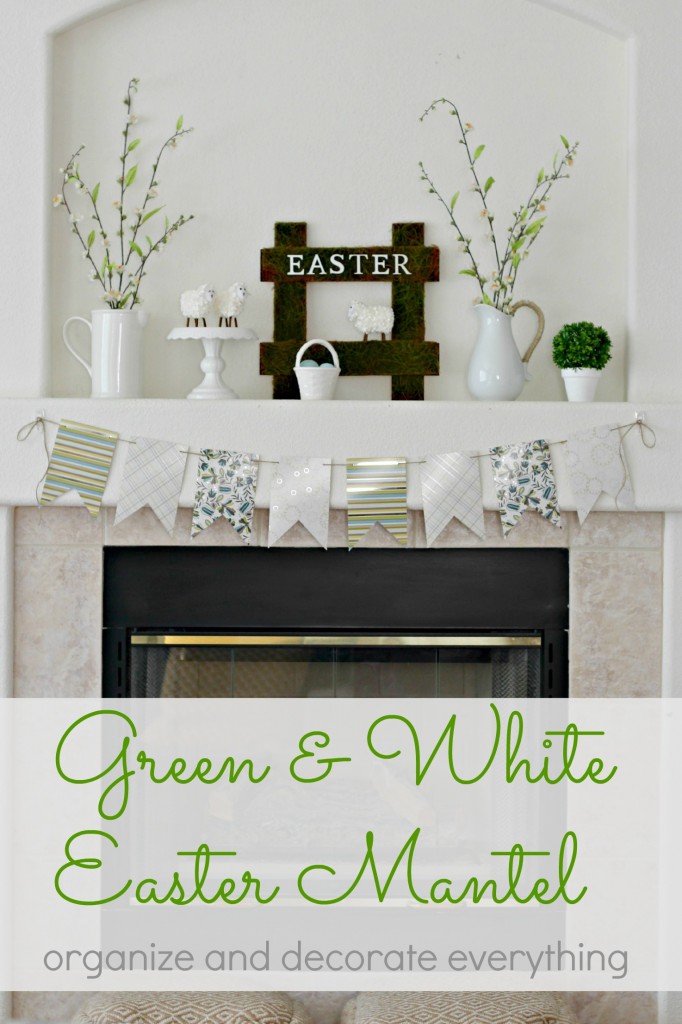 This mantel started with the Shadow Box Flower Garden I made. I still used the pitchers but they're holding some moss bunnies this time. I added different colored and patterned fabric to the embroidery hoops. Don't they remind you of Easter eggs? The white frame was too plain so I trimmed it in pink washi tape to add some color. The Easter banner is made from scrapbook paper, rub-on letters, twine, and felt balls.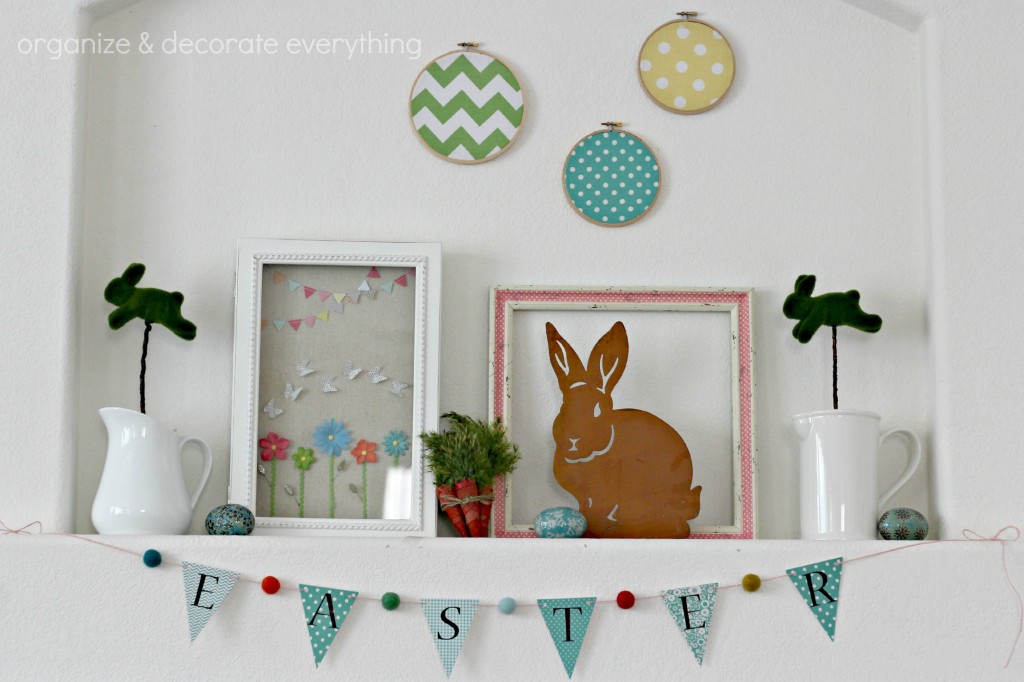 I added a lot of color to this mantel with the Easter egg wreath. I love how it's simple but really catches your eye. The blue stained wood bunny was purchased from a boutique but would be easy enough to make. The running bunny is actually a tray. The carrots were purchased many years ago from a grocery store. Adding flowers to a blue mason jar is an easy way to bring in nature and color and brighten up the space. I purchased the banner at Target a couple years ago. The rusty bunny sits on top of the blanket basket.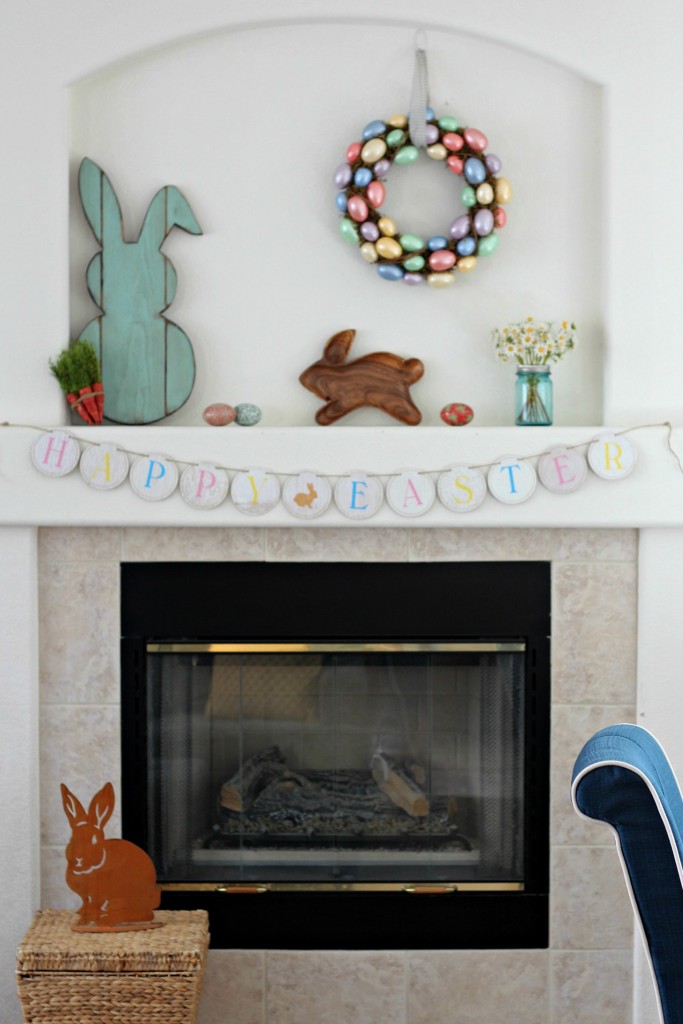 Sometimes I really like to layer my mantel decor, it adds a lot of depth even on a narrow shelf. I started with shutters, added the frames, then added the white and yellow containers. You can only see a little bit of the hydrangea wreath that hangs above the frames. Again, I popped some flowers in the white pitcher and placed the moss bunnies in spray painted bottles this time. I placed a few moss balls around and added a few eggs to the cute Easter bunny basket.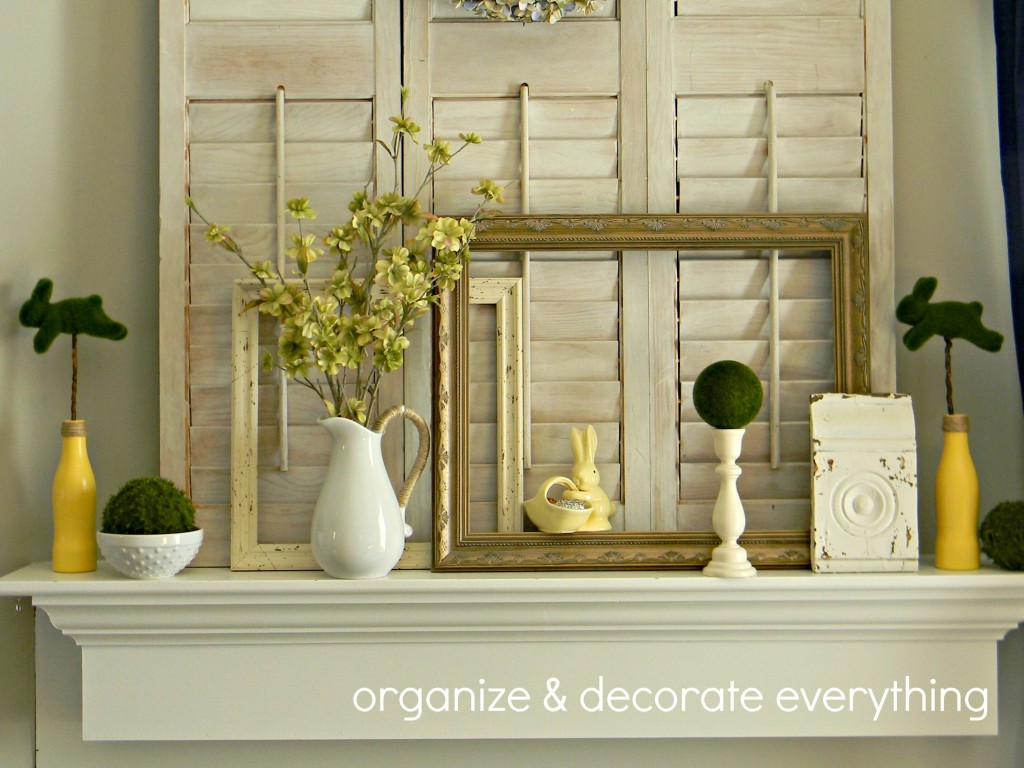 Nests and Bunnies Easter Mantel
Here's another example of layering, this time I used an old window and a small garden gate as the back ground. You can see the hydrangea wreath better in this photo. This mantel has more of a garden feel to it so it has a few more flowers and bird nests, but I had to at least include one bunny. I love how it looks like chocolate. I love how the framed bird nest turned out. I added a patterned paper to the frame then hot glued the nest to the glass on the outside of the frame.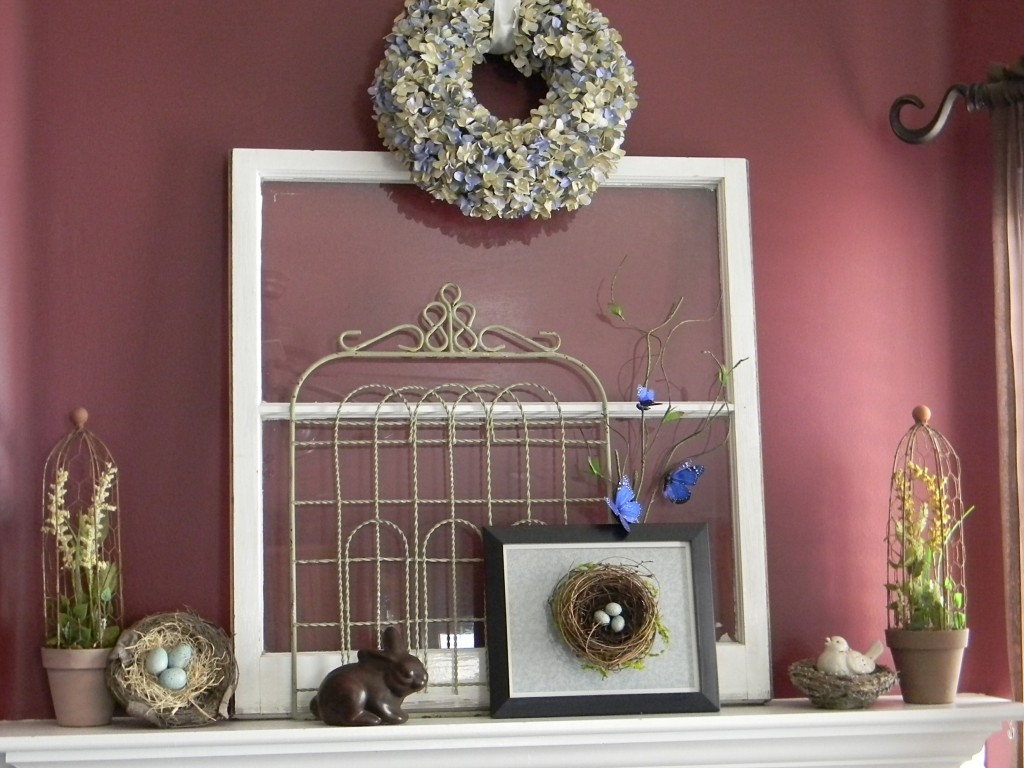 As you can tell I use a lot of the same items from year to year so I don't have to buy new things. By changing the other things around them and even painting some of them you can change the whole look and not have to spend a fortune on decorating.
I'll be sharing this year's mantel soon!