I think I would have to say the mantel is my favorite space to decorate. I often get asked how I can change my decor so often without spending a lot of money. Well, I have a secret. I have a small stash of seasonal items and I also move things from room to room, changing the look in every room. I also do a lot of easy DIY projects and use paint to change the colors of items. I'm excited to share with you 7 Ways to Decorate a Mantel for Summer. You might see some repeat items but by changing the other things around them, they look different and you don't notice that they're being used over and over again.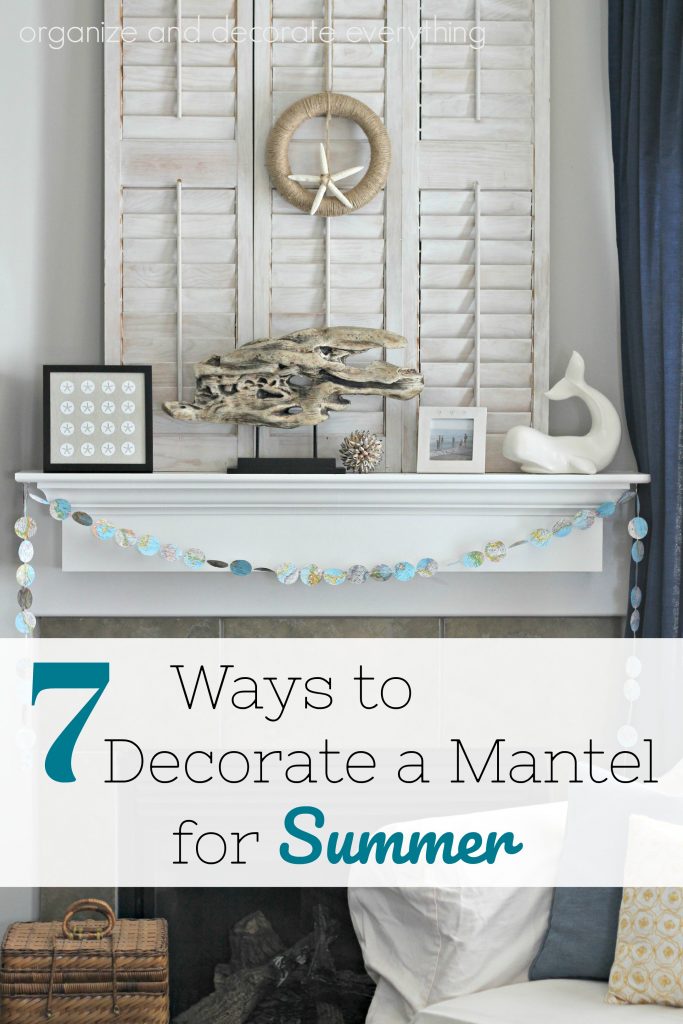 Check out several ways to decorate a mantel below, then click over to each one to get more details on the projects and how to pull them off.
Coastal Mantel – It's fun to incorporate natural items into your home decor. We've gathered these shells from different beaches in Florida, California, Virginia, and Maryland. The shell ball is from our trip to Hawaii. I love the memories they spark. The tray is a DIY project that can also be used as a real tray.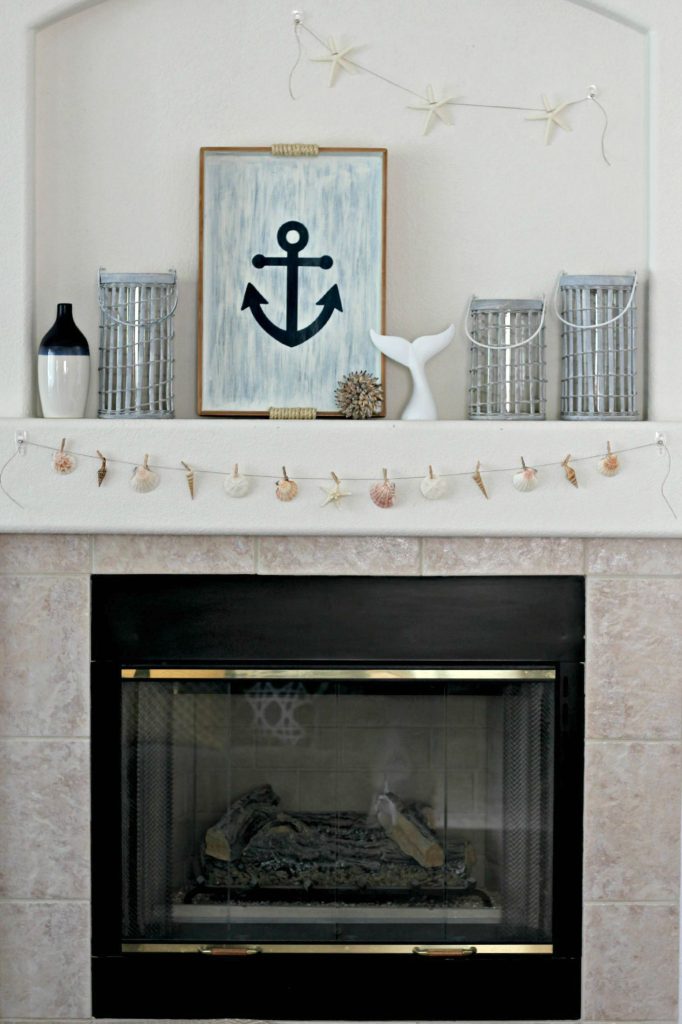 Seaside Mantel– Fill bottles or even a lantern with natural elements such as, shells and rocks you've collected on vacations. Something really fun about this fan is that it comes from an old RV we're renovating. I like it better as a decoration. Isn't this fat whale the cutest?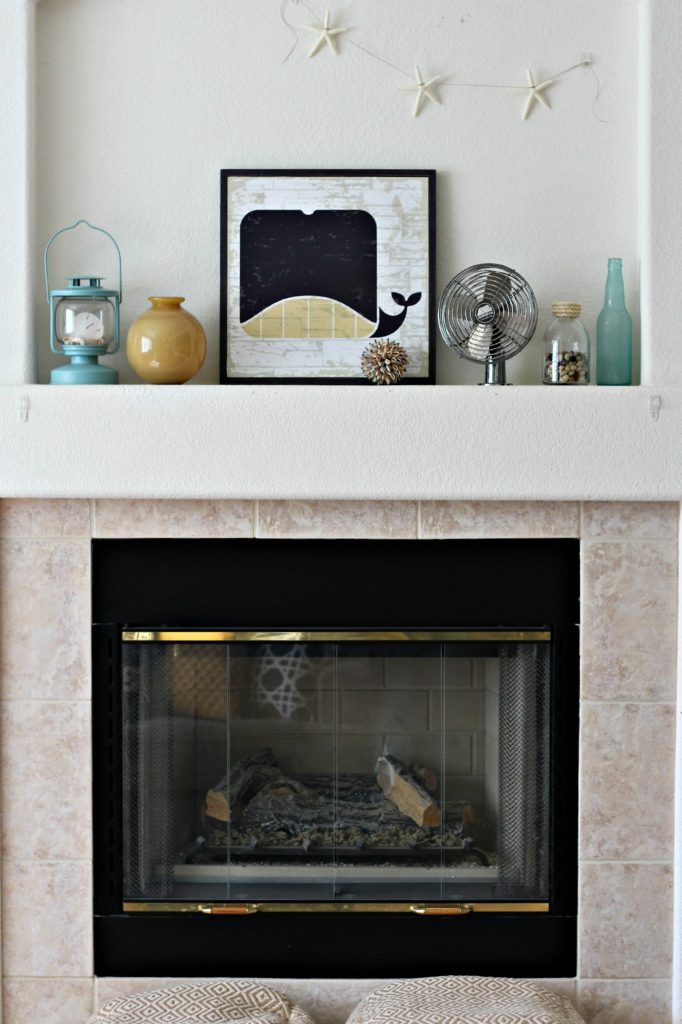 Summer Mantel – This mantel is mostly neutral with just a pop of Summer color. I made the simple wreath by wrapping a foam wreath form in twine and adding a sea star to the center. The twine balls and twine wrapped vase also add a lot of texture. The map garland was simple to make using an old map, a circle punch, and bakers twine. Of course, we can't forget about the cool shutters as a backdrop.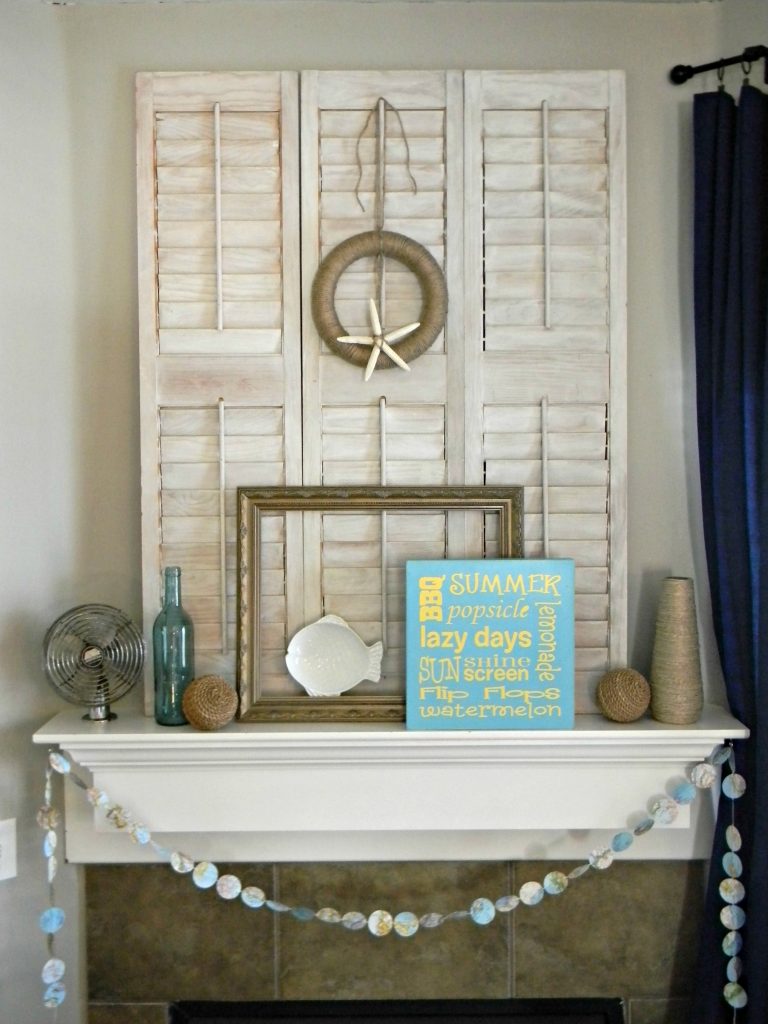 Beachy Mantel – This is one of my favorite mantels. You might notice the wreath and map garland from above but the mantels look completely different. I won the driftwood piece at an auction. It's pretty awesome! The sand dollar wall art was easy to make and the little picture is of the kids on our vacation to Florida. The wicker basket on the floor is ready for a Summer picnic.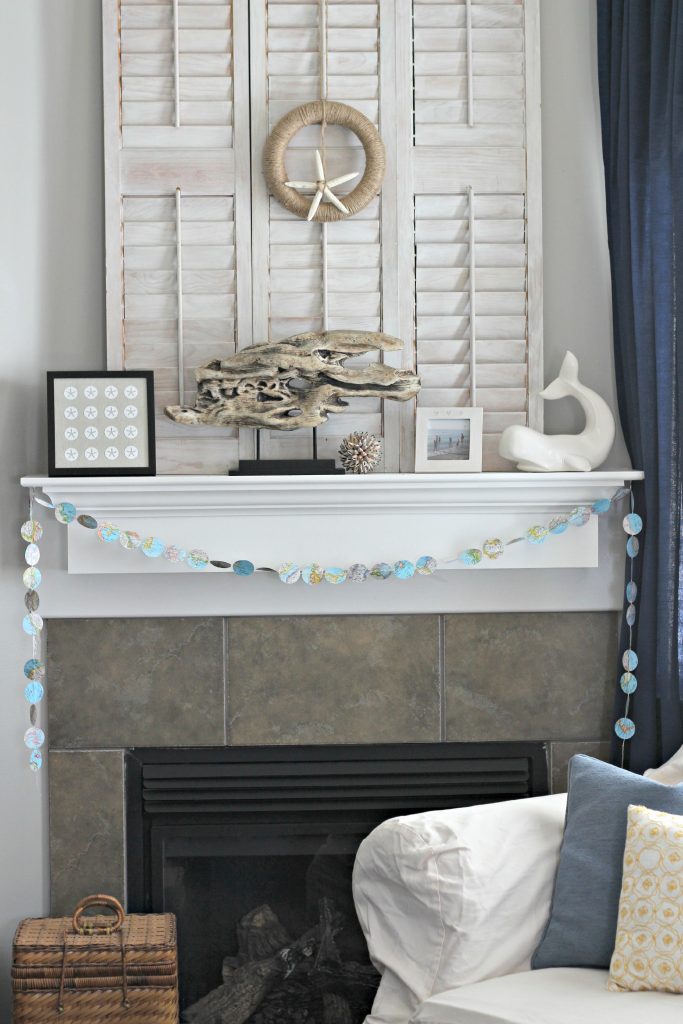 Another Sea Side Mantel – The sign is an old tin sign that I love but my kids hate. Oh well! You can probably tell I love this super simple wreath and use it every Summer somewhere in the house. I made candle holders from dollar store vases by wrapping twine around the bottom and adding tall candles. The burlap ribbon reminded me of a fishing net so I added it as a garland.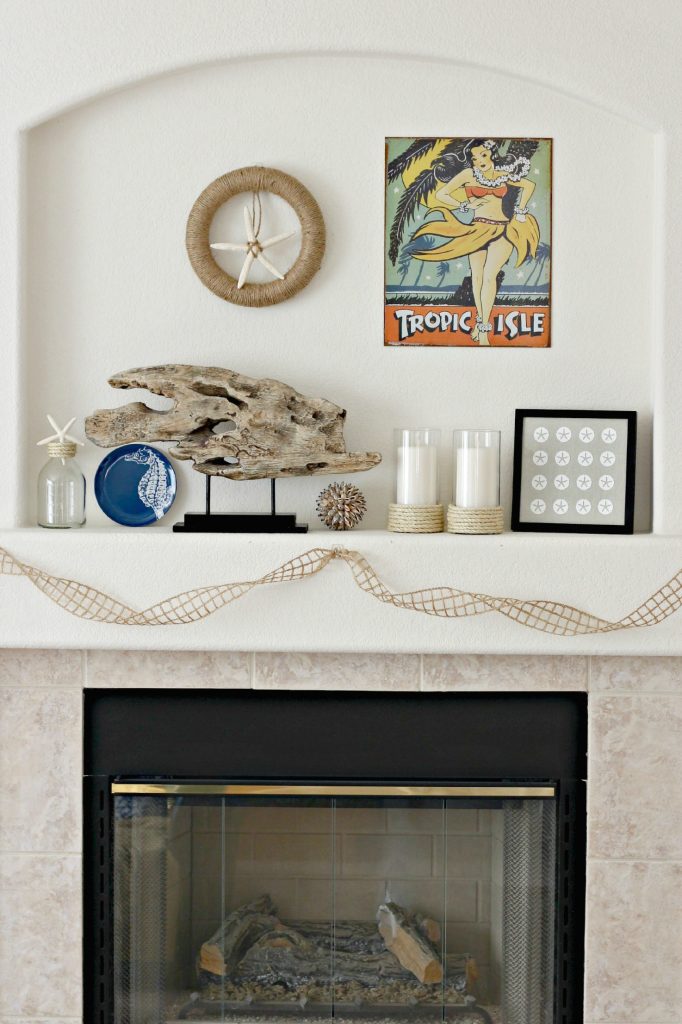 Love Joy Peace Mantel – I decided to step away from the beach theme for a minute and just went with cool Summer colors. I love these colors and how it makes the space feel so inviting. You might have noticed that I moved the shutters in front of the fireplace for Summer. I'll tell you another secret. We're in a rental and the fireplace doesn't actually work.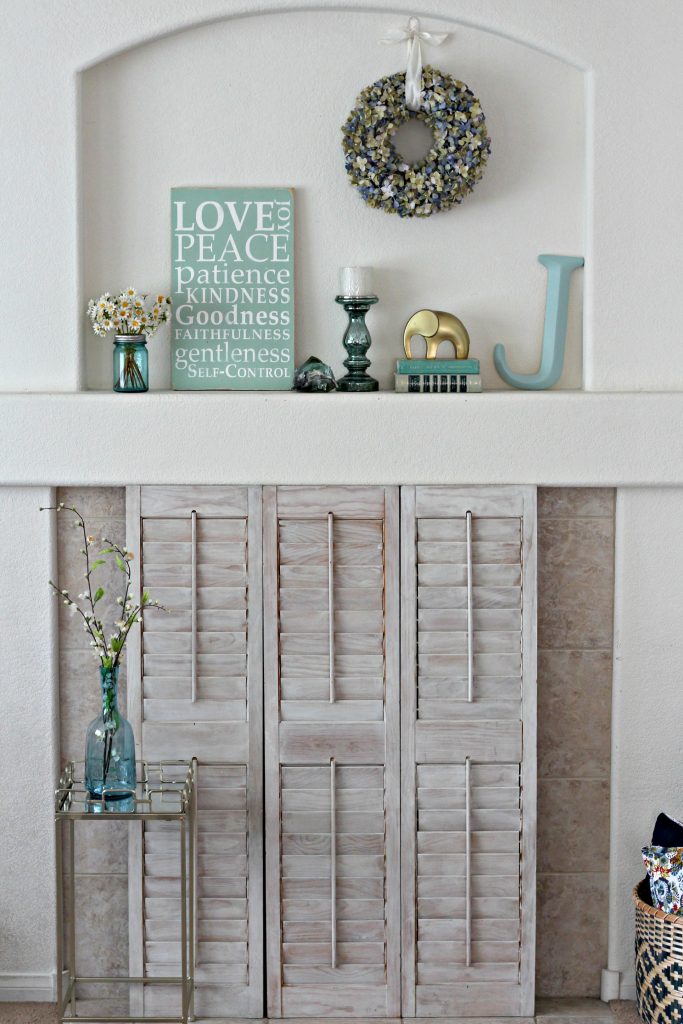 Simple Summer – Even though we're renting I decided to paint the small indent above the fireplace. It's small enough that it would simple to paint quickly before we move. The colors are neutral except for the yellow wreath. Use empty frames and architectural detail to add interest. I love the simplicity and ease of it.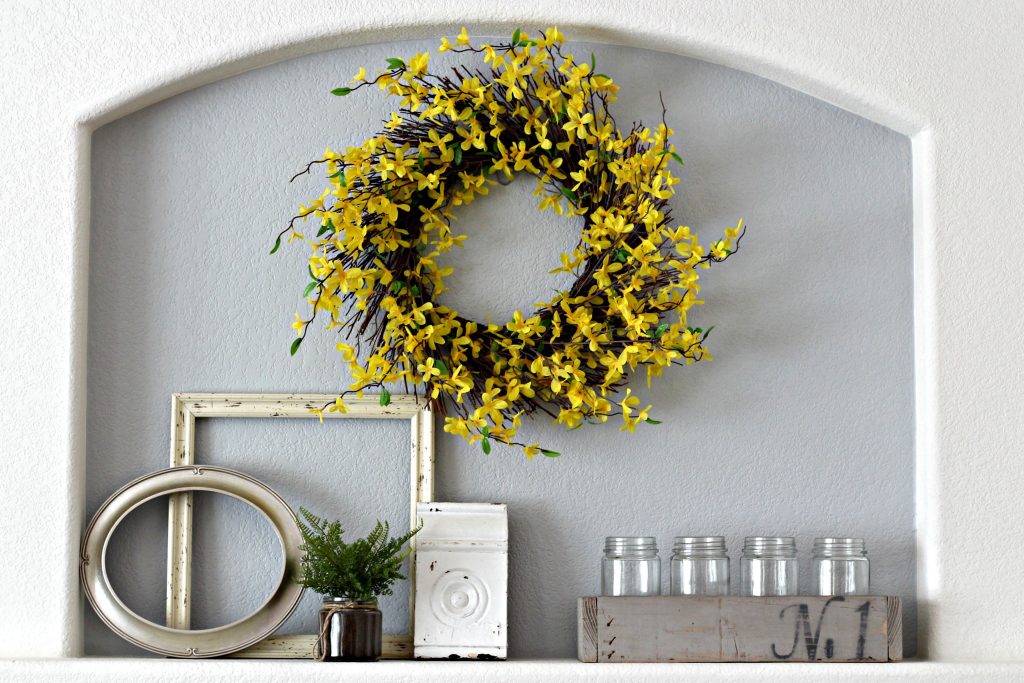 Which are your favorite ways to decorate a mantel? Don't forget to click on each one to get more details.