Refreshing your home for a new season is easy with a few key pieces. This post is sponsored by Kohl's. I was paid for this post and received the included home goods as compensation. #KohlsHomeSale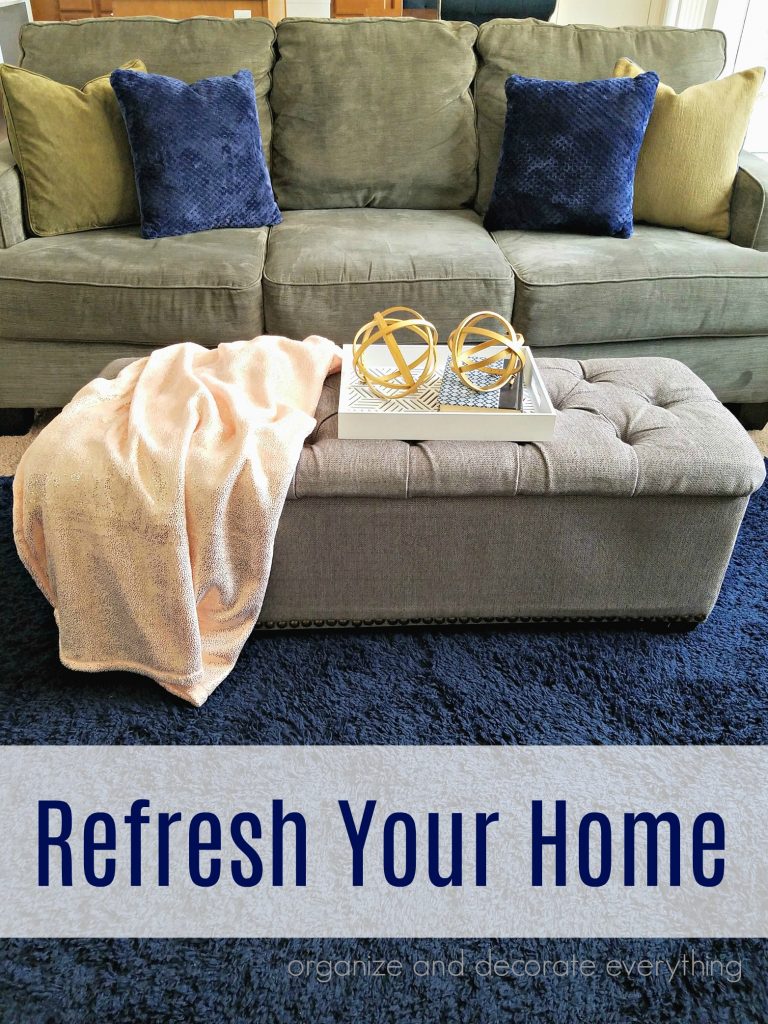 One of my favorite things about the changing seasons is making small changes in my home. When Summer starts winding down I'm ready to make my home cozy and welcoming for Fall. The problem is that it's not always in the budget. Don't worry though, making small changes can make a big impact in almost every room of your house.
Here are my favorite ideas for refreshing your home for a new season using a few key pieces.
Idea number 1: Use decorative pillows and a plush throw to add texture, bring in new colors, and add coziness to your space. Featuring The Big One Our Favorite Plush Throw (super soft and oversized) and The Big One Decorative Pillows 2-Pack. Navy is one of my favorite colors and it's not a predictable color for Fall so I'm especially drawn to it. I love the texture and rich color of these pillows and they're a nice size. My boys have already been taking them over when we watch TV because they love how soft they are.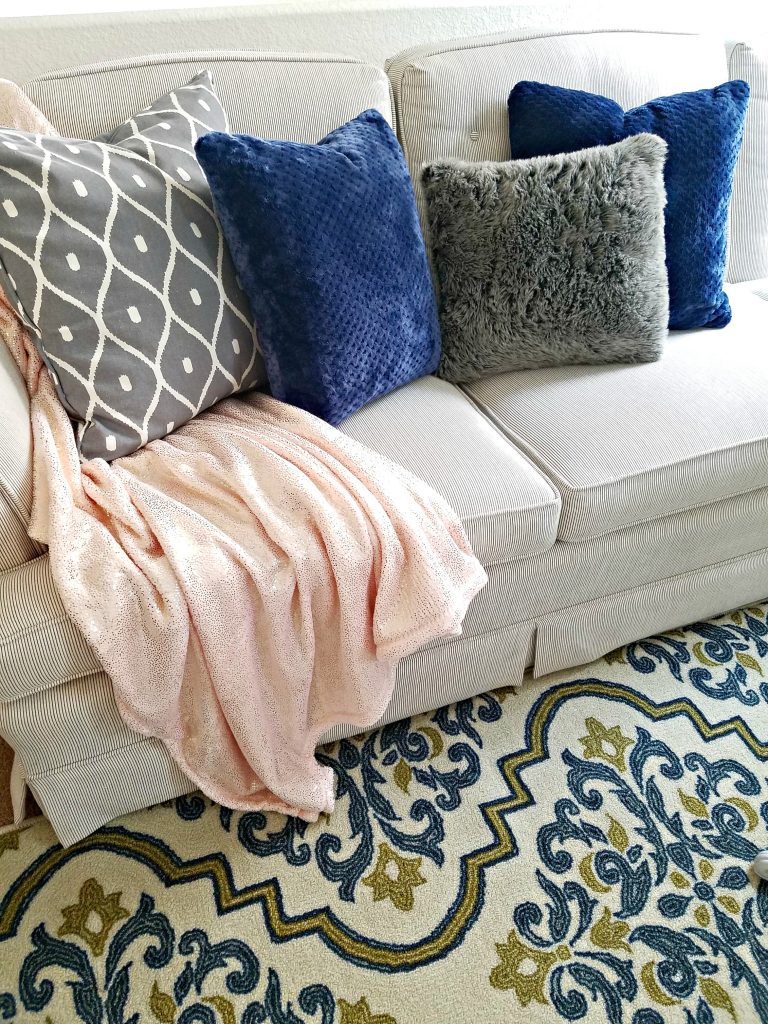 I wasn't sure about bringing in the color of the throw but as soon as I brought it home I knew it was perfect. It's a soft pink and has gold flecks all over it and it goes beautifully with navy and gray. I love how it's also a bit unexpected for Fall. It is so soft and plush and perfect for snuggling on either sofa. I really can't decide which one it's going to stay on.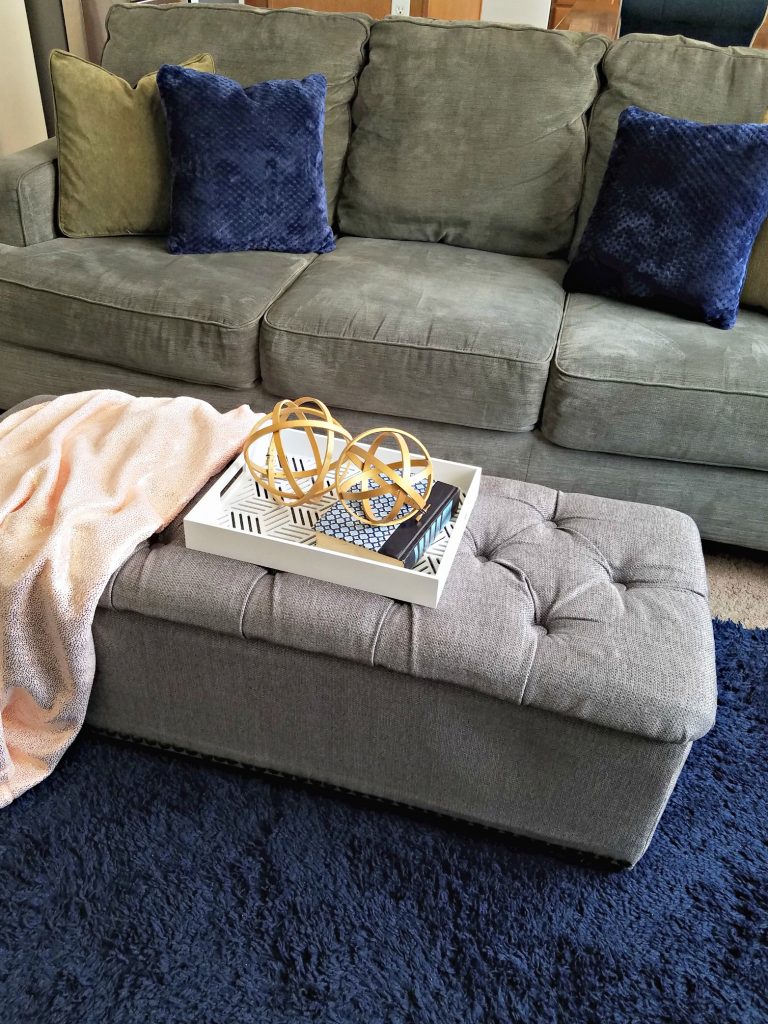 Idea number 2: Use a new rug to add color, pattern, and comfort to a simple kitchen. Featuring Mohawk Home Rug Neptune Gray Flannel. I've had enough of tiny rugs in the kitchen so this one was a great option. I live in a very warm climate but with cooler weather coming the floor tiles can get really cold on the feet. While providing physical warmth this rug also warms up the space visually.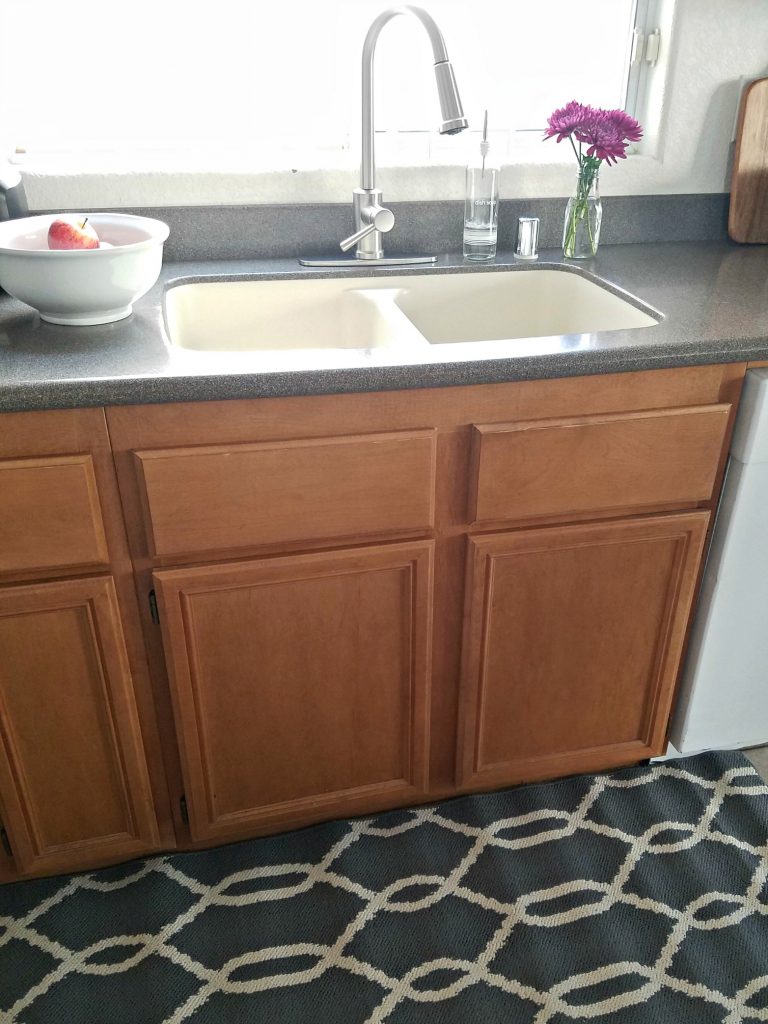 I have a small kitchen so I keep it pretty simple. I love the pattern this rug adds to the space.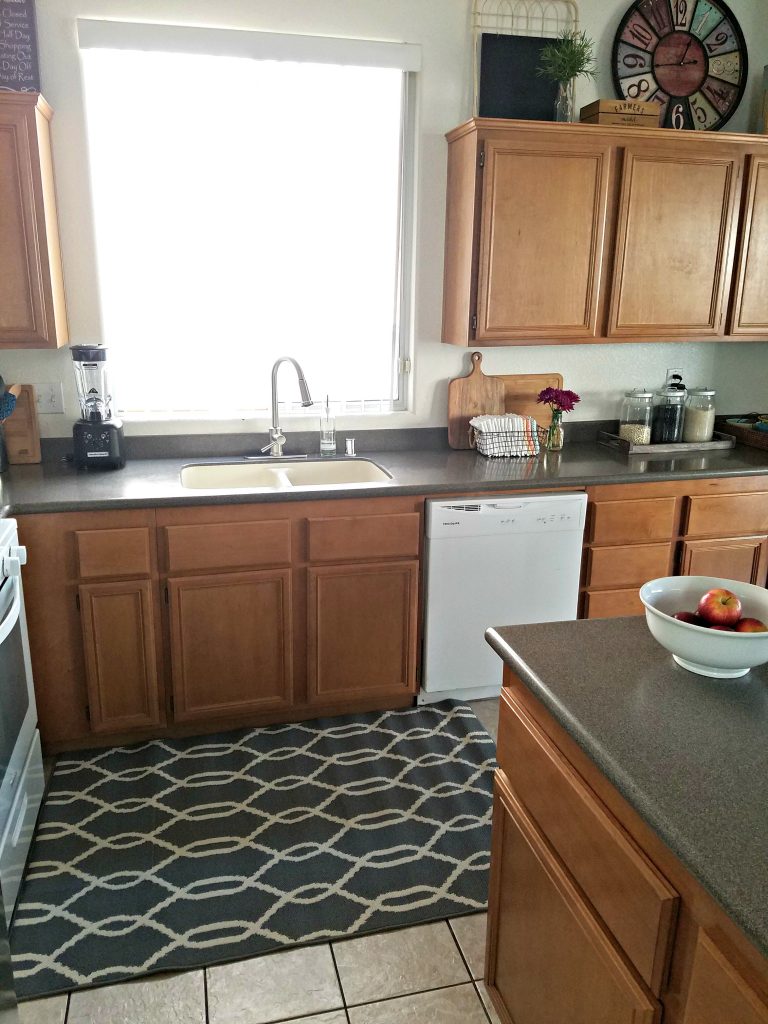 Idea number 3: Add color, style, comfort, and texture to a guest bathroom with new towels and a bath mat. Featuring The Big One Solid Bath Towels and The Big One Chenille Bath Rug. This is the time of year I start thinking about house guests. Like I said, it's hot where we live so we don't get many guests in the Summer months but once it starts to cool down this is the place to be. It's easy to update a bathroom inexpensively by just purchasing a few towels and a new bath mat.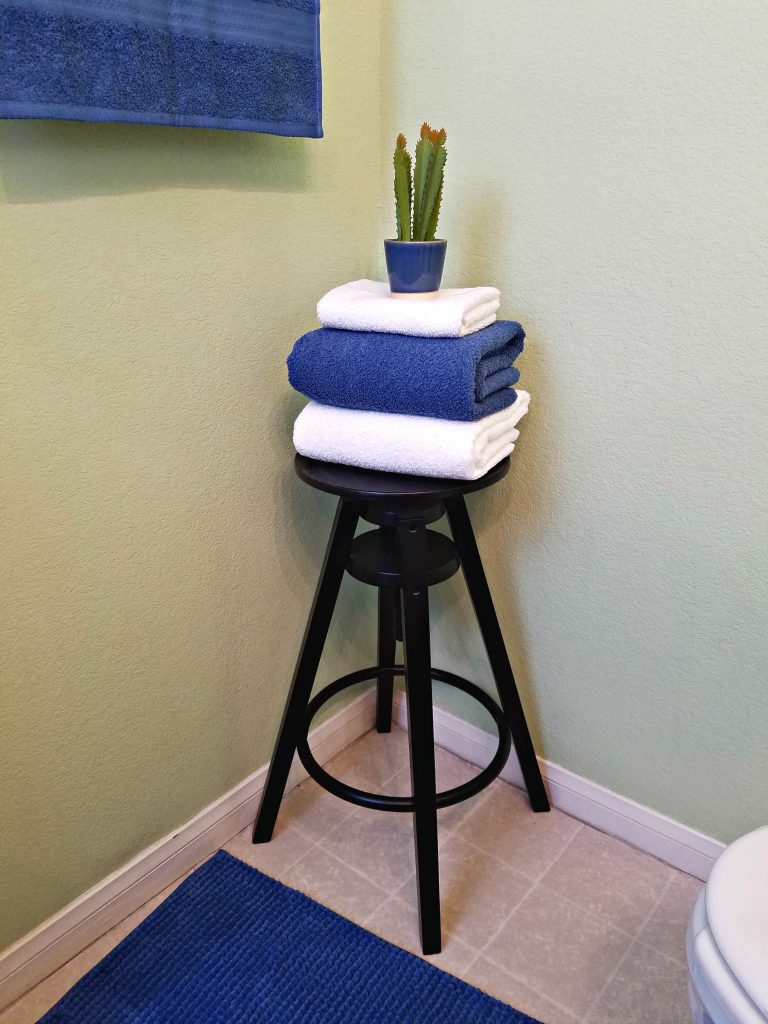 There are so many options when it comes to colors of towels and bathroom accessories. Try something new and go bold, play it safe with neutrals, or mix and match colors for your perfect space. The options are as broad as your imagination.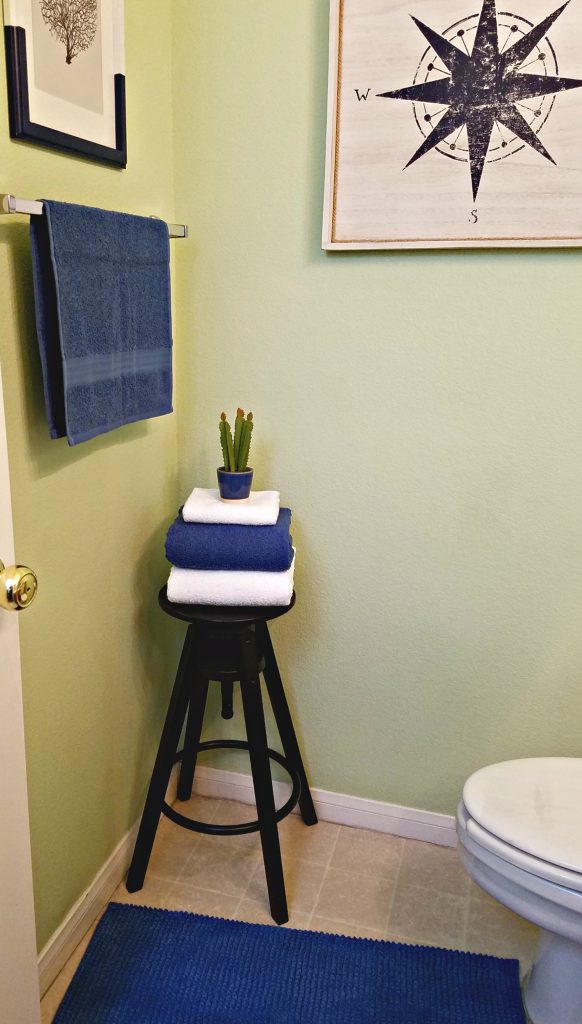 Idea number 4: Update your bedroom or make guests feel welcome by selecting new pillows and sheets for a good nights sleep or for mornings when you decide to sleep in. Featuring Columbia Dry Ice Cooling Down Alternative Pillow and The Big One Easy Care 275 Thread Count Sheet Set. Sometimes you need to buy things for your own comfort. I don't know about you but my day is so much better when I get a good night's sleep. Why not make your bed as welcoming and cozy as possible?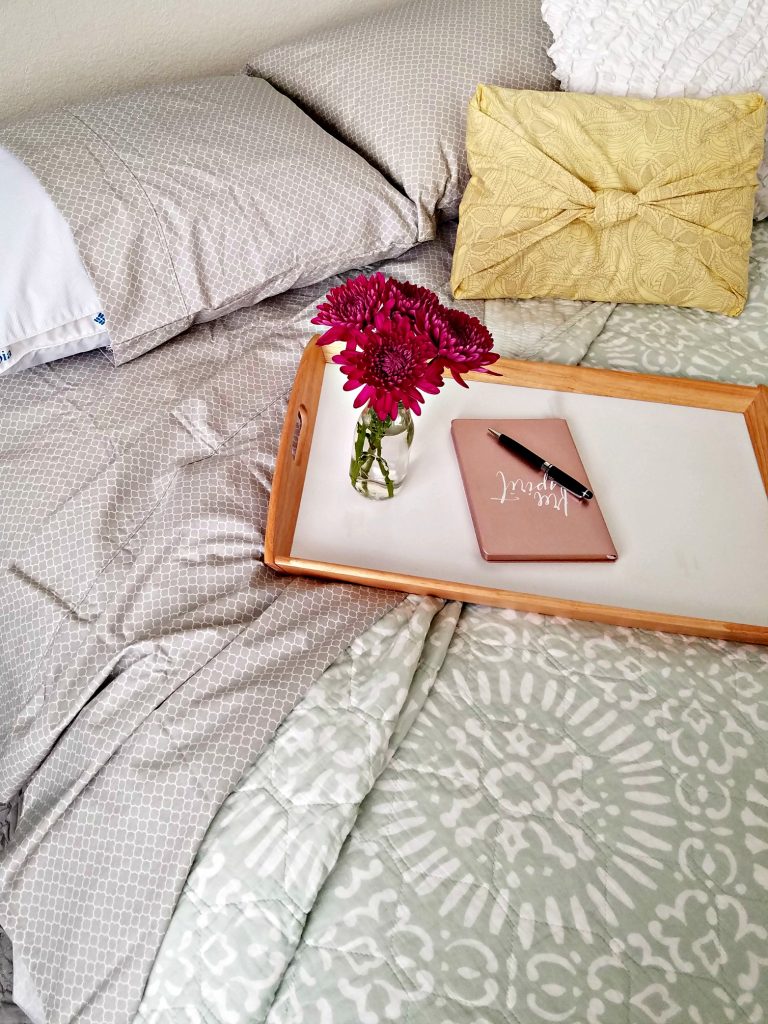 You might even want to spend extra time in it. There's nothing wrong with that. If you're feeling generous it's also a beautiful way to make your guests feel welcome and comfortable in your home.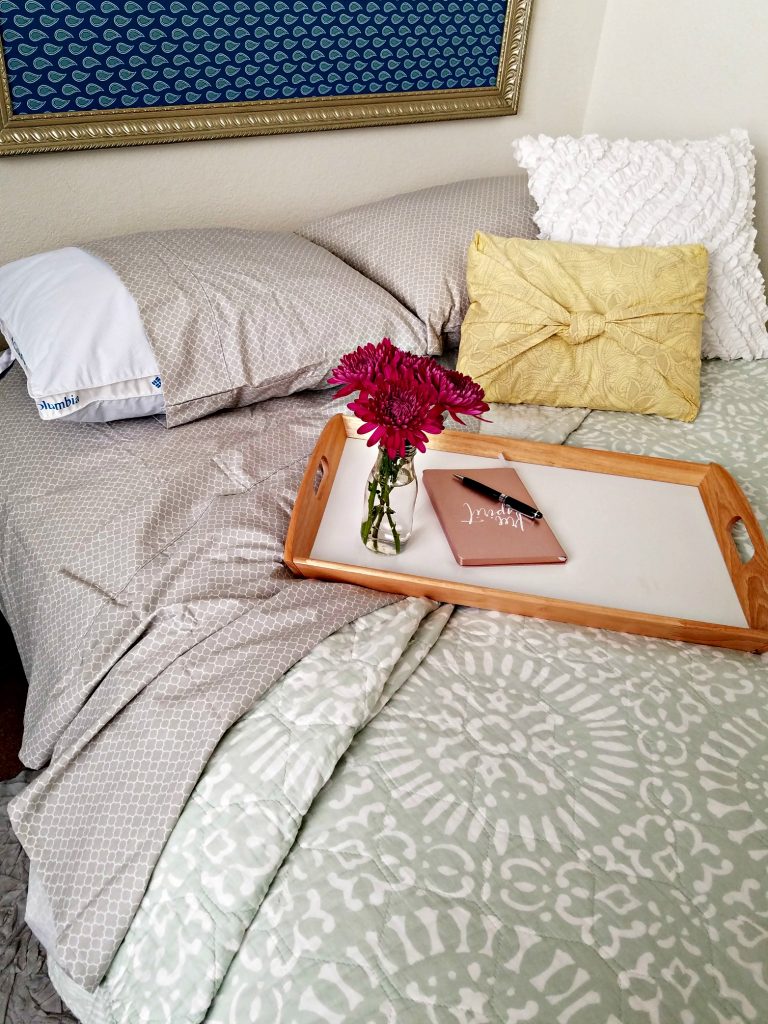 I love these easy and inexpensive refreshes to my home. Kohl's makes it easy with their white sale running 8/22-9/3, including the brands Columbia, The Big One, Serta, and Mohawk. How are you going to update your home this season?
My blog may contain links to other websites. I am not responsible for the privacy policies of those other websites. When you click on a link, your information may be collected by those websites so I encourage you to read their privacy policies.
Pin it for later: