Make these Stenciled Hoop Art pieces to display from early Fall through Thanksgiving. Since they're a stencil you can choose the colors of paint that fit best with your home decor.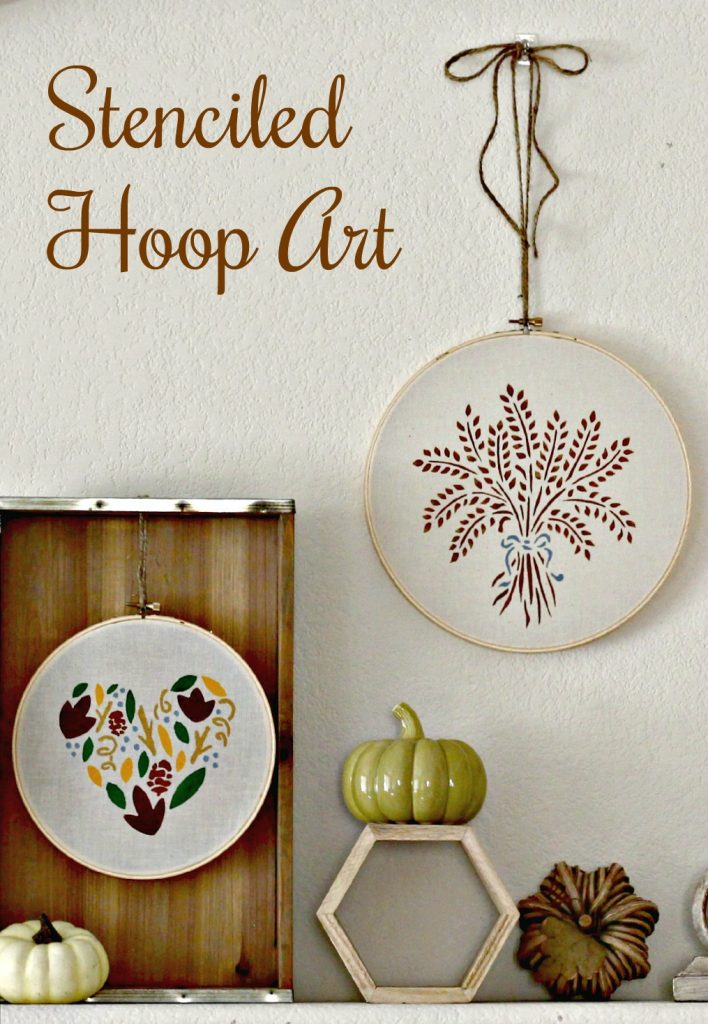 As a blogger it's so easy to start decorating early for a holiday then be over the holiday by the time it's finally here. I mean, it is our job to share projects to give you inspiration so you have time to create them. Of course I love doing that but sometimes it feels like I'm always 2 holidays ahead of everyone else. That's why I love these Stenciled Hoop Art pieces and that they can be displayed from early Fall through Thanksgiving or any time in between. Wheat bundles always make me think of harvest time and growing up in the Midwest. I still miss the beautiful colors of Autumn there.
I haven't stenciled in years so I was a little nervous before starting this little craft project. I'm happy to say that it was really easy and I love how it turned out.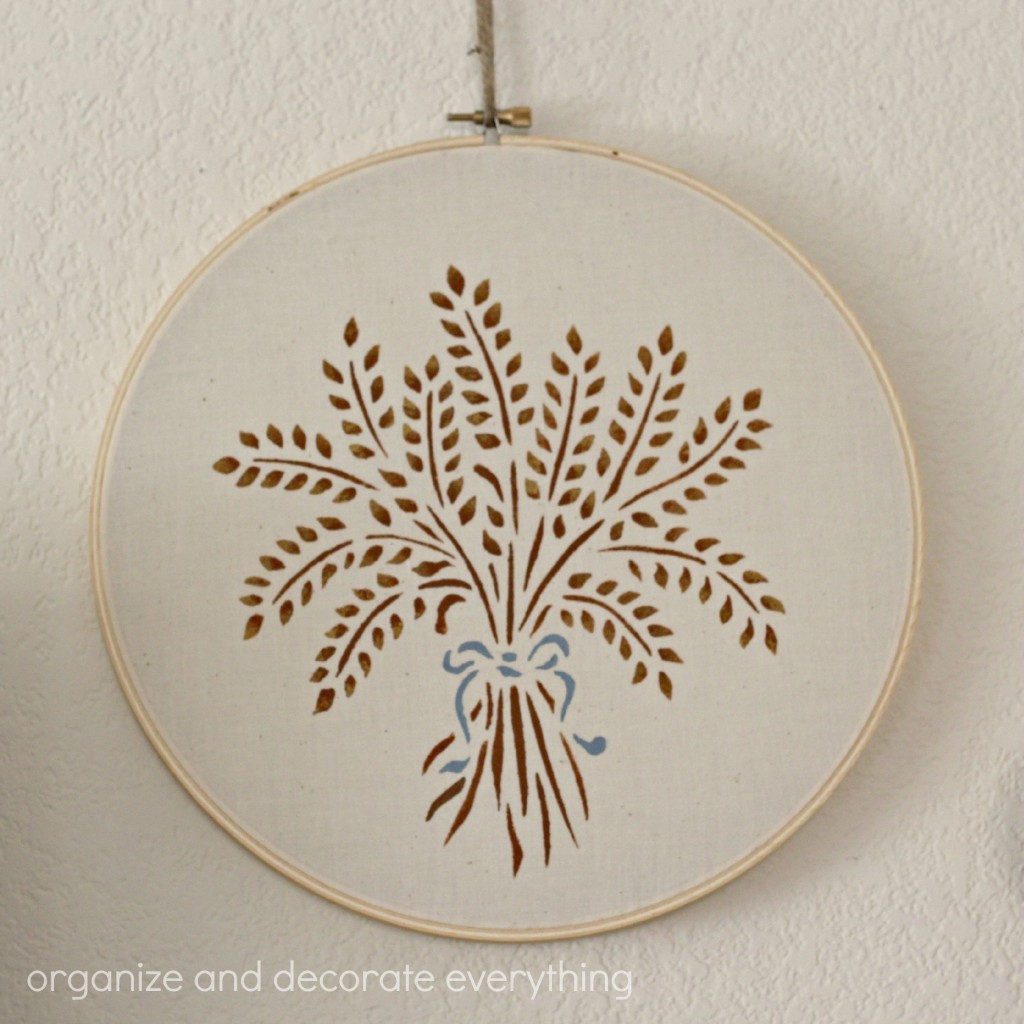 This is What You Need:
Craft Paint (I just grabbed some colors from my stash that appealed to me for this project) There's no need to buy new paint because you don't use much
Large Provence Wheat Bundle stencil (Royal Design Studio Stencils)
Ashley's Autumn Heart stencil (Royal Design Studio Stencils)
Solid Fabric
10″ Hoop
8″ Hoop
Brushes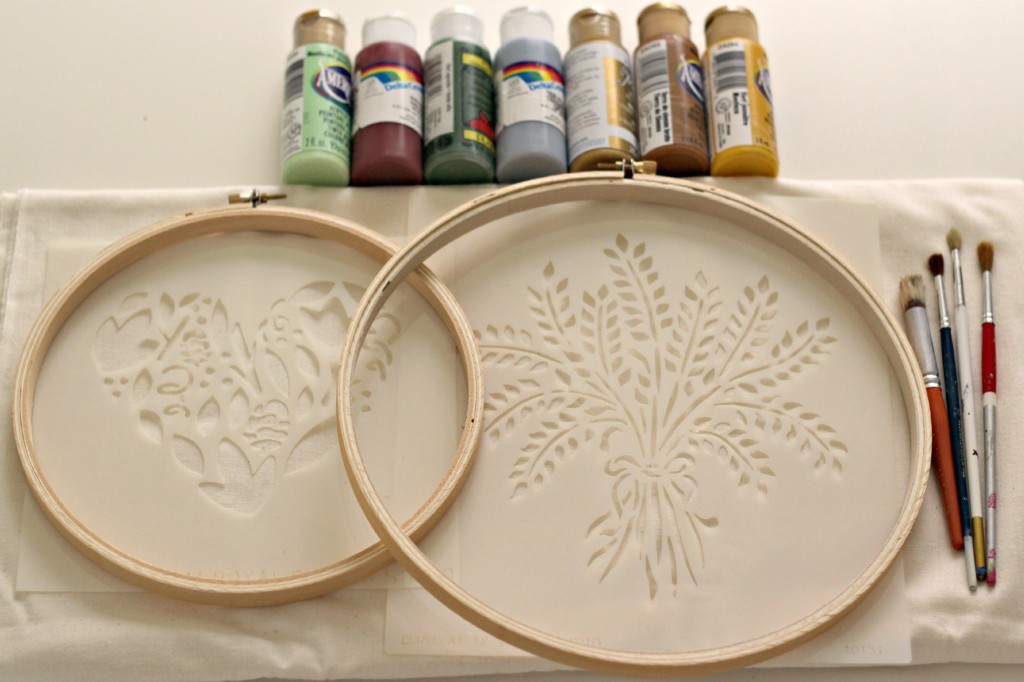 Cut the fabric around the stencil adding a few inches all around so there is plenty of fabric for the hoop. Lay the fabric on a hard surface placing a piece of wax paper under it so the paint won't bleed through and hurt the surface. Tape the stencil to the fabric in a couple places to secure it. Use a stencil brush or a hard flat brush to stencil. Since this is a smallish stencil I used a small stencil brush. Make sure to dab the excess paint off on a paper towel before applying it to the fabric. I applied the brown paint for the wheat. Once that was dry I applied a bit of gold to the tips to give it depth.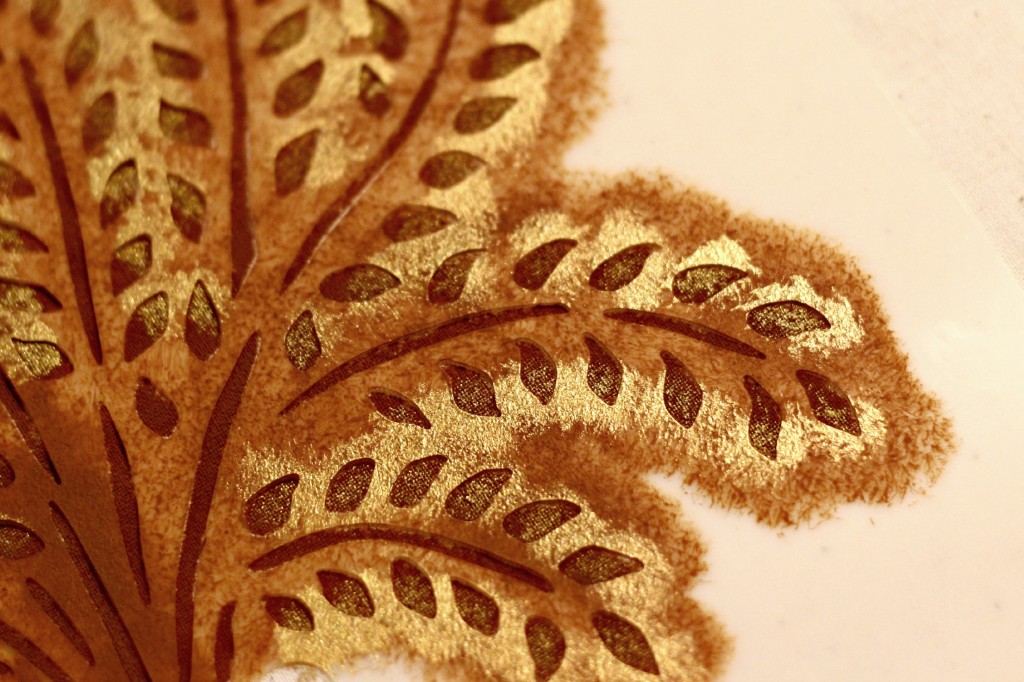 Then I used blue paint for the ribbon. Choose a color that works with your home decor or even your favorite color.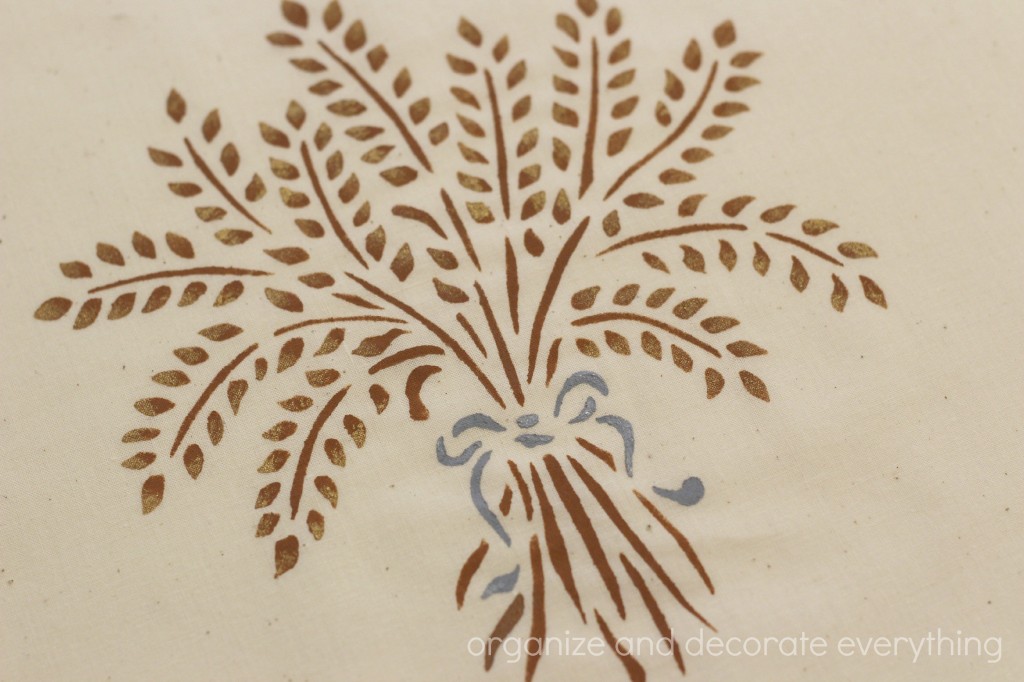 Once the piece is dry center it in the 10″ hoop making sure the fabric is pulled fairly tight.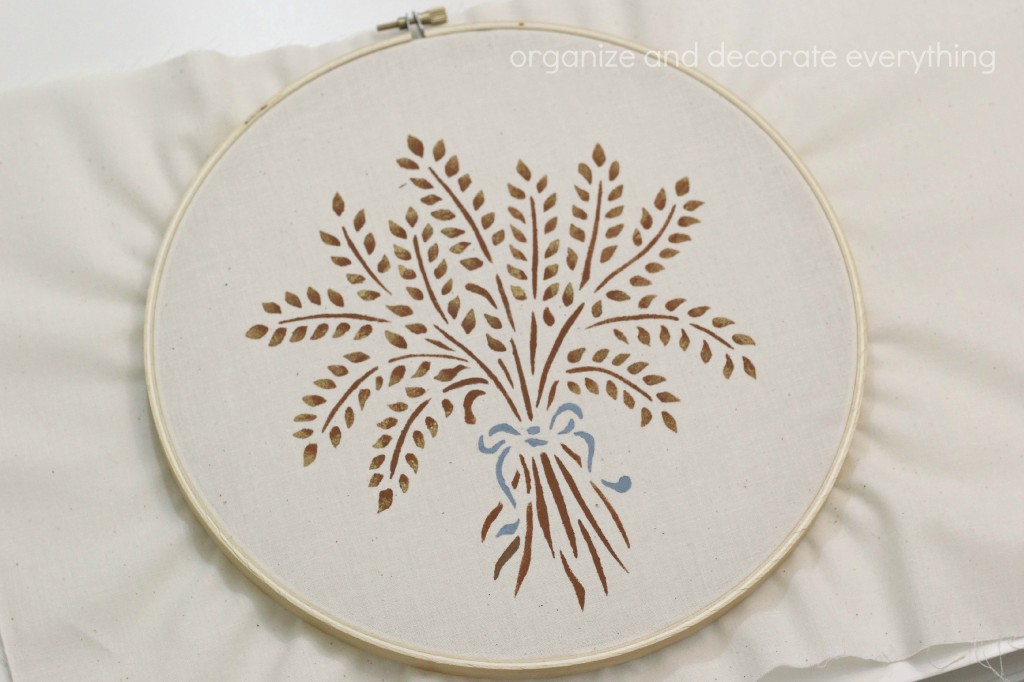 Then cut the excess fabric off from around the hoop. That's all there is to it!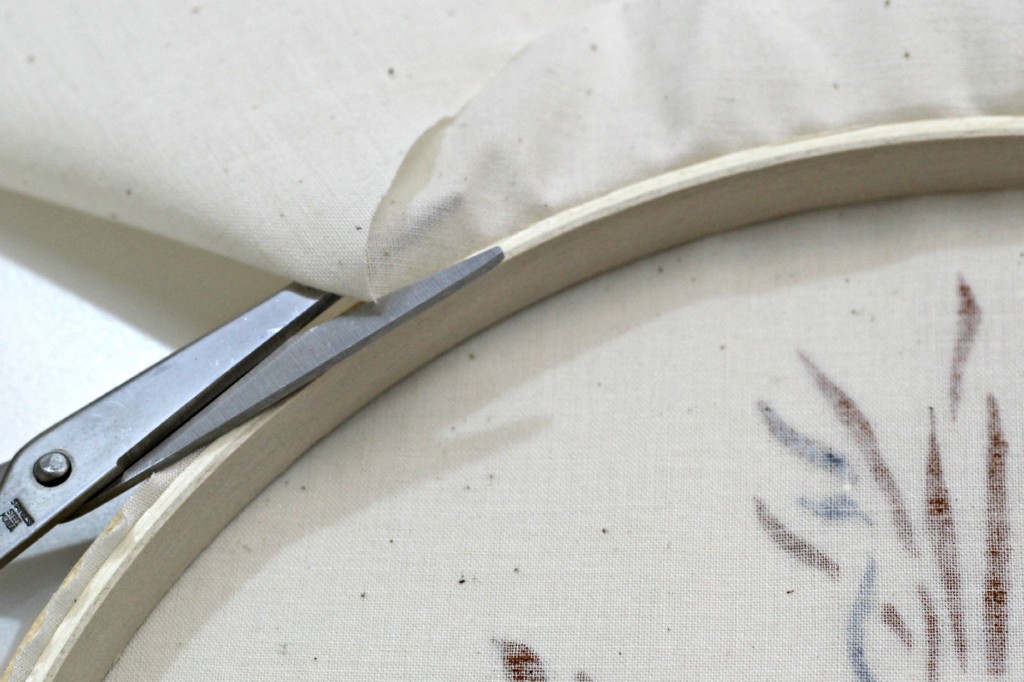 I was happy to get this "thank you" Ashley's Autumn Heart stencil from Royal Design Studio Stencils for ordering the Provence Wheat Bundle. It looks perfect with the Wheat Bundle and I love all the fun little details. Since it's smaller I put it in a 8″ hoop. Follow the same instructions for stenciling as above. You can use as many or as few colors on your stencil as you like.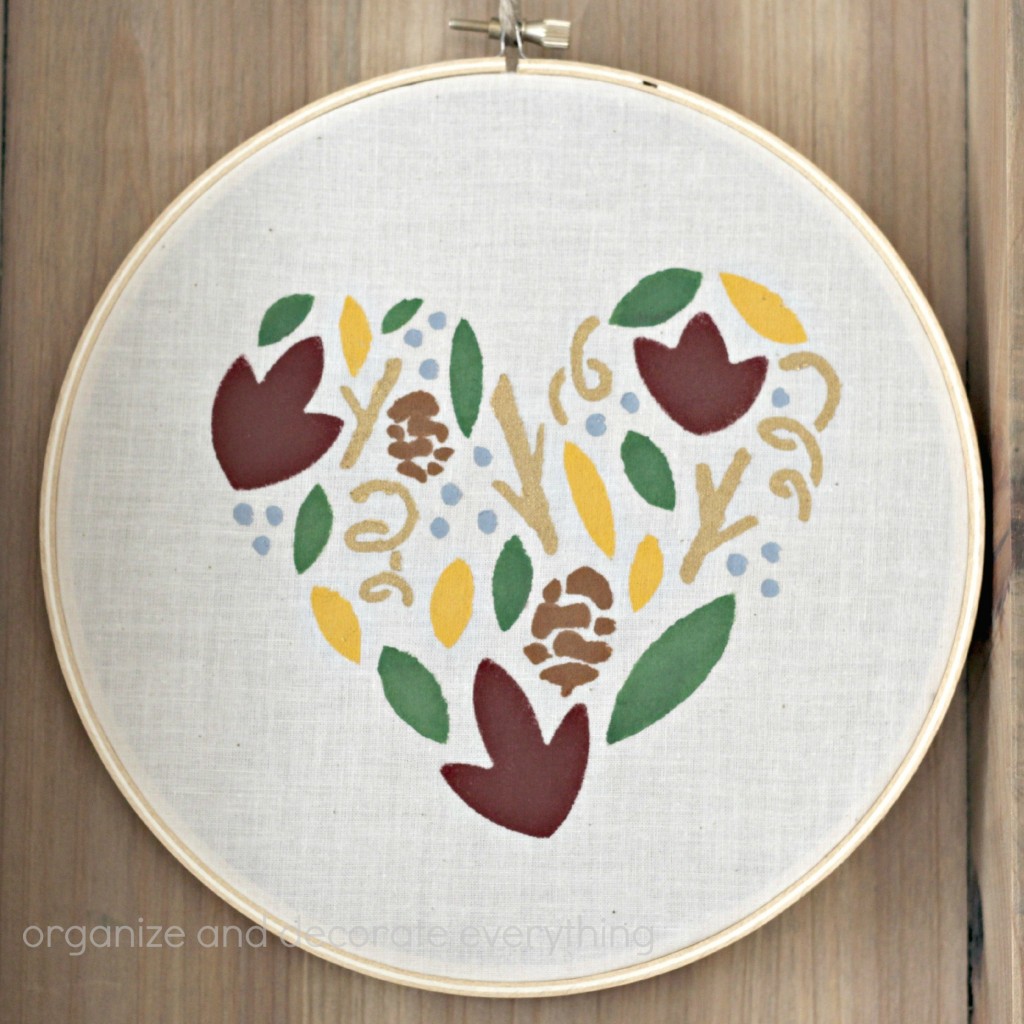 Don't they look great together? I discovered again that I really enjoy stenciling and I love the way these designs look for Fall. I like to keep my Fall and Thanksgiving decorating fairly simple because Halloween and Christmas can get out of hand at my house.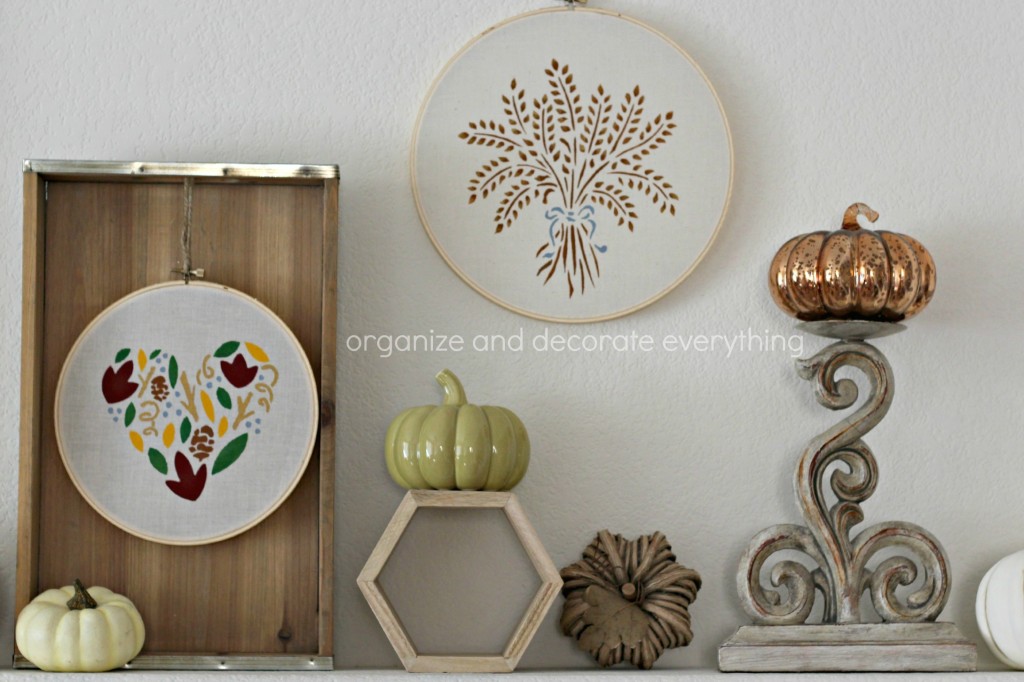 Clean up of the stencils are a breeze, just run the stencil under water to get the paint off or wipe it off with a damp paper towel. Make sure the stencils are completely dry before storing. Either of these would make a great hostess gift too.