Ten of my favorite ideas to make your home welcoming while Preparing for House Guests.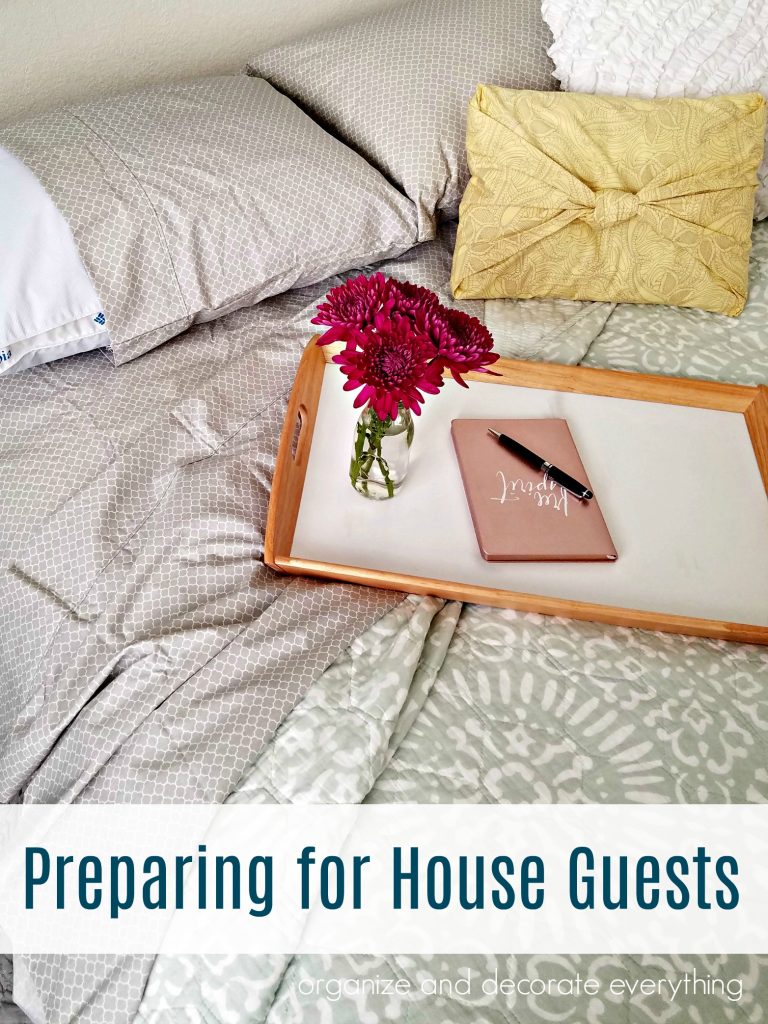 Now that things are starting to get back to normal you might be having house guests again. Are you ready for them? You don't have to go over board or even have a special guest room in your home to make your guests feel welcome and special. Have a list of a few things to do to prepare for guests before they arrive. Once they arrive you'll have more time to devote to them.
Preparing for House Guests
Clean Sheets and Bedding – This is a given but make sure to wash the sheets and bedding before guests arrive. It's okay if you don't have special sheet sets for guests but make sure the bedding is clean and not worn. When I remember, I even like to spray the sheets with a lavender linen spray to encourage a good night's sleep.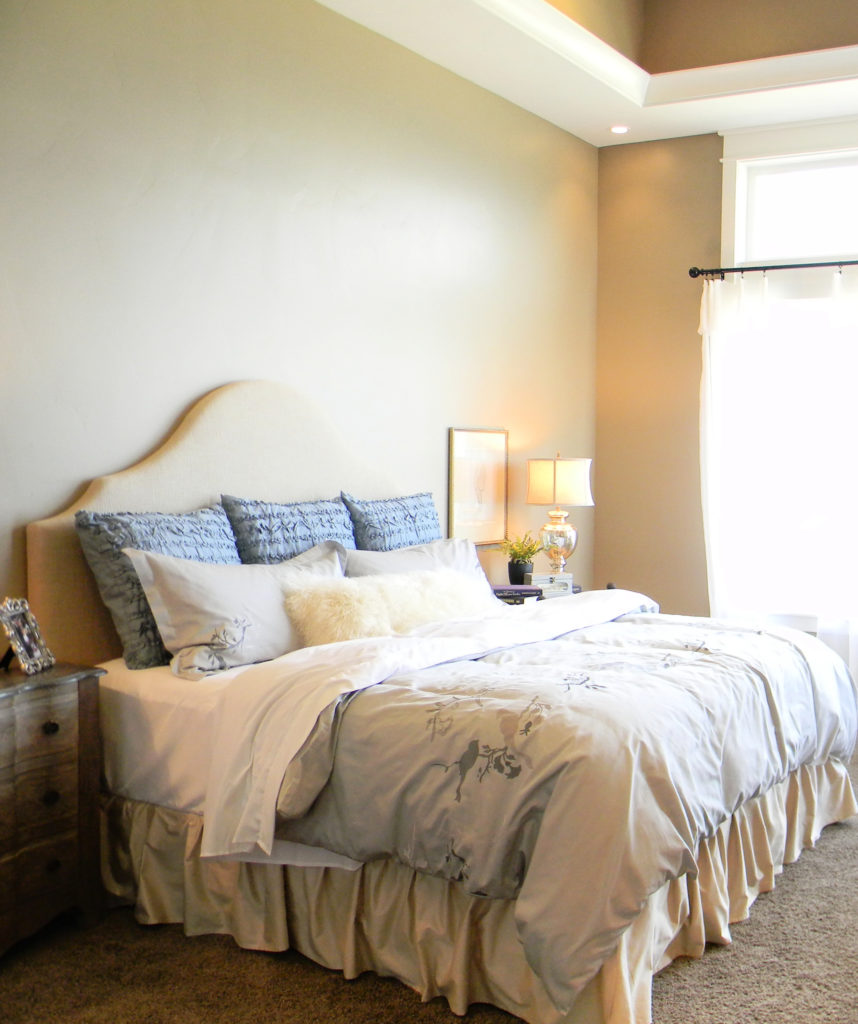 Extra Beds, Blankets and Pillows – Again, a lot of us don't have special rooms for our guests but there are other options. We purchased some very nice air mattresses for guests and also for when we visit relatives. Have the beds set up and made, ready for guests before they arrive. Sometimes they are arriving late in the evening and going straight to bed. I always have extra pillows and blankets available in the room or on the beds in case they are needed.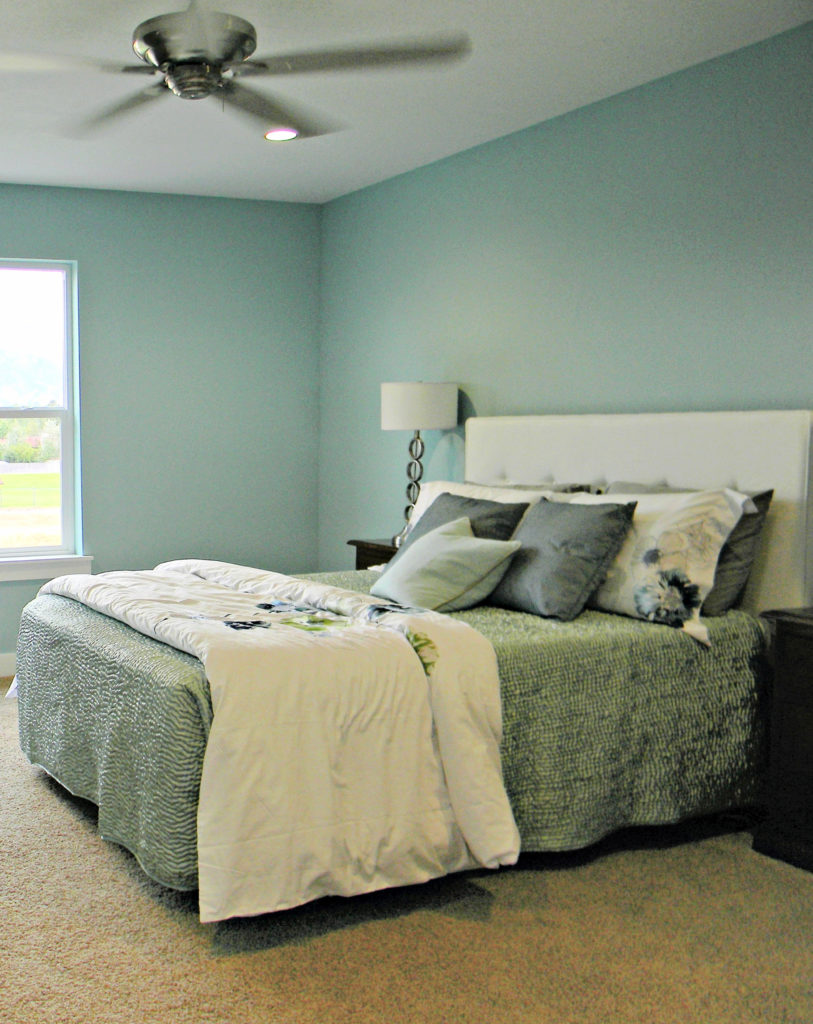 Technology Accessories – Have your wi-fi password available for your guests so they don't have to ask. We always have extra chargers so we make sure they're available in case someone forgot theirs and needs to charge their technology.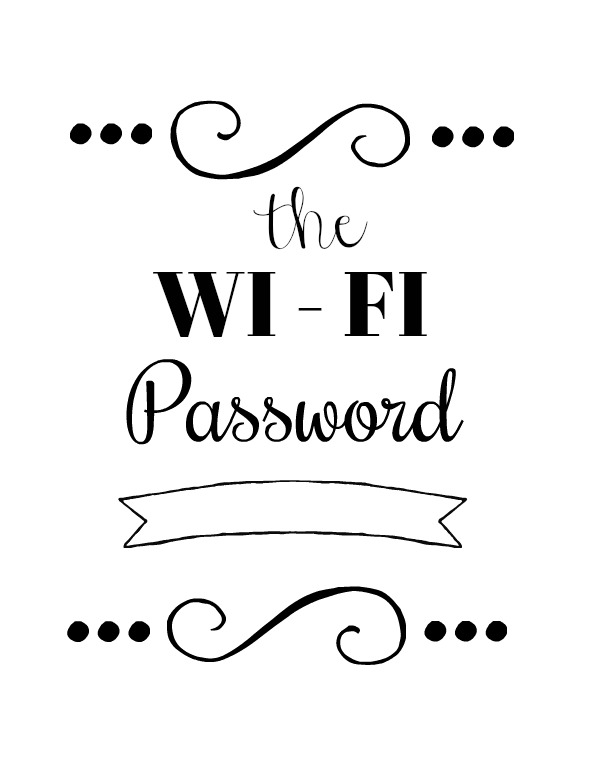 Space for Hanging and Folded Clothes – It's easy to find an extra few inches in a closet for hanging clothes. Make sure to have extra hangers available too. If your guests are planning on staying more than a few days you might want to also make space in a dresser drawer. I have a dresser that always has an empty drawer or two for this circumstance.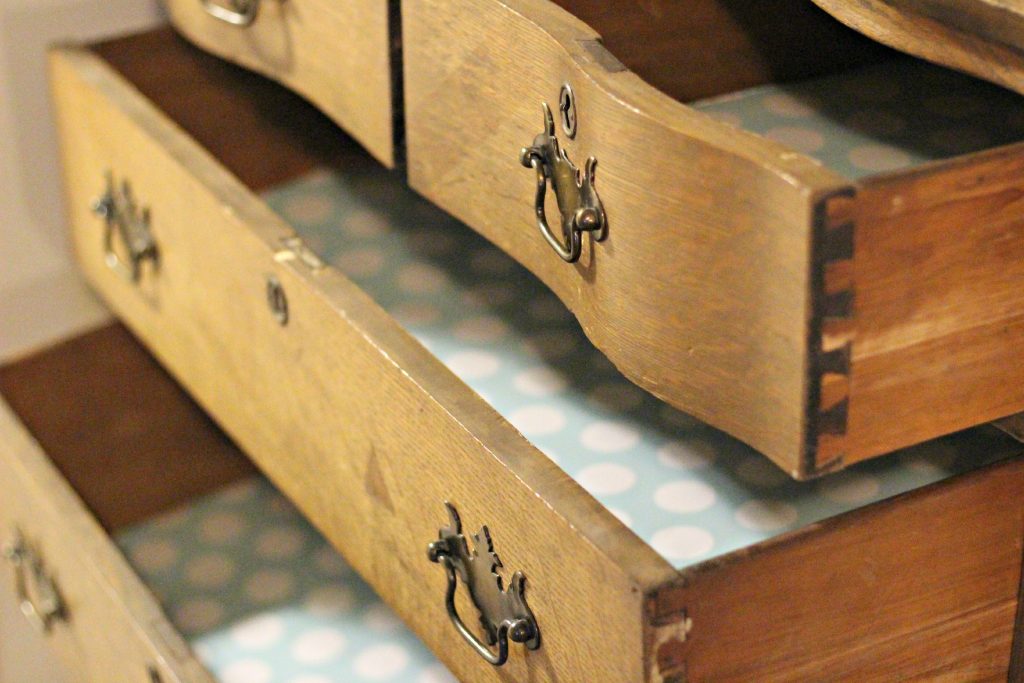 Guest Towels – Store guest towels convenient for guests when they use the shower or bath. You can store them in the bathroom they'll be using or in the bedroom they'll be staying in. My guest towels are usually a different color than my regular towels but they can be the same as long as they're fresh and not stained.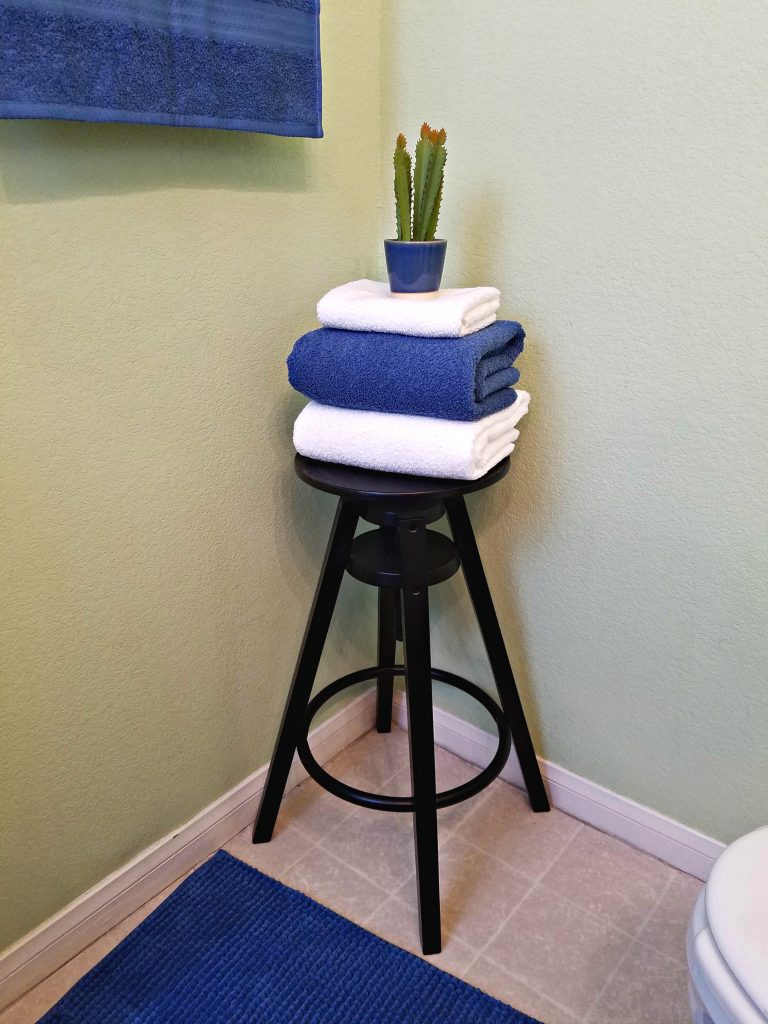 Laundry Bag – No one likes to put their used laundry in the luggage with their clean clothes. Provide a laundry bag on the back of the door if they will be doing laundry while at your house. If not, you can provide a plastic bag for their dirty clothes to help keep them separate from their clean clothes.
Basket of Toiletries – How many times have you gone out of town and forgot a toiletry or necessary item? I like to have extra items like; shampoo, conditioner, razor, toothbrush, toothpaste, hair spray, face wipes, body wash, and other items in a small basket and easily available for my guests. You can also add reading material, water bottles and their favorite treat.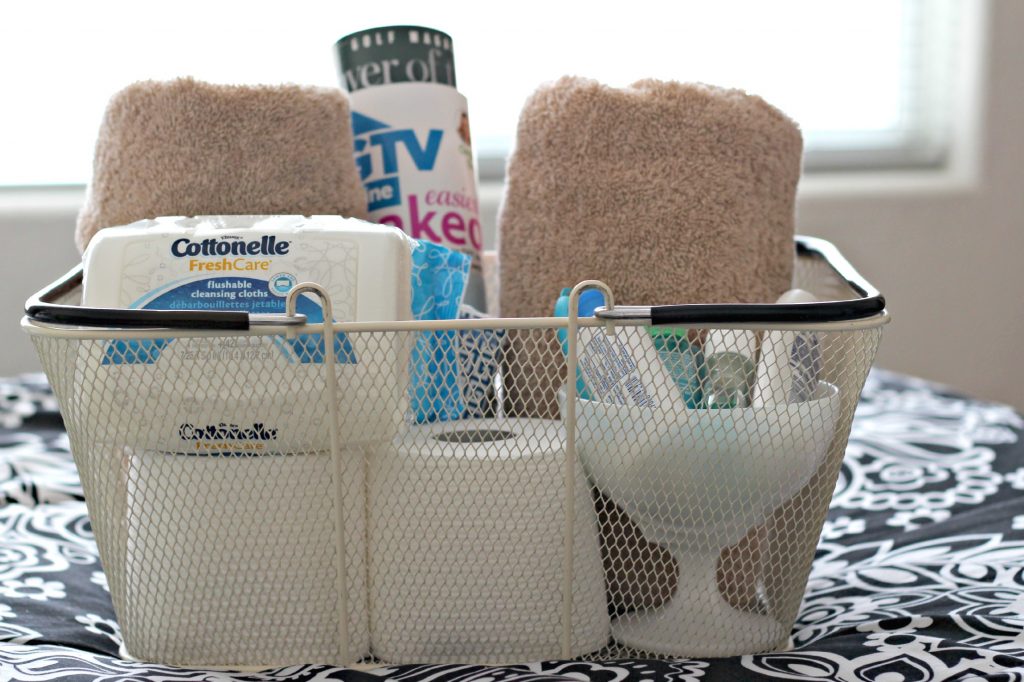 Stocked Kitchen – I hate going shopping once my guests are here. Try to stock the pantry with meals and snacks a day or to before everyone arrives. Make sure you know of any dietary restrictions of your guests. On-line shopping and grocery pick up are a life saver in our family. I don't think I can ever go back to regular shopping in a grocery store again.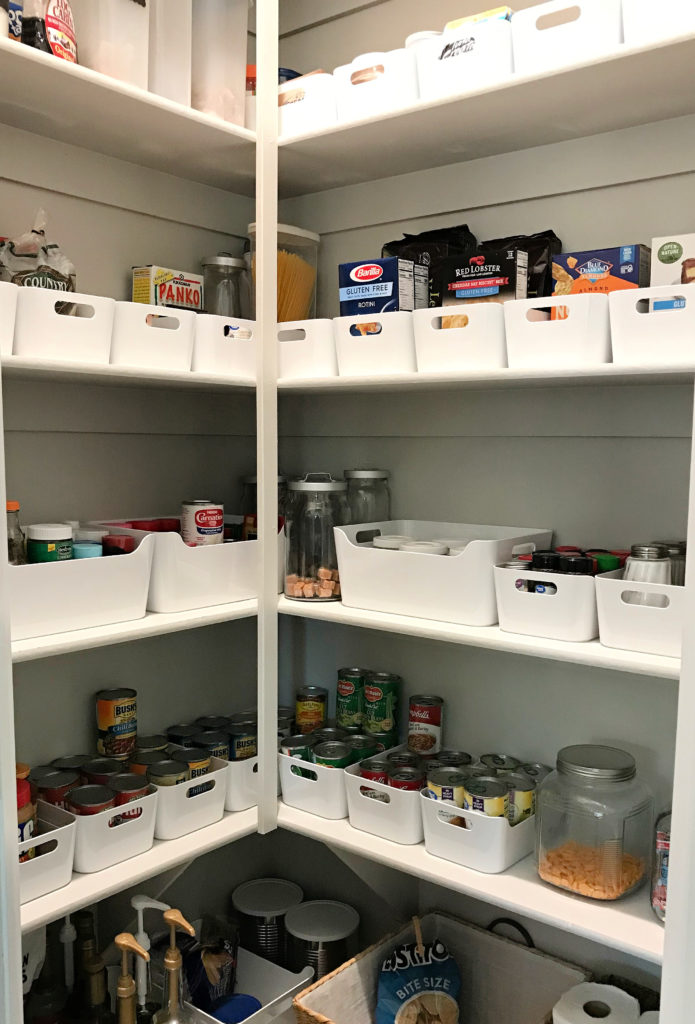 Stocked Bathroom – This goes along with the towels and toiletries. You can also make sure toilet paper, a fresh hand towel, and hand soap are all stocked. Also give your bathroom a good cleaning.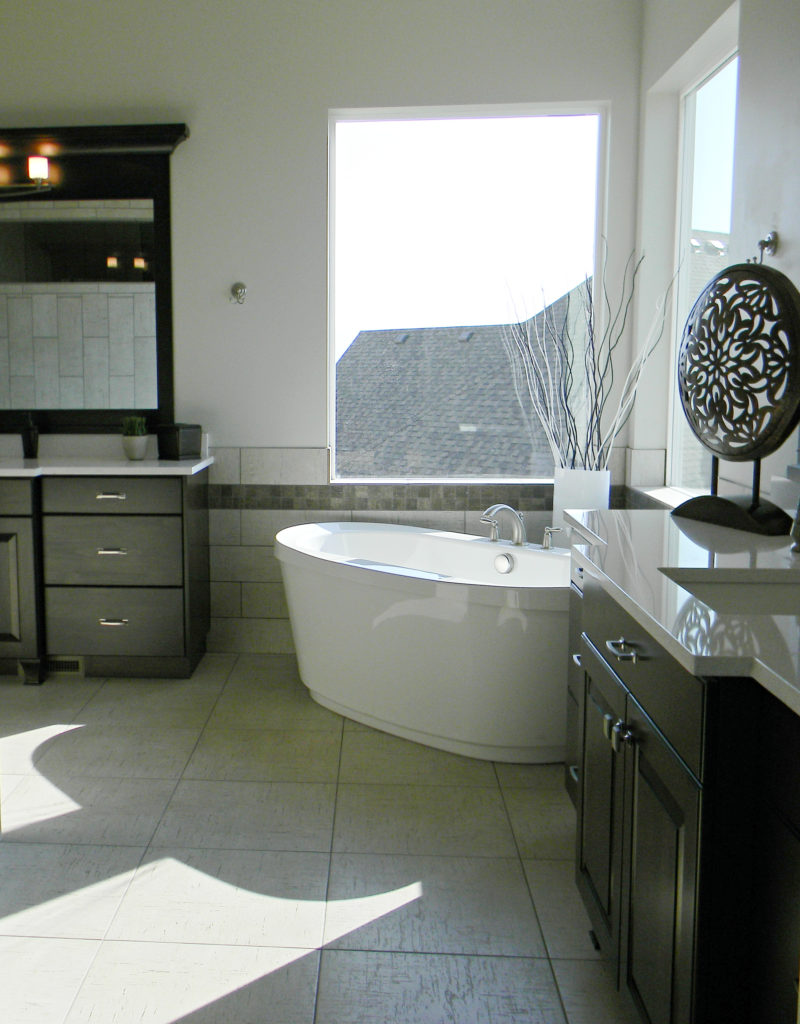 Fun Activities – You probably won't be spending every waking moment with your guests. Have a few fun and inexpensive activities planned together and give them a list of other local activities they might enjoy on their own.
Do you have more ideas to help make your home ready for guests?
Pin it for Later: Preparing for House Guests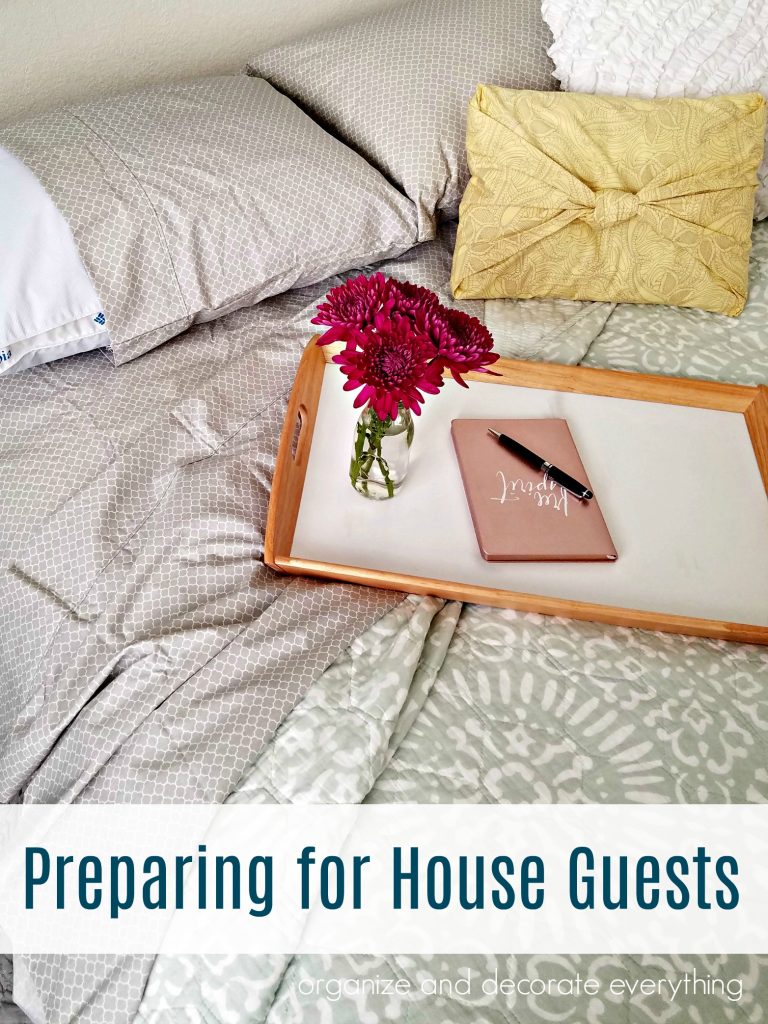 You might also like these posts:
Organize Your Home with Baskets, Bins and Totes
Choosing Colors for Your Home