You know how an event can create a snowball effect and before you know it you're rearranging and changing 3 rooms in your house at the same time? I can't be the only person this happens to. The Master Bedroom Office Space is where my focus is right now.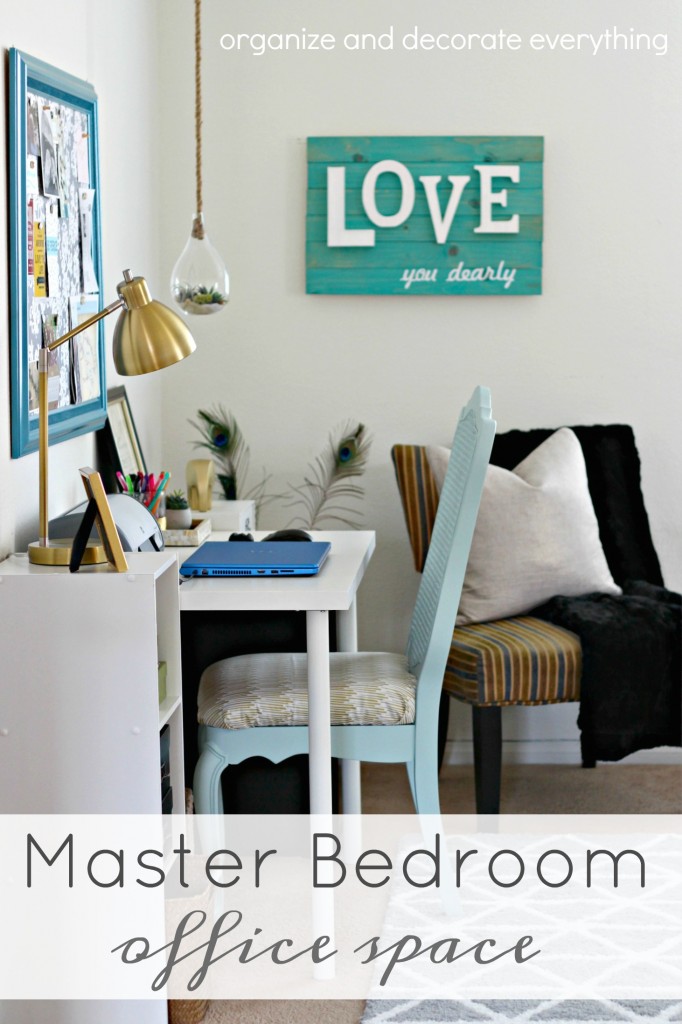 Master Bedroom Office Space
If you're like me you don't have money just hanging around waiting for you to spend. Here's how I created an office space using things I already had and purchasing a few new items to bring it all together. Let's start with the desk that was purchased from IKEA a few years ago. My daughter used it and then it was stored away for a couple years. If I were going to purchase a new one I would like a drawer but this will do since it's free.
I made the fabric covered cork board a couple years ago from a large frame I purchased at a thrift store. It's used for inspiration, quotes, photos, and urgent papers.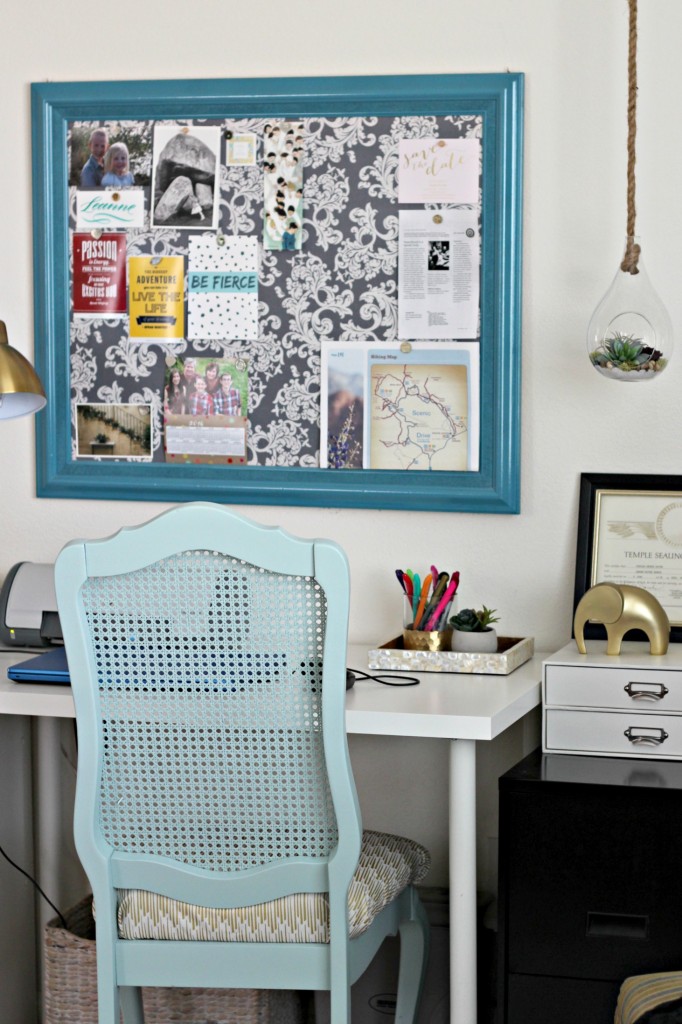 It's important for me to keep my desk clutter free so the only things I keep on it is my computer, the printer, and a small tray. That leaves me plenty of room if I'm working on a project or need more space. The tray has a wood bottom but I wanted to add color so I adhered a piece of vinyl to the bottom. You can also use scrapbook paper or fabric so it can be changed. Adding color or interest is as easy as that.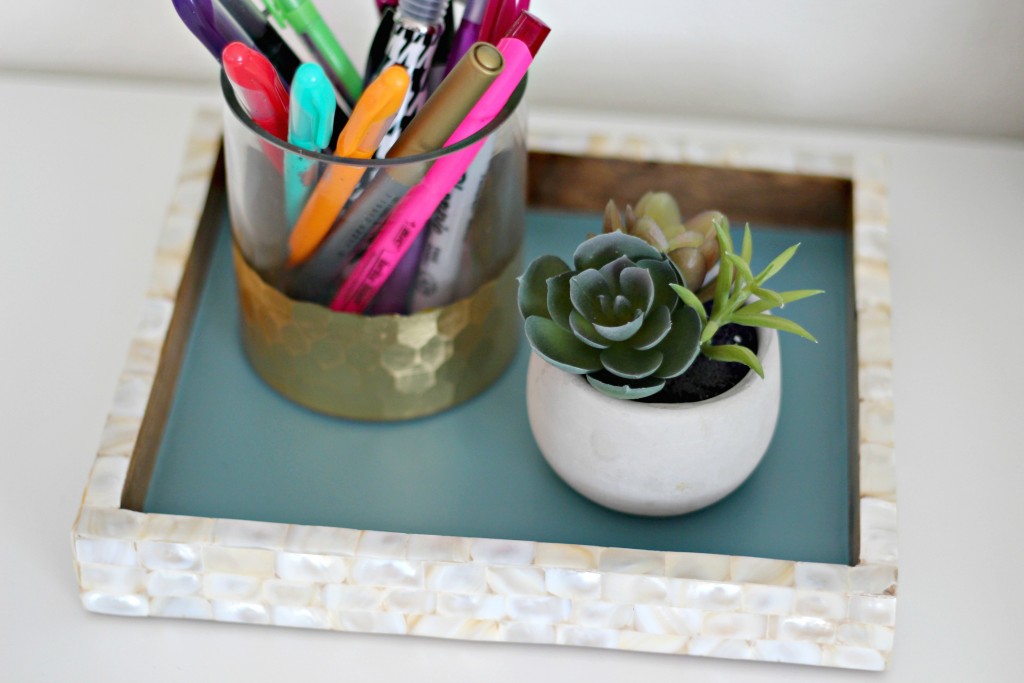 I have an issue with cords because they're so distracting and messy. I came up with a great way to hide them but it was a pain when I wanted to take my laptop anywhere else to work. The next best option was a basket to hold the power strip and all the cords. It's under the desk next to the paper shredder and pretty well hidden.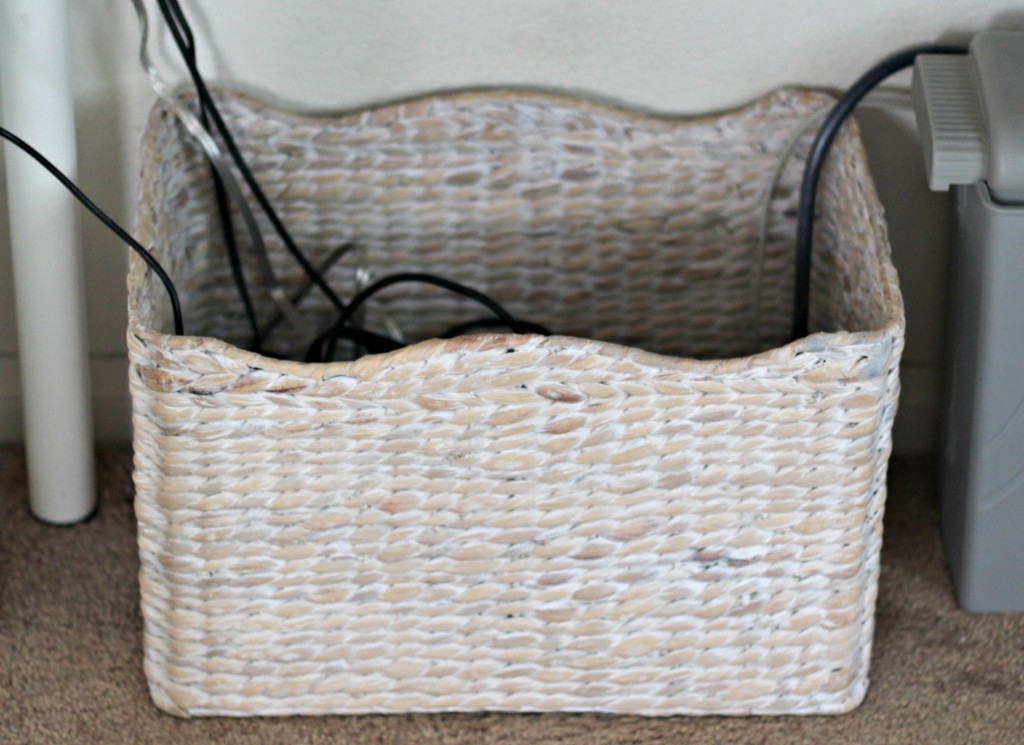 This thrift store chair is on it's 4th transformation. Since the fabric was worn I made a new cushion using fabric I already had. Then I painted the chair Robin's Egg Blue while the cushion was off. The rug designates the office area and adds interest to the drab carpet under it.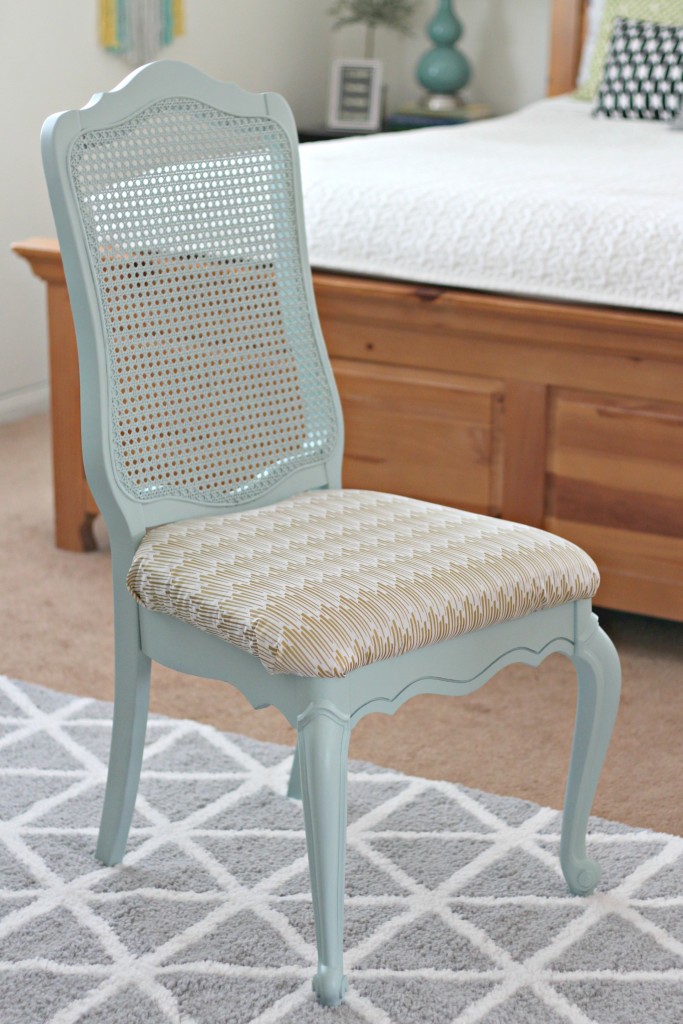 I love the matte finish of this paint. It's quite different from the shiny black it was before and it fits the space so nicely now.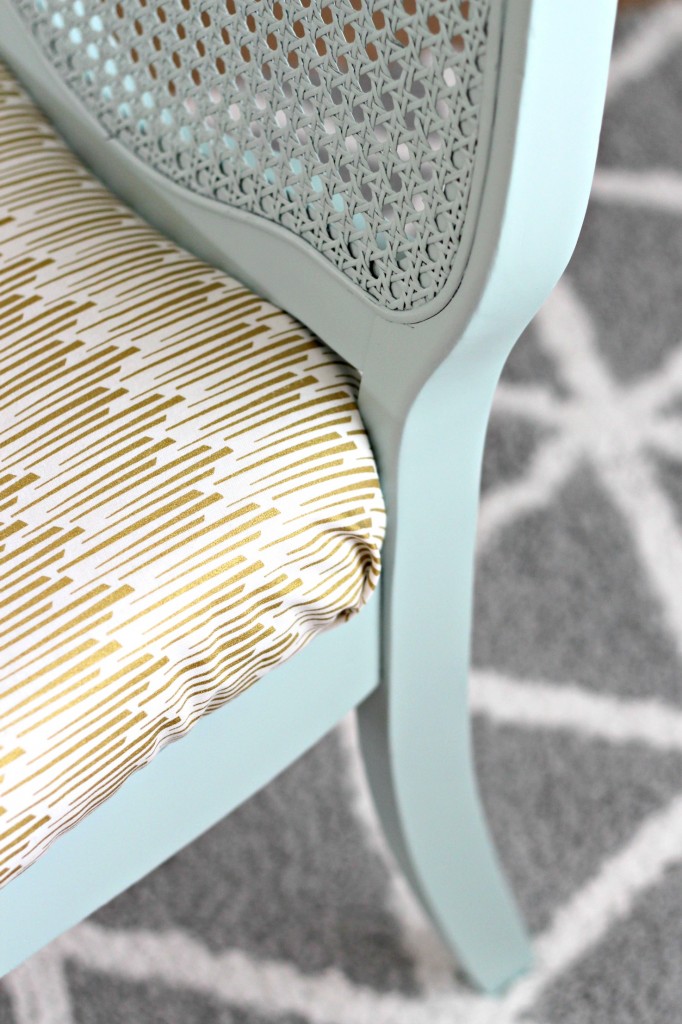 I bought the lamp on clearance from Target. The lamp that was here was moved to the guest room which is also being redecorated and organized at this time. The framed Be Happy is from the living room, but I felt I needed the reminder in this space more.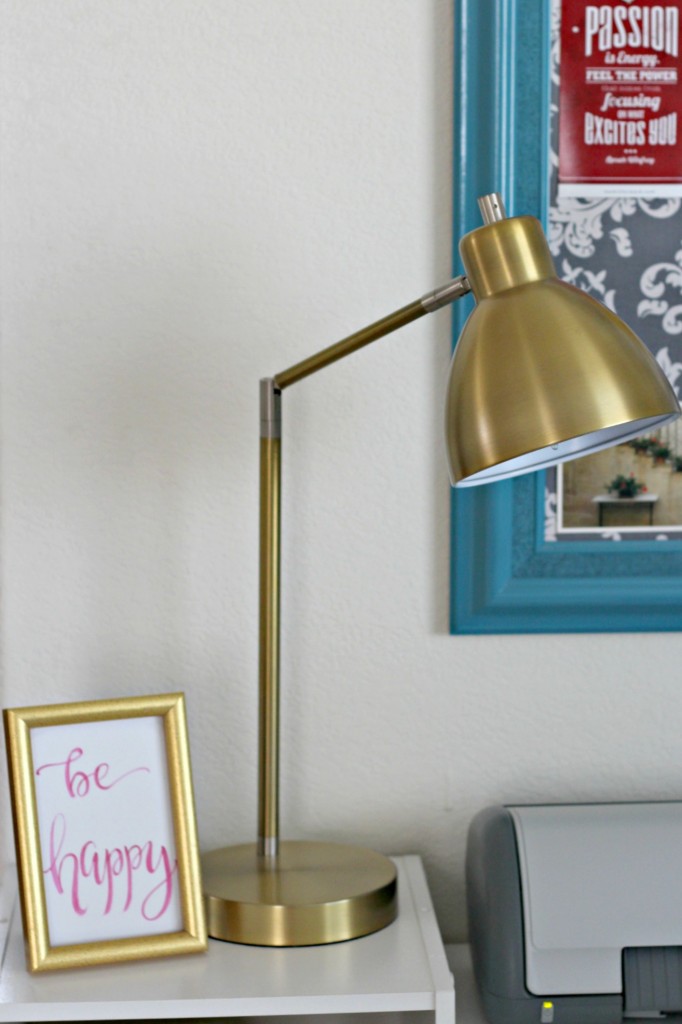 This little shelf to the left of the desk and everything on it were already here. The lower basket holds files I need to access several times throughout the week. The other containers hold computer items and things I need close by.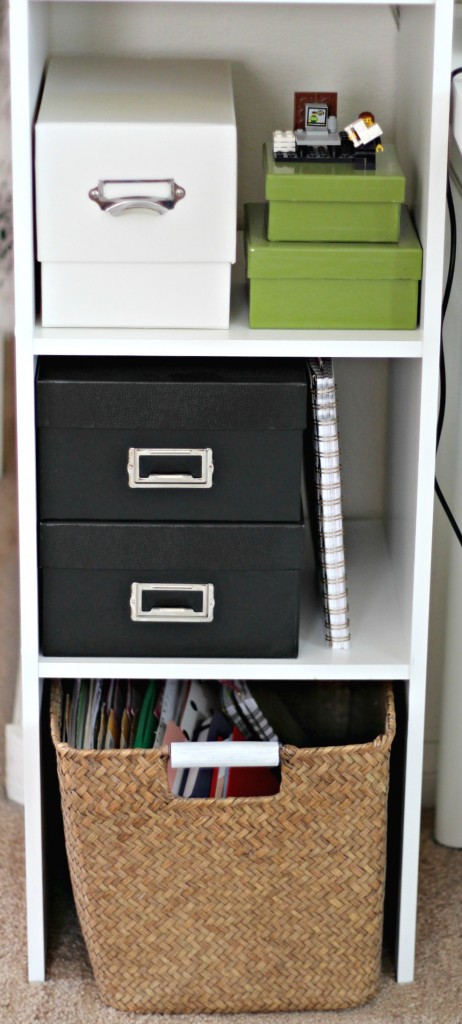 The file cabinet to the right of the desk holds semi-permanent files and business paperwork.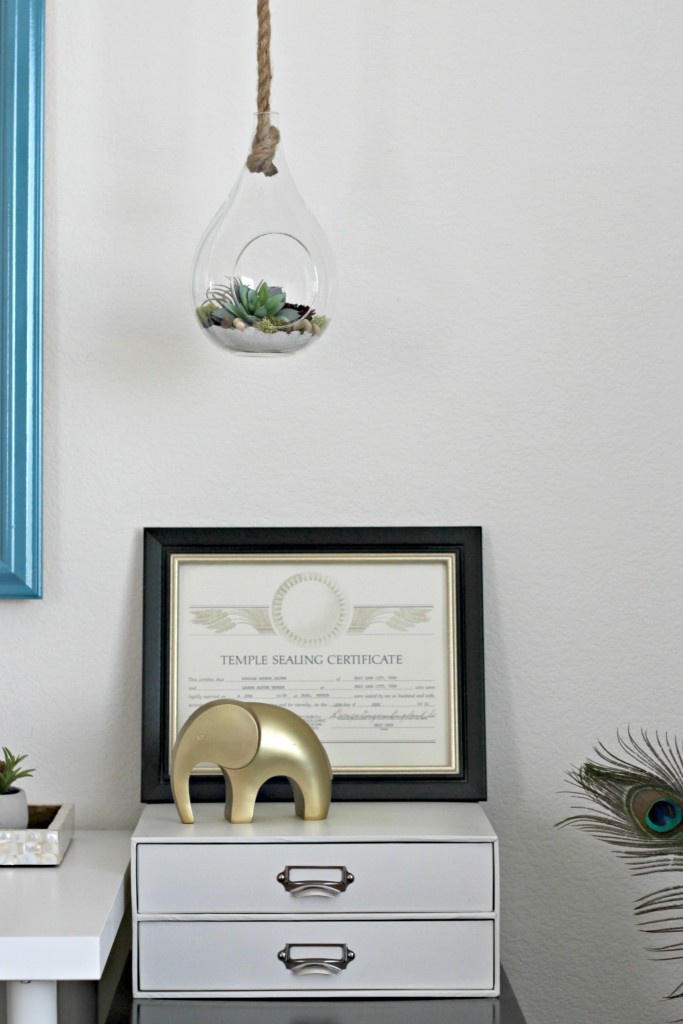 The desk doesn't have any drawers so these drawers hold all the office supplies I need. Like I said before, if you're purchasing a new desk I would suggest at least one long drawer.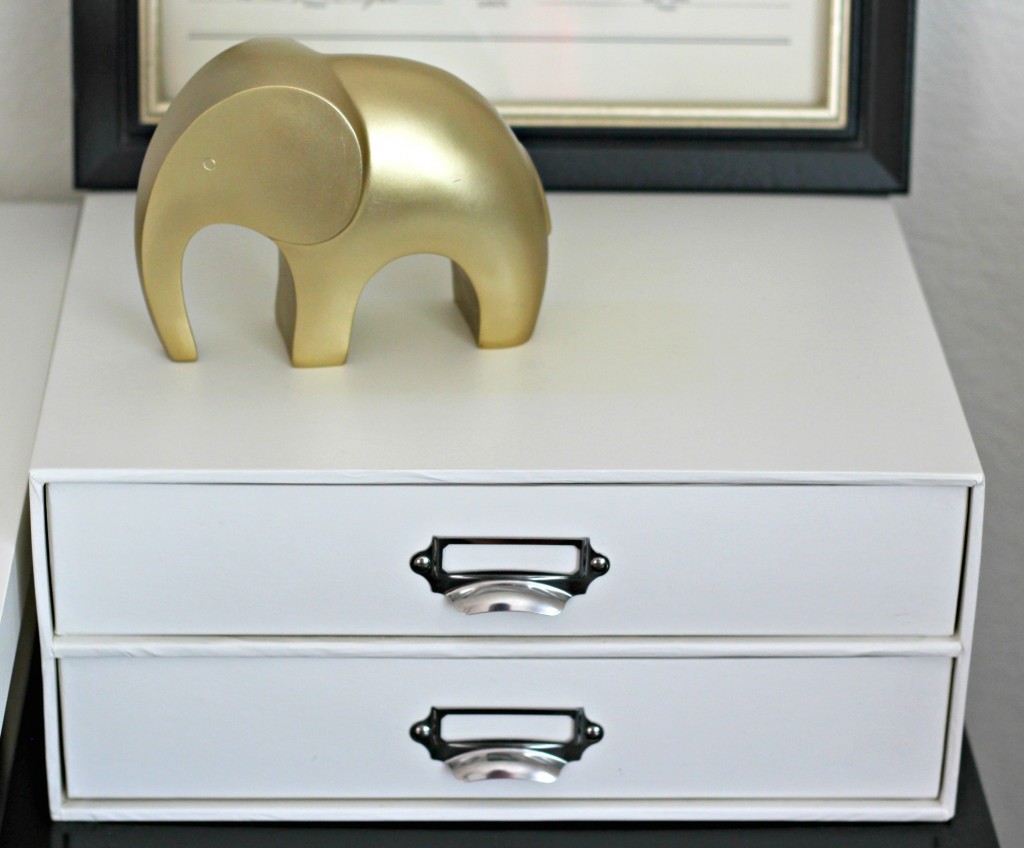 I made the hanging terrarium a few months ago and I love it. Besides having necessities in your office space I think it's also important to have things you love to look at.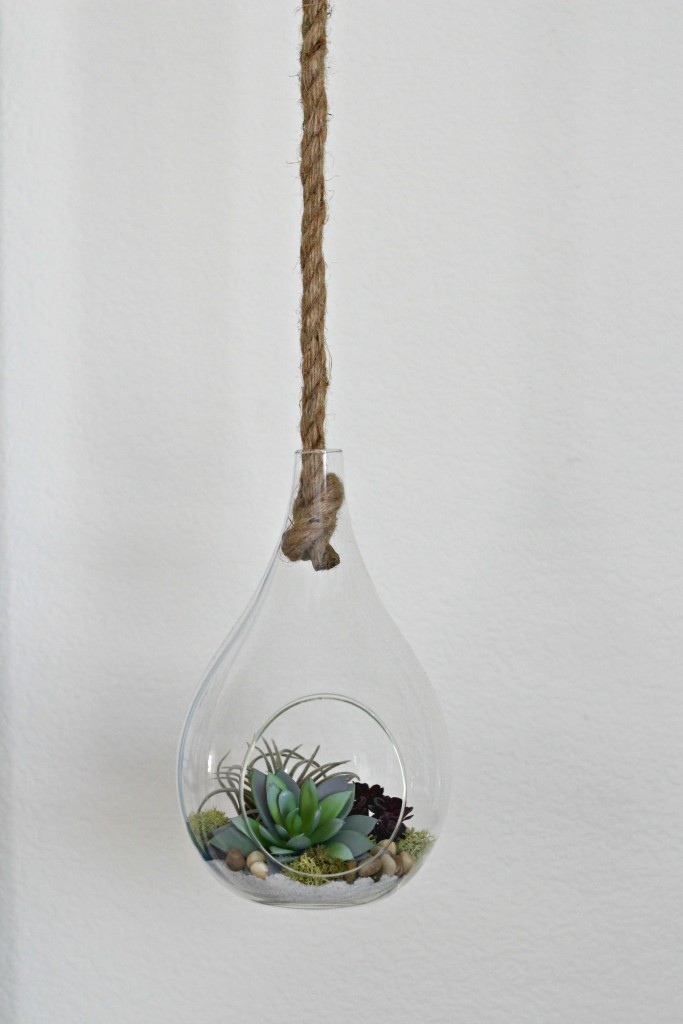 I brought this chair into the bedroom from the living room. It's a great place to read or use for extra seating in the bedroom. I made the Love sign a few years ago and have moved it to several different rooms. The peacock feathers fill in the corner nicely and add great texture.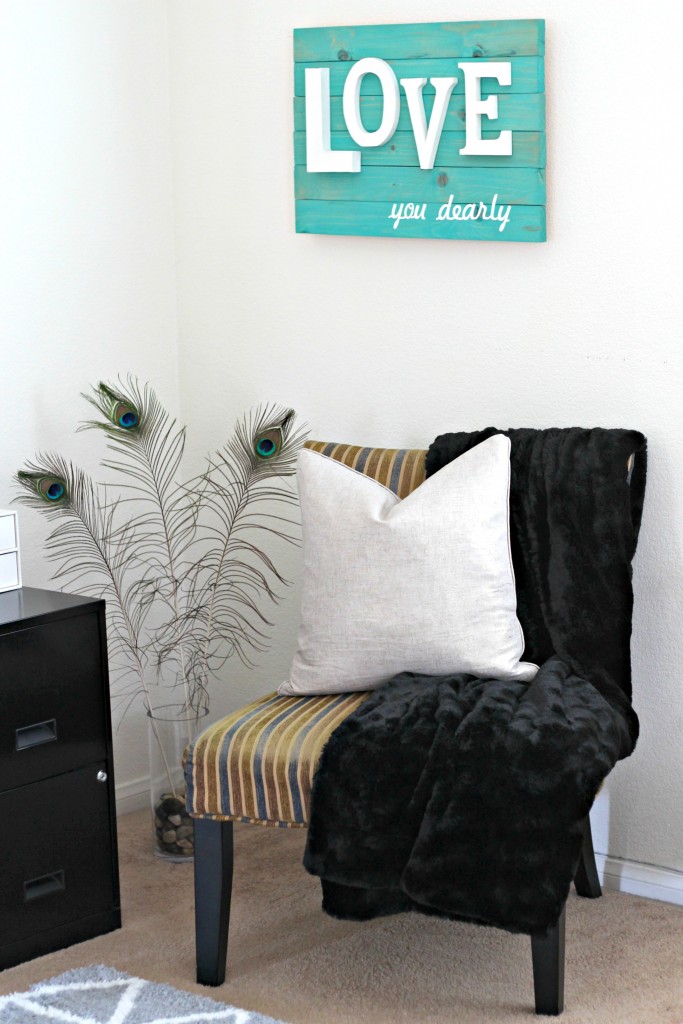 The minky blanket was a birthday gift and the gold pillow is a new purchase from Home Goods. It's a great place to read and take a break from the computer.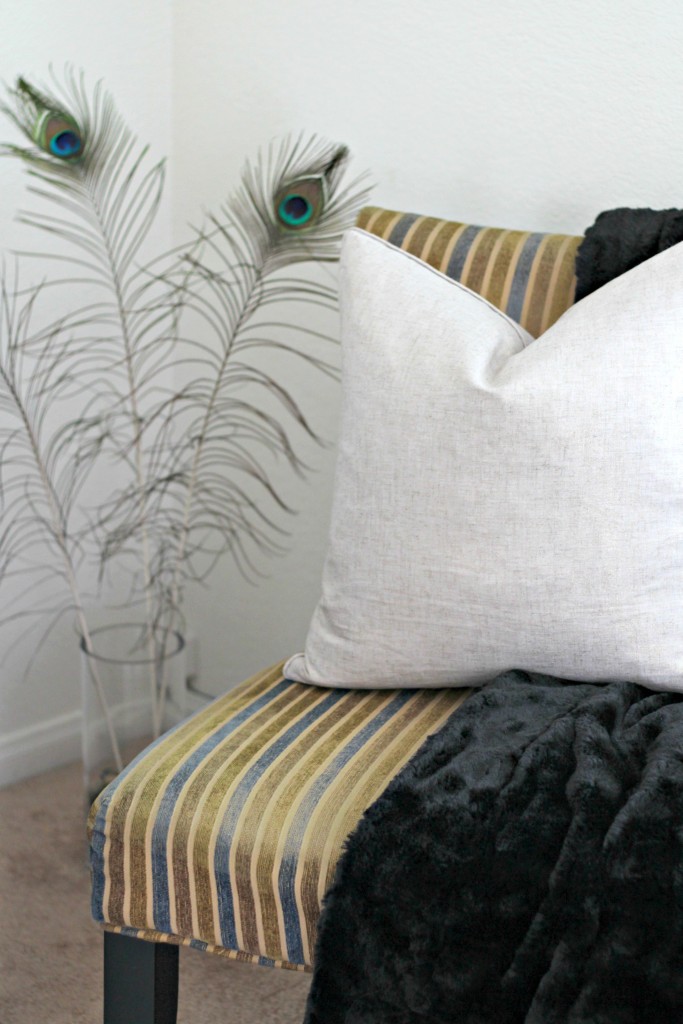 It's the perfect little office area filled with things I need and love. The only new purchases are the basket, lamp, rug, and pillow, totaling less than $100. It feels good to have this little space finished and be able to enjoy it. And it feels great to create an inviting space inexpensively.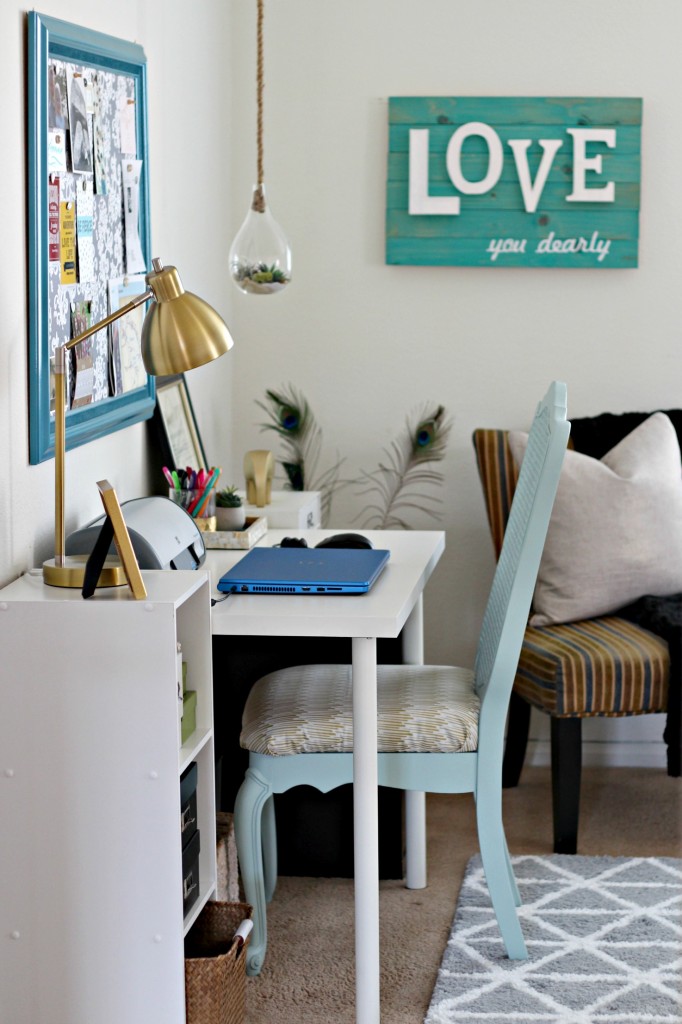 Pin it for later: Master Bedroom Office Space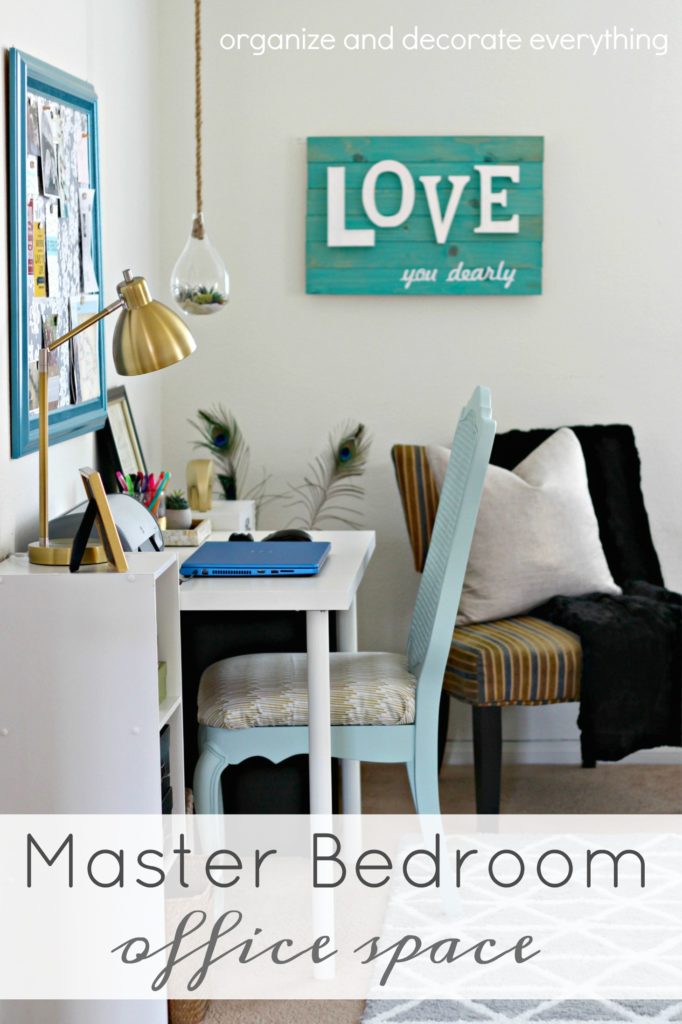 You might also like these posts:
Decorating a Rental on a Budget
Daily Organizing Habits