The best tips on How to Pack Your Home for an easy and efficient move.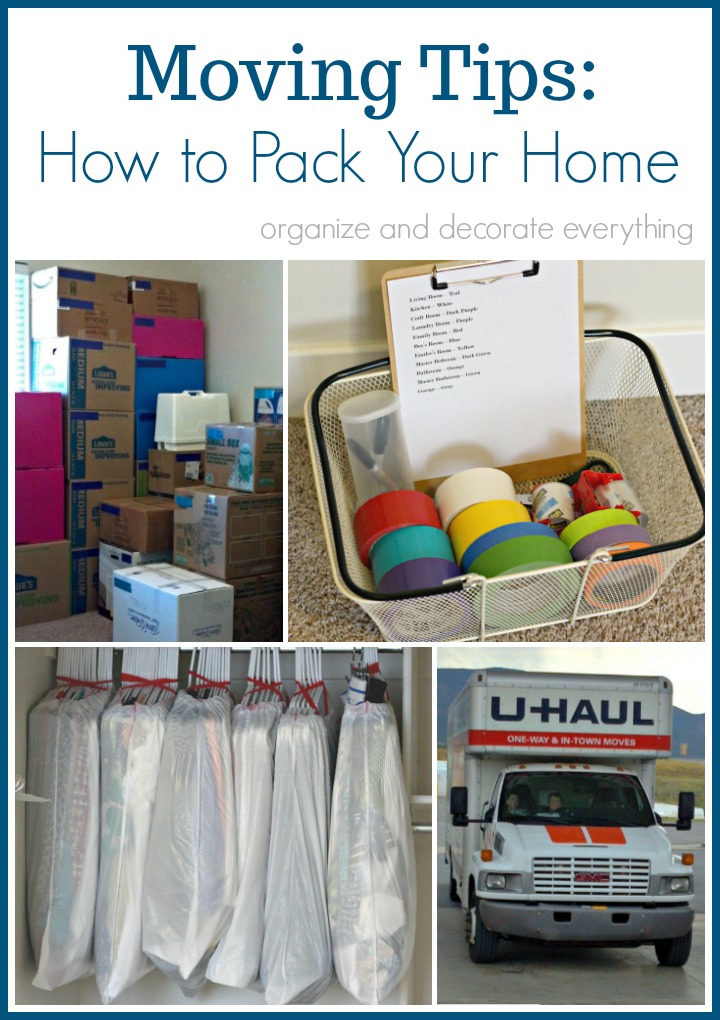 Whether you're moving under good circumstances or not so good. Moving is still hard. There's so much to do before and after that for sale sign goes in the front yard. This post will just cover my best tips for How to Pack Your Home, continue to the bottom of this post for links to more tips on moving.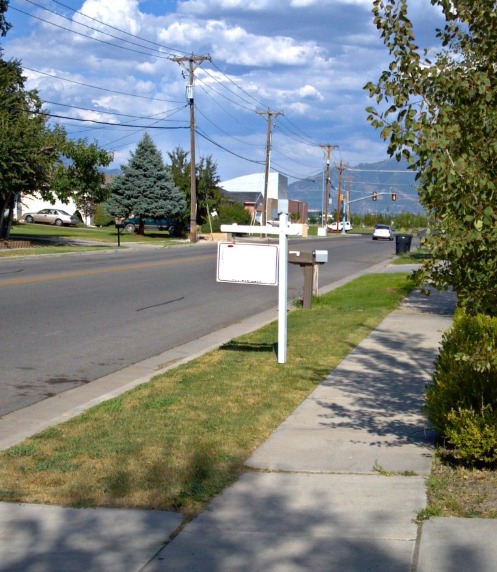 Depending on how much time you have to move will determine how quickly you need to pack. I have moved a whole house in as little as 2 1/2 weeks and as much as 2 months. Obviously having more time can be beneficial but it is possible to get everything done in a short amount of time.
My biggest tip is: Edit, edit, edit! I will guarantee you that you will pack things you don't even want if you don't take the time to edit. As you pack each room ask yourself if you have use for that item in your new home. I will have another post sharing more details about editing later. The link will be at the bottom of this post.
Gather Everything You Need:
Here are the supplies I use-
packing tape and duct tape (multiple colors)
scissors
Sharpie markers
moving boxes
plastic totes
kitchen garbage bags
freezer size bags
bubble wrap
stretch wrap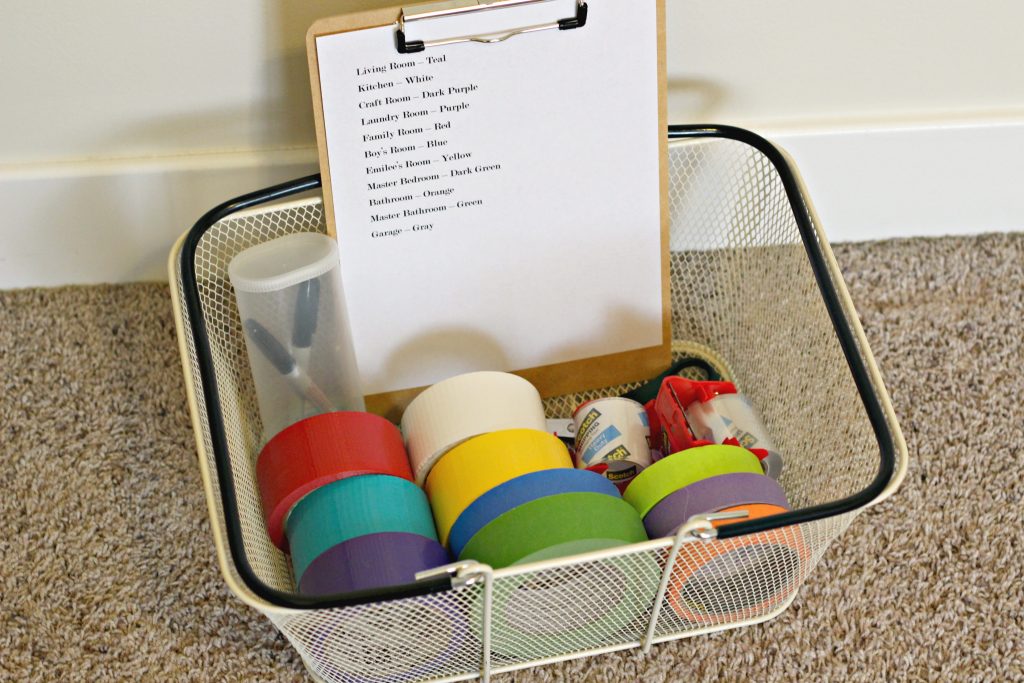 Labeling boxes: I find the easiest way to label boxes is to color code them by room. I made a sheet with the room and the color associated with it, then attached it to a clipboard and placed it in my supply basket. I also place the tape in the same spot on every box, the upper left hand corner. Use the correct color for each room then also write the name of the room on the tape. This makes it really easy for those unpacking the truck to find the right room at your new place. Before the truck is unloaded go around your new home and place a piece of the colored tape at the entrance of each room. They won't even have to ask you where anything goes. I also add a small description of the contents of each box on the tape so I know which ones need to be opened first.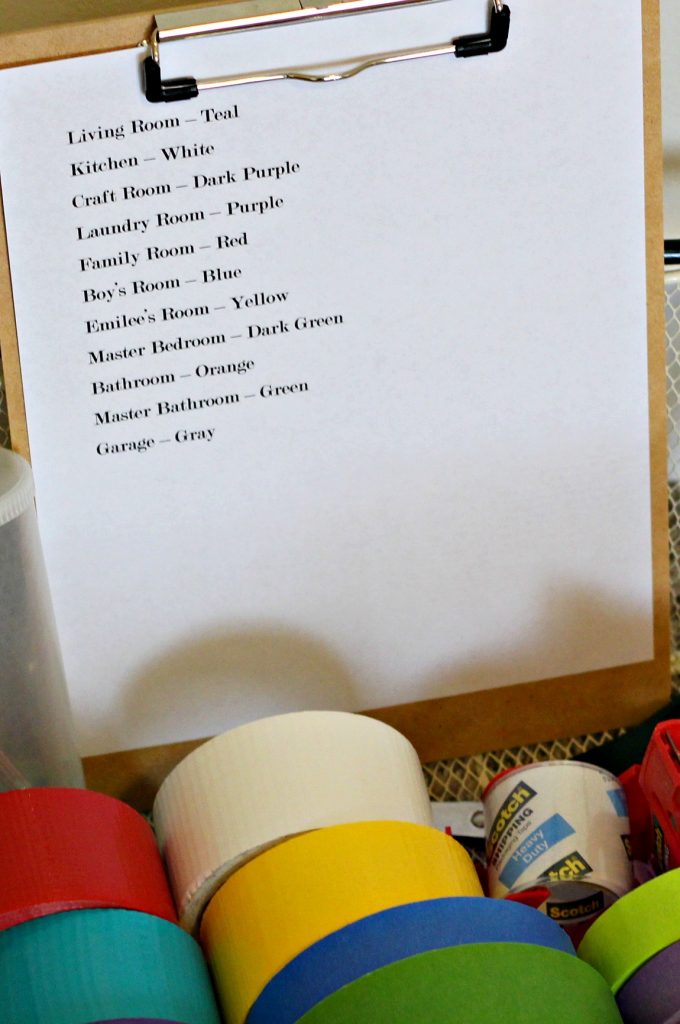 Moving Containers: I had a gift card to Lowe's so I bought some medium and large size moving boxes. You can also purchase them at Home Depot and WalMart for a small cost. I also used boxes from a friend who had just moved into our area and a friend who was able to get me some from a grocery store. There's nothing wrong with using someone else's moving boxes but make sure they're in good shape, especially if you're moving long distance. You don't want your things to be ruined because of the poor integrity of the boxes. I also used some totes and plastic folding boxes I already had.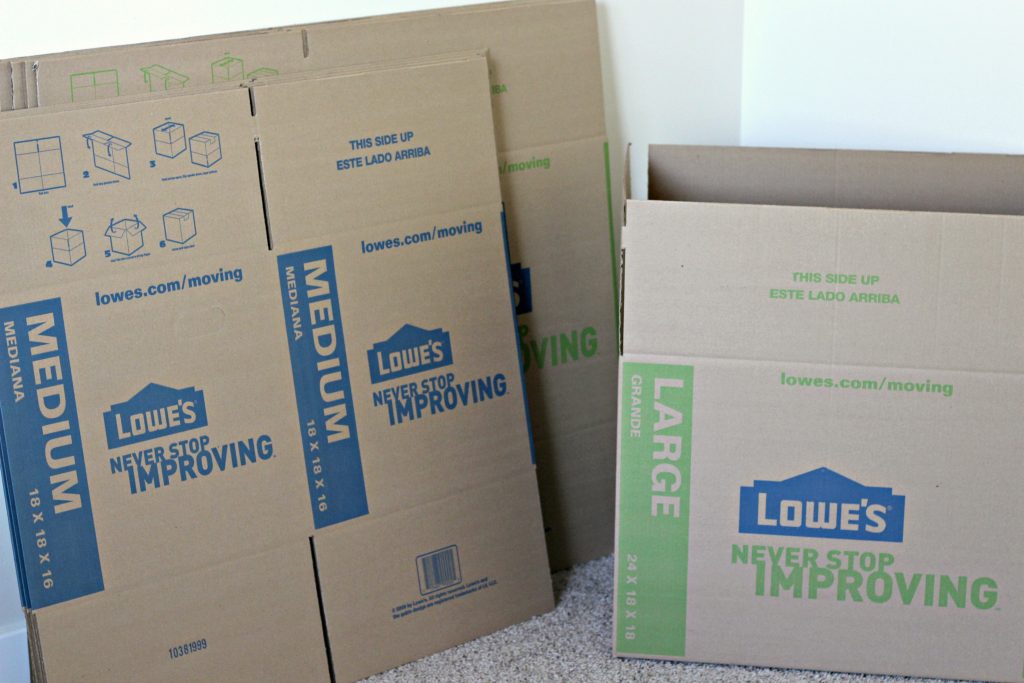 Hanging Clothes: You probably won't be packing most of your hanging clothes until the last minute. This is a great way to make packing and unpacking quick and easy. Of course you'll want to edit your clothing first. Once you've done that, group like things together and place them in a large kitchen garbage bag as shown below.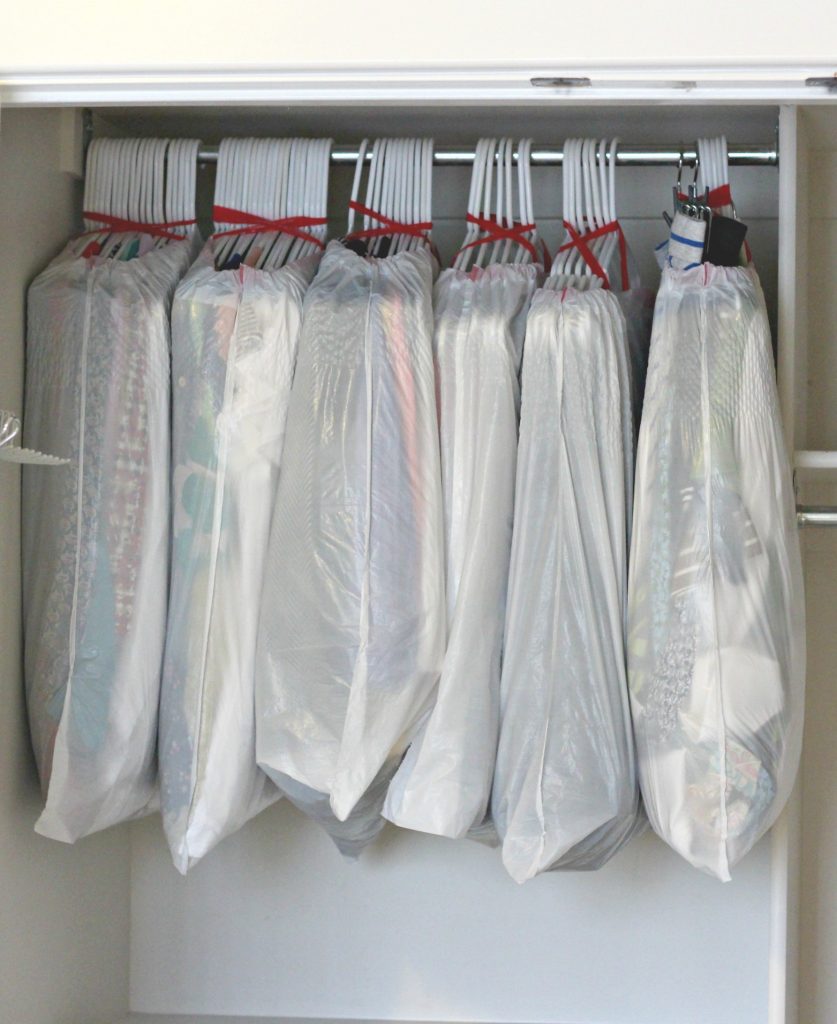 I had a couple wardrobe boxes but if you don't you can lay the clothes flat in a large box. I really recommend the wardrobe boxes if you're moving a considerable distance. If you're moving local you can even hang them in the back of your vehicle on a expandable rod.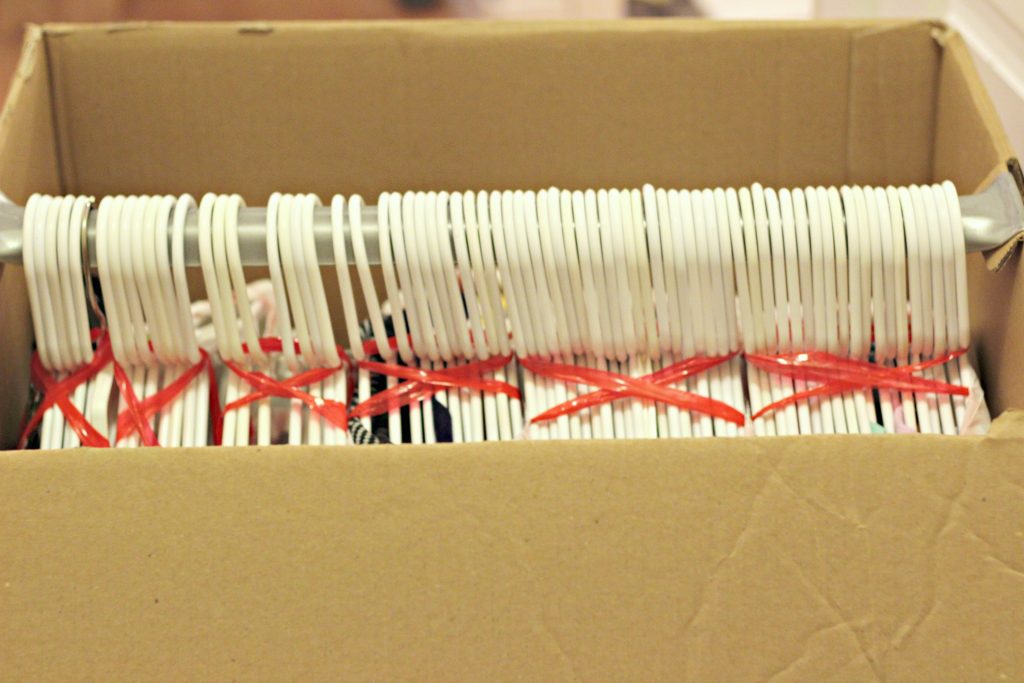 Packing Boxes: Start packing as soon as you're able to. This gives you more time to edit your belongings and decide what you really want to pack and move with you. We moved from a 3000 sq. ft. house to a 1700 sq. ft. house so I did a lot of editing. Because of that I had 2 yard sales before we moved and was able to make a little money. Click on the link at the bottom of this post to be taken to my yard sale tips.
Packing Breakables: When packing breakables I try to use things I already have as a cushion. Use towels, blankets, sheets, pillow cases, pillows, phone book pages, grocery bags, and even wrapping paper to protect breakables. I had people question me on the wrapping paper as I was packing but I wasn't going to transport the rolls of paper to just be mangled once we arrived at our new home. It was better to use it than to throw it away.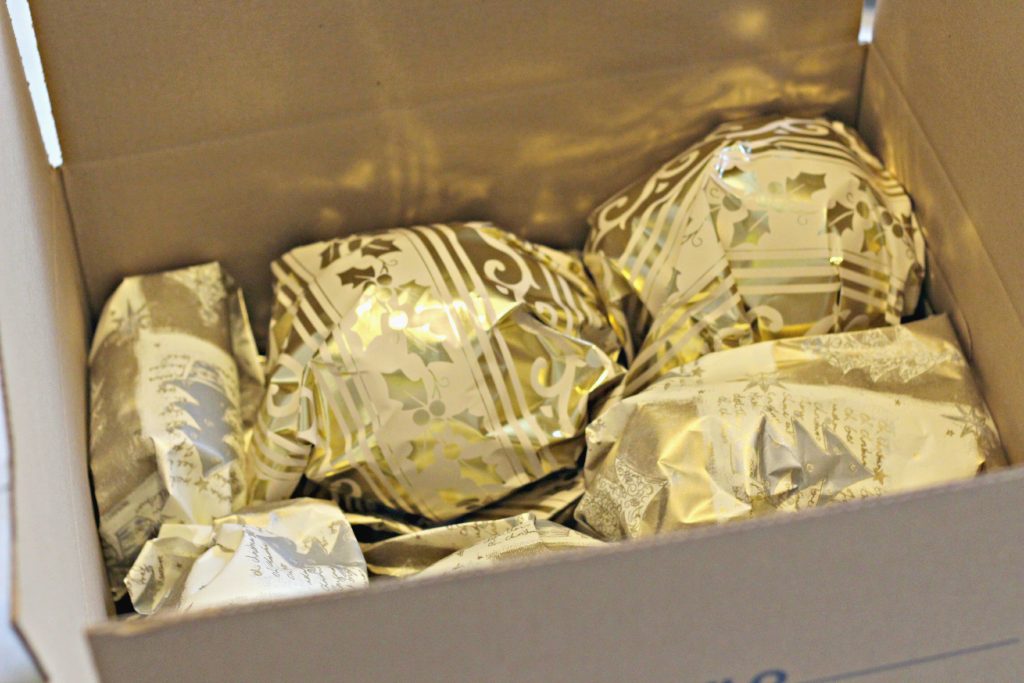 My son had 20+ Lego creations put together. There was no way he was going to take them apart and he was upset with the idea that they might be broken when we arrived a state away. We wrapped them in bubble wrap then placed them in extra large storage bags. We also blew a little air into them before we closed the bag so they would be like a pillow. All of the bags fit in one large box and they all arrived without any of them being broken.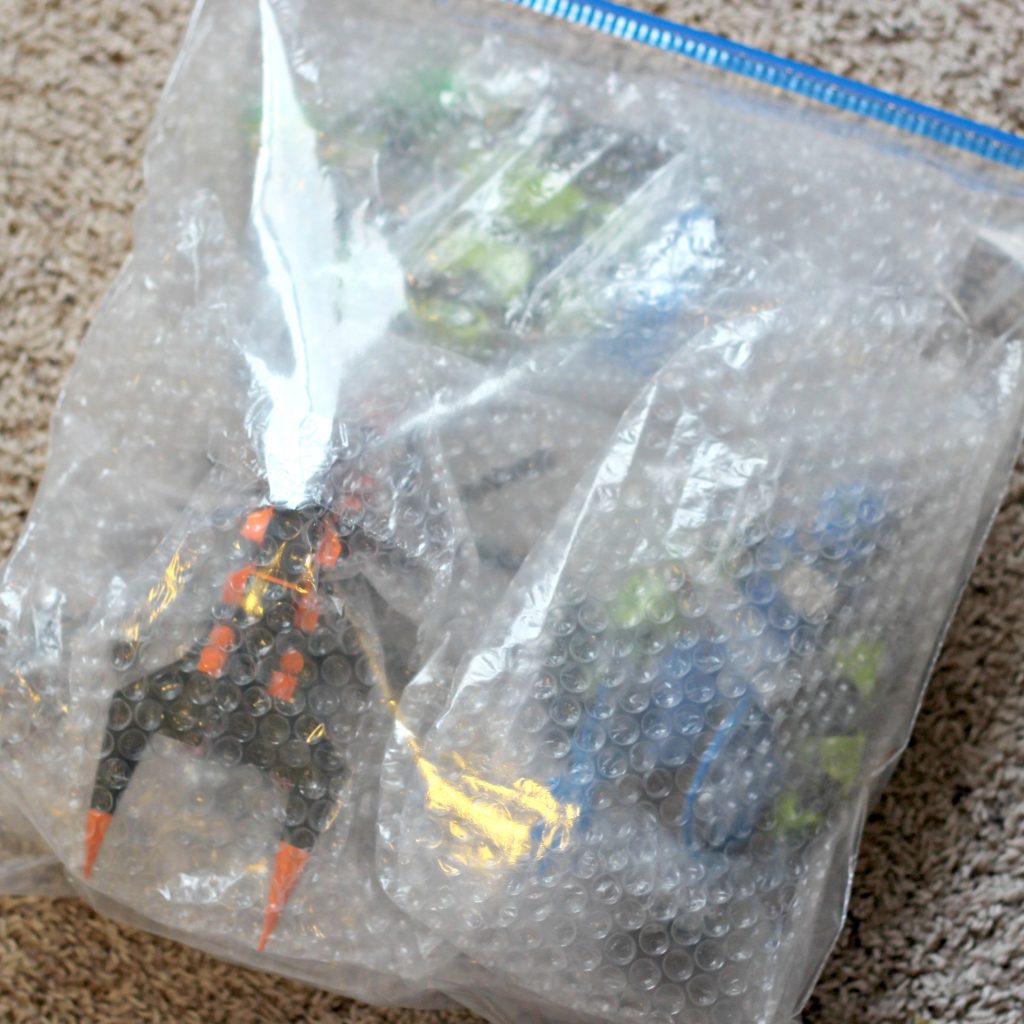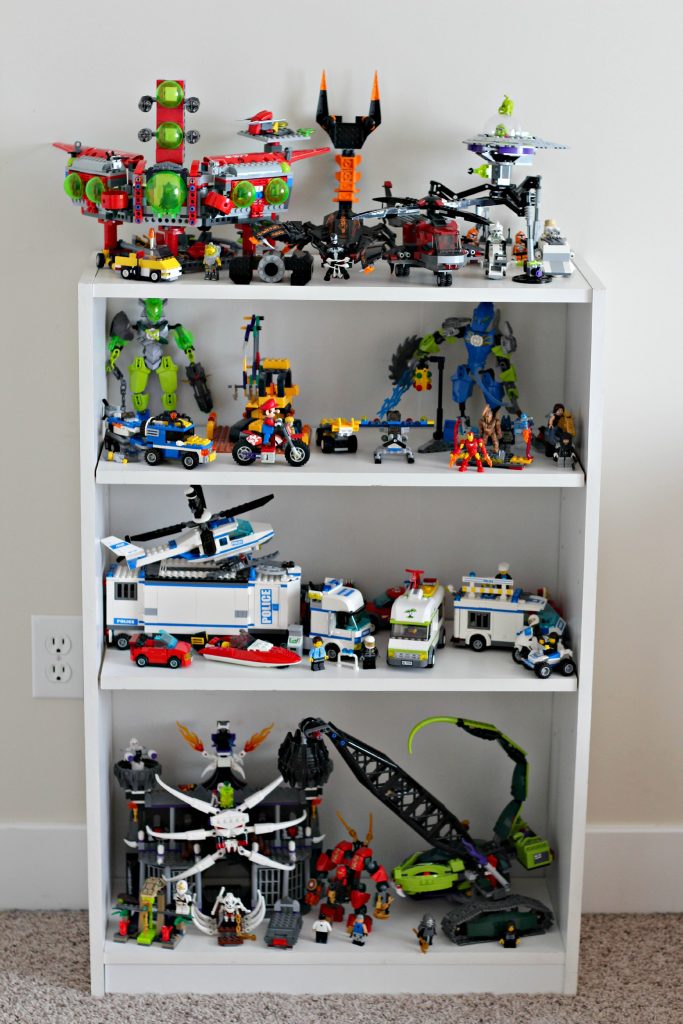 Packing Furniture: We rented a dozen moving blankets and used some of our own blankets to cover and pad furniture. I've also learned from moving many times that sometimes furniture pieces get dirt or grime on them. That doesn't make me happy. Stretch wrap is so easy to use to wrap and protect furniture. It's also perfect for wrapping dressers to keep the drawers in place. Because I used it in my craft room to wrap the stacking drawers I had to pack very little in that room. So that was a big plus. We basically stretch wrapped everything.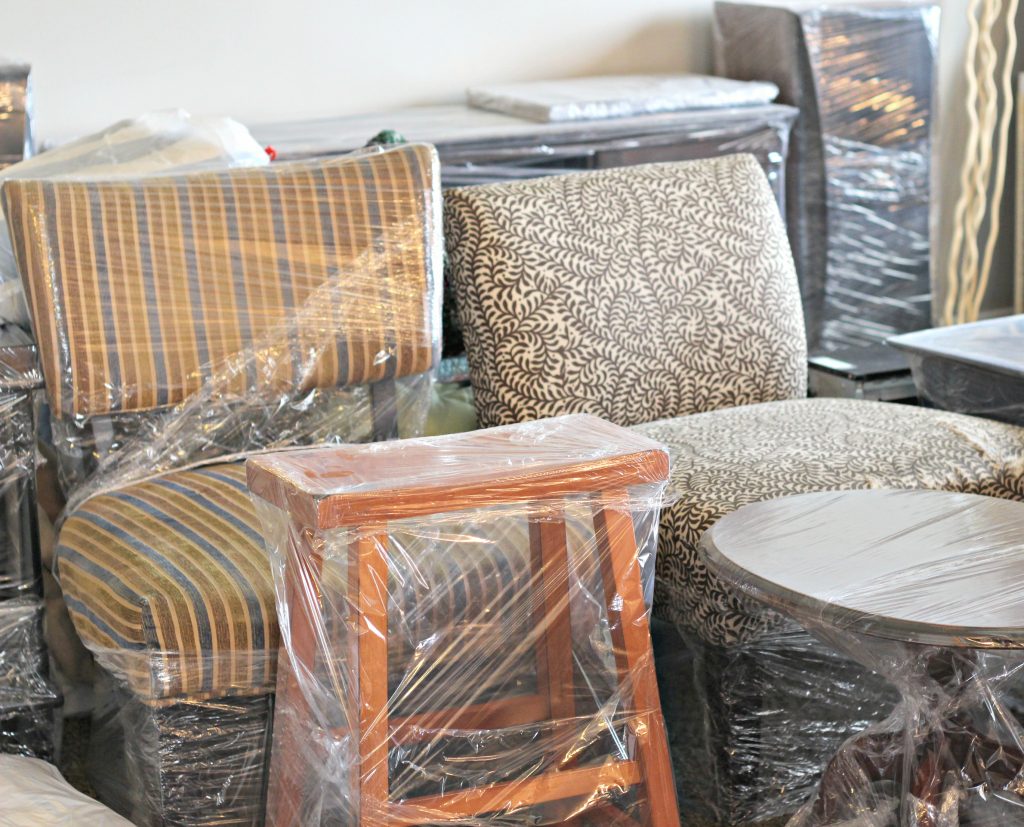 Organize Your Boxes: If you can clear out a whole room to store your packed boxes in that would be the best scenario. Use the craft room, put two of your kids in the same bedroom for a month or so, or just use a corner of each room if that's all you have. We moved my son's bedroom upstairs so we could use his old bedroom on the main floor as our storage room. As I edited and packed I stacked the boxes for each room together. You can see how they're color coded here. By packing them in the moving truck by room it made it much easier to unload them at the new place.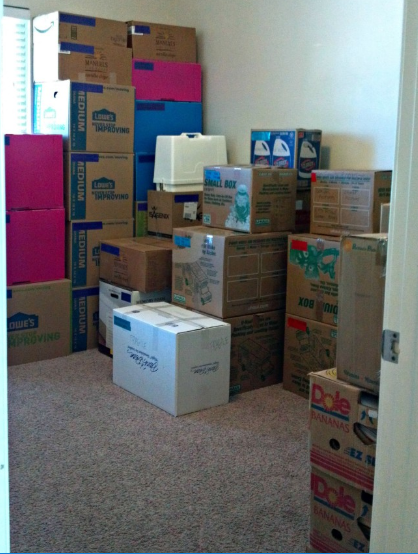 There's more to moving than just packing so I will be sharing more Moving Tips over the next few weeks. I'll link the posts here so you can find them all in one place:
10 Tips for a Successful Yard Sale
First Night Box and Bags
Moving Check List
Moving Out Cleaning Check List
Things to Edit Before You Move
Preparing Your Home for a Sale
Paper Products Basket
Pin it for later: Moving Tips: How to Pack Your Home