I know storage space can be hard to come by so I'm sharing some of the spaces I've organized in my family room to give us more storage. I'm sharing how I organize and manage DVD storage and more. I hope you'll be able to implement some of these ideas in your own home.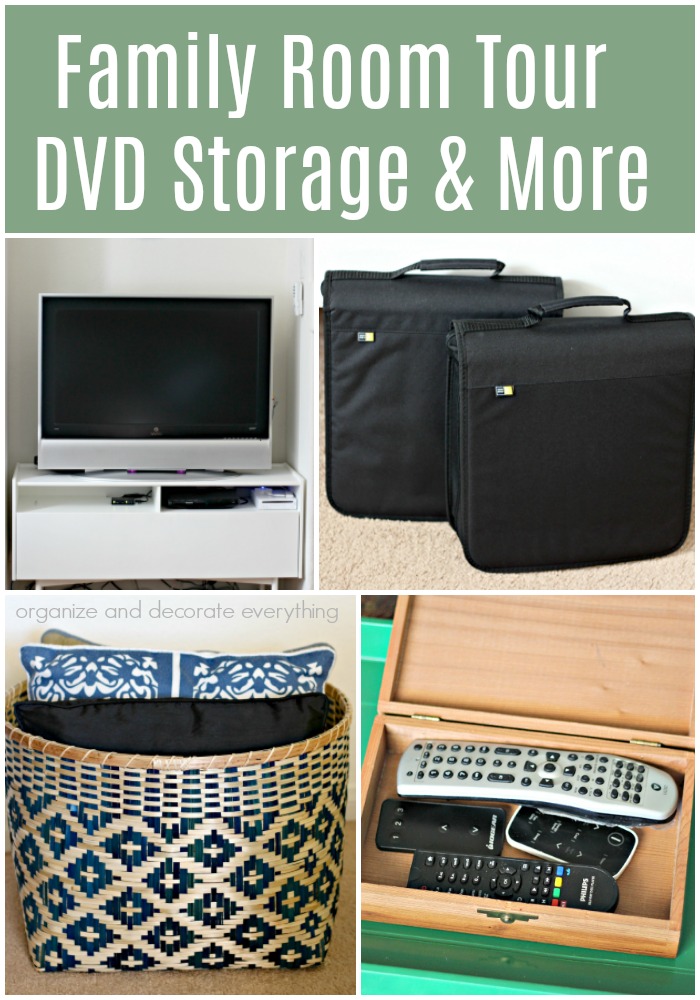 DVD Storage and More
We moved to a much smaller rental home a few years ago. It was quite an adjustment finding space for many of our things, DVDs being one of them. There were many options and containers available but with all the traveling we do I think this was the best option for us. Plus with these storage cases I can store all 700+ of our DVDs for less than $100.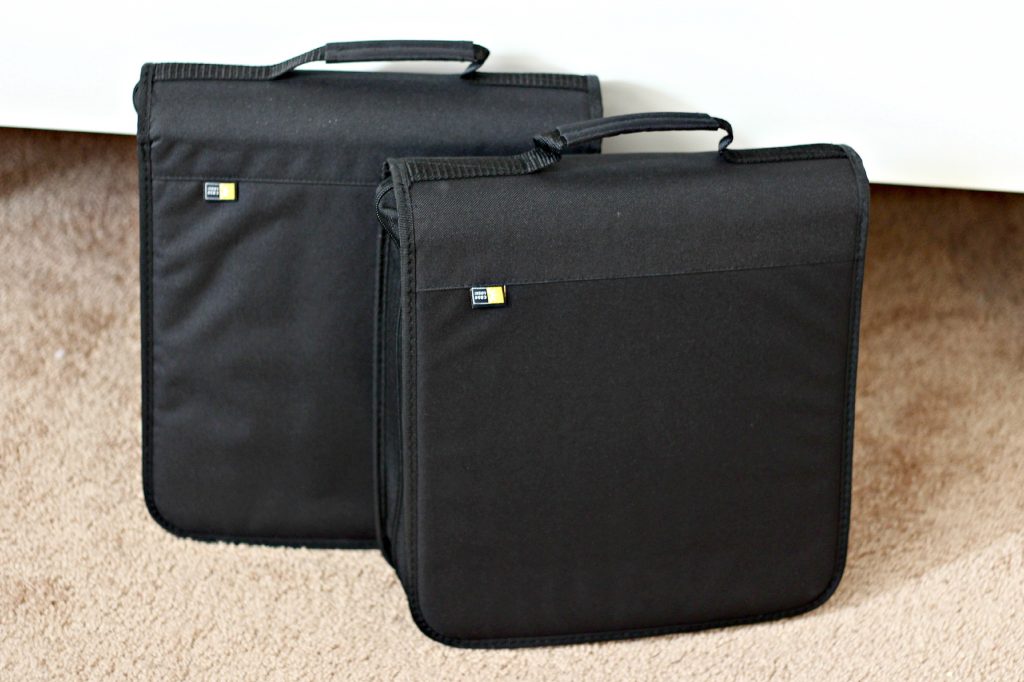 Moving into a smaller rental meant a lot of our furniture wouldn't fit. It was aggravating to have our entertainment center be 2″ too long for the space. We bought a new one, that I really love, but it has way less storage space.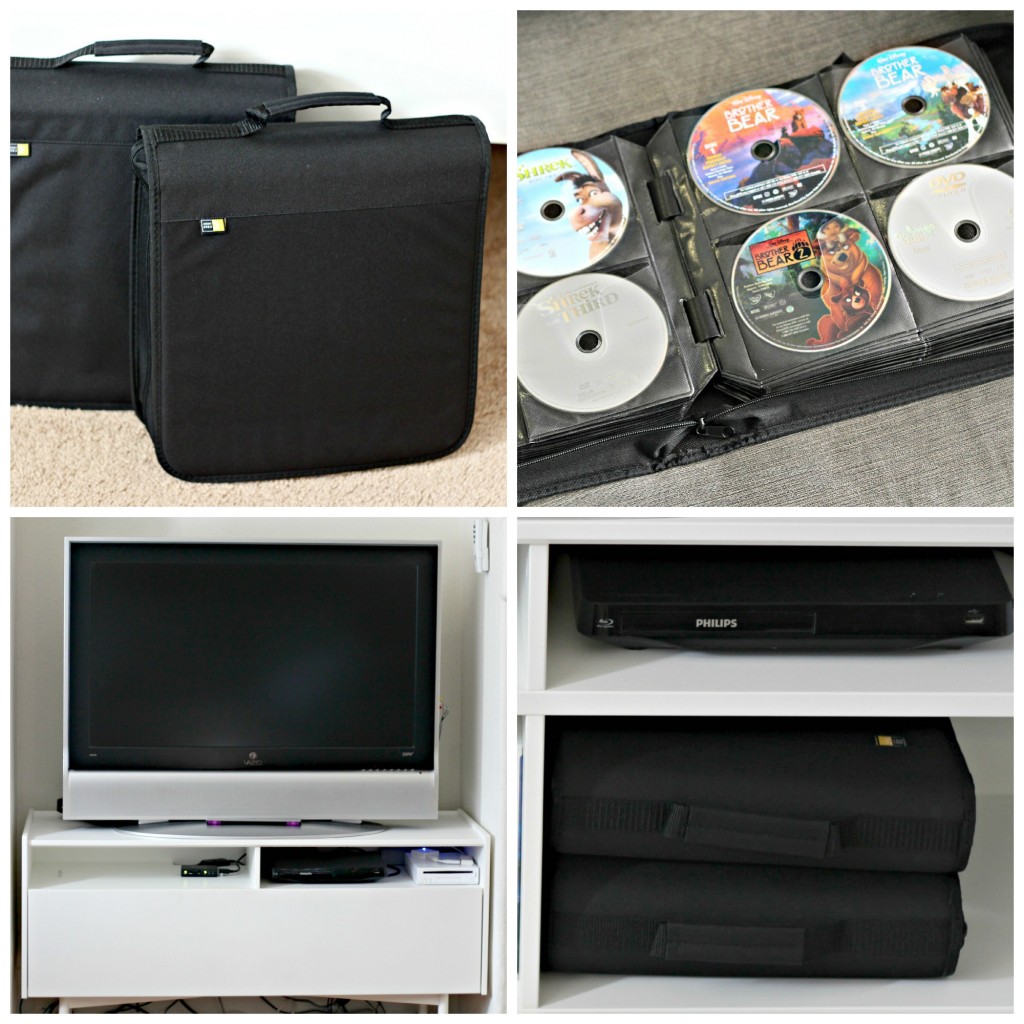 The kids helped me organize the DVDs in the cases. We didn't place them in alphabetical order because if we're being realistic there is no way they would stay that way for long. We divided them into categories within the cases: animated, G, PG, PG-13, Action/Adventure, Christmas, and Religious.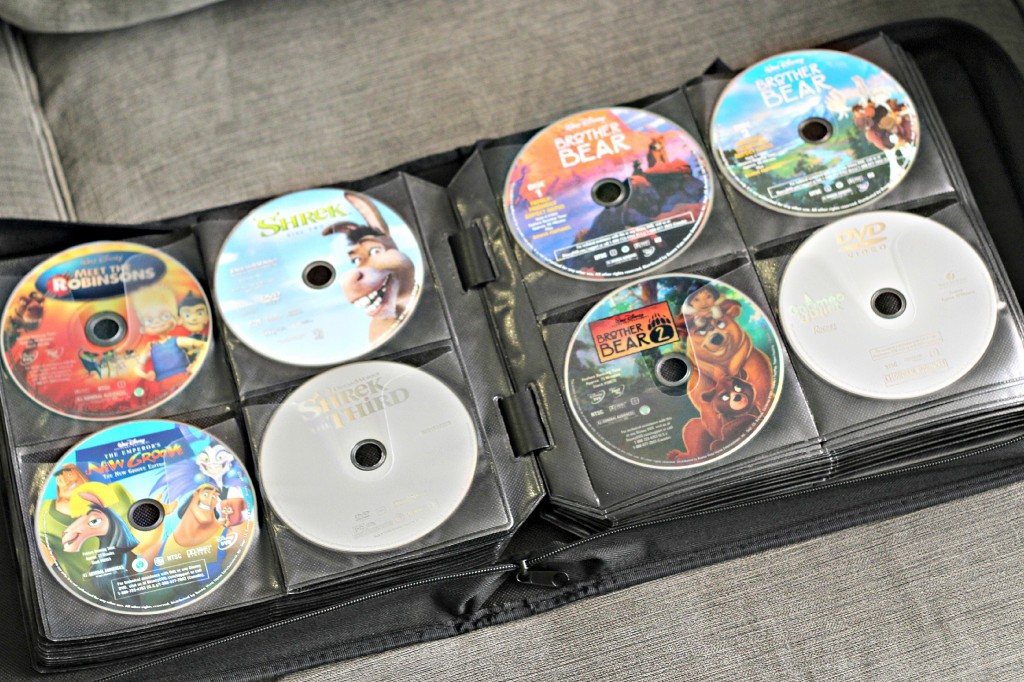 Our new TV stand is smaller but I love the style and the price was right. As you can tell there is only 1/2″ left on the side of the stand so it fits almost perfectly in the space. I like the clean lines too, it almost blends into the area.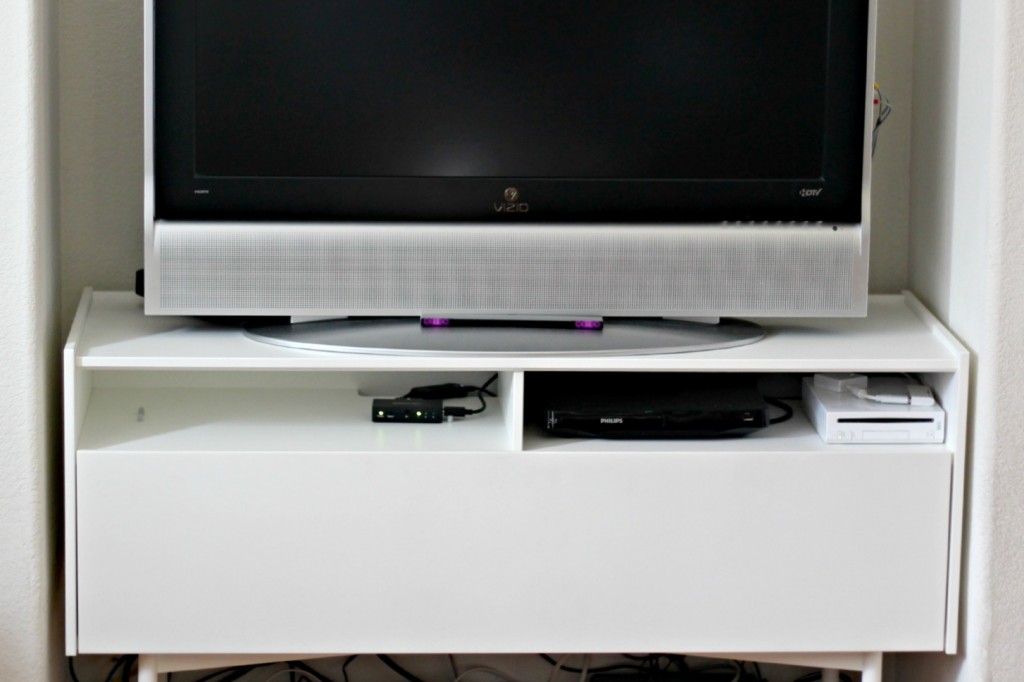 Once the TV stand is open there's enough space for the Wii games, basket of controls, and the 3 cases full of DVDs. Since we travel at least once a month and the kids watch movies in the van the cases are a perfect solution for home and travel. We added an xbox recently and there is still plenty of space for it and additional games.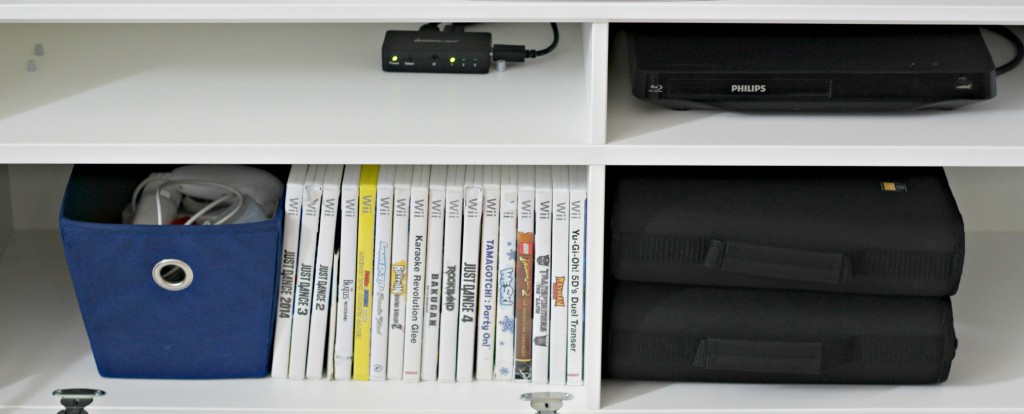 We built a DVD closet in our last home and I loved it. You can check out how we built it in this post if you'd like to consider it as an option. Don't be afraid to change how you store things. Make the storage solution work for your needs.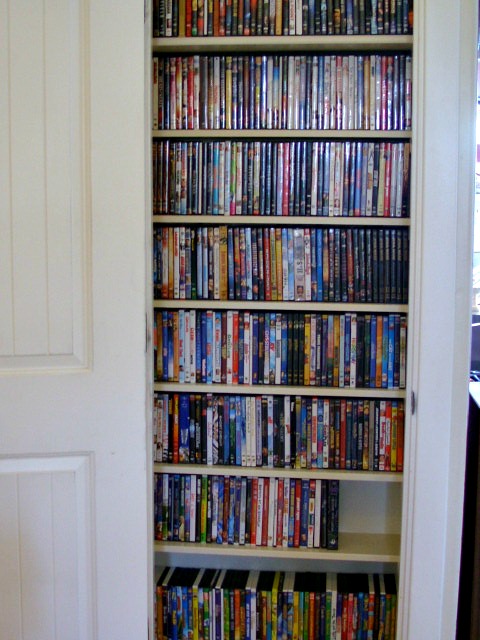 Here are a few more storage ideas for the family room. I hate having controllers hanging out in the open so I store them in a vintage cigar box on the ottoman. They're within easy reach but hidden out of sight. I add decor items to the tray and then the cigar box looks like it's part of the display. You could also just store them in a small basket or anything that keeps them contained.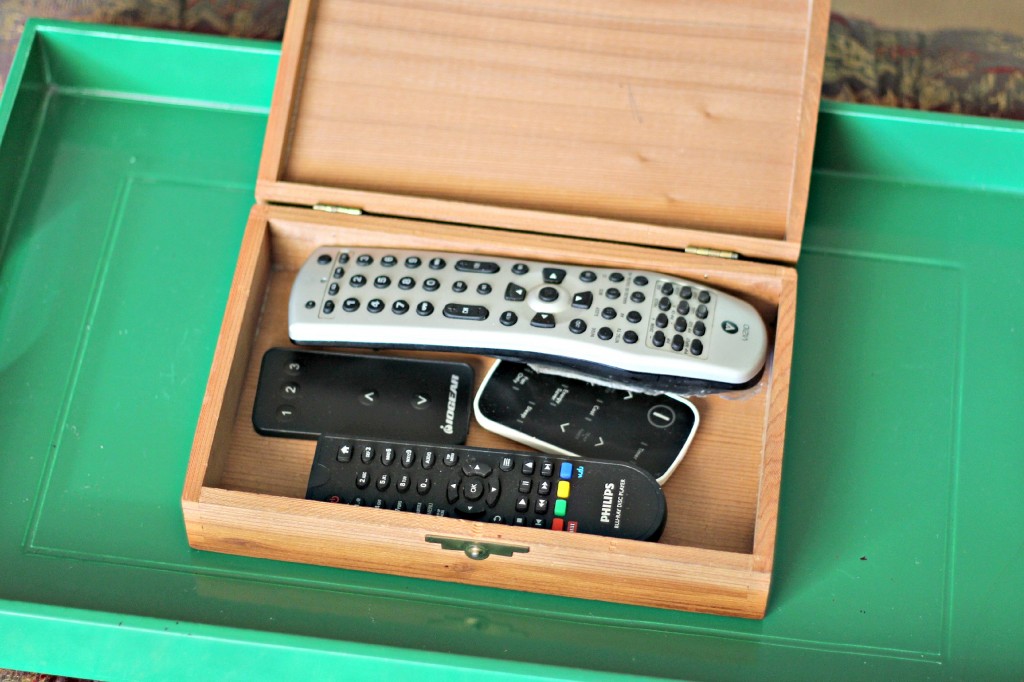 Our rental family room is small so we have cushions and pillows available for the kids to use on the floor for watching TV. Hubby and I get the sofa, although we have all squeezed in at times. I like to store the extra cushions in a huge basket.
We also have a lidded basket in the corner by the fireplace that holds blankets. We all like to have blankets to snuggle in while we watch TV so this keeps them close at hand. I hope this gives you some useful storage ideas.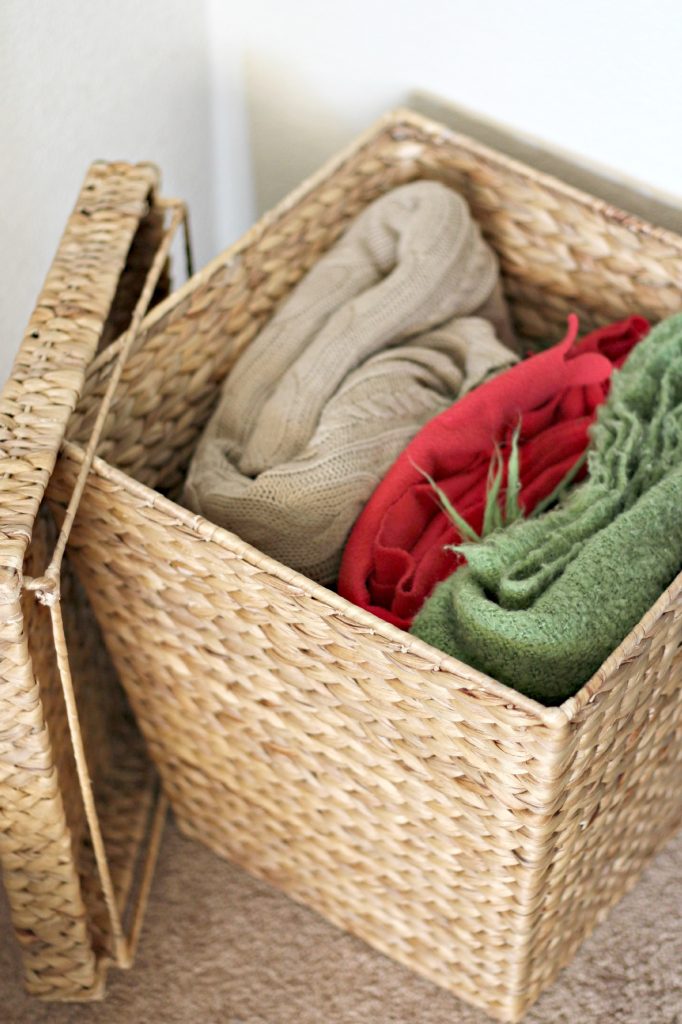 Pin it for later: Family Room Tour DVD Storage and More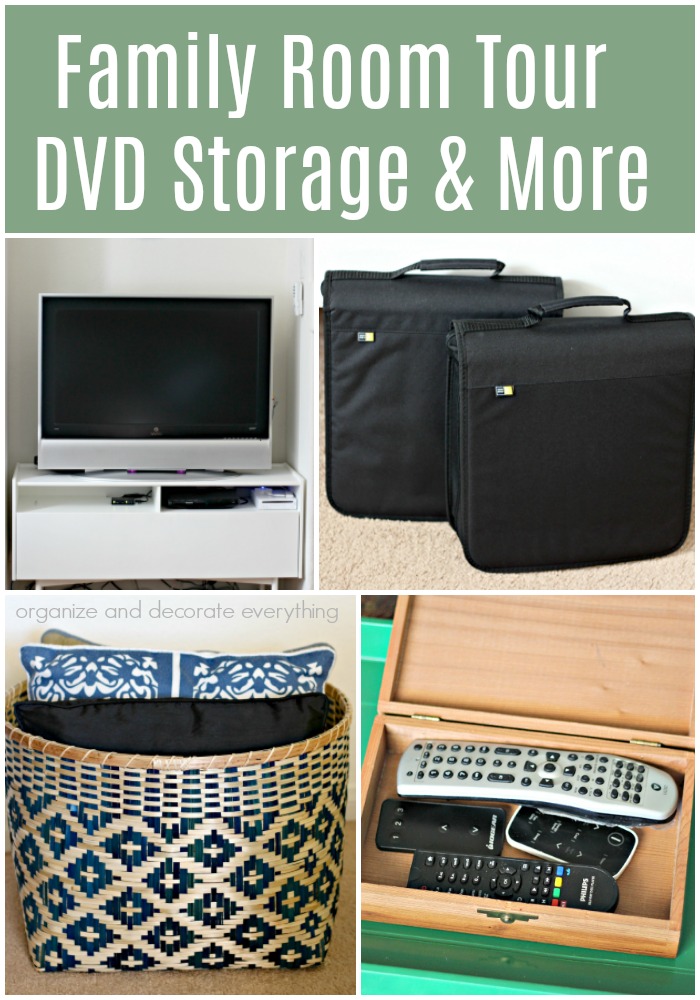 You might also like:
Baskets for Cord Control