This is the 4th post of the Easy Everyday Organizing Series. Today we're going to be talking about Filling the Space. If you haven't read the other posts in this series it would be beneficial to you. Here are the links: Why Do You Want to Become Organized?, Decluttering, and Space Assessment. If you don't have time to read them now, make sure to pin them for later along with this post.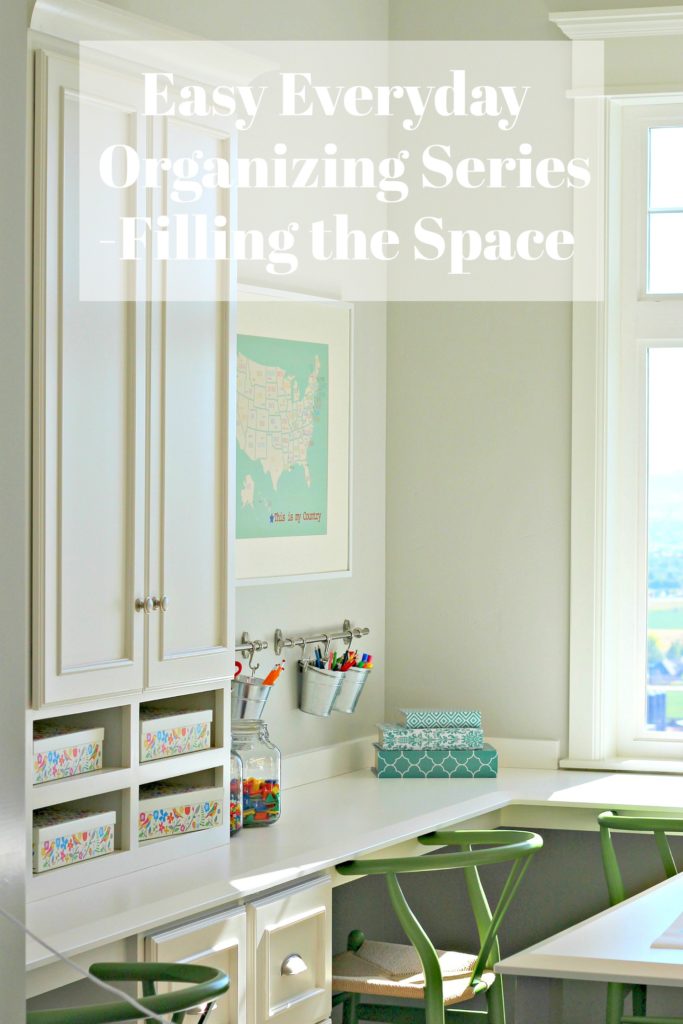 Once you've assessed your area and know exactly how much space you have to work with, now it's time to fill it. This is the fun part for me but as much as I love buying new organizing products I think it's very important to use what you already have. Believe it or not organizing products can become clutter too.
Inside Drawers:
We talked about emptying the space first and going through all the contents. While these drawers were empty I decided to make them a little prettier by lining them with wrapping paper. Since this is an old dresser it also protects the clothing.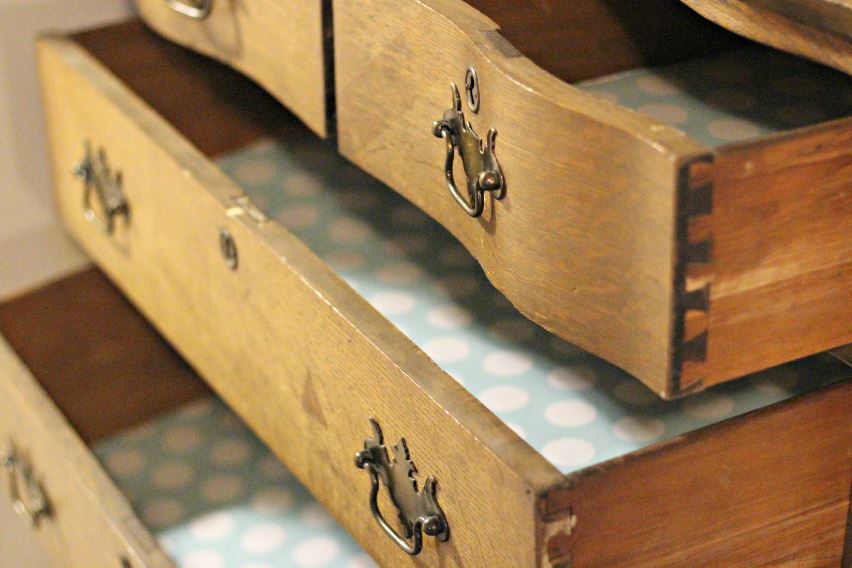 I recommend using open boxes or dividers in children's drawers to help them keep their clothes separated and organized. It also makes it easy to tell when it's time to go through and declutter some of the excess.
Since this is my side table drawer I really don't need dividers to keep it neat and organized, although small plastic bins would work well.
On Doors:
Utilize the space on the back of doors if possible. The back of a kids closet door is the perfect place to plan their clothes for the week.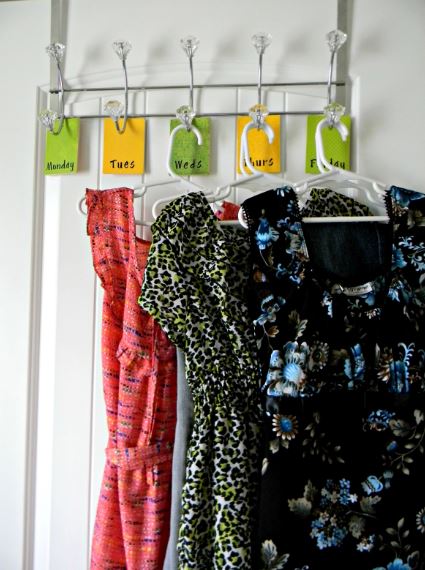 Or use an over-the-door shoe organizer to hold their favorite toys. Superheros, cars, Barbies, or any small toys fit perfectly in this organizer and keeps everything within their reach. The kids can help you decide what goes in each pocket and make the labels.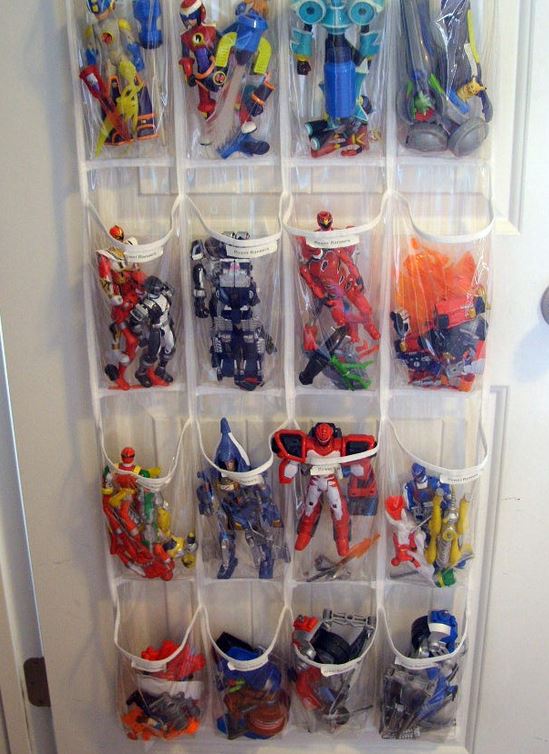 Utilize the back of the pantry door to hold spices and other small food containers. I labeled the pockets using stamped clothespins this time. A clear organizer would probably work better but this is what I had and I believe strongly in not wasting things and using what you have.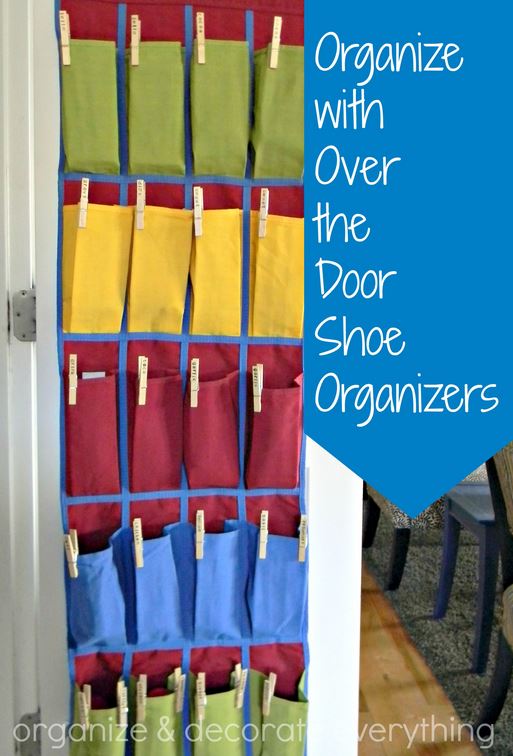 Portable Shelving:
I use portable shelving that I can move around if needed. Since we are renting I can't make a custom closet but this is an easy way to get close to custom and still be able to take it with us when we move. Add the shelves on top of existing shelves or place on the floor.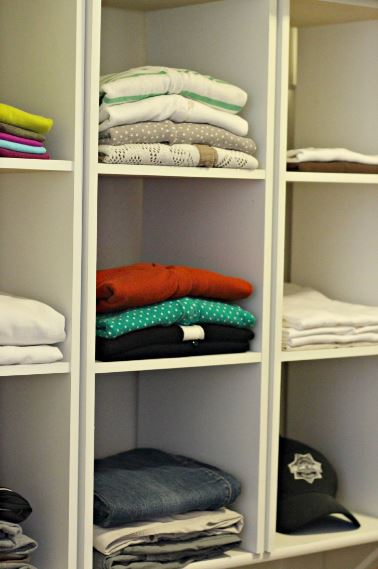 This one serves as an extension of my desk and holds things I need close at hand. I added boxes to hold things I didn't want to be seen and to keep the area neat and tidy.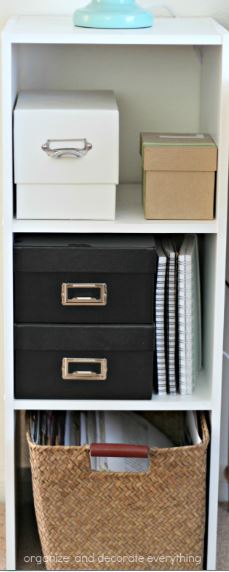 Under Beds:
Utilize under bed space by adding bins and labeling them so you know what's inside without having to check in every bin. These are chalkboard labels so they can easily be changed if the contents change.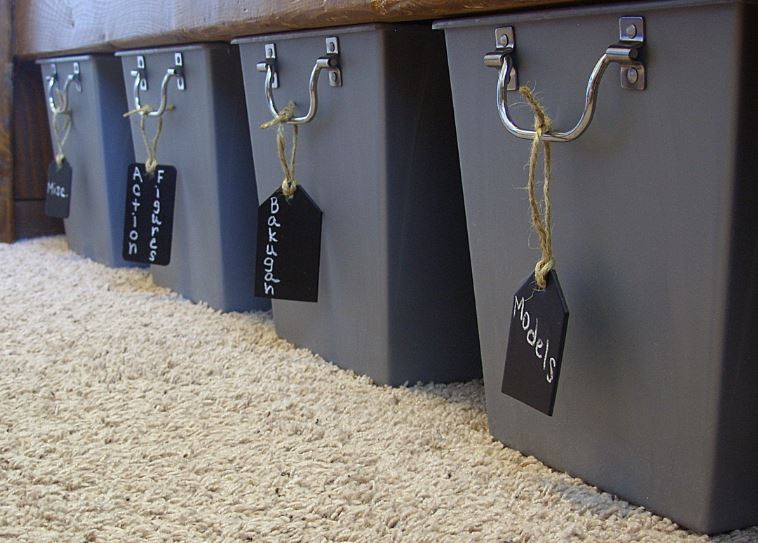 Since my boys used to share a room it was imperative that I used as much unused space as possible. Under the bed was logical but I had to keep it organized so we used bins and I had them help me fill them with their things and label them.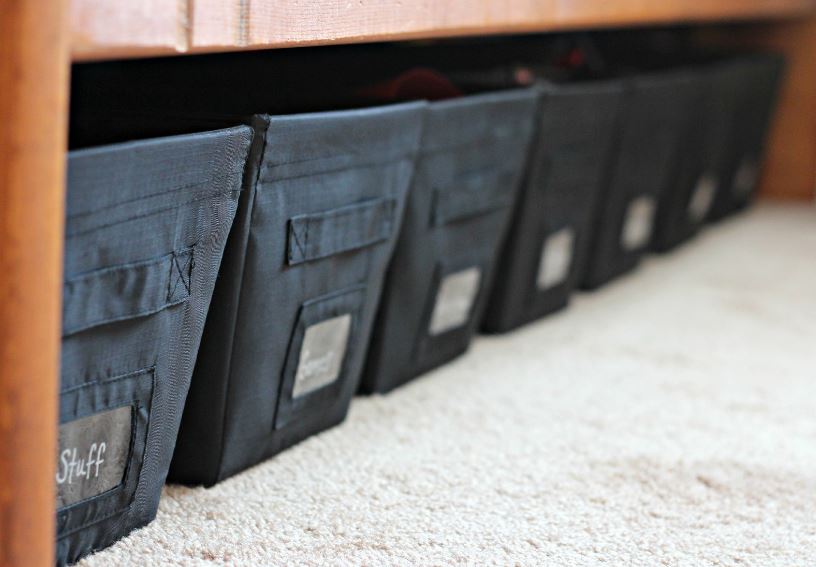 In Cabinets:
I like to use containers in most cabinets to keep things organized. Make sure to measure the area first so you know the containers will fit. If you use bins that you can't see into make sure to label them.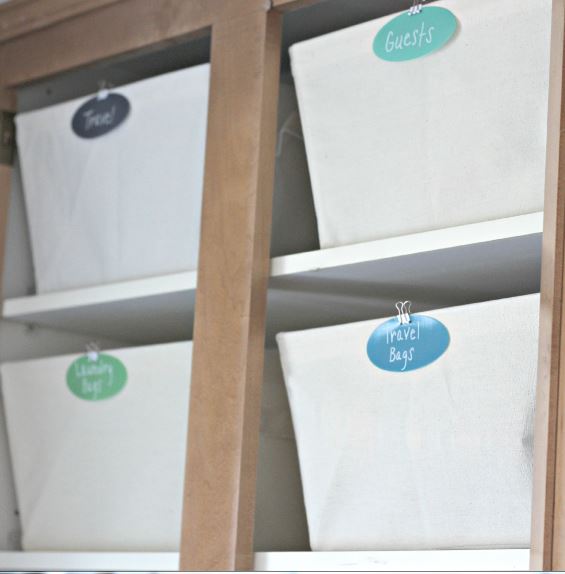 Try using containers you already have before you go out and buy more. It doesn't have to look like a designer showroom under your kitchen sink. Everything just needs to be contained and clutter free.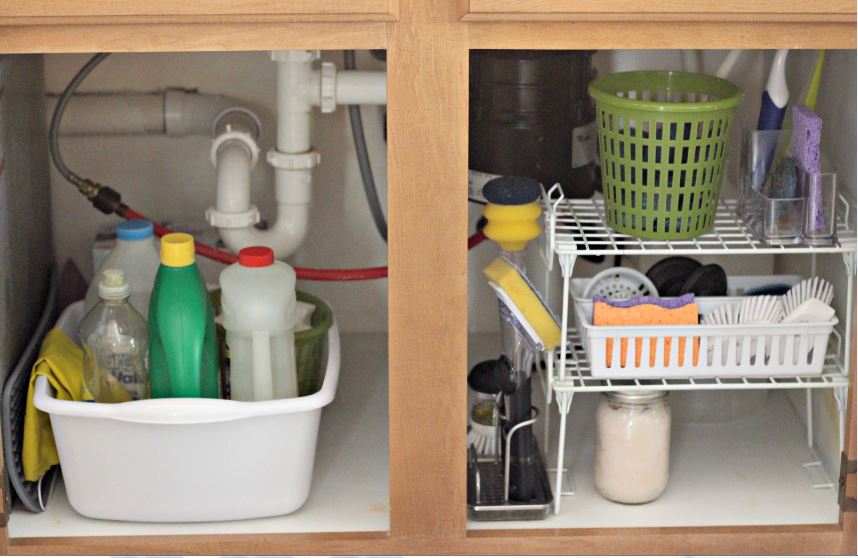 Baskets, Bins, Totes:
Use storage containers under benches, desks, on book cases, counters, the stairs, etc. Using containers make it so you can store things out in the open but still keep them contained. These totes used to hold toys in my boys room.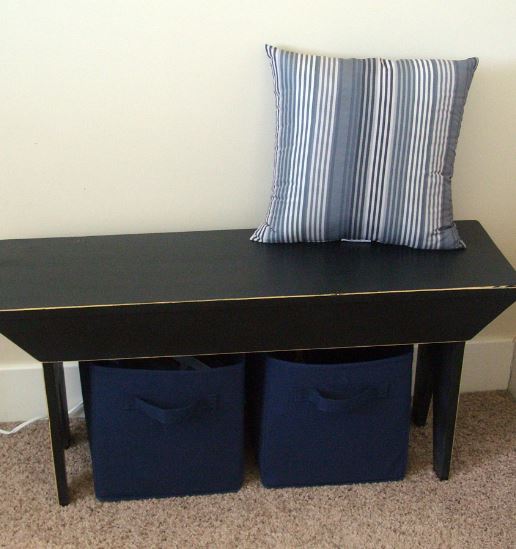 This basket holds the mess of my hubby's razors and cords. Having everything in the basket makes it still convenient for him and hidden for me.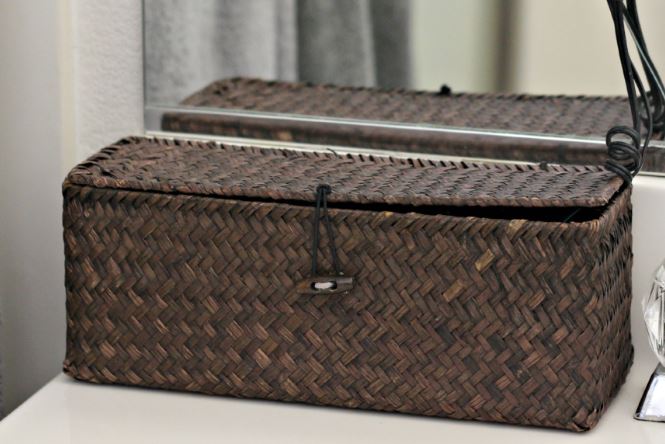 These baskets are holding craft supplies in my DIY craft table. Of course I added labels.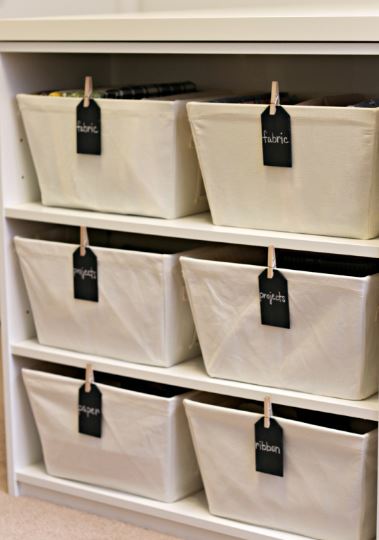 Closets:
I always recommend emptying the whole closet then adding everything back in so you know exactly what you need to store. Go back and read the previous posts in this series for more detailed information.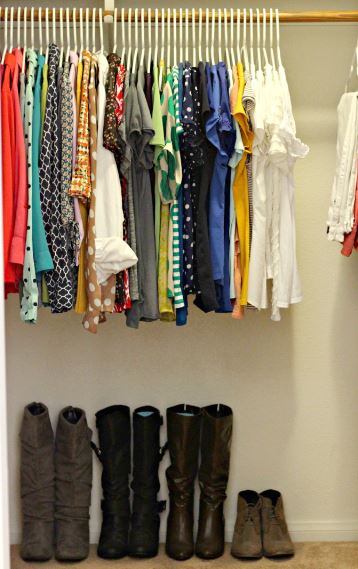 A small linen closet means everything needs it's own space or shelf to keep it divided and organized. Baskets help keep things organized and easy to store and retrieve.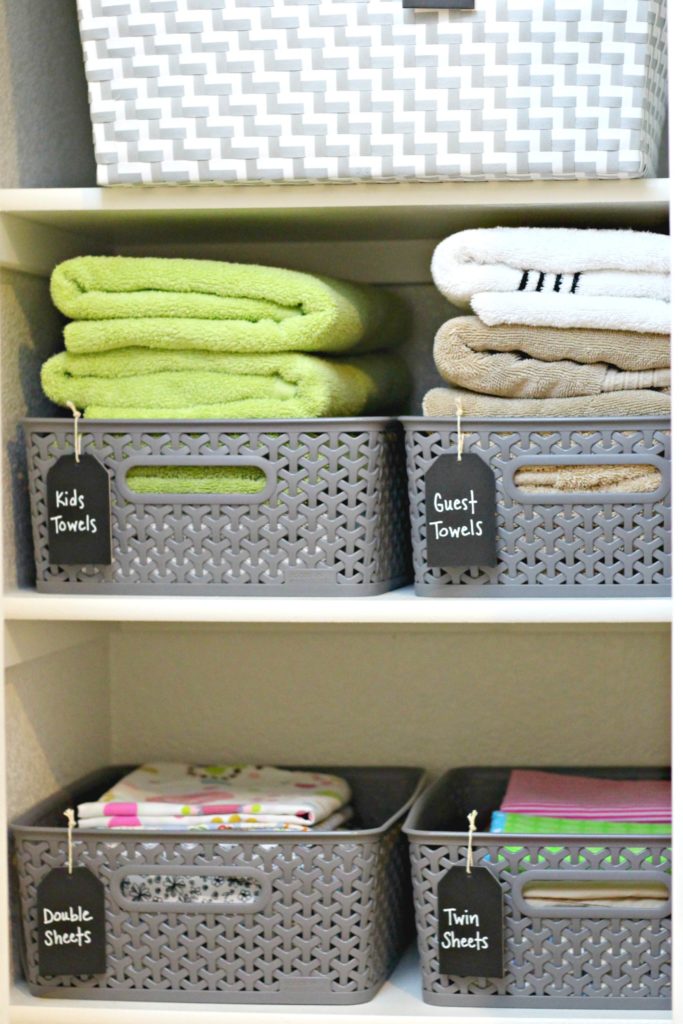 Use a combination of hanging, door organizing, shelving, bins and totes to keep the closet in perfect shape. Customize it to your needs and financial ability. There's really no reason to spend a lot of money to organize your spaces.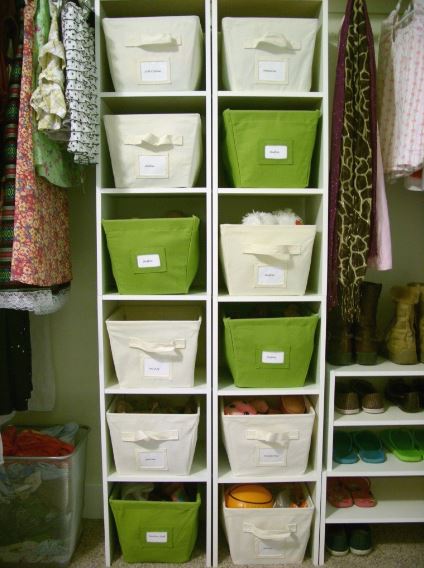 Here are more tips and ideas you need to think about while organizing your space:
-Don't run out and buy things before you've measured your space and assessed what you already have.
-Your needs will change as your family grows or gets smaller and also if you move, so keep that in mind while making purchases.
-Don't go over board on organizing purchases. Organize a space at a time.
-Collapsible or soft sided totes are a good idea as an option to fit in more spaces.
-Don't fill the space completely full or you won't have room to grow. Leave at least 20% unused space.
Wow, that was a long post!!!
The next post in the series will be on Re-Assessment of Your Space so don't forget to check back soon.
Here are links to the rest of the series. Feel free to pin every post in the series to reference back to (once the posts are live they will be highlighted)
Easy Everyday Organizing Series
Decluttering
Space Assessment
Filling the Space
Re-Assessment of Your Space
Maintaining Your Organized Space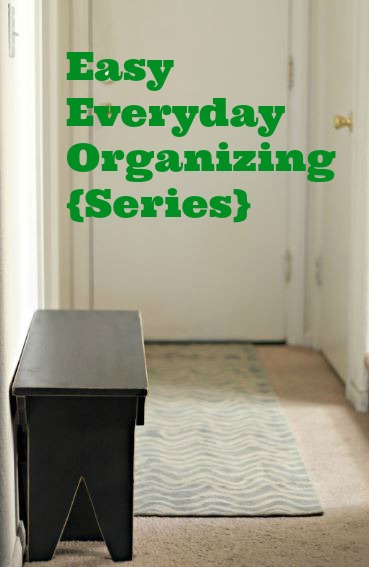 Pin it for Later: Easy Everyday Organizing Series – Filling the Space