A few days ago I shared Dorm Room Shower Caddy and Bathroom Essentials. In this post I will be sharing Dorm Room Essentials for the kitchen, study area and sleeping area. I can't wait to share with you the whole room and some of the really inexpensive decorating and organizing ideas we used. She moves into her dorm room in a couple days so it won't be too long. Like most of you we are working on an extremely tight budget so we are using as many things from her room at home as we can.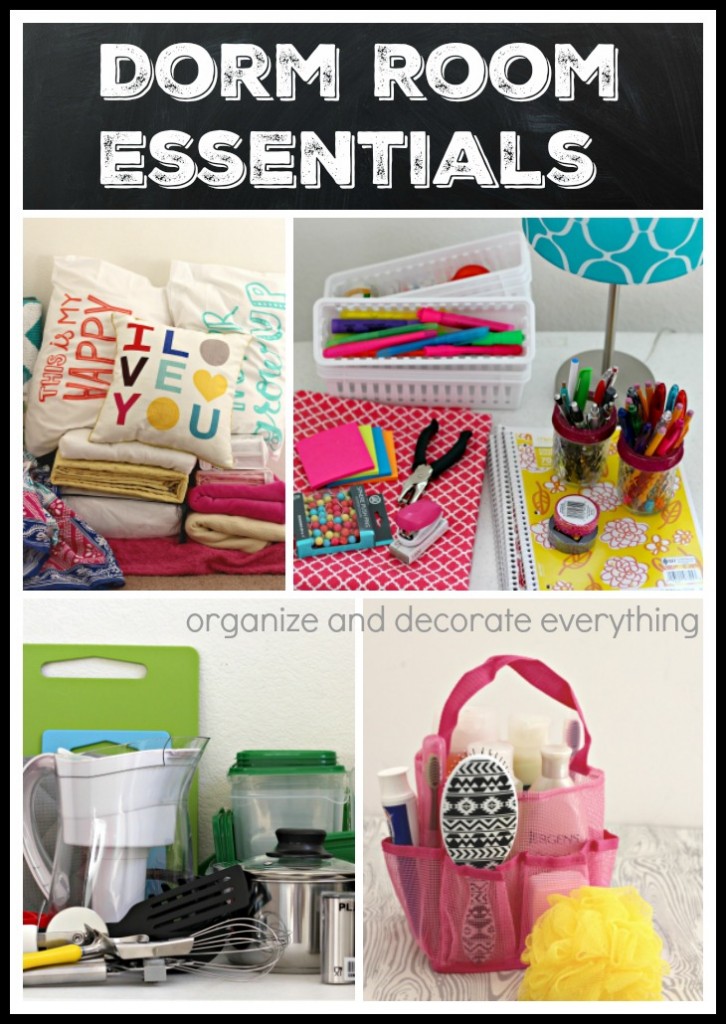 Sleeping Area Essentials
Since my daughter has a double bed she wasn't able to use her bedding, but if your student has a twin bed you could save a lot of money by using the bedding she already has. You could buy a new throw pillow or throw to add something new to the old bedding.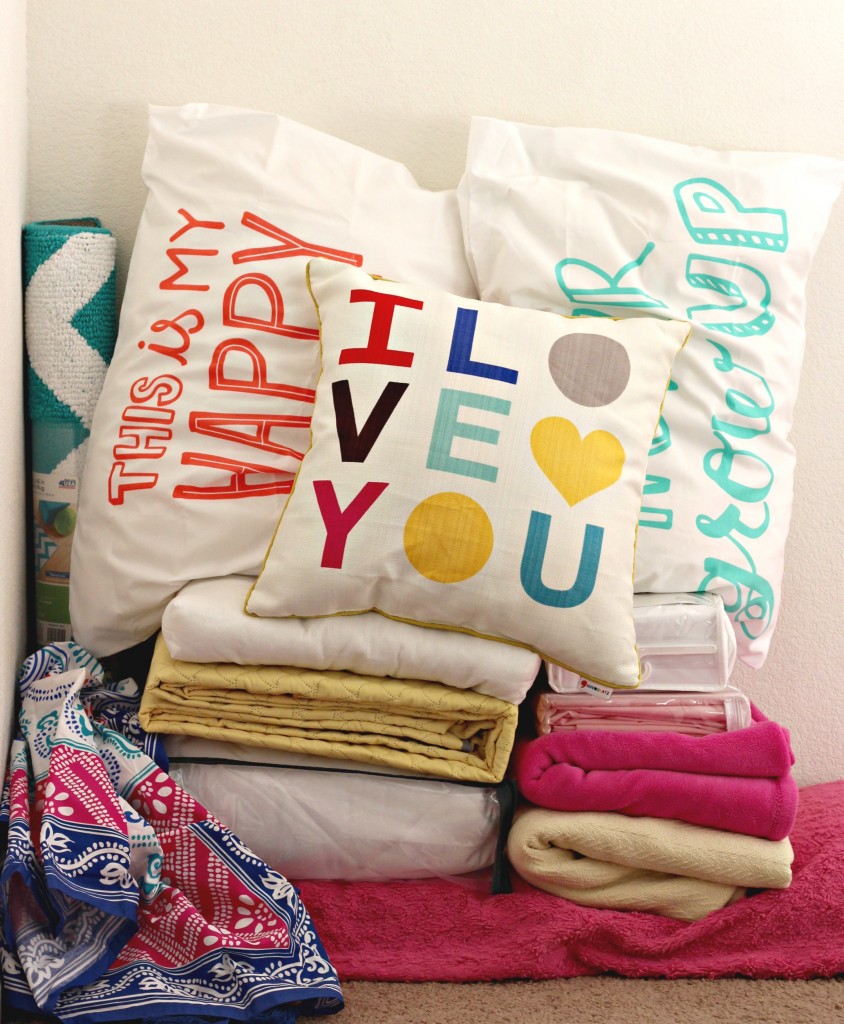 sheet set – twin or xl twin (depending on college)
zippered bed bug protector pad
mattress pad (dorm beds are pretty hard)
comforter
throw blanket or extra blanket
pillows
throw pillows (optional)
rug (optional, but great in a cold area)
Study Area Essentials
You probably have many of the study area essentials already in your home. Use what you already have to save money.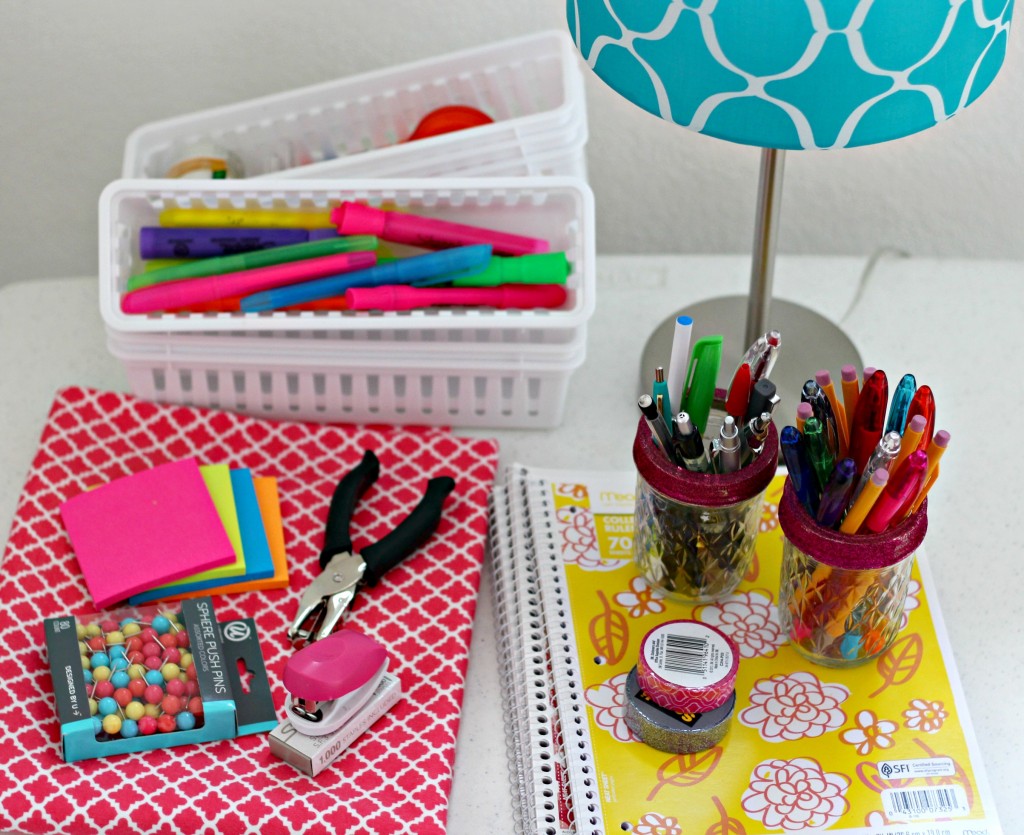 lamp
garbage can
chair cushion
laptop computer
student planner
flash drive
power strip
desk drawer organizers
push pins
super glue
scissors
head phones
extension cord
phone charger
highlighters
hole punch
stapler
batteries
tape
pens/pencils
markers
post-its
safety pins
white-out
spiral notebooks
bookends (optional)
fabric for bulletin board (optional)
Kitchen Essentials
We were able to save a little money on the kitchen supplies by giving her duplicates of some of the things we had at home. She has a full kitchen in her dorm so we needed to buy a minimum of things to stock the kitchen. She will be preparing easy food most of the time and eating in the cafe about once a week. Take what you need from this list.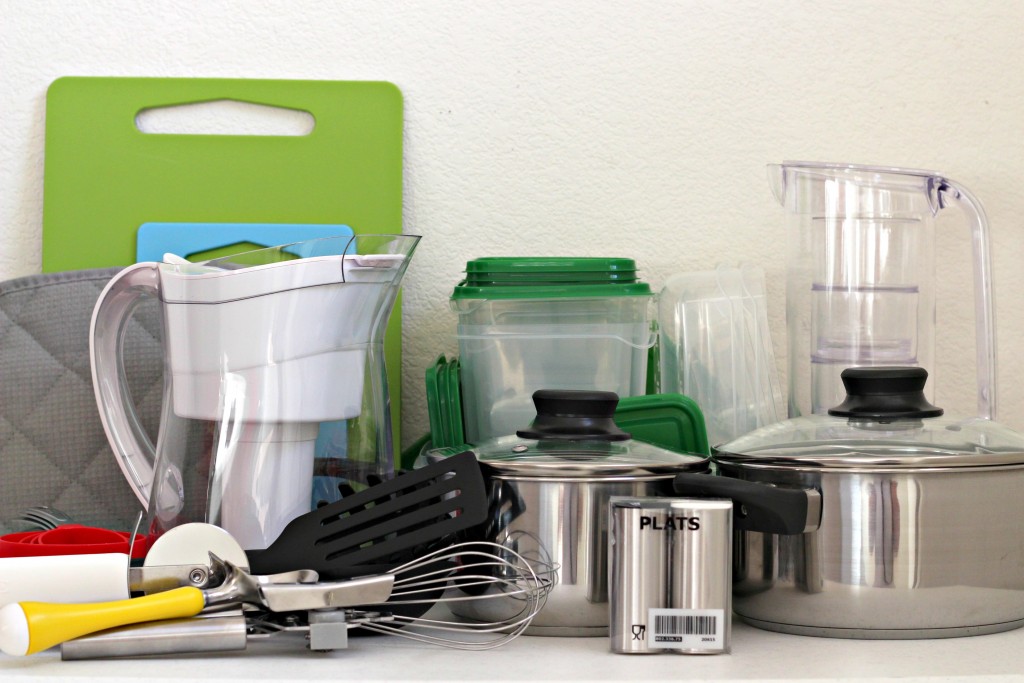 Brita pitcher
measuring cups
measuring spoons
pots and pans
skillet
ice cream scoop
pizza cutter
can opener
whisk
cooking utensils
salt and pepper shakers
pitcher
cups
hot pads
cutting board
tupperware
mixing bowls
strainer
loaf pan
chip clips
eating utensils
cookie sheet
muffin pan
plates
bowls
cake pan
serving bowl
mugs
towels
dish soap
dish cloths
paper towels
drawer liners
More Dorm Room Essentials
There's always a few more things that are needed that you might not think of. We tried to think of everything since she won't have a car and there aren't many stores close by.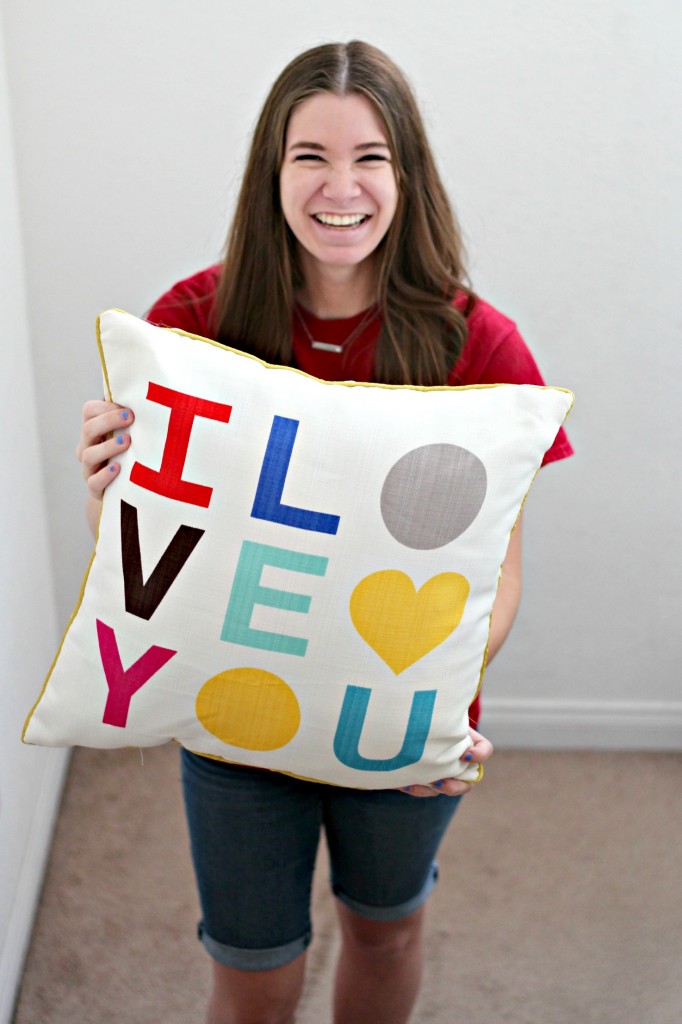 backpack
duffle bag
umbrella
dvd case (optional)
water bottle
folding step stool (she's short and can't reach the top closet shelf)
organizing baskets
full length mirror
stacking drawers (for under the bed)
hamper (with laundry items)
sewing kit
jewelry organizer
shoe rack
Command hooks
string lights (optional)
wall decor (optional)
Can you tell how excited she is to head off to college?