We just took our daughter to college and helped her move into her dorm last weekend. It was definitely bittersweet. We miss her so much already and know there are times when she will probably be homesick. So decorating and organizing her room is more than just a process that needed to be done, it is a way to help her feel comfortable and happy away from home. I'm sharing Dorm Room Decorating and Organizing ideas we used in her dorm room to make that tiny space comfortable and her own. Warning: lots of photos ahead. I hope you'll get some great ideas. The list of dorm room essentials is in another post.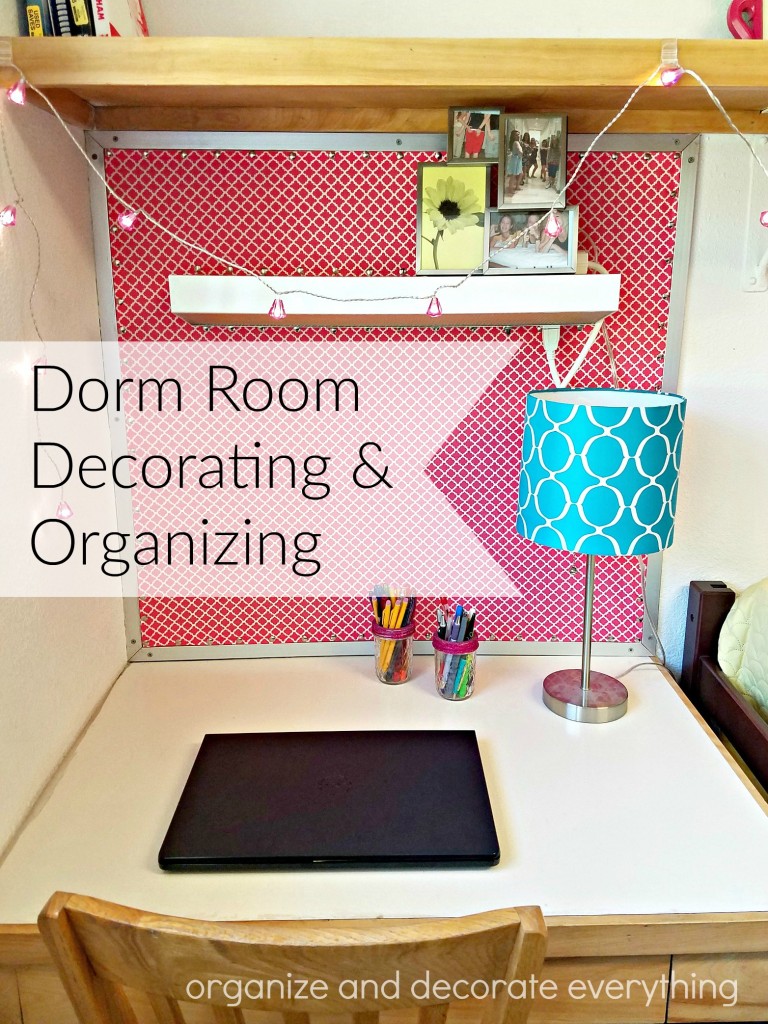 Let's start with the bed. We bought new bedding because she had a double bed at home. If your child has been in a twin bed, you could save money and use their same bedding. She picked pink and yellow with a little teal as her room colors. All of the art on the shelf above her bed is from home. She wanted to add the string of lights just for fun, they were bought from IKEA and hung with Command picture hooks.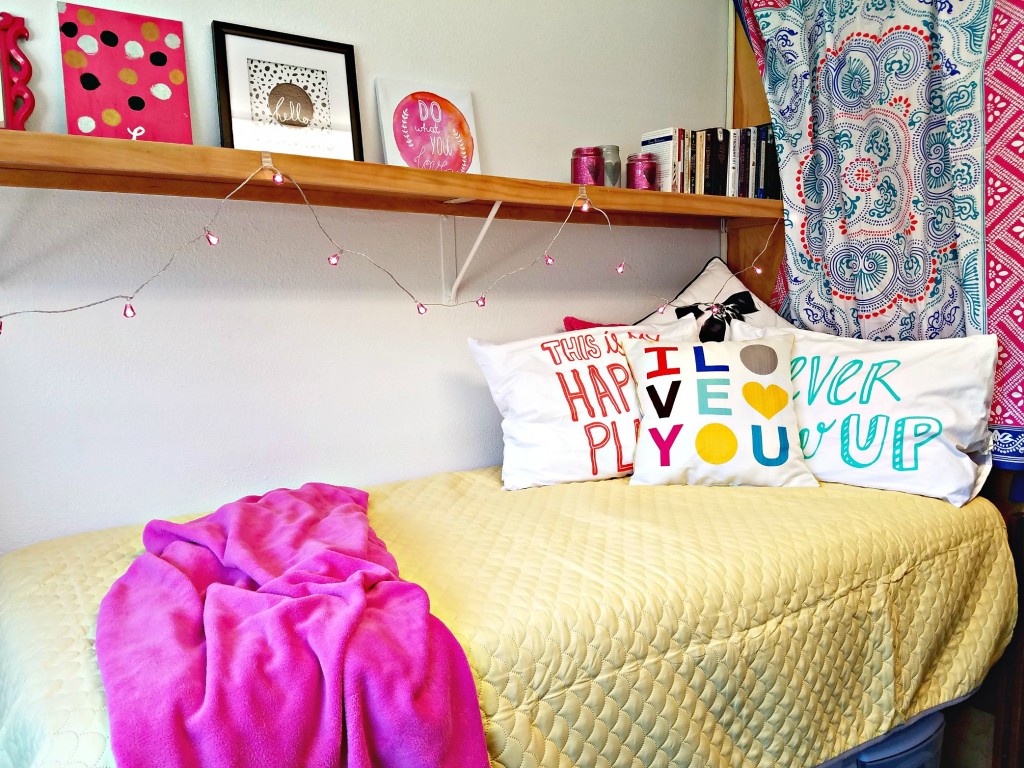 The tapestry, pillow, and cases are from Target. All the bedding is from WalMart. She also has a body pillow behind the other pillows that she brought from home. You can never have too many pillows, right? You can check out her heart glitter candle holders post for a fun tutorial. She's using them as bookends right now.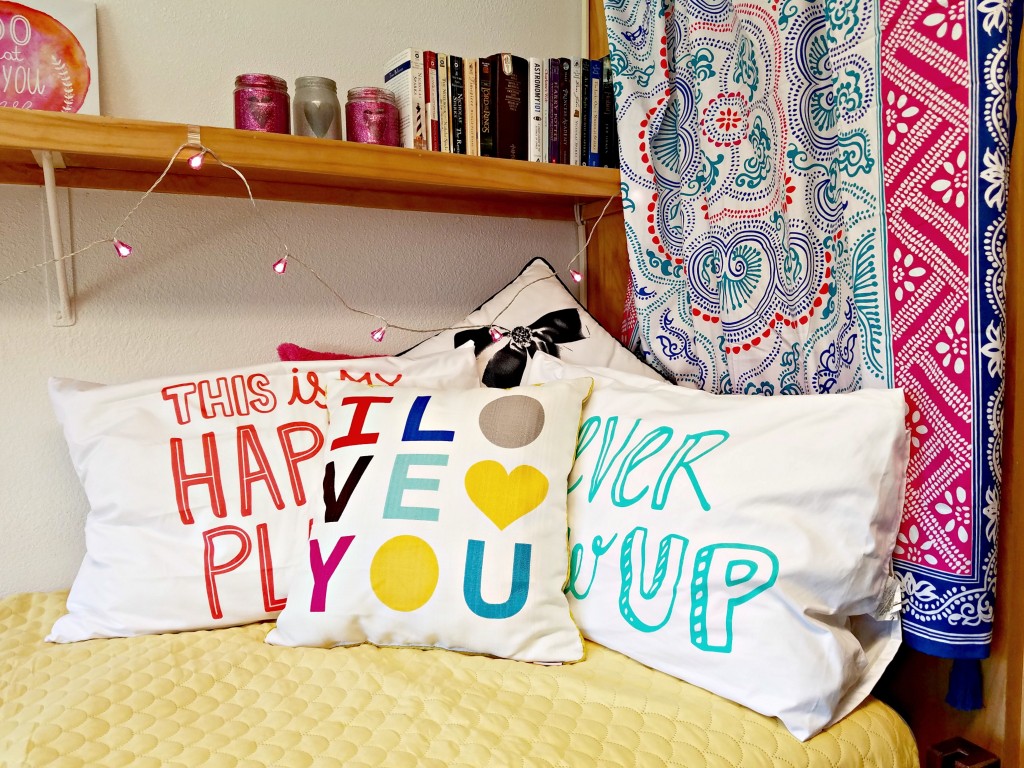 The bed is almost 3 feet off the ground so there is plenty of storage room under it. I wanted to make a curtain to look like a dust ruffle to hide the stuff underneath but she vetoed that idea. Maybe I'll be able to talk her into it later. Behind the drawers are 3 totes that hold food storage and seasonal items that can be rotated.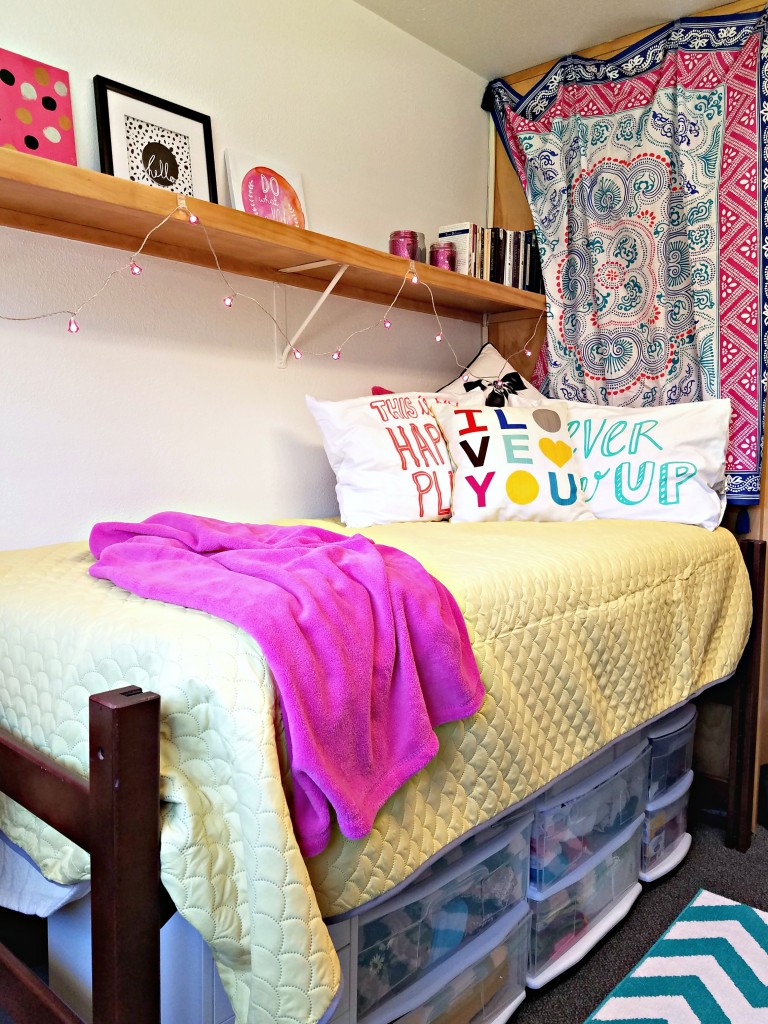 The metal file cabinet is next to her desk so she has easy access to everything in it. I recommend using plastic drawers for clothing and bathroom supplies. We put the wheels on the drawer cabinets so they are easy to move and get to the storage in the back area under the bed. The metal file cabinet is from IKEA and the plastic drawers are from Target, but can be found almost anywhere. There's also a little folding step stool under the bed to make it easier for her to get onto her tall bed and reach the totes in the closet. She's pretty short.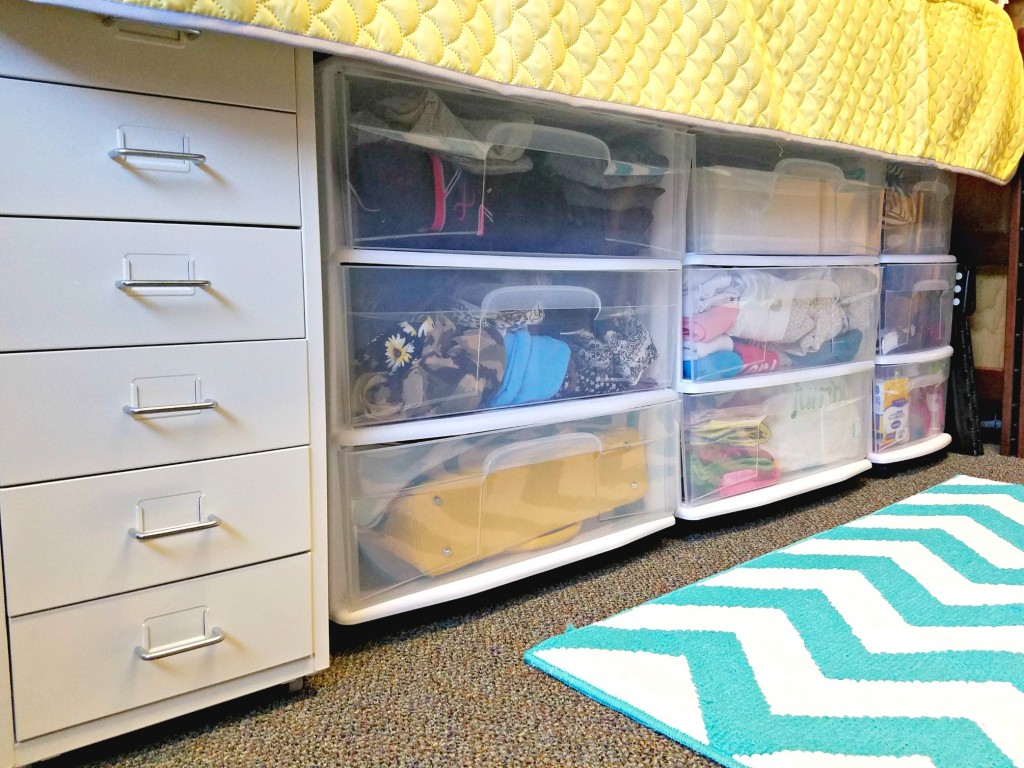 Now the desk area. The bookshelf takes up the whole length of the desk and bed area so there's plenty of room for all her books and knick knacks. Her school books are stored right over the desk area. The corkboard is old and worn so we covered it with fabric and used thumb tacks to make it look custom. It's a great transformation for very little time and money.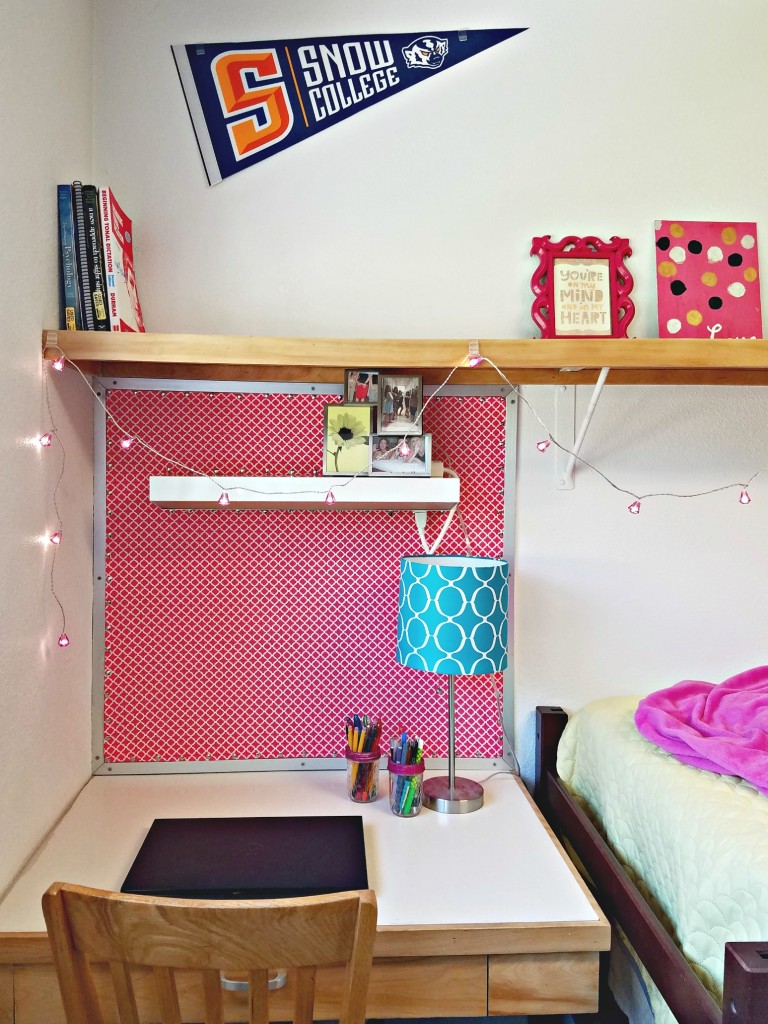 Here's an ugly before photo. I forgot to take a photo of the inside of the desk drawer, but we used inexpensive plastic drawer baskets to keep everything separated and organized.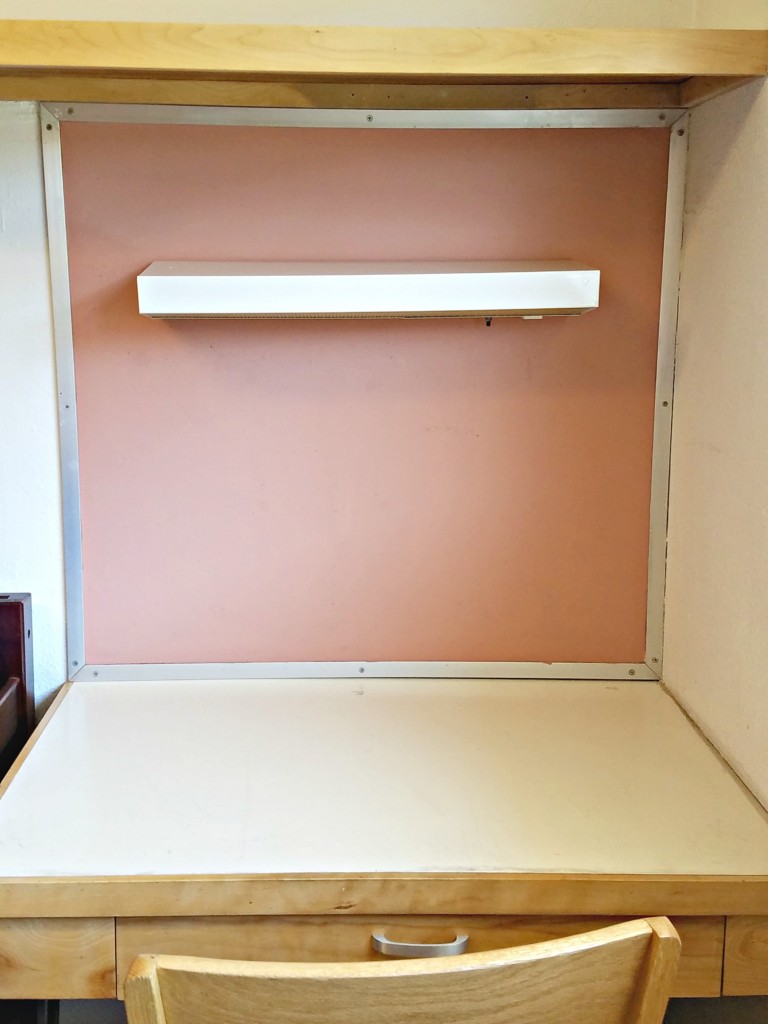 We used almost a yard of fabric and about 80 thumb tacks. It took about a half hour to cover because of having to go around the light attached to it. It looks so much better now.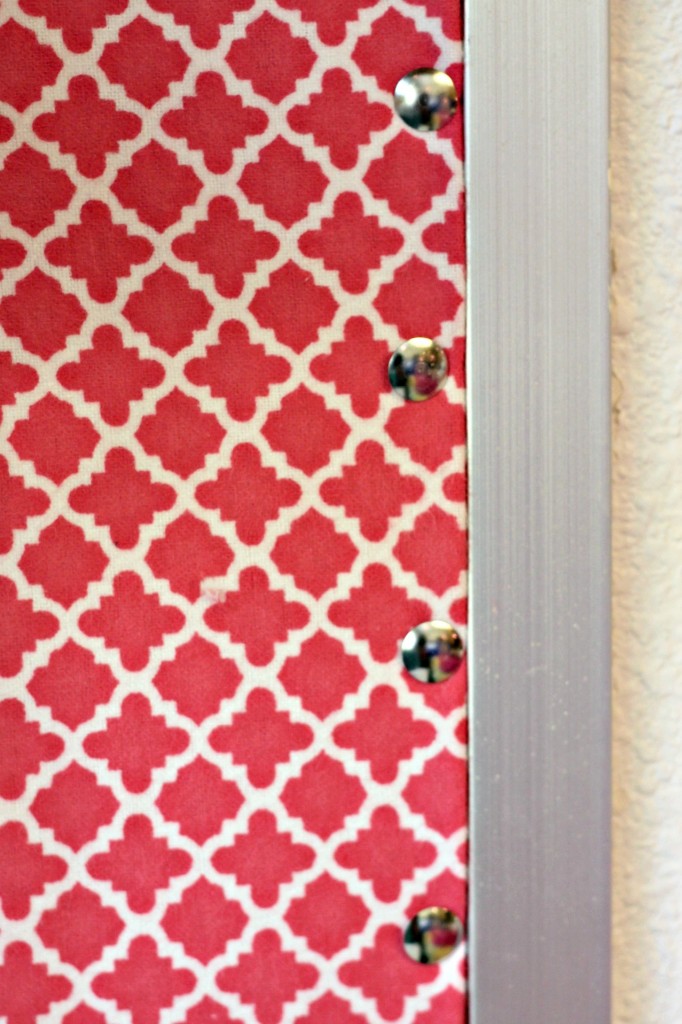 We bought the chair pad at IKEA but wanted to add a little color to it so I sewed buttons in the tufted areas.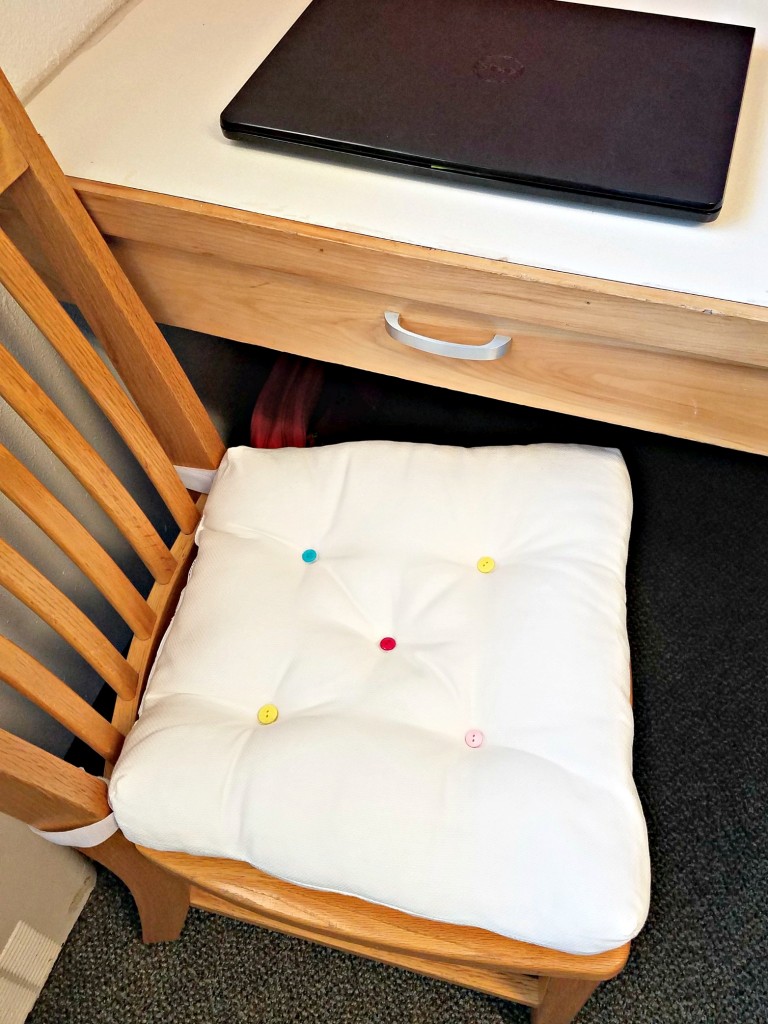 Emilee picked out the buttons and arranged them the ways she wanted. It's another fun and easy way to add personality to her little space.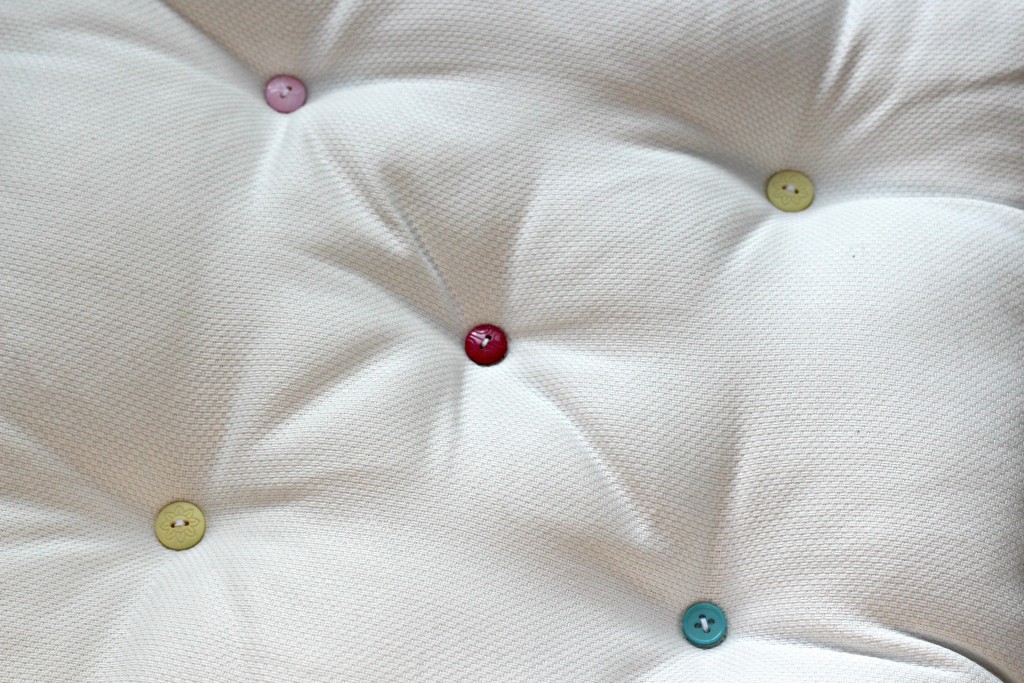 While I covered the corkboard, Emilee wrapped washi tape around the electric cords to her computer and cell phone.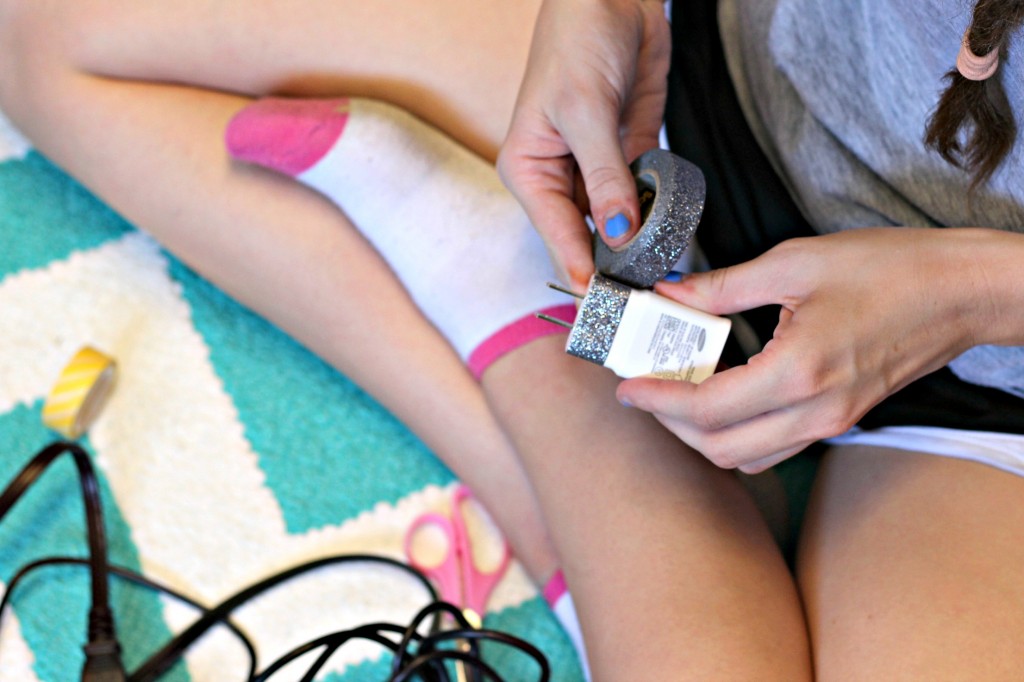 We wouldn't want them to get mixed up with her roommates, now would we?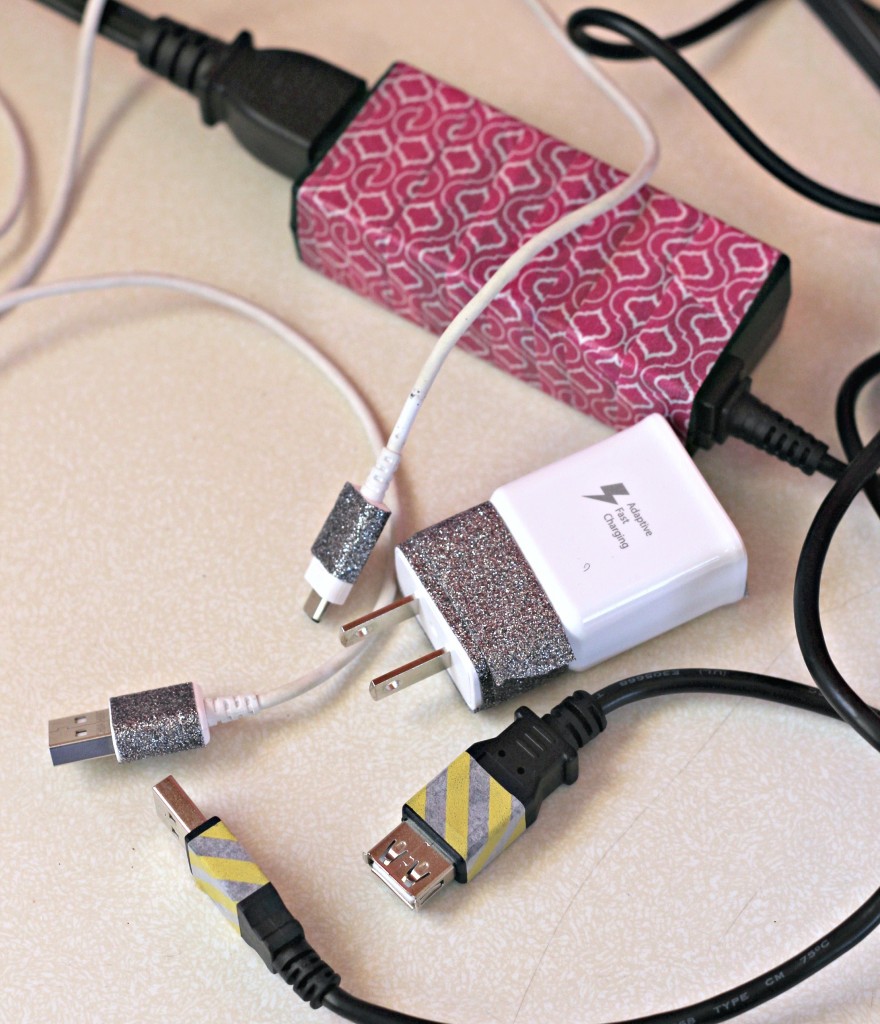 Last but not least the closet. Even though I could have easily organized her whole room for her it was important that she organize things where it was easiest for her. The closet is small and she has plenty of drawers so we folded some things to give her more hanging space. We also used Command hooks to hold her bag, purse, umbrella, and jacket. There's enough room in the bottom of the closet for her hamper, guitar, and camp chair.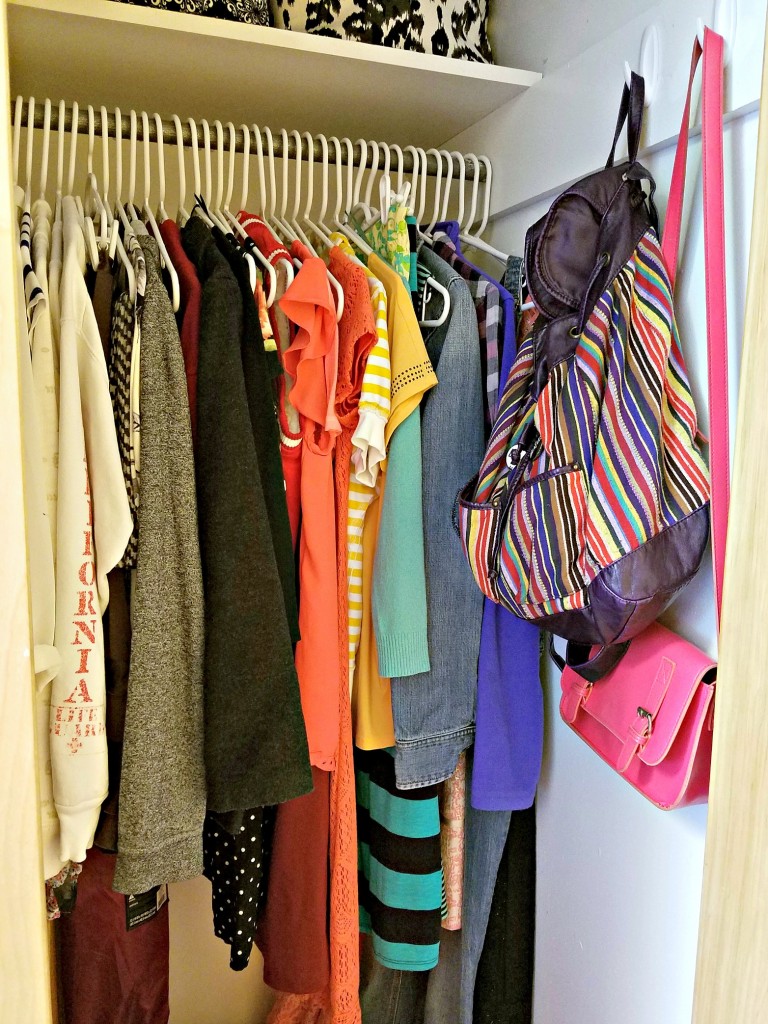 The closet has a built in dresser with very deep drawers. First I laid down some shelf liner in the drawers then Emilee filled them with her pants and shirts.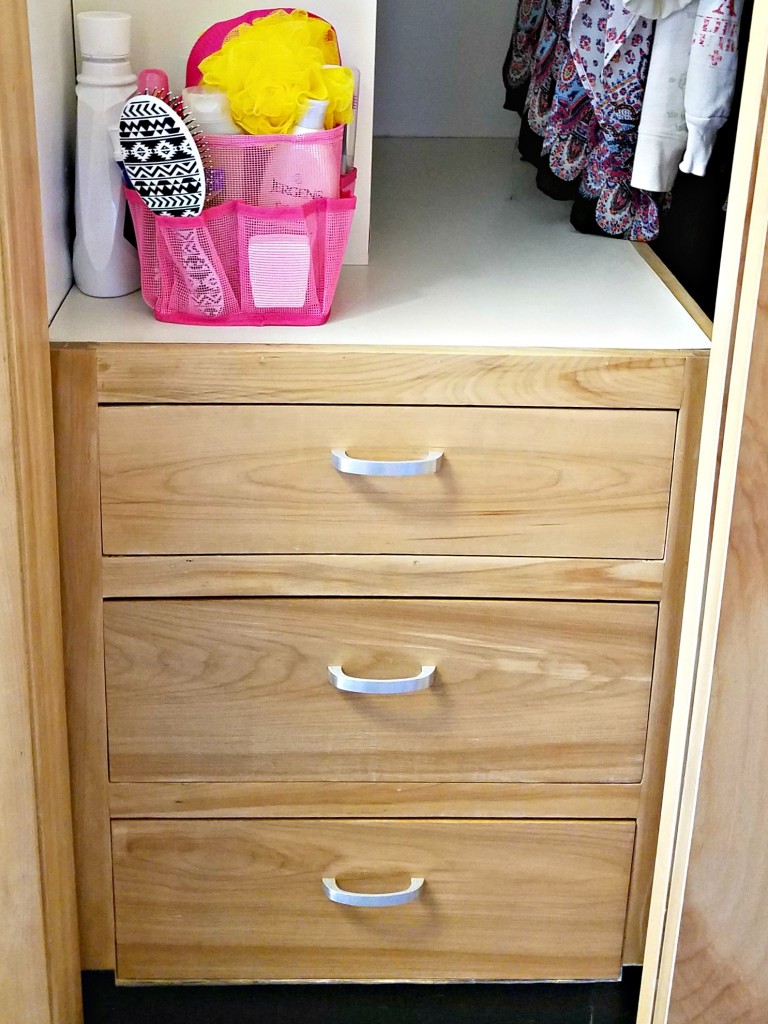 The top of the dresser is the perfect place for her shoe holder and shower caddy. They're easy to get to but organized and out of the way.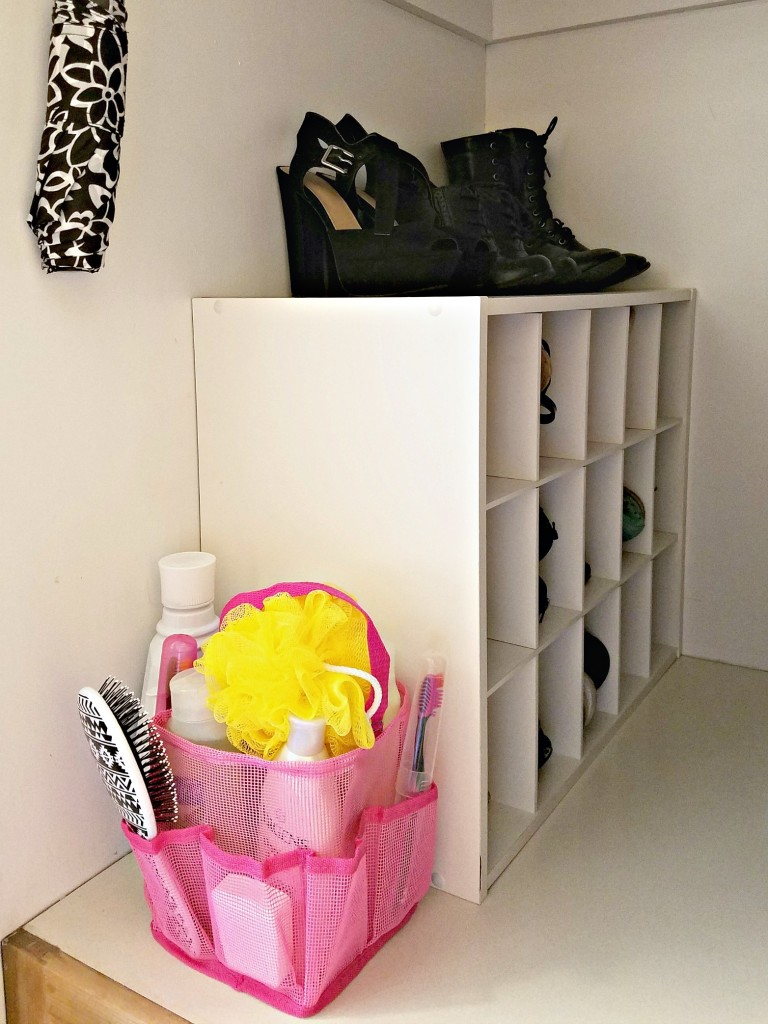 I hung the jewelry organizer from a Command hook on the back of the closet door. The back of the organizer has more pockets.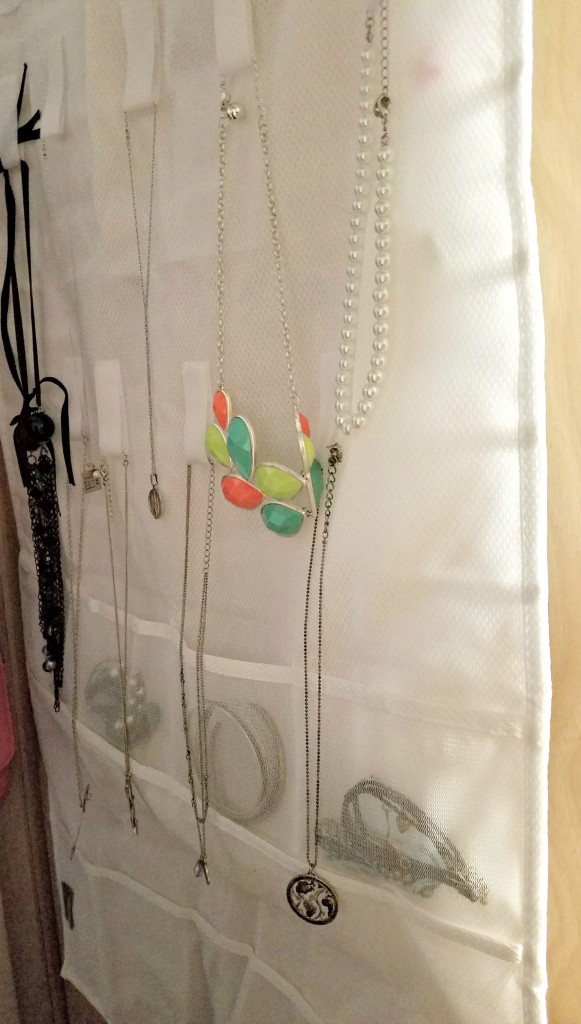 She brought her storage baskets from home to hold even more dorm essentials and some seasonal items. Since they're black and white they still fit in fine with her color scheme.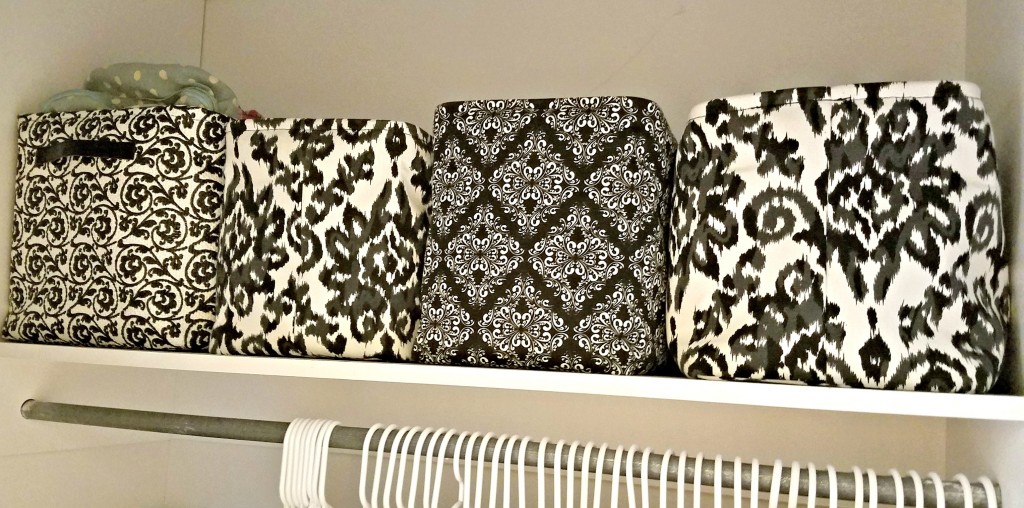 That's it! I think I covered everything. We had fun organizing and decorating her space and it was a fun way to spend our last few hours together talking and laughing. I'm excited for her and her new adventure and I hope she's happy and comfortable in her new space.