Most of us have lots of left over ball ornaments after decorating the Christmas tree so I thought I would share other ways I'm Decorating with Ornaments. If you don't have extra money to spend on Christmas decorations using ornaments is an inexpensive way to bring more Christmas into your home. These pretty, shiny, colorful, glittery, reflective decorations add sparkle to your home without breaking the bank.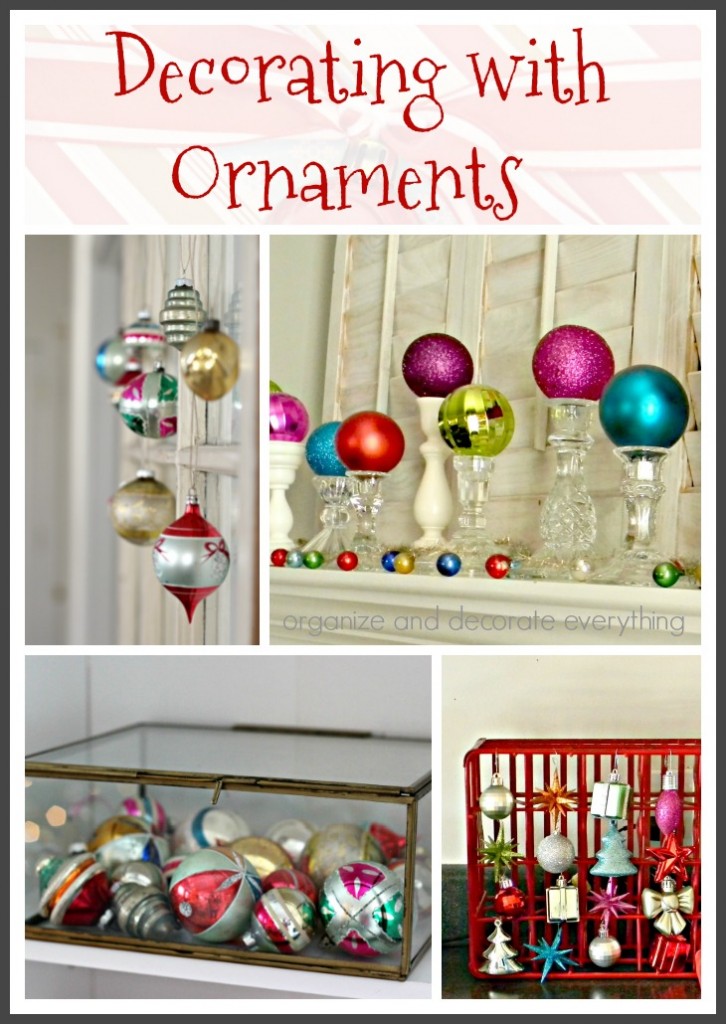 I seldom hang my vintage ornaments on our family Christmas tree. We've had it knocked over in the past and the last thing I want is shattered vintage ornaments.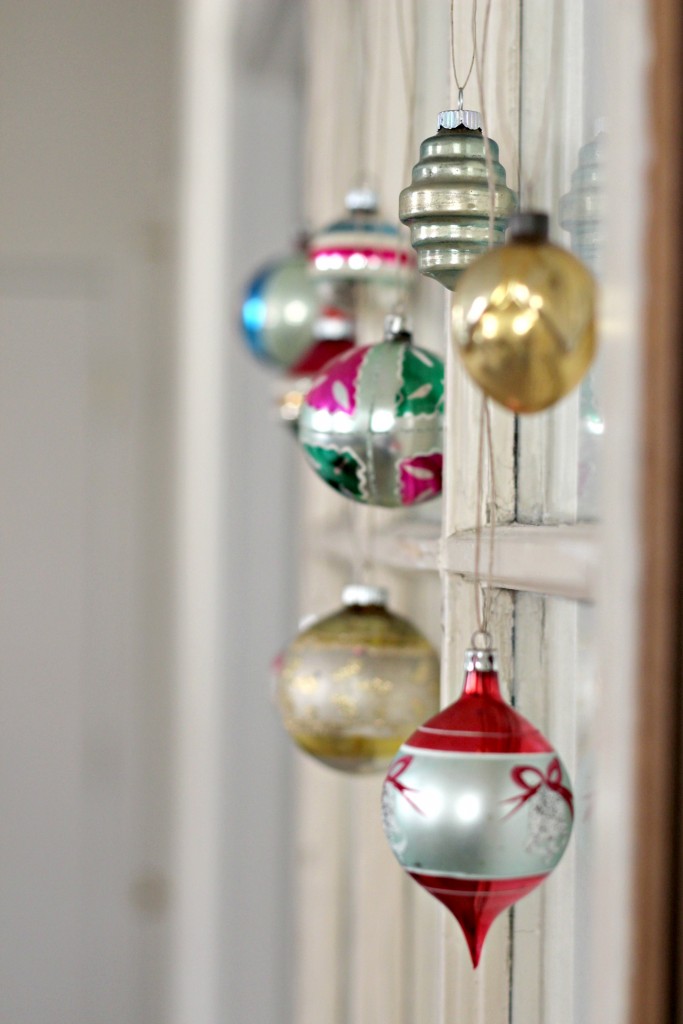 They look pretty hung on twine from my old windows and they're out of reach of little hands.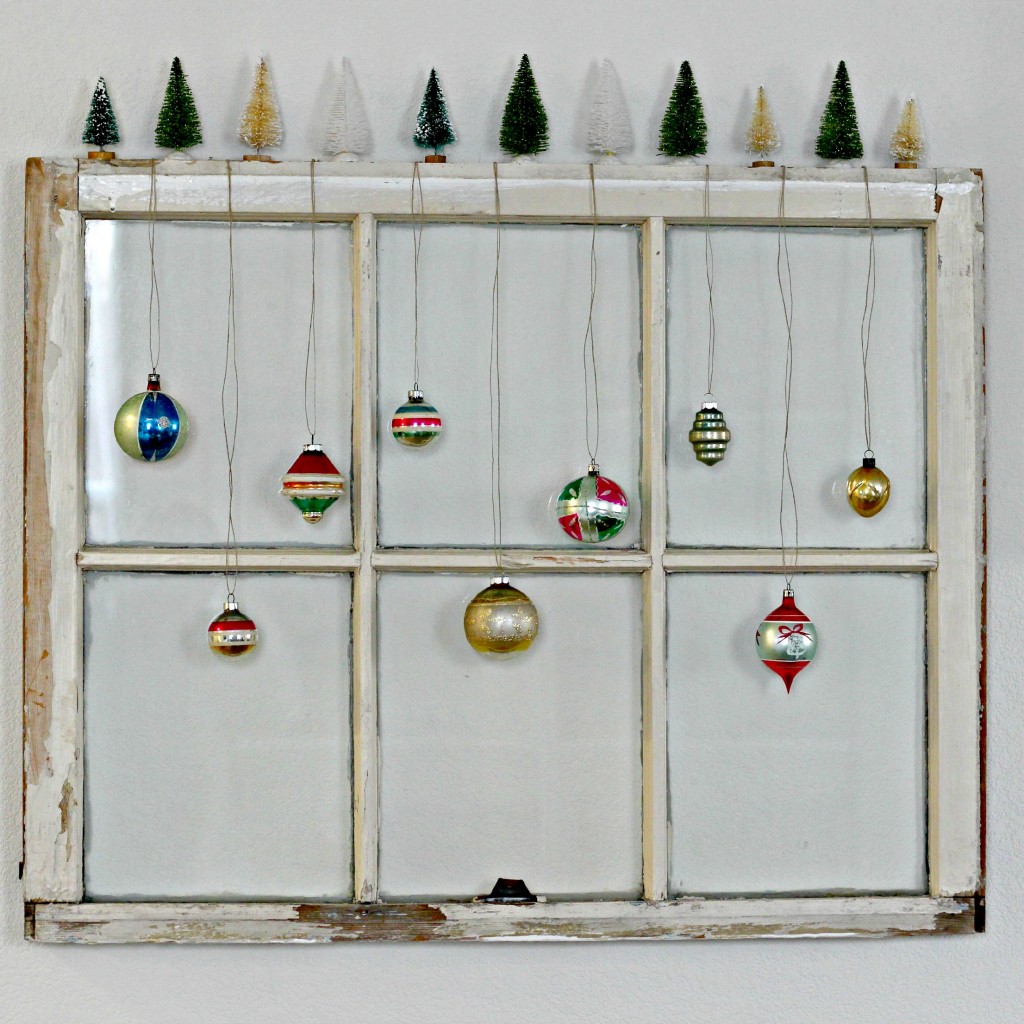 In our last house I hung them from the dining area chandelier. They looked so pretty hung above the dining table especially with the chandelier lights on.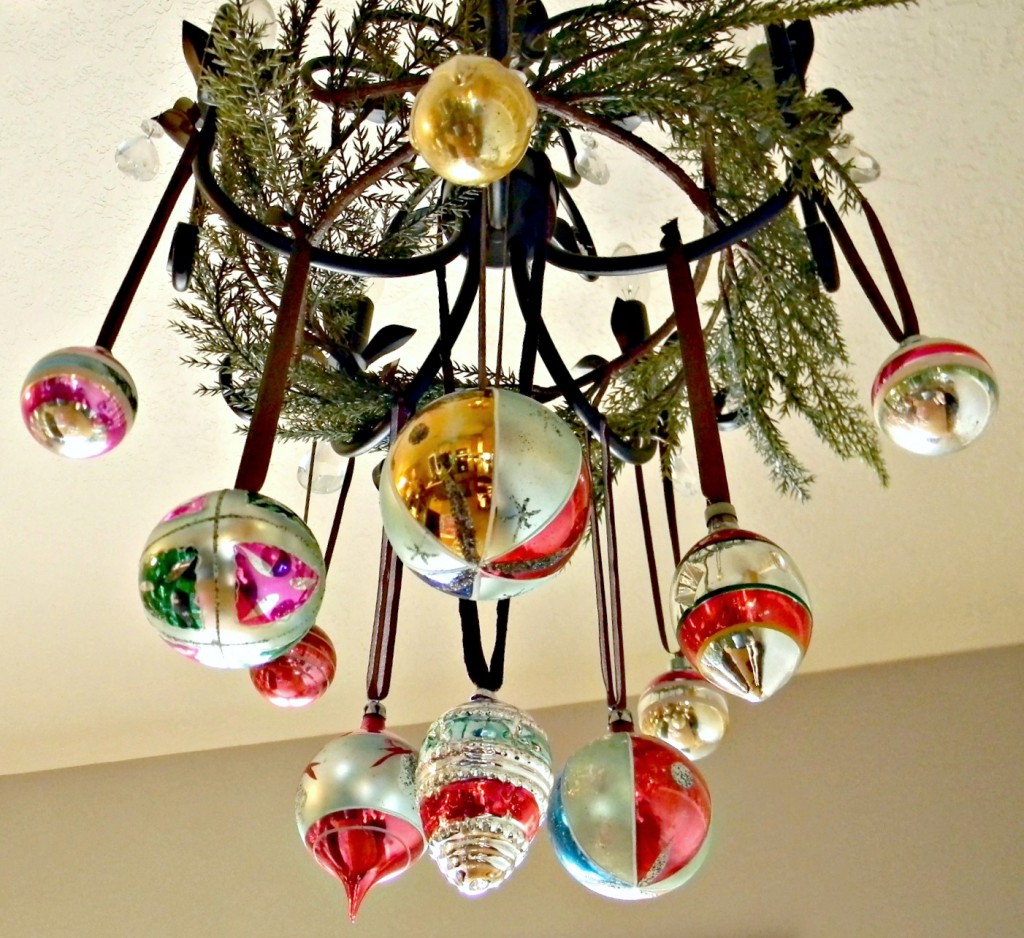 When I don't have them displayed hanging from the chandelier or windows I simply place them in a pretty glass box or bowl.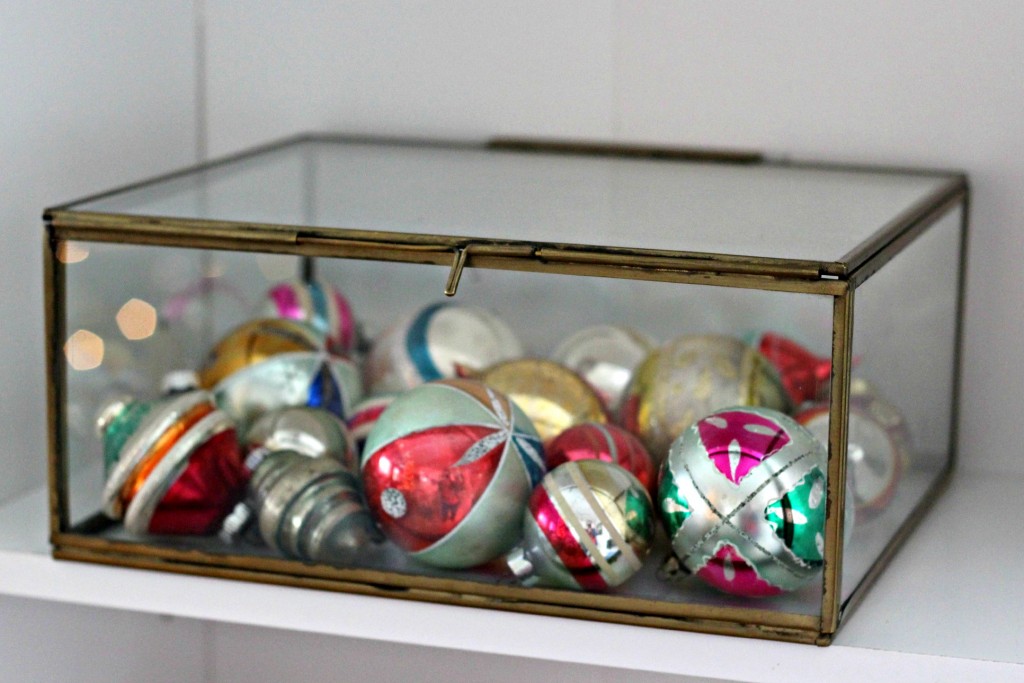 I like to display my vintage ornaments in some way every year. This year they're displayed in our master bedroom on 2 small white trees.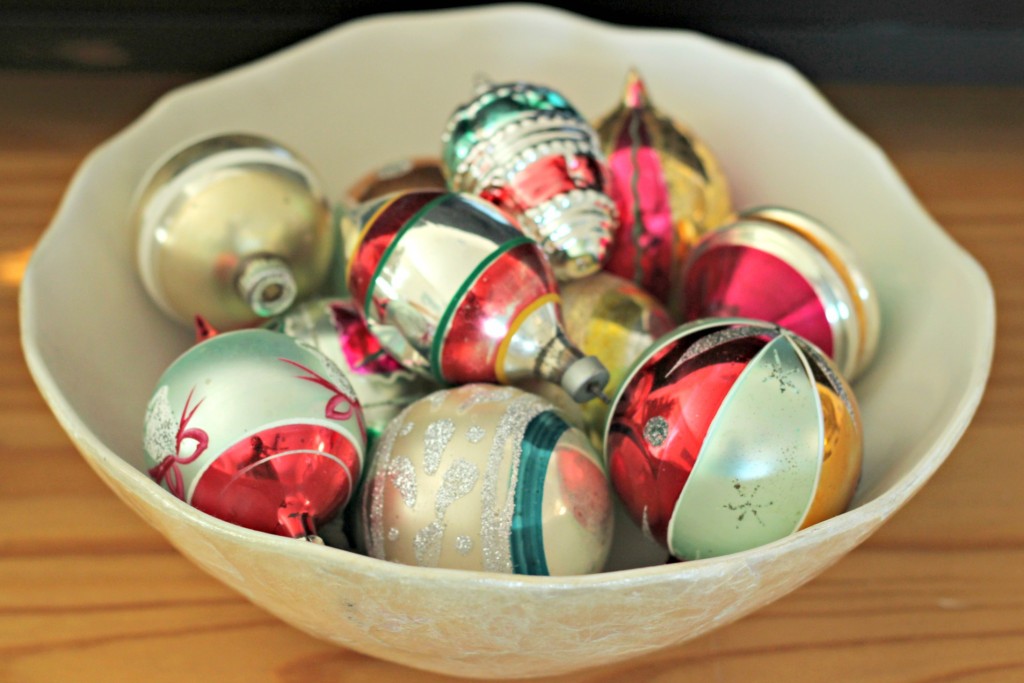 I had some small ball vintage ornaments and old tinsel so I made a garland with them. It looks great displayed on the fireplace mantel or on an old window.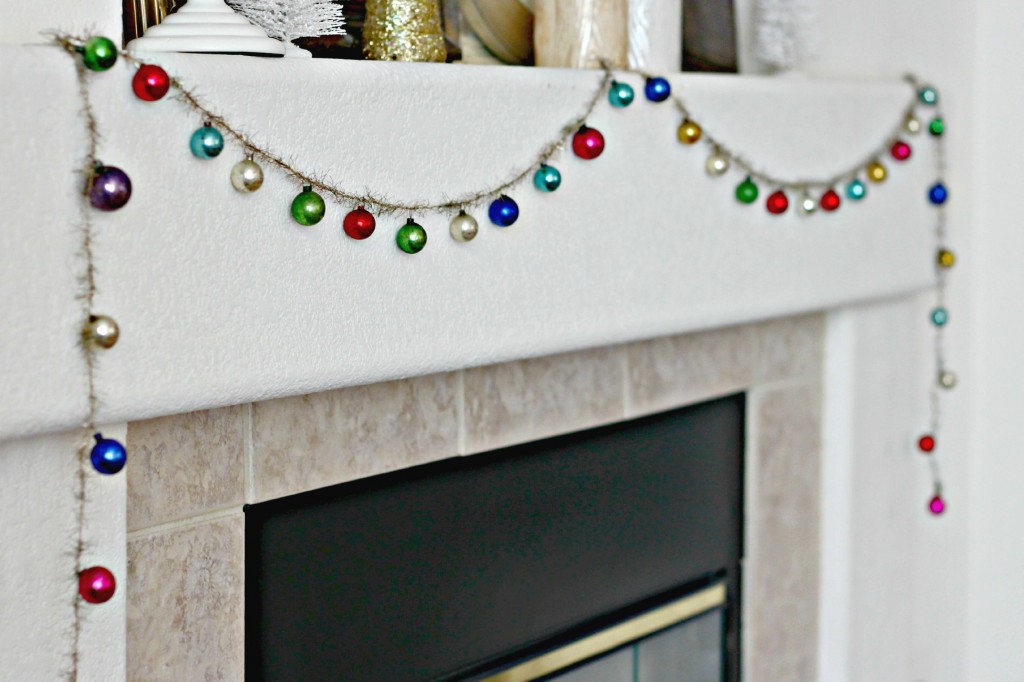 This year I have it hanging around a mirror.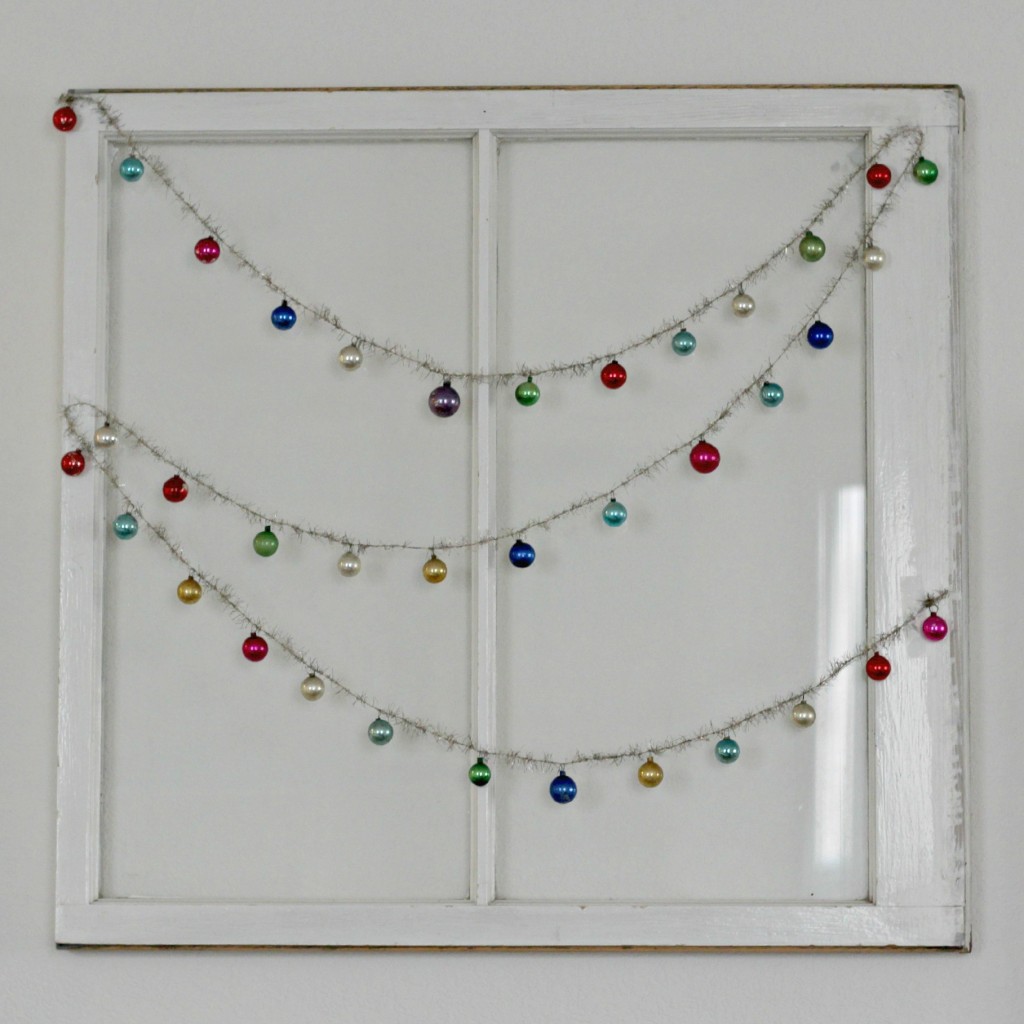 I like to change my Christmas colors every year. One year we decorated with bright colors and everything was centered around Merry & Bright. Because of all the bright colors I kept everything else pretty simple. It was such a fun color scheme. I think I need to bring it back soon.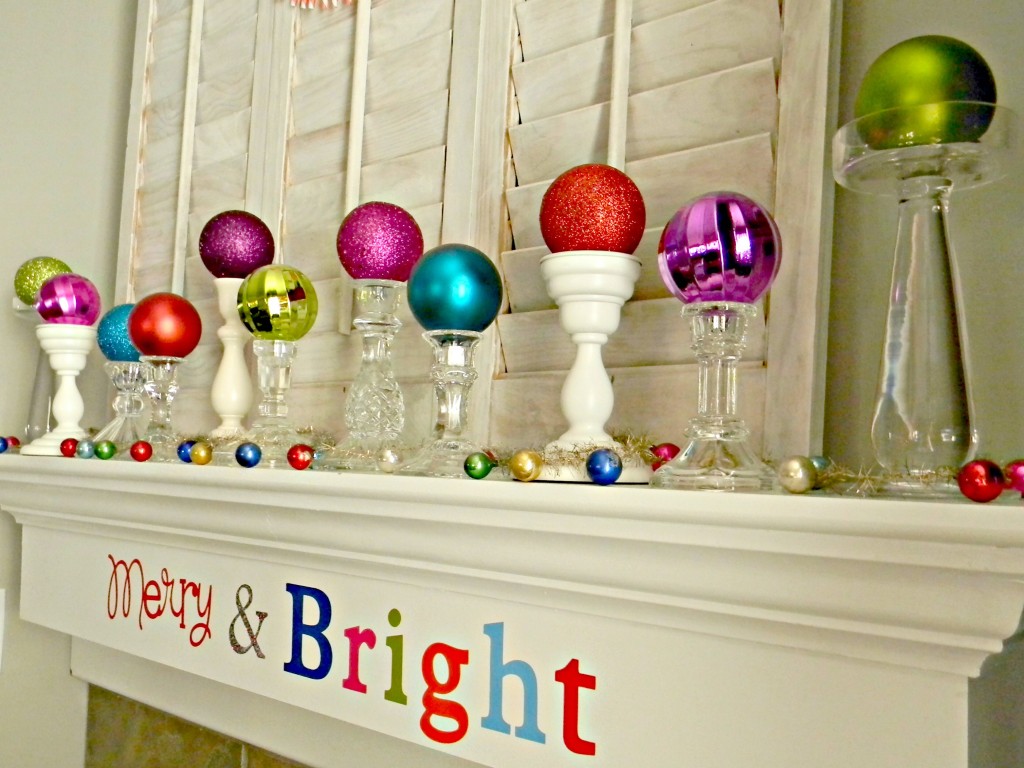 You've all seen those beautiful ornament wreaths. I haven't made one yet but I did a quick and modified version of the wreath by just attaching a few ball ornaments here and there on a pine wreath. Next year might be the time when I finally make the official ornament wreath.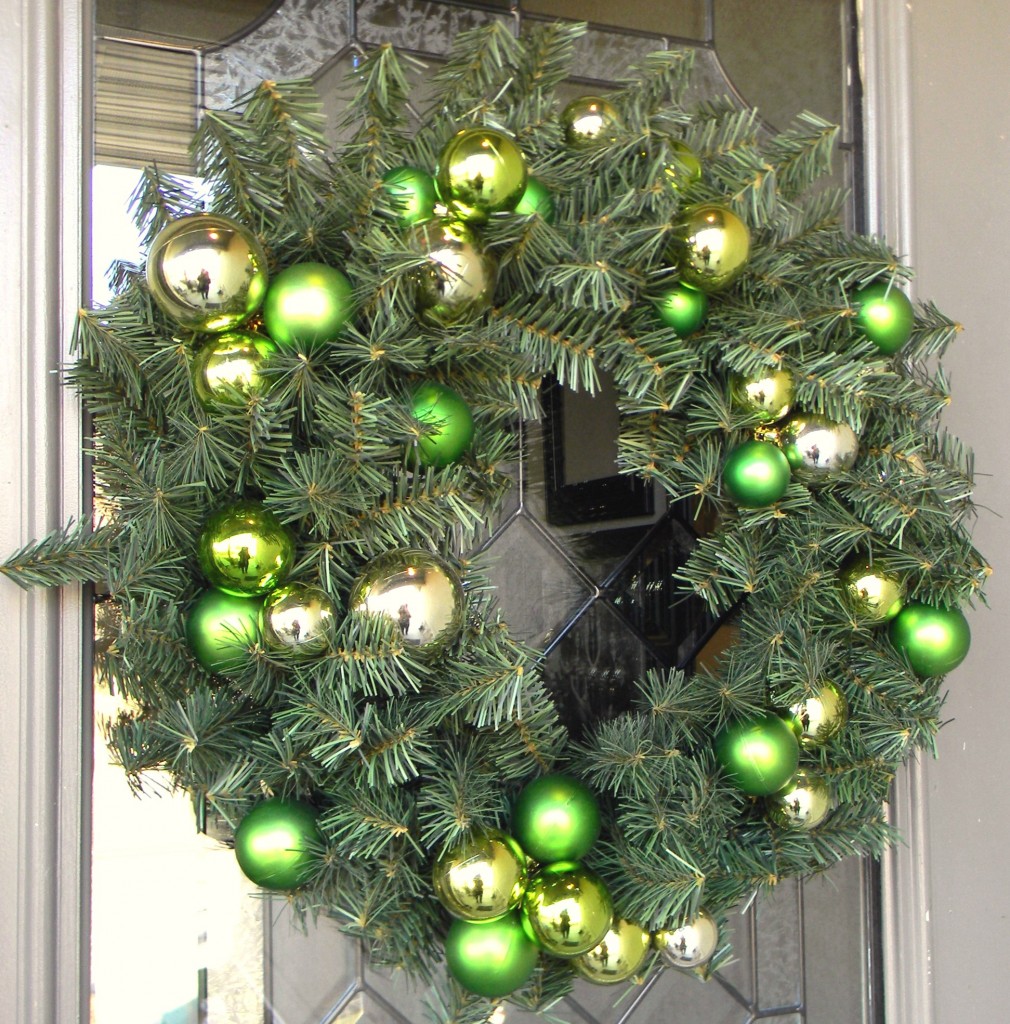 This was the same year that we decorated with the Merry & Bright theme. I loved these glitter ornaments hanging from the ceiling in front of the kitchen window.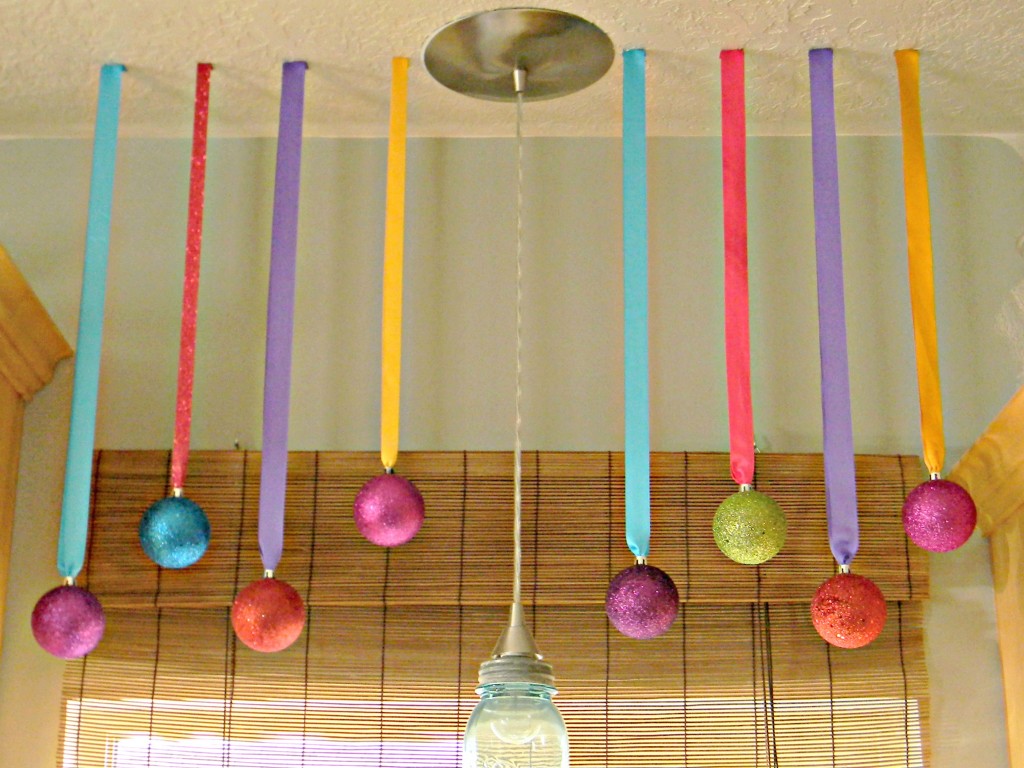 If you have several places you want to add Christmas decorations, simply use bowls and fill with decorative ornaments in your color scheme.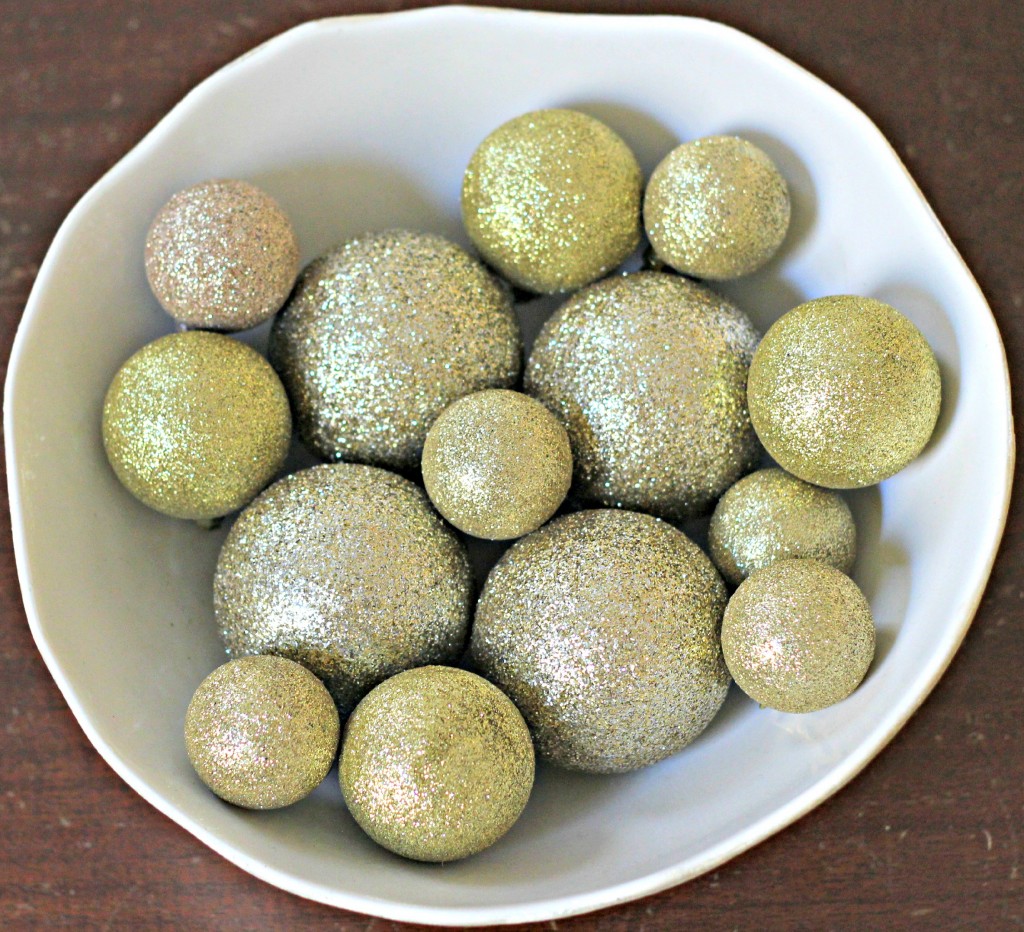 Or hang them from unexpected places. This was the Merry & Bright year again.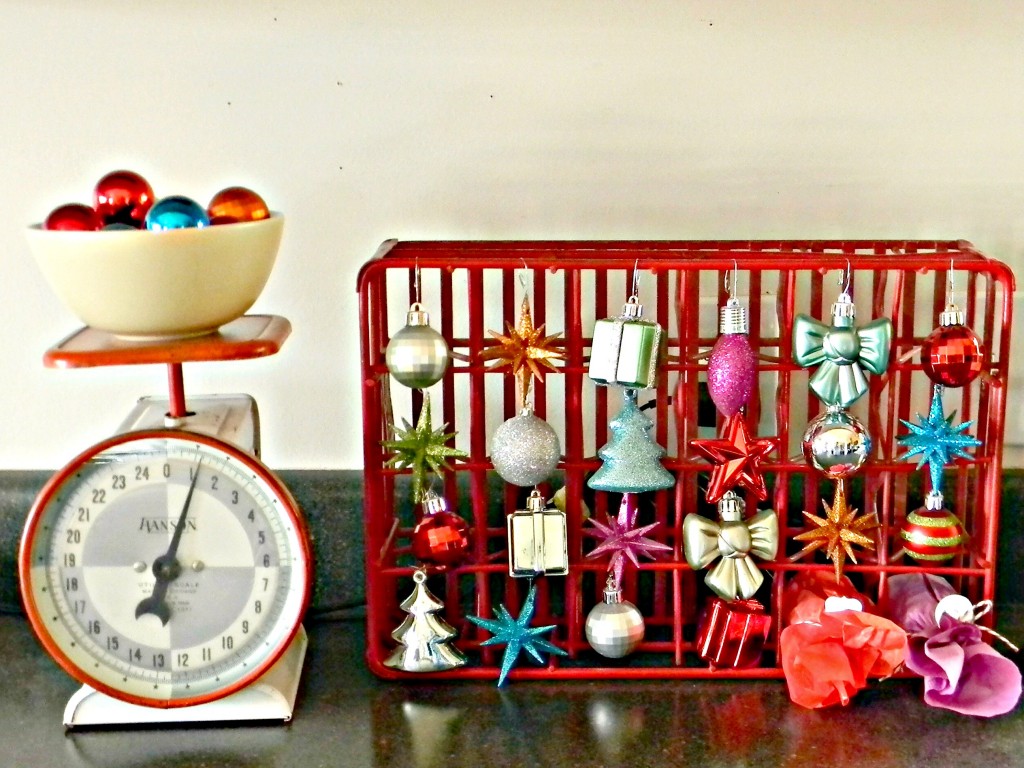 Still want to add color or Christmas decor to a space? This pop of red is all this space needs. Just scatter a few ornaments and your space is beautifully decorated. Adding ornaments around the house is a fast, inexpensive, and easy way to decorate. And we all like simple, right?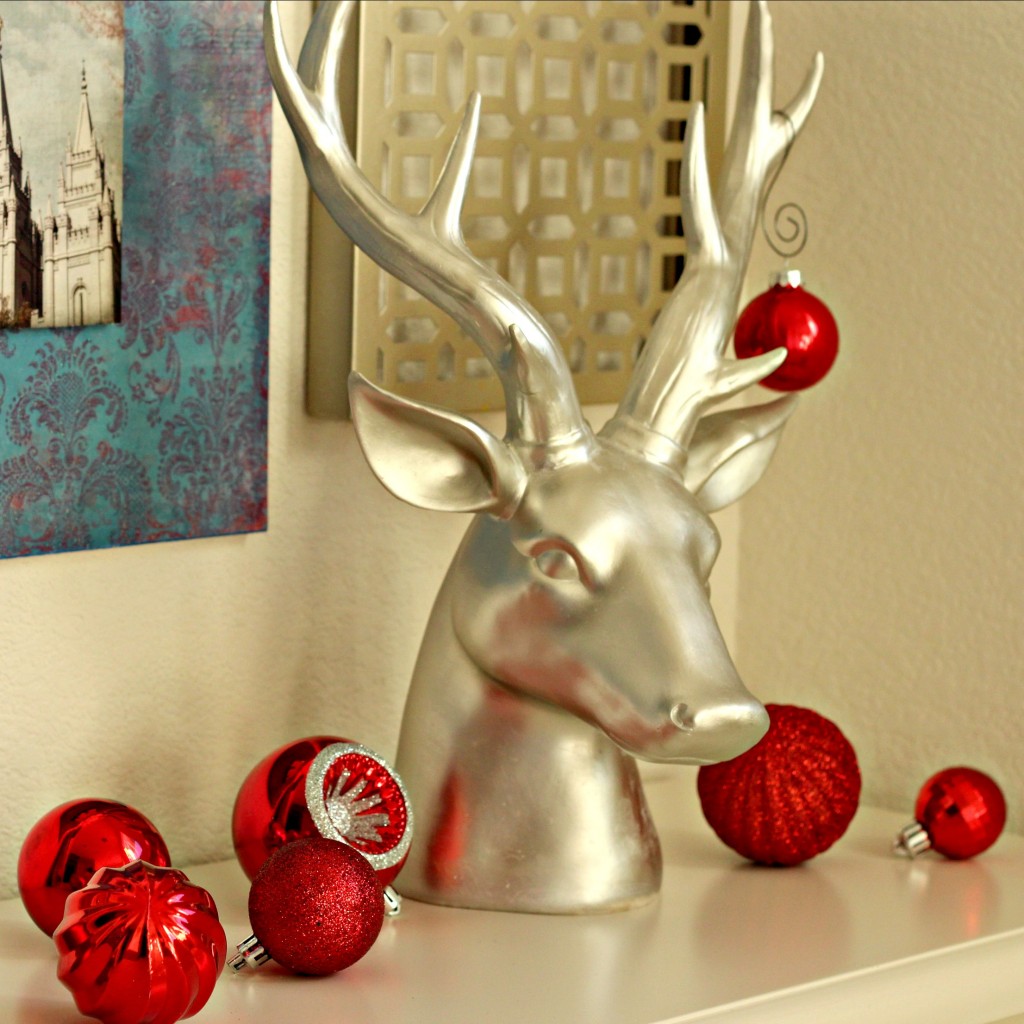 Here's one more idea! I also like to use ornaments for place cards at the dinner table or gift cards on packages. How do you like to use ornaments or decorate with them?