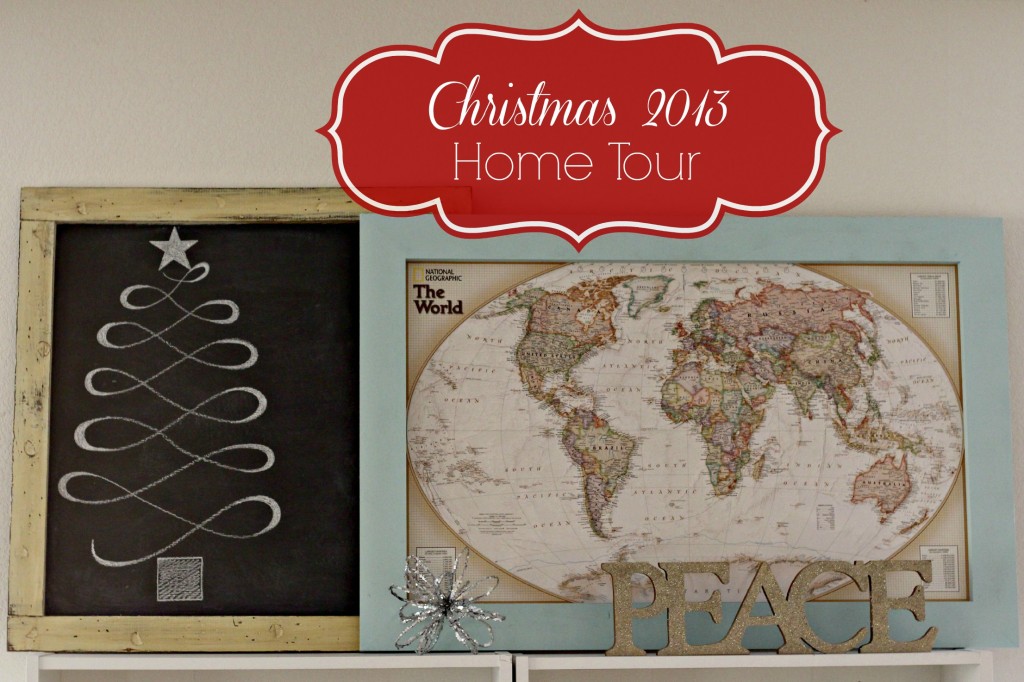 I thought I'd take you on a little tour of our Christmas house. We moved a few months ago and this house is about half the size of our old one, plus it's a rental so it's not exactly how I want it. But something magical happens at Christmas and no matter your decor, how little or how much, there's a sweet feeling when you enter homes this time of year. I wish we could all visit each others homes but I guess this little tour will have to do.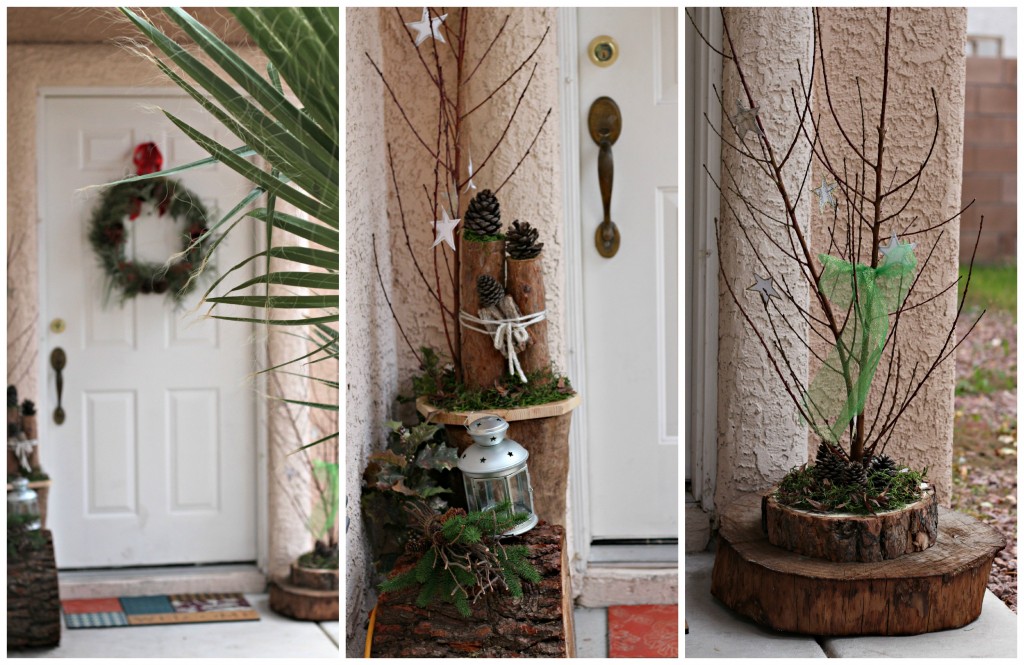 Let's start with the front porch. Everything on the front porch was made from nature this year and the best part is that it was all easily accessible in our new area. The tree stumps and branches are from a local orchard and the other things were gathered from around my home. You can see how I made everything here and here.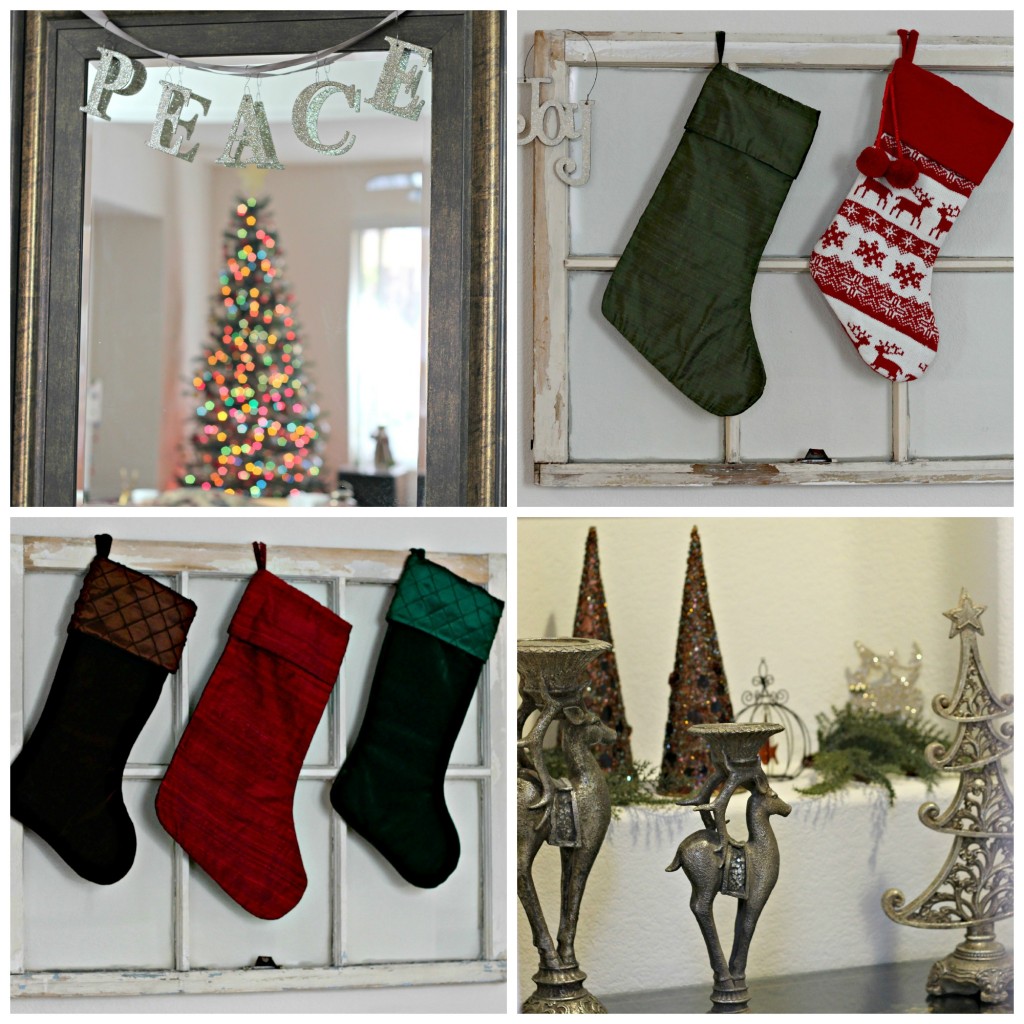 Now lets move on to the living room. I have old windows on the wall that the stockings are hung on. Glitter letters spell out Peace and are hanging on the mirror. You can see the reflection of the tree in the family room. The little alcove by the front door holds glitter trees and reindeer.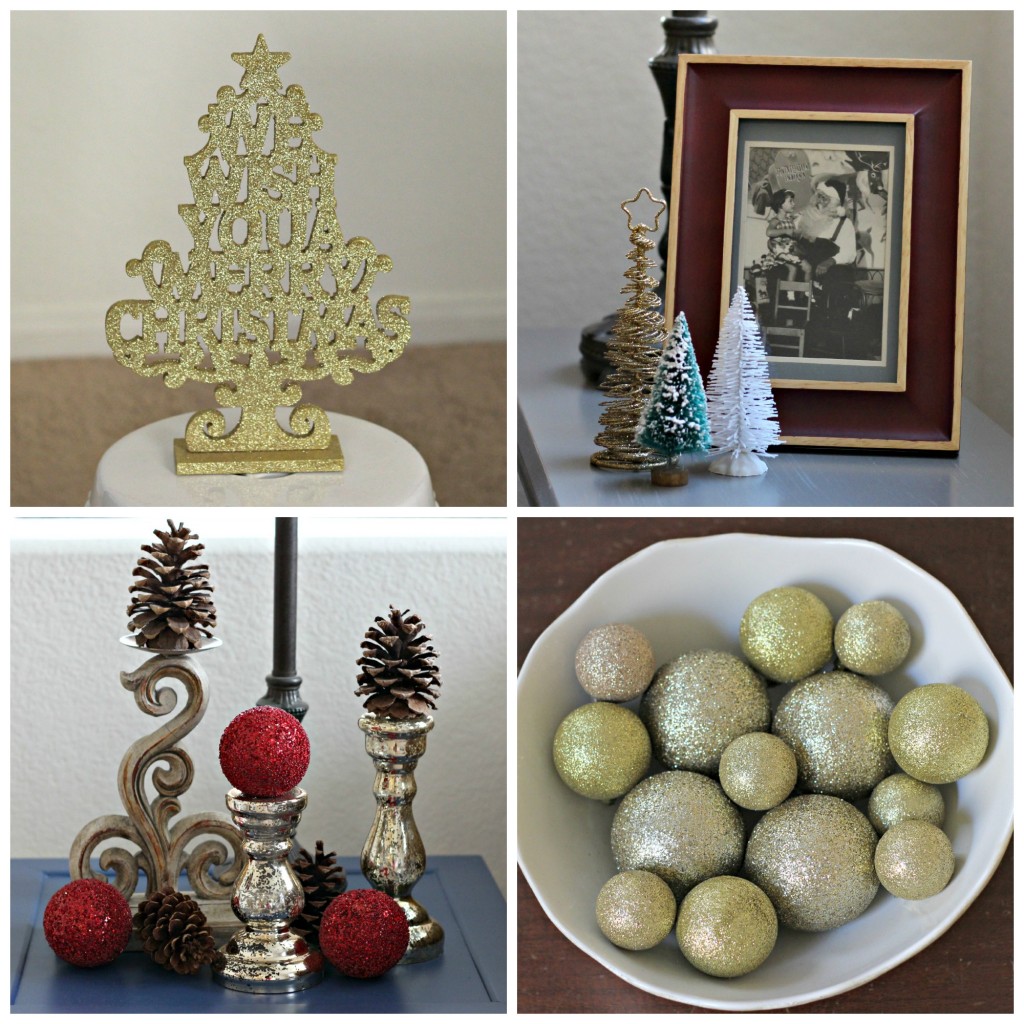 A gold glitter tree sits on a white garden stool and a white bowl of glitter ornaments are on another table. I used varied candlesticks, pinecones, and red glitter balls to make a vignette on a side table. The last table holds a picture of me sitting on Santa's lap at Santa Claus Land, Indiana. I think it was taken in 1966.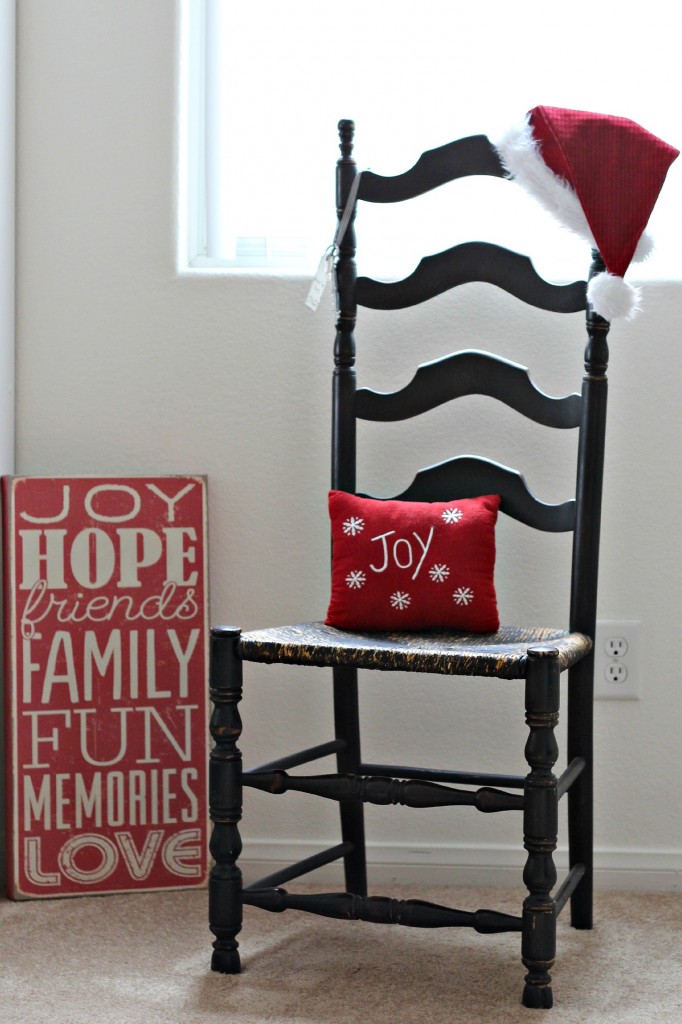 I love this little area by the front door. Hubby always wears a Santa Hat as he passes out gifts from under the tree Christmas morning. I love that little tradition and obviously it's one he likes too since he initiates it every year. The Santa Key is also hanging from the chair. Santa needs an easy way to get into the house.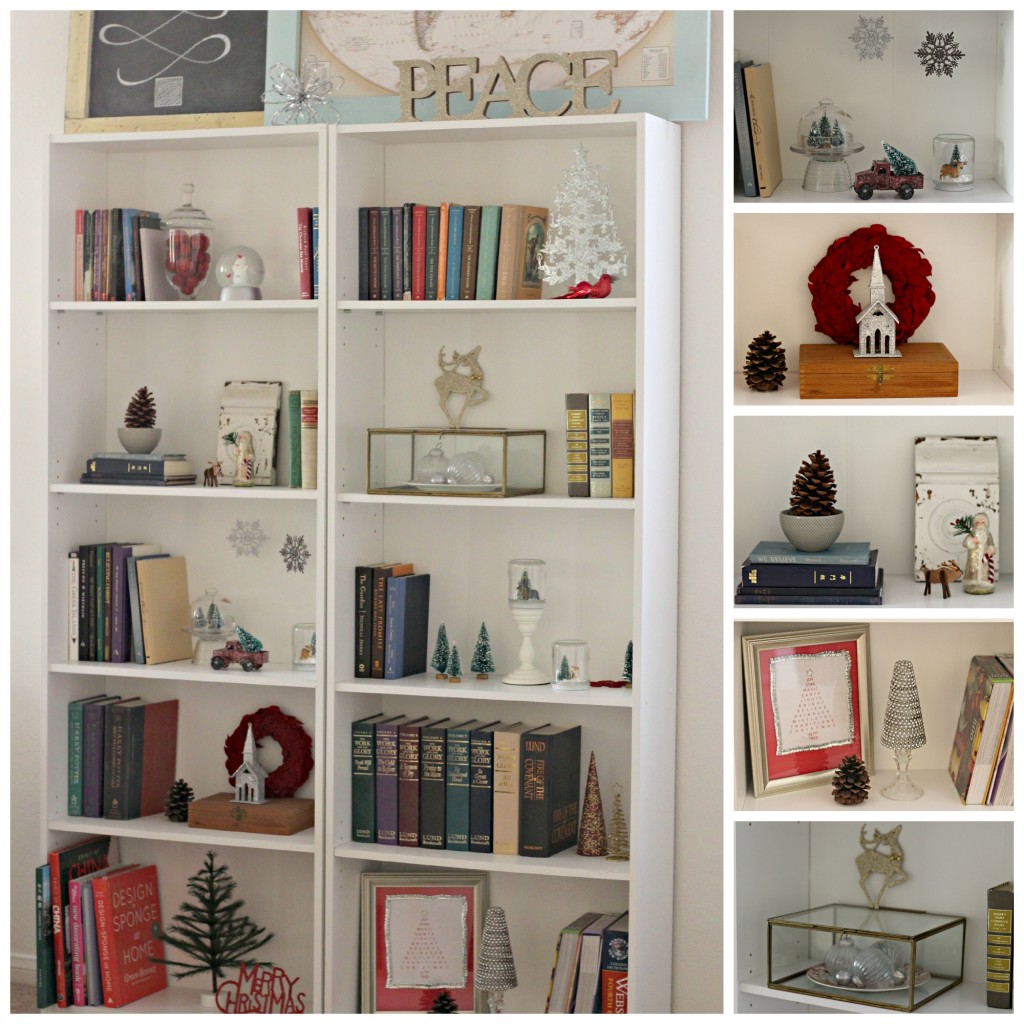 I love decorating our bookcases for holidays almost as much as decorating the mantel. You can almost tell a little story on each shelf. I can't help being sentimental while going through the Christmas decorations every year. It's such a fun process remembering past Christmases and even the craft projects that were made. I added the Waterless Snow Globes this year. The Christmas Word Art is from a few years ago and you can see a glimpse of the Chalkboard Art above the bookcase.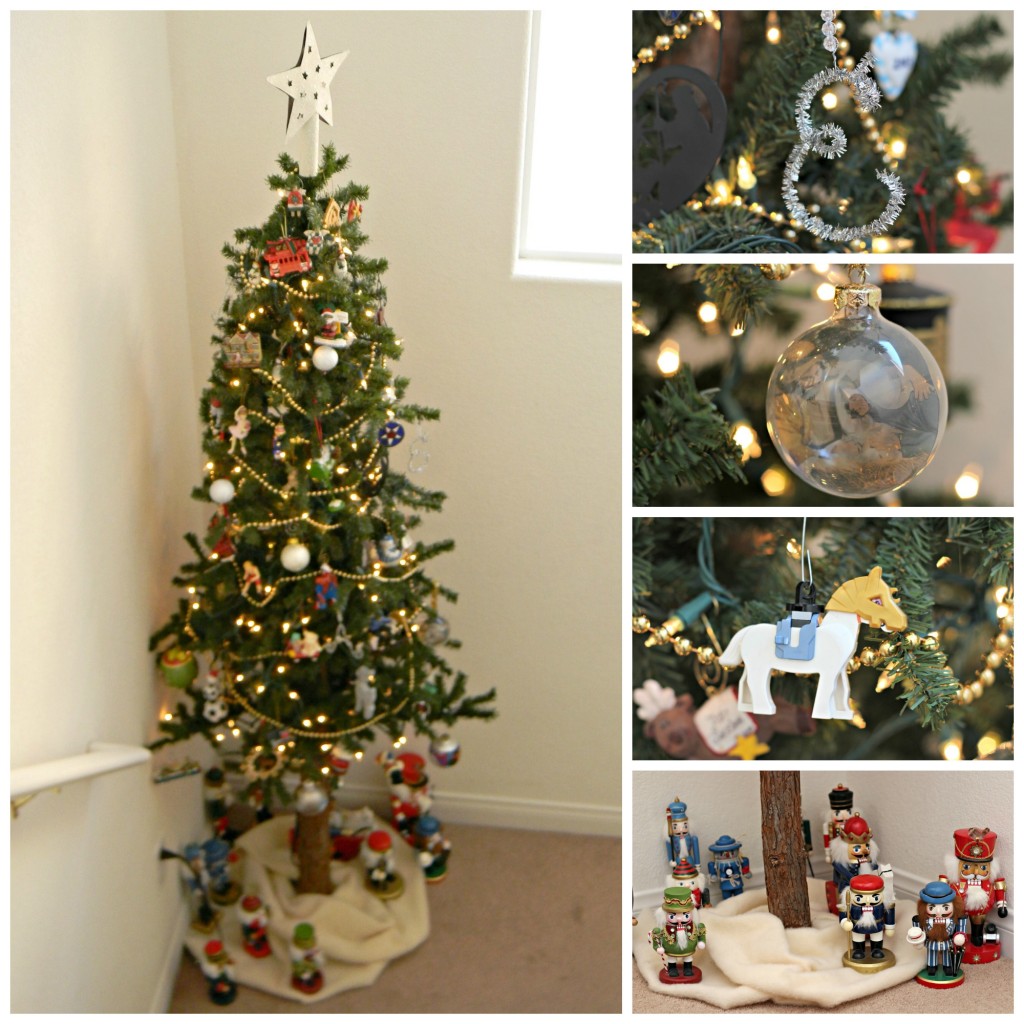 We have a small tree on the stairs leading to the bedrooms for made and collected ornaments. The kids receive a new ornament every year, sometimes it's made and sometimes I buy it but it's always special for them. Ammon added his LEGO horse to the tree this year. The nutcrackers are from a fun family tradition we have.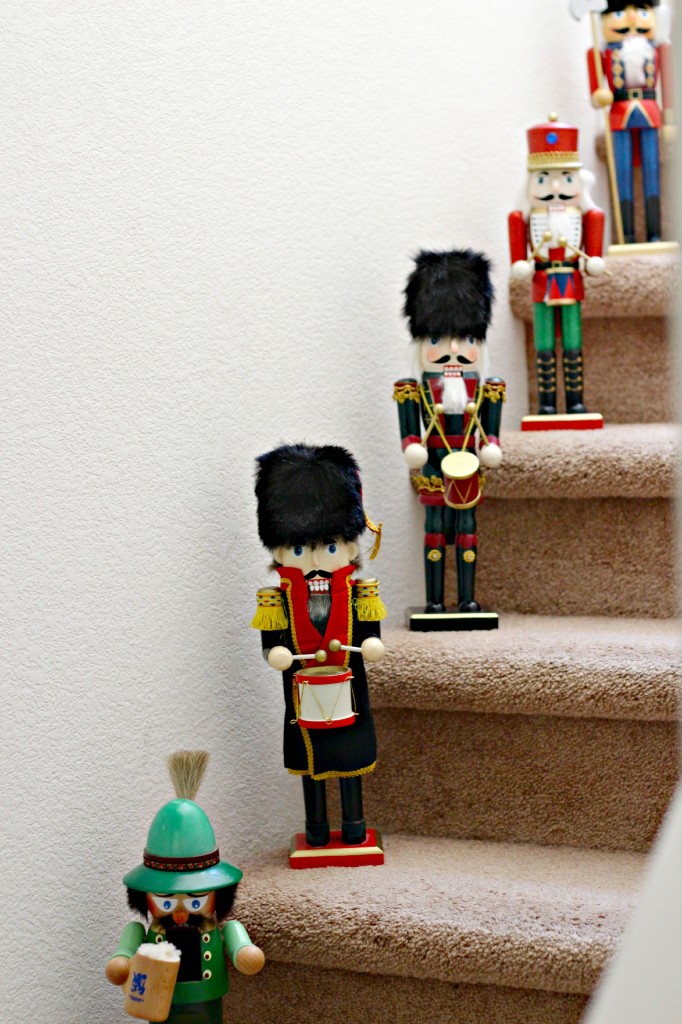 More nutcrackers leading the way up the stairs. Every year we hide a Pickle Ornament in the Christmas tree. Whoever finds the pickle that year gets a new nutcracker. I write their name and the year they received it on the bottom. When they leave home they get to take their nutcrackers with them, so from year to year the number of nutcrackers we have could vary. The green one in bottom corner is mine. My dad brought it from Germany for me.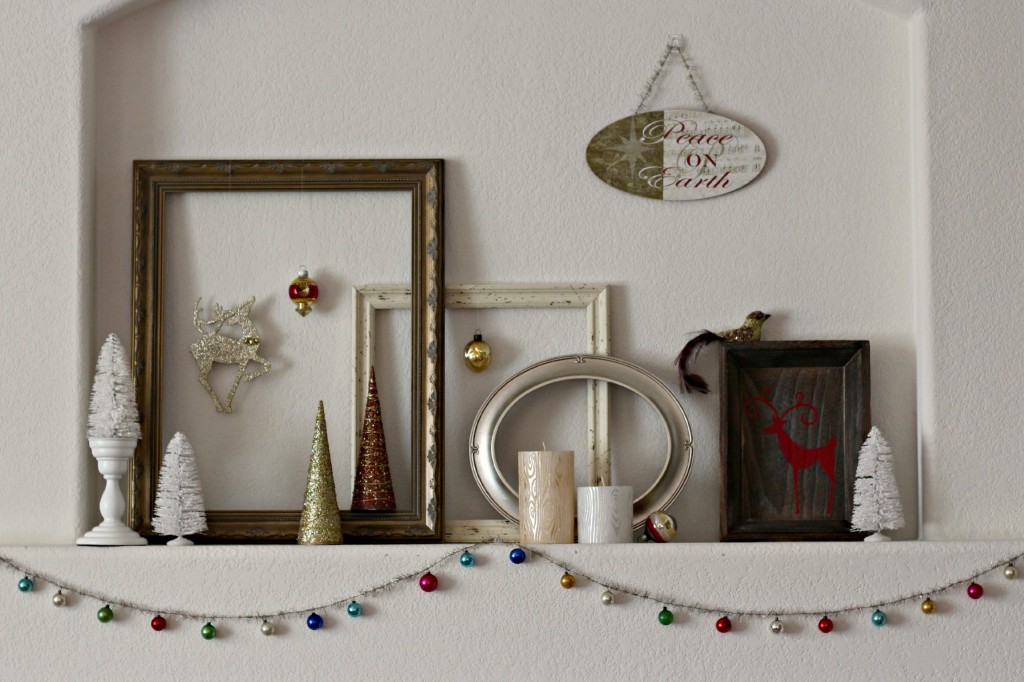 Now let's move to the family room. I shared my Mantel in this post if you'd like to read more about it. I'm kinda really in love with it this year. I get really excited when I don't have to spend any money.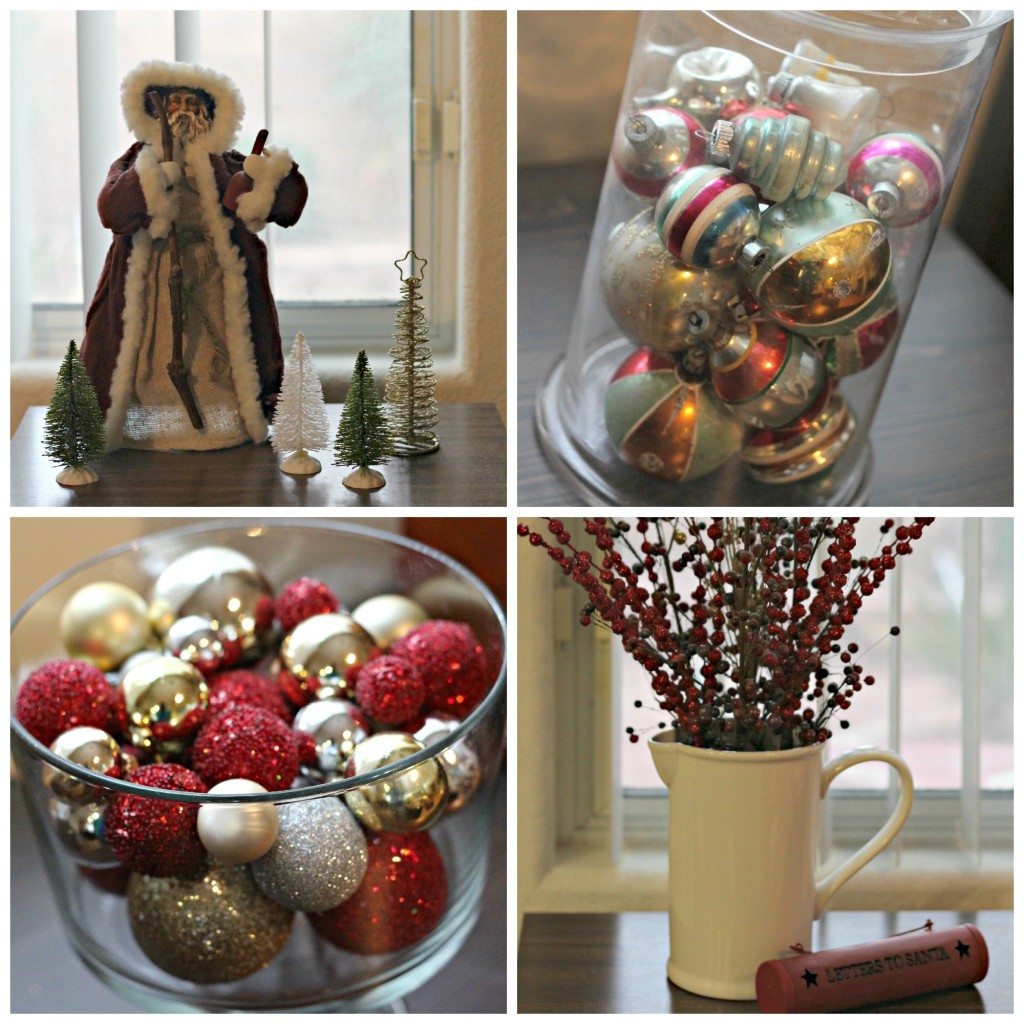 I change my Christmas decor from year to year so I don't have the same things out every year. I usually make a few new things, paint something, or change an item or two in some way. There are a few of the same things I always display though. The old Santa in the top left picture is from our 1st Christmas together, 33 years ago. It's actually a tree topper that we used as such for many years, now I always display him somewhere but not usually on the tree. I love my vintage ornaments, they're either in a glass jar, on the tree, or hanging from a chandelier.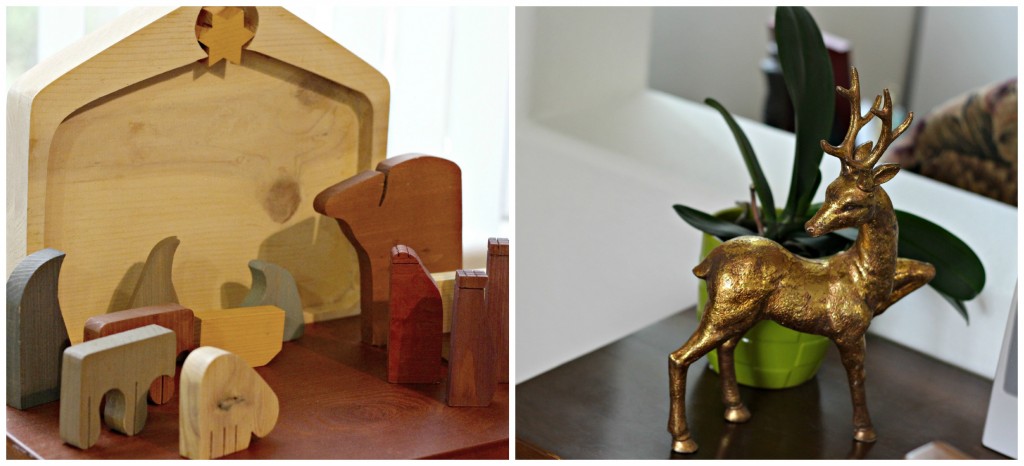 This Nativity was made by a neighbor about 17 years ago. It's one of my favorites and gets displayed every year. It's perfect for little kids since it's pretty much indestructible. It's also a puzzle for easy storage.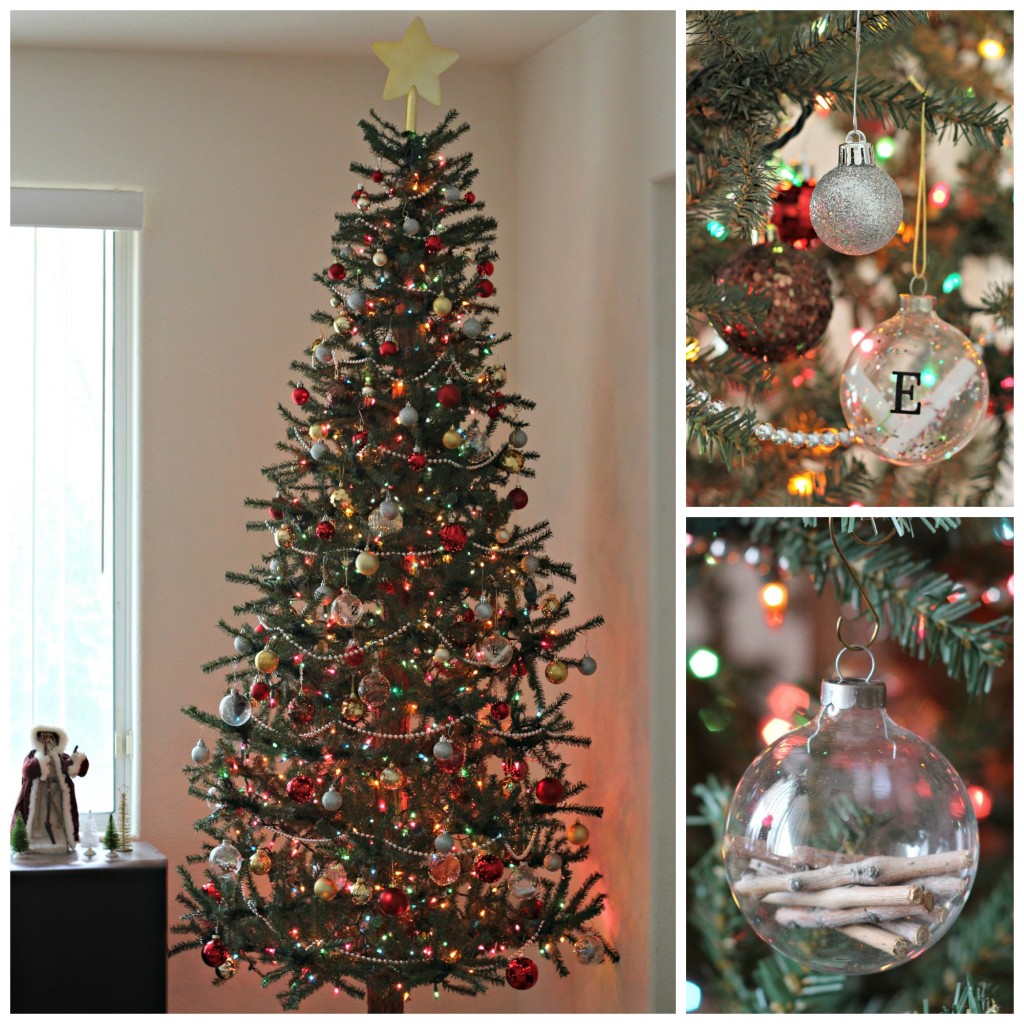 Our Christmas tree is really simple this year with red, silver, and gold balls. I also threw in a few nature glass ball ornaments and our Memory ornaments. I love white lights but the kids and hubby love colored lights so that's what we have on the tree.
I hung a few mirror ornaments in the empty frames by the back door. There's also a 2 and a 5 print blocks sitting in one of the frames.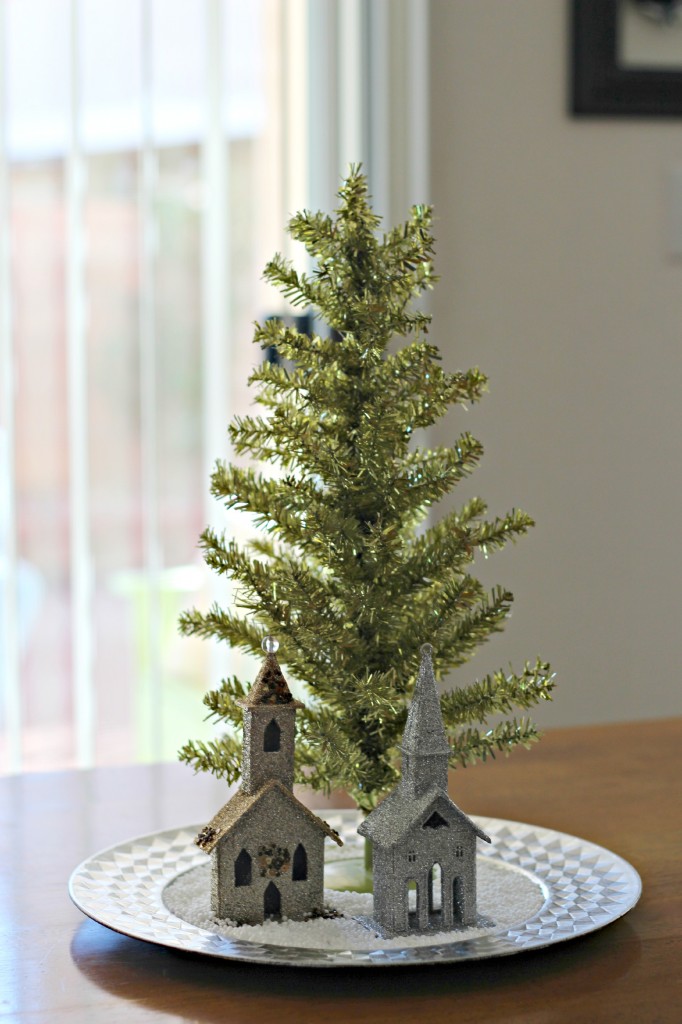 Moving on to the kitchen. This is our simple centerpiece for this year. I really love these colors together.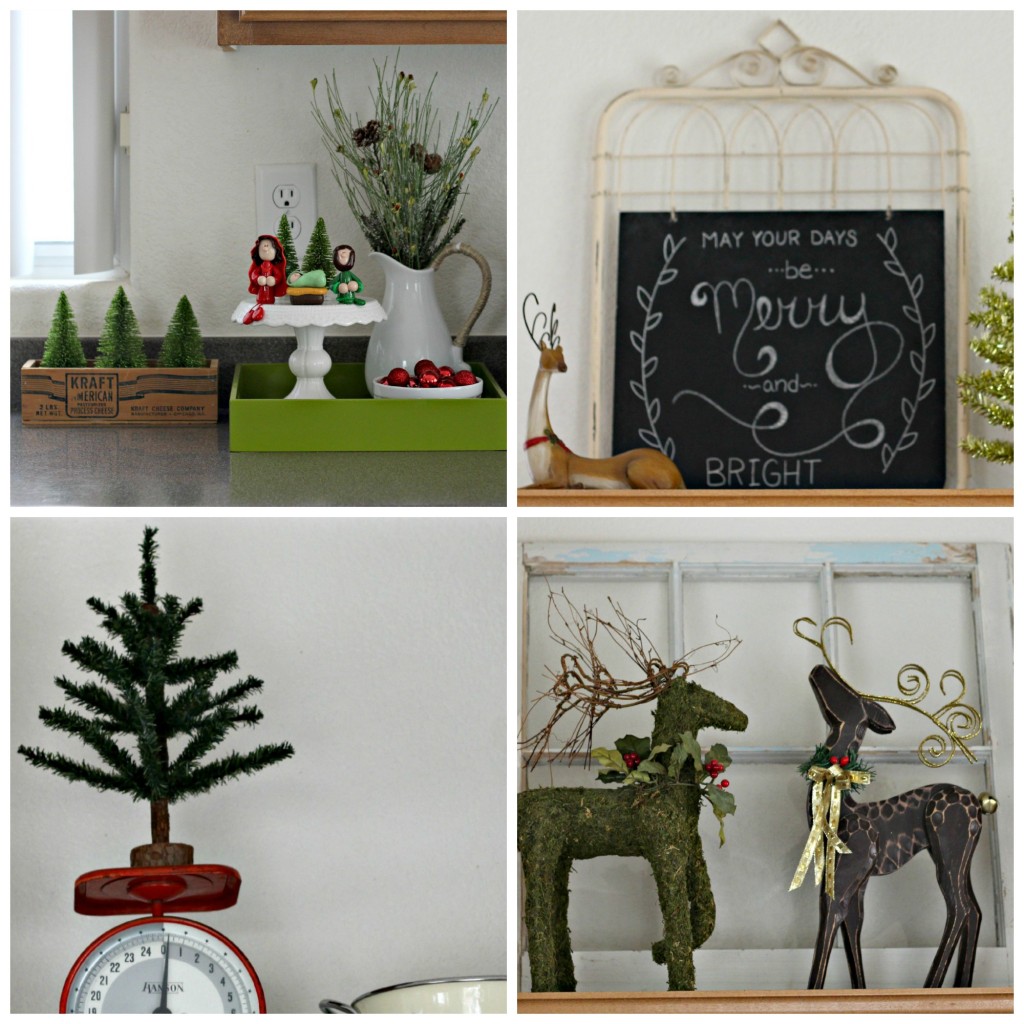 I made a little vignette in the green tray on the kitchen counter. My sweet friend made the clay nativity for me. I love the bottle brush trees, vintage cheese box, and white pieces. The other 3 pictures are displays on the cabinet tops. I'm really starting to love doing simple chalkboard art.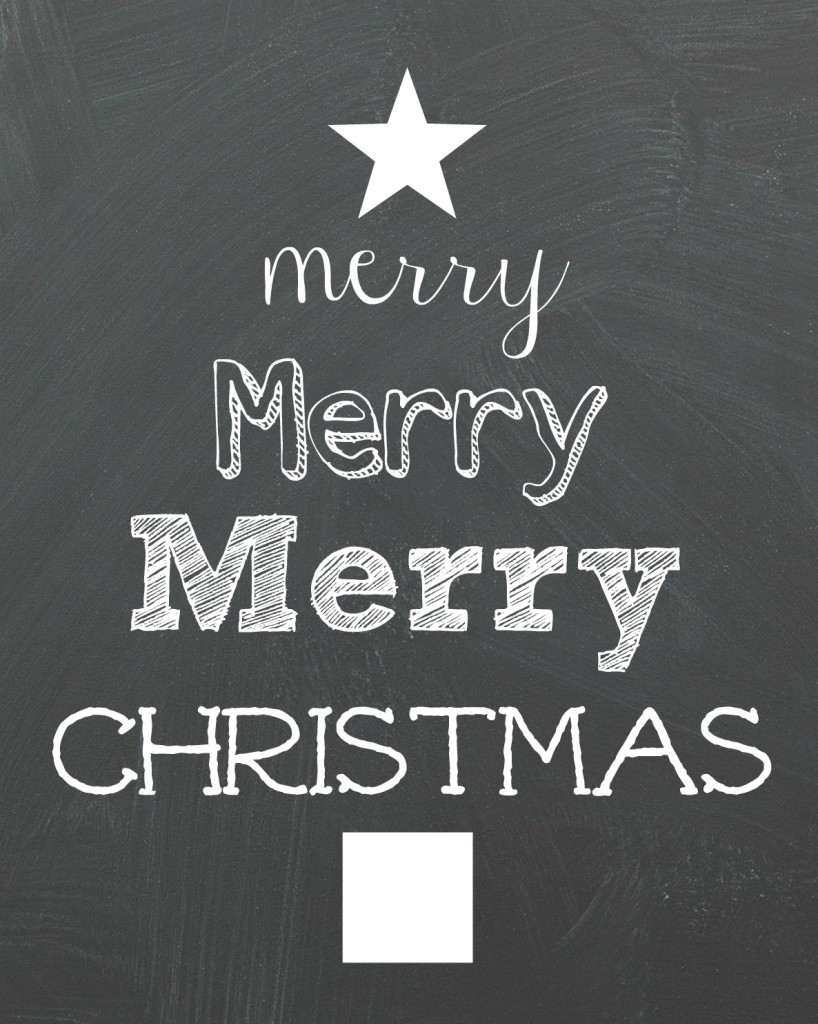 I also did a few small decorations in the bathrooms and the kids have small trees in their rooms they decorated. My favorite thing about the decorations are the memories and creating them. I love how cozy my home feels this time of year. Thank you for stopping by. I hope your home expresses your feelings of warmth and happiness also. Here is a link to the Merry Christmas printable!
Merry Christmas!