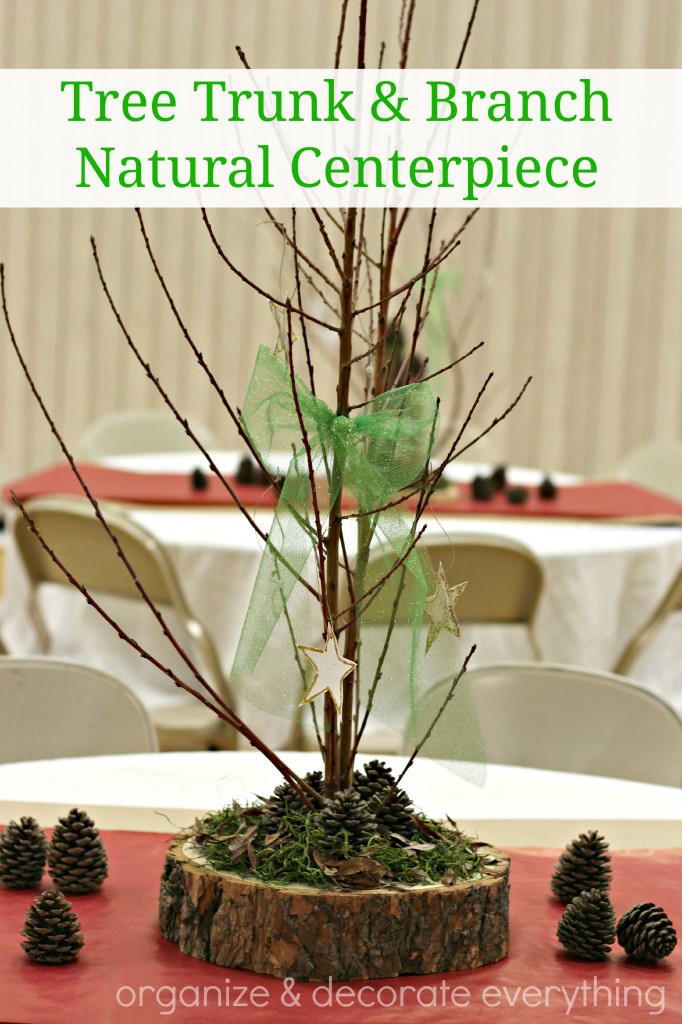 Sometimes it's really rewarding making things from nature. Not only are they beautiful but you also save a ton of money. We needed to make 30 centerpieces and spend as little money as possible. Free seemed to be a good price!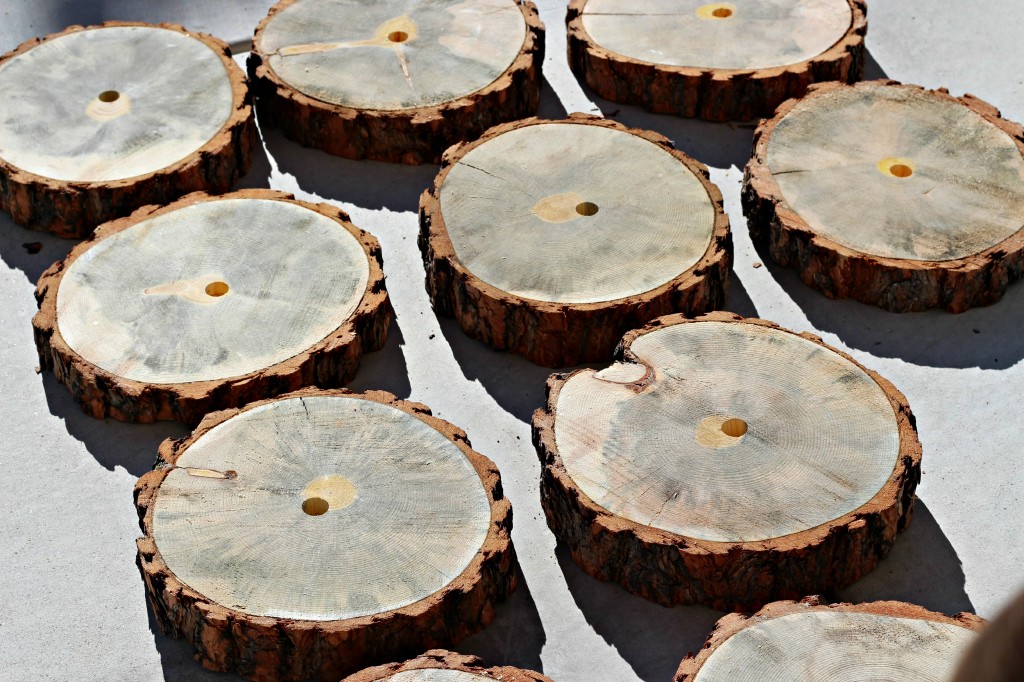 Luckily someone from our church was cutting down a tree on their property so we asked him if he could slice it up while he was at it. To preserve the wood so it doesn't get large cracks, use a product such as Pentacryl Wood Preservative. This can be found at most home improvement stores. We were only able to get 20 slices but that was a good start. We drilled a hole about 2/3 of the way through the center of the slice to insert the branch in to.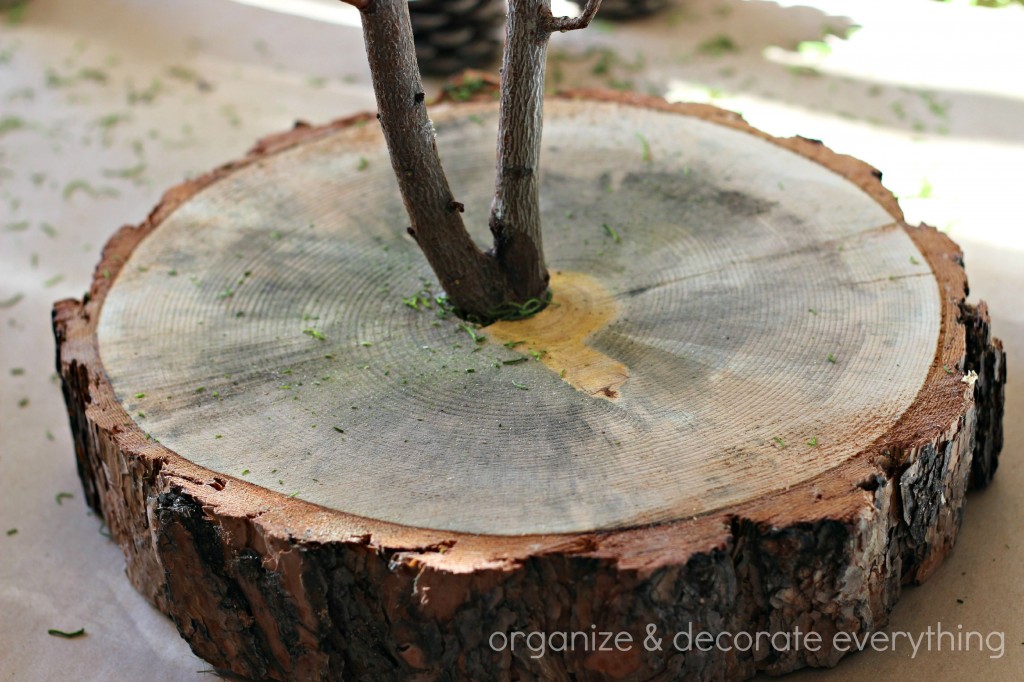 A few weeks ago we went to a local orchard to take some of the branches they were pruning off their hands. We probably got twice as many as we needed but there were so many to choose from. We used hot glue to secure the branch in the drilled hole. Hold branch in place until the glue dries. It only takes about a minute.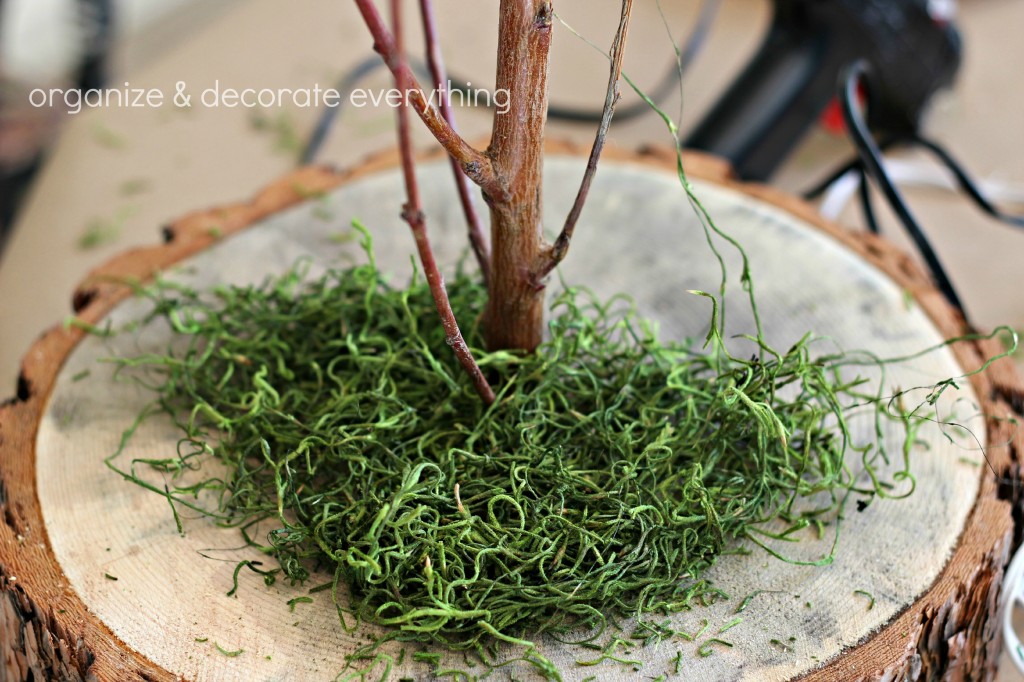 Use hot glue to secure the moss to the trunk slice. Be generous with the glue and gently push the moss into place.
Now, add the pine cones. Use hot glue to secure them in place. Before using the pine cones bake them in a 200 degree oven for 30-45 minutes to kill all the bugs. We had a lot of tiny spiders.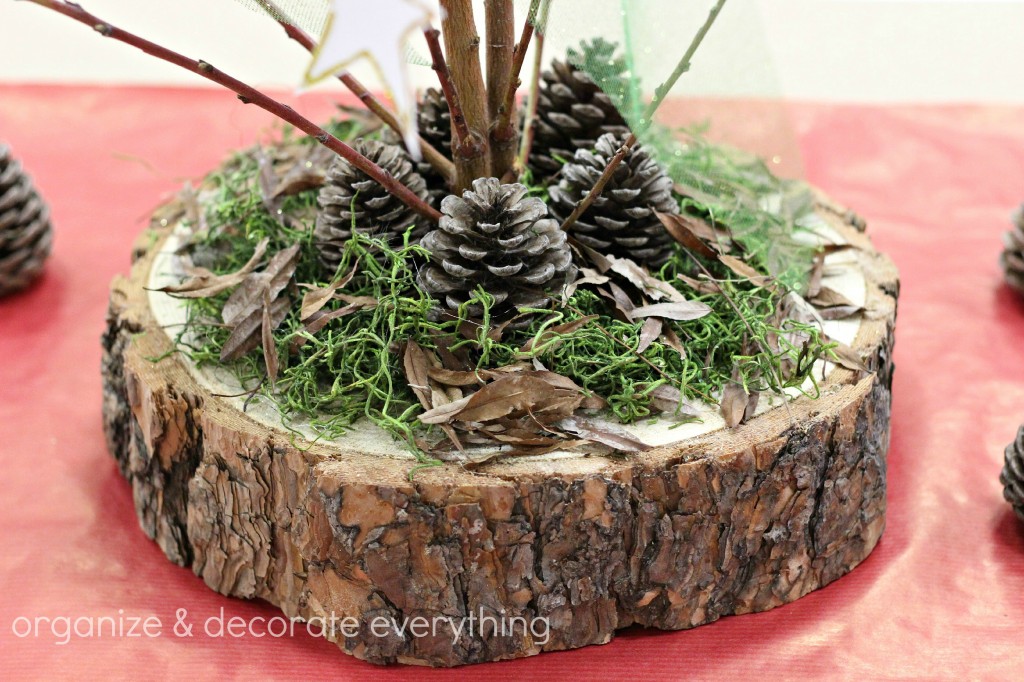 We also added some fallen leaves to the centerpiece by using Elmer's glue and just sprinkling and pressing the leaves into place.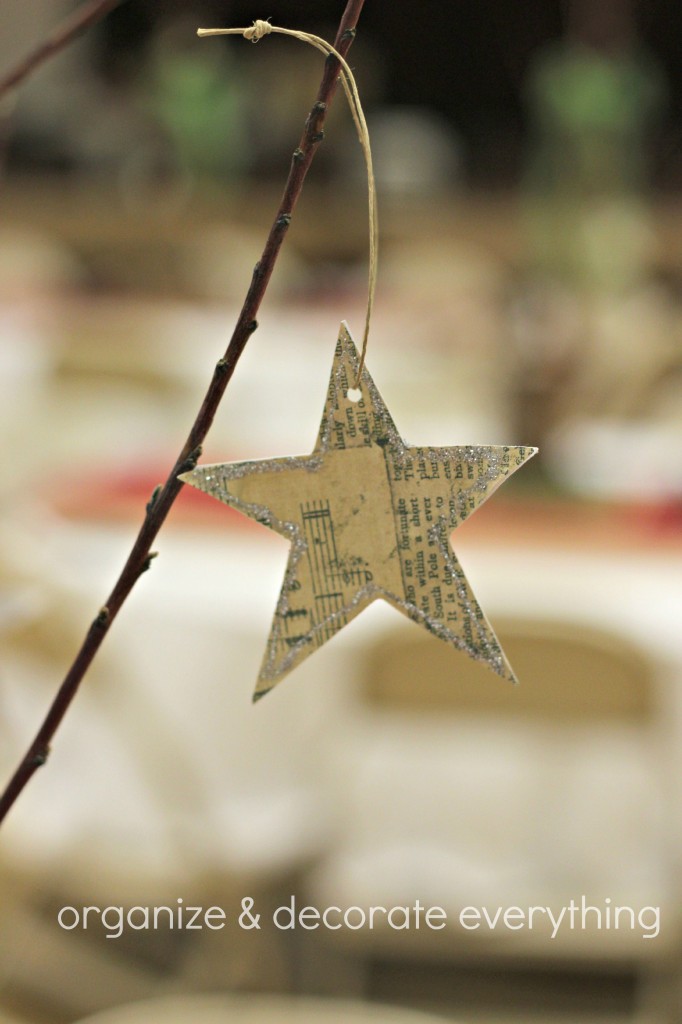 I had the 8 and 9 year old girls at my church help me cut and glitter about 200 stars for the trees. We used sheet music paper for most of them then used white cardstock for the rest. I love how they turned out and that we were able to use things from nature. It looks pretty awesome on my front porch right now.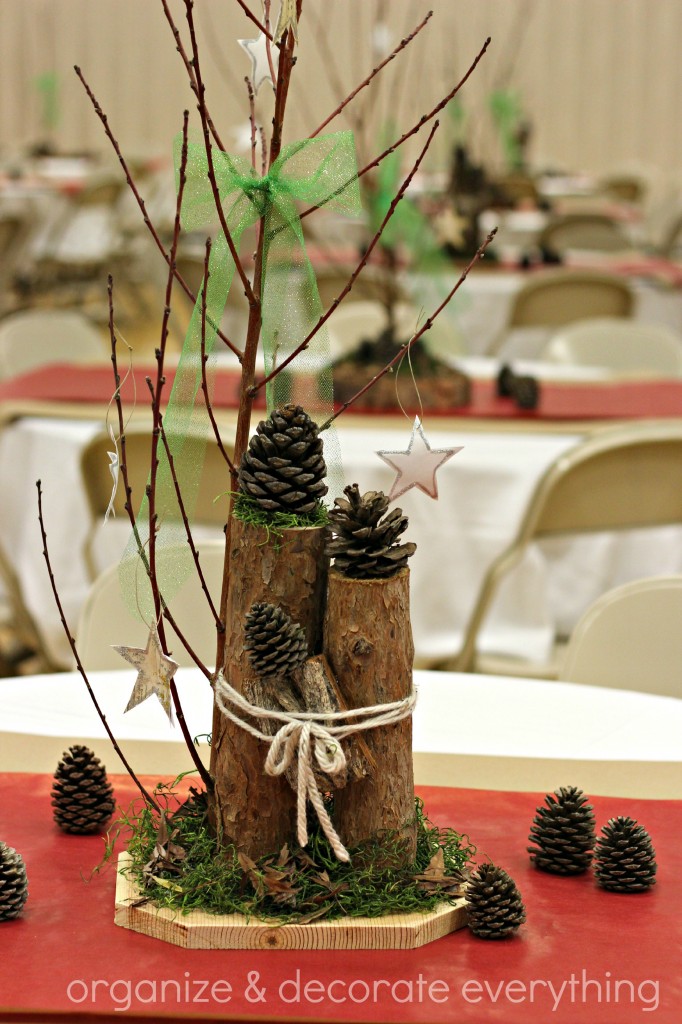 Since we were about 10 centerpieces short we came up with another idea to make a very rustic Joseph, Mary, and baby Jesus. We cut a pieces of wood for the base then used larger cut branches to make Mary and Joseph. Baby Jesus is a piece of bark from the tree. The pine cones are their heads and we tied them all together with natural colored yarn. We hot glued all the pieces together and used the same process for the moss and leaves on the base. We had a drawing for all the centerpieces after the church breakfast. I was able to sneak 2 out for me before the drawing.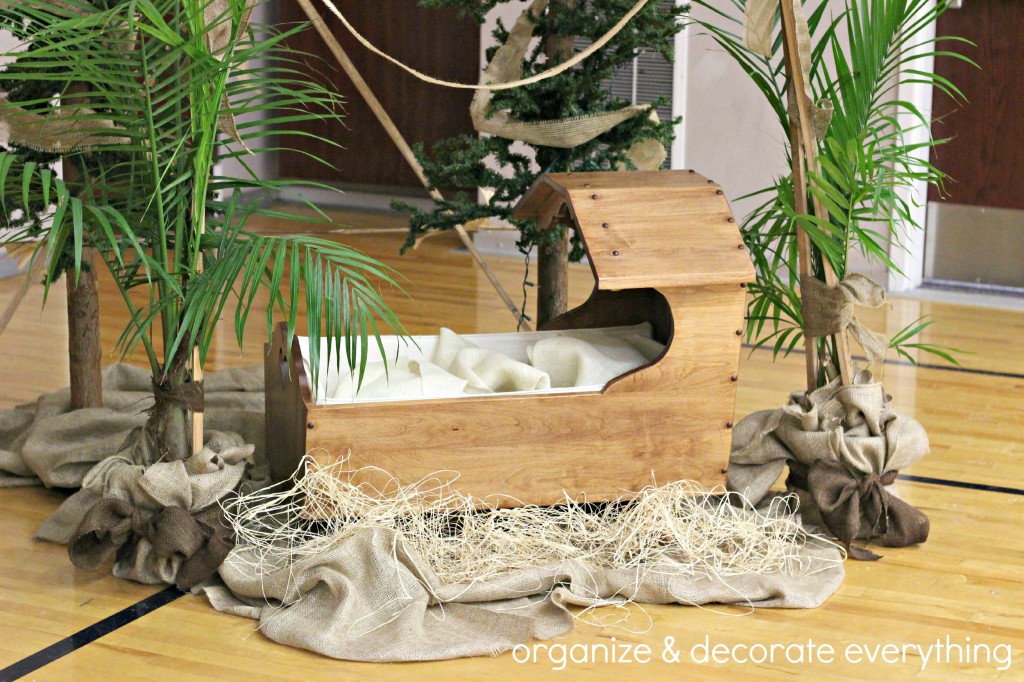 I just had to show you this sweet little manger area that was made for the skit.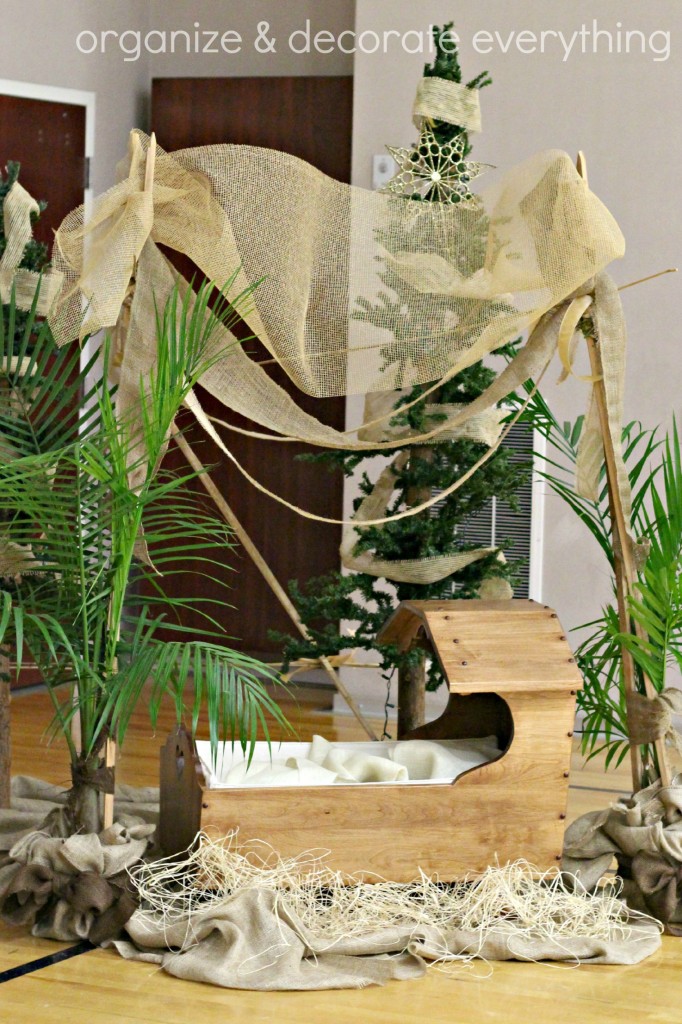 Everything was so simple and natural and beautiful! I love how it turned out!
Merry Christmas!