Believe it or not I've come up with 20 More Things to Declutter from Your Home. I am on a mission to help you get your home rid of things you don't want and don't need to make it the space you really love. Check out these posts (20 Things to Declutter from Your Home, 10 Things You Can Toss Right Now, 10 More Things to Toss Right Now) for a total of 60 things to get out of your home this week. Be warned, you might catch the decluttering bug!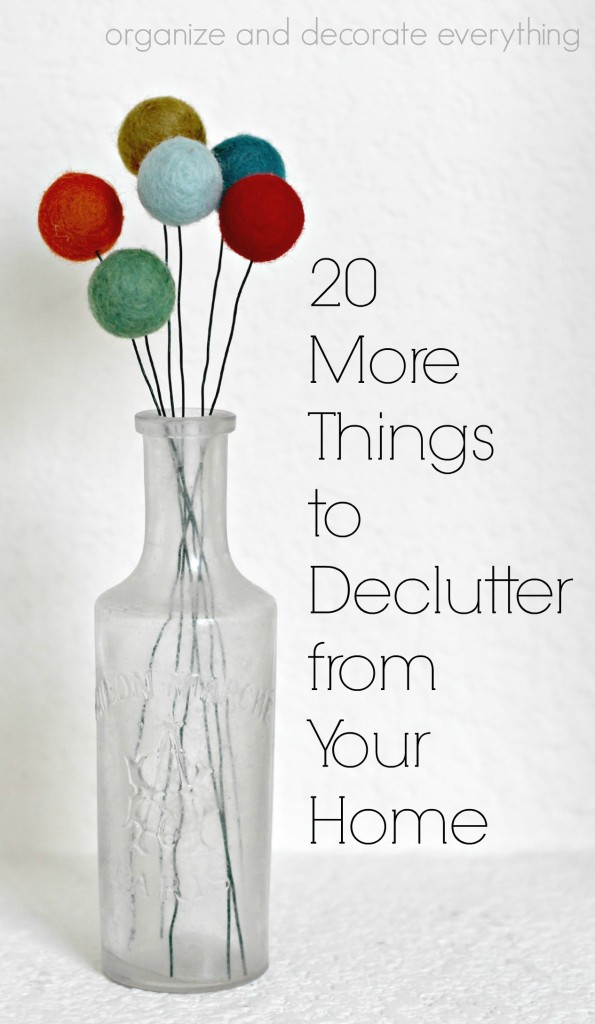 Old Sports Equipment – Donate any sports equipment you don't use anymore that is still useful, and toss any equipment that is beyond repair.
Rusty Tools – Clean up the tools you can and toss any that aren't usable anymore.
Small Bike Helmets – Donate the helmets, knee, and elbow pads your kids have outgrown.
Broken Umbrellas – Toss those umbrellas that have rips or don't open and close easily.
Extra Canvas Bags – It is possible to have too many canvas bags. Donate the bags or fill them with needed supplies and distribute to those less fortunate.
Damaged Suitcases – Get rid of the suitcases that have broken straps and wheels.
Unfinished Projects – Give yourself a time frame (3 months at the most) to finish already started projects. If you don't get them completed, it's time to give them to someone else who will.
Old Knick Knacks – If you have knick knacks tucked away in a closet it's time to donate them to someone who will enjoy them.
Formal Gowns – When was the last time you wore one of those gowns? They're just taking up valuable space in your closet when someone else could be wearing them.
Expired Sunscreen – If your sunscreen is from last year toss it out and purchase a new bottle.
Deflated Balls – Try pumping up a flat ball but if it won't stay inflated it's time to toss it.
Leaky Water Bottles – Toss those leaky water bottles and travel mugs and stop those liquid messes.
Old Invitations – Once the event is over you can toss those old invitations, baby announcements, wedding announcements, and cards.
Too Many Vases – How many vases do you really need? Keep 2-3 and donate the rest.
Old Tooth Brushes – Take a quick look through the medicine cabinet and toss old toothbrushes, combs with missing teeth, and bent bobby pins.
Dried Up Nail Polish – Toss nail polish that is dried up or goopy or if you don't wear the color.
Old Perfume – If you haven't wore a certain perfume for a year it's time to get rid of it.
Kiddie Furniture – Donate furniture and toys your kids have outgrown.
Not Wanted Holiday Decor – Go through your holiday decor as each holiday approaches and donate what you no longer want to display.
Damaged Furniture – Give yourself a time limit to repair furniture or get rid of it.
Have you caught the bug yet? Doesn't it feel good to get rid of the damaged and excess?
Happy Decluttering!