Last year I had two posts about tossing excess stuff and reducing clutter, 10 Things You Can Toss Right Now and 10 More Things to Toss Right Now. I decided to add 20 more easy things to toss this year in this post, 20 Things to Declutter from Your Home. Once you've finished using these lists to get rid of unneeded items, you'll have a great start to a decluttered and more organized home.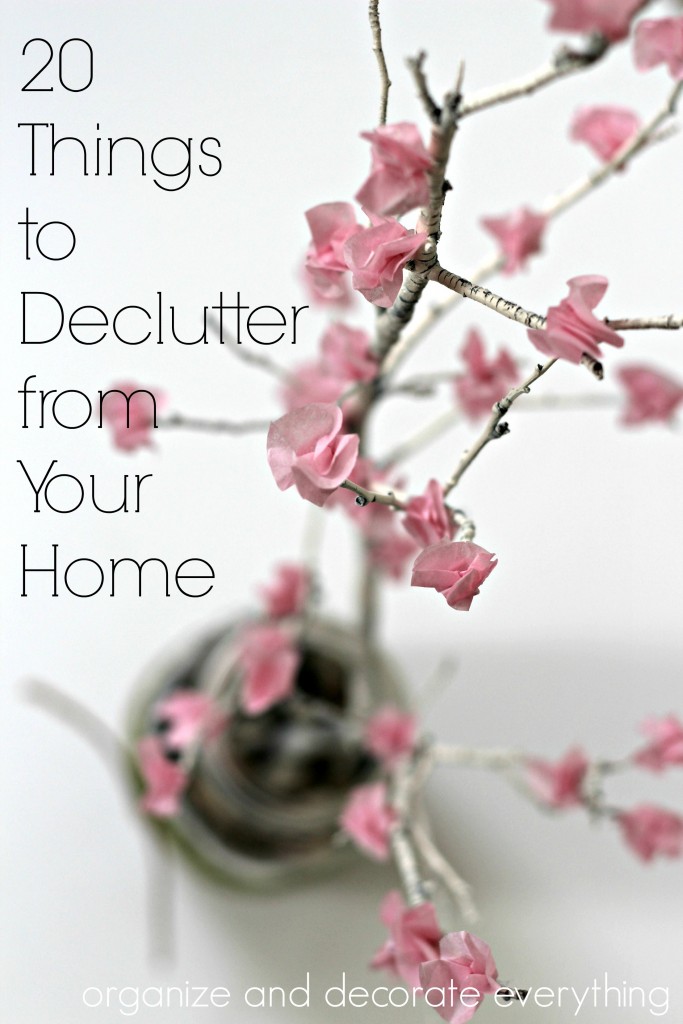 Take Out Menus – Most restaurant menus are on line now.
Combination Locks – You probably have combination locks around the house your kids forgot the combination to. It's time to get rid of them.
Old Electronics – If you have electronics you're not using, now is the time to donate or toss them.
Party Supplies – Do you have a mishmash of party supplies? Toss them, or you can do what I do and add the paper plates, napkins, and plastic utensils to you picnic basket or use them on a day when you don't feel like doing the dishes. The napkins are also good to add to lunch boxes or keep in the car glove box.
Ticket Stubs – There's really no reason to have ticket stubs once you've attended the event. It's just more paper clutter.
Hotels Toiletry Samples – You don't need to save that bag full of toiletries , the hotel has more for your next visit.
Free Promotional Items – You know those promotional items you grabbed because they were free but have never used? They are taking up valuable space so get rid of them.
Store Reward Cards and Gift Cards – Store reward cards that you are no longer using and expired or used gift cards are taking up space in you wallet or purse and can be confusing as to whether you've used them or not.
Wrapping Paper Scraps – You have good intentions of using all those scrap pieces of wrapping paper and ribbon but never do. It's time to toss them.
Broken Christmas Lights – Don't pack away those broken strands of Christmas lights. Toss them!
Grocery Bags – Most grocery stores have grocery bag recycling areas where you can turn the bags back in. Better yet, purchase reusable bags.
Old Business Cards – Toss your old business cards and ones you have received from others. If there is some information you want to keep, take a picture of it with your phone.
Broken Jewelry – Either fix the broken jewelry or toss it. If it's too difficult for you to fix take it to a jeweler.
Greeting Cards – You don't need to keep every greeting card you have ever received. Only keep the very special ones if you feel you need too.
Puzzles, Games and Playing Cards – Puzzles, games, and playing cards with missing and broken pieces need to be tossed. They're just taking up space and will never be used.
Flat Pillows – Toss flat bed pillows and decorative pillows. They just don't look good.
Old Text Books – If you haven't had to look at a resource book for over a year then donate it to someone who will use it.
Phone Books – When was the last time you used a phone book? Recycle it!
Stuffed Animals – Pare down your kids stuffed animals then limit them to a certain amount.
Dead Plants – Tossing dead plants is pretty obvious but can sometimes be overlooked.
So are you ready for a cleaner, more organized home? Let's get started!