I used to have contributors to my blog and this post is from a few years ago, but it was the perfect time to bring it back to share with you. I love this adorable You've Been Egged printable by Sarah. I can't wait to share this with my neighbors again this year! This is Sarah:
Hi everyone!
Remember last month, when I shared those mason jar labels and I said to be sure to check back next month for a super cute Easter printable? Well, that time has finally come!
This is a game we love to play at Halloween (ever play "You've Been Booed?") so I thought it would be fun to put an Easter spin on it. To play along, all you need to do is print off this cute little door hanger at the bottom of this post, get 12 plastic Easter eggs (fill them with jelly beans, little chocolates, or find out their favorite little candies), and hide them in a friend or neighbors yard. Hang the door hanger on their door, ring the doorbell, and run away. (Or do it while they aren't home of course!) Then, after they find the eggs, they can fill them back up and pass it on to another friend or neighbor.
I was going to do a real version of this game and take some photos for you, but when I looked out my front door, this was all I saw.
Kinda kills your desire to hide Easter eggs! You have one month, Mother Nature – one month to clean this white mess up and start heading into spring!
Anyway, perhaps it isn't so white where you are, and you are actually getting prepared for Easter – in which case, print this baby out and start having some fun with the neighbors! The kids will have a ball, both hiding and finding the eggs – and especially running away after they ring the doorbell 🙂
Click here to download your own, and I hope you enjoy it! See you again next month for another fun printable!
Thanks for such a fun idea and cute printable Sarah! Don't forget to check out her blog, Becoming Martha, for more printables and other great ideas.
Pin it for Later: You've Been Egged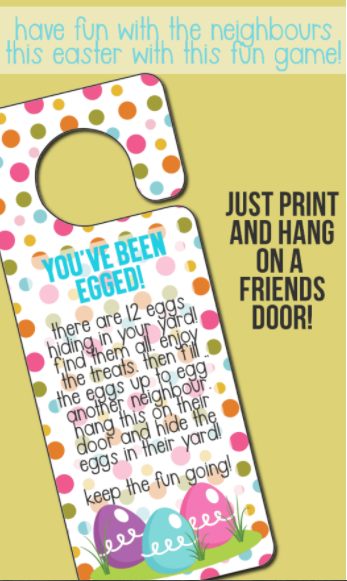 You might also like these posts: