Do you need Autumn and Thanksgiving decor for your home? Make a cute Wicker Basket Pumpkin using a small lidded basket plus a few more supplies. It looks really cute in medium and large sizes too.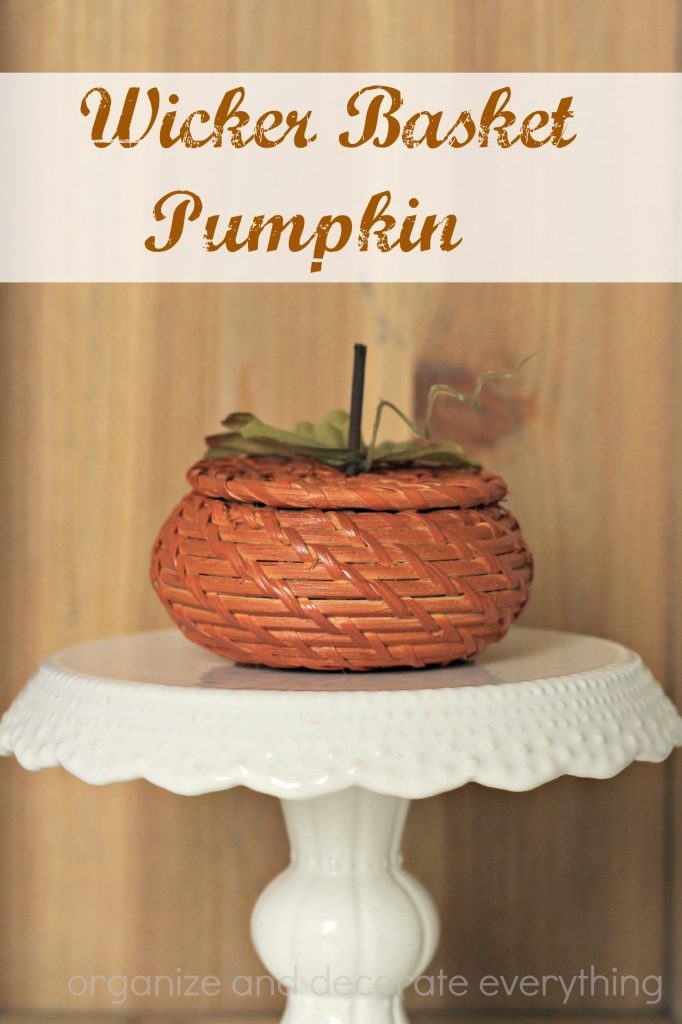 About this same time every year I start thinking about how much money I spend on craft projects and home decor items and make a vow not to spend more. At least through the end of the year. And since the holidays are coming up I'd rather have money for gifts and holiday experiences. Whatever the reason, I like to think of ways to create new decor items without spending much money.
Take a look at things you already own and think of creative ways to repurpose them. I noticed the shape of this IKEA basket and knew it had to become a pumpkin. So the Wicker Basket Pumpkin was created. This IKEA basket comes in a set of 3 of varying sizes so making all three into pumpkins would be adorable.
Supplies needed for wicker basket pumpkin:
lidded basket
artificial leaves
piece of vine
skewer
brown paint
orange spray paint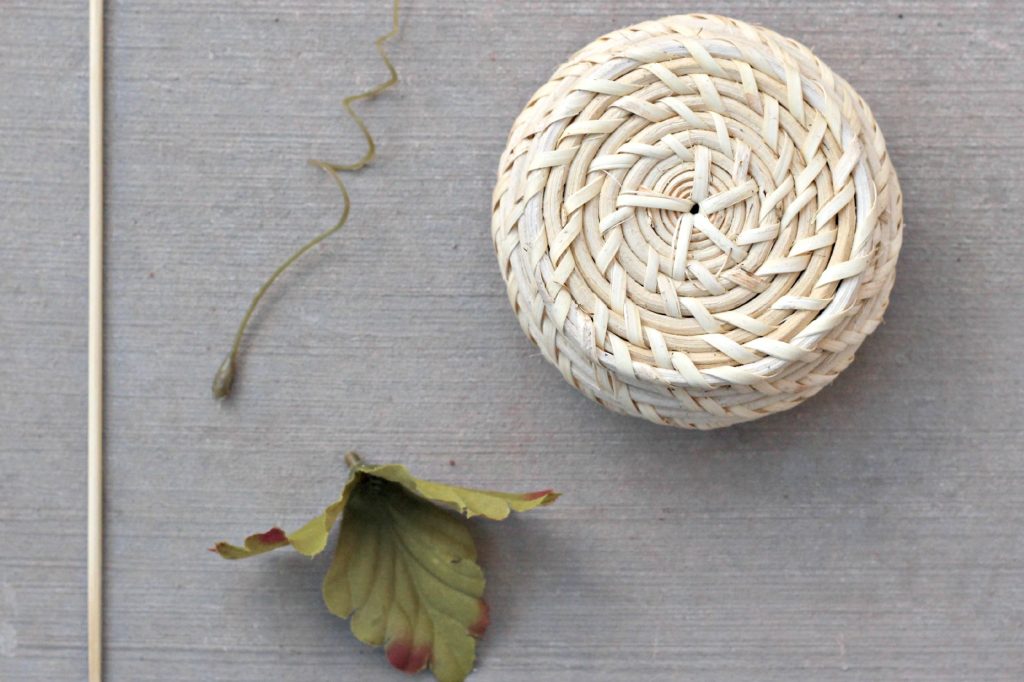 Use Krylon Pumpkin Orange spray paint on the wicker basket to create the pumpkin. Stuff the inside of the basket and lid with newspaper so paint doesn't get on the inside while you're spraying. Make sure the inside stays paint free or you won't be able to use it for food products. If you're not going to use it for food then it really doesn't matter.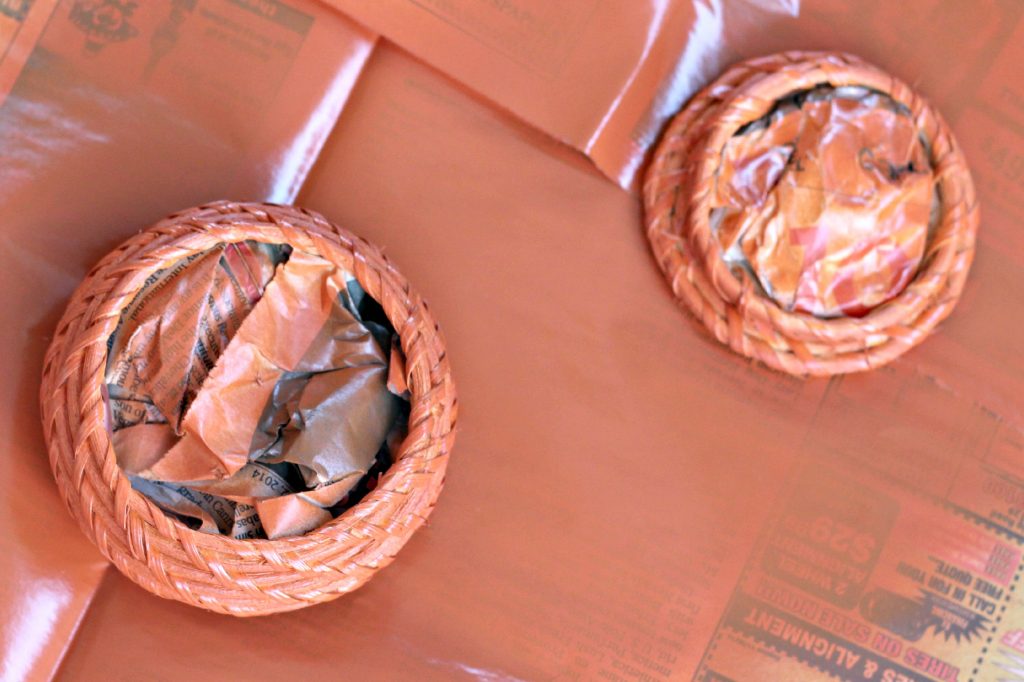 I don't really like the color orange but this basket looks so good spray painted and disguised as a pumpkin. The color is actually pretty muted with some of the wicker showing through but you can make it as light or dark as you like. I only used one coat of paint.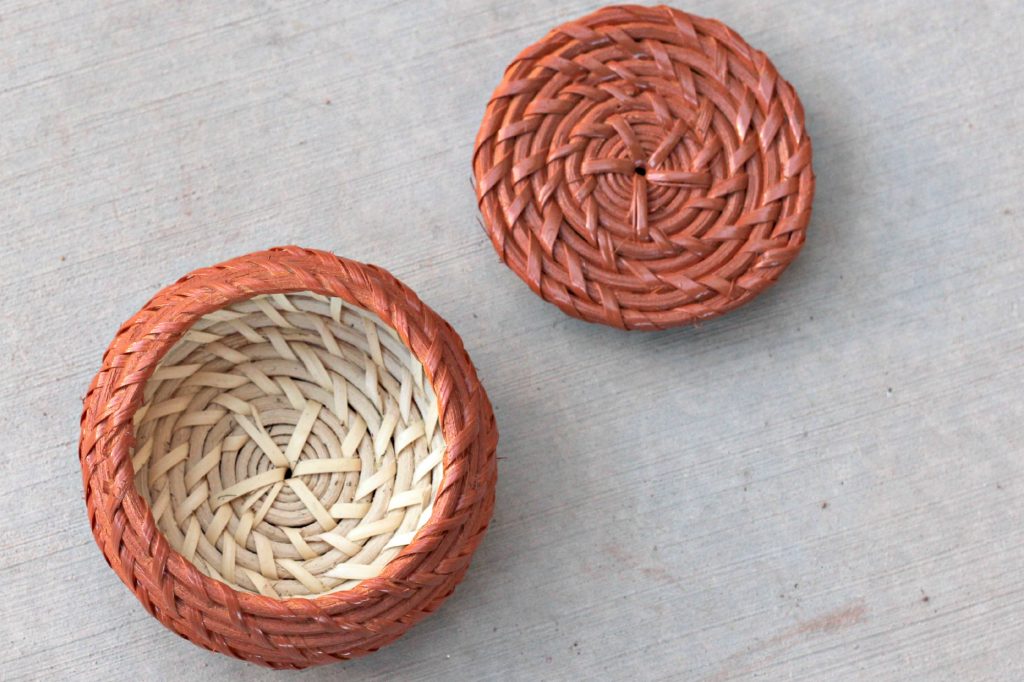 Break off a 1 1/2 – 2 inch piece of the skewer and paint it brown. Then cut off 2 leaves and use a small punch to make a hole at the end of each leaf.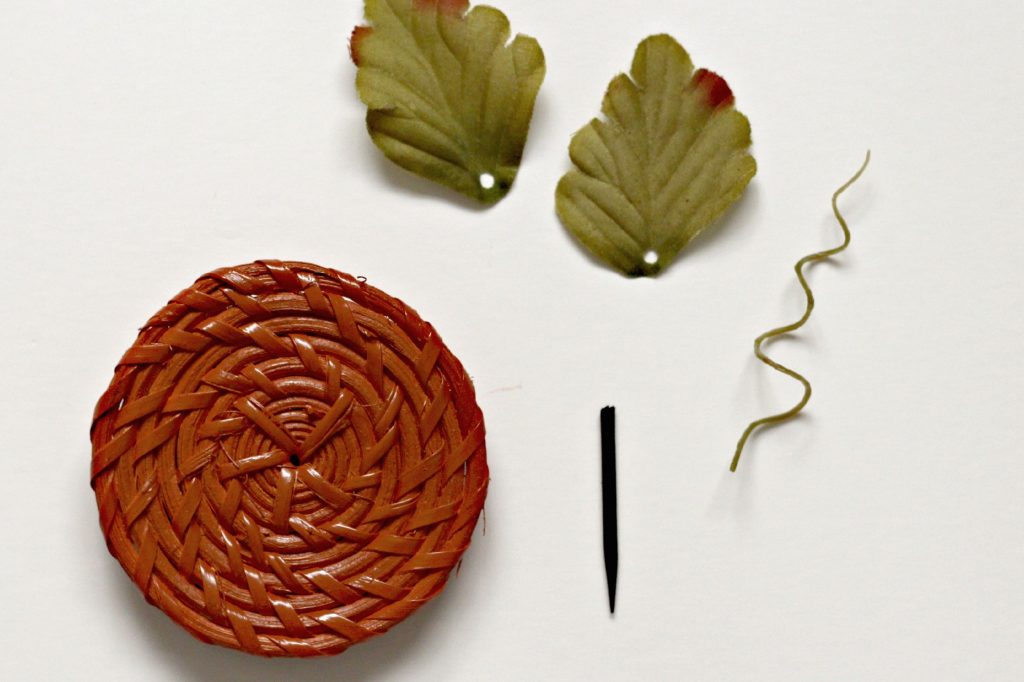 Place the stem through the holes in the leaves then into the center of the pumpkin (basket lid). Attach the vine to the top of the basket using hot glue. You can use twine, raffia or whatever you have around as the vine. I didn't use hot glue on the stem because it was tight but add it if you need too.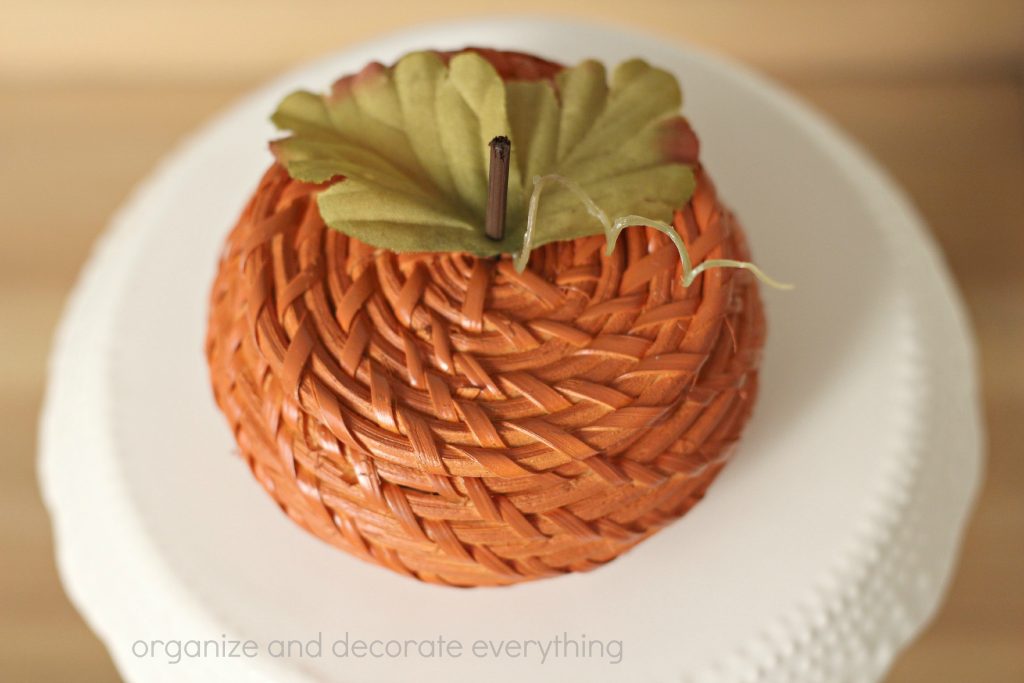 Fill the pumpkin with treats and you're done. Larger baskets could be used for gift giving or centerpieces.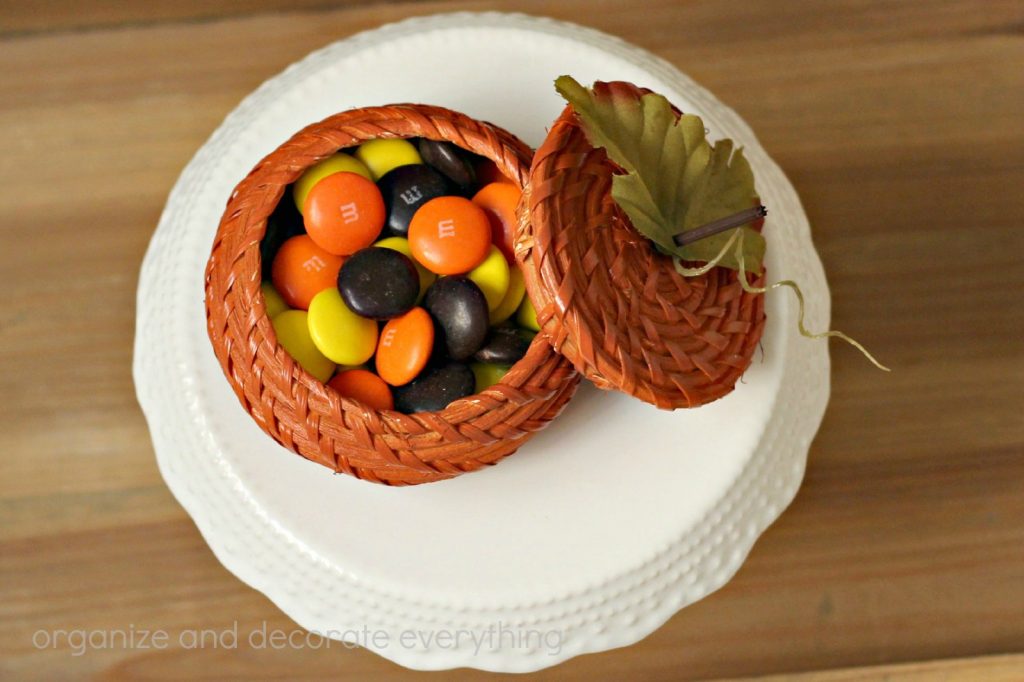 The largest could even be used on the dinner table filled with rolls.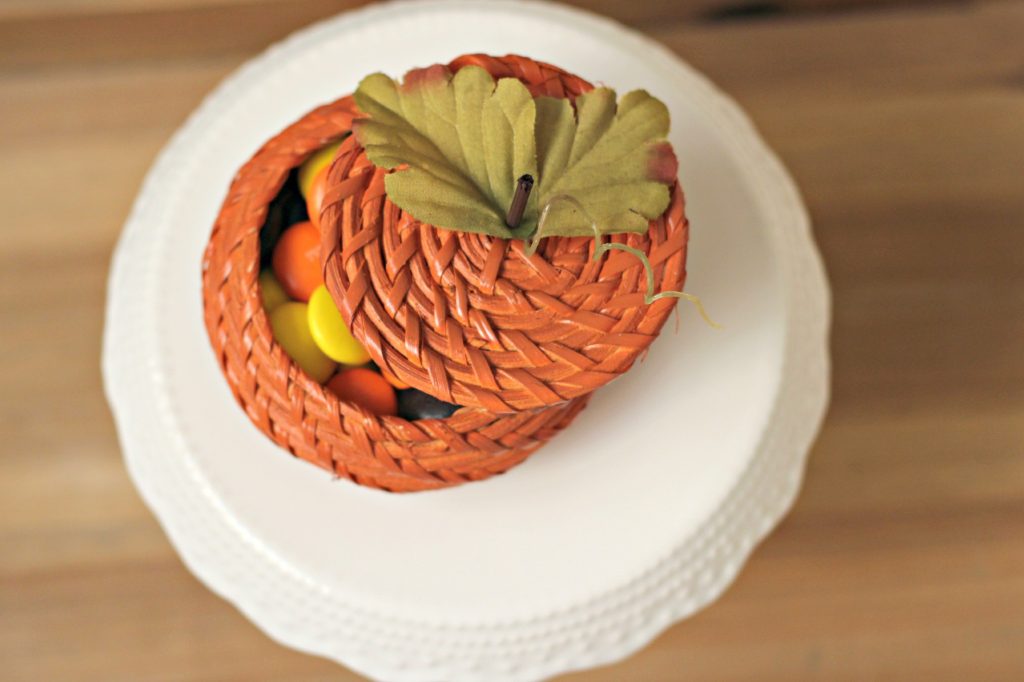 And there you have an adorable pumpkin for the Fall season. What Fall decor can you make using things you already have in your home?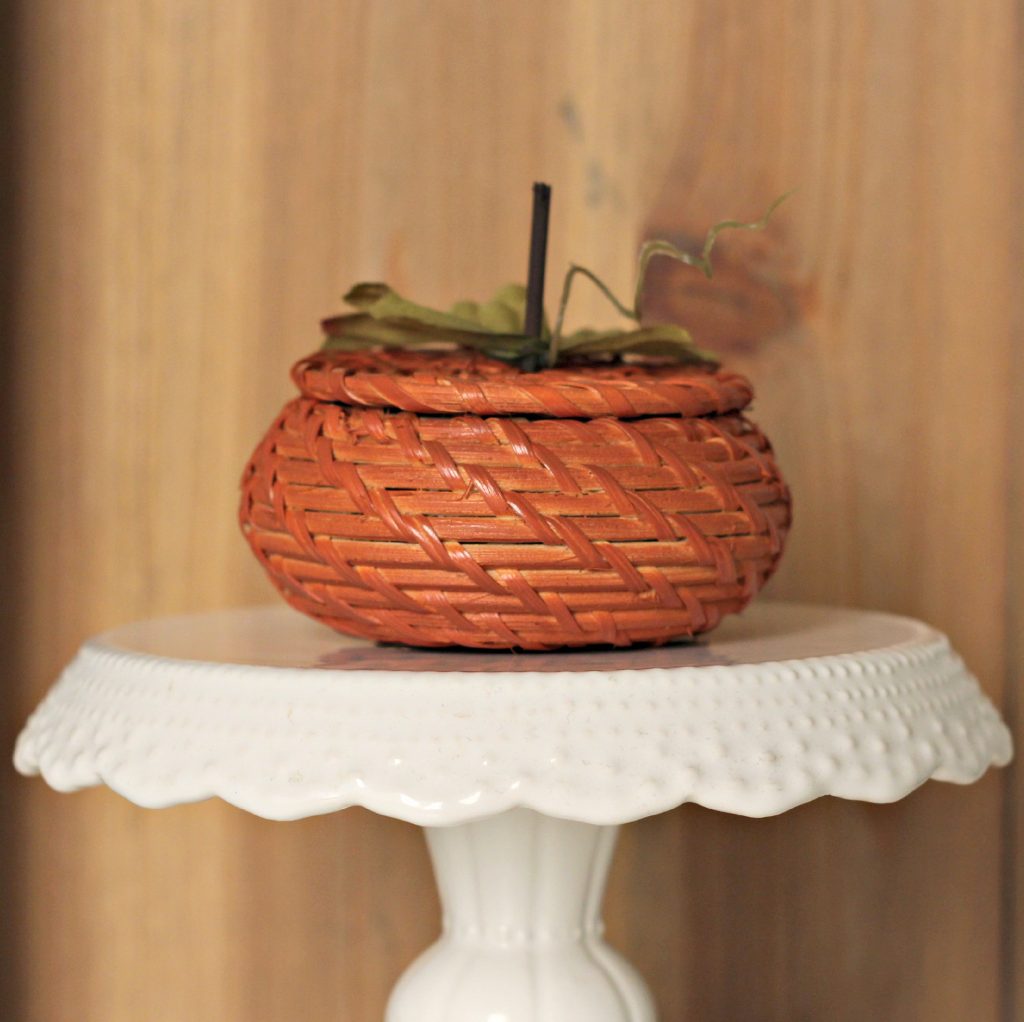 Pin it for Later: Wicker Basket Pumpkin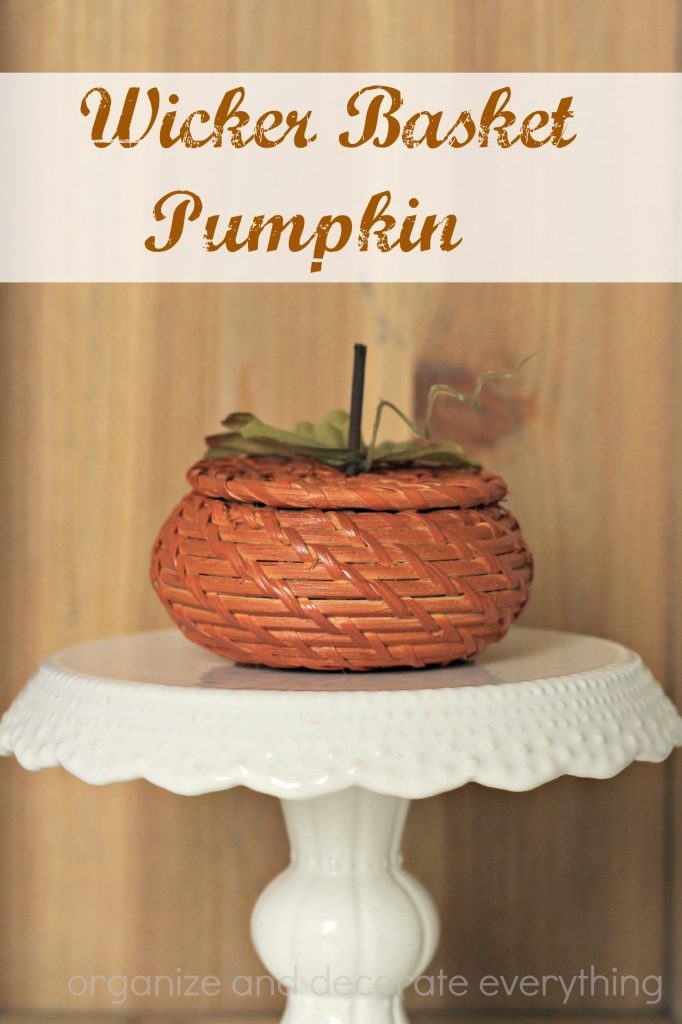 You might also like these posts:
Toilet Paper Fabric Covered Pumpkins
4 x 4 2 Sided Pumpkins