This Thanksgiving Blessing Mix is the perfect hostess or neighbor gift to show how much you appreciate your friends and the season. The free printable and dish towel make the presentation even more special.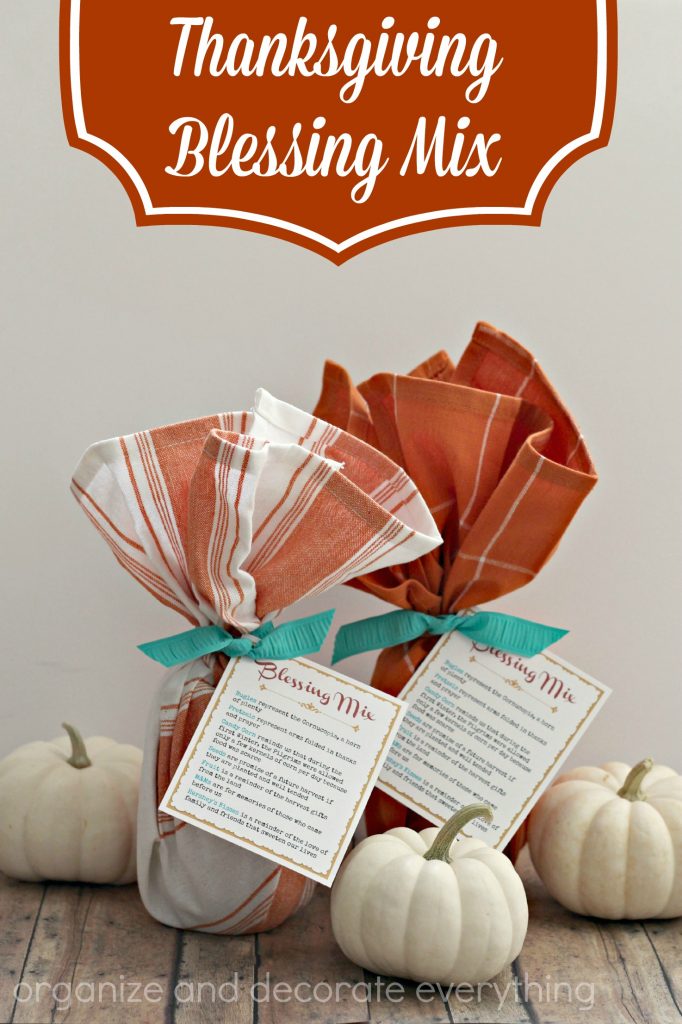 While the measurements for my Thanksgiving Blessing Mix aren't exact, here's what I made for 2 large mason jars:
2 handfuls of pretzels
2 handfuls of Bugles
1/2 a bag of Hershey kisses
3 handfuls of M&Ms
2 handfuls of candy corn
3 handfuls of shelled sunflower seeds
1/2 a bag of raisins
Here is a list of what each food represents but the tag goes into more detail:
bugles – horn of plenty
pretzels – arms folded in thanks and prayer
candy corn – food was scarce during the first winter
seeds – promise of a future harvest
raisins – gifts from the land
m & m's – memories of those who came before us
kisses – love of family and friends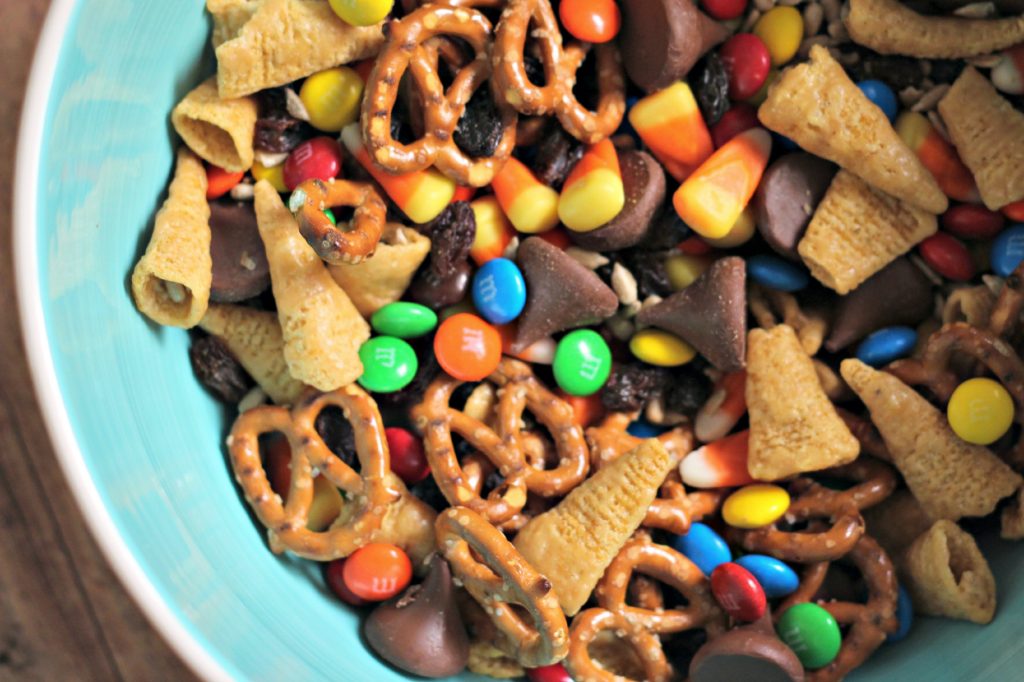 It was hard keeping my family out of the mix so I'm glad I had a bit leftover they could munch on. With the supplies I bought it would be easy to fill 4-5 regular jars. Once you've filled the jars you can simply attach the tag with a cute ribbon or some twine. You could even add a piece of fabric or scrapbook paper to the lid to add more color.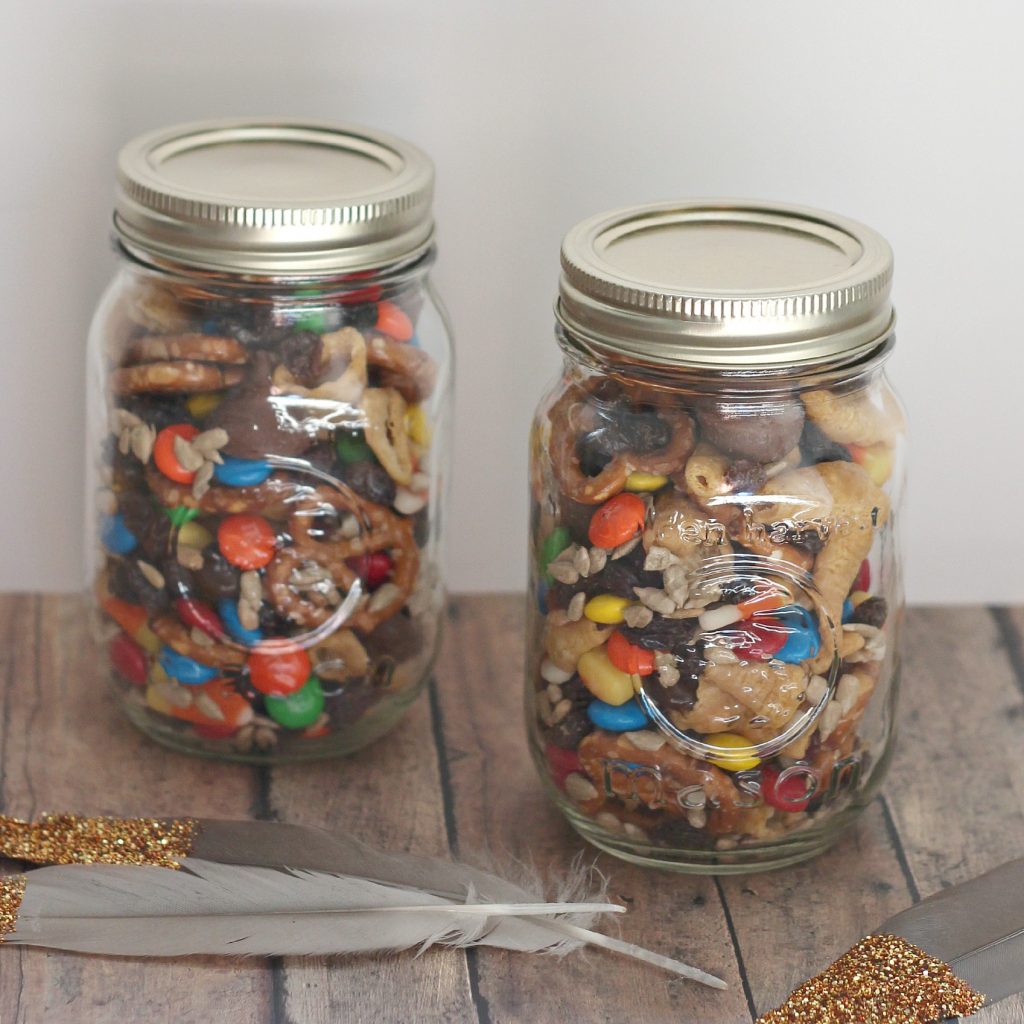 Or if you want to add another gift, wrap a dish towel around the jar securing it with an elastic band just above the lid.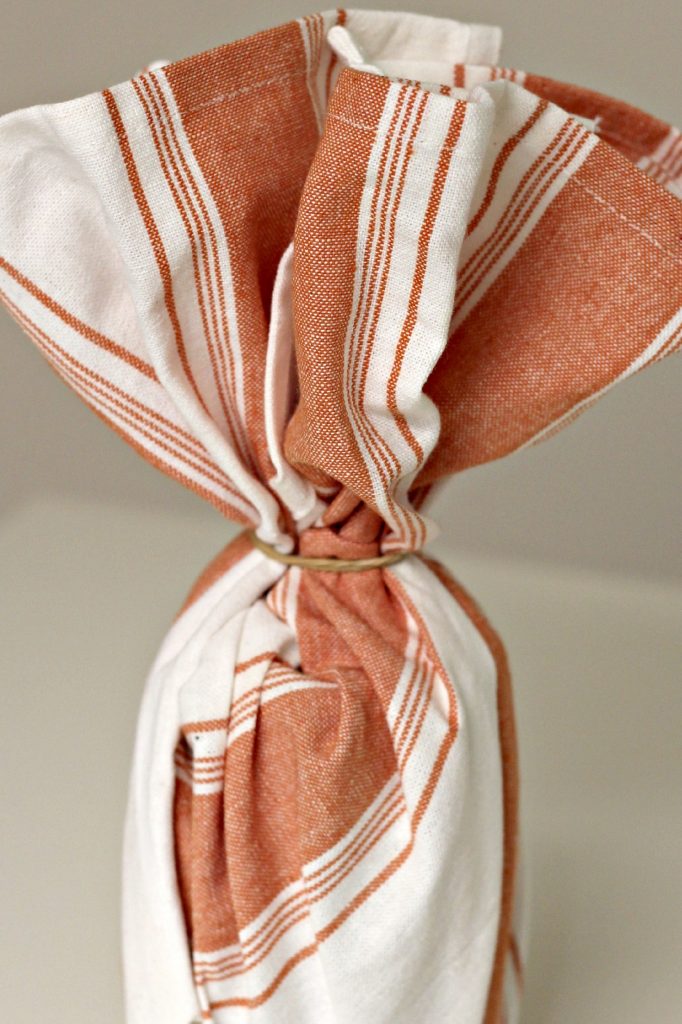 Tie a ribbon over the top of the elastic and add the tag. This is such a cute presentation and it only costs $1 and takes a few minutes more.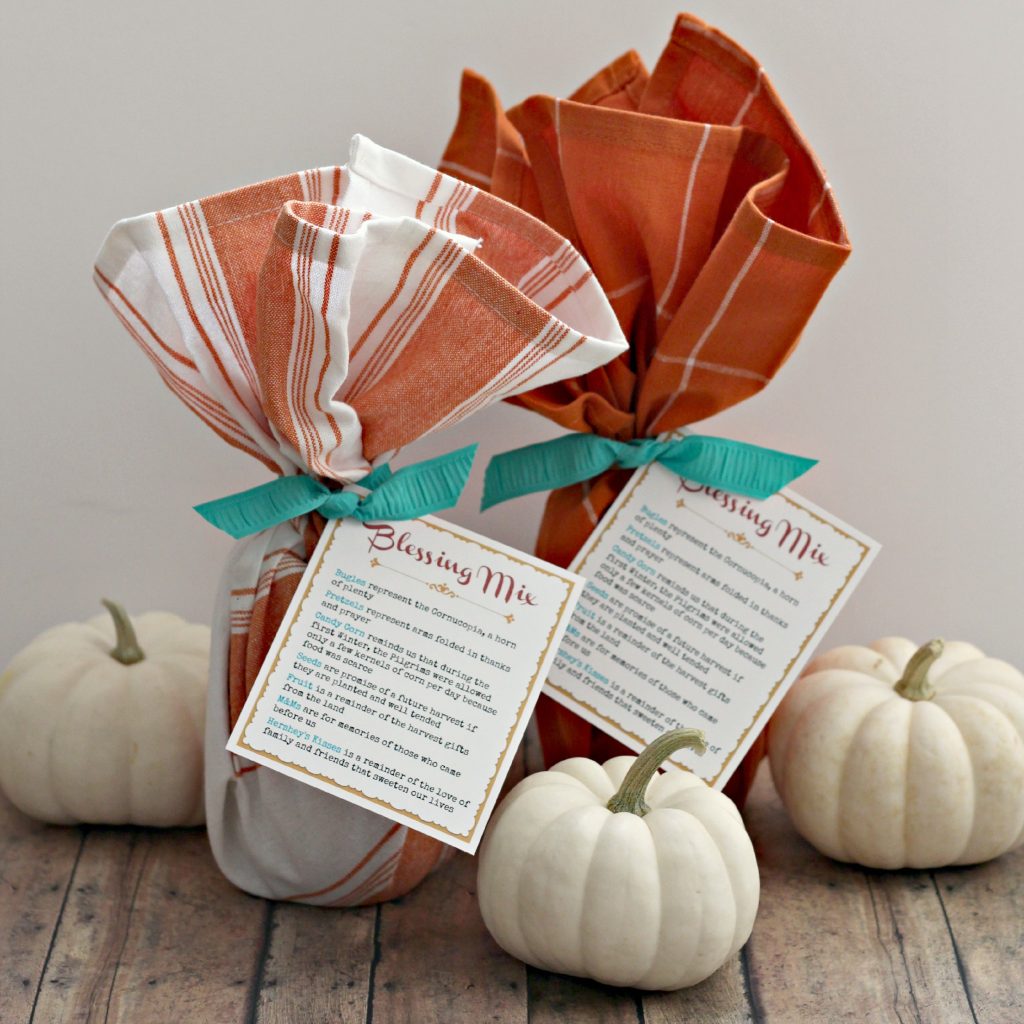 I made this free printable for you to attach to your Thanksgiving Blessing Mix. Just click on the link below the picture to print it out. Another great idea would be to make a whole batch for a large gathering, frame the printable and place it next to the bowl. Or give the mix in little cello bags at a school party.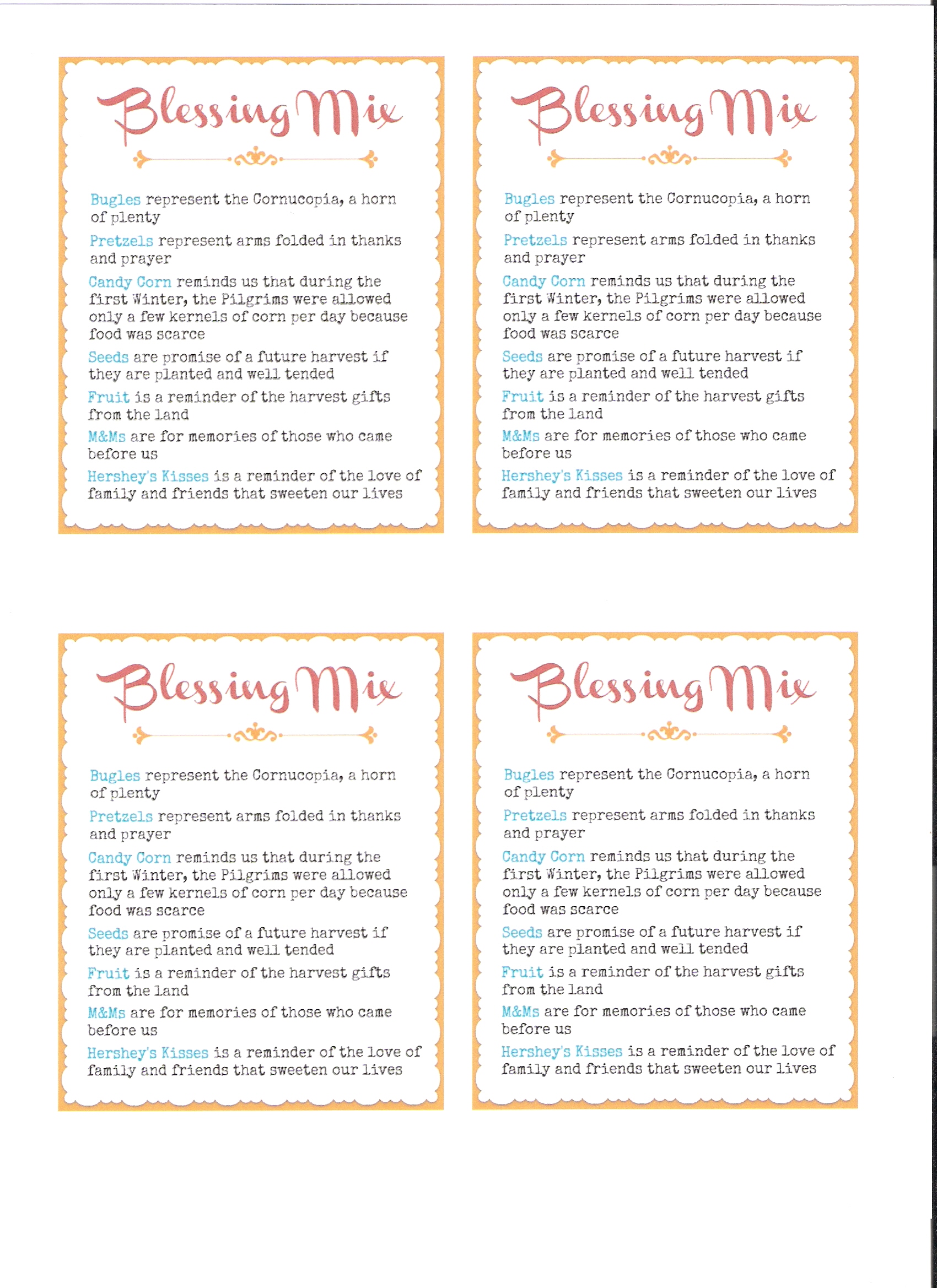 We're giving the mix to close friends this year. I love that after they've eaten the mix they still have the cute jar and towel to use.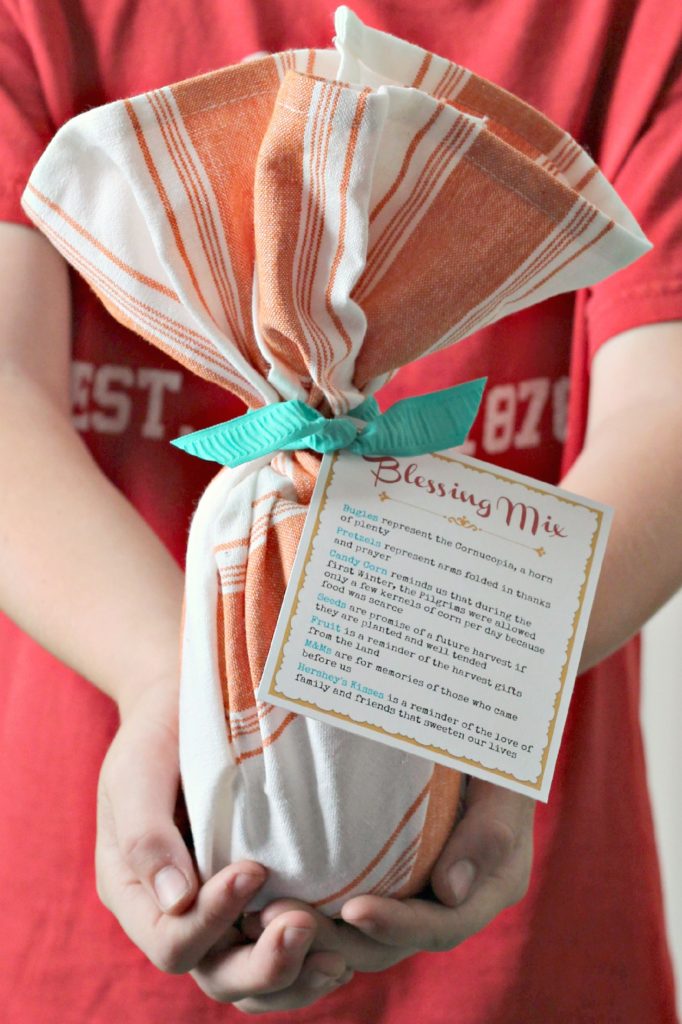 While shopping for the Blessing Mix ingredients I couldn't help thinking about how busy it gets this time of year. And how I don't always take the time to reflect on the blessings I have and show my gratitude. I'm hoping that by sharing this Thanksgiving blessing mix it will also remind me to share more of myself and think of ways to bless others lives.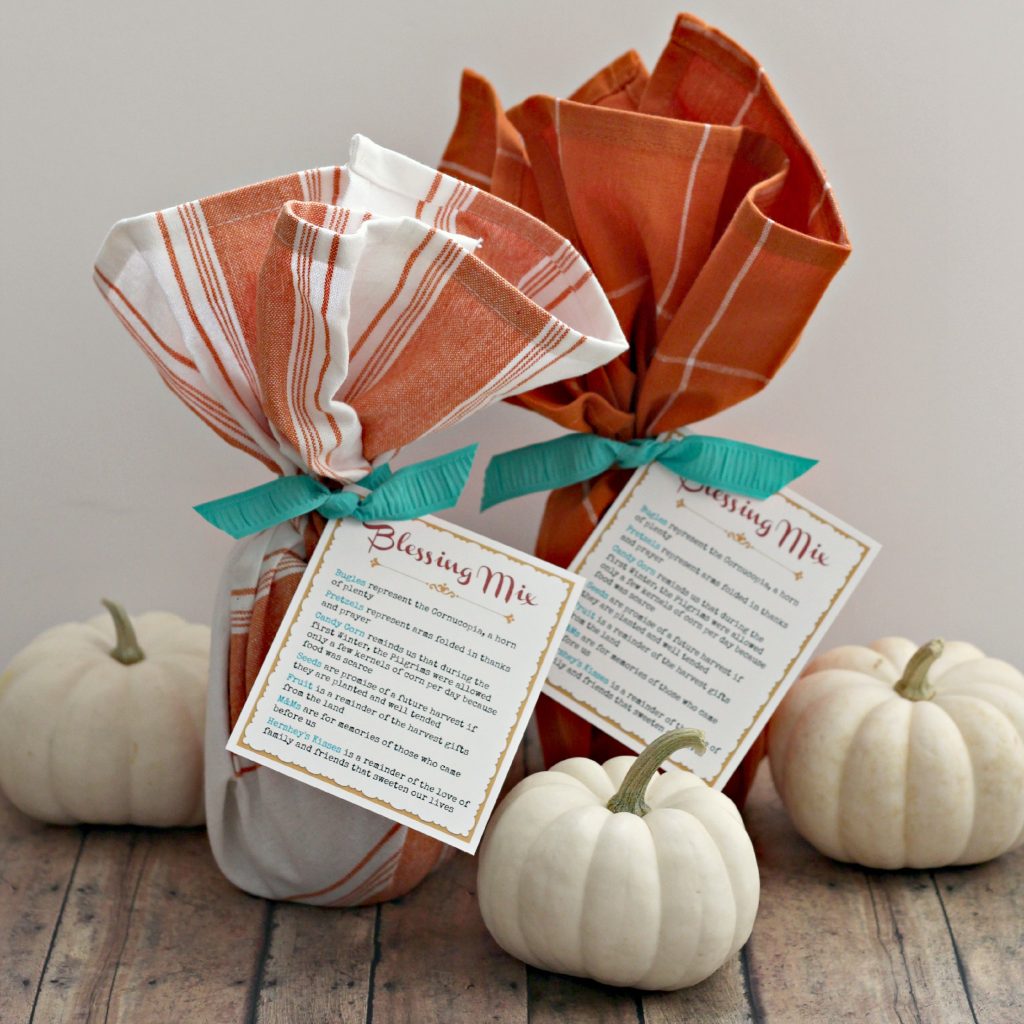 Do you have a favorite hostess gift you like to give?
Pin it for later: Thanksgiving Blessing Mix