When was the last time you cleaned and organized under the kitchen sink? Take some time this week to get it checked off your list.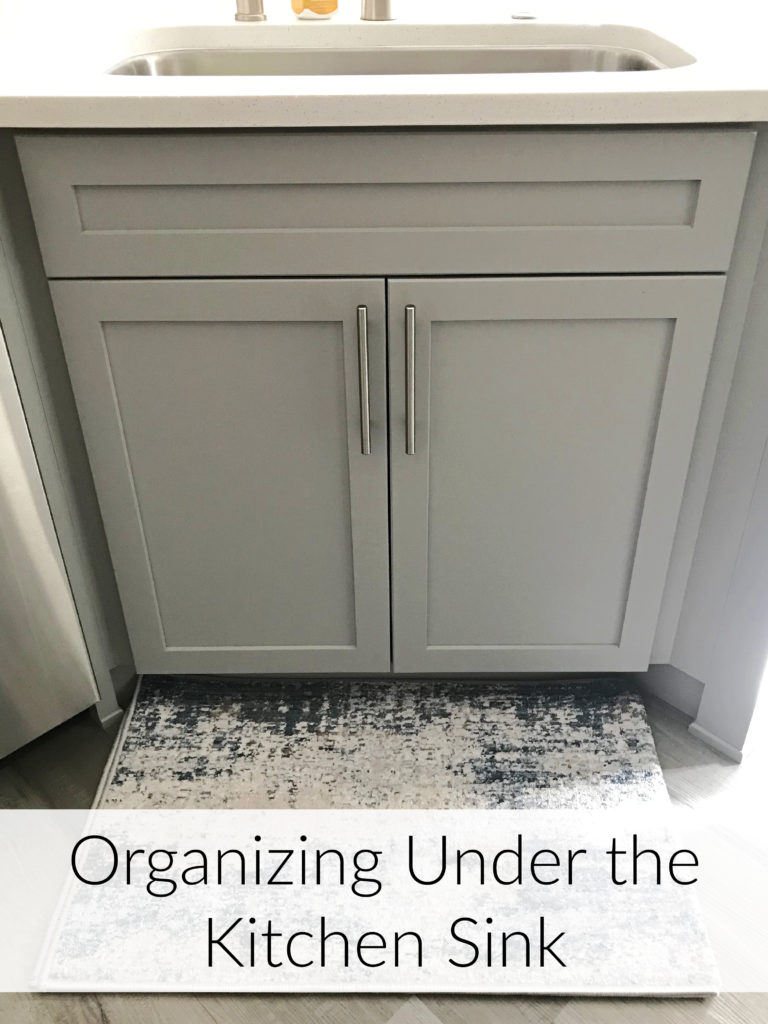 We've lived in our house 8 months now. That's enough time to determine how spaces are being used in your home and to make adjustments if needed. Think of the spaces in your home as prime real estate. There's only so much space under the kitchen sink so use it wisely and keep it organized. These ideas will help you keep it clean and organized.
Organizing Under the Kitchen Sink
–Let's start by taking everything out of the cabinet. Once you have everything out of the cabinet give it a quick clean. Combine warm water and vinegar in a bowl and use a damp cloth to wipe down the space. You could put a shelf liner in at this point but I use containers so I don't use a liner in this space. If you have any leaky pipes I would suggest using a liner.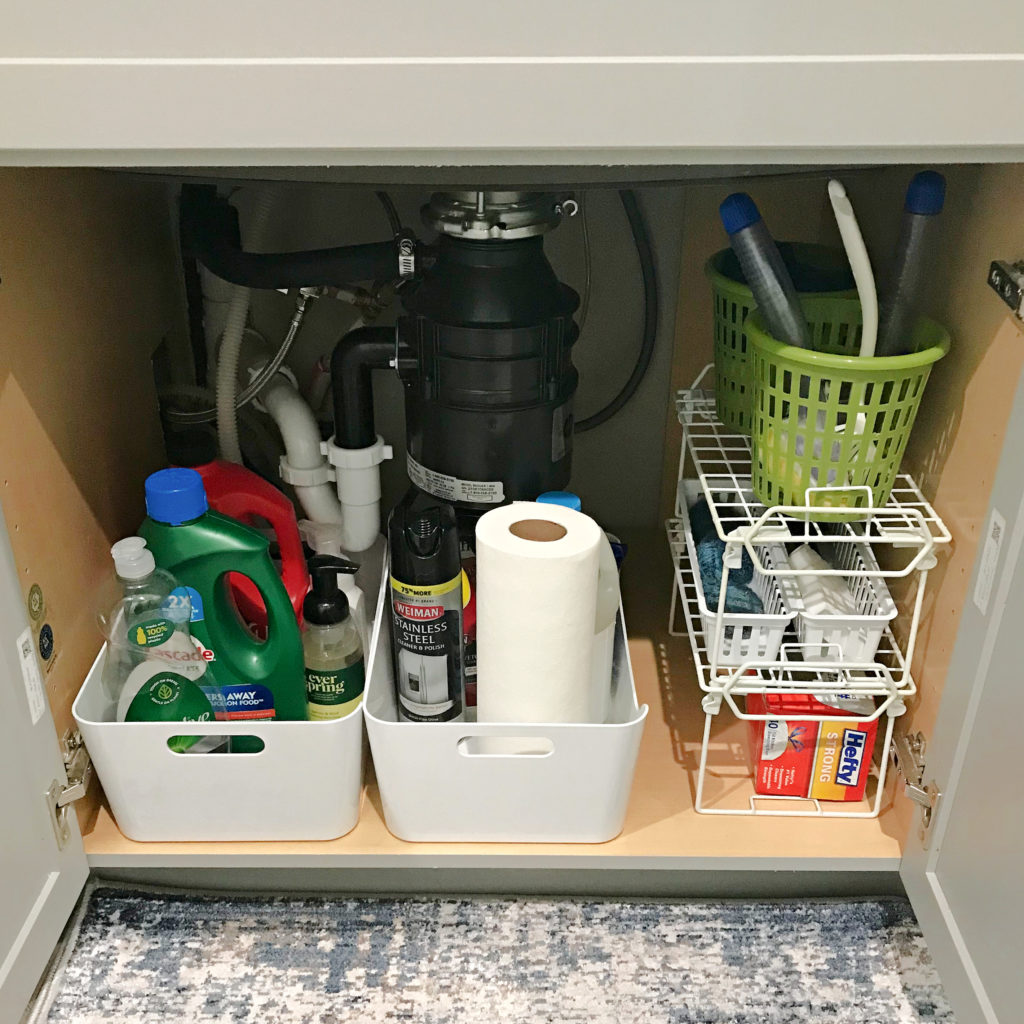 –Time to declutter. Since the supplies are out of the cabinet now is a great time to declutter and even relocate some things to another space. Get rid of any products and supplies that are not being used or containers that are empty. Think about what you really use in this area and only put those things back. Make a habit to check what you need to resupply before you go shopping. This can help you save money and storage space.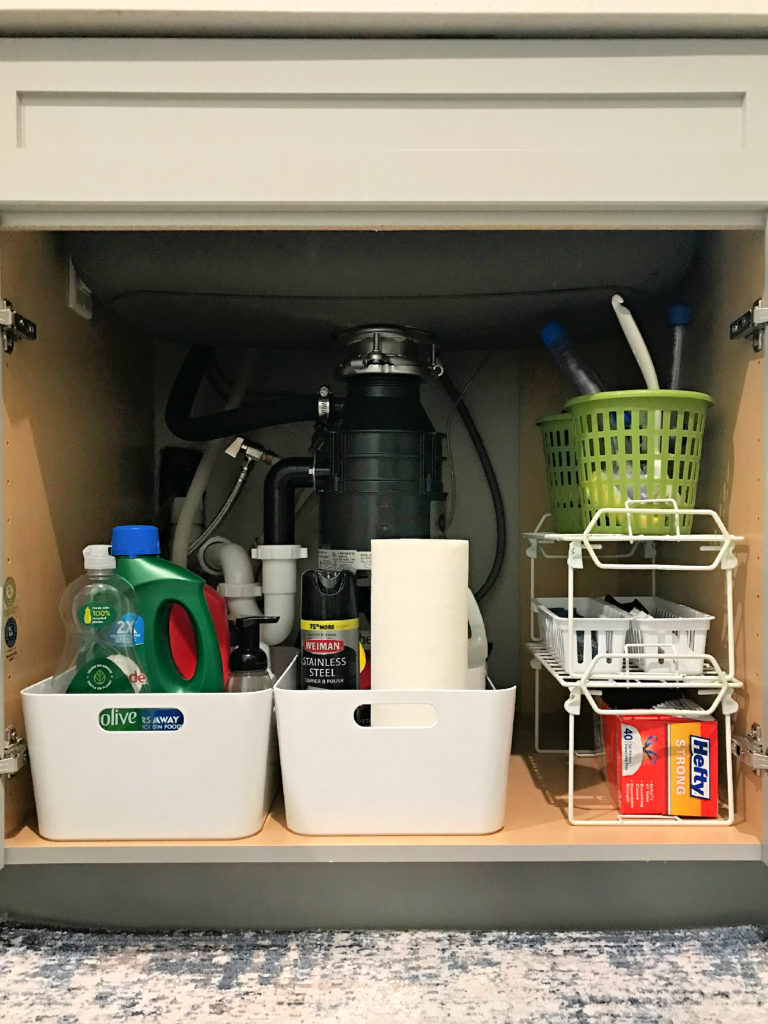 –Use the right containers. Take stock of the supplies you have and use the right containers to hold them. I'm using 2 medium totes and several small baskets in this space. All of the containers have solid bottoms to hold any spills that might occur. Divide the supplies by how they are being used and store them accordingly. Small supplies are kept in small baskets to keep them organized and easy to access.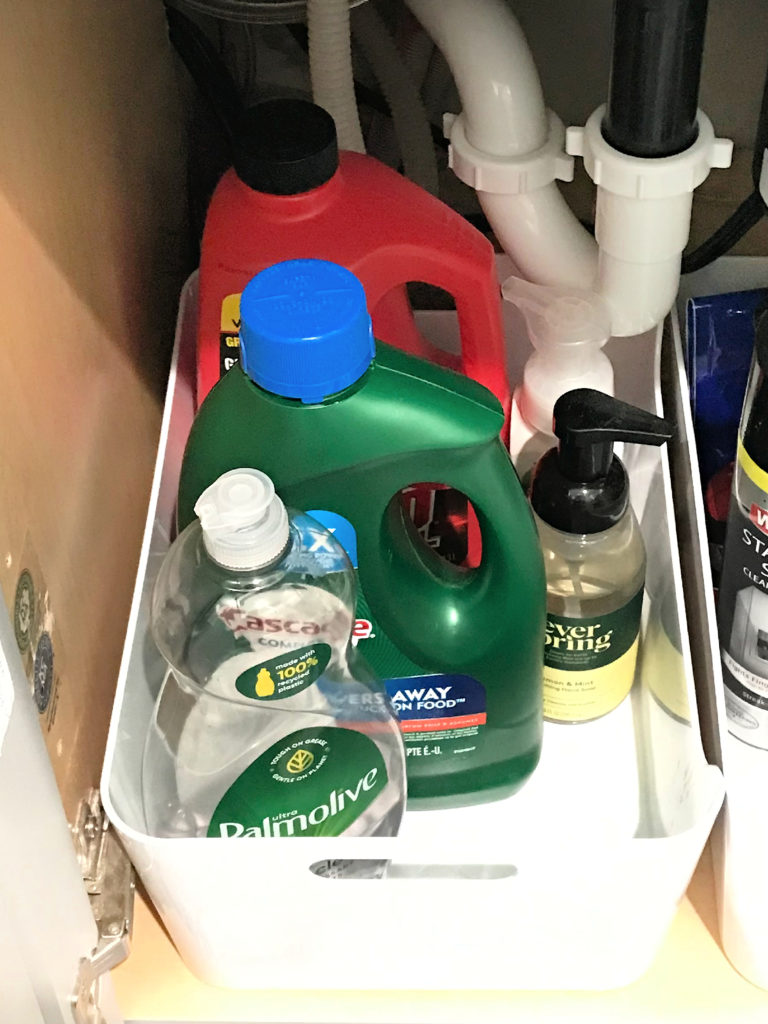 –Use the space wisely. Adding a shelf will give you extra space if needed and a place to organize small supplies. I'm using a small shelf to give me the added organization I need here. Organizing tools can be inexpensive but necessary to keep your cabinet organized. You know what you need to store so use the space to your benefit, but make it easy to access. Easy access is essential if you want the space to remain organized.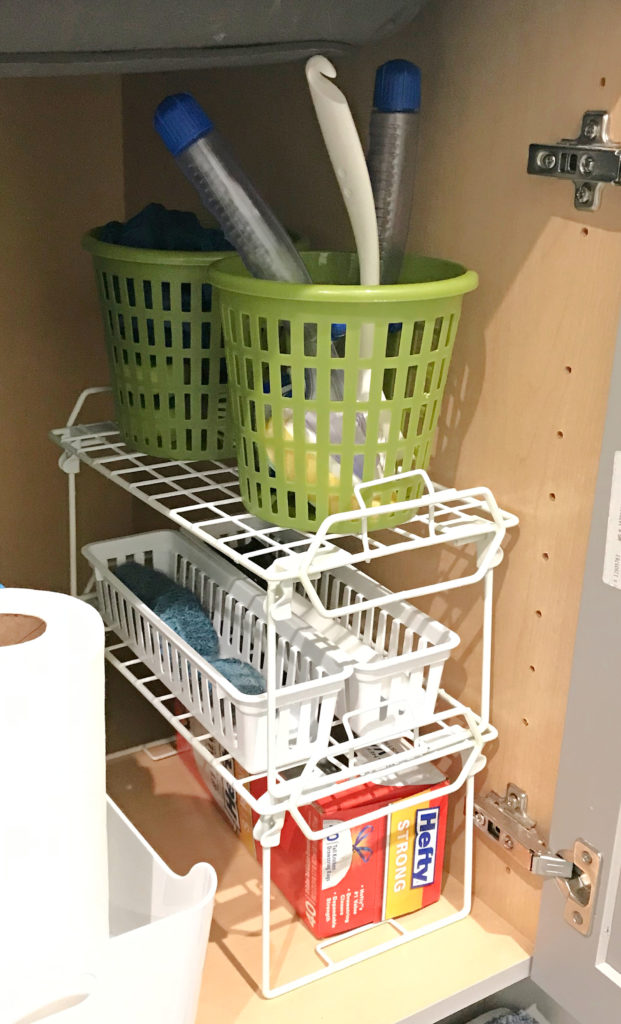 –Use the back of the door. I'm using a removable hook on the back of the door to hold a dish cloth. You could also use hooks or holders for paper towels or dish gloves. I would suggest only using removable hooks or over the door holders. Something easy to remove from the door if you no longer need it.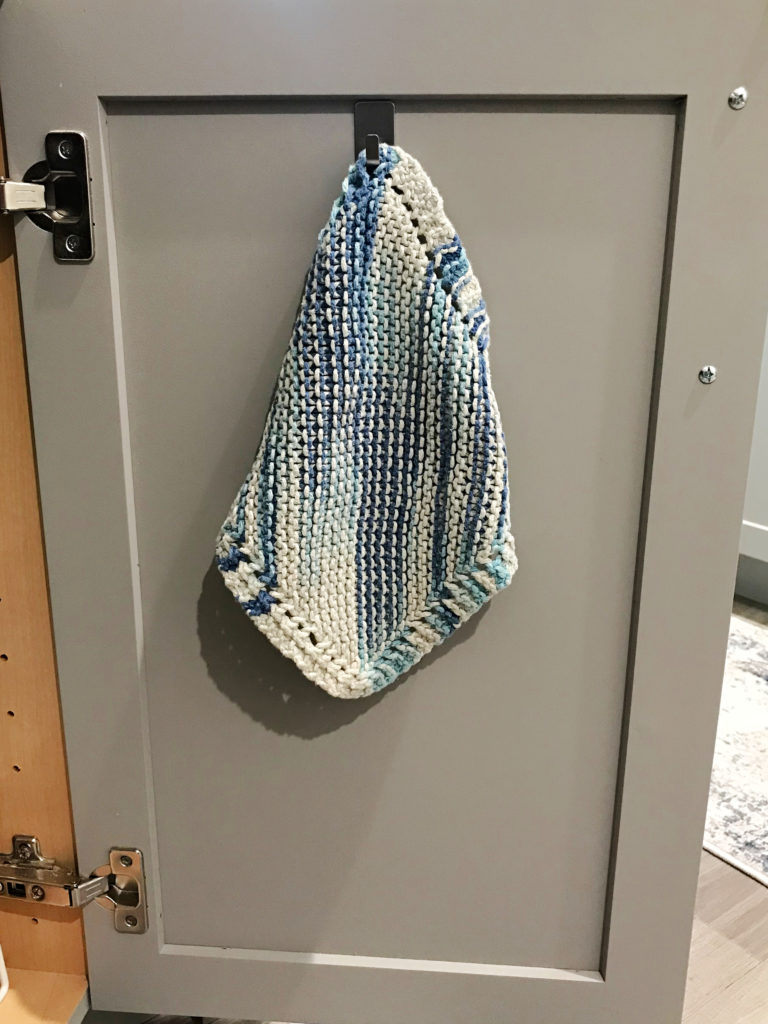 –Use safety precautions. If you have small kids it's a must to keep them safe from the products under the kitchen sink. We don't have small kids anymore but we have grandkids so I'm going to add safety locks to our cabinets. I have researched and like the magnetic ones so I think that's what I'll go with.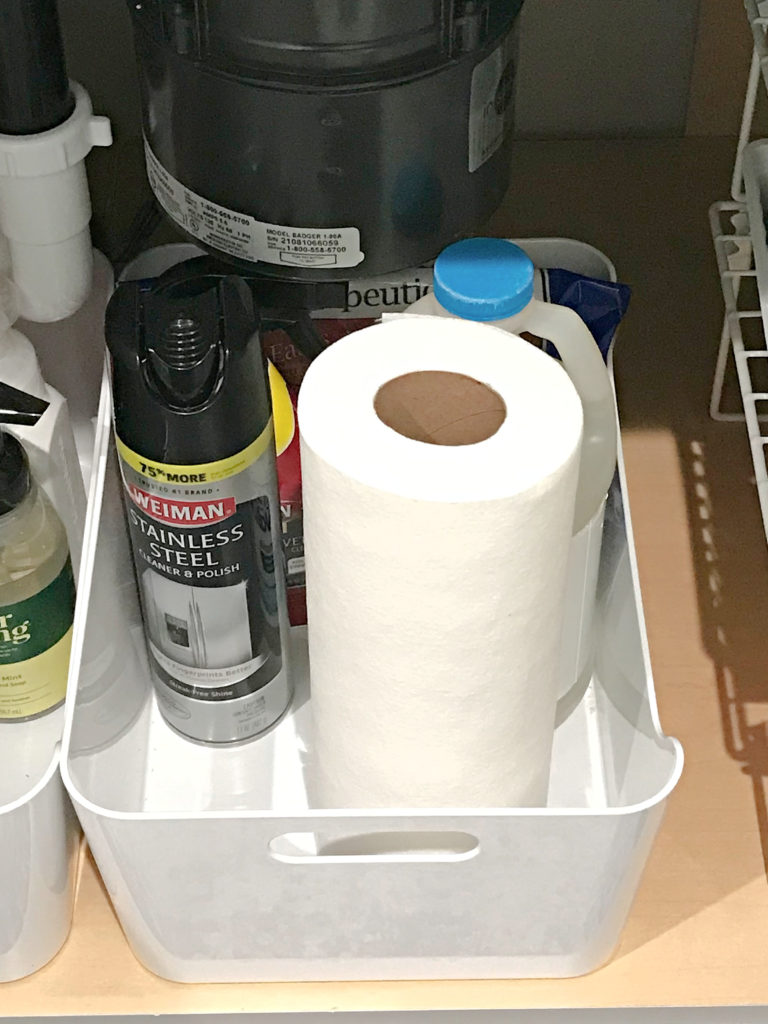 I hope these ideas have helped give you an organized space under the kitchen sink. If you clean up spills immediately you only need to go through these steps once or twice a year to keep it clean and organized.
Pin it for later: Organizing Under the Kitchen Sink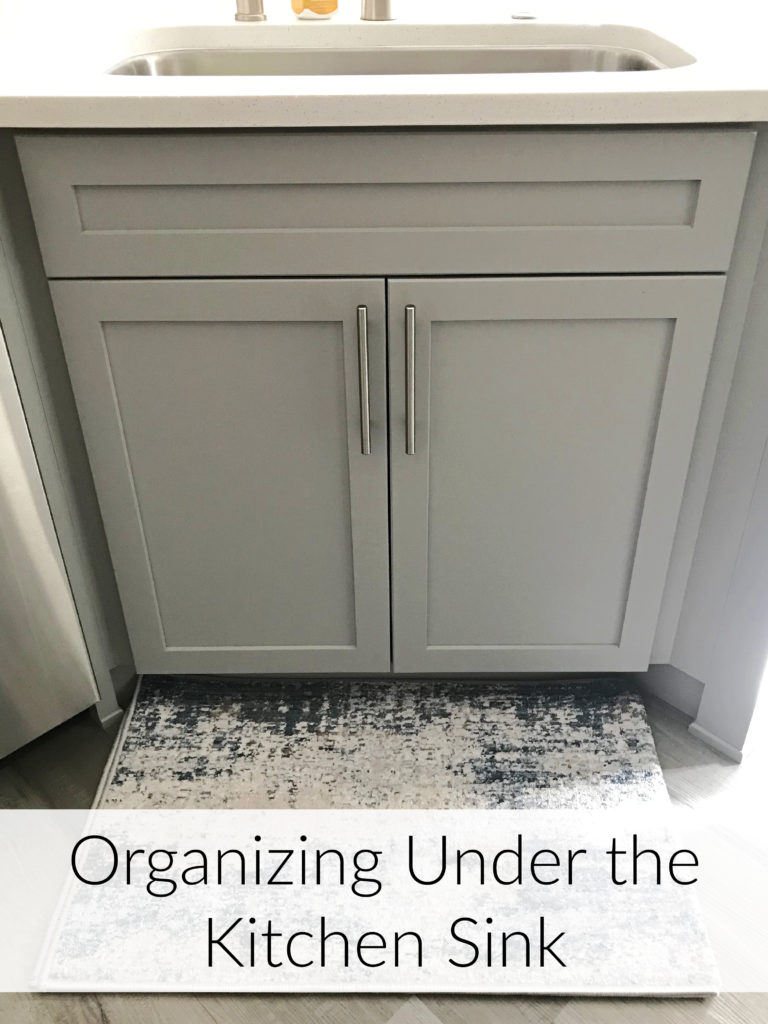 You might also like these posts:
Organizing the Kitchen with Baskets
How to Start Organizing Your Home