We've lived in this rental for 2 1/2 years and I am finally getting around to organizing the Linen Closet. It's not that it was in bad shape but Organizing a Small Linen Closet can be a challenge. The closet is a little less than 23″ wide and 9′ tall and it needed to be able to hold all the guest and kid's linens. If you need to get your linen closet organized I have some ideas to help you get it in shape.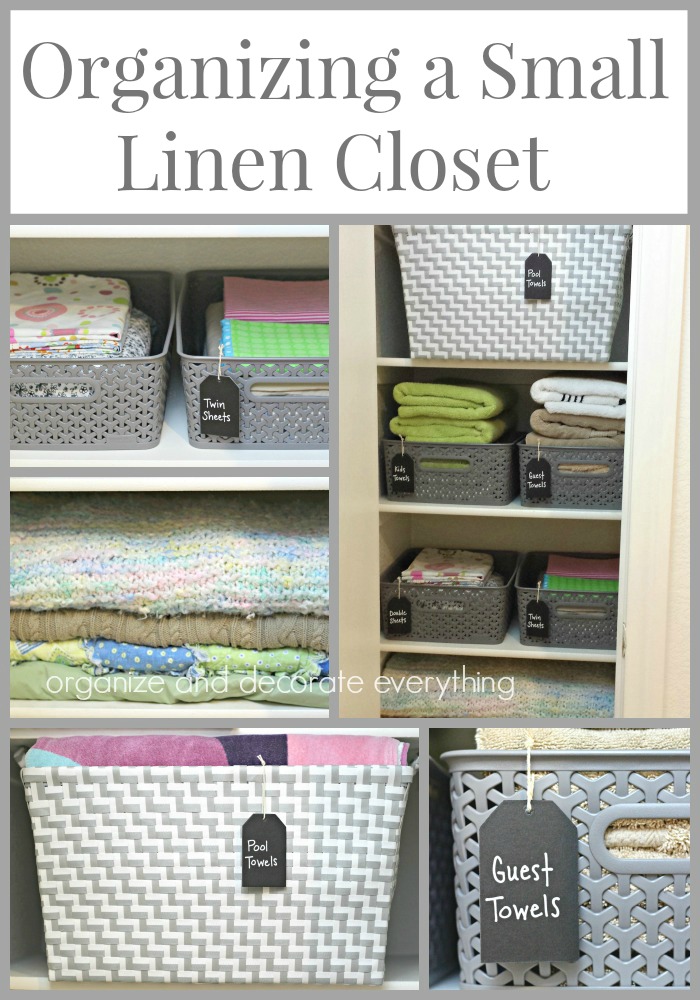 Here's the before. It's not too terrible if I'm in charge but if the kids put things away it can get out of hand fast. Baskets are the key to keeping things neat and tidy and since it's January storage items are a good buy right now. Also keep like things together so everything is easy to find. And finally, get rid of the excess before you get started organizing the space.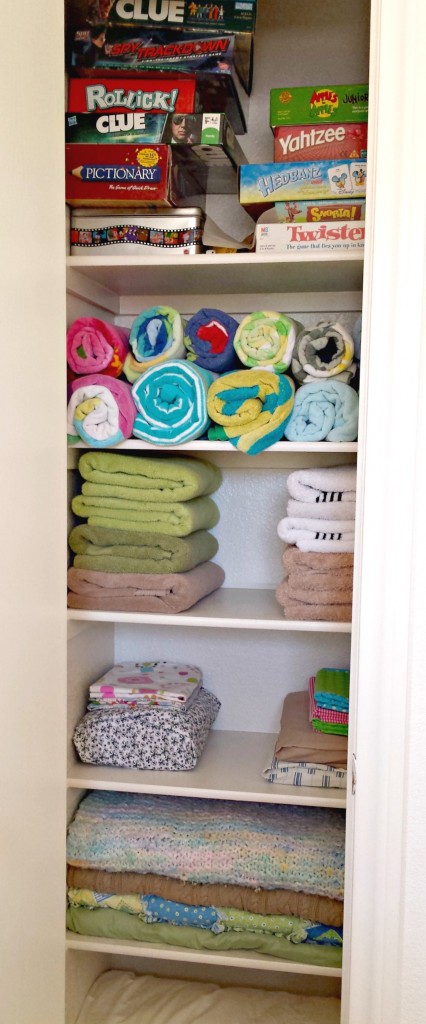 Let's start on the top shelf with the games. Since the bedrooms and closets in this house are all pretty small this was really the only place we could store games. I had already donated games we no longer played right before Christmas. That's the perfect time to evaluate usage of games and toys. Donate the ones your family no longer enjoys. I contained the smaller games in the large basket and the big games at the side of the basket. It's easy for the kids to get the games out and put them back in the basket, plus they stay contained because they're contained.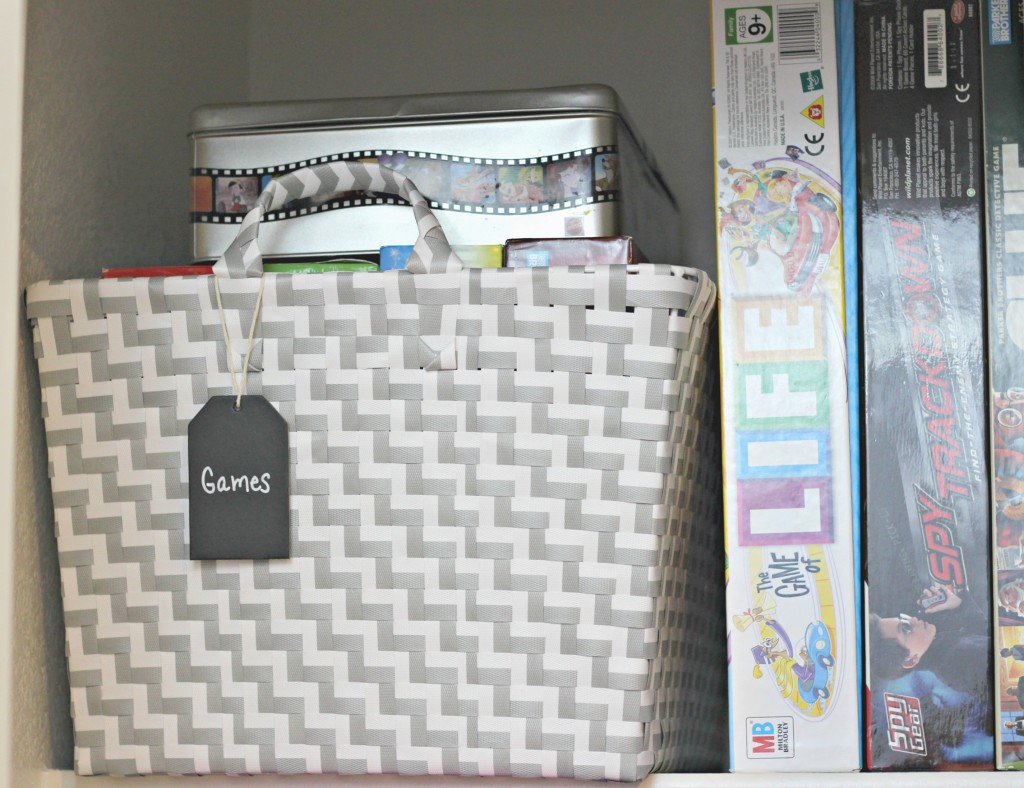 Since we spend a lot of time at swim lessons, the pool, and the ocean we use a lot of pool towels. Roll towels to save on space and fit more in the basket. I was able to triple the number of towels in this space by rolling instead of folding.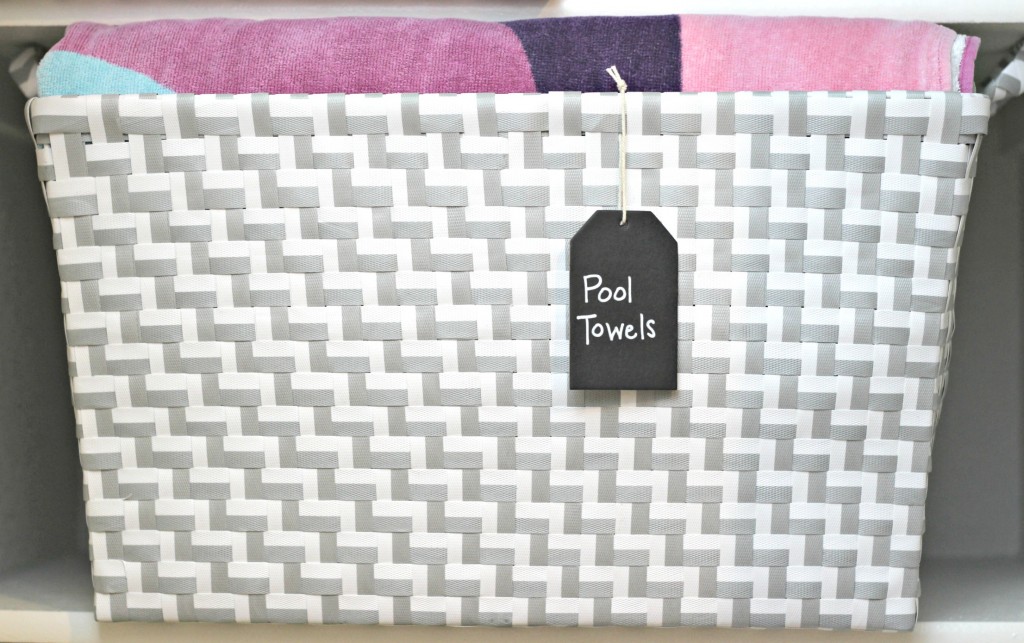 The bath towels fit perfectly in these baskets. We have one that holds the kid's towels and one that holds guest towels. I like to keep the guest and kid's towels separate and this seems to be working.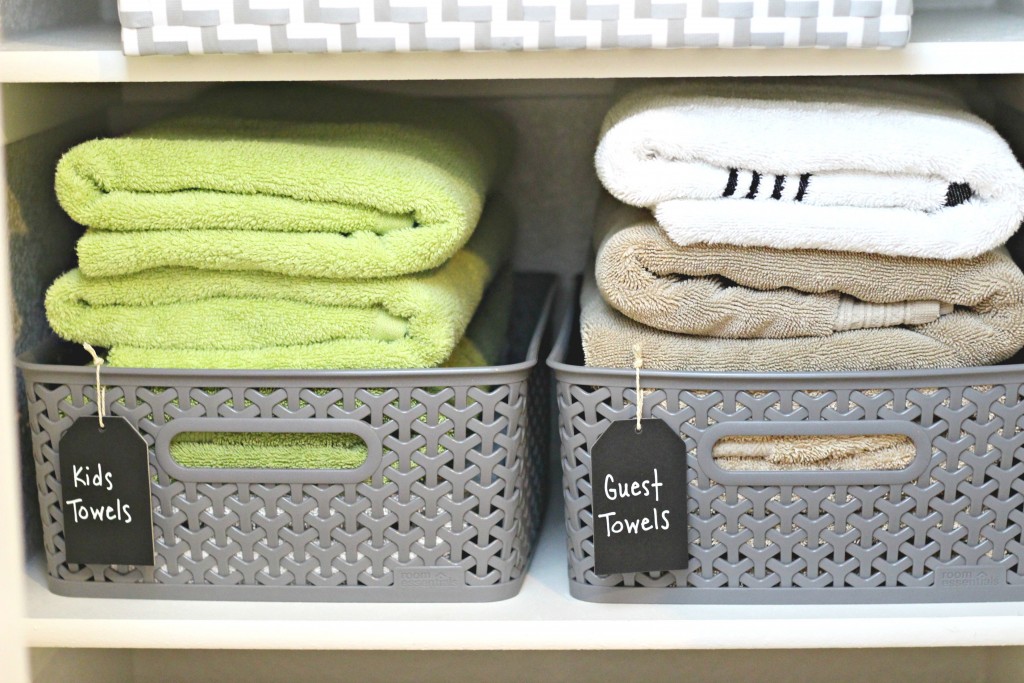 Keep your sheets all together by placing the set inside it's pillowcases. The whole set is  together when it's time to change the bedding. The boys have twin beds and my daughter has a double. When we have visitors, they take over her bed so she has extra sheets to be able to change more often.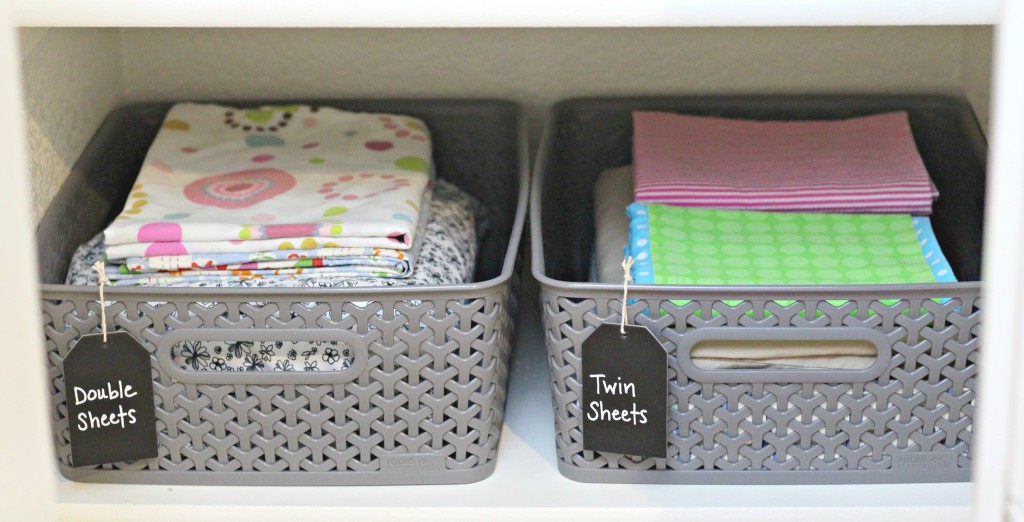 The next shelf holds extra blankets and the bottom shelf holds extra pillows.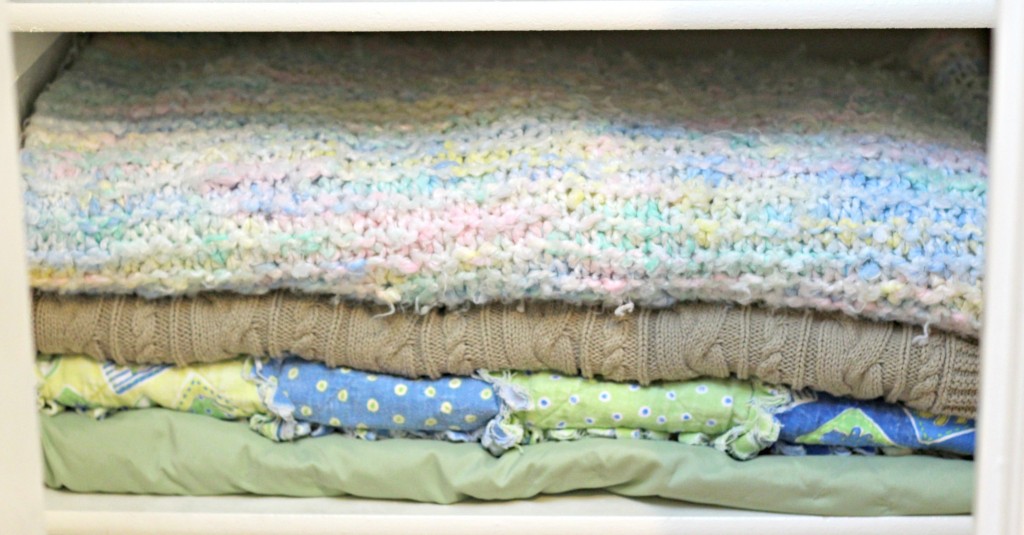 I bought these chalkboard tags, 6 for $1. I've also made them by painting chalkboard paint on chipboard pieces. Label the tags with a chalk marker then attach them to the baskets with twine.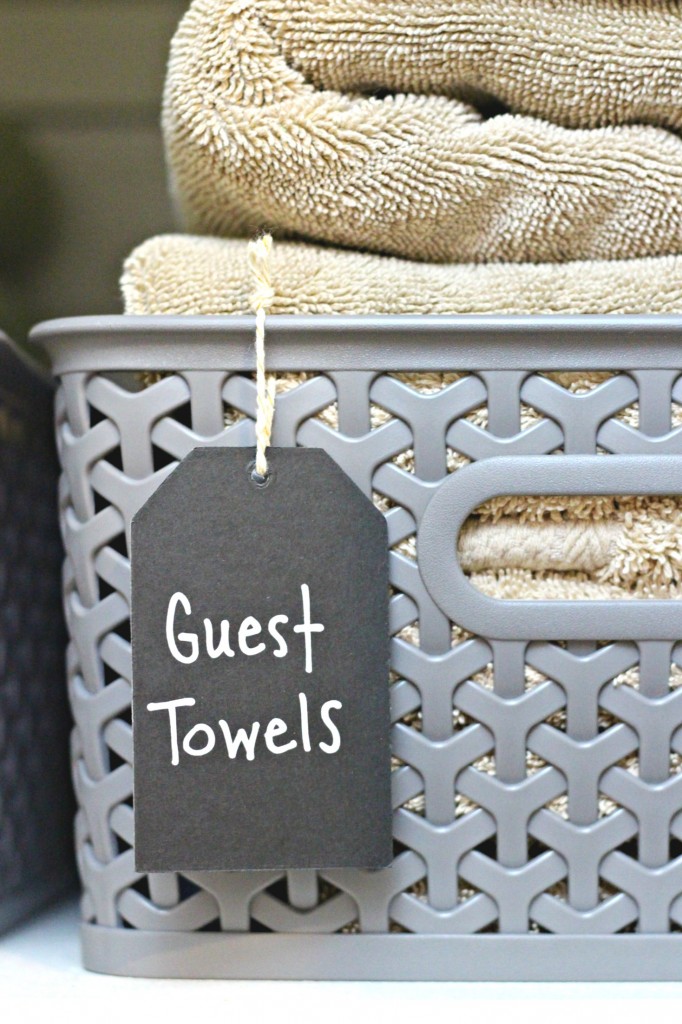 Here's the after. The baskets add so much to the closet by keeping everything contained even if the kids put things away. It's been this way for 3 weeks and so far so good.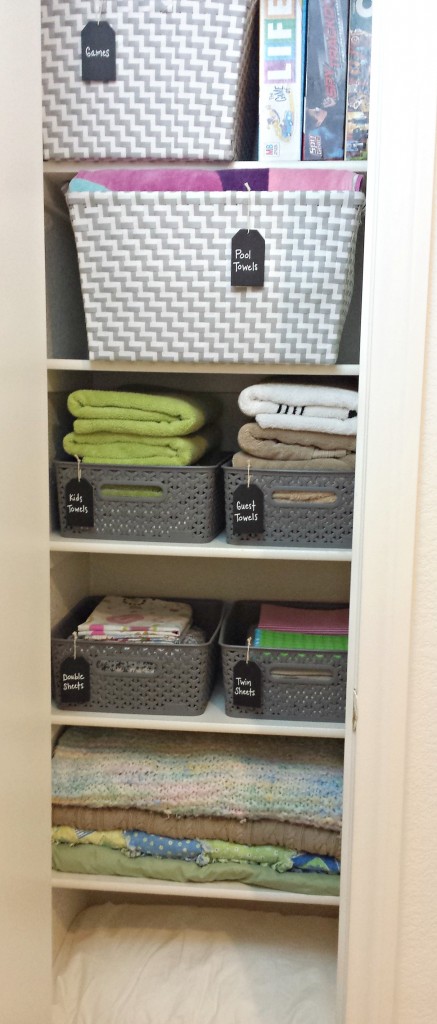 Because of all the sales this time of year I was able to purchase all 6 baskets and the tags for under $40. Happy Organizing!!!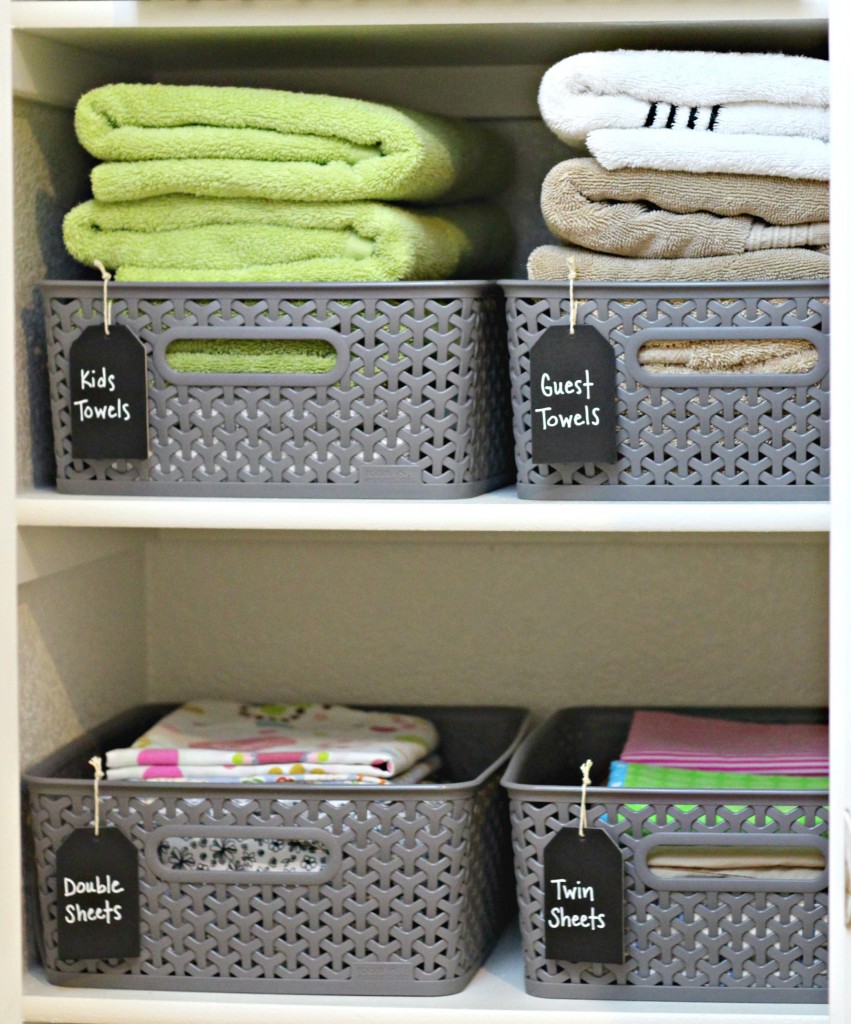 I'm so happy to have teamed up with some incredible blogging friends to be able to bring you even more cleaning and organizing ideas. Get your whole home cleaned and organized and keep it that way. Don't forget to Pin the ones you want to save for later! I would love you to stick around and check out more great ideas right here!
Check out these great cleaning and organizing ideas:
SUNDAY – CLEAN AND ORGANIZATION PRINTABLES
Domestically Speaking | Simply Designing | Hymns and Verses
Fresh Idea Studio | Decor Adventures
MONDAY – CLEANING TIPS & RECIPES
Refresh Restyle | Cupcakes and Crinoline | Stone Gable
What Meegan Makes | My Uncommon Slice of Suburbia
TUESDAY – KITCHEN ORGANIZATION AND DIY PROJECTS
Postcards from the Ridge | H2O Bungalow
Yesterday on Tuesday | Inspiration for Moms
WEDNESDAY – BATHROOM ORGANIZATION AND DIY PROJECTS
Petticoat Junktion | Redhead Can Decorate
The Silly Pearl | Cleverly Inspired
THURSDAY – LAUNDRY ROOM ORGANIZATION AND DIY PROJECTS
The Interior Frugalista | Setting for Four
FRIDAY – PANTRY & LINEN CLOSET ORGANIZATION AND DIY PROJECTS
Dukes and Duchesses | Organized Island
Occasionally Craft | Organize and Decorate Everything