Sometimes the simplest decorations are the best. This Noel Christmas porch was created using the decorations we had left over after decorating the rest of the house. Let me take you on a tour of my little front porch. I hope you'll get some inspiration.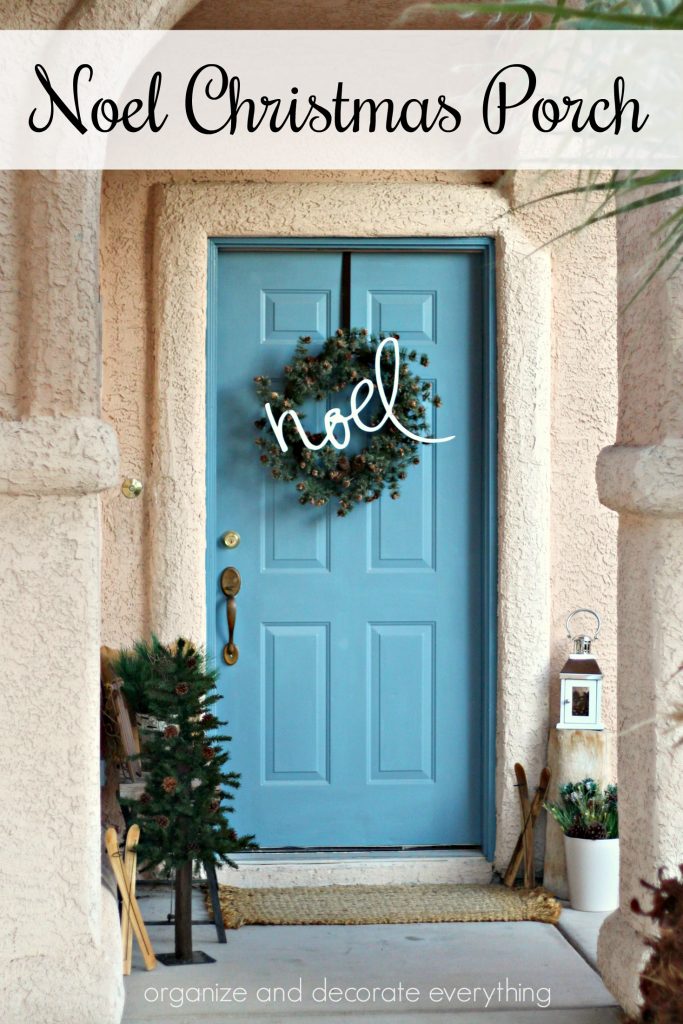 I could of easily gone and purchased a few more Christmas decorations but since I was in the spirit of decluttering I felt buying more stuff would defeat the purpose in the long run. It's pretty awesome what you can create when you have a theme and a few supplies. Since I have a small porch a little can go a long way.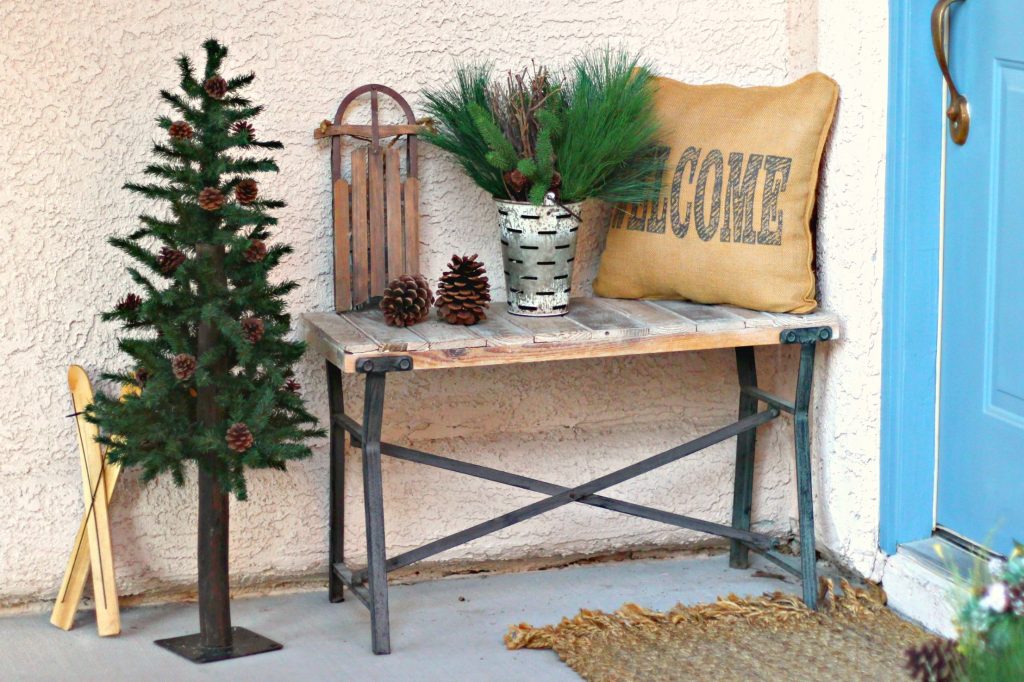 Let's start with the wreath. I've had this pine wreath for quite a few years. When I find a good wreath that can be used as a base to add decor too, it's a keeper. I kept it really simple this year by wiring a Noel sign to the front. Painting it white makes it stand out against the blue door and pine wreath. It can easily be painted a different color next year if I change my color scheme and decide to hang it somewhere else.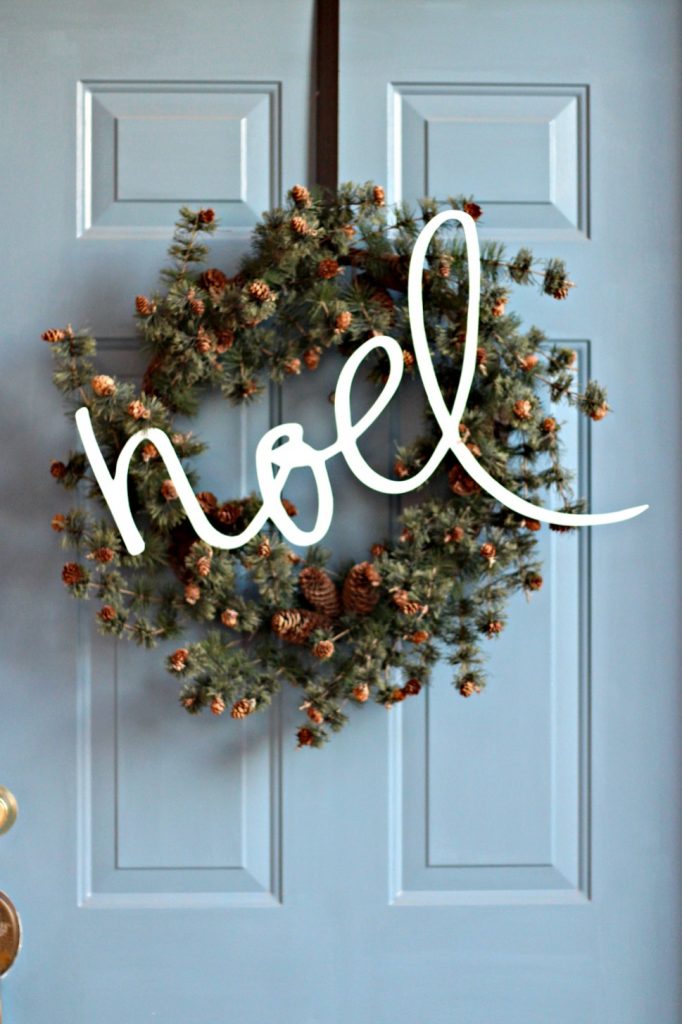 The small pine tree used to be in one of my son's rooms but this year I decided to use it on the porch. Wire small pine cones to the branches to add more texture and interest. And they won't blow away on a windy day.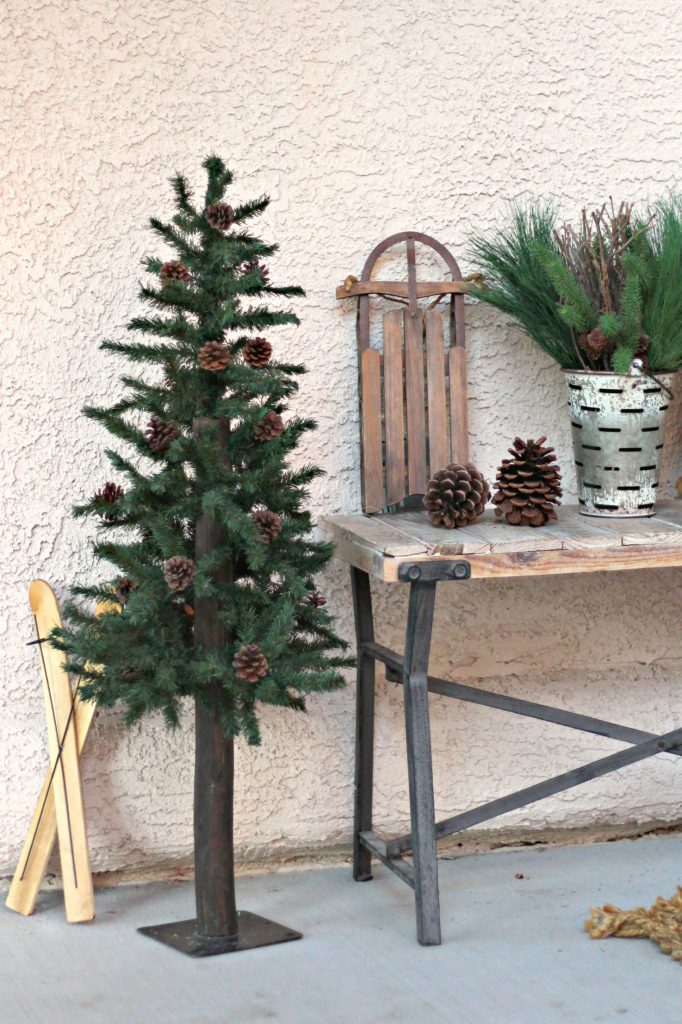 Since our porch is pretty small this bench has been a great place to display seasonal decor. The burlap Welcome pillow is a staple. It's a little too scratchy for inside the house but it's perfect for the porch.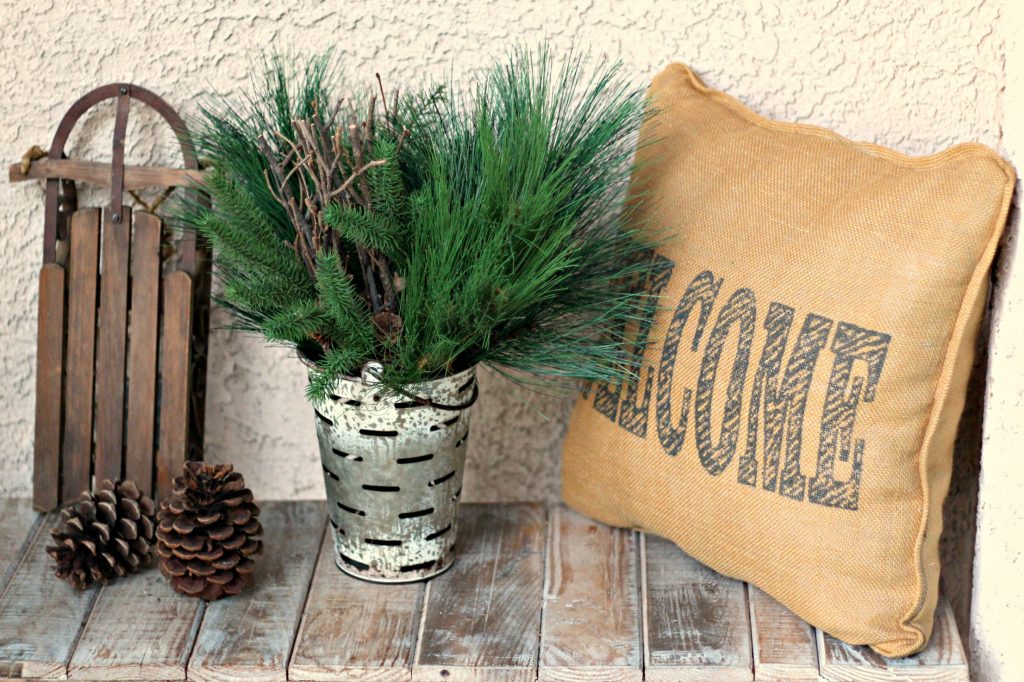 You can't go wrong with gathering random greenery pieces and placing them in an olive bucket. Adding sticks is always a nice bonus too. My favorite way to decorate the front porch is to use as many natural elements as I can.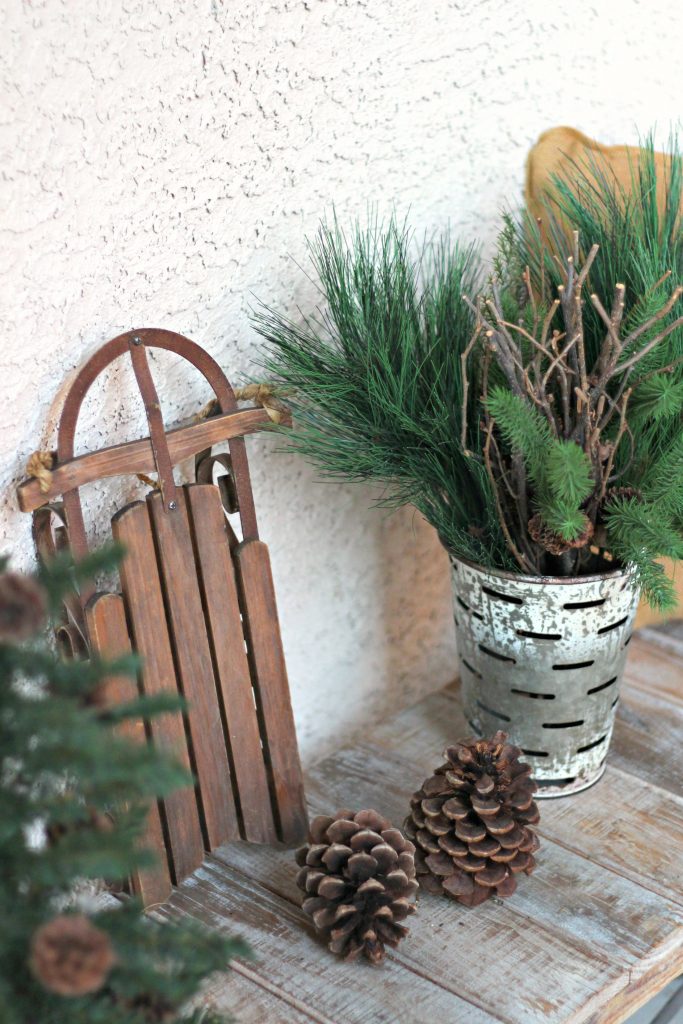 Adding a few pinecones around the porch filled in some empty spots in the lantern, on the bench, and in the ceramic pot. The skis were bought a few years ago but I think you can still find them at Target in the dollar spot. I've had the tree stump for a few years and it's weathering a little too much so I think it's time to seal it. I might also stain it so it's stands out from the house a little more.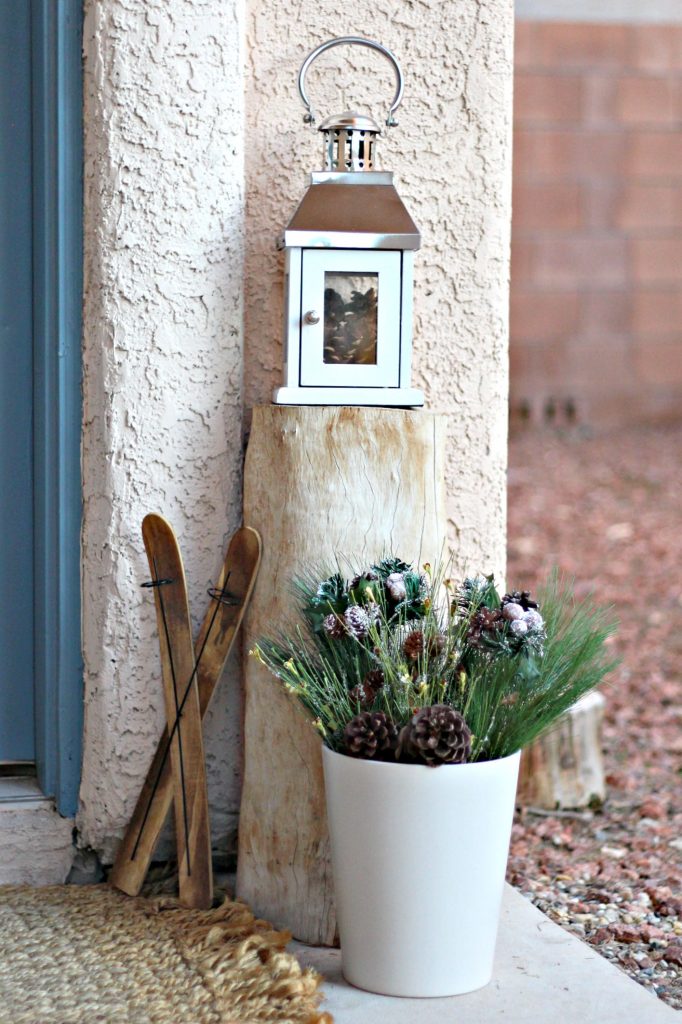 I've always loved this wire tree. It's so simple and rustic. A couple of years ago I took the time to wrap the whole thing in small lights. It looked pretty for a couple years until they all went out and I decided I was too lazy to wrap it again. This year I used one long piece of garland to wrap a portion of the tree and I love the simple and pretty look.
I like to layer my rugs, this one is usually on the bottom. After not being able to find what I wanted I decided to keep it simple with just this one. I've decided that quick and simple decorating is my jam. I hope you enjoyed the tour.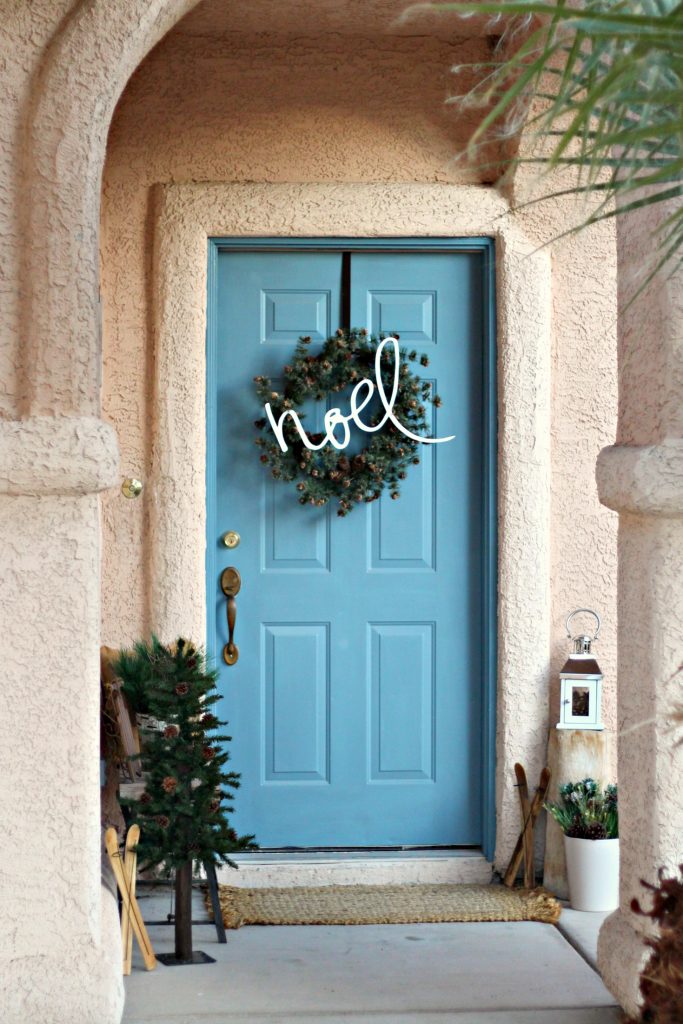 Pin it for Later: Noel Christmas Porch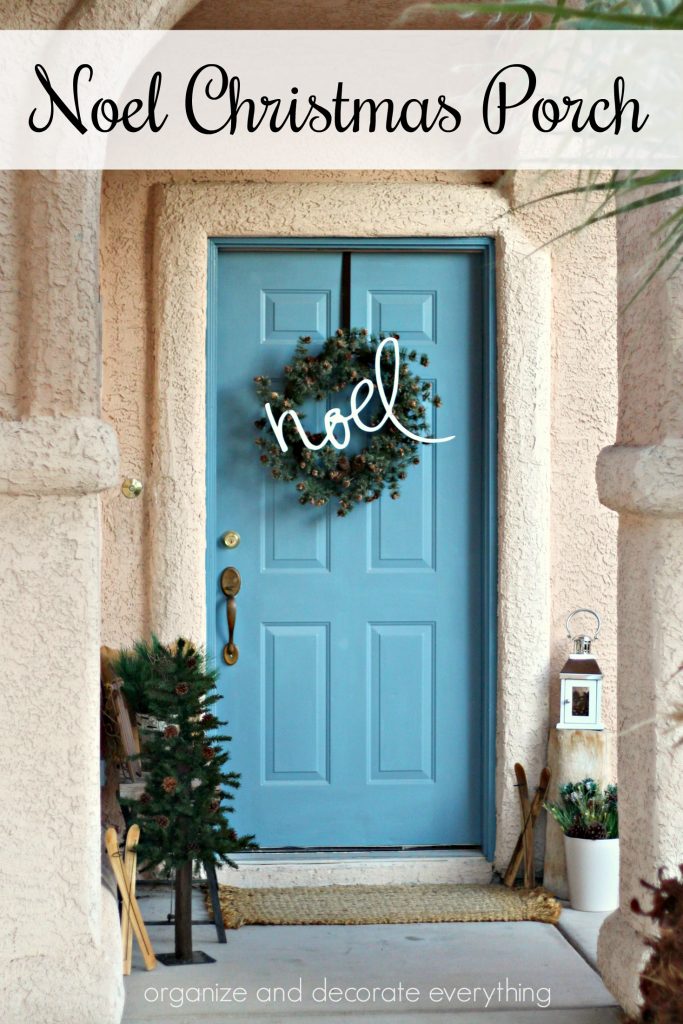 You might also like these posts:
Pine and Berry Christmas Porch
Mixed Metal Rustic Christmas Porch
Welcome Home Christmas Porch