I love decorating my mantel year round but Christmas is my favorite time. There are so many different styles, colors, and themes that can be used to reflect your personality and decorating style at Christmas. I change my theme and colors every year and enjoy creating a feeling for the season. I chose to create a Merry Woodland Christmas Mantel this year to remind my family of Christmases past and remember to slow down, reflect, and enjoy the spirit of the season.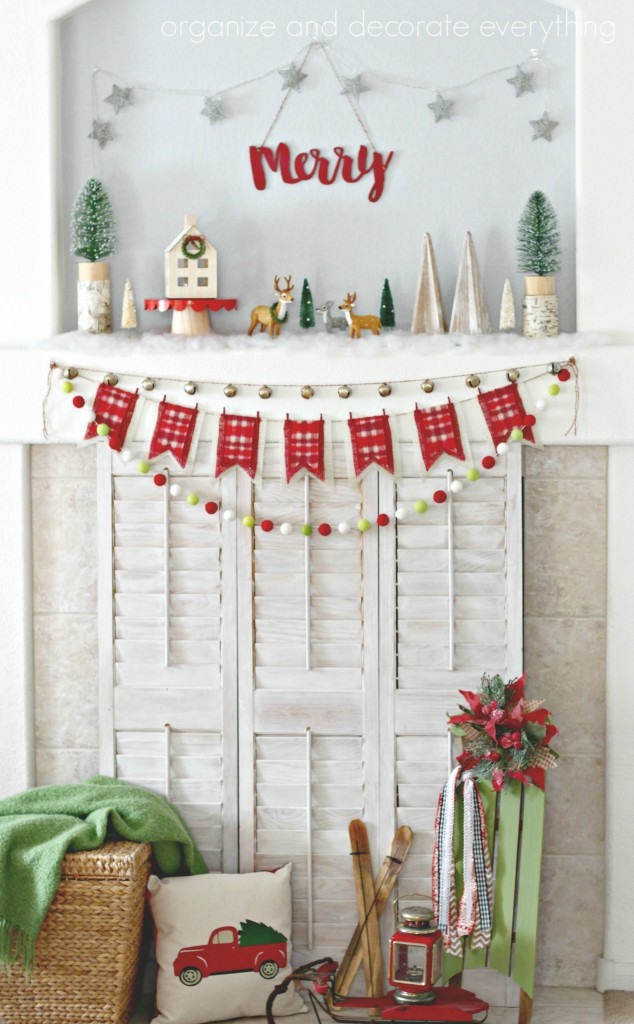 I love participating in home tours so you can imagine how thrilled I was when I was chosen to participate in the Home for the Holidays Blog Tour. This is the tour's 3nd year with Sondra Lyn at Home as the host. We have some amazingly talented bloggers sharing their best ideas for the holidays this week. There are links to all of the posts at the bottom of this post. If this is your first time visiting my blog, Welcome! I am so happy to have you here and I hope you decide to stay and look around a while.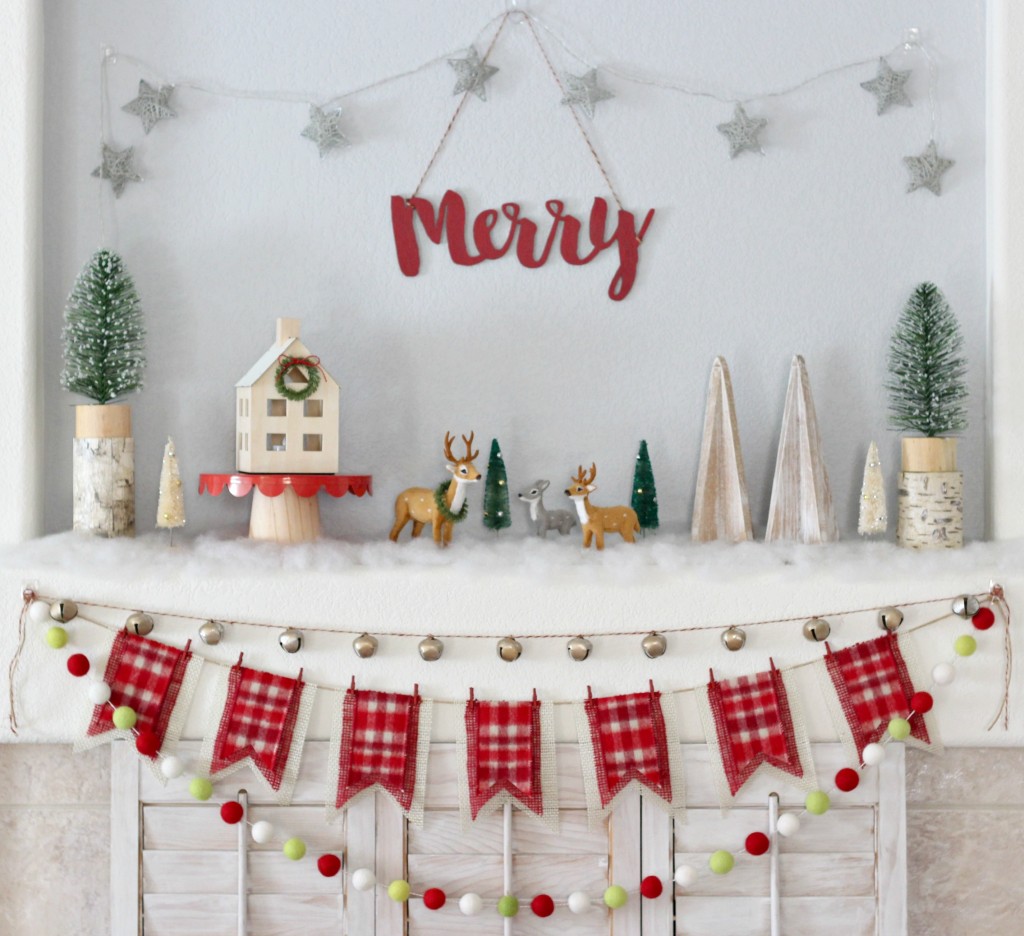 When I found this little house (at Target) it reminded me of raising our family and the many Christmas mornings and traditions we shared. Even though a lot of our children have grown and moved away from home I hope they remember and continue some of the traditions we created and shared. I like to use cake stands, candle holders, books, and other things to create levels when decorating the mantel.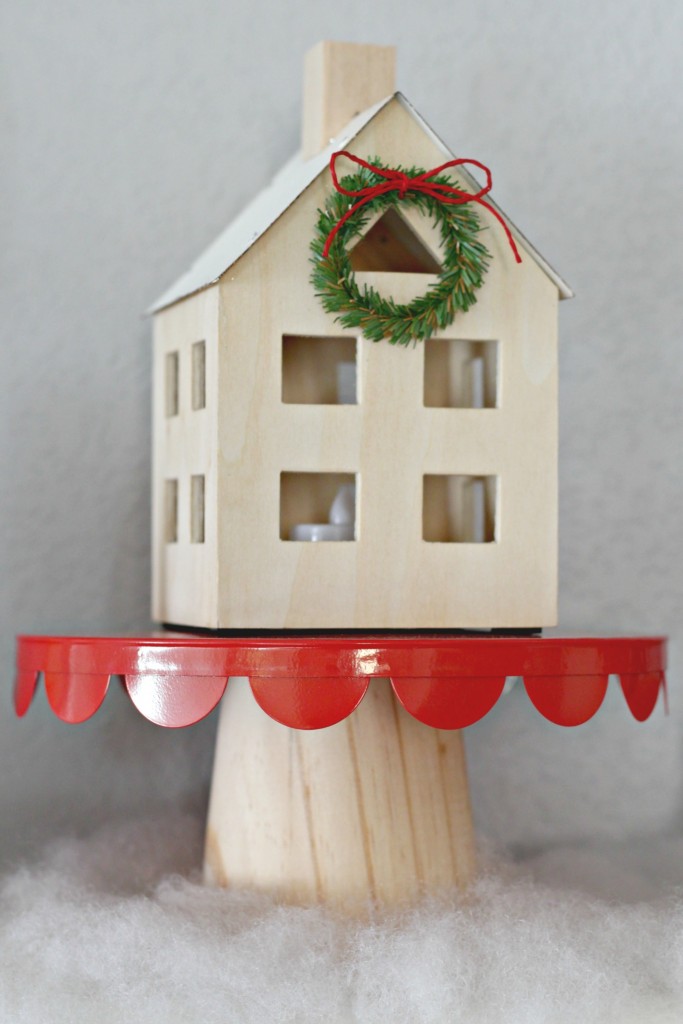 I made a simple wreath for the front of the house by cutting a green pipe cleaner in half and forming it in a circle. Then I added a red twine bow and attached the wreath to the house with glue dots.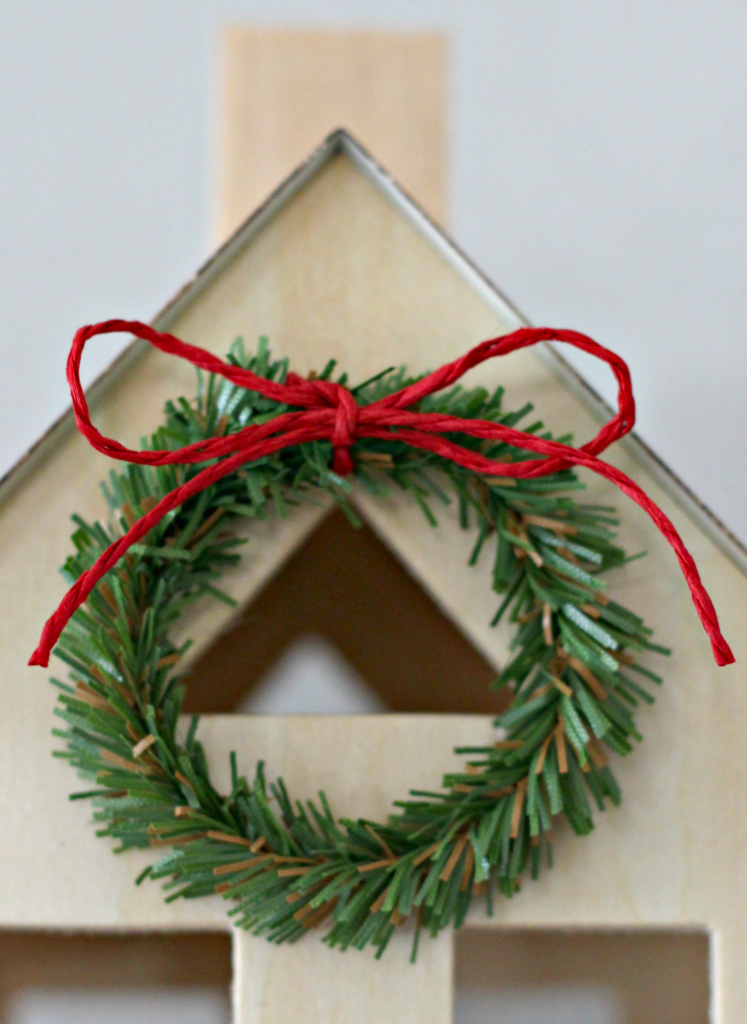 The deer (purchased at Target) are actually ornaments, but were the perfect size for the Winter scene I was creating. The little bottle brush trees are ornaments also. The snow is just pillow stuffing.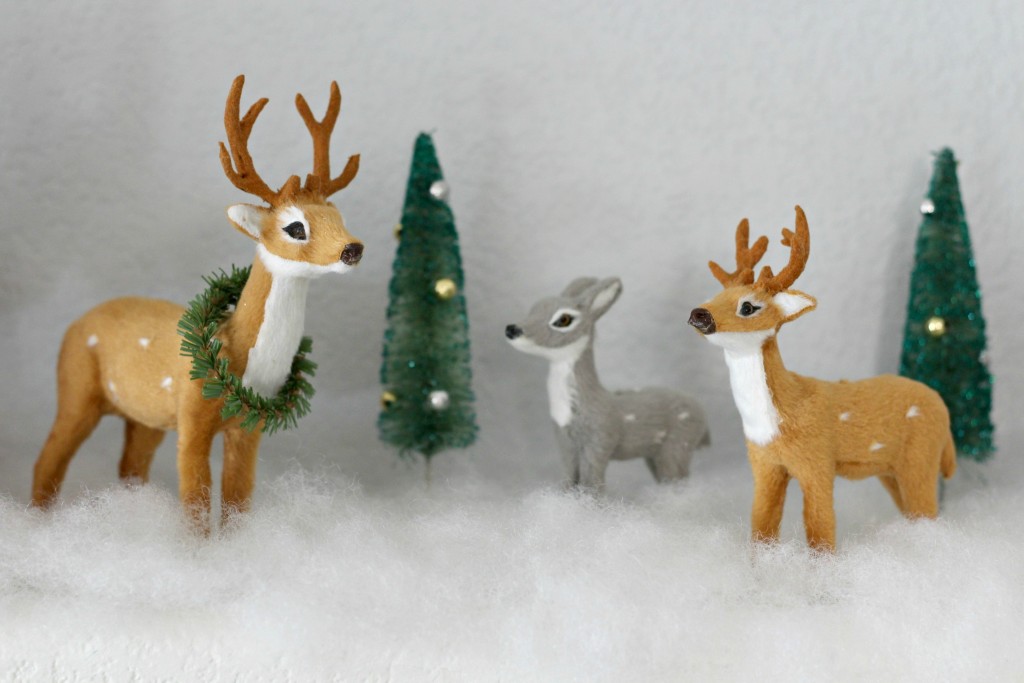 When decorating I like to use things I already have but sometimes a few adjustments are necessary. I wanted these trees to be a little taller but they didn't look good on any of my candle holders so I came up with another idea. The tree is sitting on a pillar candle wrapped in wood look wrapping paper.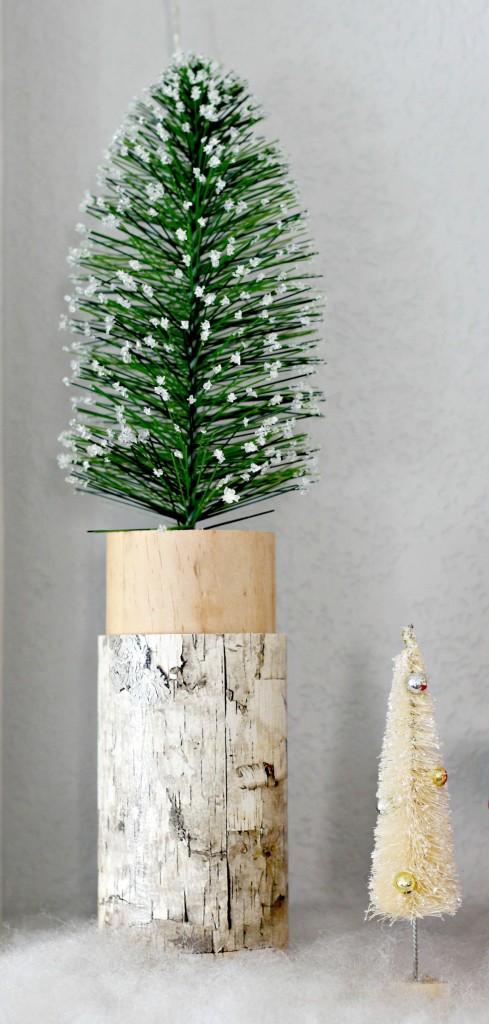 This tree is on an tea light candle holder that looks like a section of wood. I love how the mantel looks with the added height of these trees now.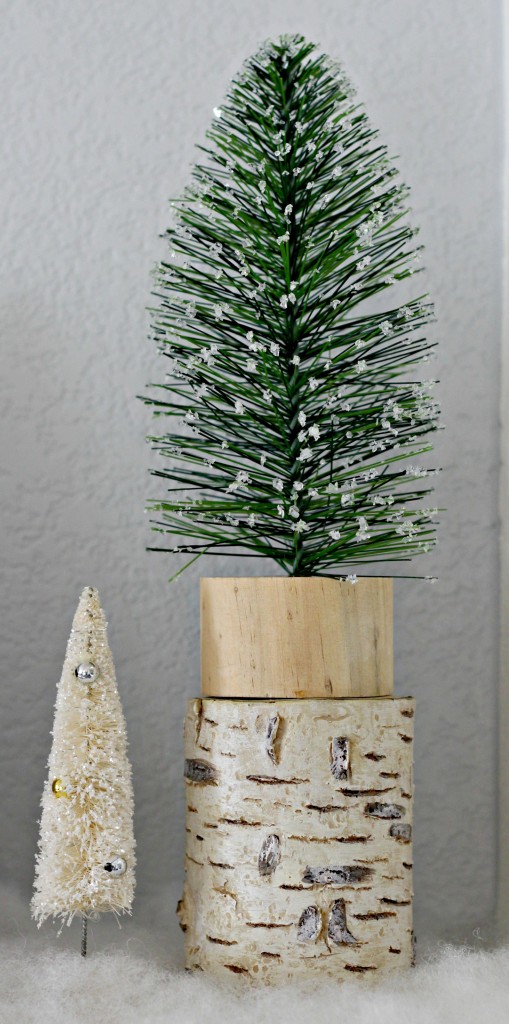 I added the wood trees to help balance the house on the other side of the mantel. The light wood color and simple items used on the mantel give it a vintage feel.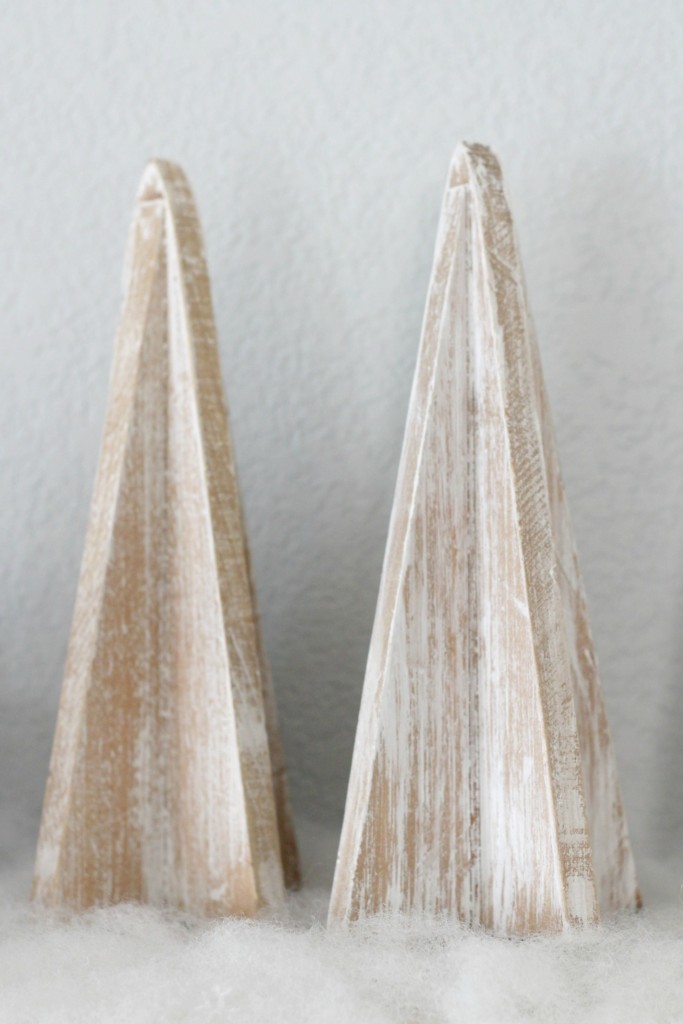 I painted the Merry sign (found at Target) and hung it over the Winter scene with bakers twine.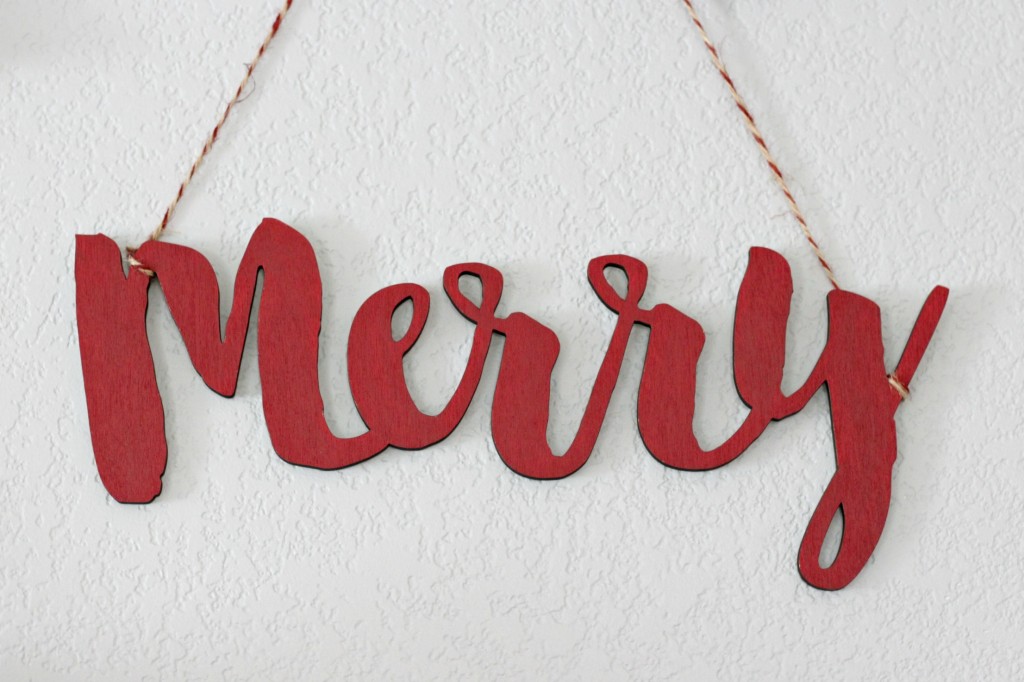 The stars (also Target) were a last minute idea but I love how they turned out and the light it adds to the scene.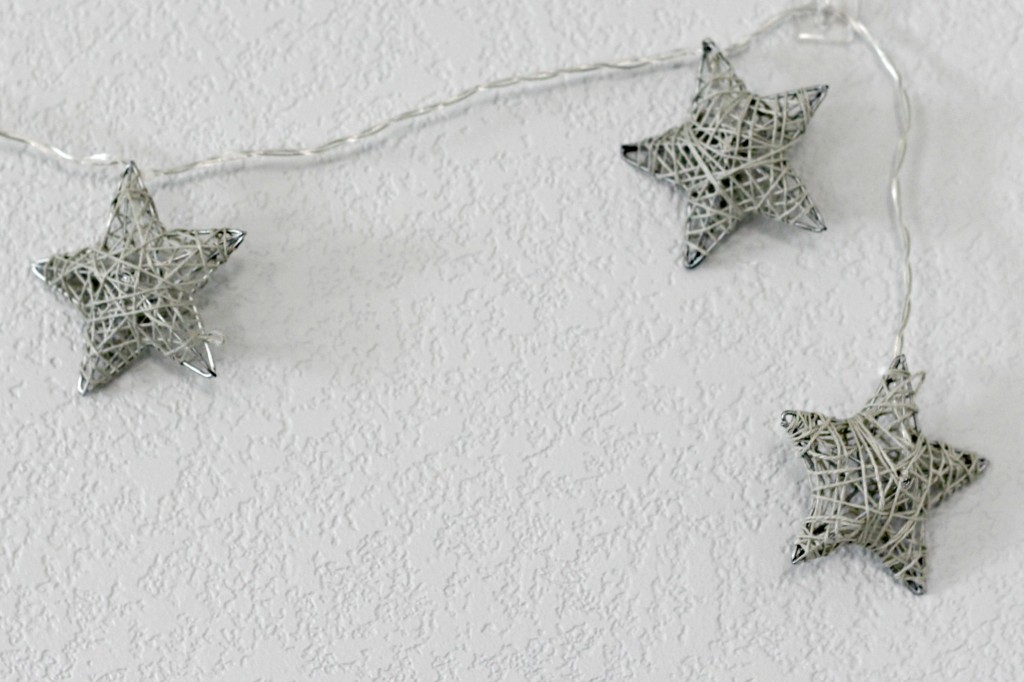 I tend to lean toward simple decorating but with enough details to add interest. I think I've achieved that with the mantel decor this year. It reminds me of a little Christmas diorama.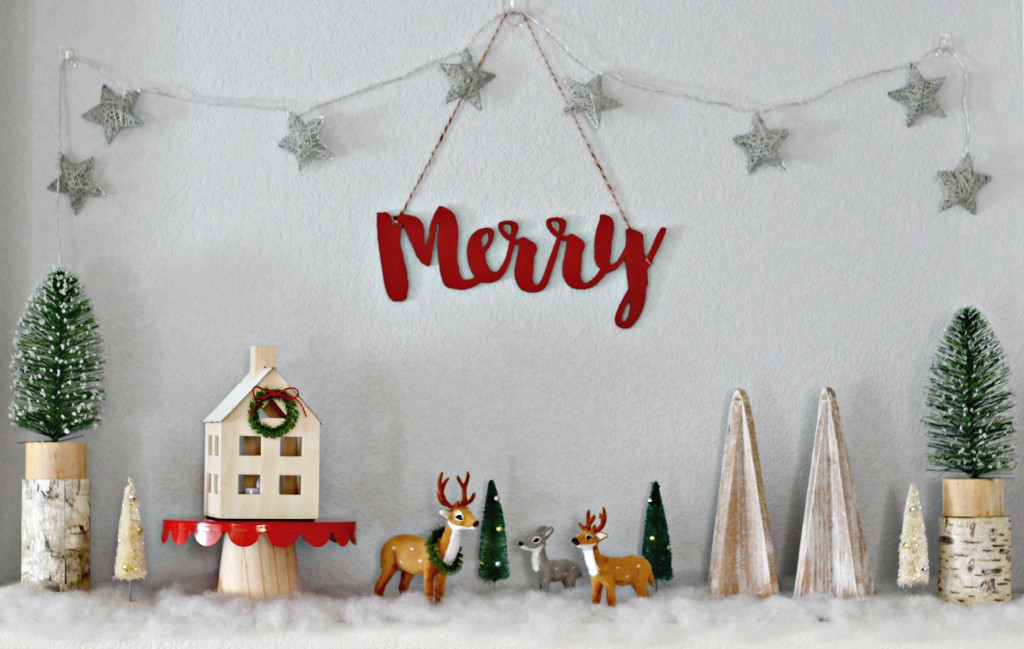 I couldn't decide on which garland to use so I used all three. They were fast and simple to make. You can get all the details on the plaid flag banner in another post. The felt ball banner might be my favorite though.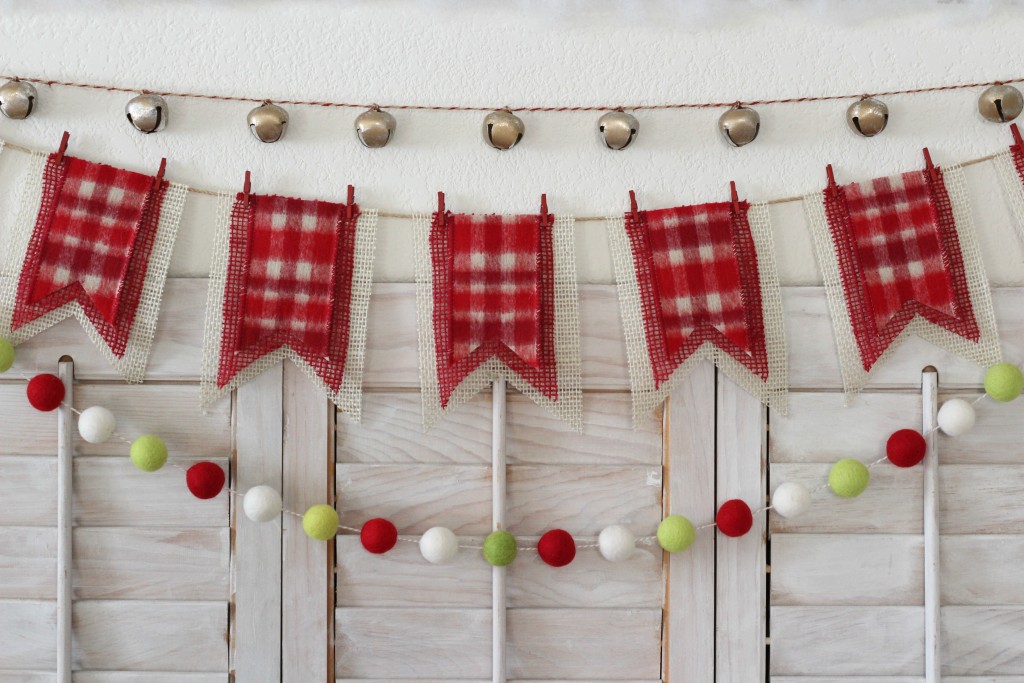 I couldn't decorate the mantel without decorating around the whole fireplace. We don't really have a hearth but we have a small tile area. Since the fireplace doesn't work right now I placed shutters in front of the firebox to give it a new look and hide the box.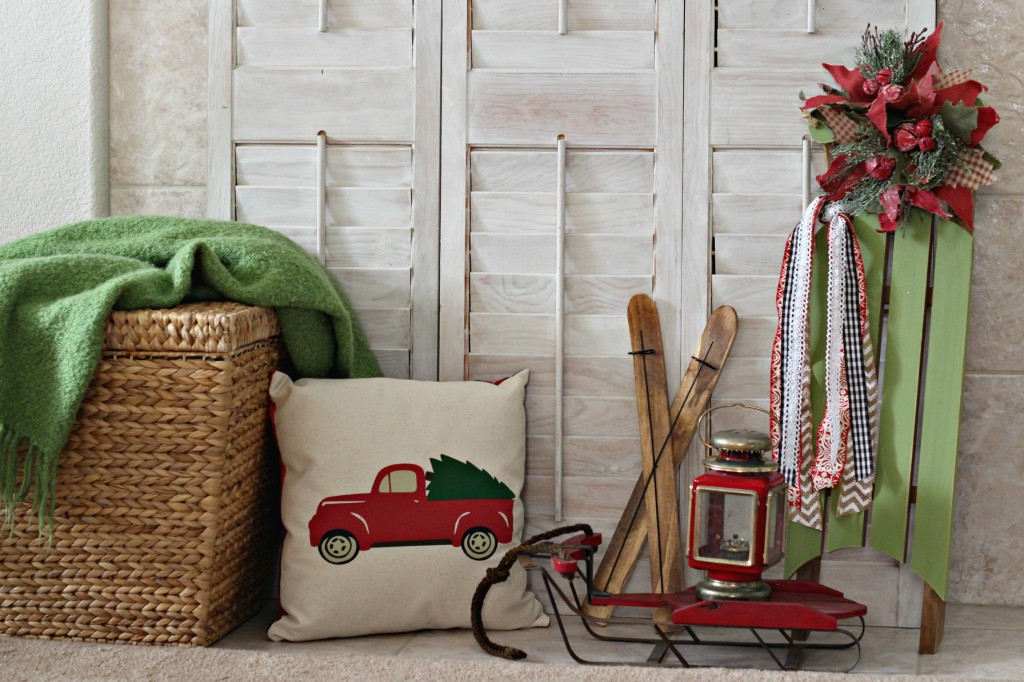 The basket holds extra blankets for TV watching and reading so it stays here most of the time. The room is rather small so I don't move bigger things and furniture around much.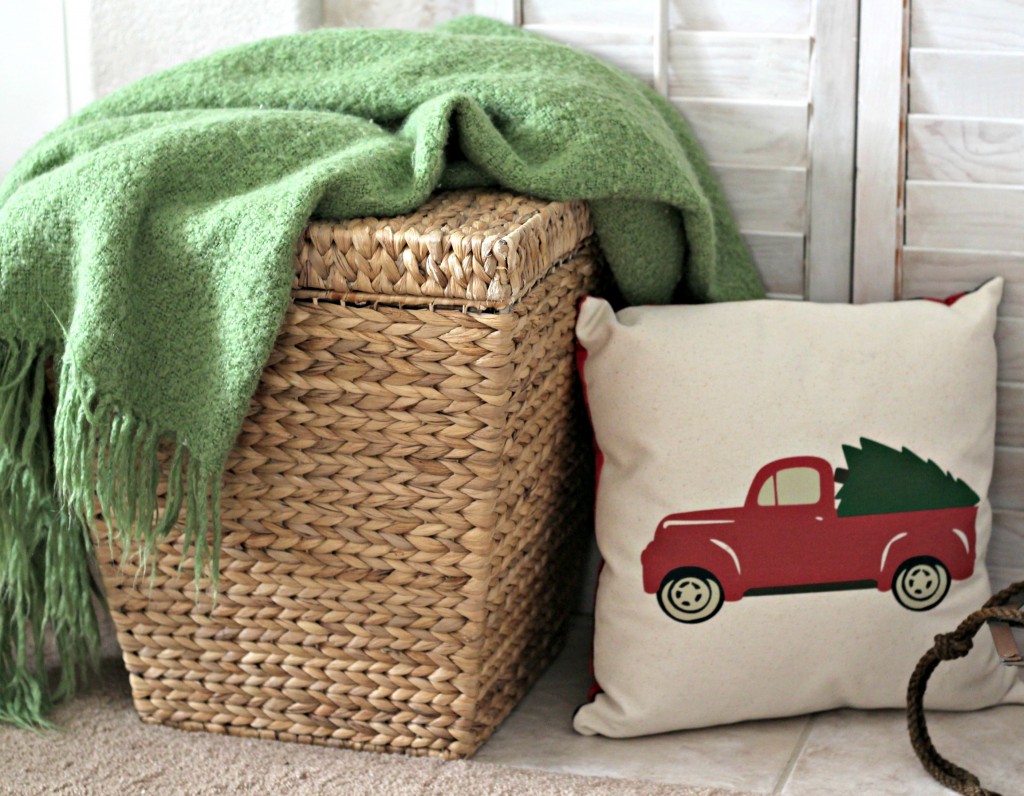 The other decorations have been used on my front porch in previous years but I like how they look in front of the fireplace this year. I like to move things around so they look different but I don't have to purchase new things every year.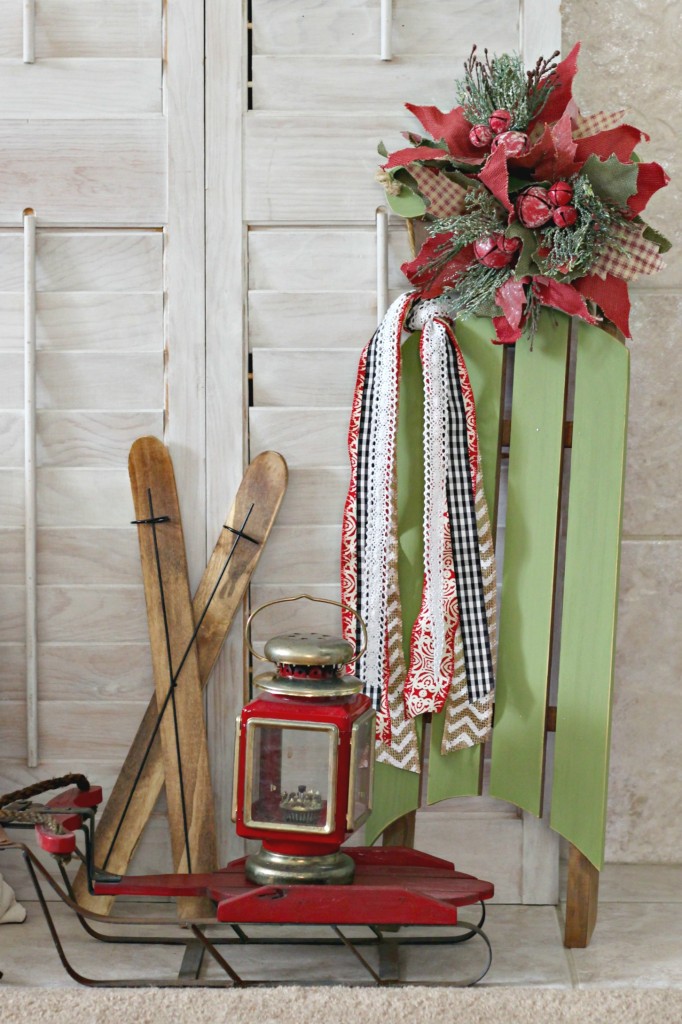 The house and stars light up and make the area feel even more cozy in the evening.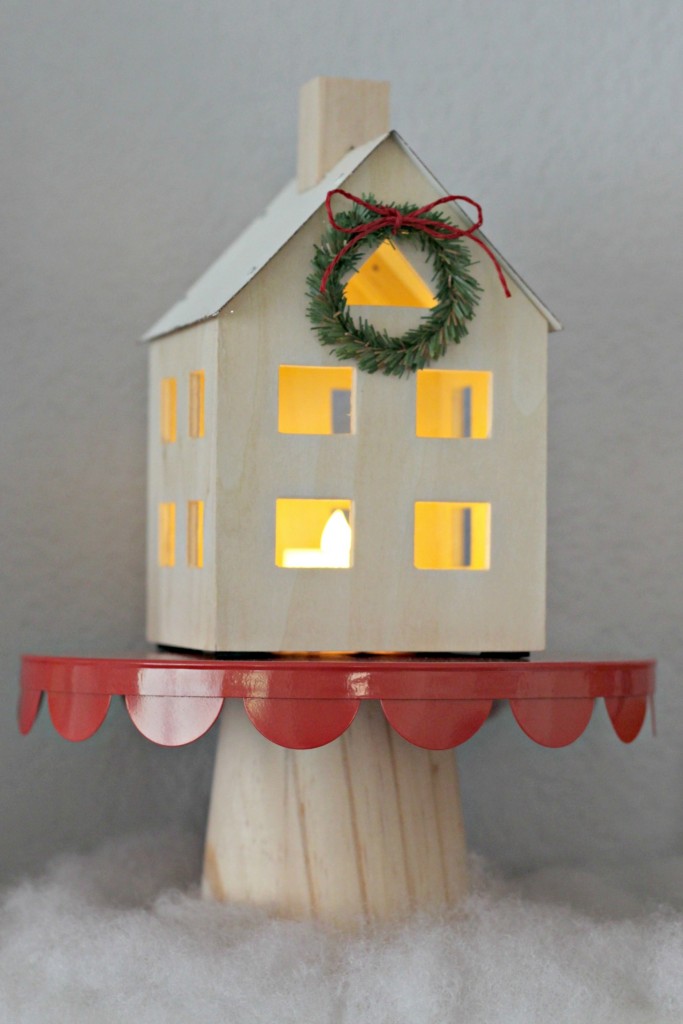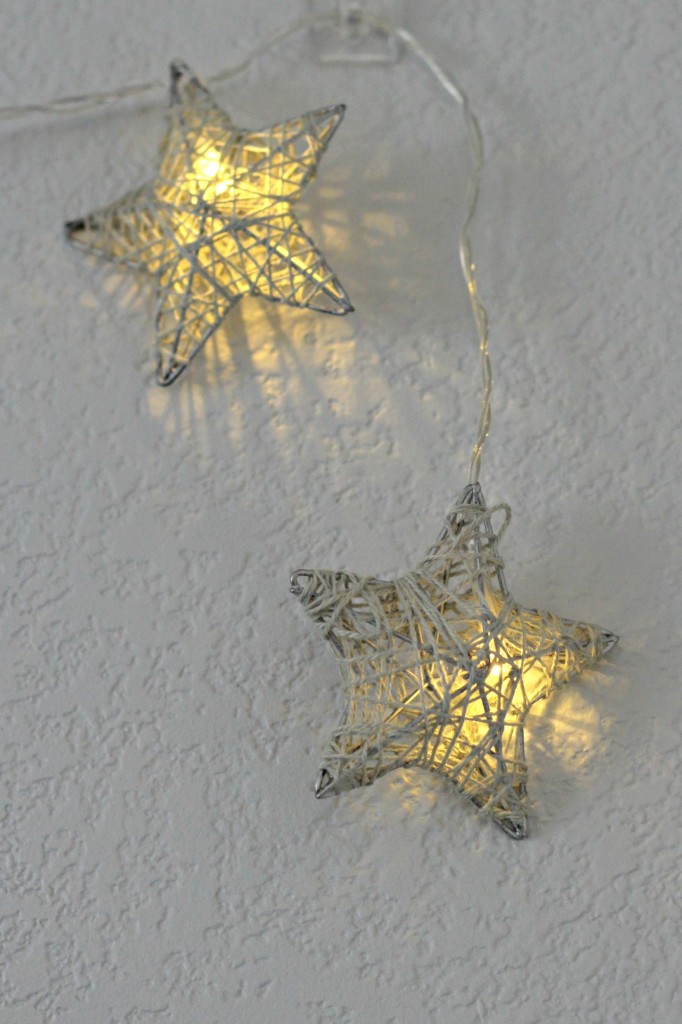 Thank you for coming by and letting me share my Christmas mantel with you. I hope you were able to get a few ideas on how to decorate yours this year.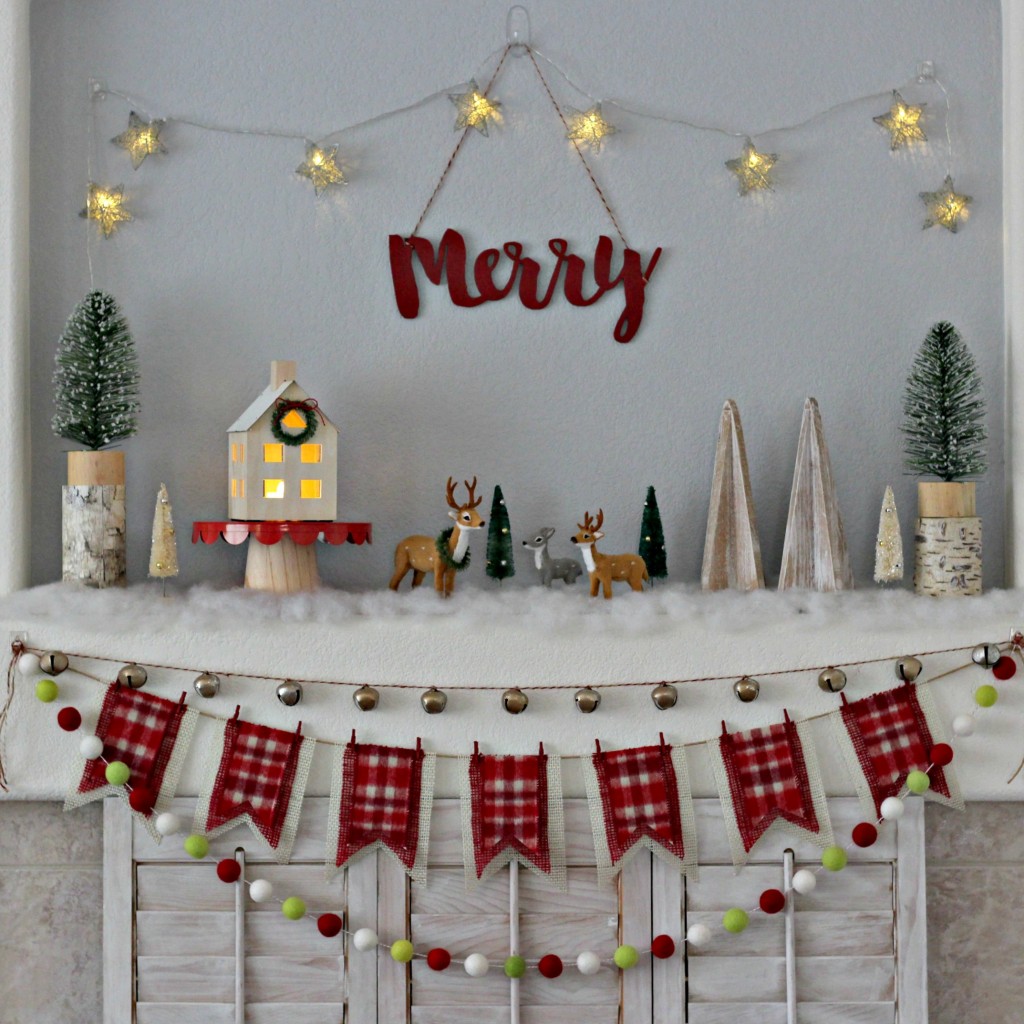 Continue below for more Christmas inspiration from some of your favorite bloggers.
It is with much excitement that I join this year's Home for the Holidays blog tour sponsored by Sondra Lyn at Home! This is the 3rd year for her HFTH tour, and we promise to bring some of the most awesome decor, craft and recipe ideas you'll find anywhere. It has gotten bigger and better each year and I think you're going to love what you see! So stay tuned – it's 30 blogs over the week, with a different topic each day. Be sure you come back here every day to get the links for that day's featured blogs! Here's a run-down of the topics and featured blogs:
Monday – Holiday Mantels
Country Design Style | Duke Manor Farm | Domestically Speaking
Organize and Decorate Everything | Sondra Lyn at Home | Two Purple Couches
Tuesday – Holiday Recipes
An Alli Event | Not Just Paper and Paint  | Nourish and Nestle
StoneGable  | Sweet Pea | What Meegan Makes
Wednesday – Holiday Crafts
An Extraordinary Day | Lovely Etc | Lilacs and Longhorns
Lydi Out Loud | Salvage Sister and Mister | Weekend Craft
Thursday – Holiday Decor
Atta Girl Says | Chatfield Court | Create & Babble
Designers Sweet Spot | The Heathered Nest | Worthing Court
Friday – Holiday Tablescapes
Celebrating Everyday Life |Cottage at the Crossroads | Cottage in the Oaks
The Everyday Home | Postcards from the Ridge |  2 Bees in a Pod
Are you ready? Here we go!
Home for the Holidays 2016
Holiday Mantels
Holiday Recipes
Holiday Crafts
Holiday Decor
Holiday Tablescapes