Laundry Room Essentials to make your laundering experience the best it can be.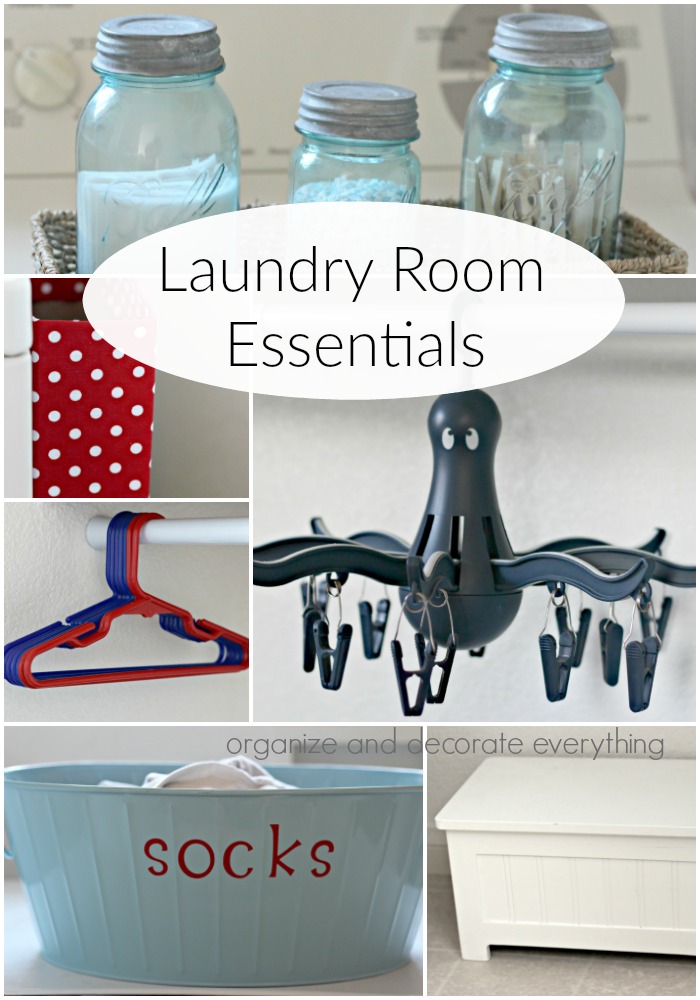 I'm one of those people who actually likes doing laundry. It's one of my favorite chores. I've never had a large laundry room, in fact the one I have in our rental right now is the largest I've ever had and even though it's small I've been able to fit everything in it that I need. Here are my must have laundry room essentials:
Let's start with the laundry basket. I love this replica of an old laundry basket/ cart. And even though the room is small I was able to make enough room for it in the corner. It's large enough to hold a load of color clothes on one side and a load of white clothes on the other.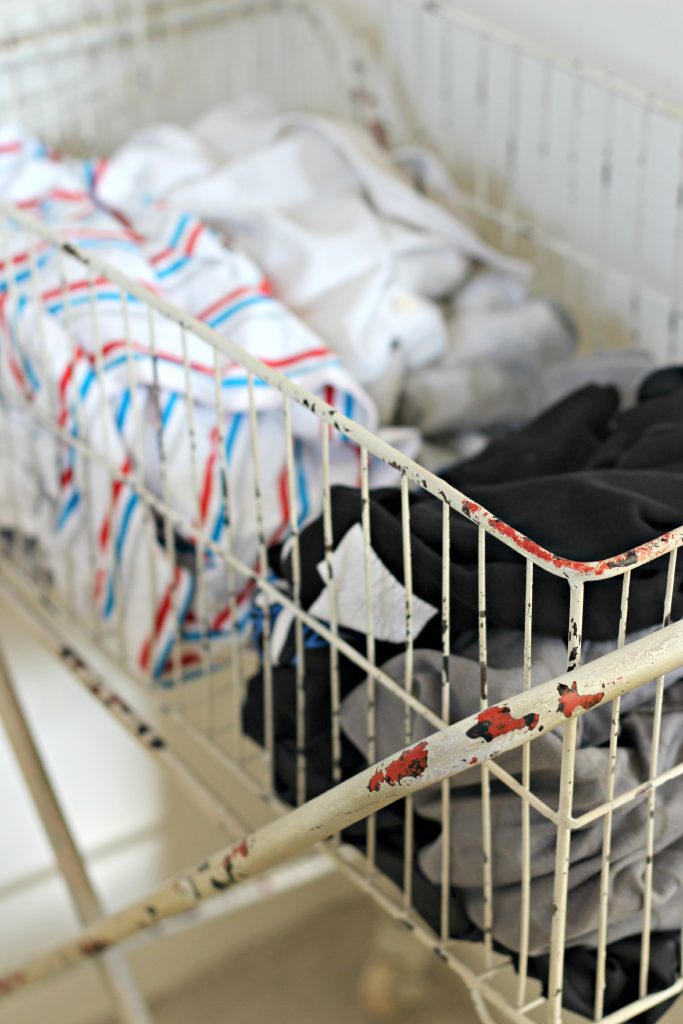 The sock tub has been a life saver. The one thing I don't like to do is match socks, but that's what kids are for, right? It's easy to toss the socks in the tub right from the dryer and then grab a match if you have to, even before they're sorted.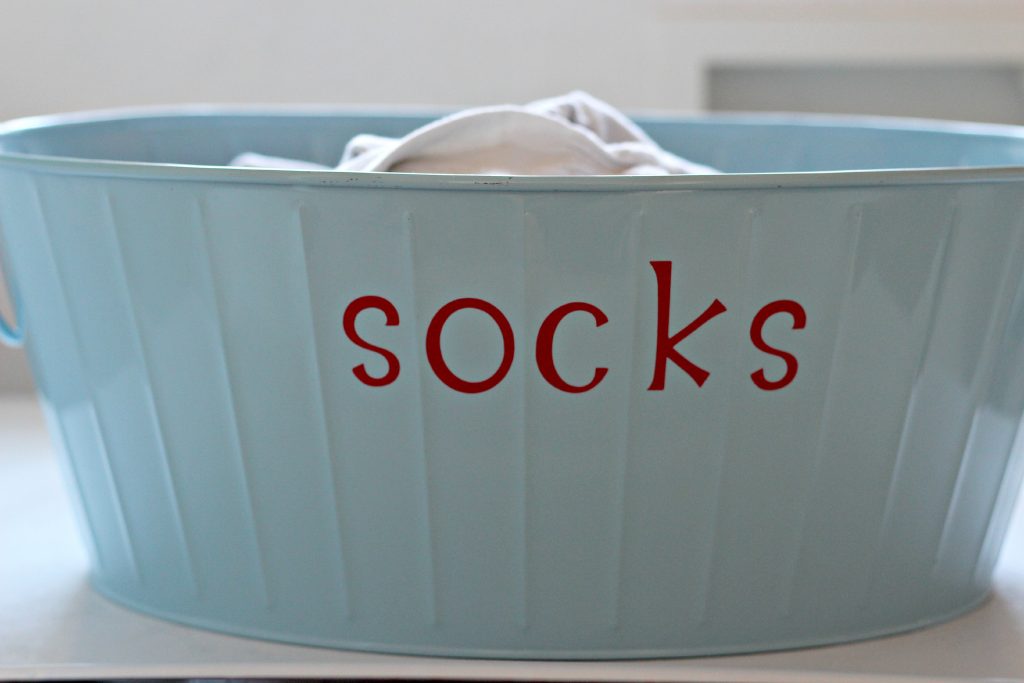 Putting this little dry erase board on the dryer was one of my best ideas. It's the perfect place to write reminders to whoever moves the laundry to the dryer of what needs to be hung up to dry.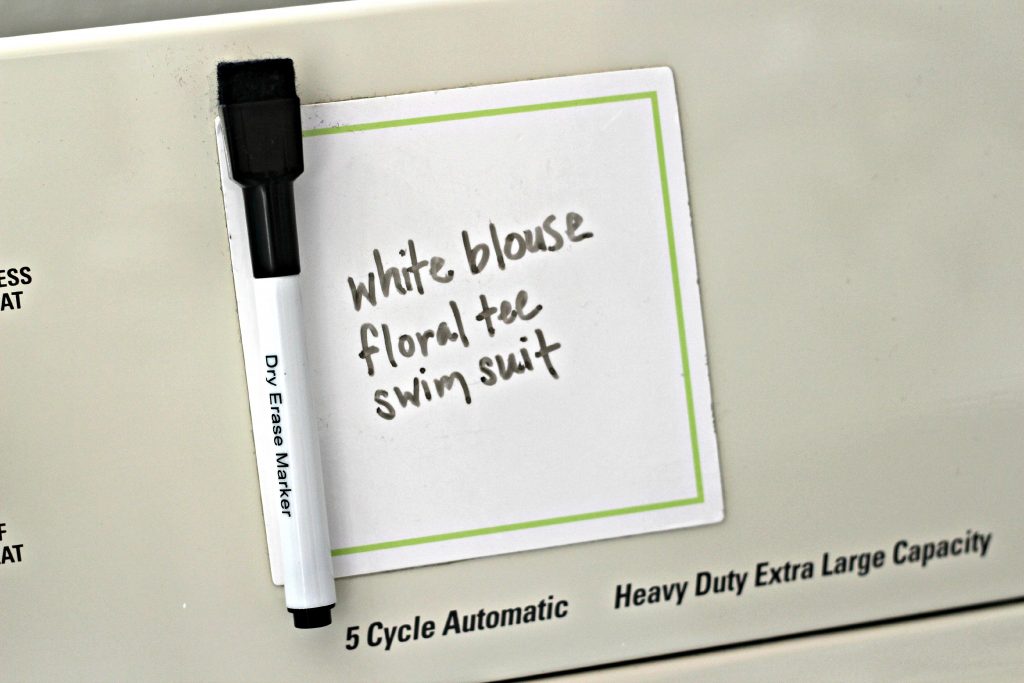 The lint container is made from a cereal box and covered in fabric. I glued magnets to the back so it would attach to the side of the dryer. If you don't have room for a regular garbage can this is a great option.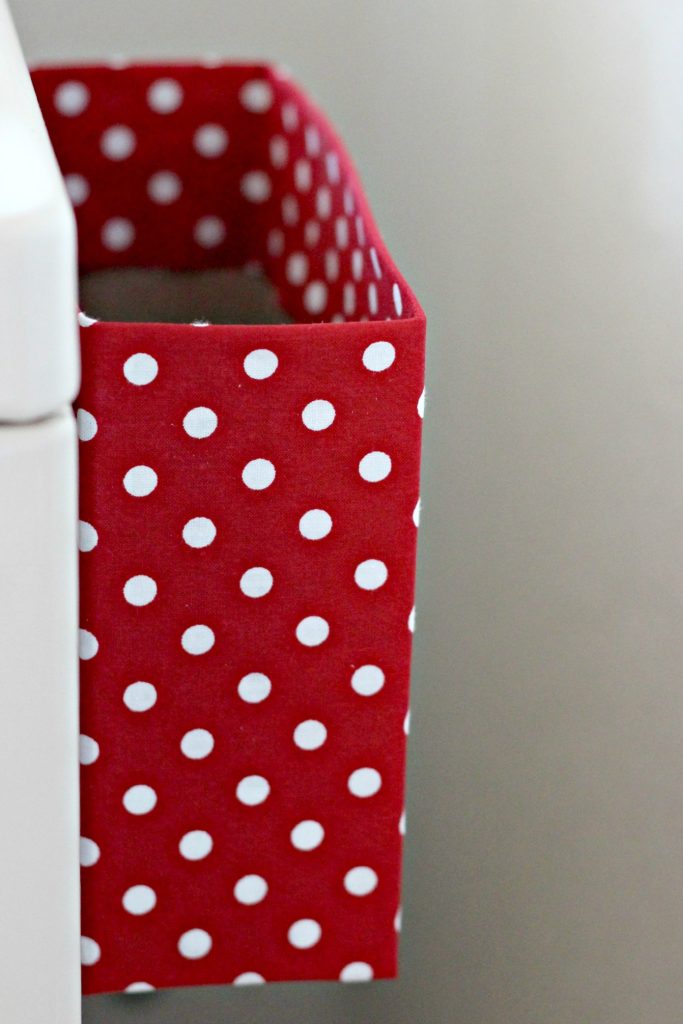 The dryer basket holds things I want to have easy access too, like dryer sheets, clothes pins, and laundry soap. Of course I had to make it look beautiful by using vintage blue canning jars.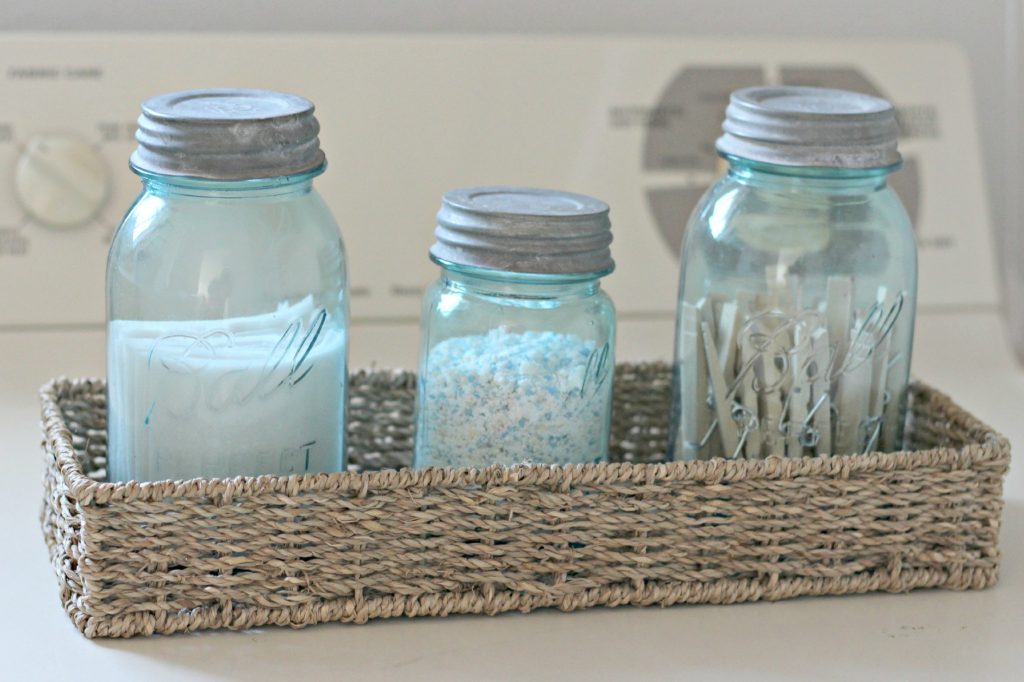 I'm teaching the kids how to do laundry so I like having a laundry chart as a reminder. It's taped to the inside of the cabinet door. I also have a stain removal chart taped to the inside of the cabinet door for me to access.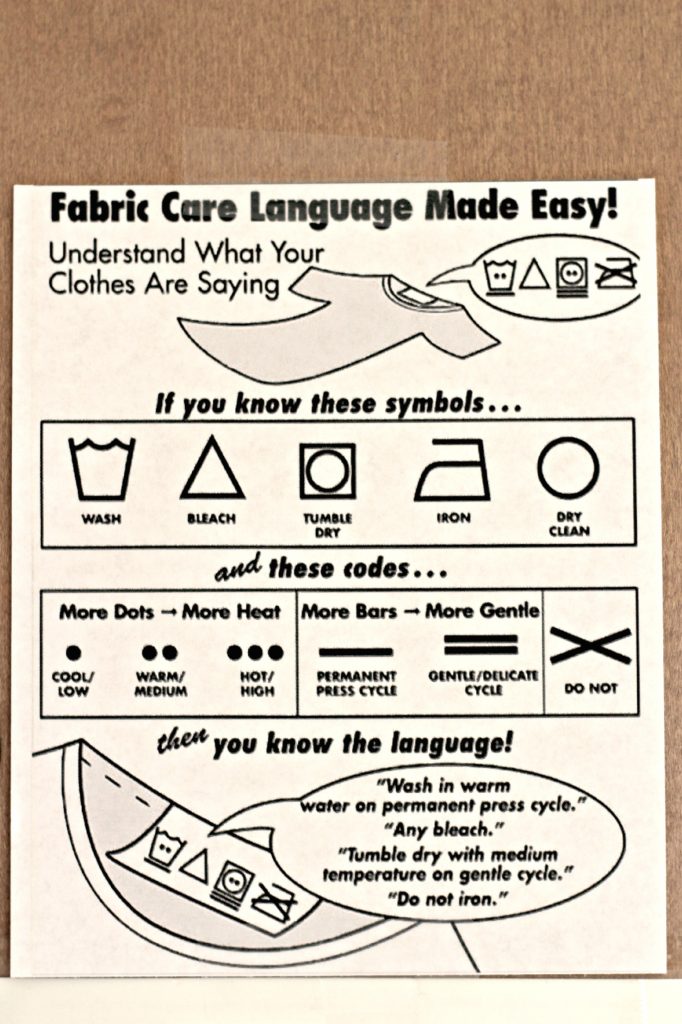 You need some kind of cabinets or shelves in a laundry room for all the supplies you will need to store there. We are lucky to have cabinets in our rental which are even large enough to use as extra storage. Don't worry if your laundry room is extremely small, there is always room for a small shelf or two.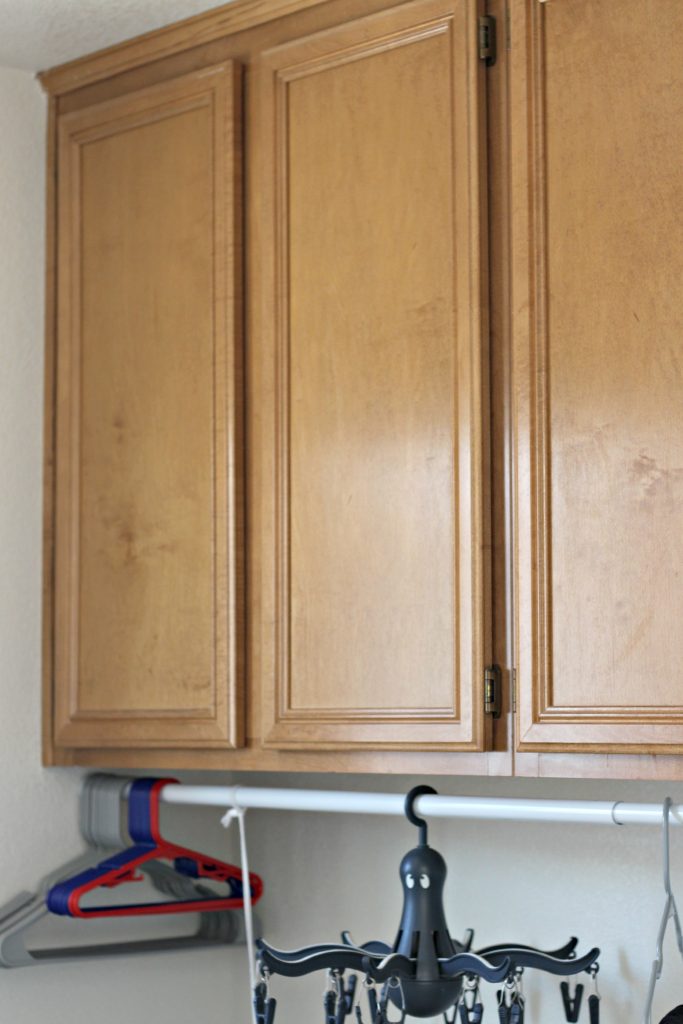 The supplies basket holds all the extra laundry supplies such as: spray starch, static spray, bleach pens, lint roller, extra dryer sheets. By placing everything in a basket it keeps it contained and organized. If you have open storage, baskets make everything look neater.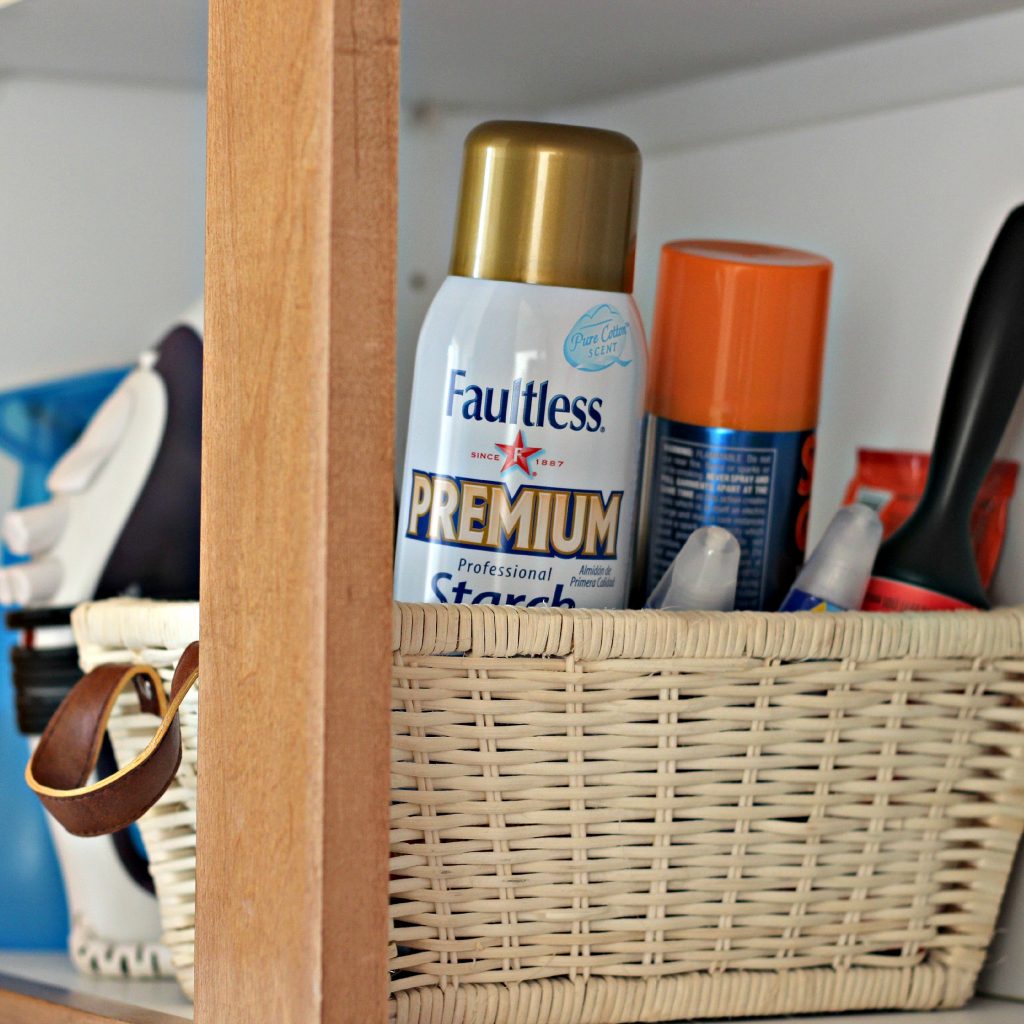 A clothing rod so I can hang clothes as soon as they come out of the dryer is a must for me. My laundry room is the perfect length for a shower curtain rod (that gives you a reference to how small it is). I placed it under the cabinets where I can hang up clothes right out of the washer and/or dryer. I also hang extra hangers on the rod so they're readily available.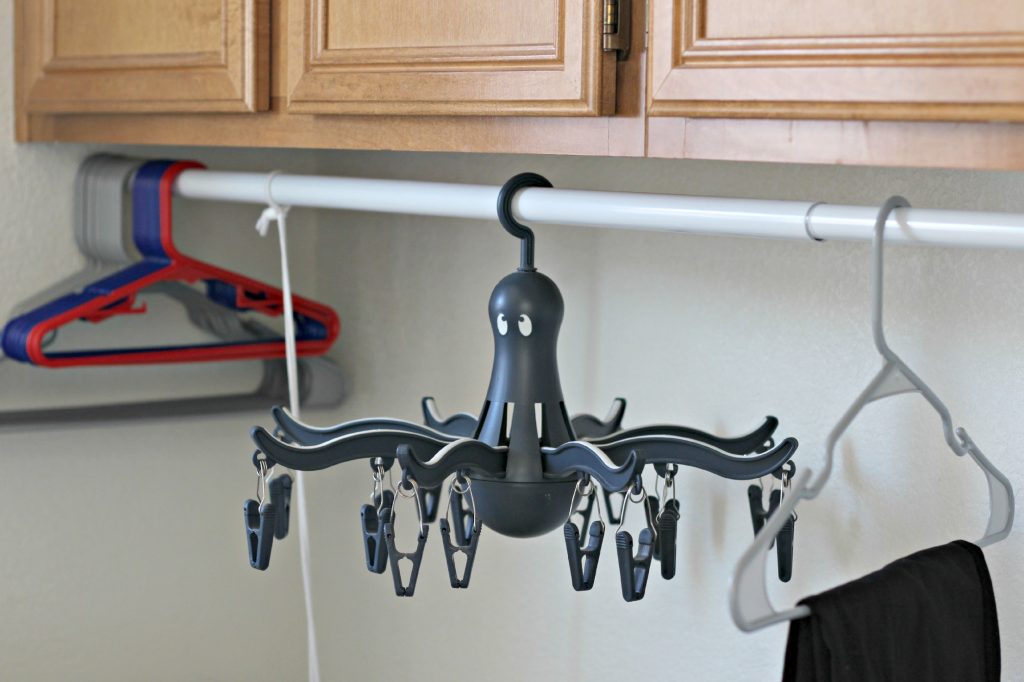 A table top ironing board is perfect for a small laundry room. It doesn't take up much space and you can even hang it on the end of the clothing rod until it's needed.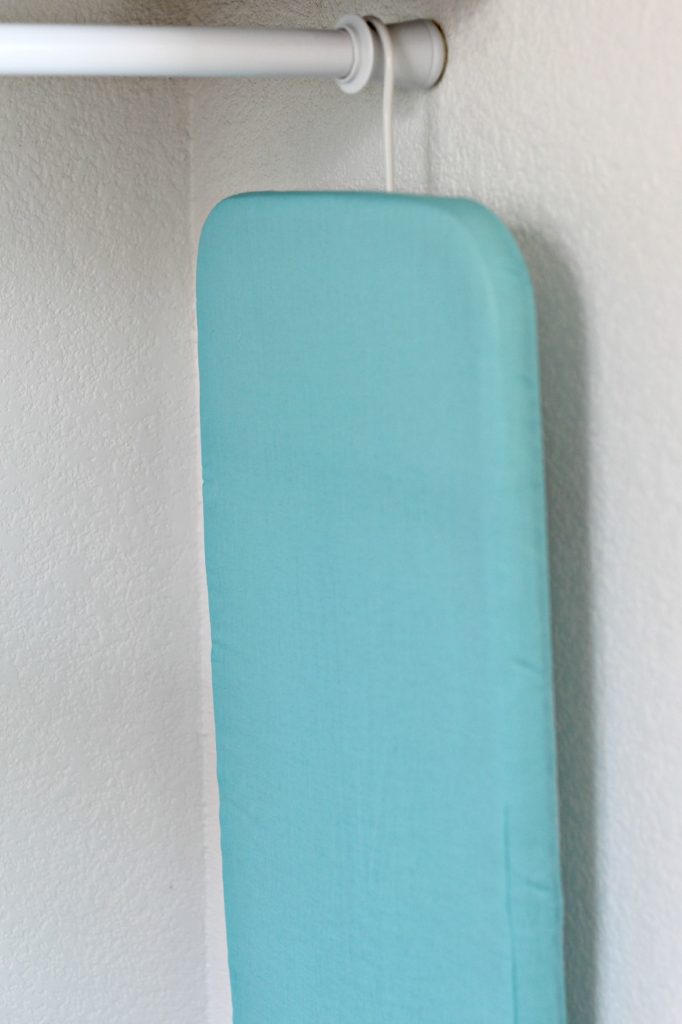 If you have tall cabinets or shelves a step stool is a must to be able to reach everything. If you opt for a folding one you can slide it to the side of the washer or dryer. I've had this one for years so I'm just using what I already have.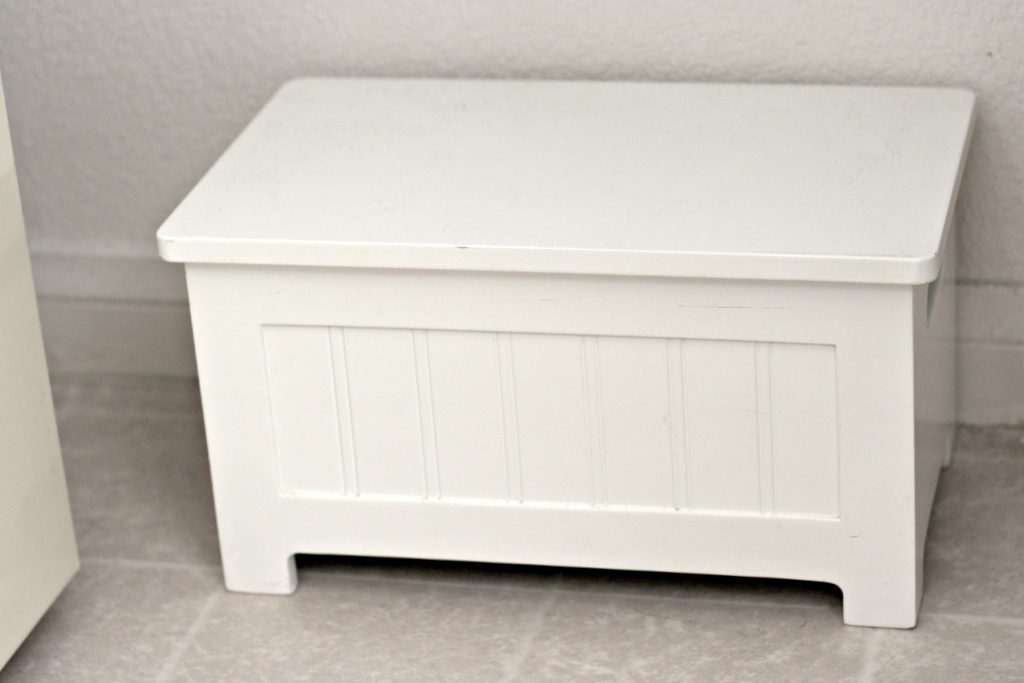 Another thing I have to have in my laundry room is a small broom and dust pan. Laundry rooms can be dusty and lint-y but because of the size you don't necessarily need a regular size broom. I store it at the side of the dryer where it's convenient for fast clean-ups.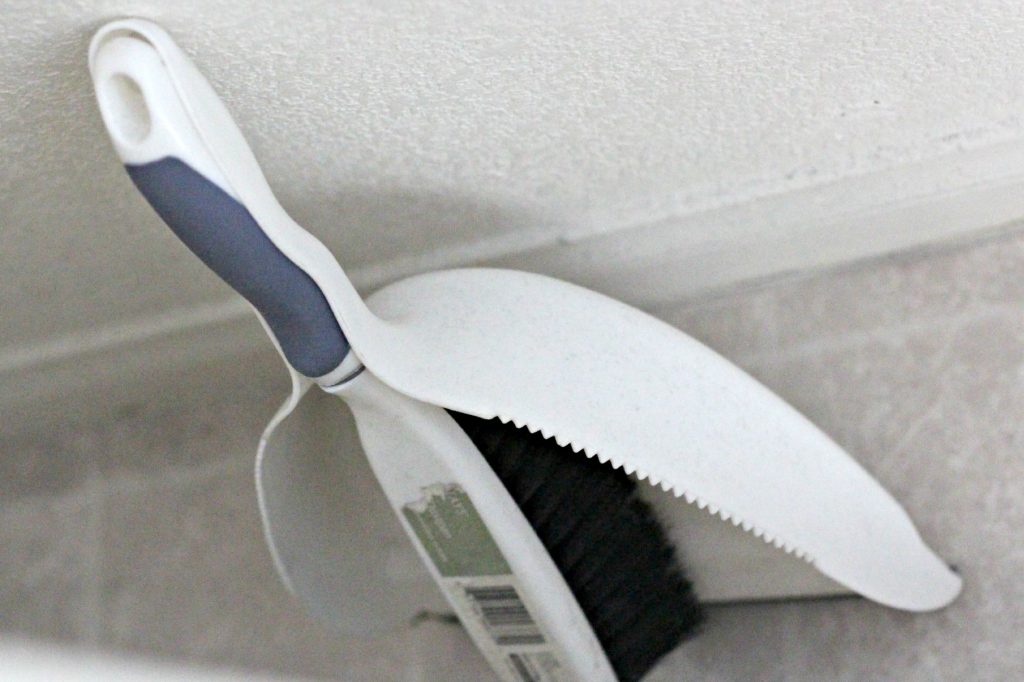 Do you have any laundry room essentials I left out?
Pin it for Later: