Ice Cream in a Bag is a fun and delicious dessert for Summertime picnics or barbecues.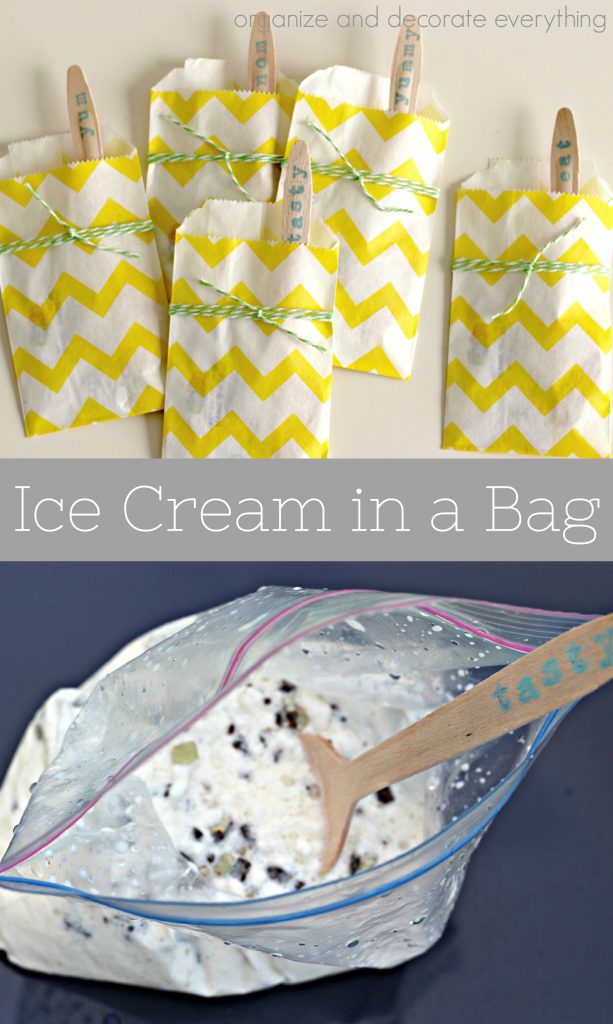 One of my favorite things about Summer is our impromptu picnics as a family. I keep a picnic basket stocked with plates, drinking cups, eating utensils, straws, and napkins. The other basket is ready for all the delicious food we will be enjoying. Sometimes I like to add a little something special to our picnic and I'll make something creative to go along with our dessert or meal. I had all these supplies on hand so I wanted to make our dessert at the park a little more special.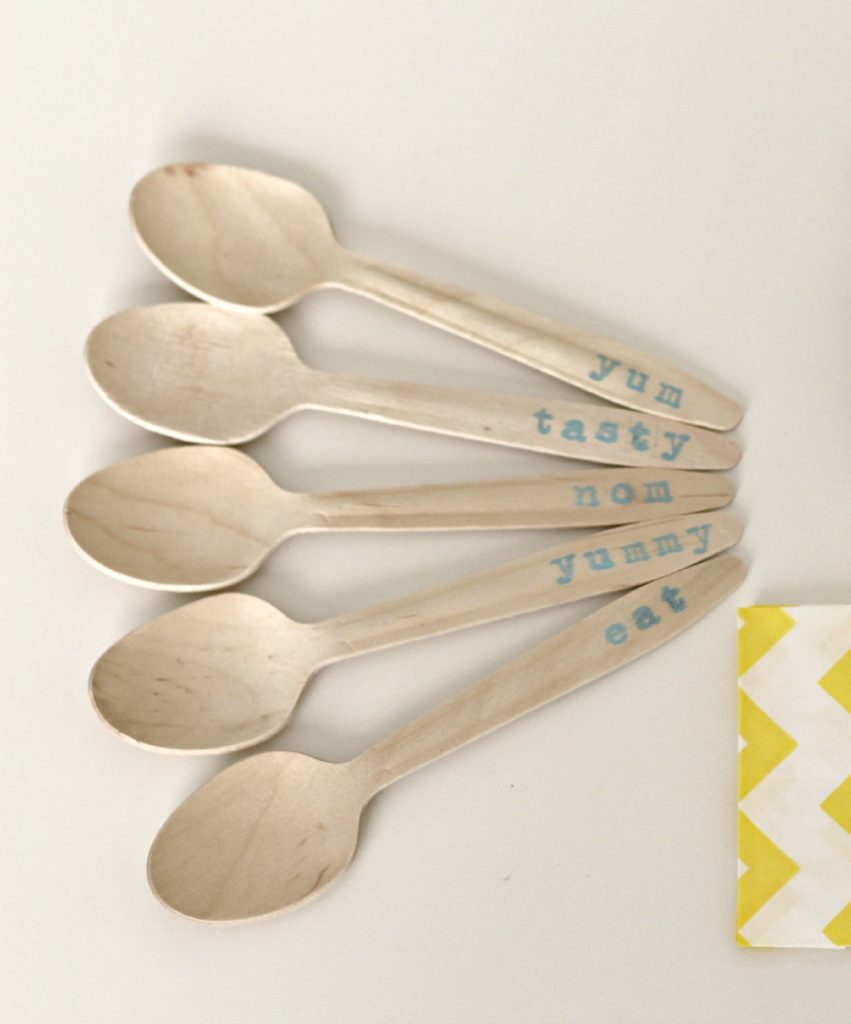 I stamped the wood spoons with dessert related words then put each one in a bag with a wet wipe package and tied it off with some bakers twine. It makes things so much easier to have individual packages for each family member. This would also be really cute and easy for a party and they only take a few minutes to make.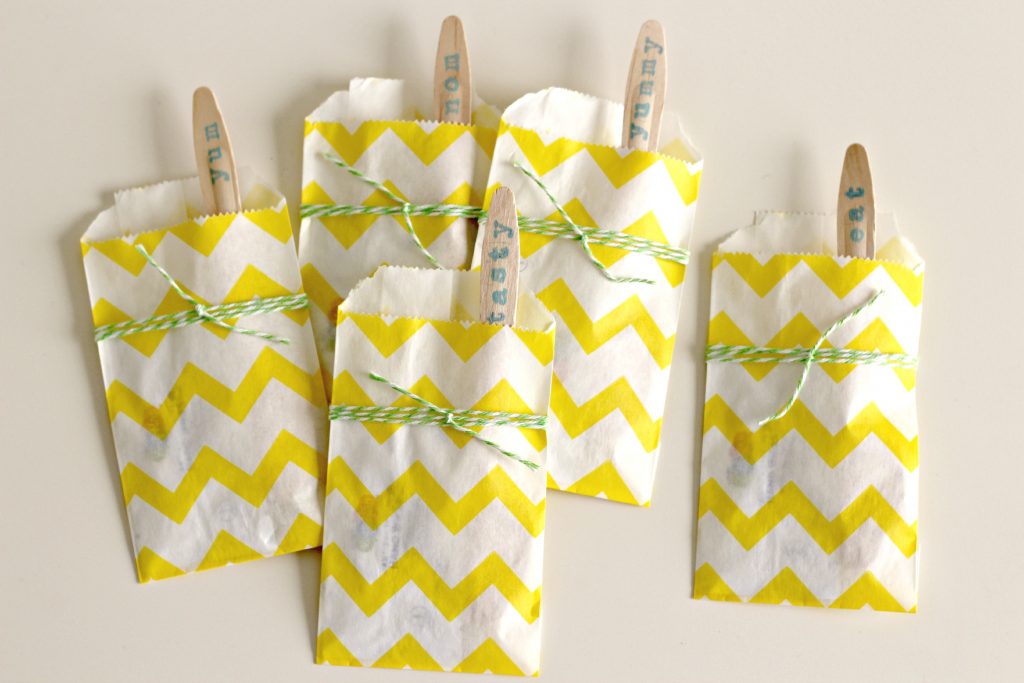 Our dessert basket holds everything we need to make Ice Cream in a Bag on our picnic, we also have a cooler with ice and half & half. Ice Cream in a Bag is so fun for kids to make and they love eating what they've made. We made vanilla ice cream then had a few add-in options if they wanted to add another flavor.
Here's what you'll need:
2 tbsp sugar
1 cup half & half
1/2 tsp vanilla extract
1/2 cup coarse salt (I used ice cream salt)
ice
gallon sized ziploc bag
sandwich size ziploc bag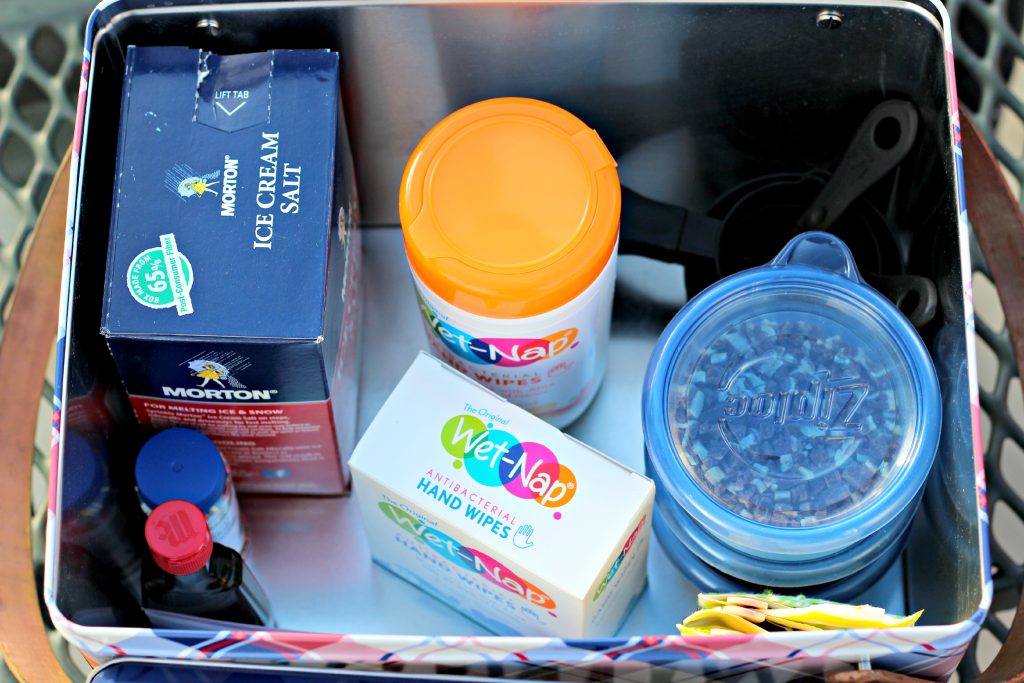 Pour the sugar, half & half, and vanilla extract in the small ziploc bag. Make sure it is sealed tight and mix together by shaking  it for a few seconds.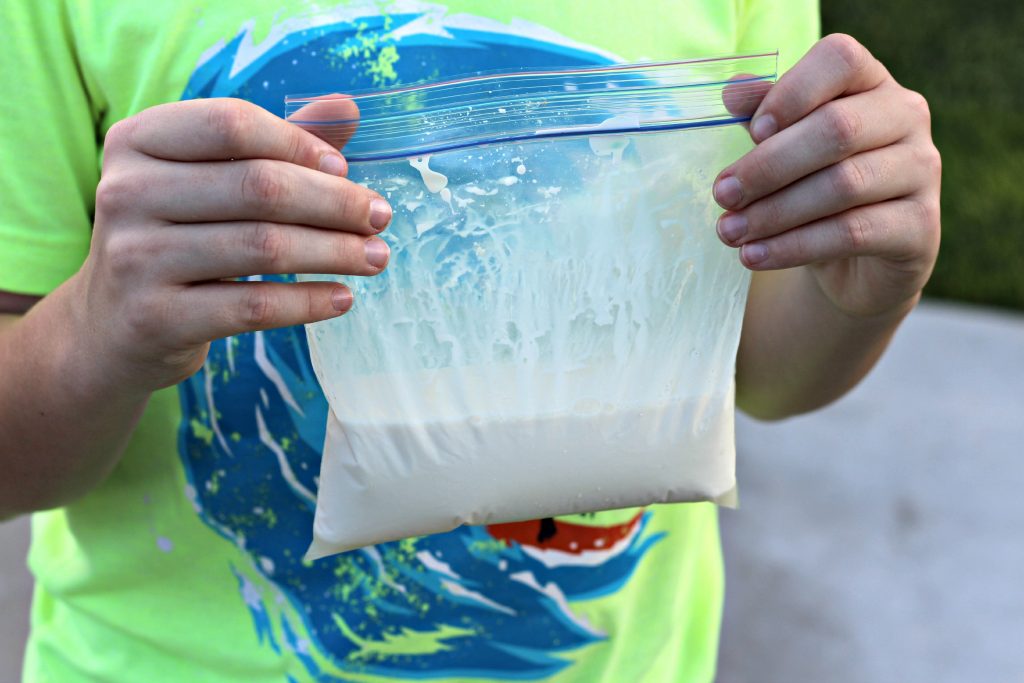 Fill the gallon size bag half way with ice then pour the salt over the ice. Place the cream filled bag into the ice filled bag and seal tight.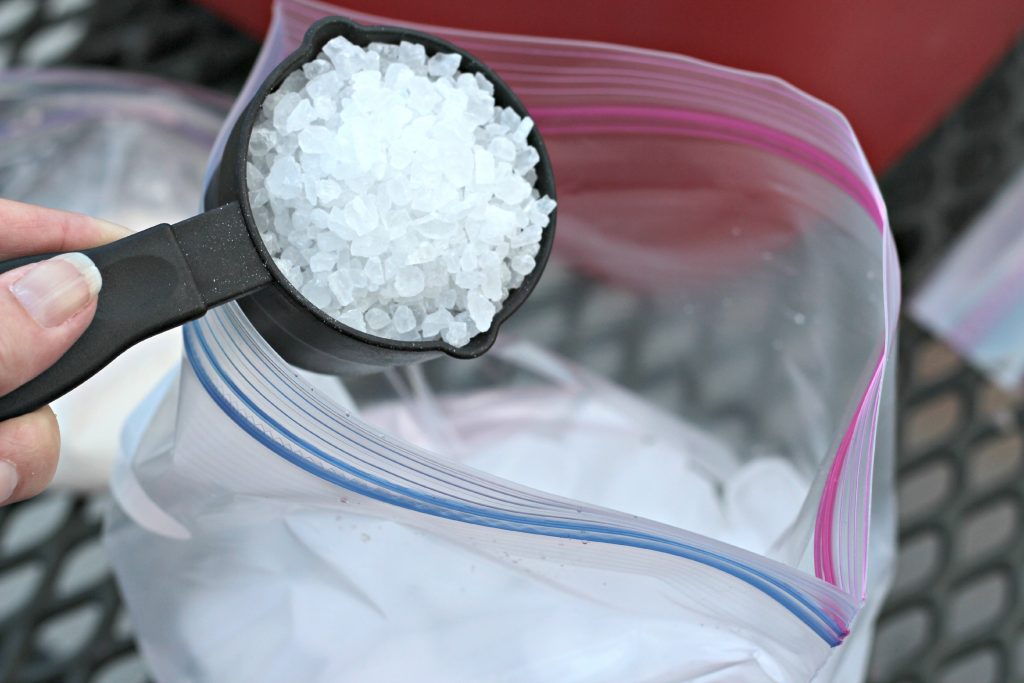 Shake for 5-7 minutes or until the desired consistency. We found that the bag gets very cold on your hands after about a minute. One option is to wear knit gloves or we have also sat in the grass and rolled it around holding the top of the bag. Check the bag after 5 minutes to see if the ice cream is hard, if not, continue shaking. Take the ice cream bag out of the large bag and pour cold water over the outside of the bag to rinse the salt off.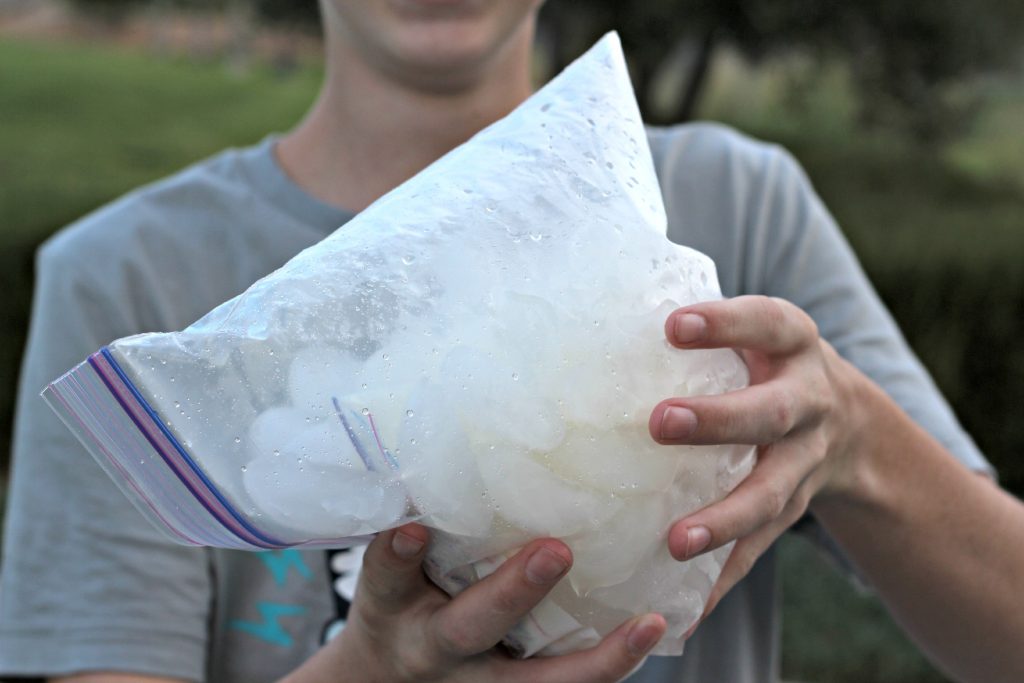 Wash your hands with a water or a wet wipe to make sure you don't have any residual salt on your hands. You'll be eating your ice cream directly from the bag and you don't want it to taste salty. Add any toppings you like. We had mint chips, chocolate chips, nuts, chocolate syrup, caramel, and sprinkles to choose from. Make it your own and Enjoy!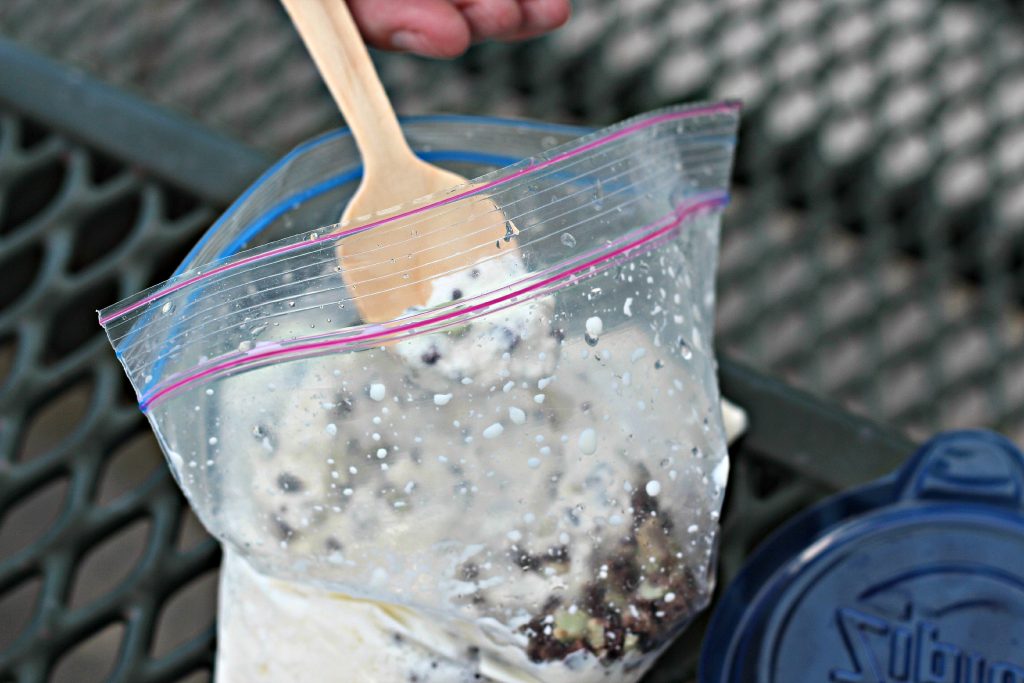 Pin it for Later: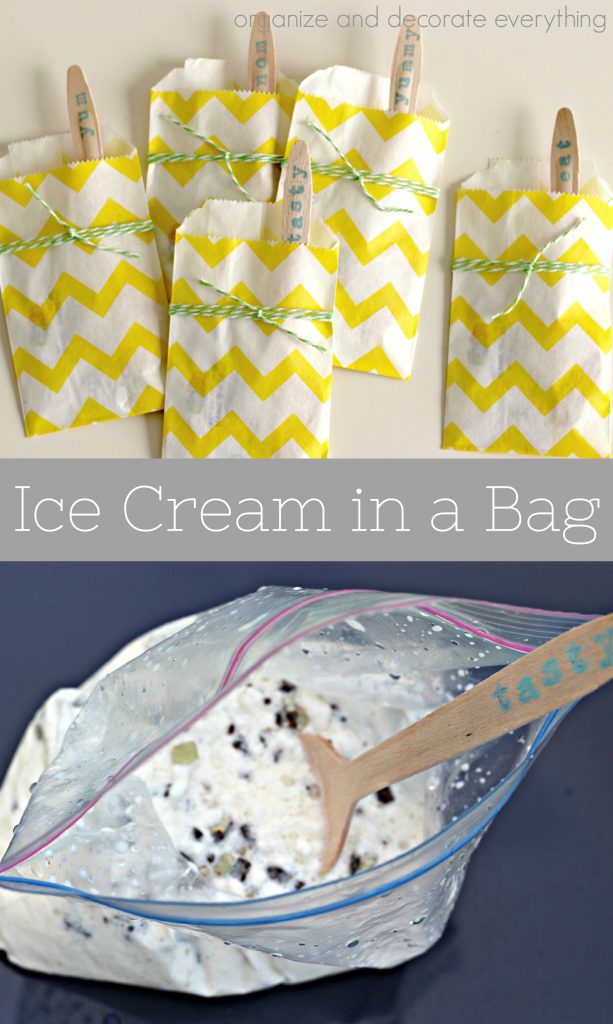 You might also like:
3 Ingredient No Churn Ice Cream