I have to admit, I'm not much into watching football unless the Colts are playing or it's the Super Bowl. Yes, you can imagine my disappointment this year. I was hoping to decorate with blue and white balloons and banners. Oh well, I decided it would be fun to make a Football Banner for the Super Bowl anyway that would also be great for a birthday party or end of football season celebration. The best part is you can make this banner in under 15 minutes (30 minutes if you don't have a personal cutting machine).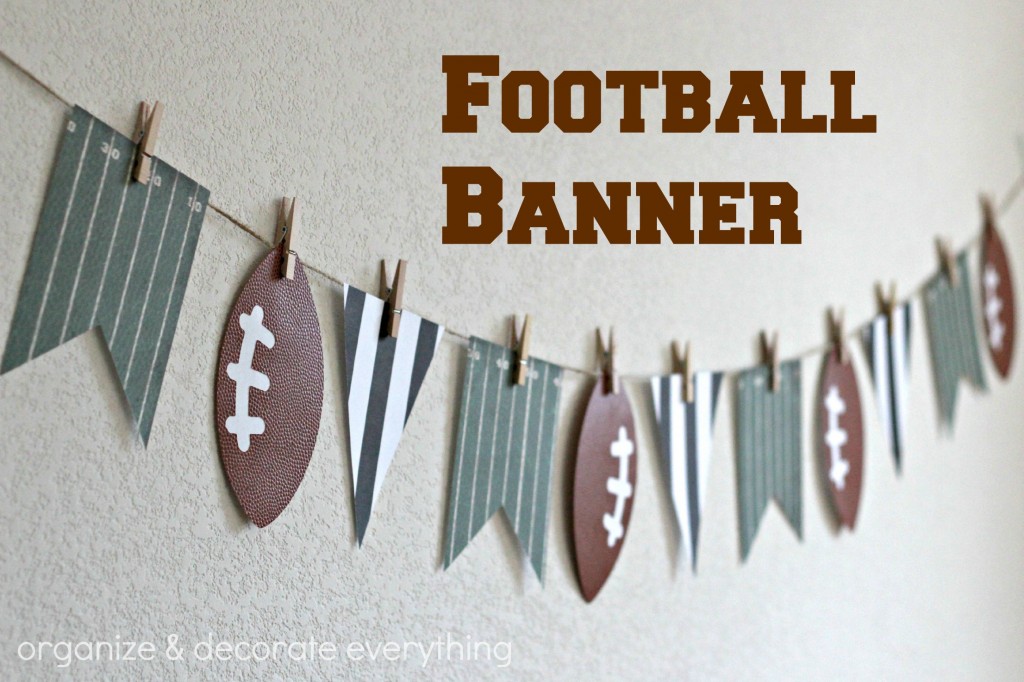 This post may contain affiliate links. I like to share where you can easily purchase products but there is no added cost to you.
Here's What You Need:
Football, Black and White Stripe, Football Field (the Paper Studio) 12×12 Scrapbook Paper (Hobby Lobby)
White Paper
Twine
Clothespins
Glue Stick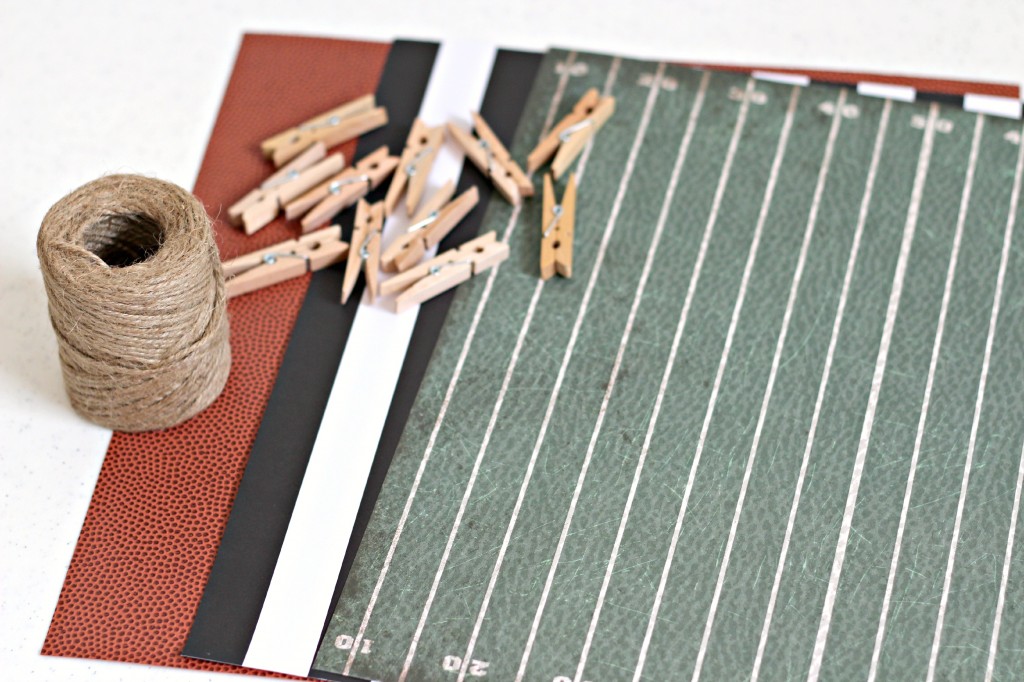 I cut the pieces of scrapbook paper in half so I would be able to get 4 uniform banner pieces out of each sheet of paper.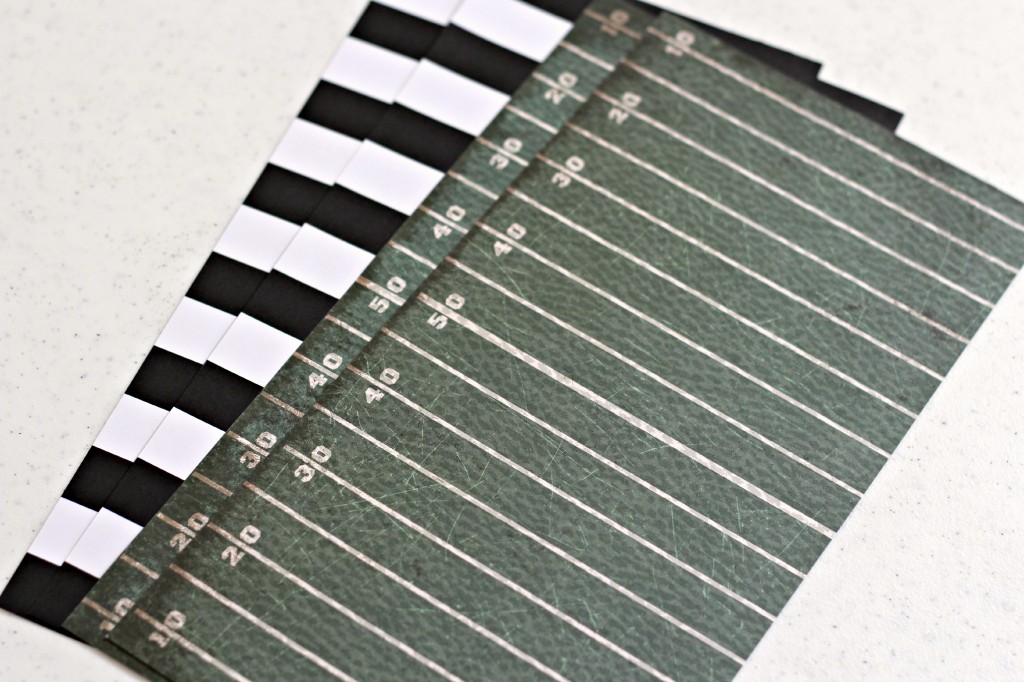 I wanted different shapes for the banner so I made the field into a flag, the black and white paper into a triangle, and the football paper into a football shape. The field and black and white paper were cut into 6″x4 1/2″ sizes, then cut into the desired shapes. I came up 2″ in the center of the field paper to cut the flag shape and found the bottom center of the black and white paper to make the triangle shape.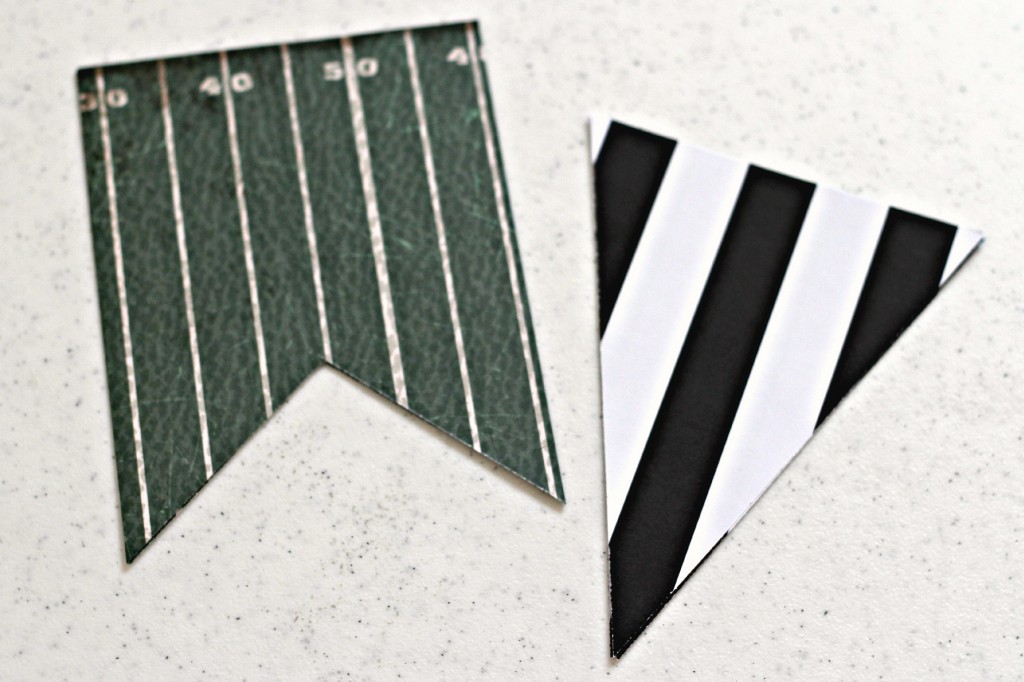 I used my Cricut to cut the football shape, but it's an easy enough shape that you could just partially trace the edge of a bowl to make the shape then cut out a few lines for the threads. The football is approximately 5″x4 1/2″. I love this football paper. The texture is so awesome!
I cut out some regular white paper to glue to the back of the football to fill in the threads.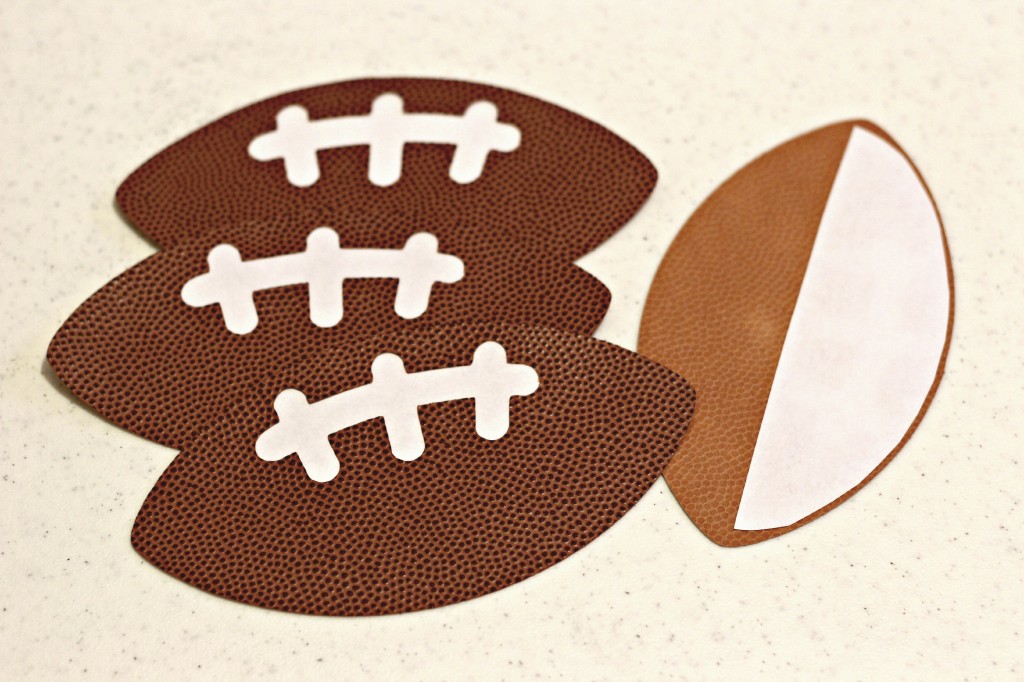 I love clothespins so I used them to attach everything to the banner. Another option is to punch 2 small holes in the top of each shape and thread the twine through the shapes.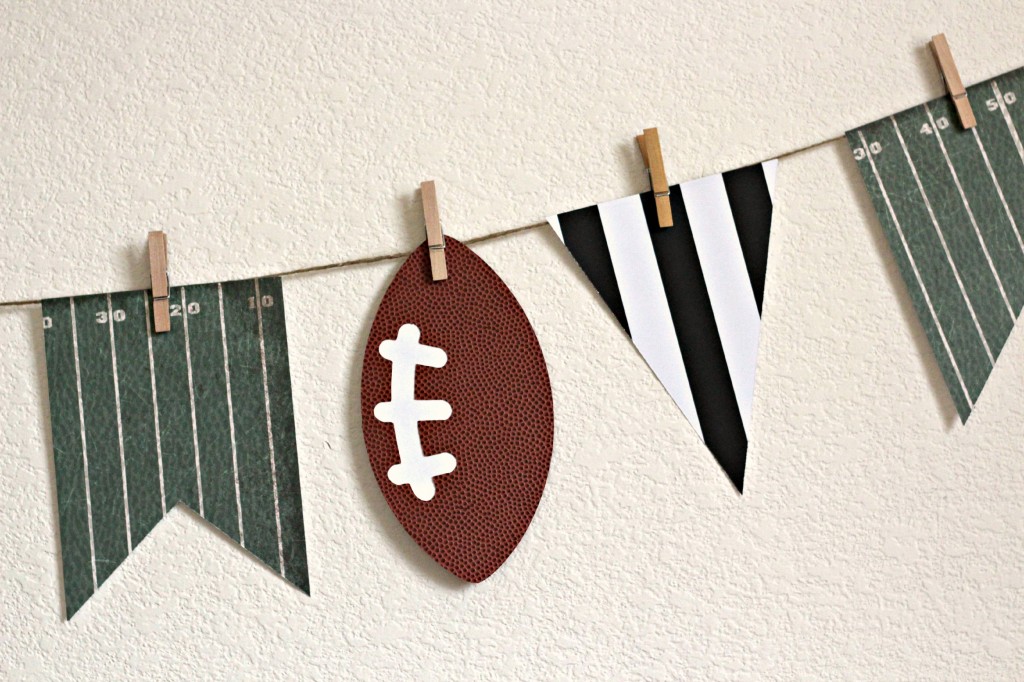 I really love how the football turned out. There is also other sports paper available. I think it would be fun to have a sports party and make a banner with different balls attached.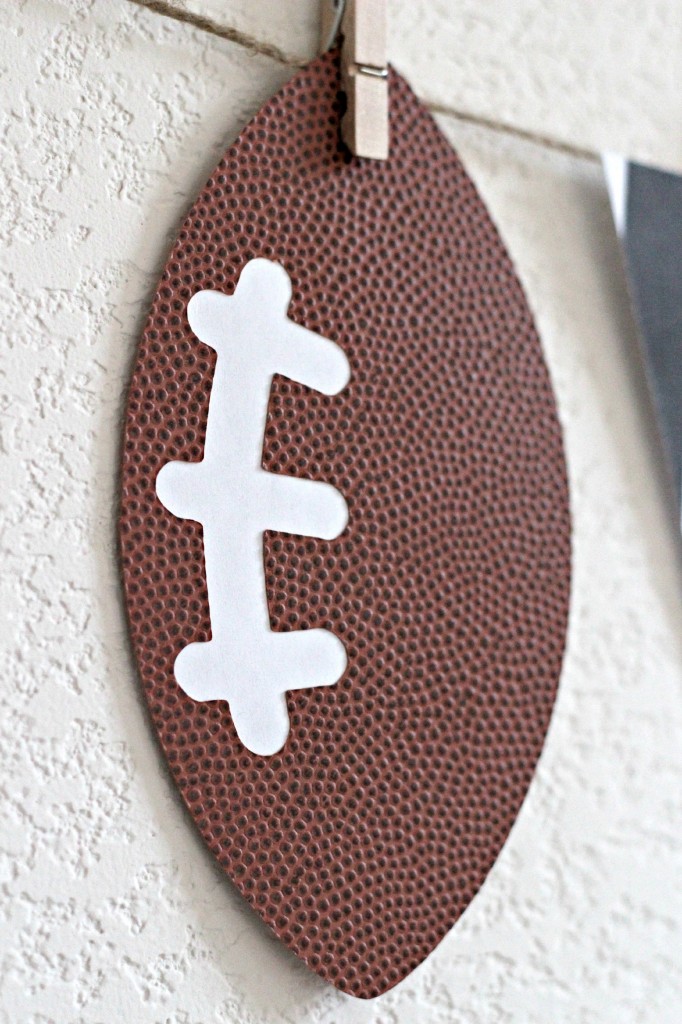 The weather here has been rainy and cloudy for a few days so the banner is hung in the hall next to a window for pictures. I moved it to the fireplace in the family room for our little Super Bowl party. Of course this year it's mostly about the food for us.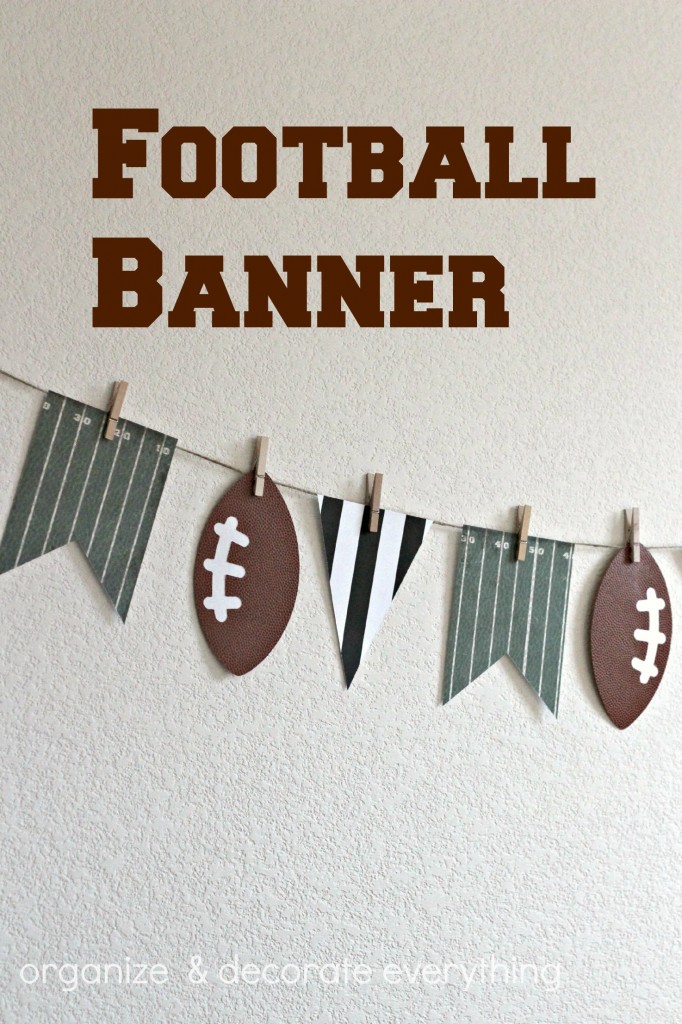 Do you decorate for the Super Bowl?
You might also like: