Welcome to my Fall Home Tour 2018. It can be easy and inexpensive to use the same decorations year after year by changing how and where you use them. This post is going to be very picture heavy but I hope to give you simple ideas on how to decorate your home for the season.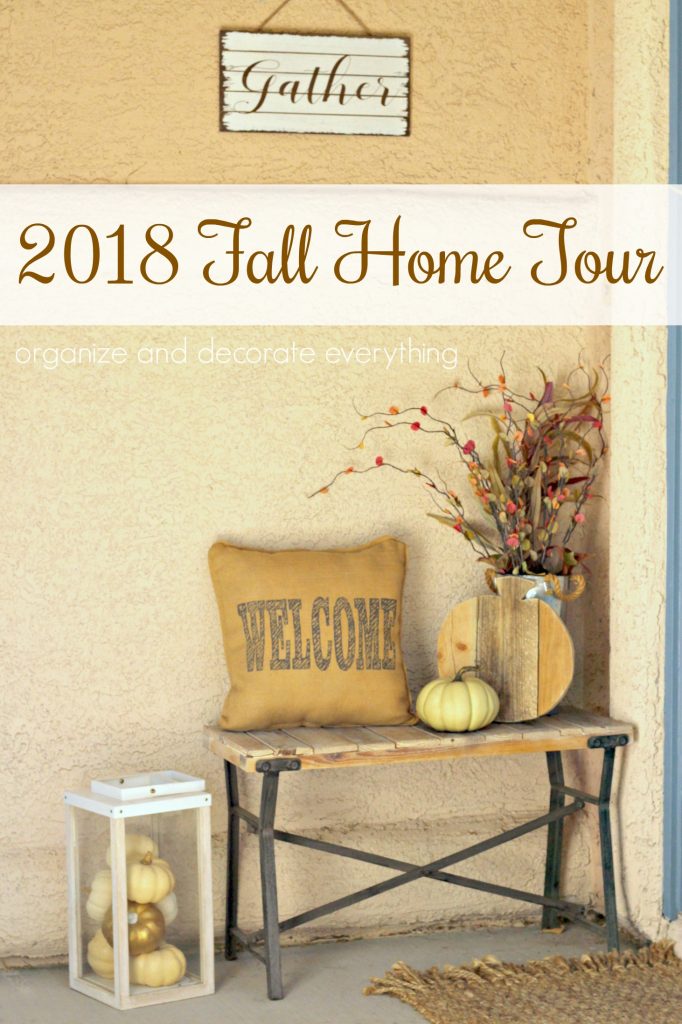 I have a small porch but still like to welcome guests to my home with seasonal decorations. When I painted my door blue about a year ago I was worried it wouldn't look good with the decor changes but I've been really pleased with it.  As you can tell from the palm tree we live in a really warm climate. I rely on seasonal and holiday decor to bring the feeling of the season into my home.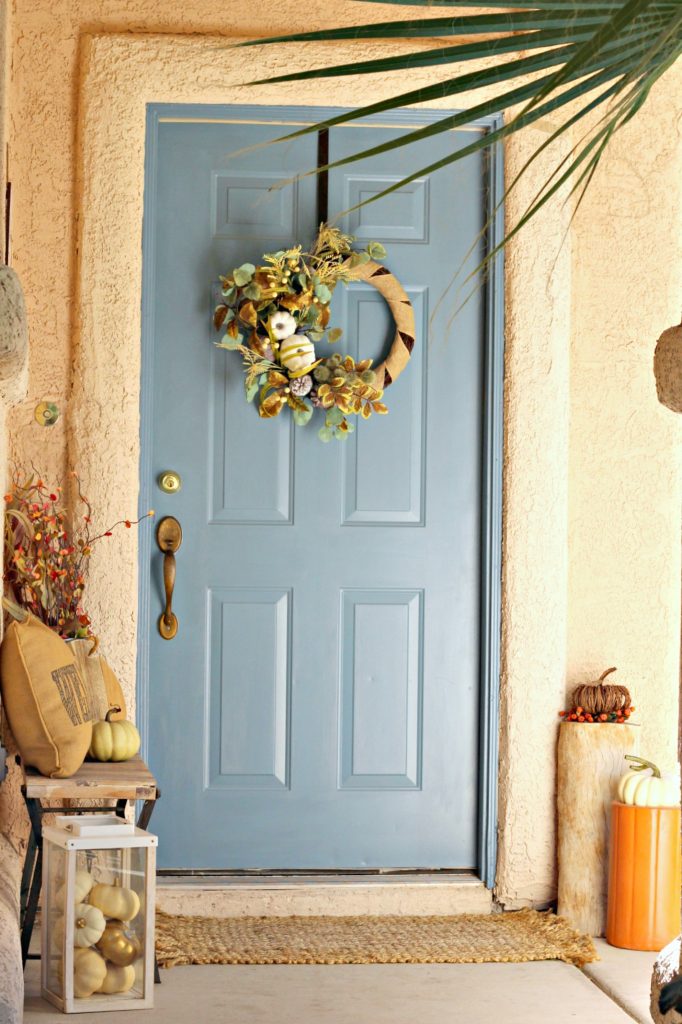 I found this small bench at Home Goods and love it in this space. It gives me a nice place to make seasonal displays. Orange isn't my favorite color so I painted most of the pumpkins pretty neutral. Bring a bunch of small items together to make a large display, such as the pumpkins in the lantern.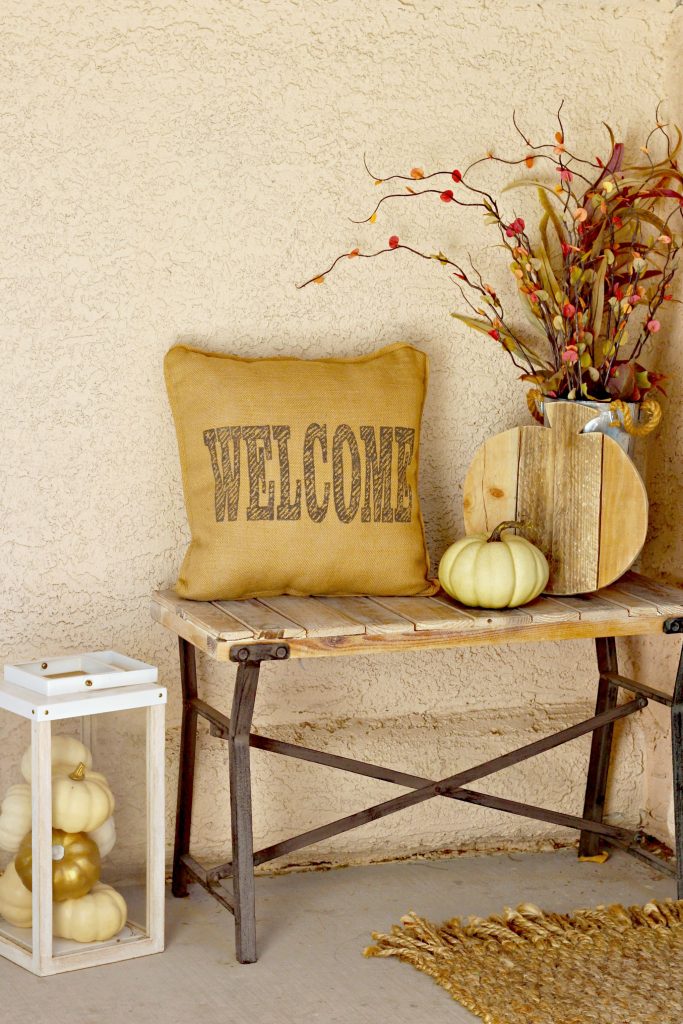 The log is from a local orchard and it's fun to use it as a display stand. I would like to stain or gloss it before the weather damages it more. I'm thinking maybe a dark walnut or something slightly gray. The pumpkin lantern has a jack-o-lantern face on the other side so I can switch it around for Halloween.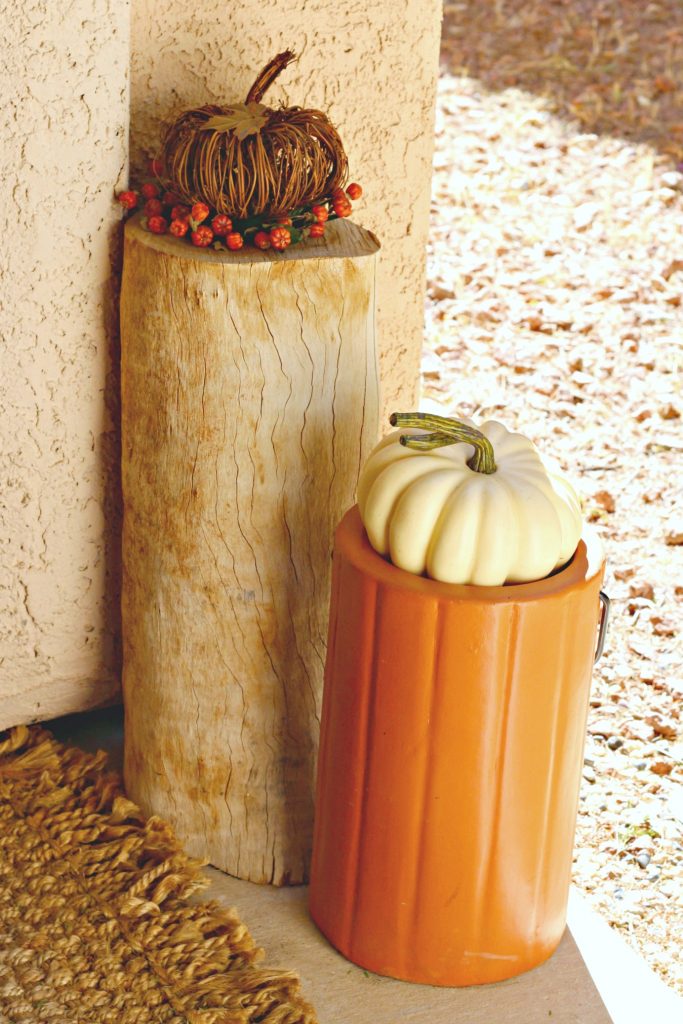 Look for seasonal sales on wreaths and other holiday decor. I usually make my wreaths but this one was 80% off so it was much cheaper just to buy.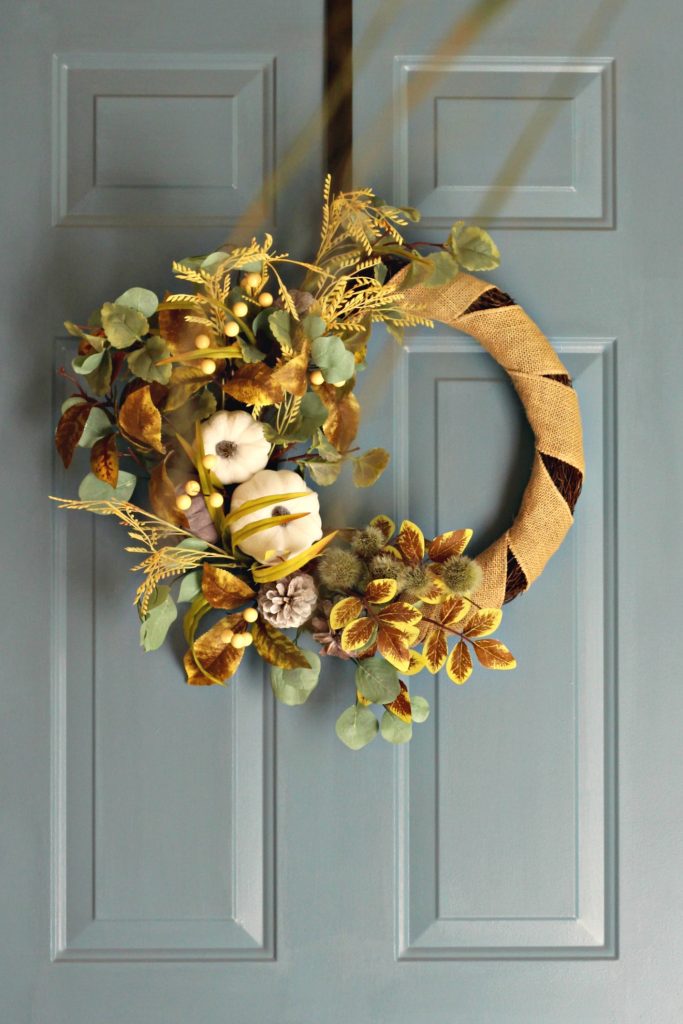 Are you ready to take a step inside? My house can be very dark because it faces West and there are no windows on that side of the house. I purposely lighted up the living room with light colors so it never feels dark in there. My Fall decor is mostly light with a few exceptions.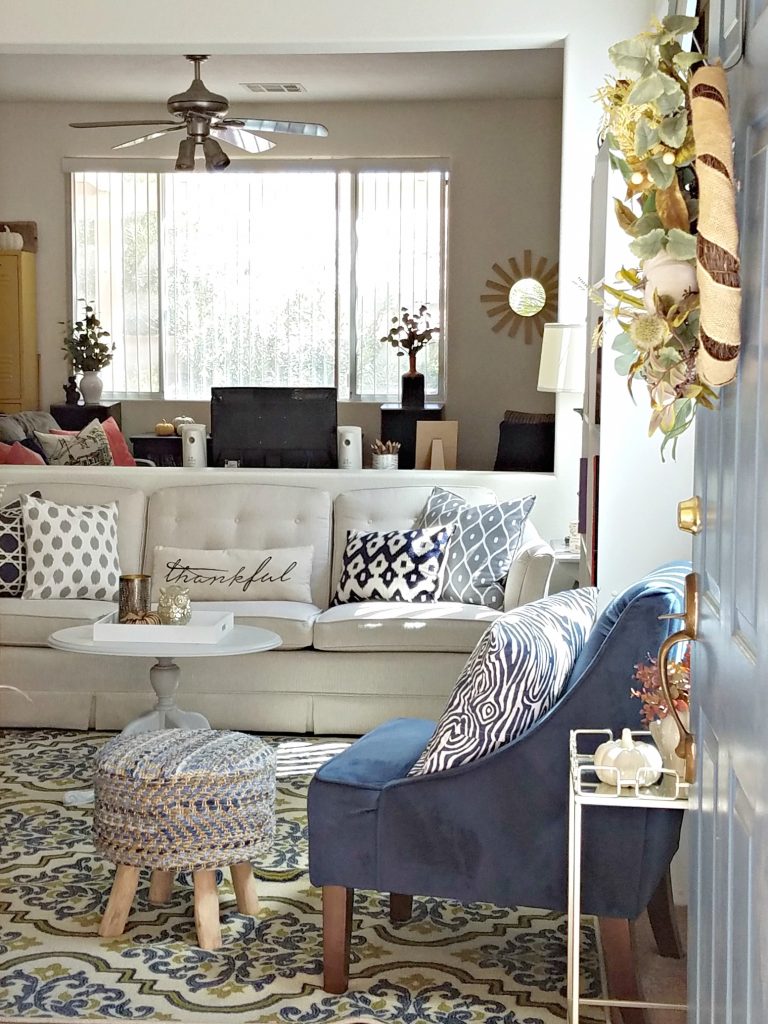 My Chinese chest is in the small entry so it gives me a little place to decorate. I painted the pumpkins robin's egg blue last year. I love the contrast of the dark walnuts against the blue and white.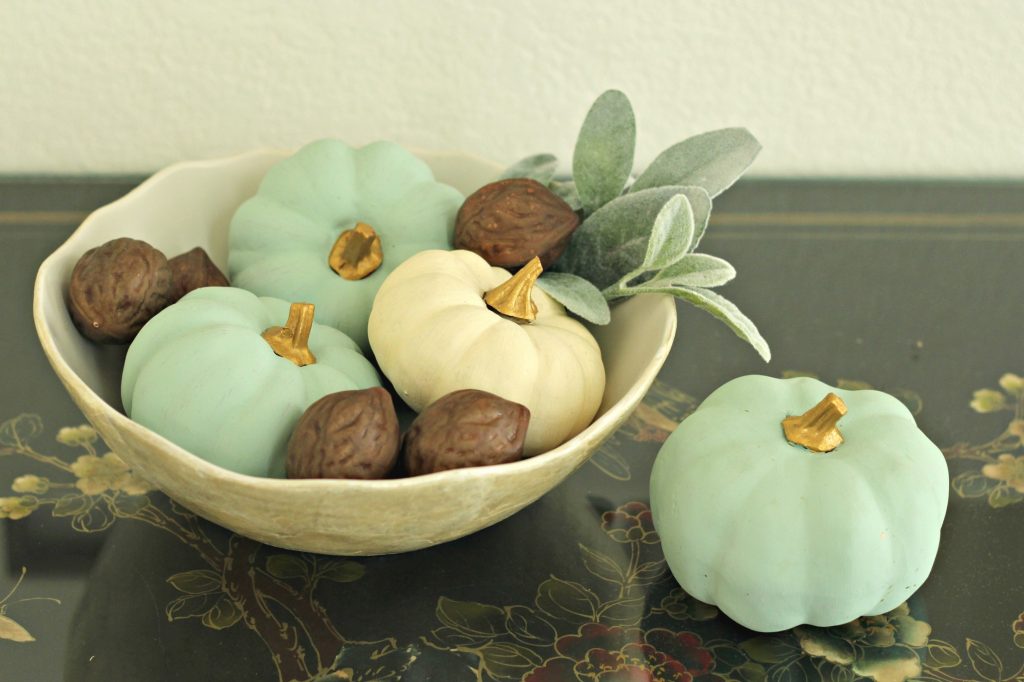 There's no need to trade out all of your home decor with the seasons. I traded flowers out of the cactus vase for Fall foliage. Since we live in the desert I like to keep the cactus on display. The wood grain pillow cover works for any season.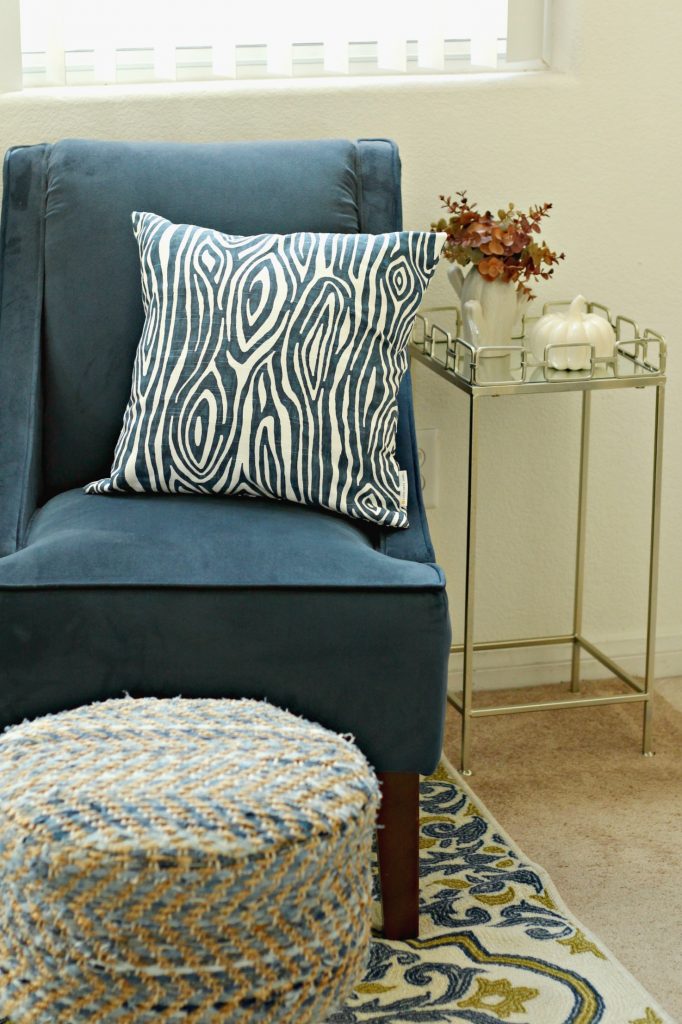 You all know I have a thing for trays. I love the laser cut pattern in this tray I got from the Target Dollar spot. It's pretty easy to find inexpensive items to use to decorate your home, but don't buy things just to buy them. Make sure you really love them and have a place for them. I like to make sure they can be used in multiple places and multiple ways. The pillow says thankful but there's nothing wrong with keeping it on display year round. We can be thankful throughout the year and not just during Thanksgiving.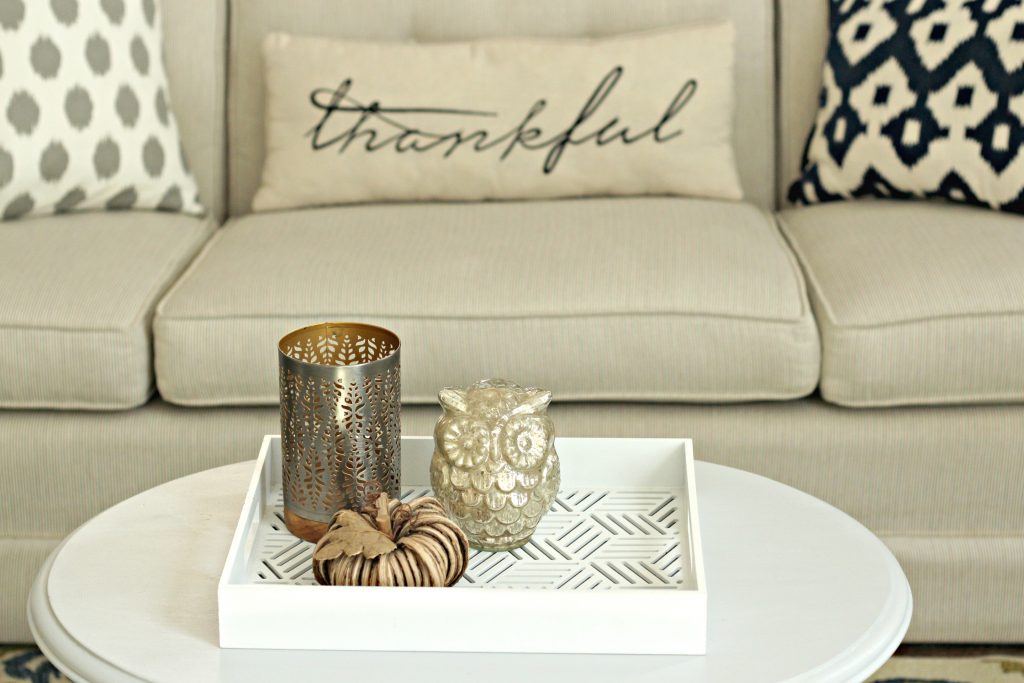 For some reason I didn't take a full picture of the bookcases. I'll have to share it in a different post but I have the books displayed by color. It drives my kids crazy but I love it. I made the Fall blocks by using scrap pieces of wood and fabric vinyl.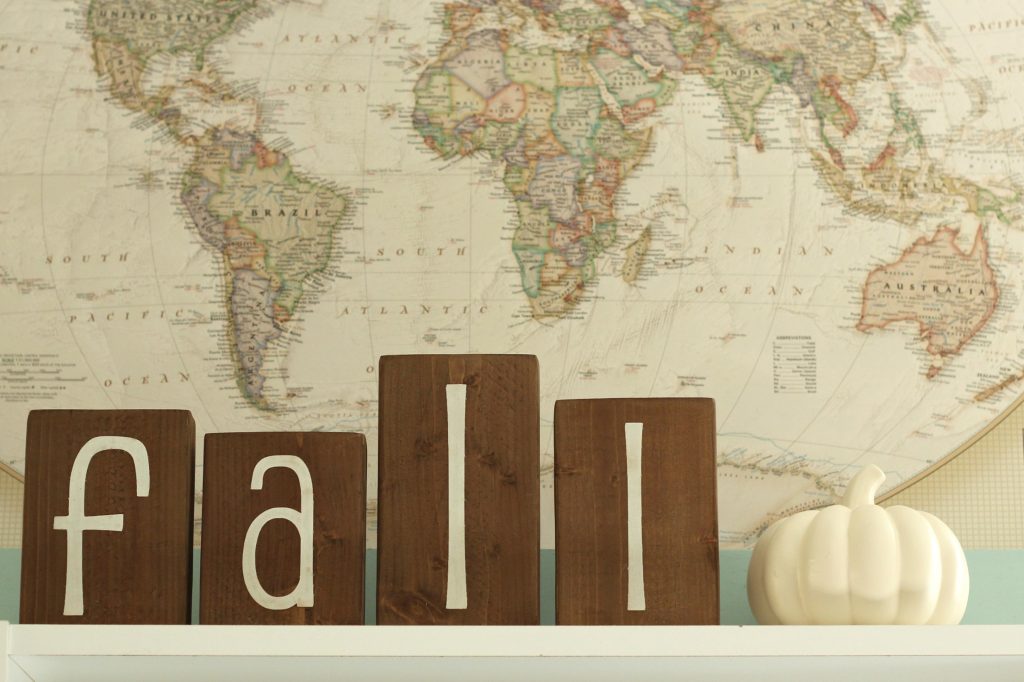 Use books or painted wood boxes to add height to items on display.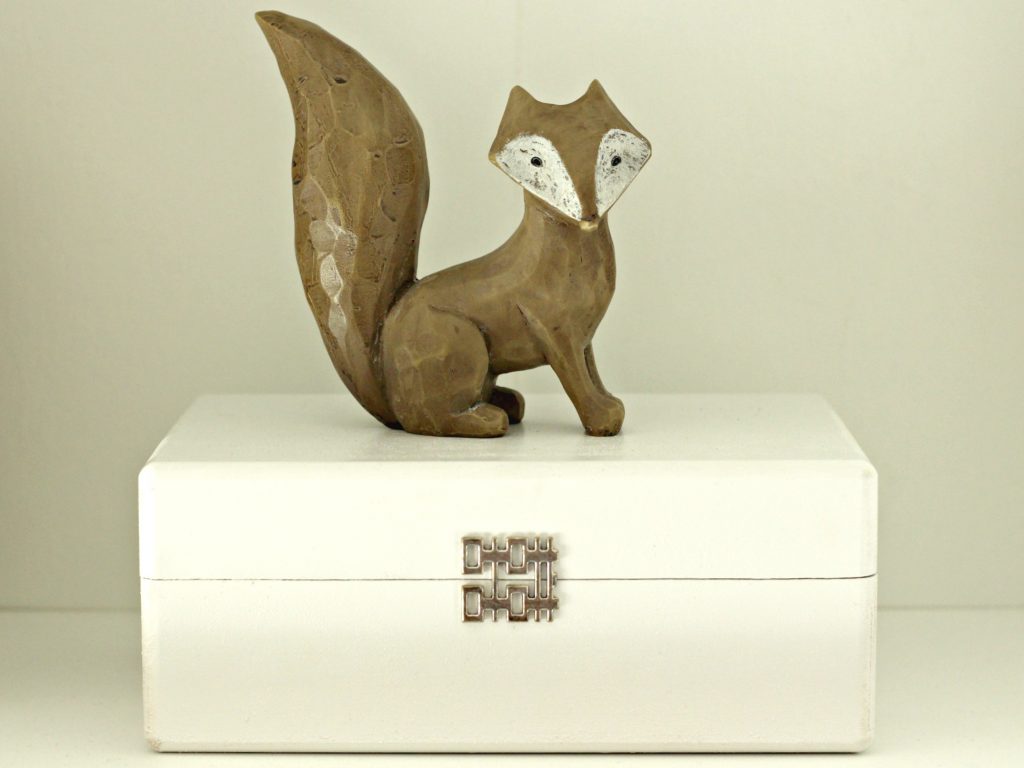 Make this toilet paper roll fabric covered pumpkin by using scrap fabric, toilet paper and a stick. It's so easy and you can change the look with the fabric. I also like to use architectural details to add interest in the cheapo bookcase.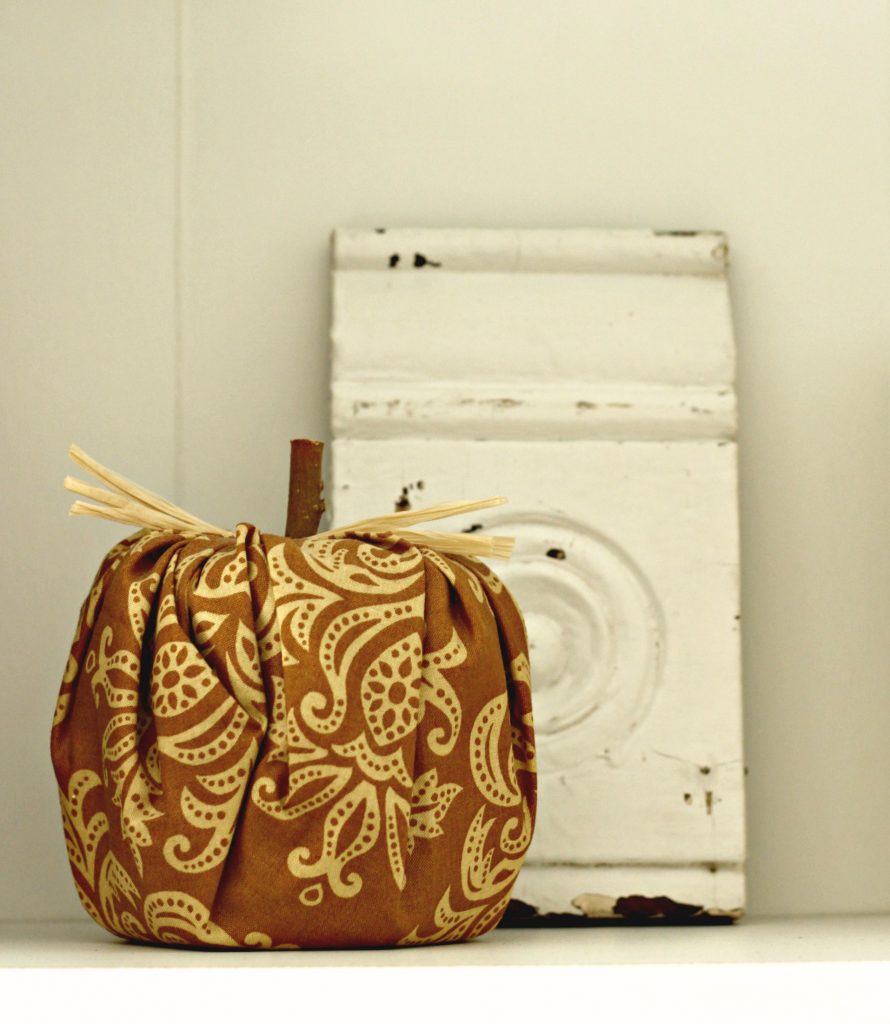 If you don't like the color of something change it. I painted the stem of this pumpkin gold and added some tan shading to it. Now I like it so much more.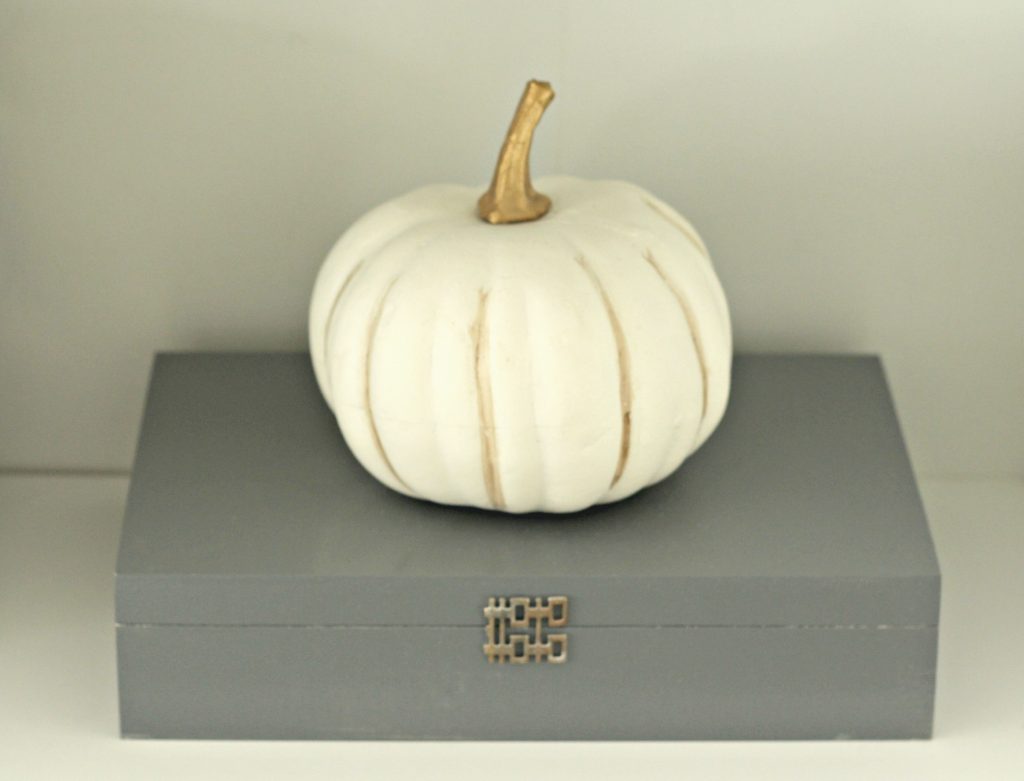 Since we're renting I can't change anything in the house. They won't even let us paint. That's why we still have an ugly green bathroom. Anyway I hung these old windows on this wall to add some architectural detail to the living room. I hung the wreaths on the windows a couple years ago and add something to the center of them depending on the season.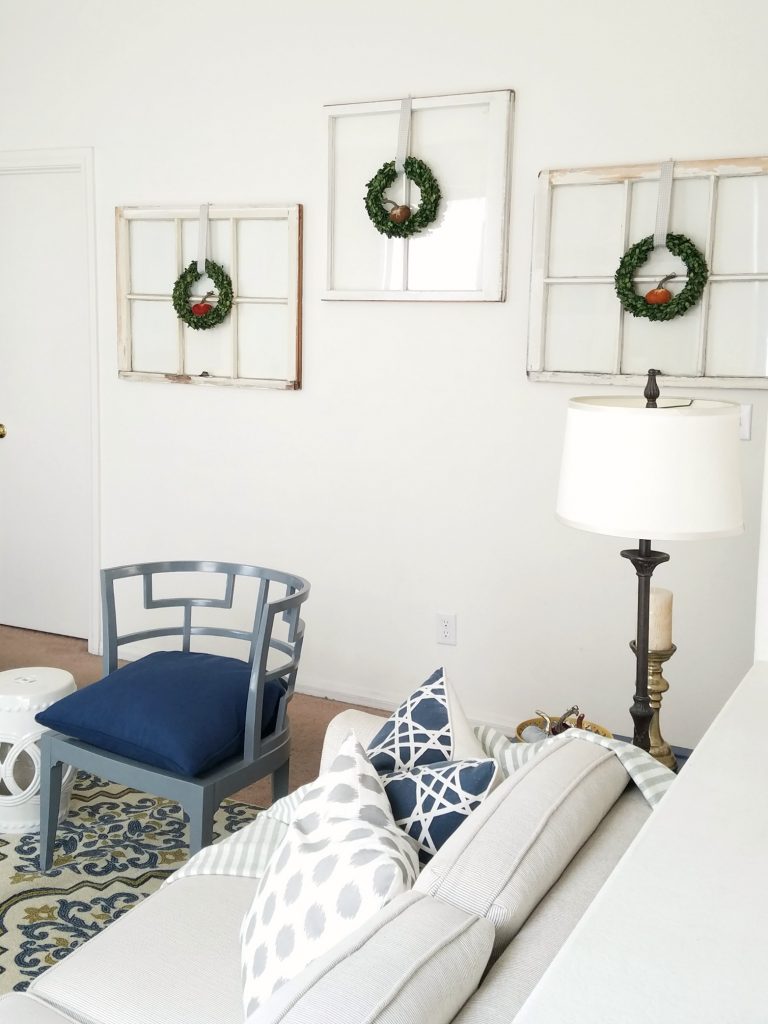 These little velvet pumpkins are some of my favorite.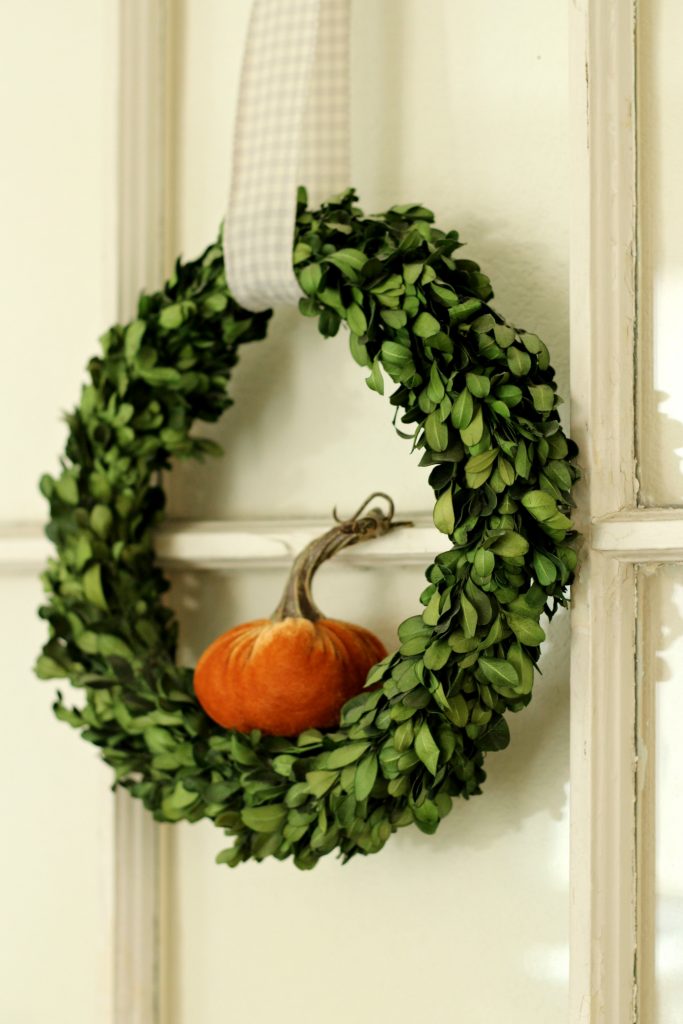 I also painted the stems on these fabric pumpkins because I didn't like how they were originally painted.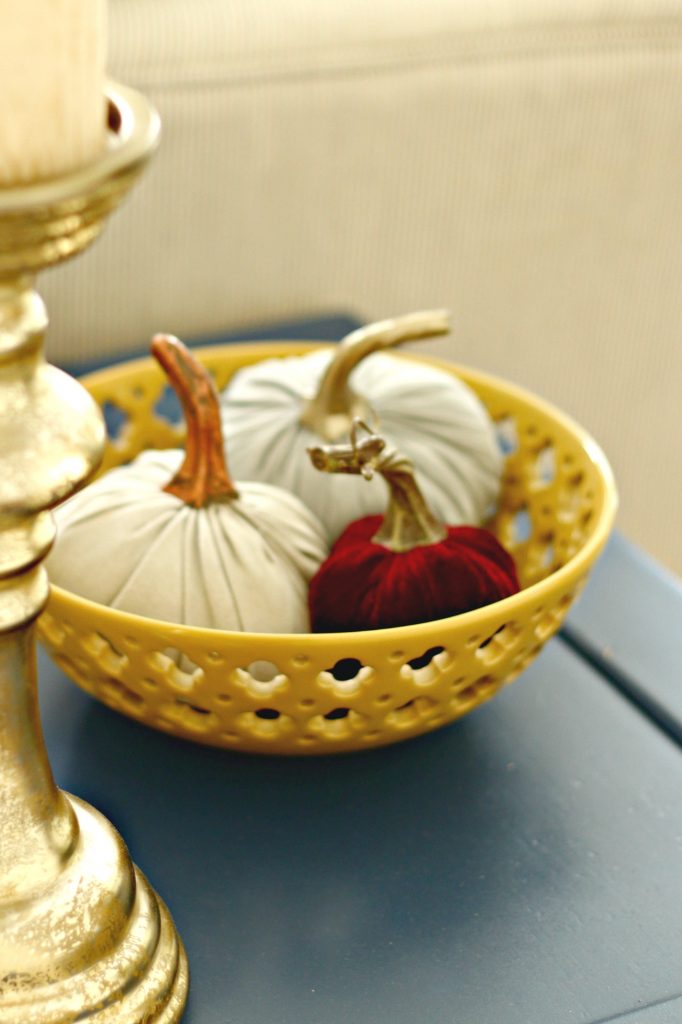 This is one of my favorite mantels ever. We have a very narrow mantel so it's hard to add much depth to it. I use baskets, frames, or other narrow things to give it depth, then add other items in the front. The fireplace doesn't work so I placed the shutters over the front of the opening. Add items to the hearth area to move the eye around.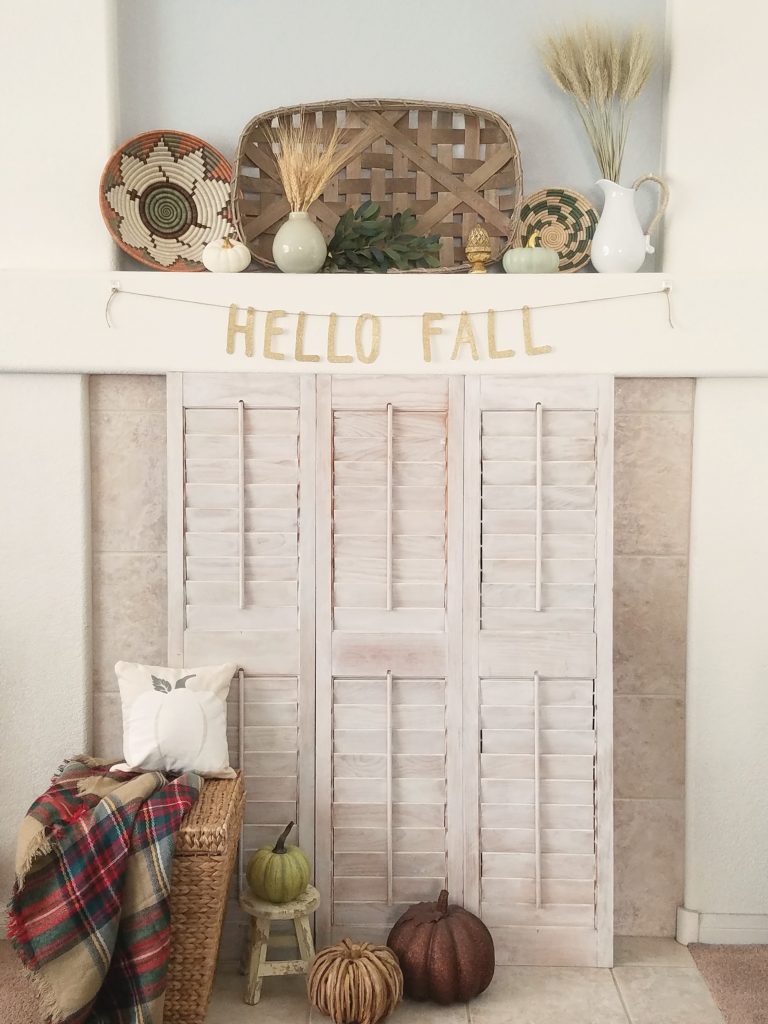 The baskets add color and texture to the mantel. Can you see the turtle in the basket on the left?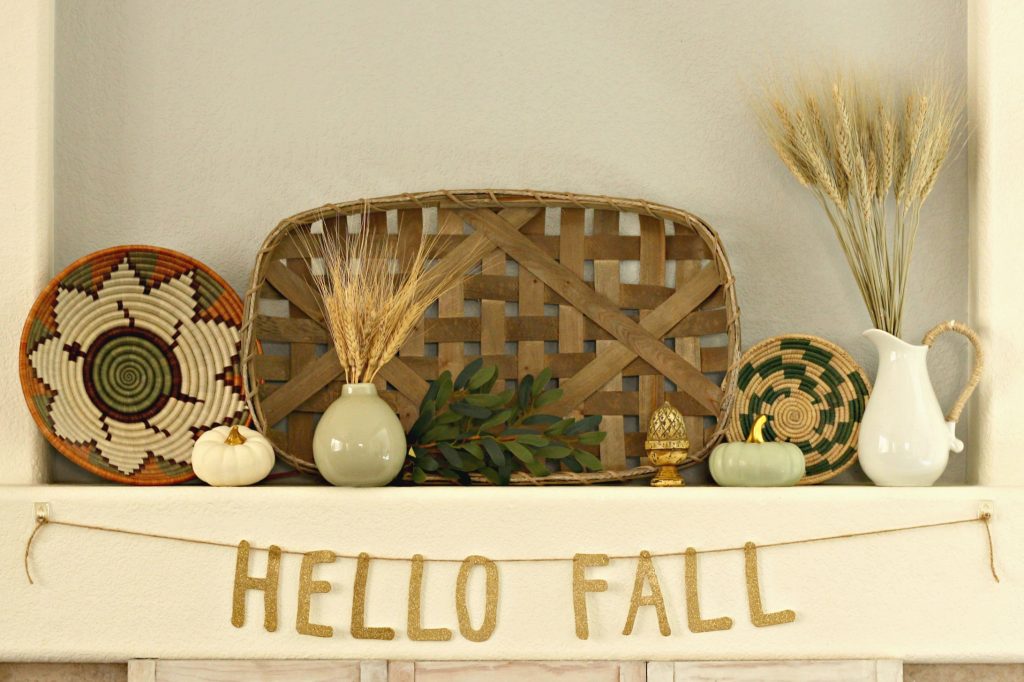 I have another tray decorated for Fall on the desk. We really use those twig pencils. They needed to stay there so I decorated the tray around them again. I made a simple chalkboard message on the easel.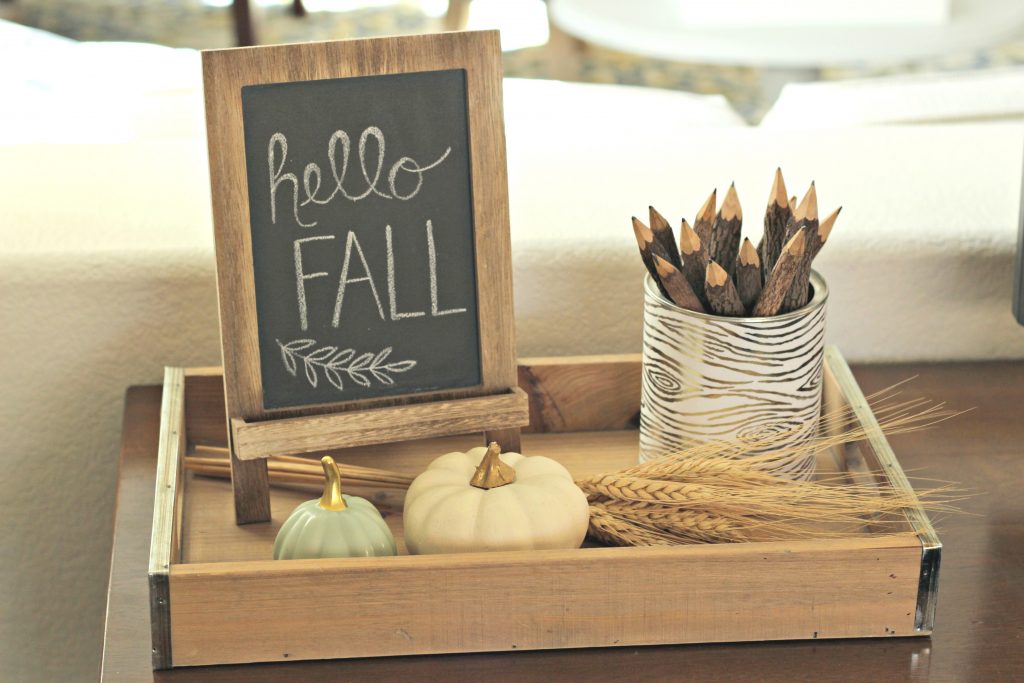 I didn't really change this corner of the family room because it already had some beautiful colors and textures for Fall.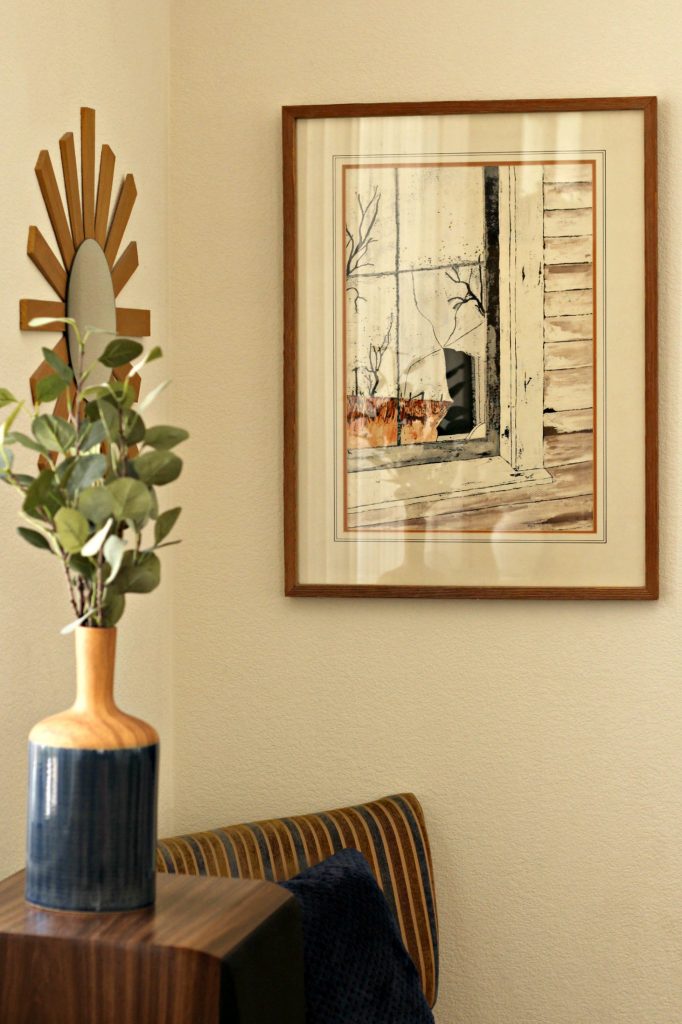 Another tray because I'm obsessed! I always have a tray on the ottoman so it can serve as a flat surface. This one is a little over decorated but there's still room to put a couple of drinks while watching TV. The bead garland is made from unfinished beads from a craft store.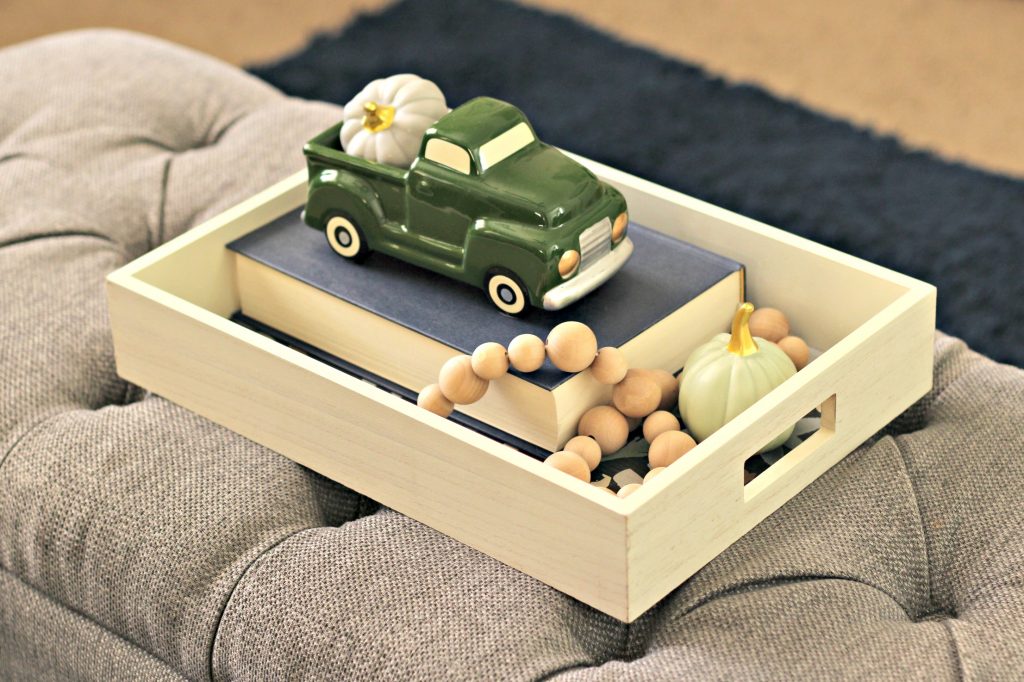 I scattered pumpkins all over the main level of the house. I love the different colors, textures, shapes, and sizes of the pumpkins I've collected over the years.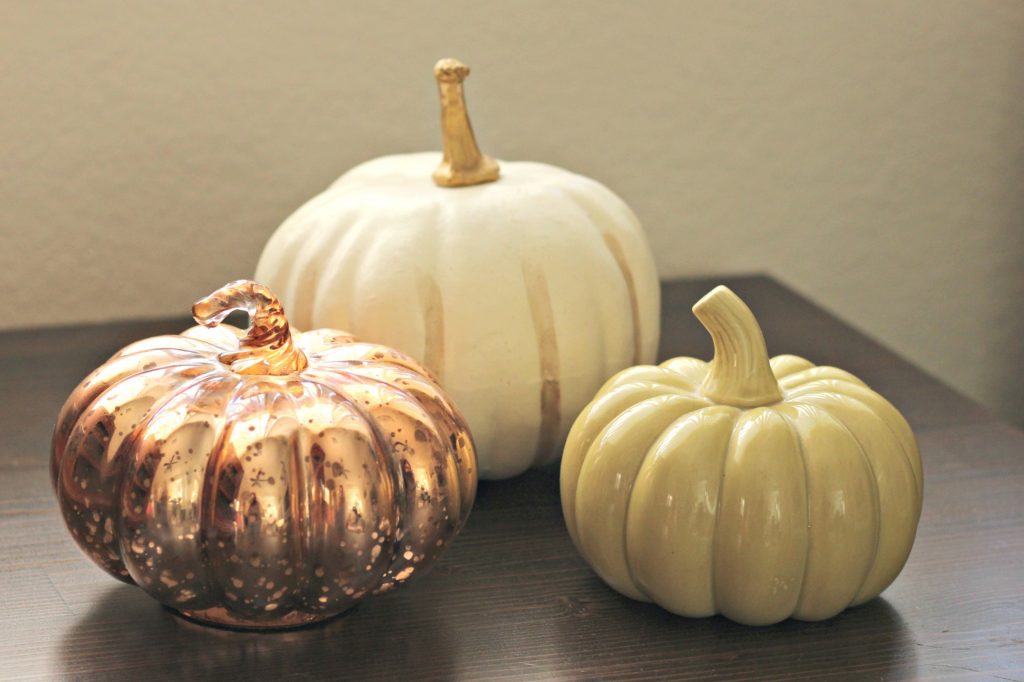 I couldn't find anywhere to put this squirrel on the nut so I just placed him next to the pitcher. It worked out perfectly so that's where he's staying for now.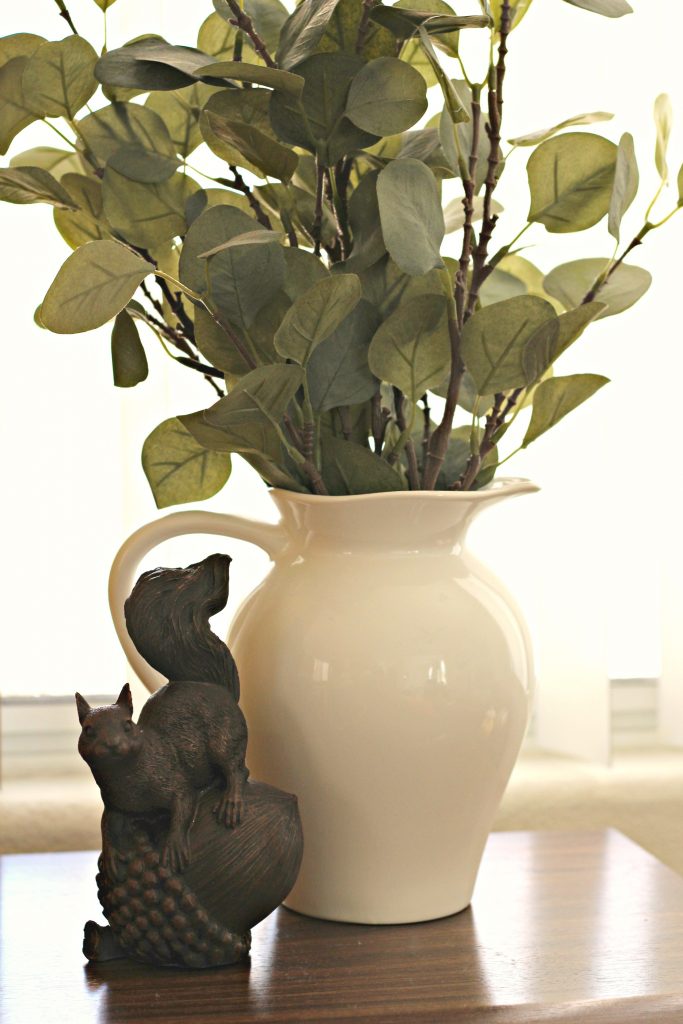 I love these lockers and am so happy I left them this color, especially for Fall. These are some of my favorite pumpkins!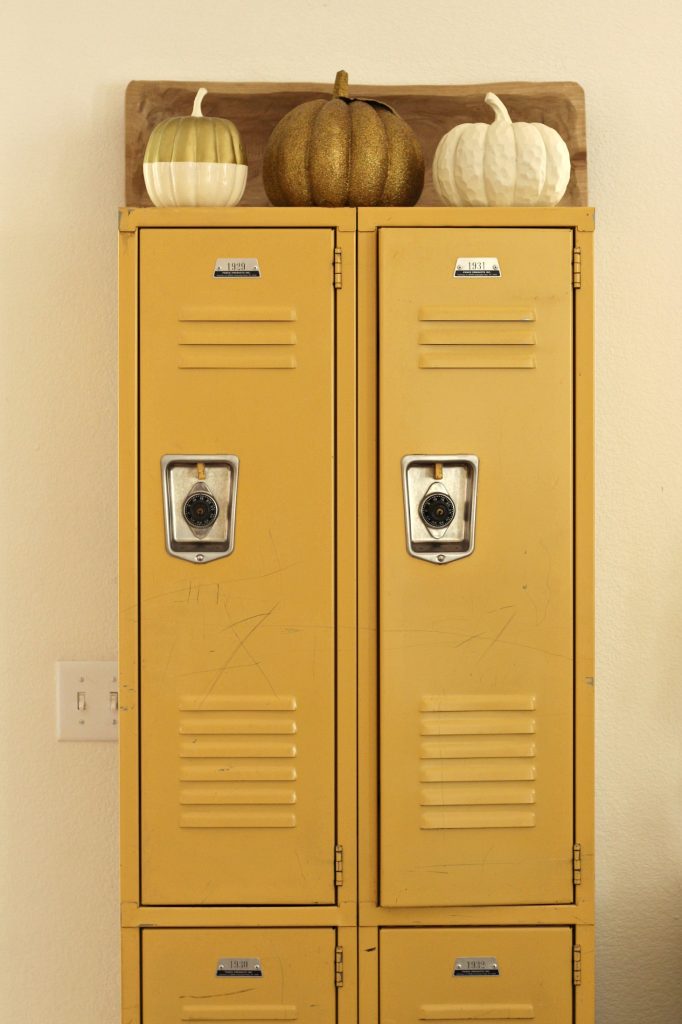 We're finally in the kitchen. My dining table is pretty small so I took 2 place mats and placed them together for a small table runner. I'm using the cutting board like a tray and added the Target pumpkins and Ross leaf to the display. Like I said before, I don't love the color orange but I wanted to add a little more color to the kitchen area.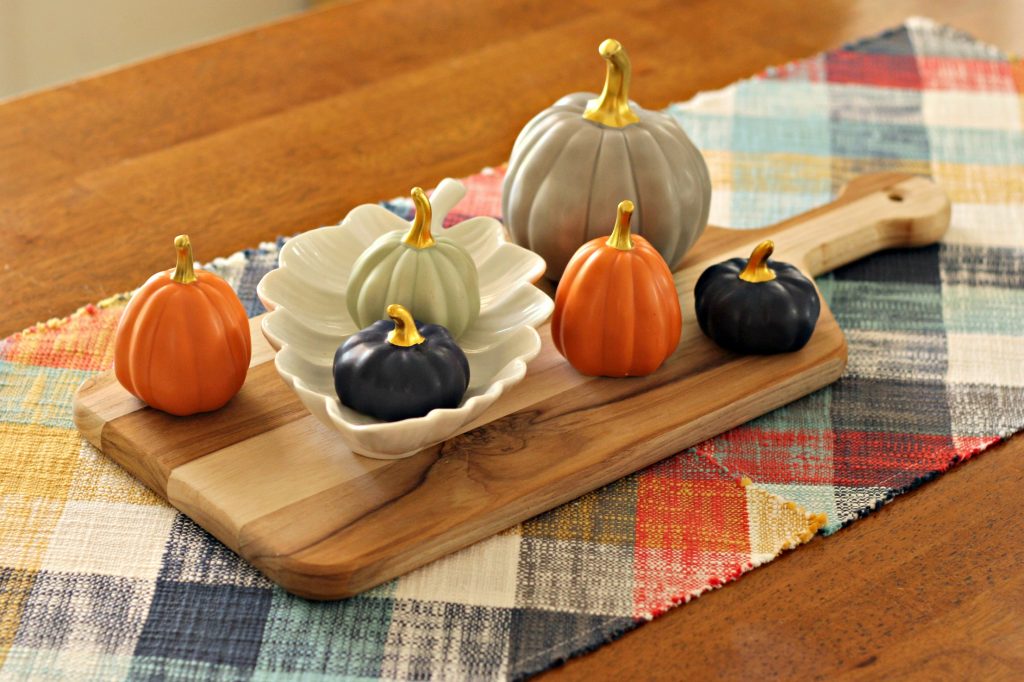 Another area of the kitchen I love to decorate are the counter tops. I don't have much space so I try to make it count and make an impact. That's why I chose brighter colors in there. The chalkboard would be fun for a dinner menu too.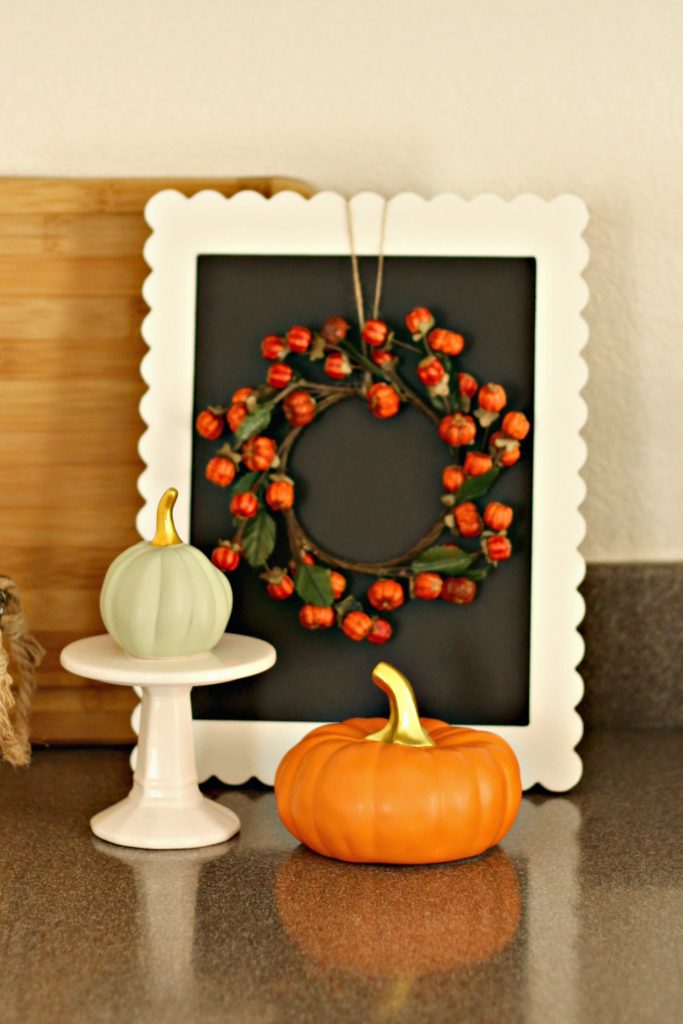 I did a little decorating above the cabinets too. Glitter pumpkins are pretty awesome.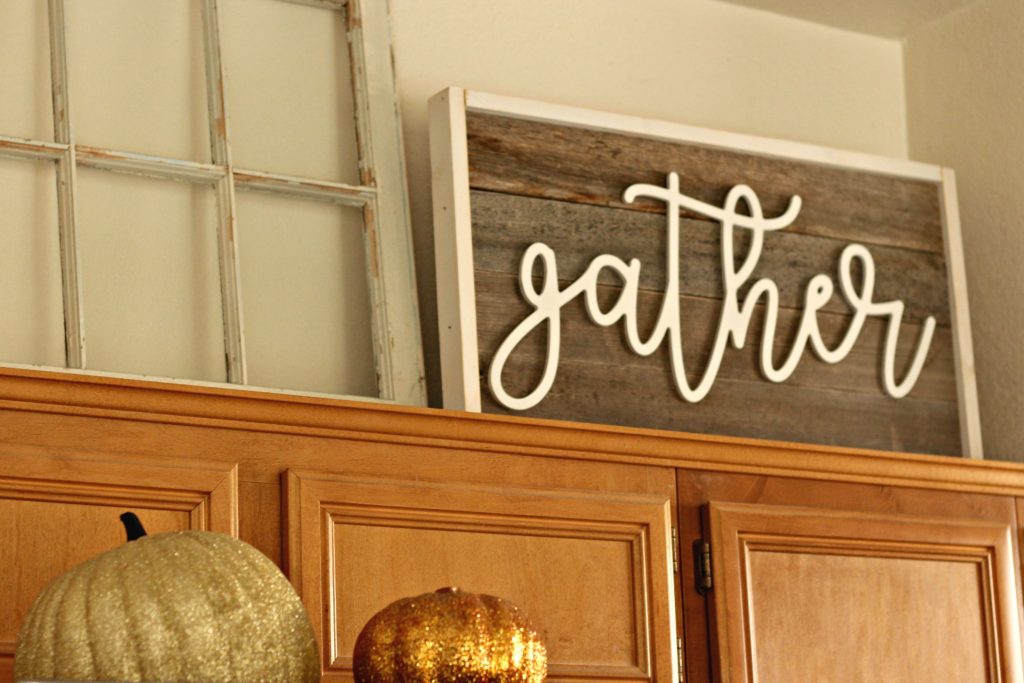 I also scattered a few more pumpkins throughout the house. I love these different colors for Fall. I hope you were able to get some good ideas from this post! How are you decorating for Fall?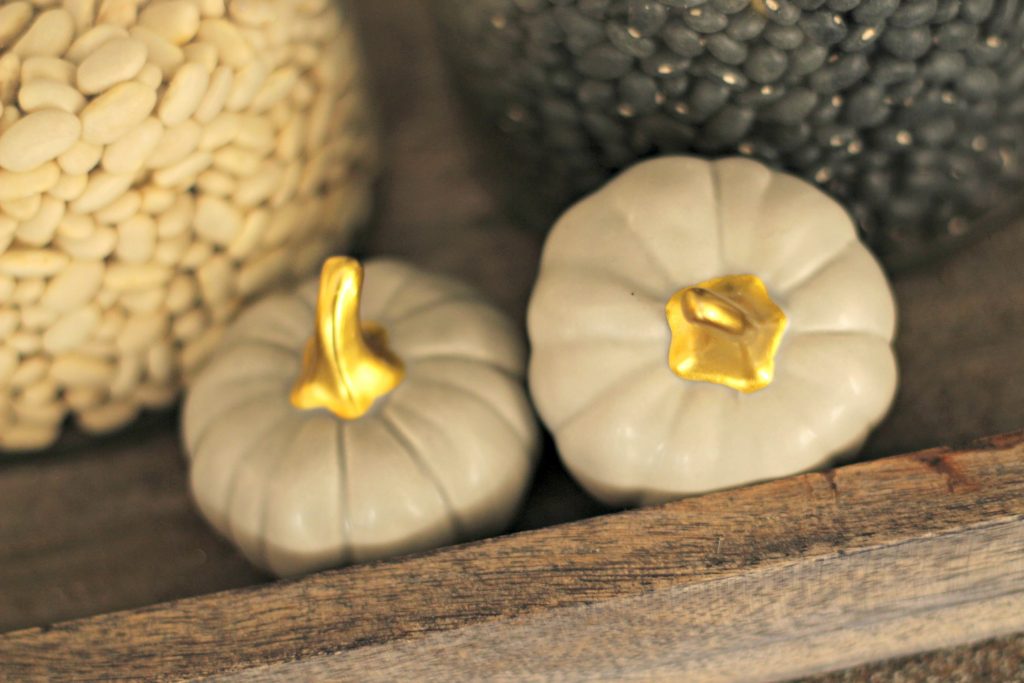 Pin it for later: