Hi Friends! Welcome to my Fall Home Tour 2016. I love Fall and decorating for Fall is an added bonus. My decorating style is much like my organizing style: simple, minimal, and use what I already have. I love the colors of Fall! Although I'm not a huge fan of orange I love adding splashes of it here and there, especially since it's hubby's favorite color.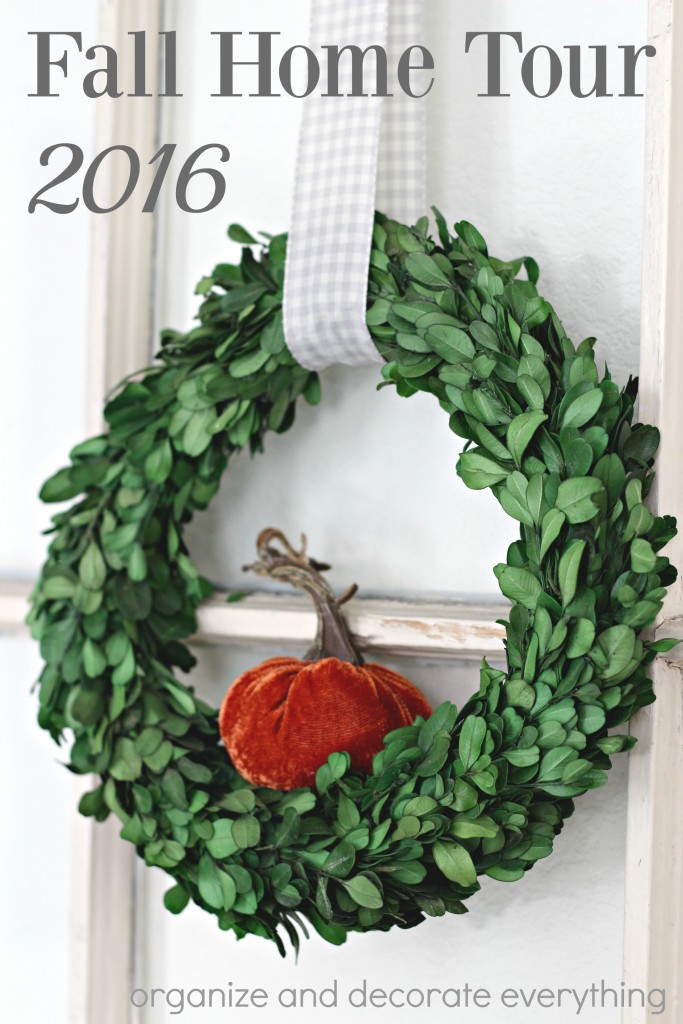 Let's start with the front porch since it's the first thing you see. It's pretty neutral with a bit of color. I will share where I purchased items, almost nothing was bought this year, but a lot of the stores still carry the items. The large J is from Hobby Lobby, the burlap Welcome pillow from WalMart, the bench from Home Goods. I was happy when I found this little bench to fit perfectly on my little porch.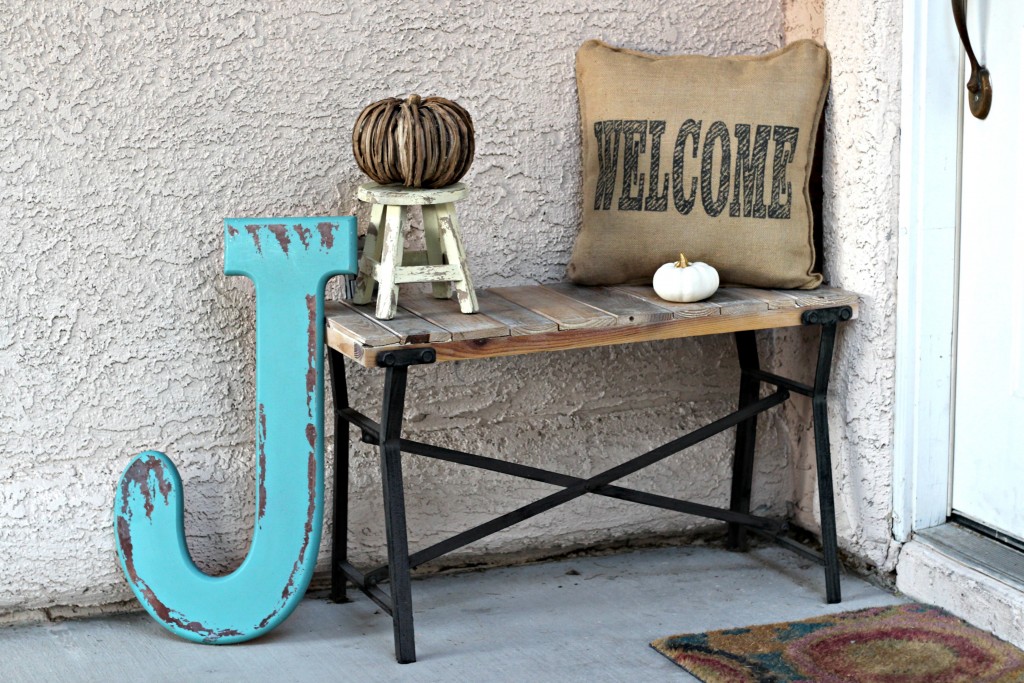 The little stool is from Hobby Lobby and the rustic pumpkin is from a holiday boutique.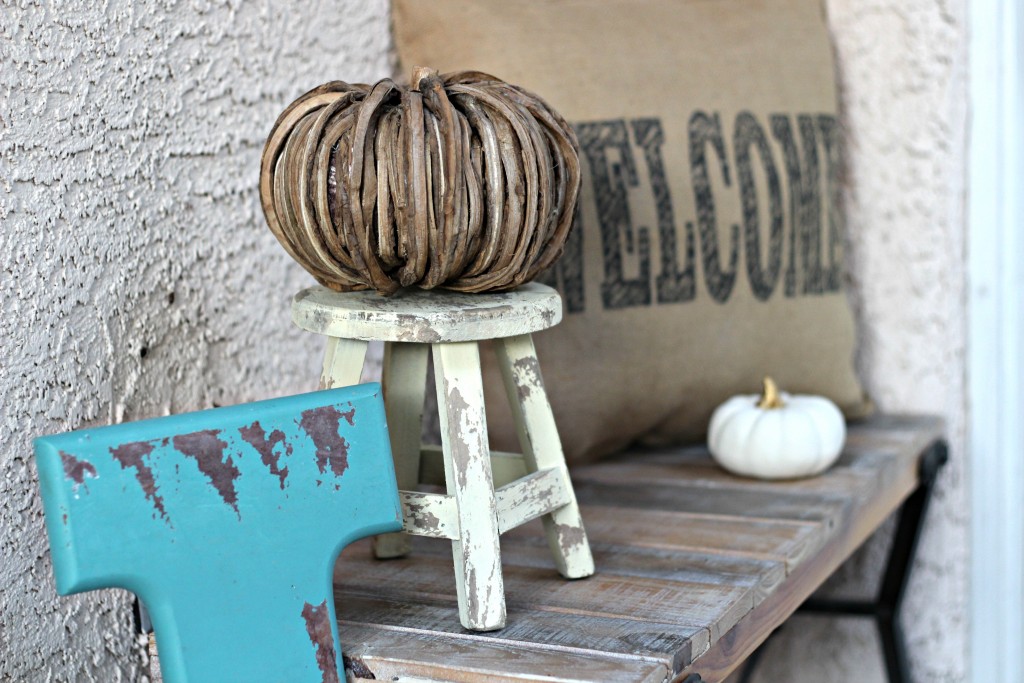 These pumpkins were bright orange so I painted them white and gave them a gold stem. The tree stump is from a local orchard. I went to the orchard when they were trimming and cutting trees so they were happy with me loading some of the trimmings up in my van. They even helped me load the heavy stump.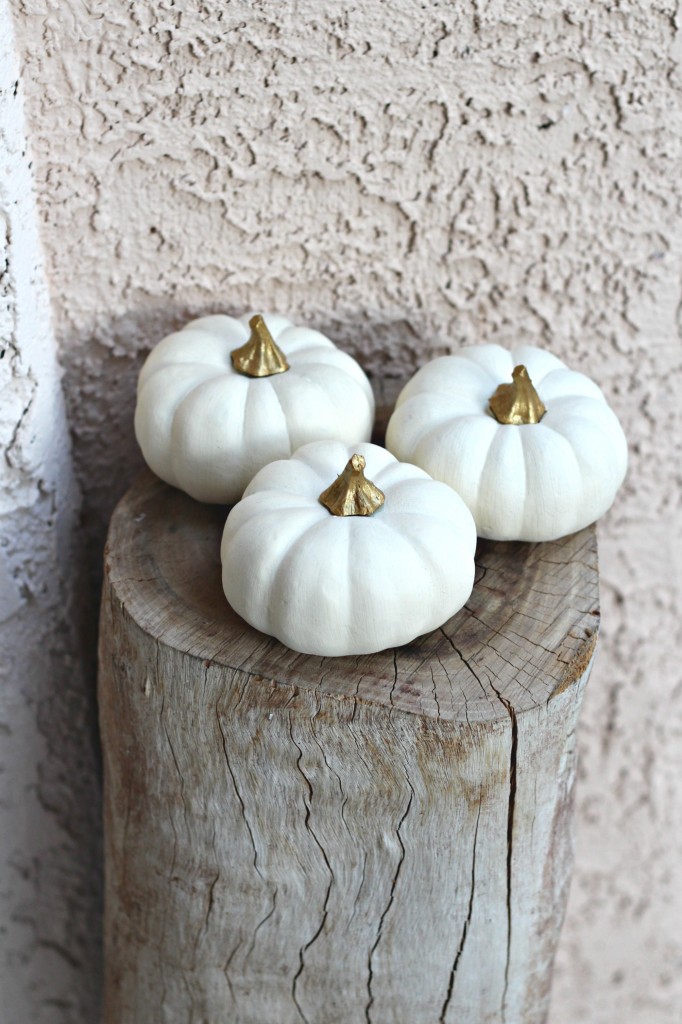 I made the monogram Fall wreath this year. You can click over to the post to see how I made it.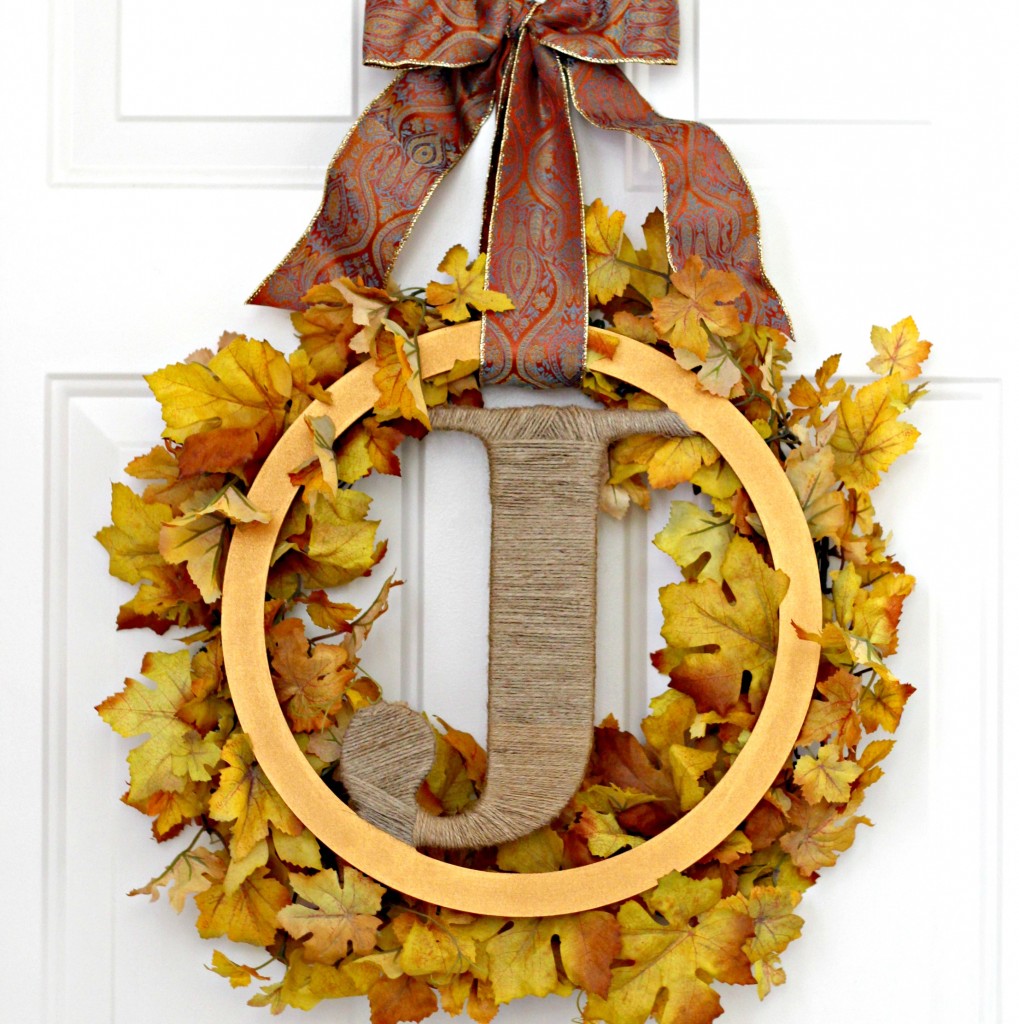 Let's move to the small entry area. I added a little nature and glitter to this area. Gather branches, berries, leaves, pine cones, acorns and bring them indoors for easy and free seasonal decor.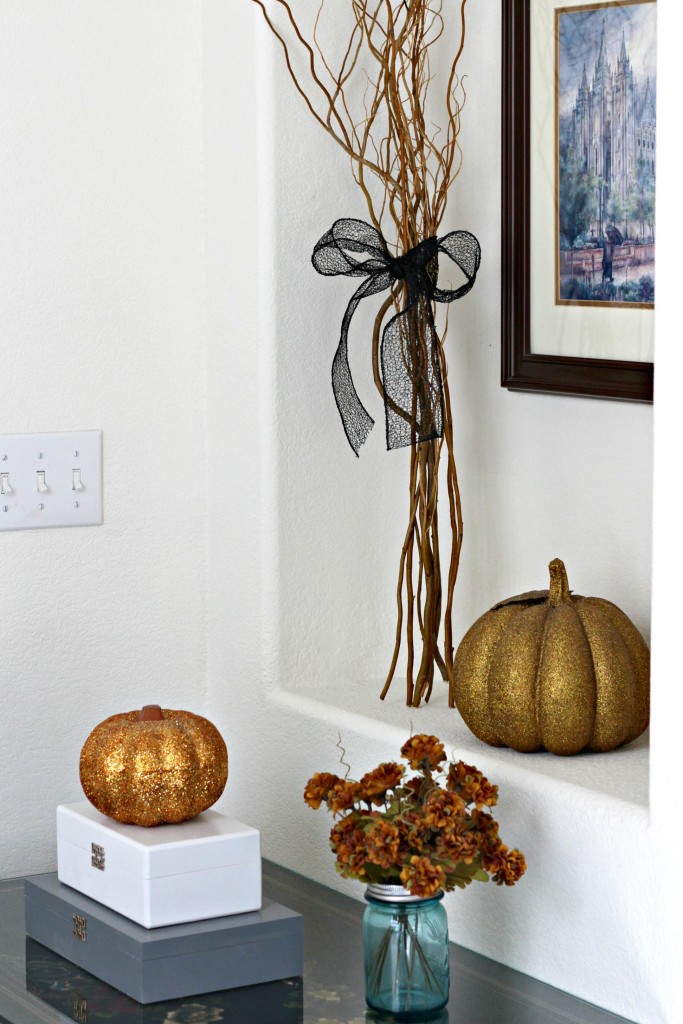 I made the glitter pumpkin from a dollar store pumpkin several years ago. Blue mason jars are my favorite. They look beautiful filled with fresh or artificial flowers all year long.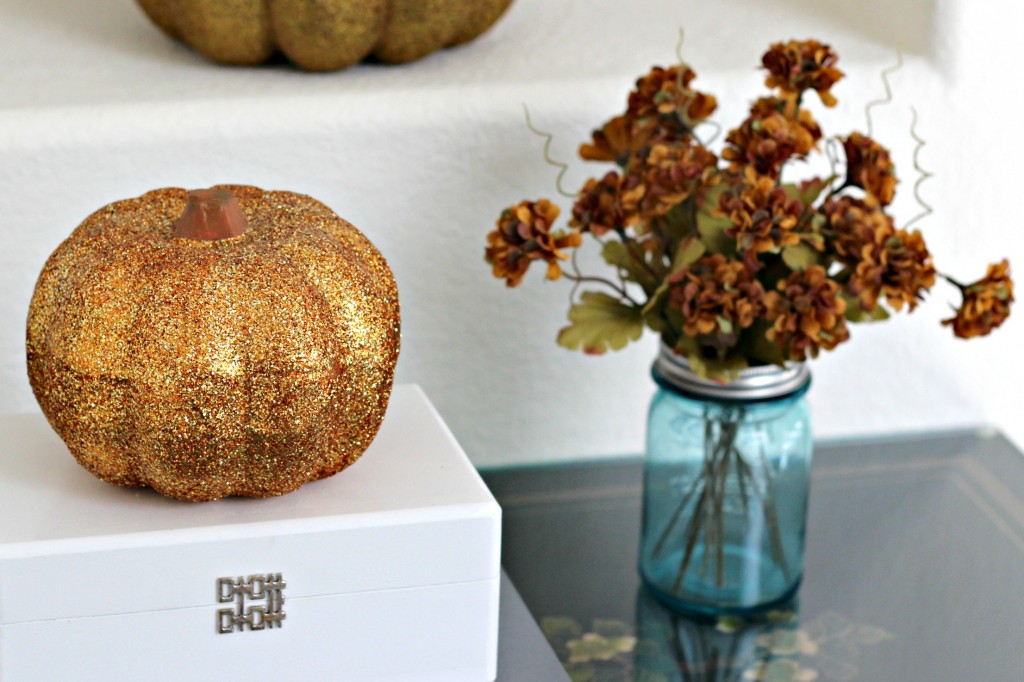 Now it's time for the living room. I need to find more of these votive candle holders. I love them but I don't remember where I got them. Place candles in a tray with a couple candle rings and you have a quick and beautiful centerpiece. You can check out my first chalk paint project by clicking over to my coffee table. I'm so happy with how it turned out.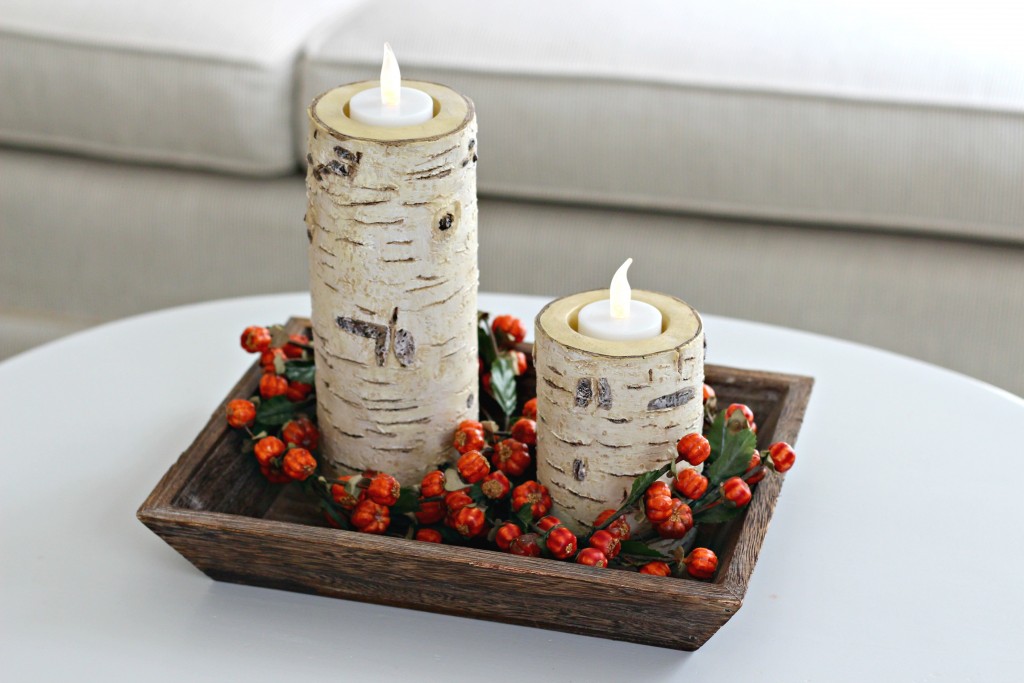 The top of the bookcases even got decorated for Fall. I made the Wheat Hoop Art and Fall blocks last year. The T.P. Roll Pumpkins are one of my favorite crafts from years ago. The best part is you can use scraps of fabric. I love this chalkboard, sometimes I chalk on it and sometimes it's just used as a back drop. You can also check out how I made the DIY map frame. It's an inexpensive way to make a large frame. I really need to make more frames.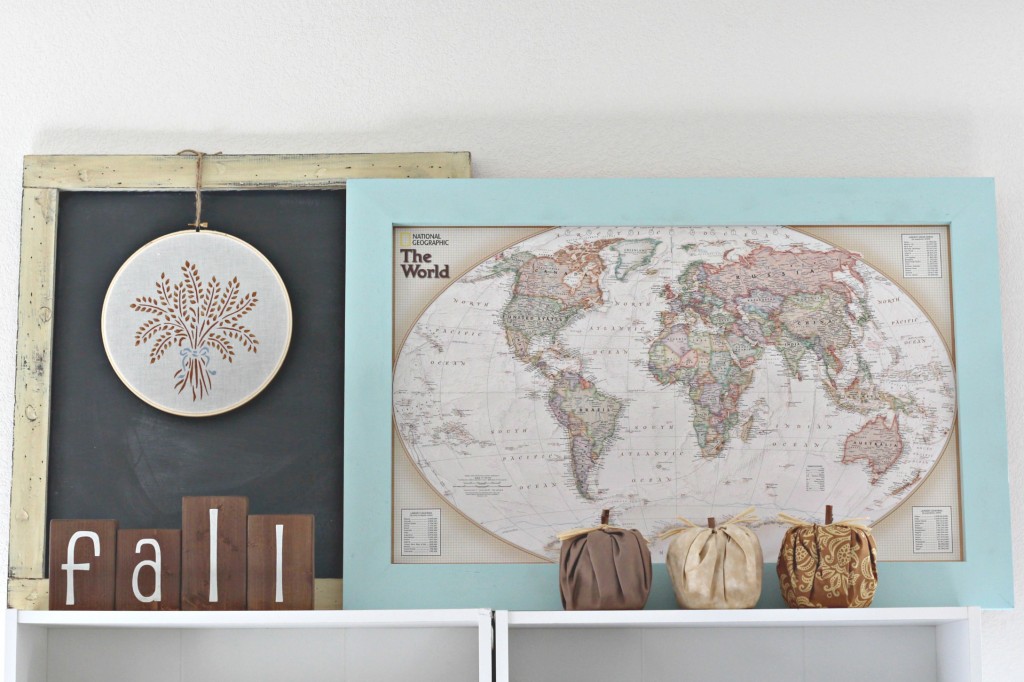 I bought the white pumpkin at Tai Pan Trading several years ago and the white leaf at Hobby Lobby. I love the contrast with the blue table. I found the table several years ago at a thrift store for $5, painted it and added a new knob to the little drawer.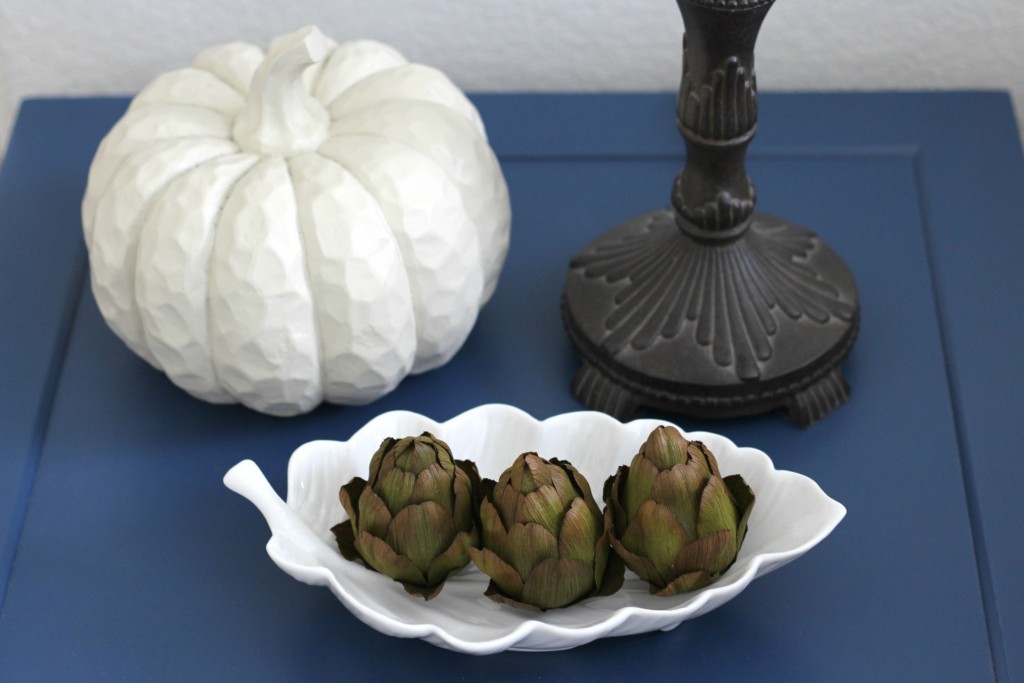 The wood acorns are from Tai Pain Trading and this woven bowl is the only thing I purchased this year. We went to the Fremont Indian State Park in Utah about a month ago and I purchased this basket there. They have some beautiful baskets and other pieces if you're ever in the area.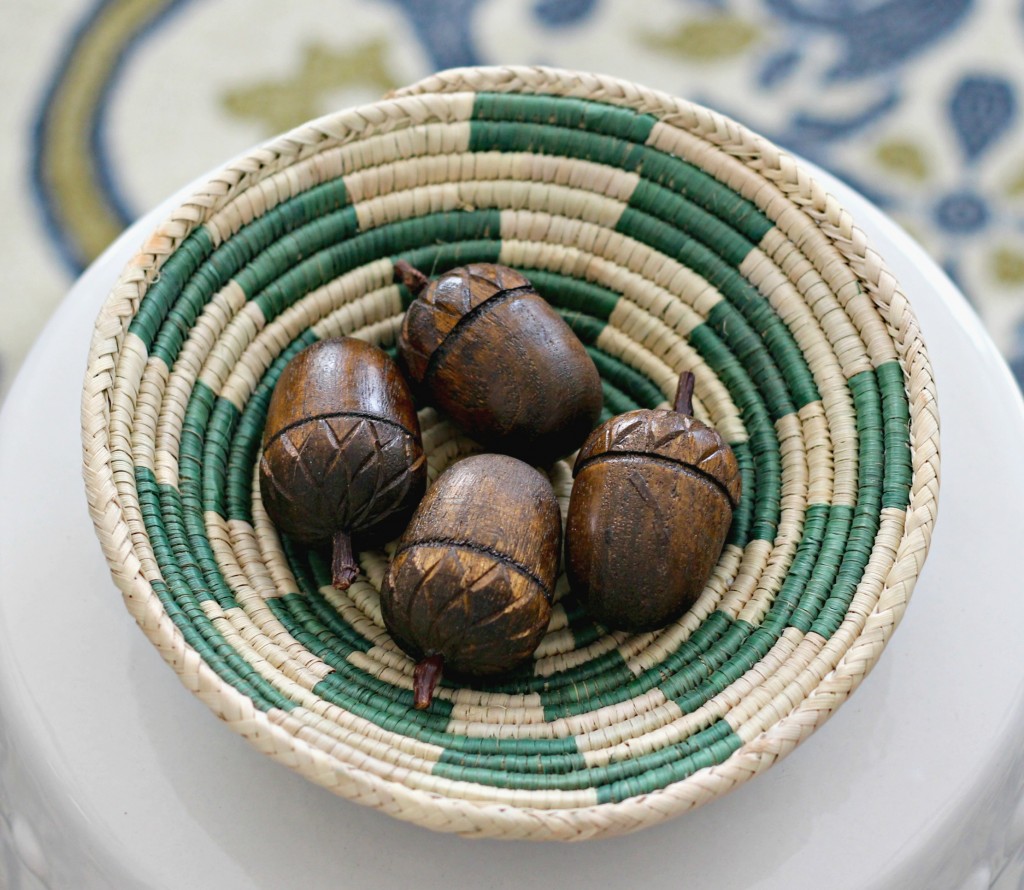 The ceramic leaf and mini pumpkins are from Tai Pan Trading. I really miss not having this awesome store close anymore.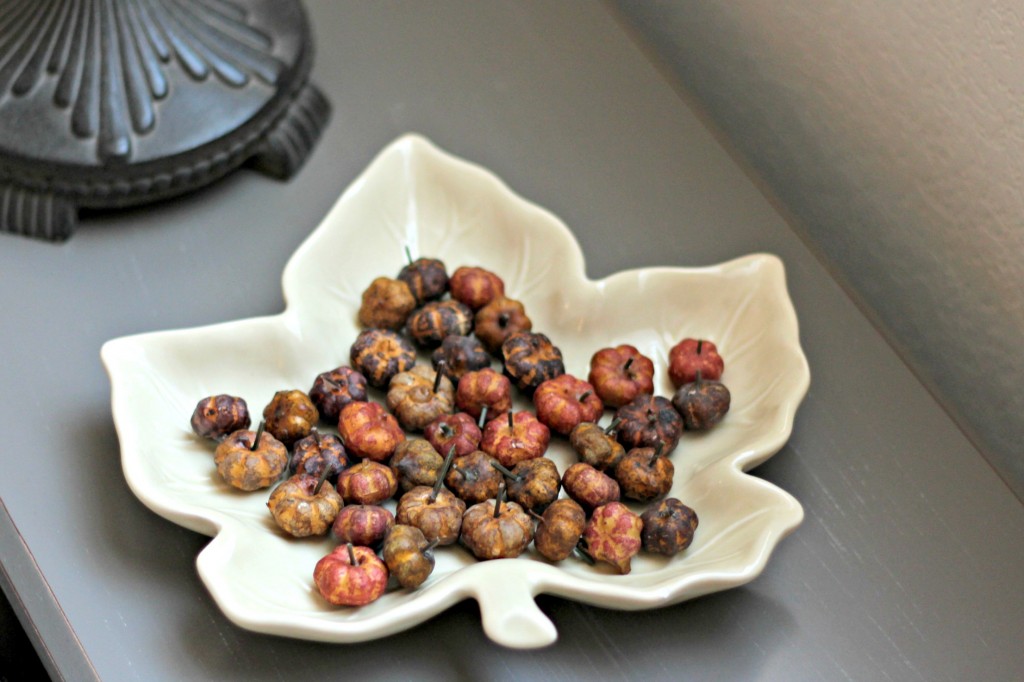 These boxwood wreaths hang from the vintage windows in my living room most of the time. It's easy to decorate them with the season or holiday by adding seasonal items. You won't believe where these little velvet pumpkins are from – Albertson's grocery store. They're adorable!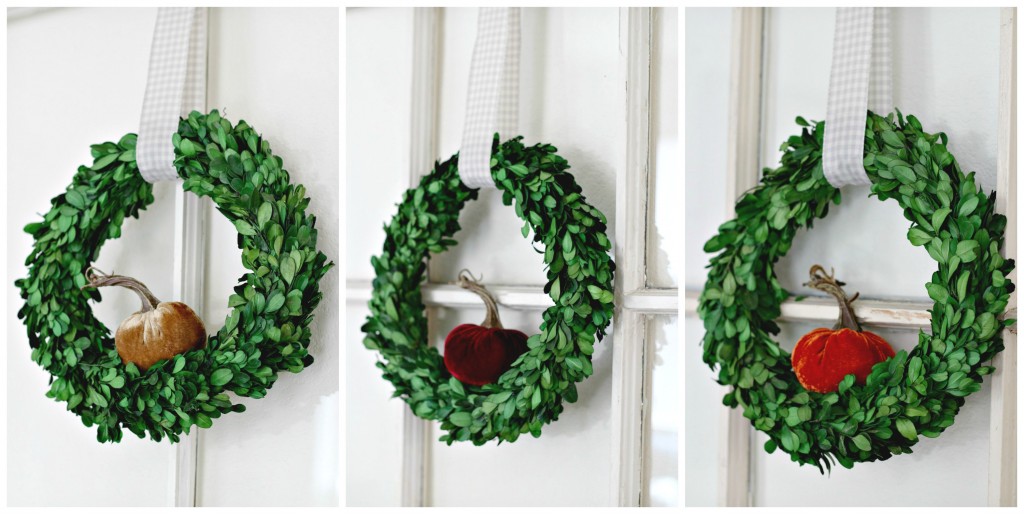 The small pillows on the bench, by the garage door are from the Target dollar spot. I purchased them last year. I need to share a tutorial on the bench. I made it before I started blogging but I wouldn't mind having a couple more around the house.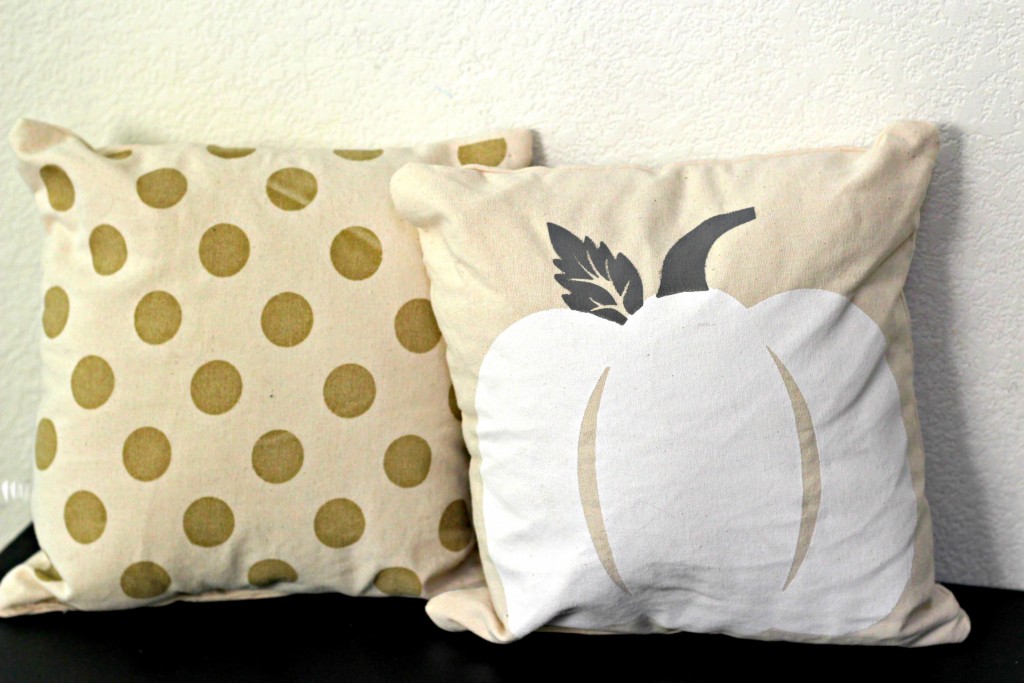 I didn't do much decorating in the kitchen this year but I did manage to get a few things out. The woven placemat is from Kohl's, the white mason jar and squirrel cookie jar from Home Goods, the tray from Target (on clearance), and the chalkboard easel from WalMart. I couldn't find a pencil sharpener so I sharpened the chalk with a knife. I'm pretty good at improvising.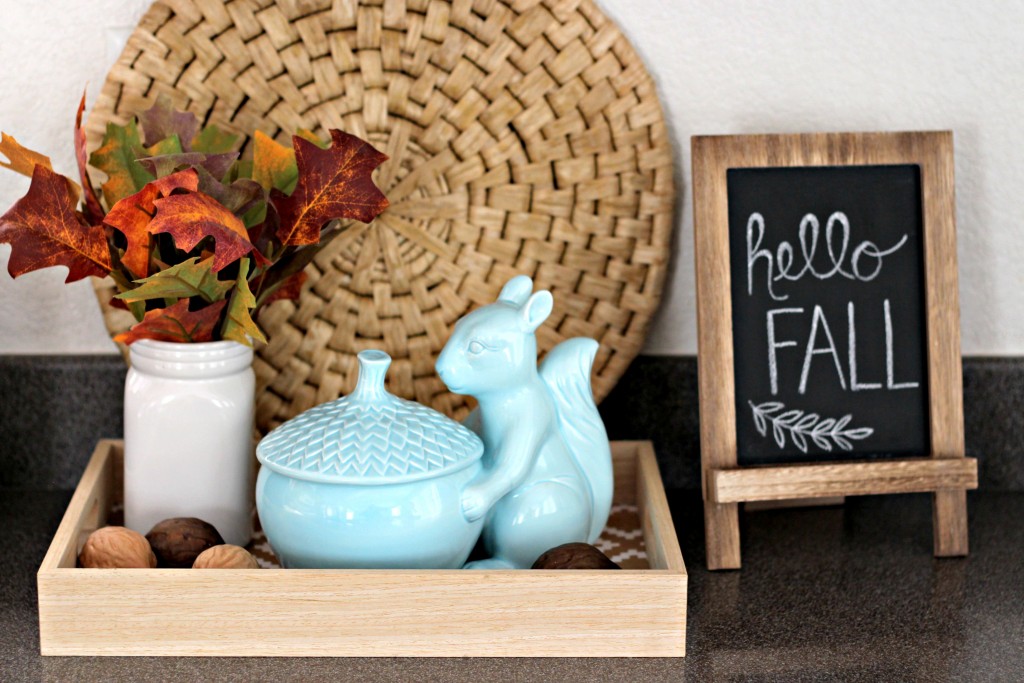 As you can probably tell I love decorating with trays. I won't tell you how many I have or how often I've painted them, maybe I will later. I made the polka dot burlap table runner a couple years ago and refreshed a few old pumpkins with paint this year. It's a simple centerpiece that can be moved easily if we need more table space.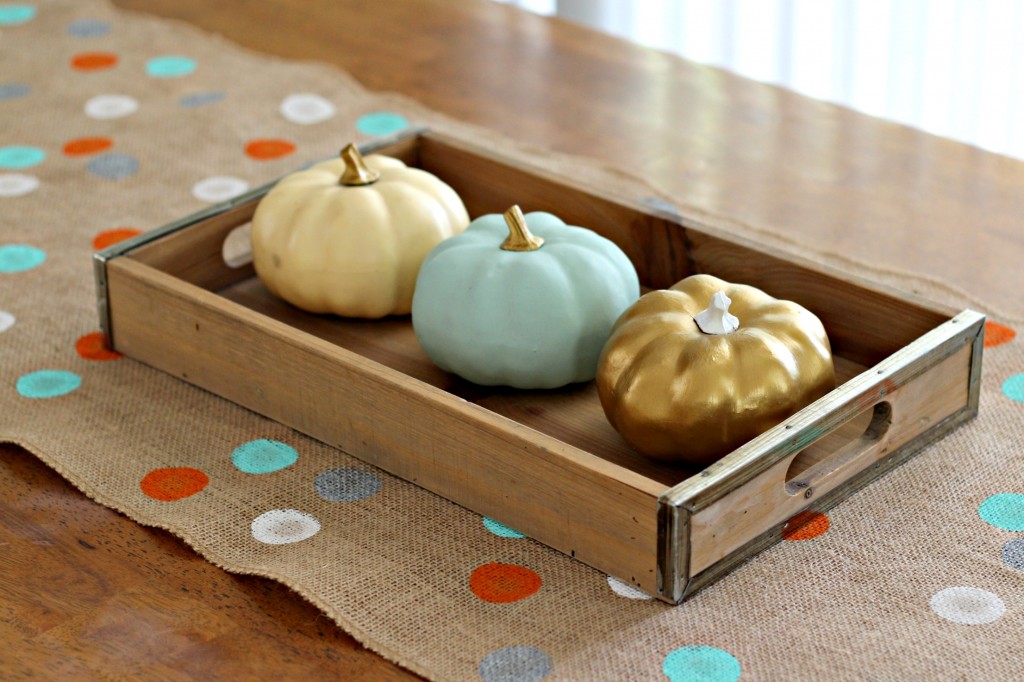 Now let's move to the family room. Instead of purchasing more pumpkins this year, I painted them. Gather pumpkins of different colors, styles, and sizes and display them together. Use candlesticks, bowls, or books to make different levels.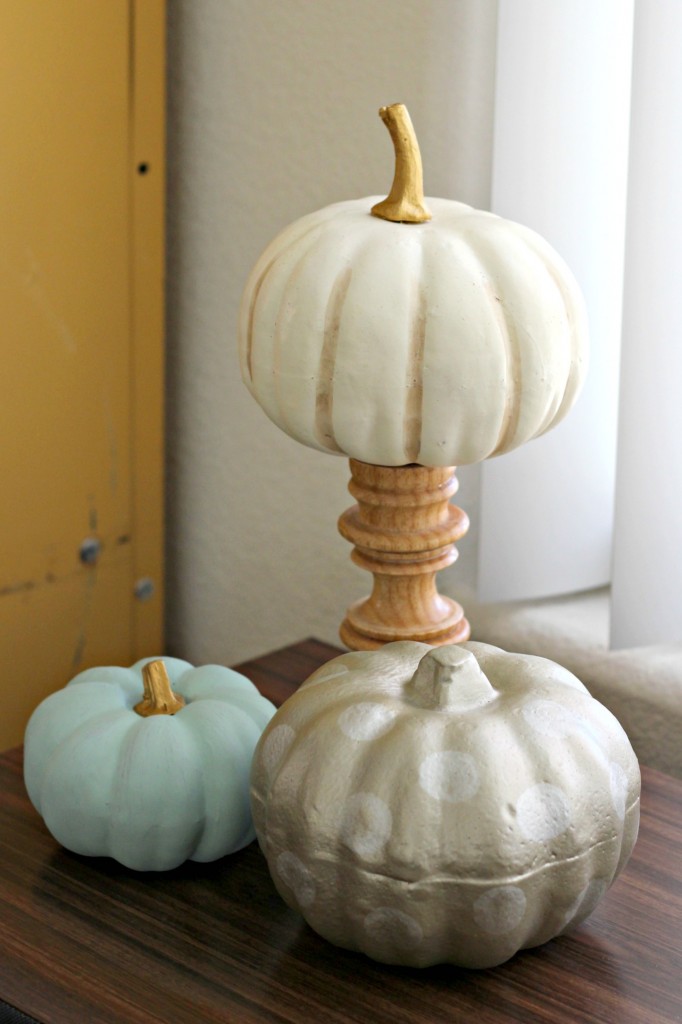 Add some wheat, branches, twigs, or leaves to a jar or vase you already have. Paint the bottom of a clear vase with a color for an updated color block look.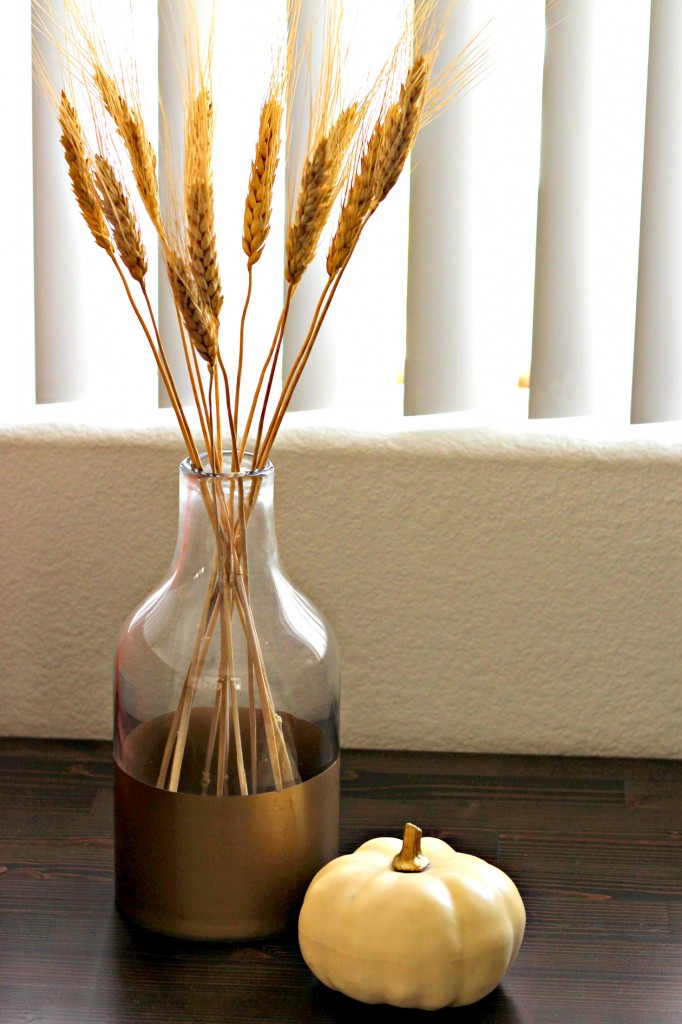 I bought this rustic wood pumpkin from a local boutique and added some scrap trim to give it a little color and interest.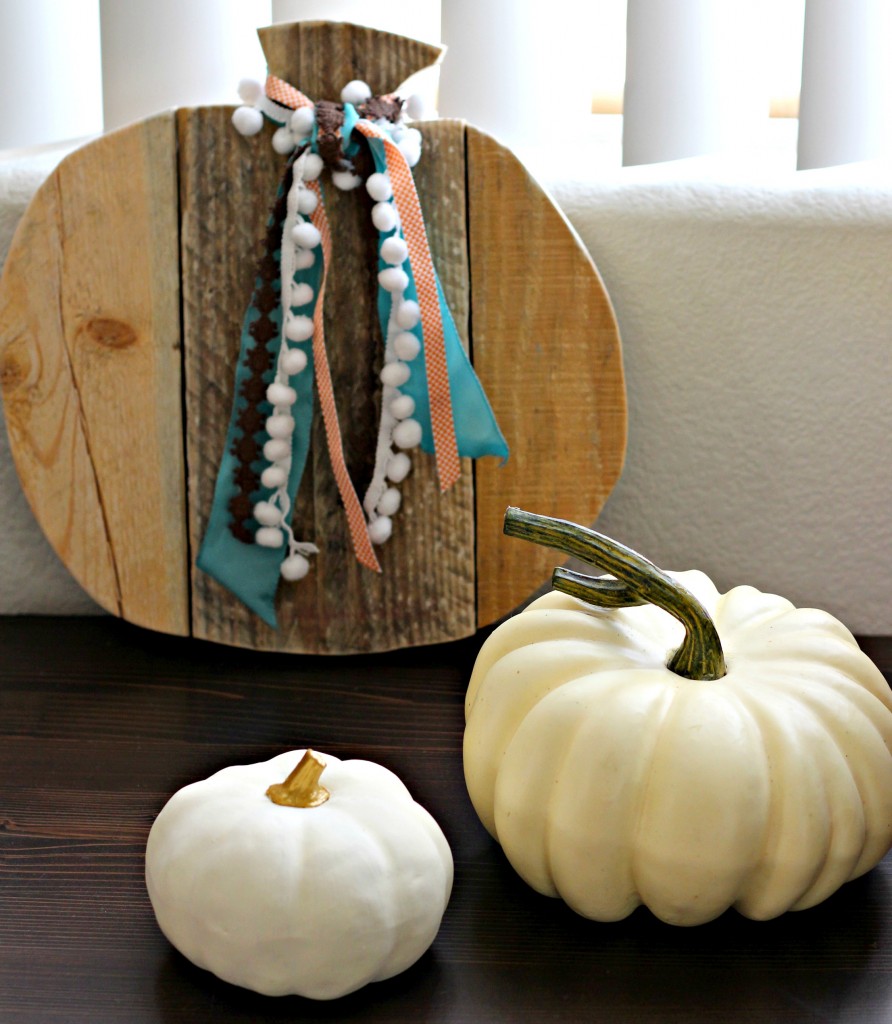 The tray on the ottoman even got a little Fall decor, but I had to leave room for cups and mugs while we're watching TV. The cigar box holds the TV remotes. I've debated about painting it but can't decide. I kind of like the wood.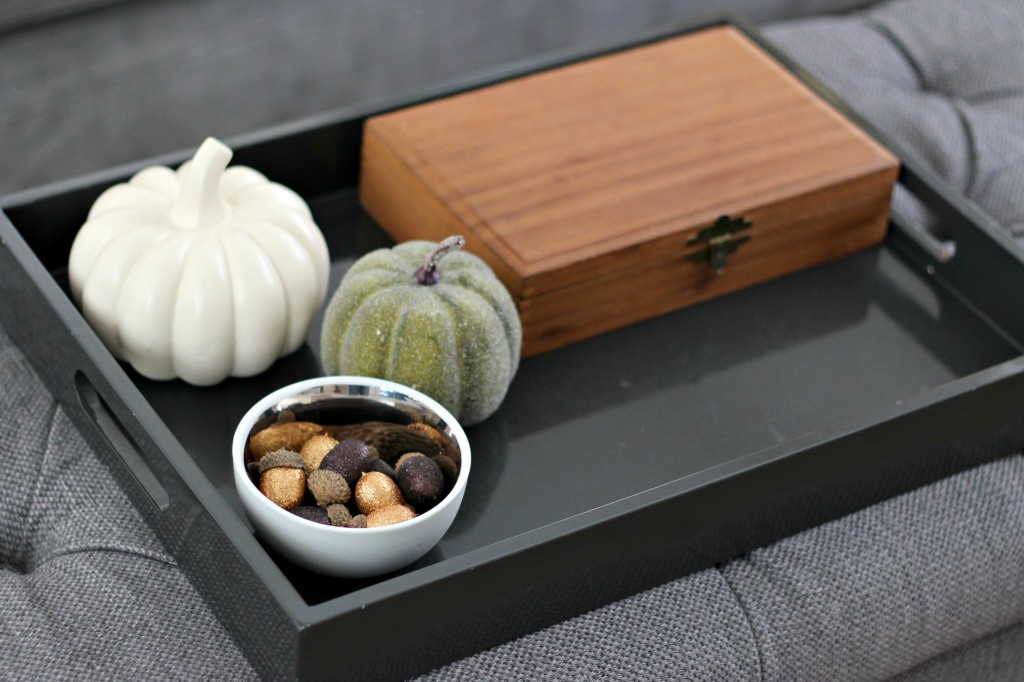 On the desk, I covered a hot cocoa container with wrapping paper for a chic pencil holder. The little fox is from Hobby Lobby. The twig pencils are a gift from a friend.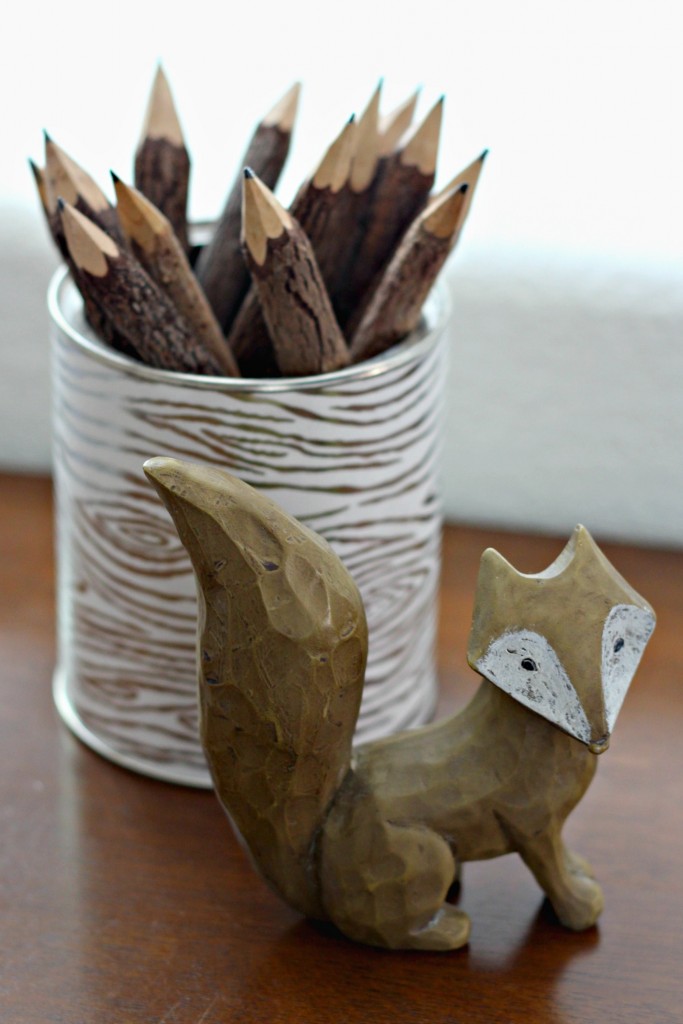 The berry wreath is one of the few orange things I have. It's really old and even though it's orange, I love it. I kept it simple by adding a little white and gold pumpkin.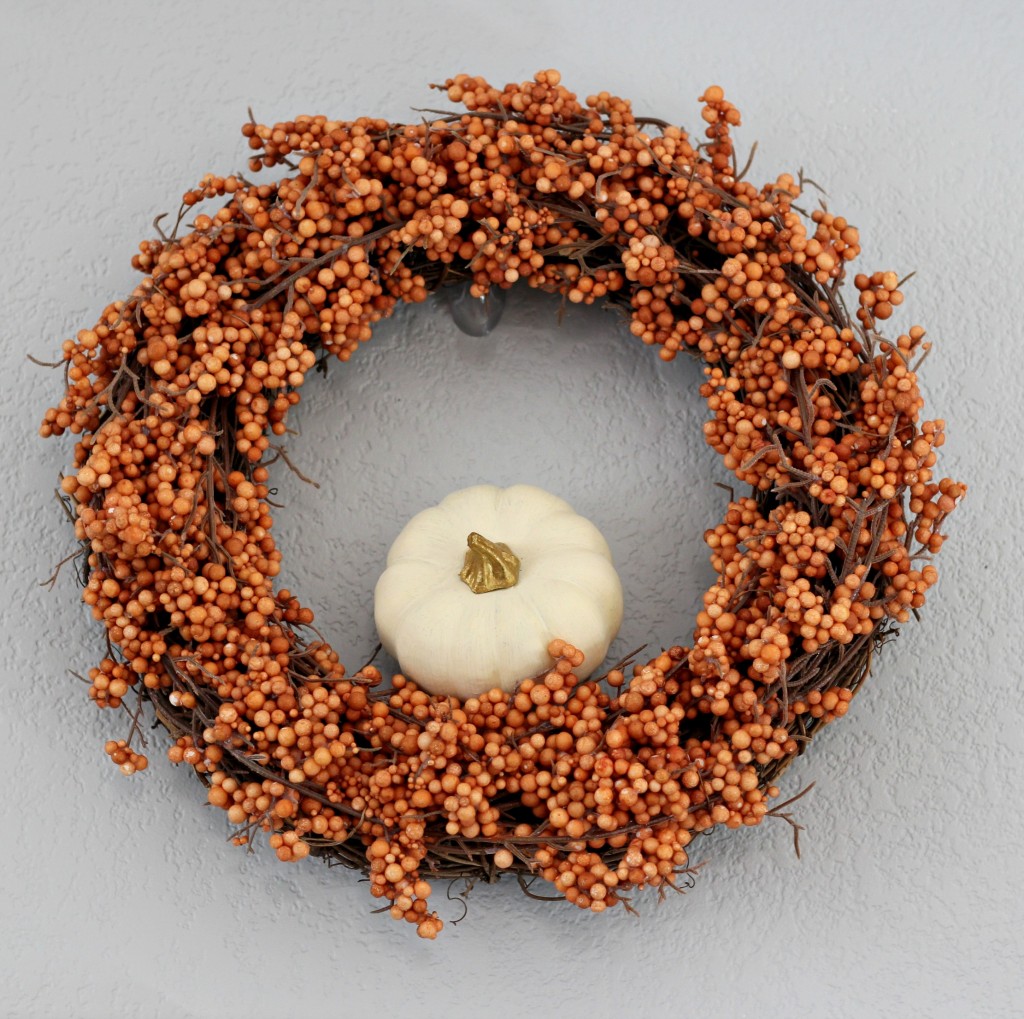 Decorating my mantel is one of my absolutely favorite things to do. I love how this one turned out and how simple it is. It's fun to mix different finishes and bring them all together in one display. I enjoy having beautiful things to look at but it can't be too much. I have to find the right balance to bring comfort and peace to my home. The owl is from Home Goods a couple years ago, the frames are thrifted, the hexagon is from Hobby Lobby, and the velvet pumpkin from Albertsons.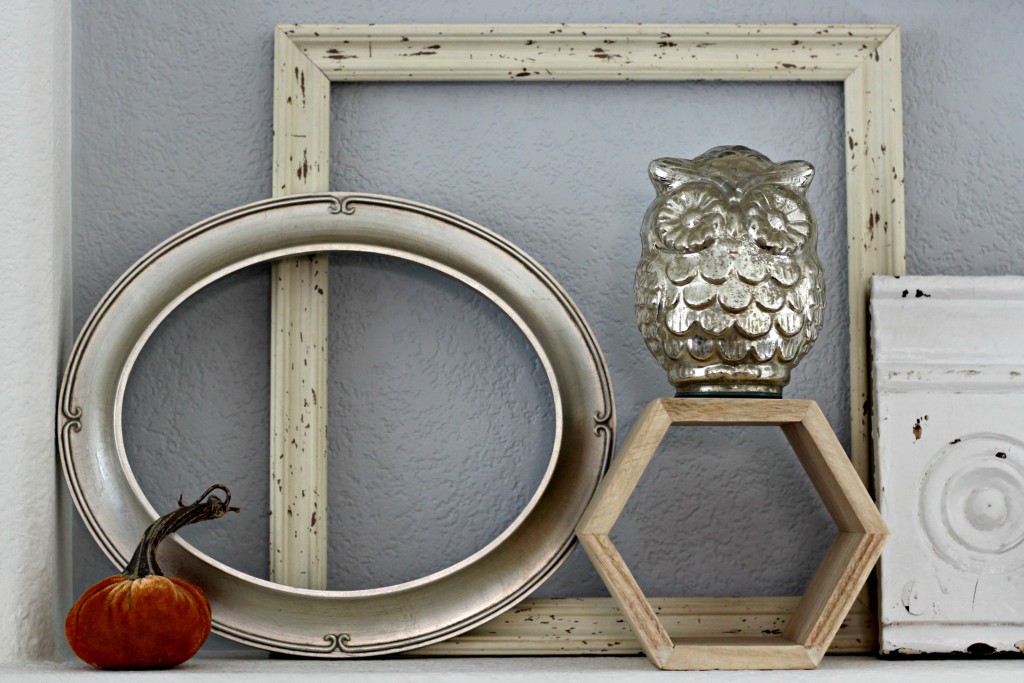 The wood box is from a local boutique, the jars from a craft store, and the pumpkin from a seasonal boutique.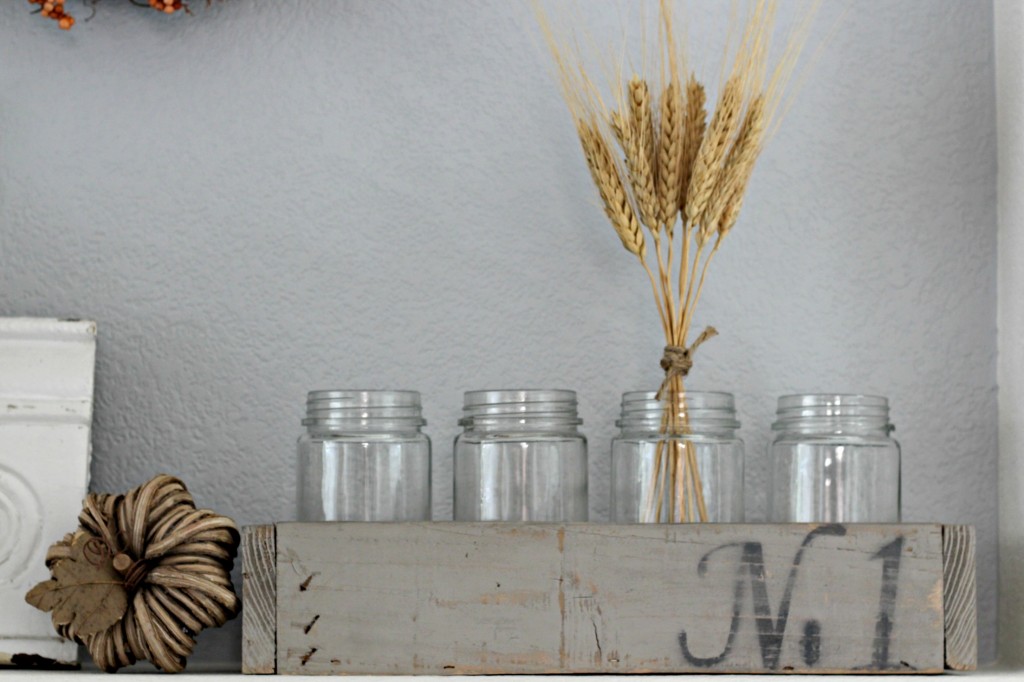 Well, that's my Fall tour for this year. I hope you enjoyed it and got some good ideas for your own home. Here's to cooler weather, hot cider, and crunchy leaves. Happy Decorating!!!