I'm happy to finally bring you my Christmas in Red and Black Home Tour. Wow, it's been a busy few weeks and I feel like going out of town for Thanksgiving threw me off for about a week. Since hubby is gone most of the month of December I wanted to get the Christmas decorations up early so he could enjoy them. I got about half of them up before he had to leave so at least he was able to enjoy some of them. I love the way my home feels this time of year so please join me for a small tour, I hope you enjoy it.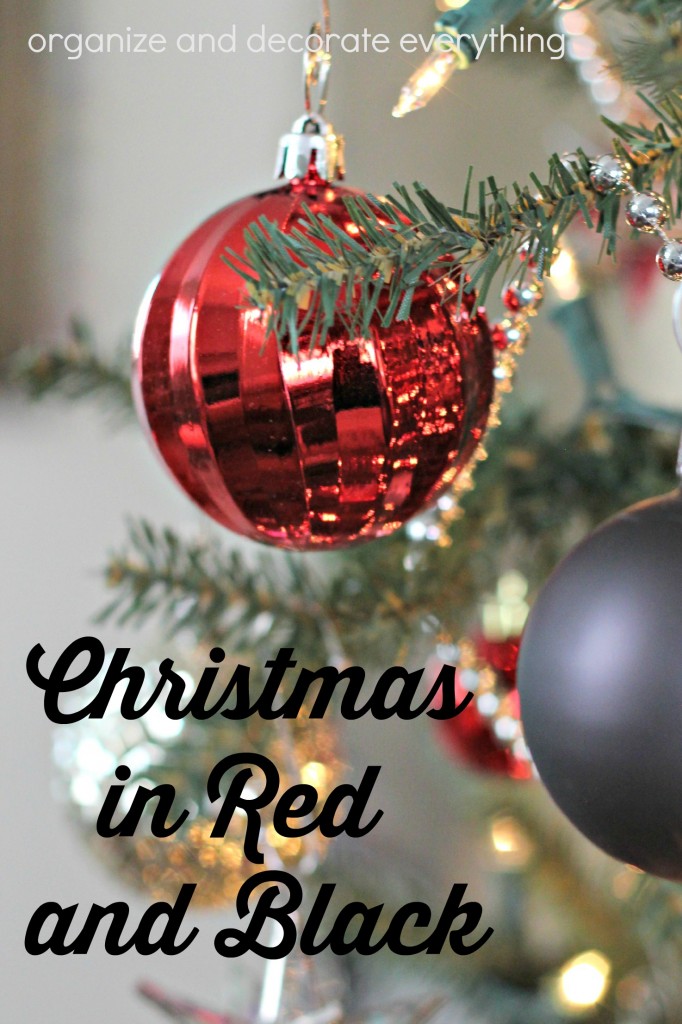 Most of you know I live in a rental and it's quite a bit smaller than I'm used to, so decorating at Christmas has been a challenge. Luckily we have a tall skinny tree so I'm able to fit it in a pretty small space. I moved it to the living room this year because of some changes in the family room furniture arrangements. It might have to go back to the corner in the family room next year due to little kids and me liking it there better, but I like that I tried it somewhere else.
The chest in the small entry area is decorated in mostly silver and white. Some days I want to decorate my whole house like this, it's so peaceful. I'm not going to go into every detail because this would be a super long post but I will be linking to some tutorials if you would like more information. Click on Display Stand for more info.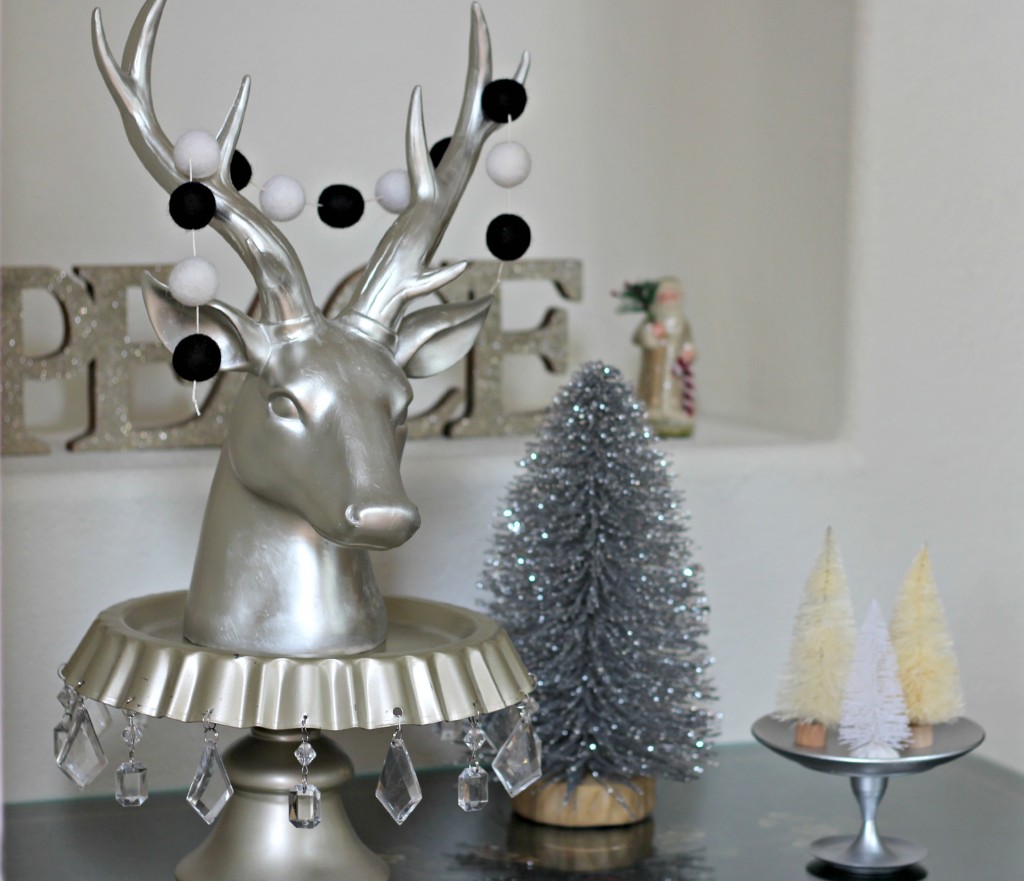 The bookcases get decorated with the seasons and holidays, sometimes a little sometimes a lot. I'm keeping it pretty simple this year. When my life feels stressed I tend to decorate less, it helps give me balance I guess. The map and chalkboard are always on top of the bookcases, there is a huge ugly mirror behind the bookcases they're hiding. I haven't decided what to write on the chalkboard yet, maybe Joy to the World! Tutorial for DIY Frame.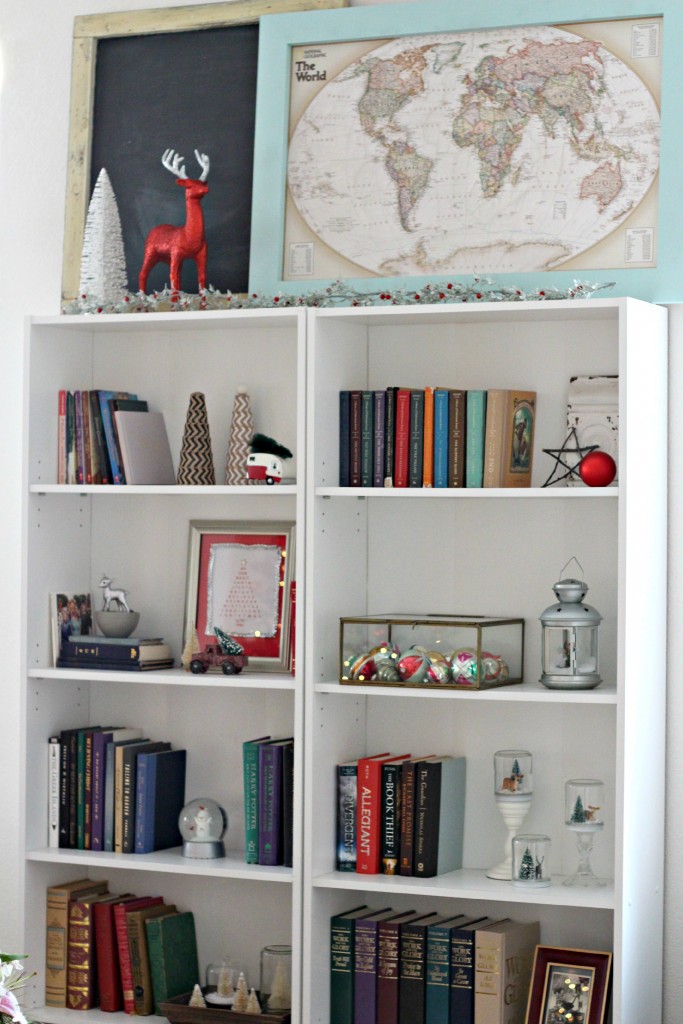 Here are some of the bookshelf details. Waterless snow globes are one of my favorite things to make and decorate with, everything looks great under glass. My vintage ornaments are displayed in a glass and lead box this year. Tutorial for Twig Star and Waterless Snow Globes. I love the mini truck and trailer.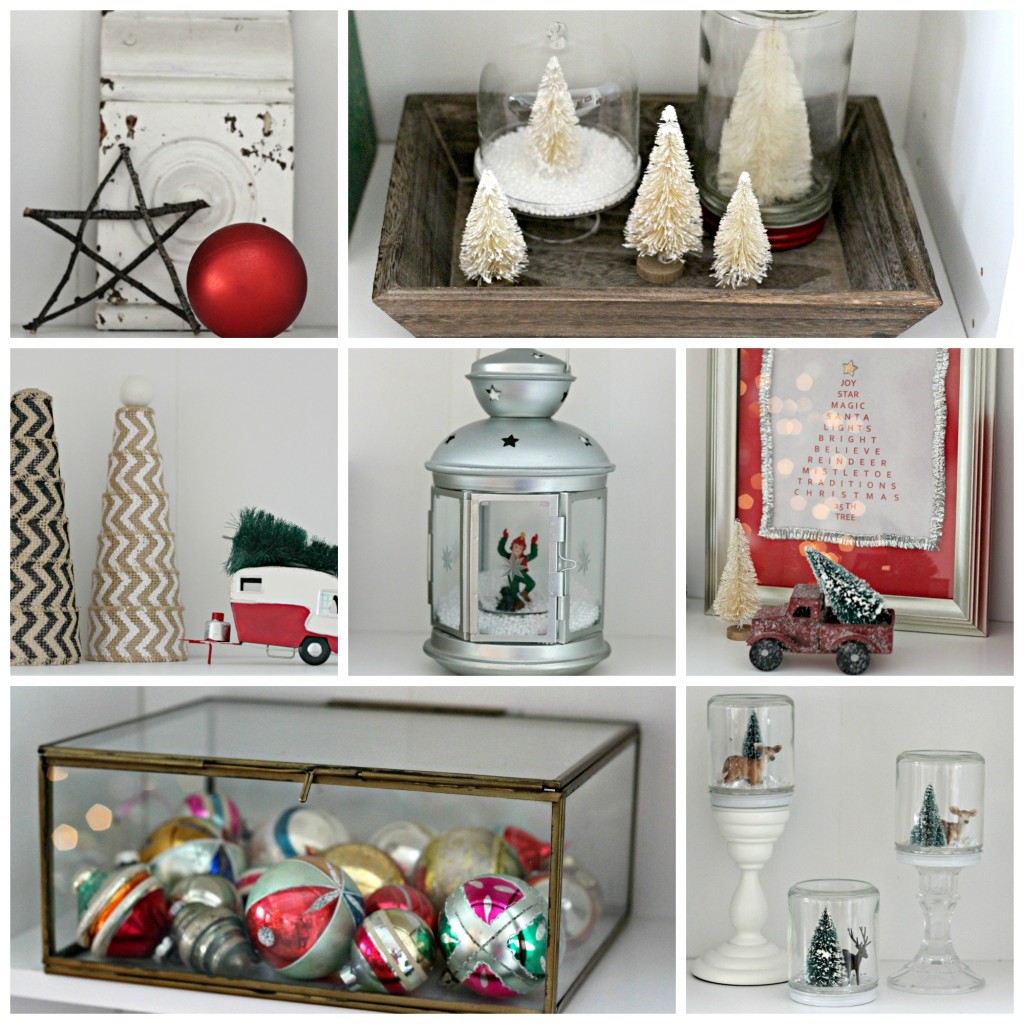 My favorite thing to do during the Christmas season is to curl up with a book next to the tree with a cup of hot cocoa and I always have a throw available for chilly nights.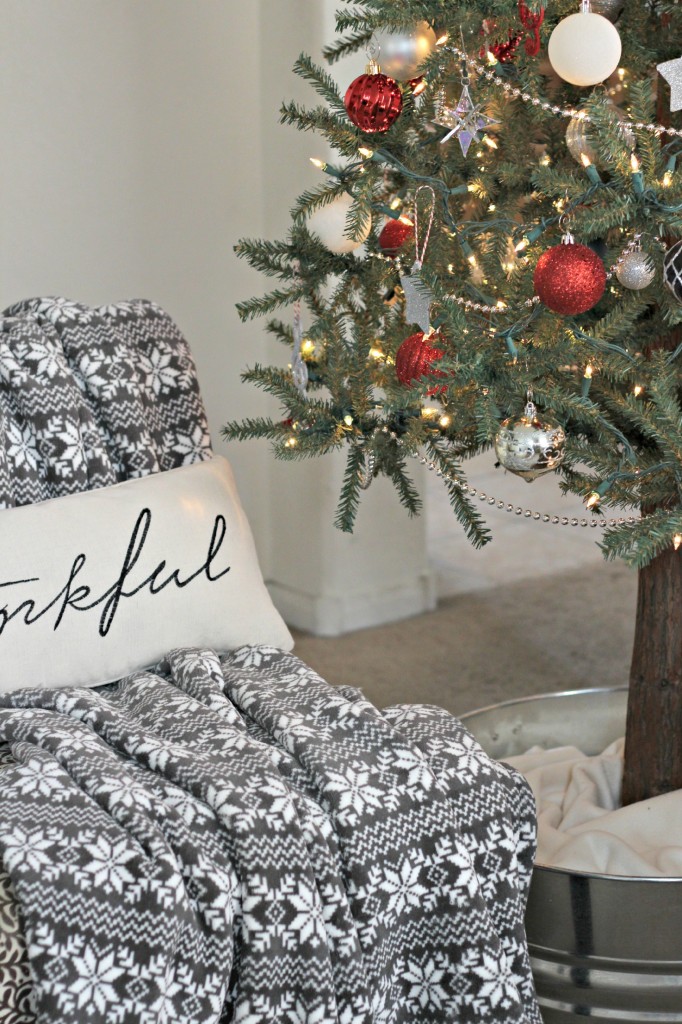 Here are a few more details in the living room. We have a tradition where the kids hunt for the pickle ornament in the tree and whoever finds it first gets a nutcracker. Below is the nutcracker for this year. I love that as my kids leave home they take their nutcrackers with them to display and even continue the tradition. The windows are one of my favorite things to decorate for different holidays. We just hung our stockings there this year. I also drape the mirror with some kind of garland for almost every holiday.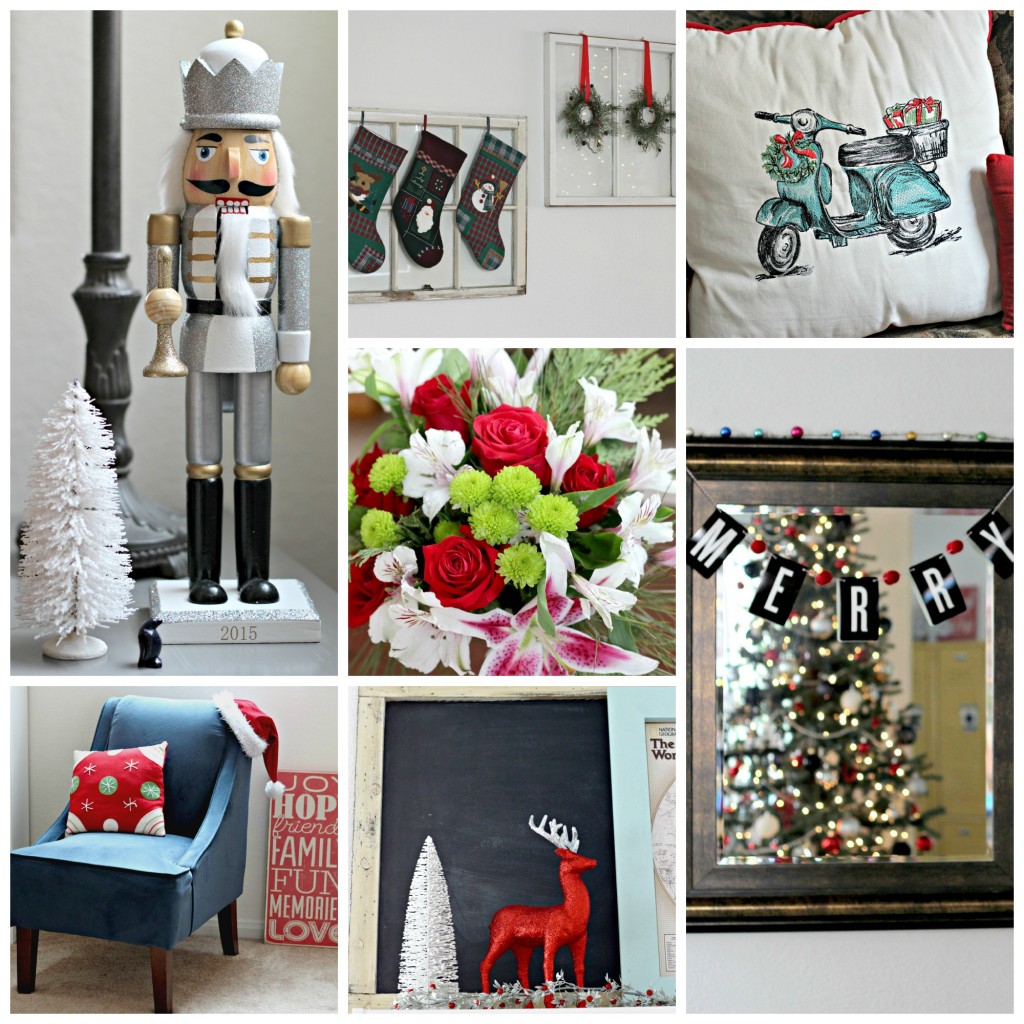 The tree is decorated with red, white, silver, and black ornaments. We also added the glitter ornaments the kids made this year and a few special ornaments we bought in San Diego at Thanksgiving.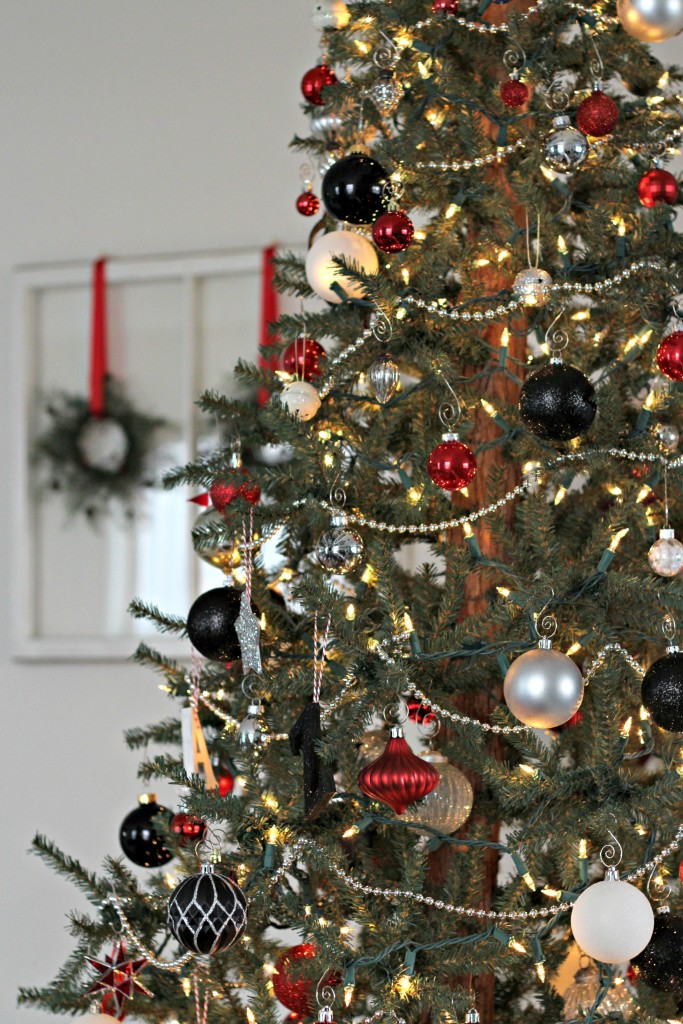 Now let's move to the family room. My favorite thing this Christmas is the new Nativity I was able to purchase. Money has been tight the last few years so I was overwhelmed with joy when I realized I would be able to buy a Nativity this year. I especially needed to reflect on it today and am happy I have a beautiful display to remind me of what this season is all about.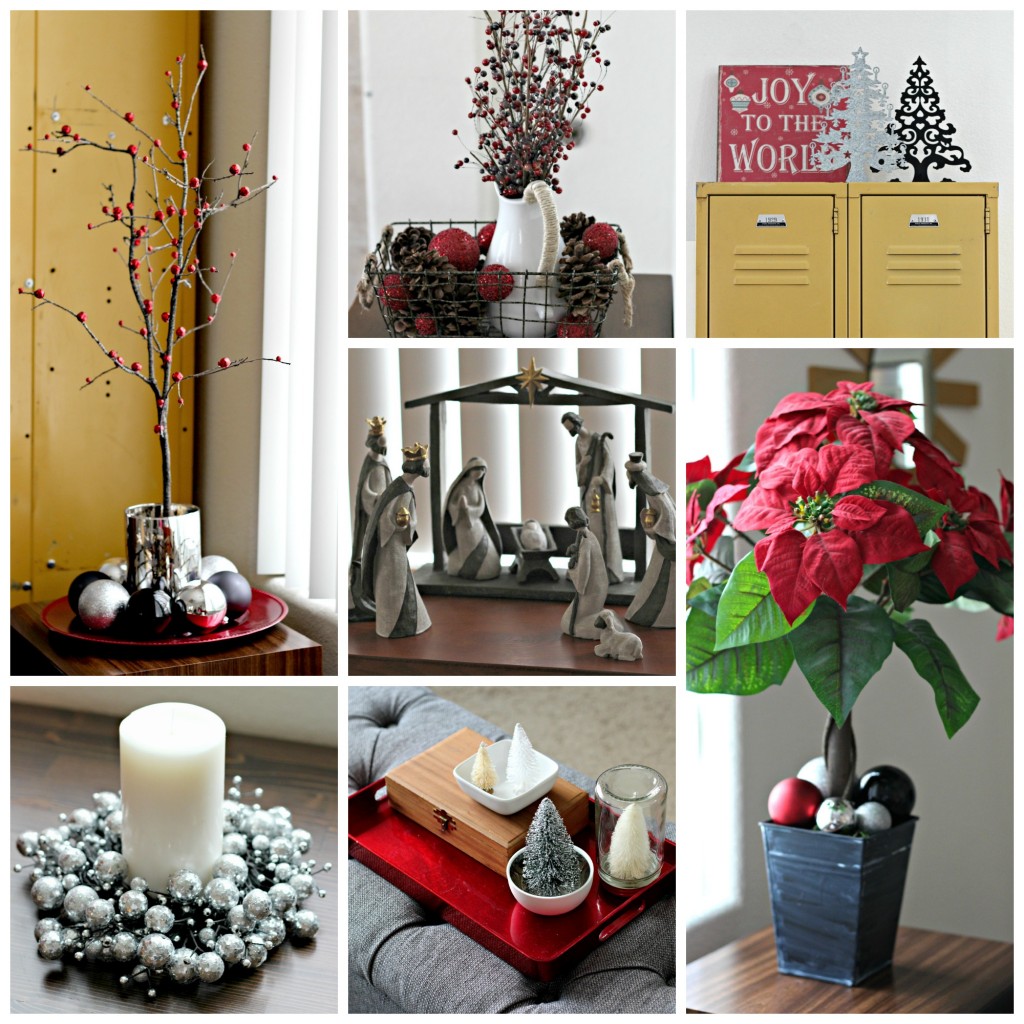 I won't go into detail on the mantel because you can read all about it on this Christmas mantel post, but I will say that it is probably one of my favorite Christmas mantels.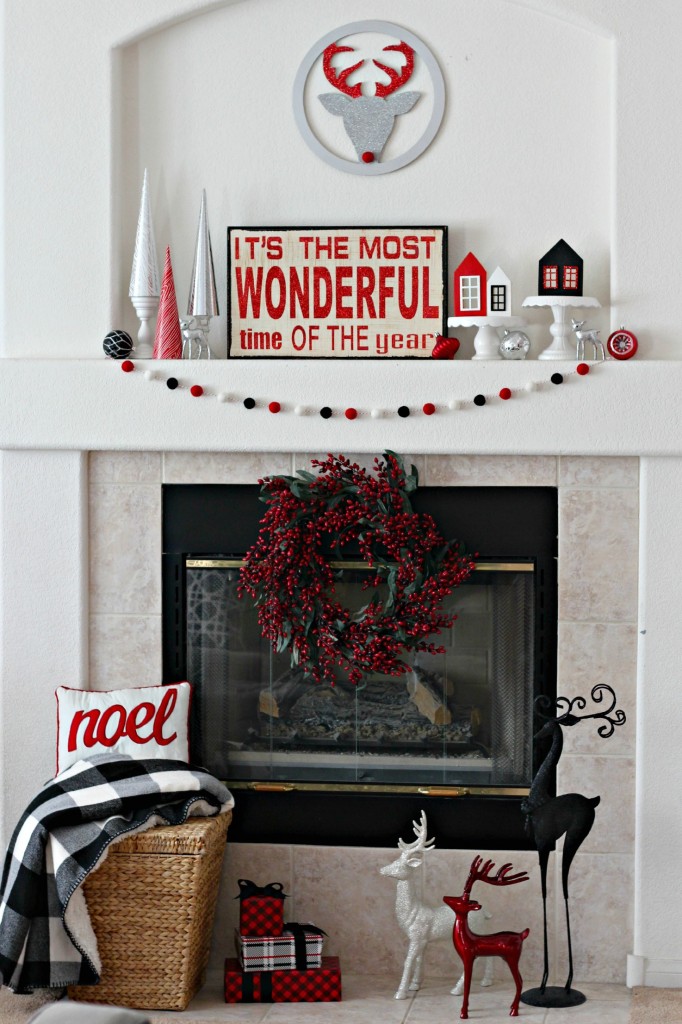 Having the tree where it is this year means we have a view of it where ever we are on the main level, even the kitchen. Do you ever just want to keep your tree up all year long?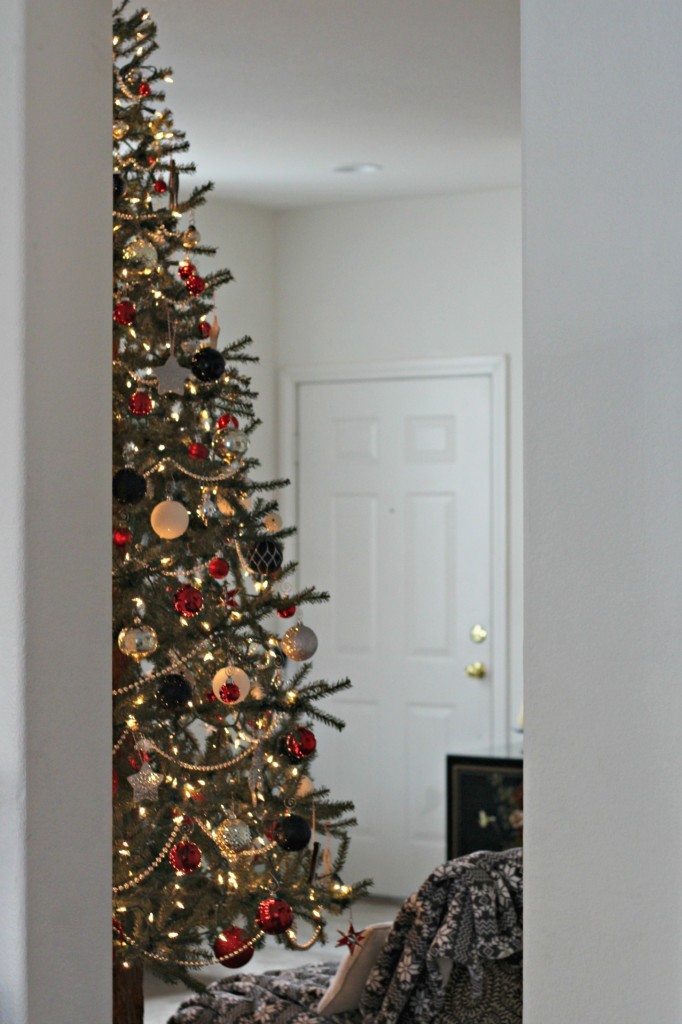 The kitchen got a few decorations but nothing to overwhelming since it's pretty small. I decorated a little over the cabinets and hung some wreaths on a few cabinets using ribbon and command hooks on the back of the cabinet door. The framed Christmas trees with the kisses are our Christmas countdown this year, of course some of the kisses have been eaten now. If you are still in need of a countdown just use this free countdown printable and add kisses.
Our dining table is small so we always have a small centerpiece. I'm still hunting for a table runner I love, but this little arrangement makes me happy.
You can find out more information on how to make your own everyday Cocoa Bar by clicking over. We use this almost everyday and it has been so convenient to have everything we need in one place.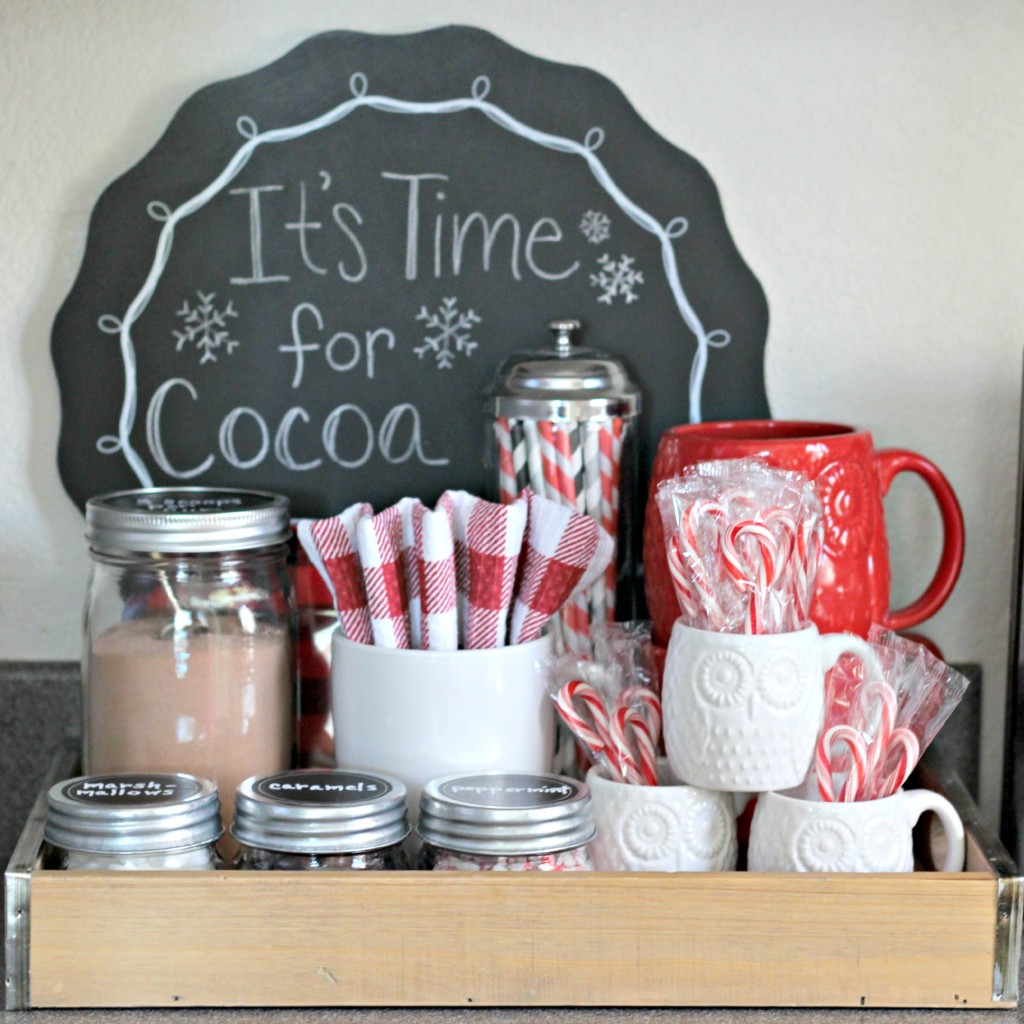 We have a second tree we put all the kids handmade ornaments on. Depending on the year we either have their special ornaments on the big tree or on this tree, this year they're on this tree. It was hard to find a place for this tree in this house so it's on the landing going upstairs. We leave the lights on all the time and I love how it lights the stairs and hallway at night.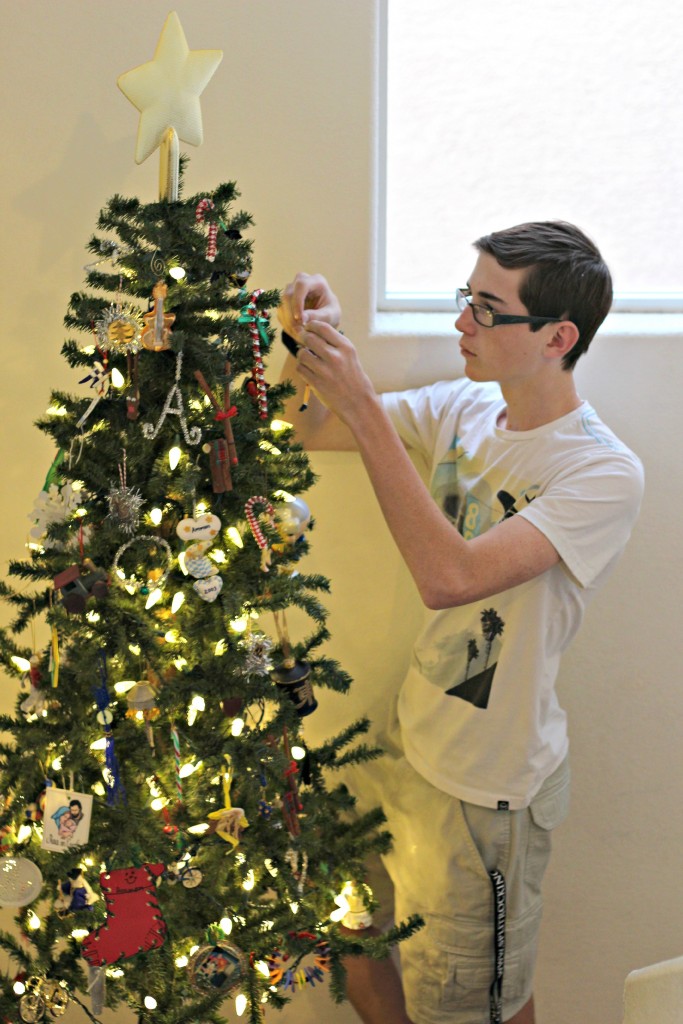 We have a tradition of buying the kids a new ornament every year. It usually represents something about their life the past year, but you can only have so many soccer or other sports ornaments so we did something different this year. The boys really like super heros so they got these cute little chubby heros and Emilee loves anything Paris so the Eiffel Tower was perfect. As the kids leave they take their ornaments with them to their new home. I love that they've all started this tradition with their kids too.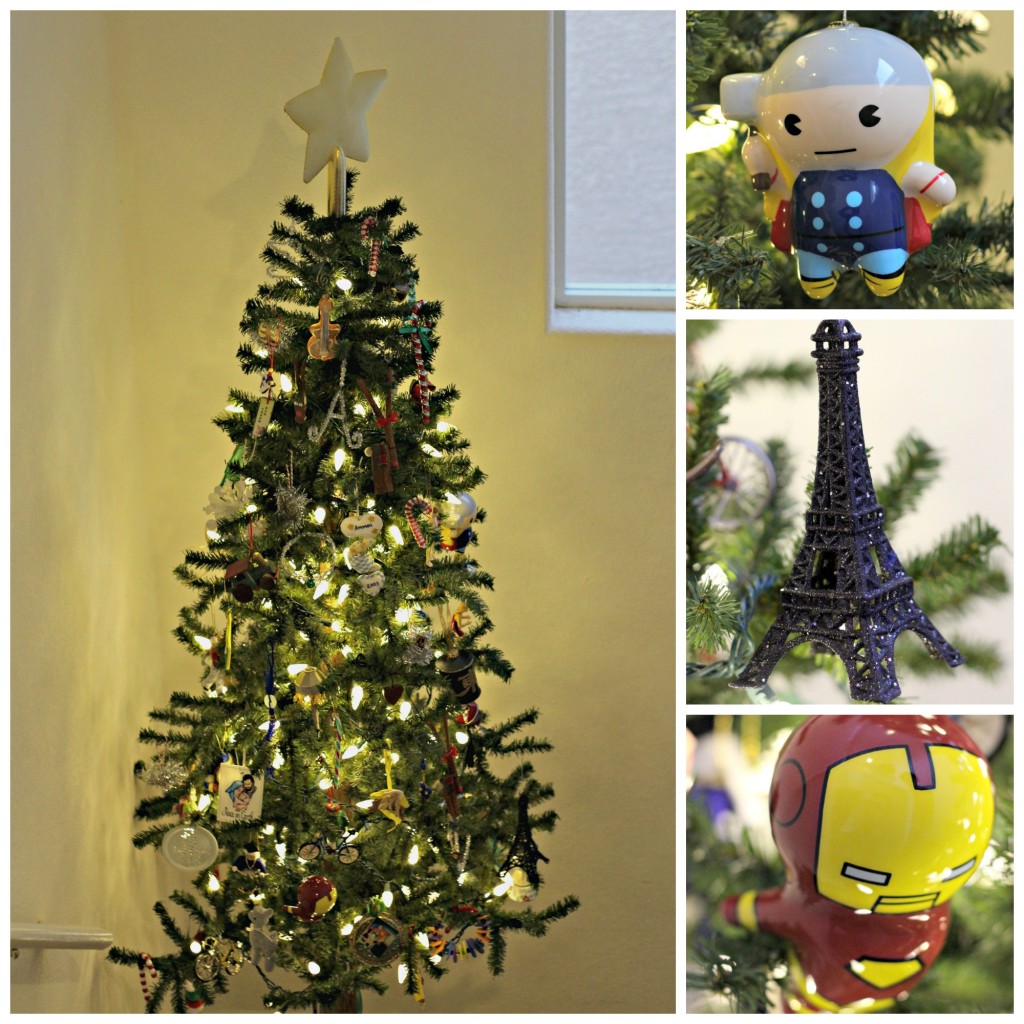 I actually have a few more things I'm working on but I'll have to show them later. I hope you enjoyed the tour. If you'd like to link your home tour in the comment area feel free. I love to check out how everyone decorates for the holidays. I will have my Christmas porch up on Friday so make sure to come back then.