Welcome to my Rustic Mixed Metal 2017 Christmas Home Tour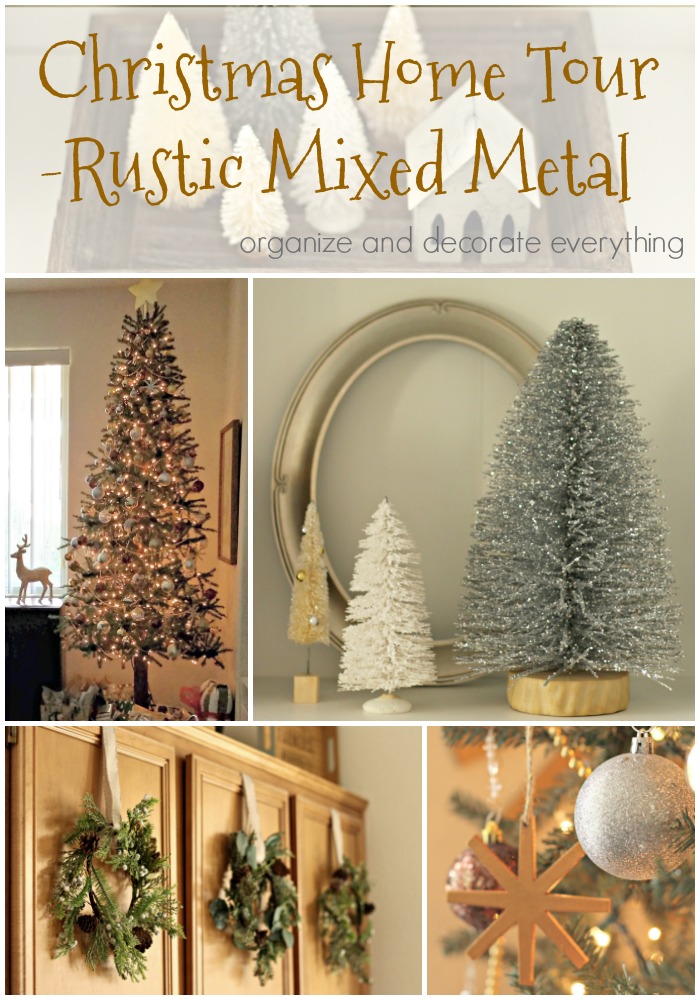 My home has been decorated for Christmas since Thanksgiving but due to other obligations I haven't had time to post my home tour. I hope you'll join me and enjoy the tour even though it's last minute. Let's start on the porch. I did find time to share the porch last week so if you'd like more details you can check it out, Mixed Metal Rustic Christmas Porch.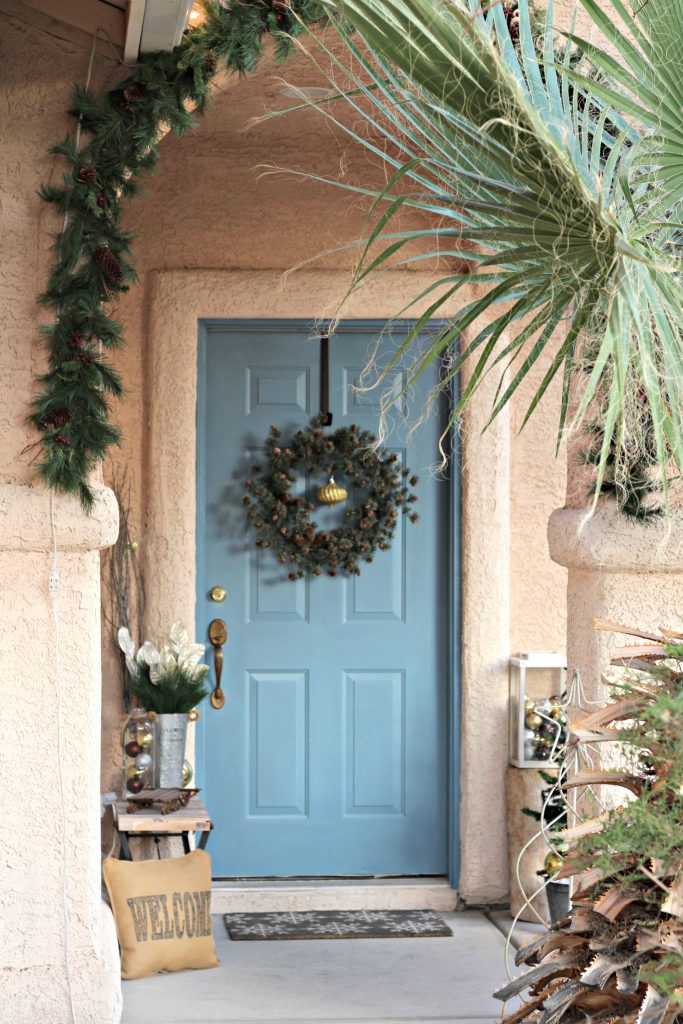 Let's step inside. We don't have a fresh tree but thanks to my daughter we have a spruce scented candle that smells amazing. Since this is the year our married children are spending the holidays with their other family I decorated in my style, next year I'll be decorating for the kids.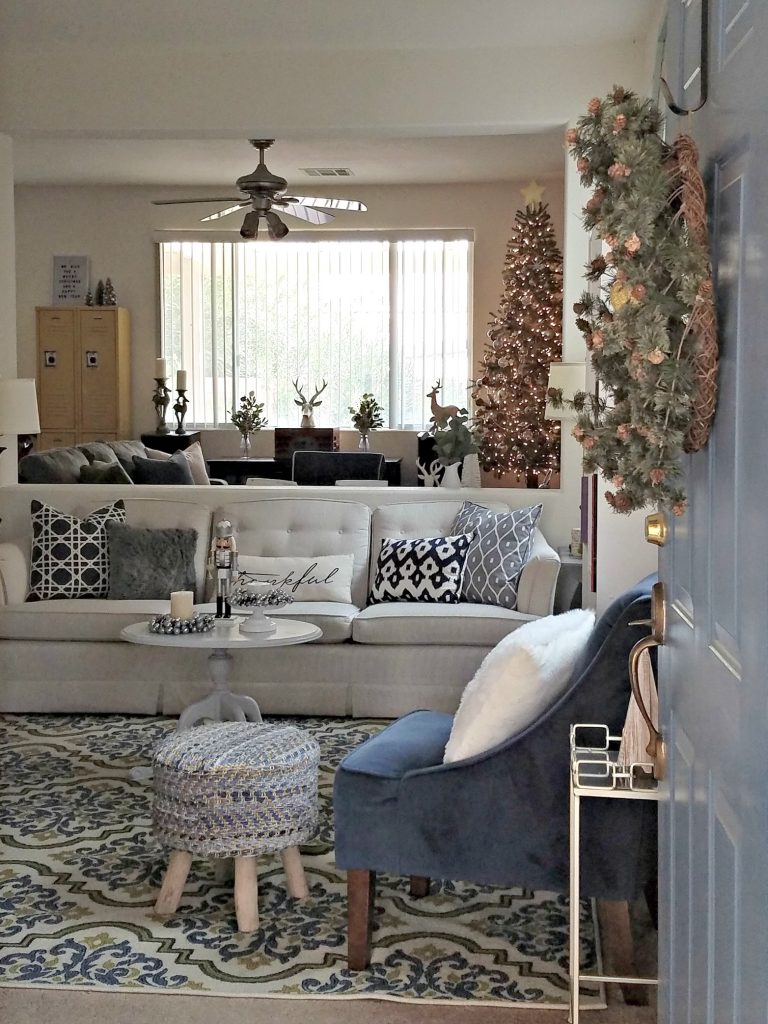 We're in a rental and the living area is pretty small. Our tall skinny tree is perfect to stick in the corner of the family room. I love that it can still be seen from the front door. I didn't buy any new decorations this year, I just used items in different ways and painted a few things.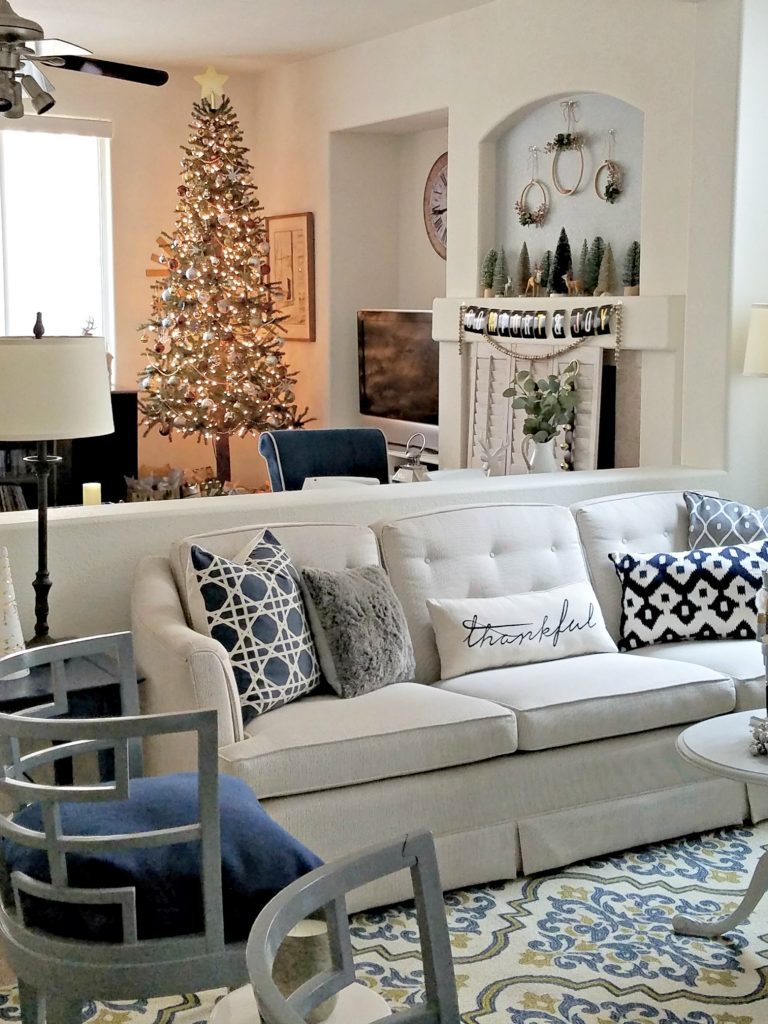 My favorite Christmas decoration is this nativity I bought from Deseret Book last year. There was an accident with the storage boxes this Summer and a couple pieces were broken but I glued them and they're as good as new. Isn't it beautiful? It's perfect with my color scheme this year too.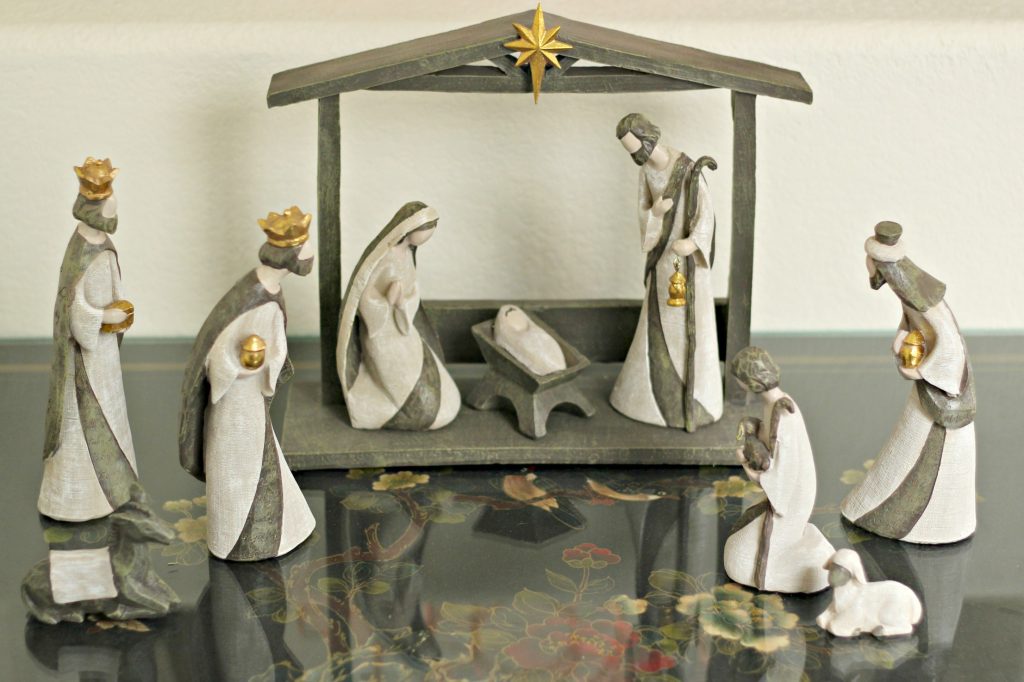 The windows have these wreaths hung on them most of the year, but I change the ornaments or other decorations according to the holiday.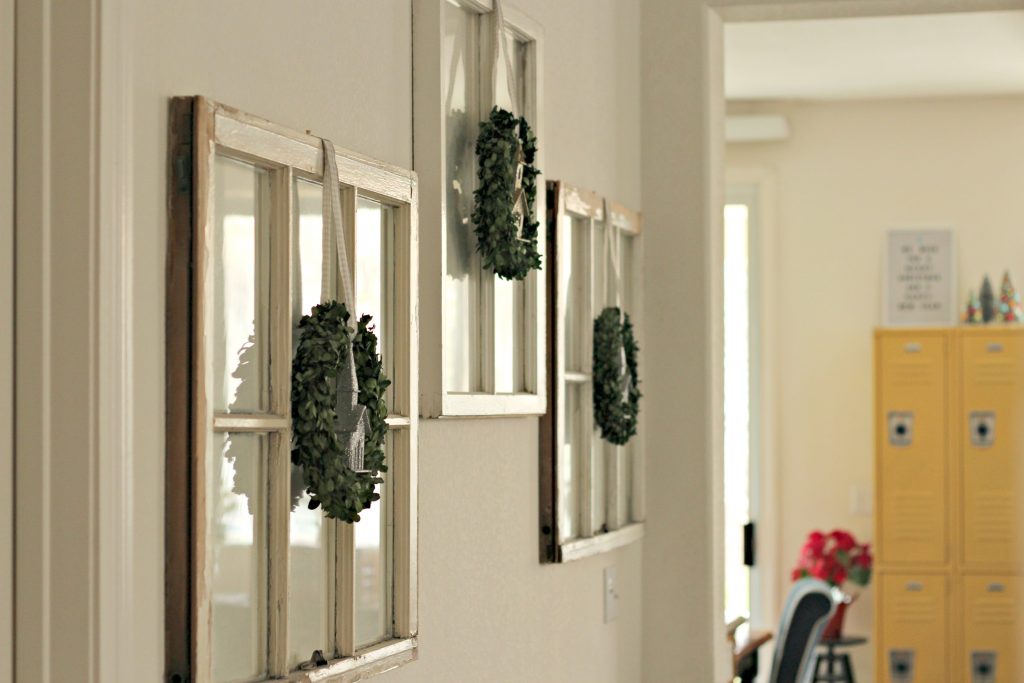 These sparkly glittery churches were my pick for this Christmas. The gray gingham ribbon is neutral so I don't change it often.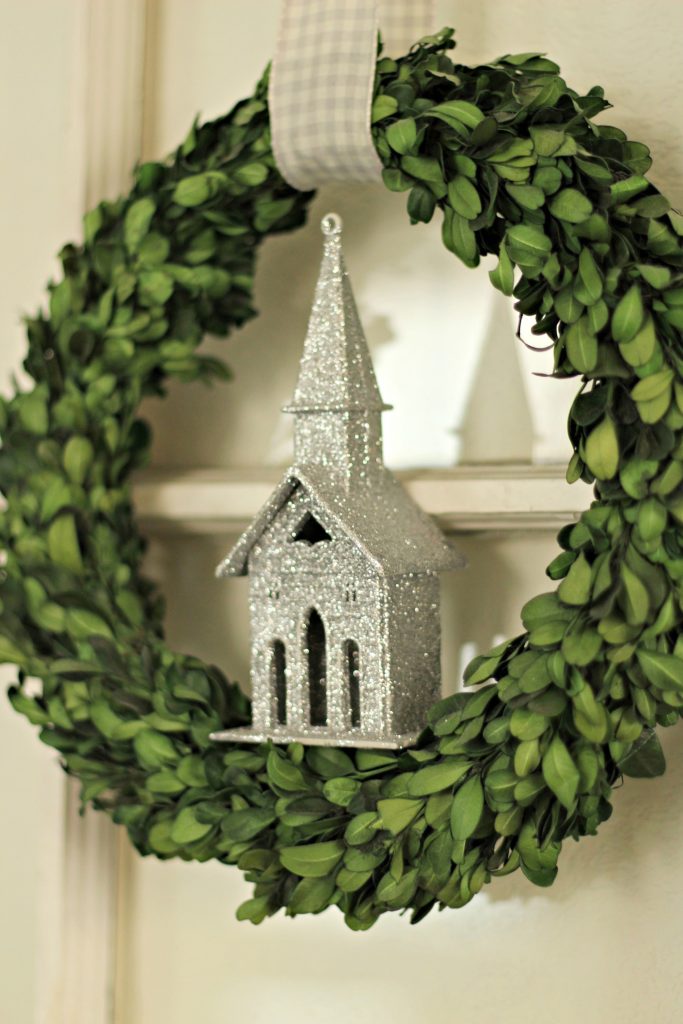 I used a lot of the silver and glittery items in the living room because they looked really good with the colors already in the room.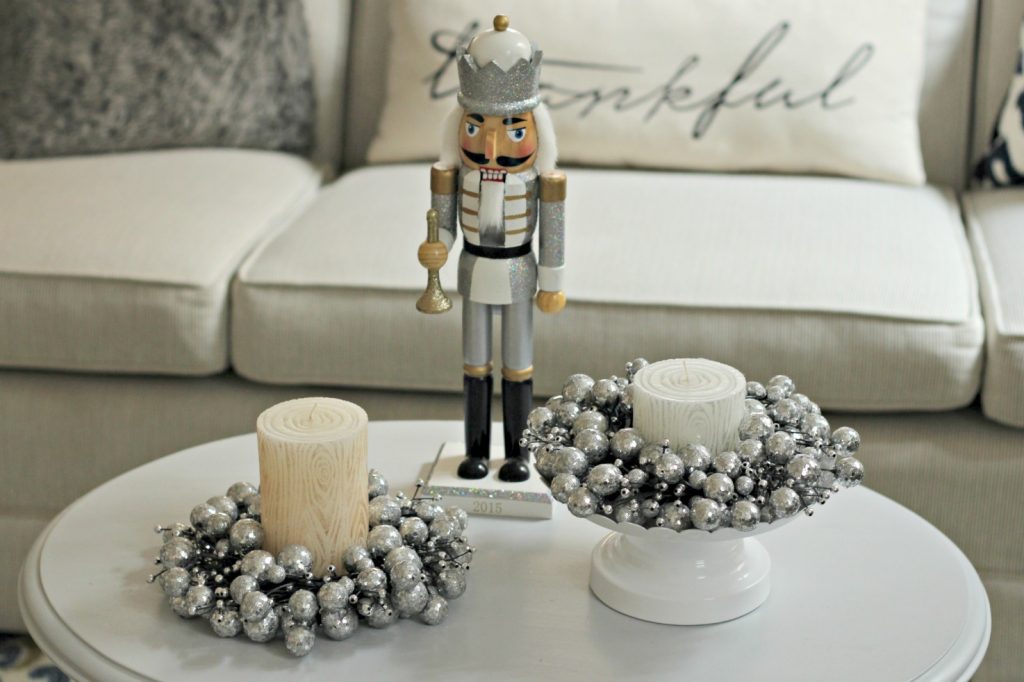 I'm starting to think I can never have too many bottle brush trees. I love them in all shapes, sizes, and colors. I'm not going to share every shelf on the book shelf, just picture lots of bottle brush trees.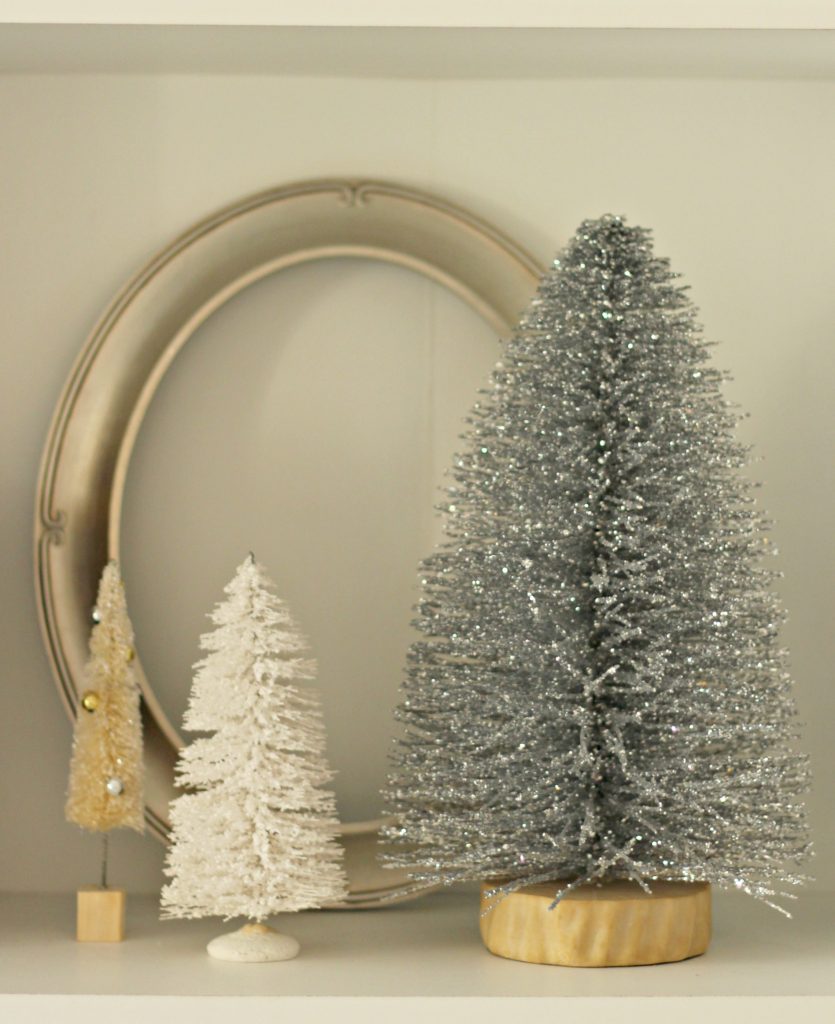 I don't love having these bookshelves in the living room but they hide a hideously huge mirror. They are fun to display things on though. I never got around to writing on the chalkboard but it makes a good backdrop for the wrapping paper trees.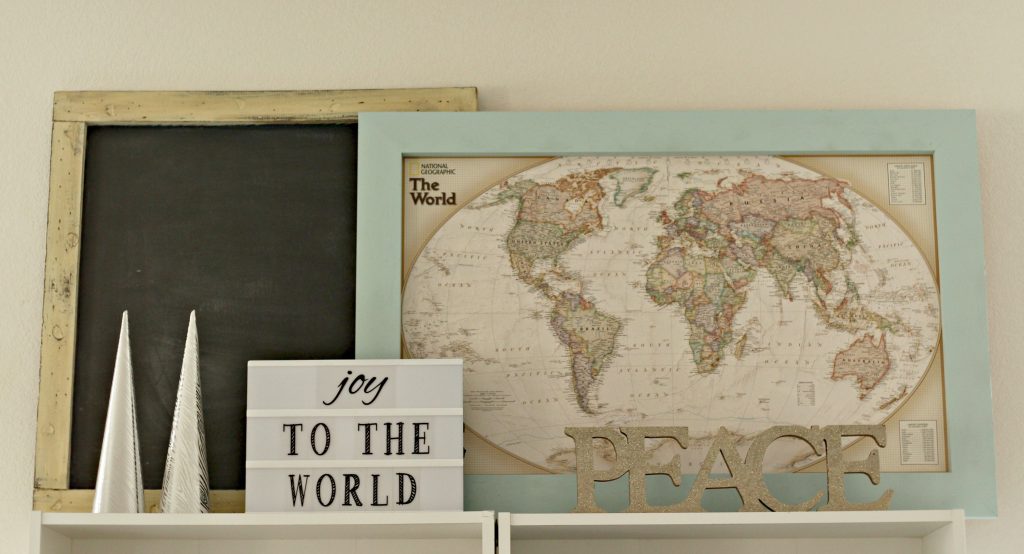 Don't you just love Christmas lights reflecting in a mirror? I have a few of these words around the house. Noel on the mirror, Peace over the kitchen window, Joy on the door, and Comfort & Joy on the mantel.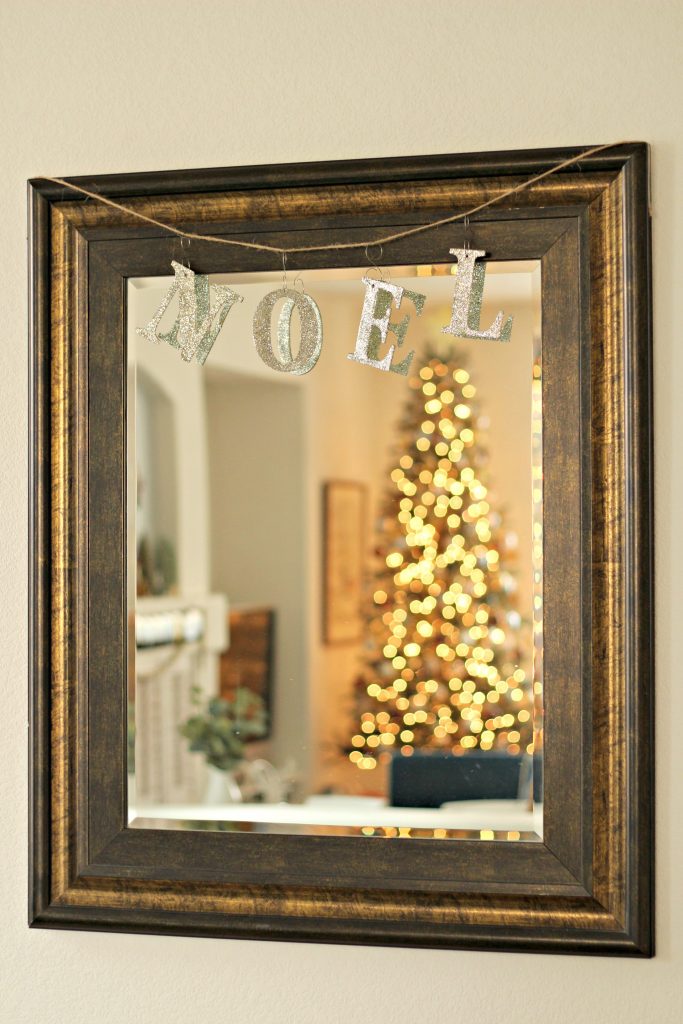 Well, hello Christmas tree. It's decorated in silver, gold, bronze, brown, and a little white this year. I didn't have to buy anything but I did paint a couple things to make them fit in the color scheme.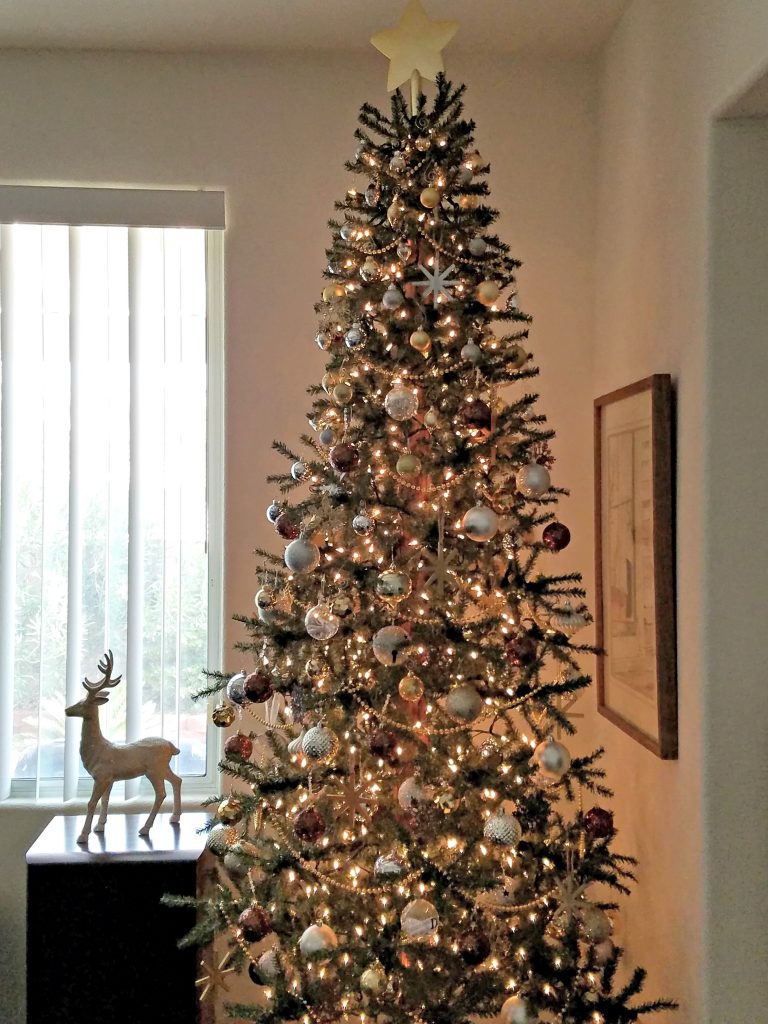 Of course, I had to glitter a few ornaments too.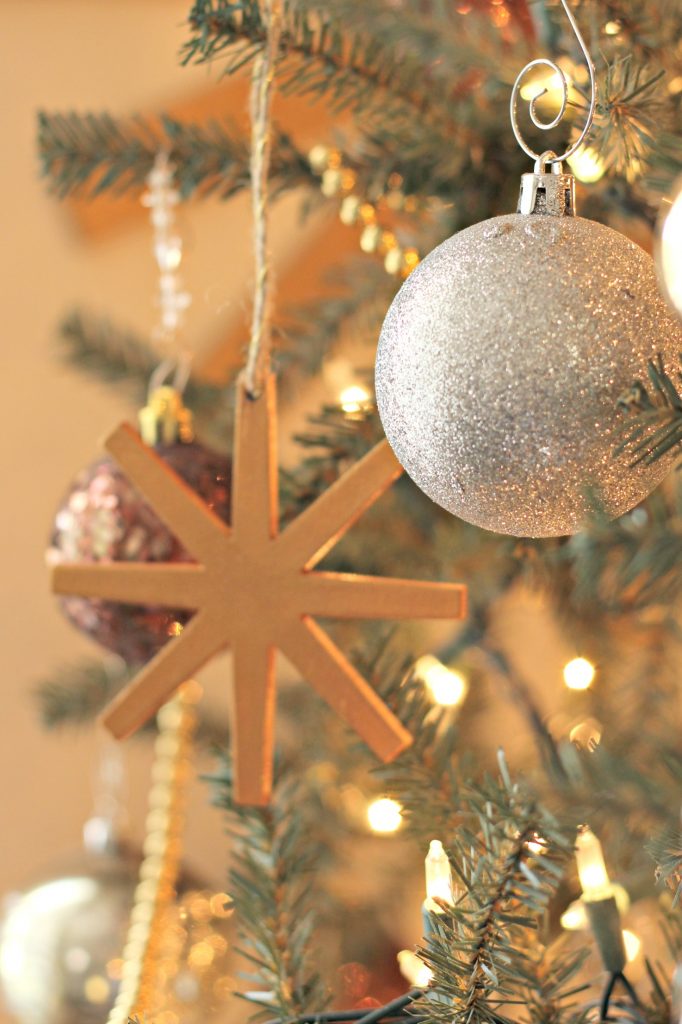 It's easy to decorate inexpensively by mixing in everyday items. Filling a pitcher or vase with greenery or something seasonal is perfect for quick and easy decorating.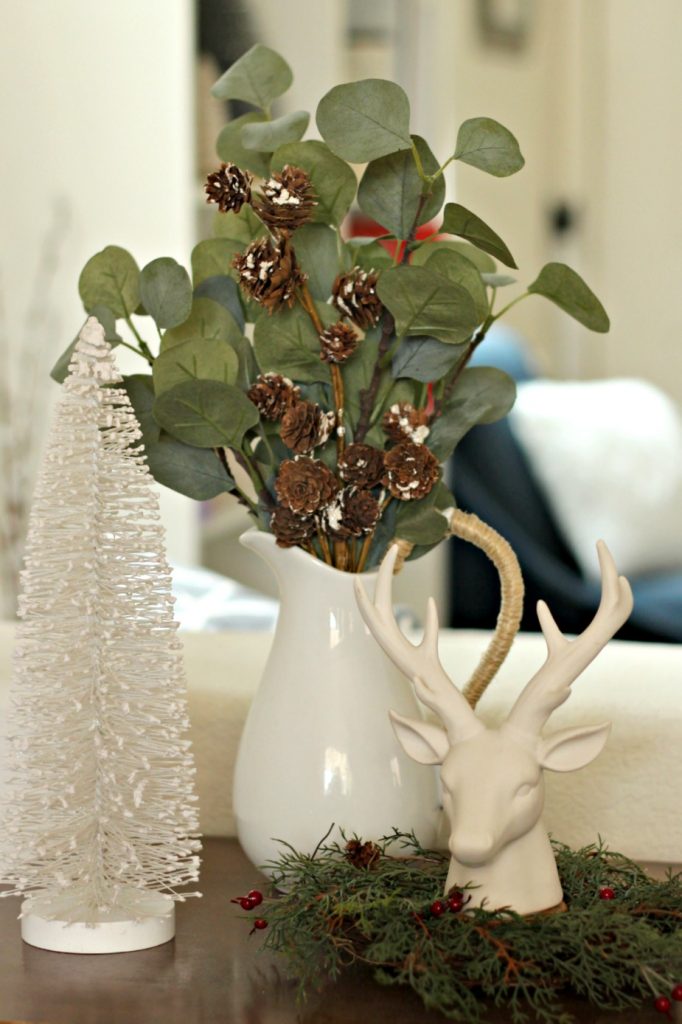 Candlesticks are another one of my favorite decorations. How pretty are these reindeer I bought several years ago?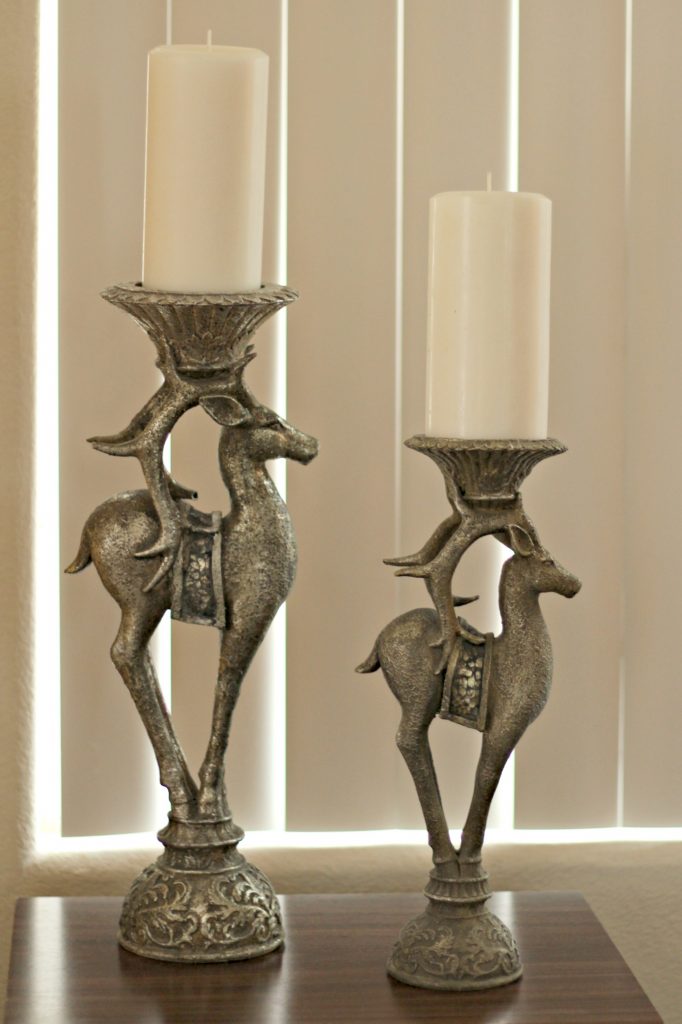 I even decorated the tray but had to leave enough room for our sodas and snacks that are usually on there every Friday and Saturday night.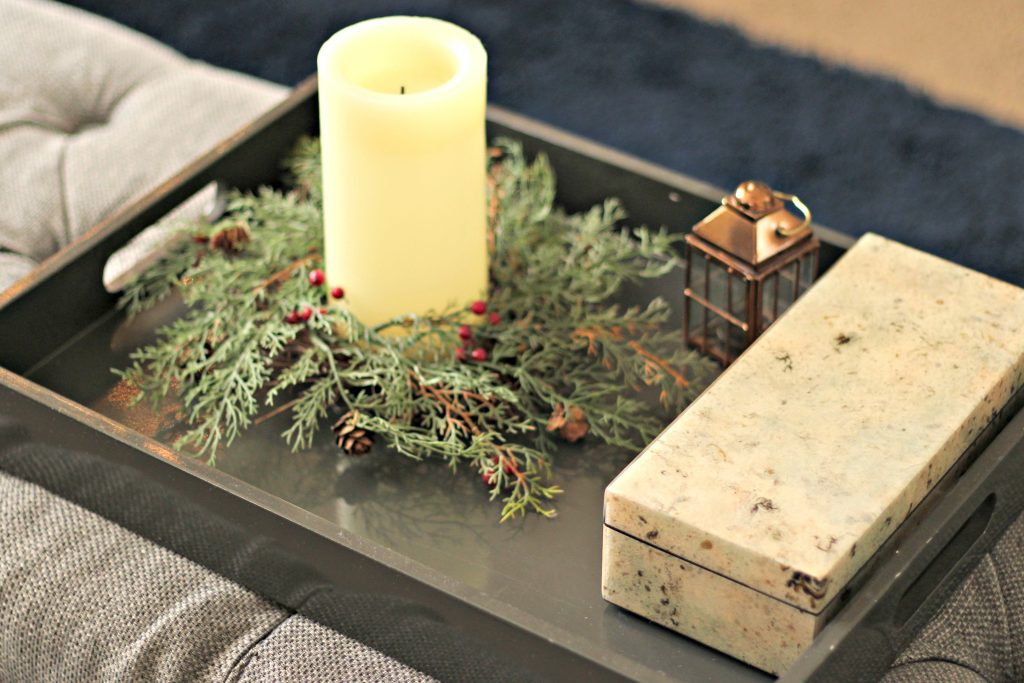 You probably already know that one of my favorite places to decorate is the mantel. I did a post on it with all the details if you want to check it out. Comfort & Joy Christmas Mantel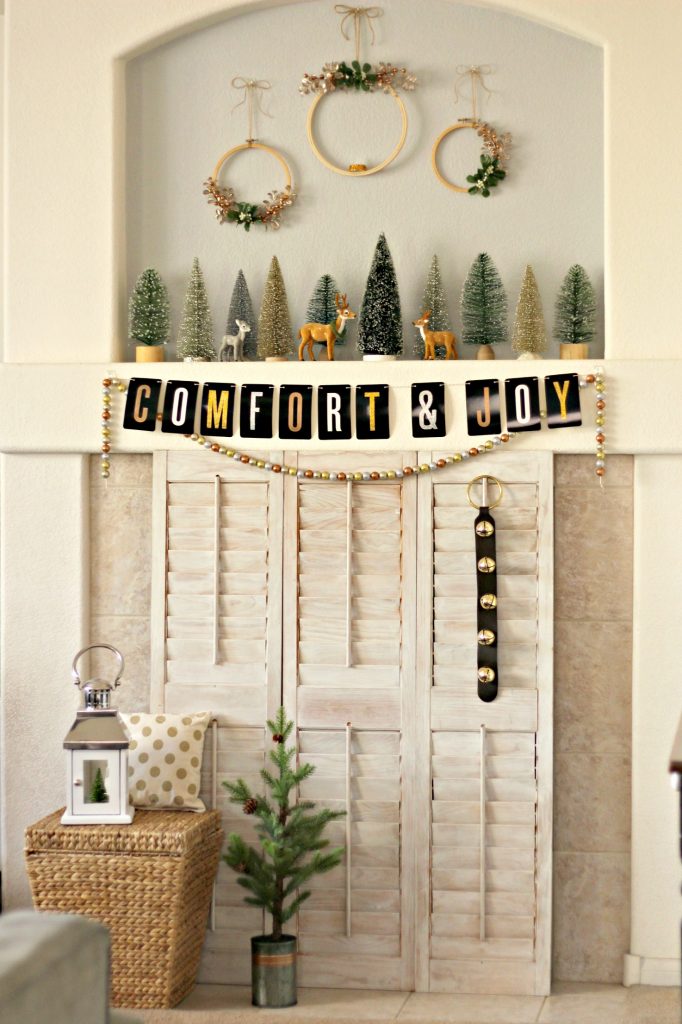 More of my favorite trees. I couldn't think of anything very original to put on the letterboard so We wish you a Merry Christmas and A Happy New Year will have to do. Don't you love these old school lockers? We really use them for school papers and supplies.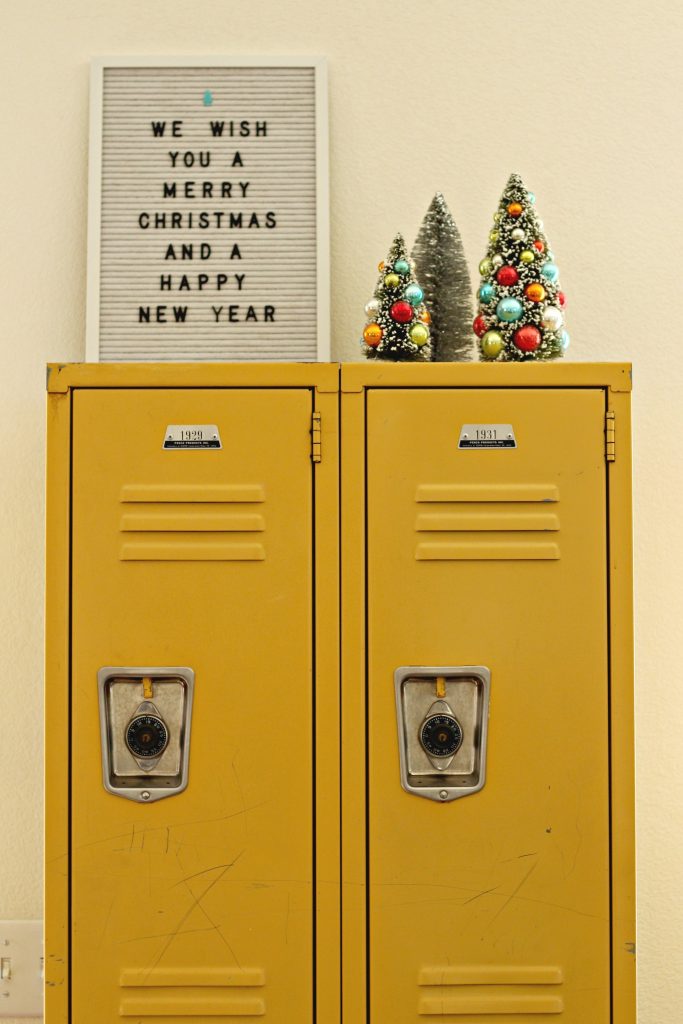 I added a few things to the kitchen but not too much to overwhelm the space.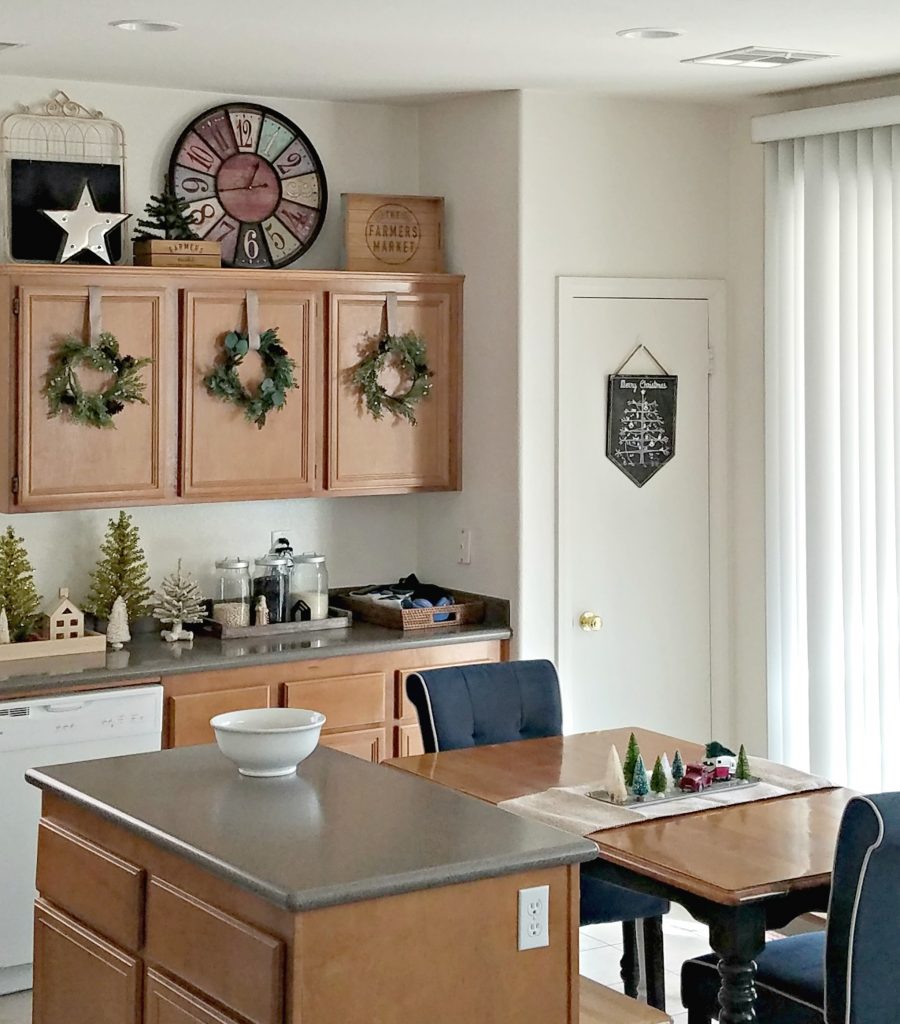 My cabinet doors are really plain and I love how special the wreaths make them look. Just attach an upside down command hook to the inside of the cabinet to hang the ribbon from.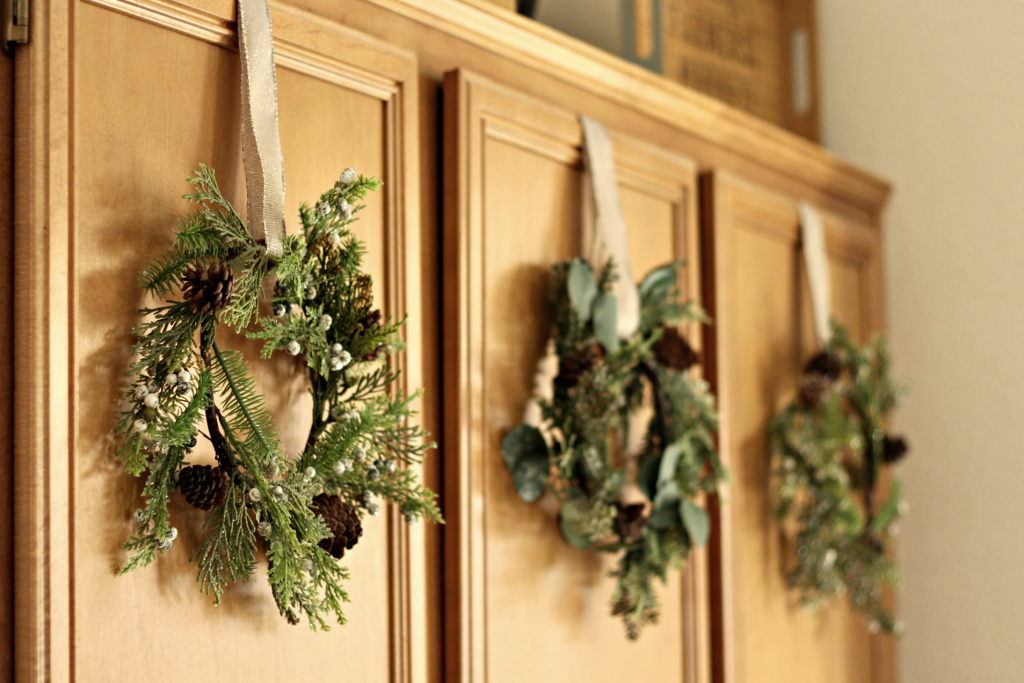 A little country home display in a tray sits by the kitchen sink. I always have things in this tray and just change it with the season or holiday.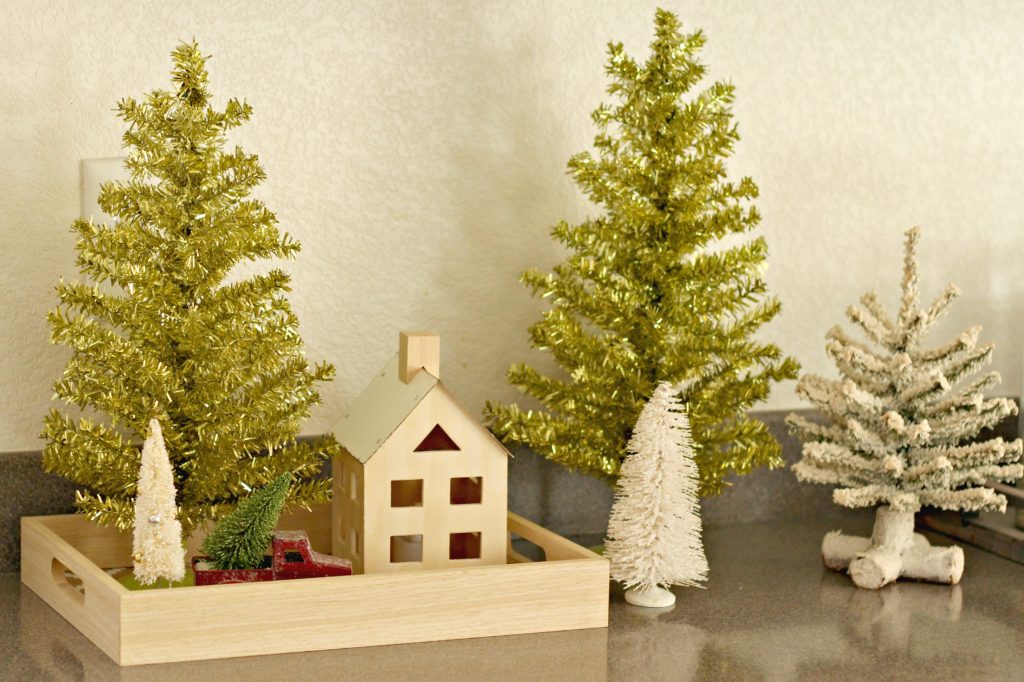 I made another little display for the kitchen table. I think I have a bottle brush tree obsession.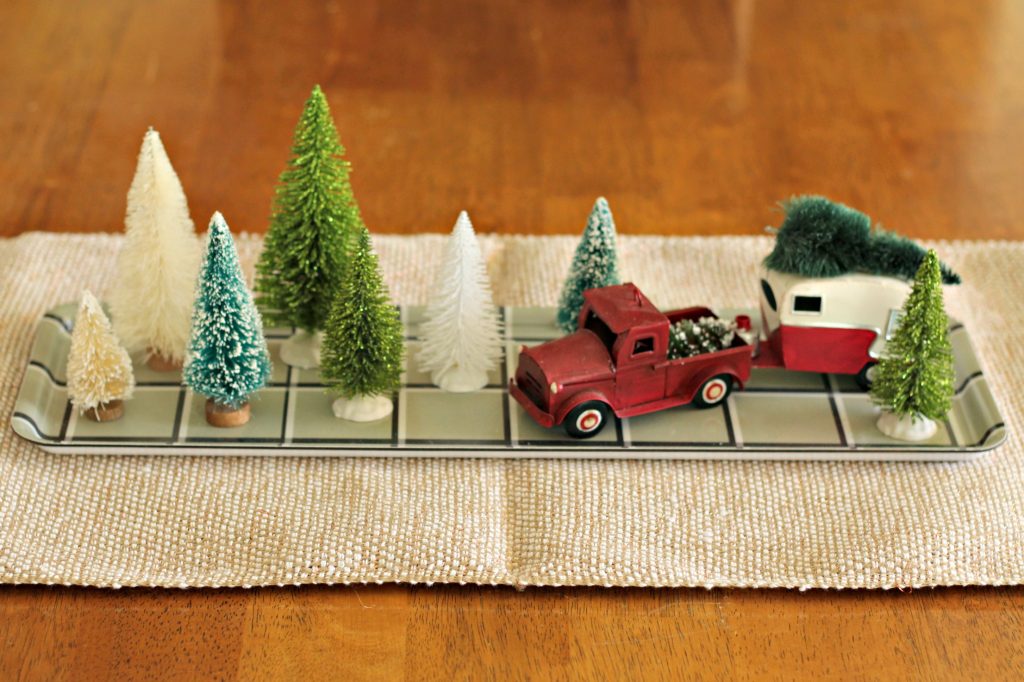 I have an old window above my kitchen cabinets so I decorated a little in front of it for Christmas.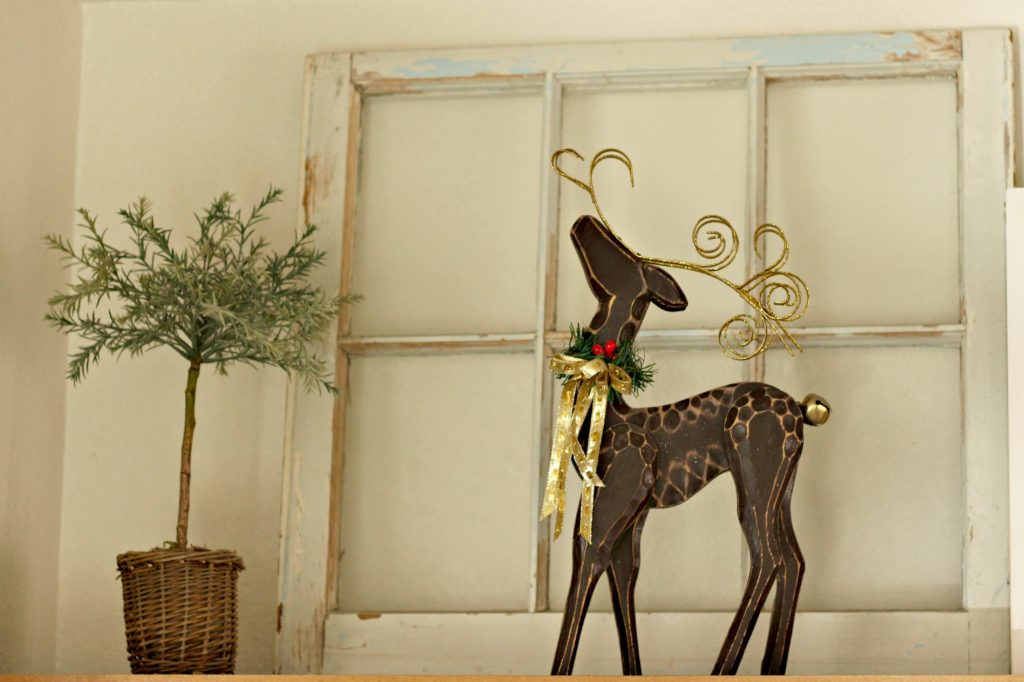 I bought this sign at Tai Pan Trading last year. Since it's black and white, I'll probably use it almost every Christmas. I love it's simplicity.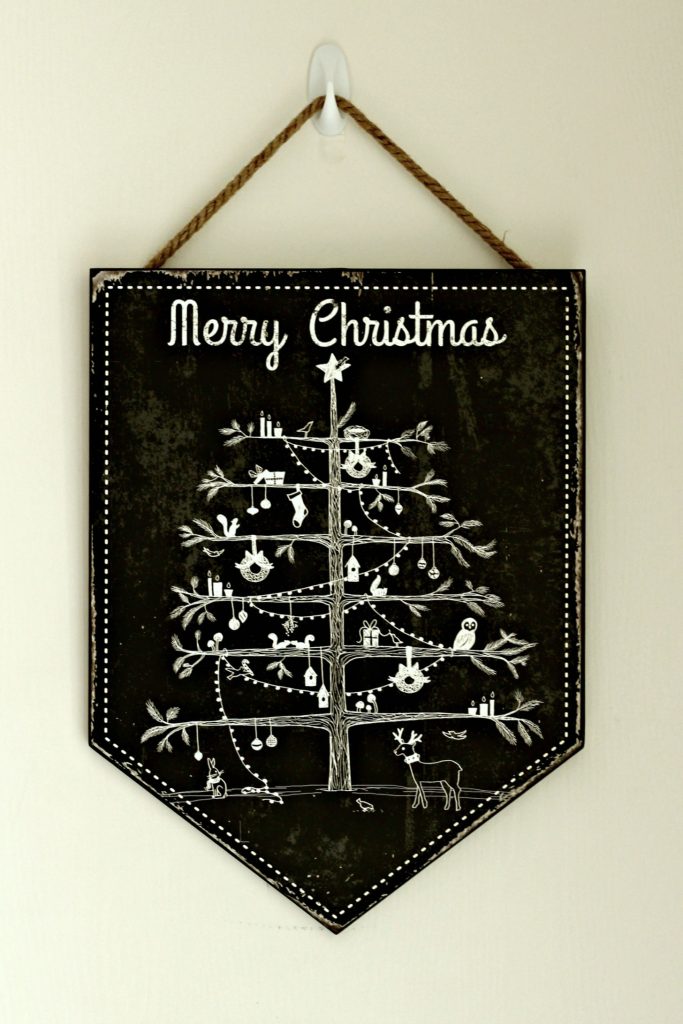 I didn't decorate much upstairs but I added this glittery tree to the hall table so I would see it coming up the stairs.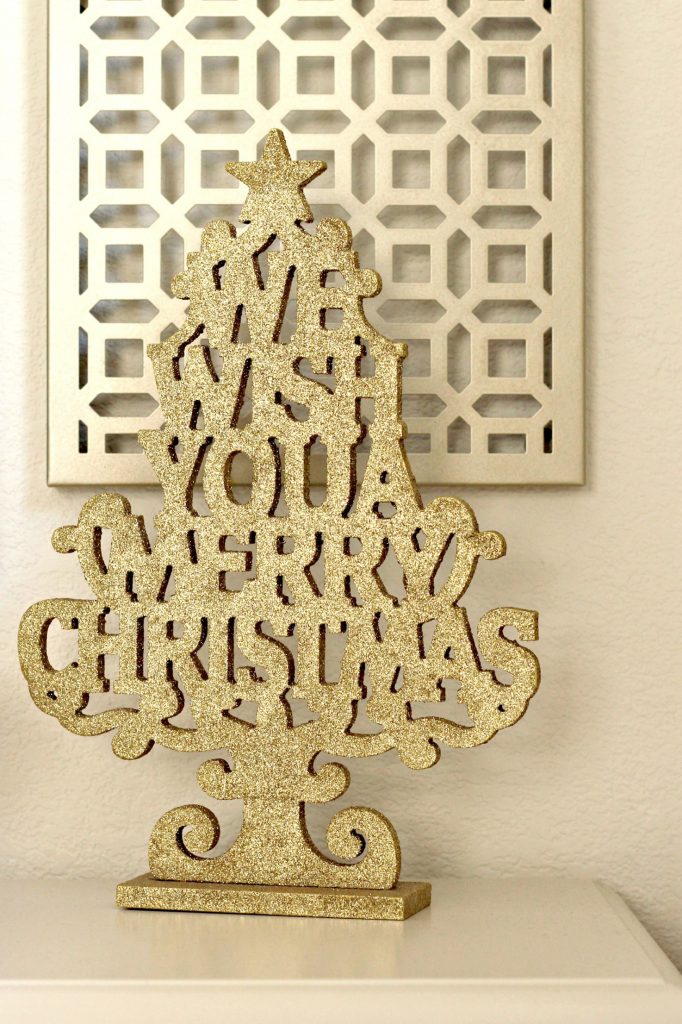 I absolutely love the tree in our bedroom. I hung my vintage ornaments on it and can't wait to find more throughout this year. I would like to add a dozen or 2 to the tree next year.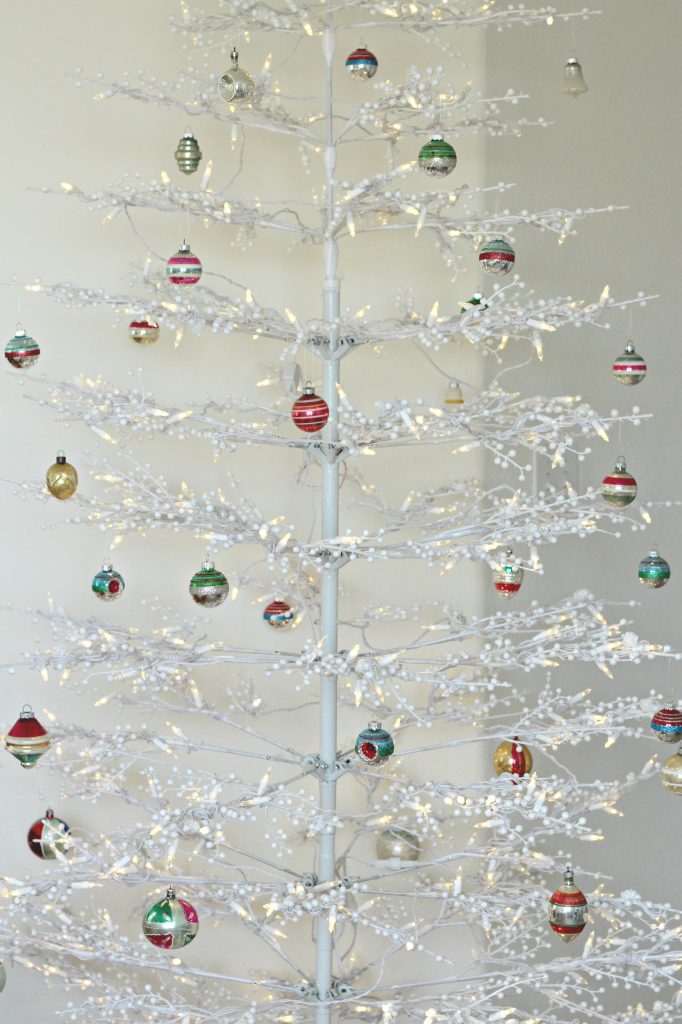 I hope you enjoyed my Christmas Home Tour. I love creating a cozy home during the holidays. A lot of these decorations can also be kept out through Winter.