The holiday season is full of fun activities and everyone wants to get together and celebrate, but with so much going on it's often hard to pull off a full scale party. I'm sharing 5 quick and easy party ideas so you will have time to enjoy your own party.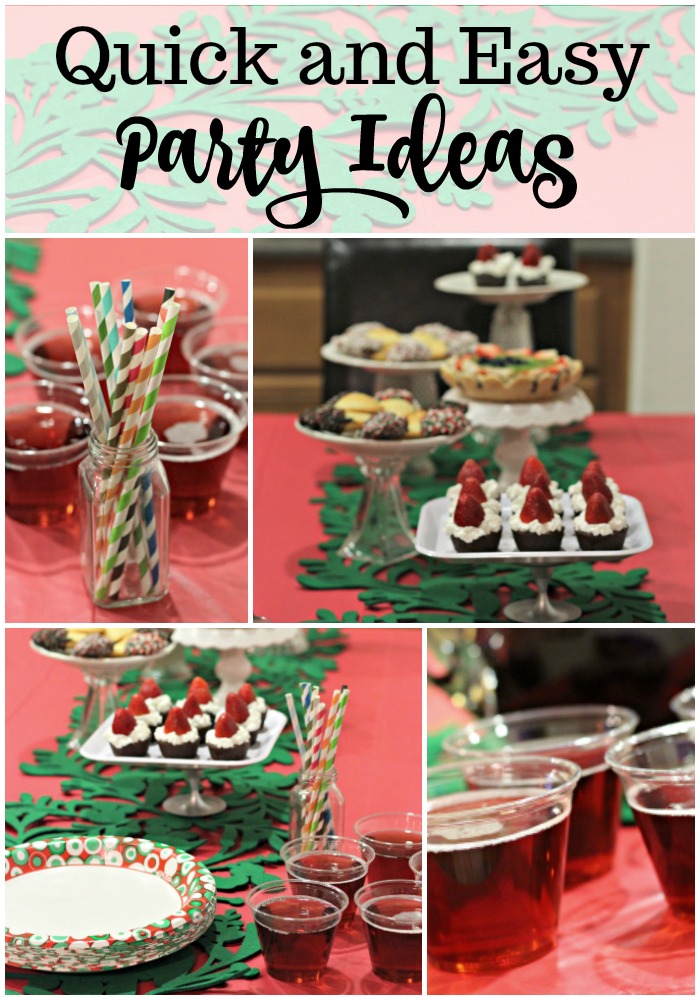 5 Quick and Easy Party Ideas
– Create a Theme: If you want to have friends and family over but the thought of planning a holiday meal with all the fixings has you in a sweat I have some quick and easy ideas for you. Why not create a simple party theme such as: a dessert table, pie night, only appetizers, finger foods, a movie night, game night, Christmas carols, a luncheon, or even a breakfast. You can also make it pot luck or ask a few guests to contribute to the party.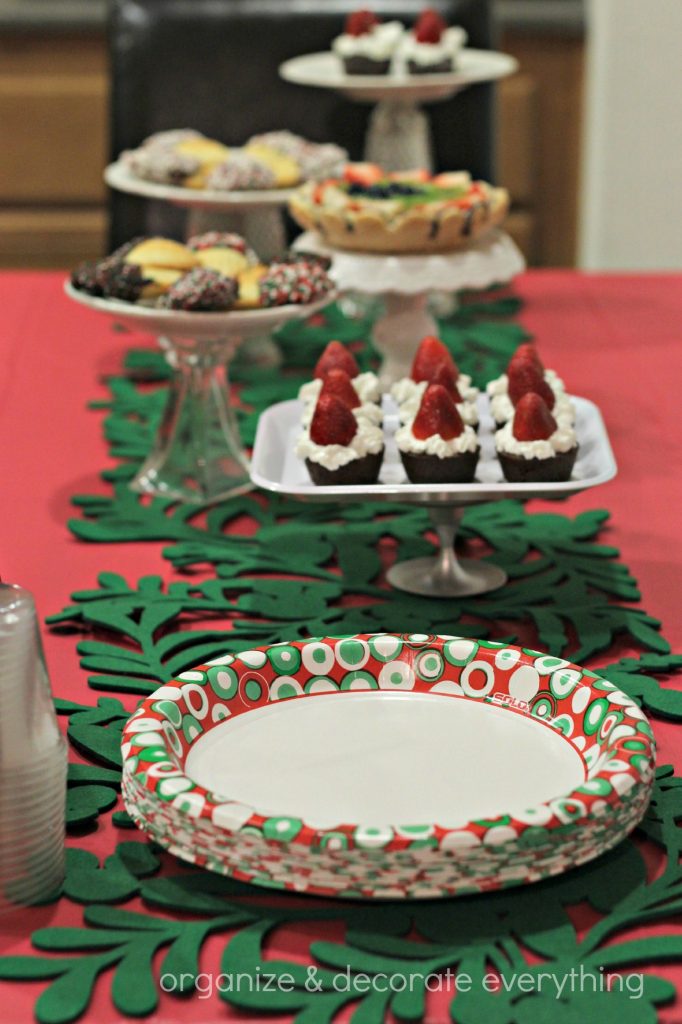 – Start with Store Bought Foods: It's hard to make everything from scratch for your party and not be exhausted by the time the party starts. I like to buy premade foods and make them even better. We decided on a dessert theme for this party so it was easy to create some delicious desserts using food from the grocery store bakery. I started with Madeline cookies, dipped them in melted chocolate and rolled them in peppermint and candy sprinkles. I also bought brownie bites then topped them with whipped topping and a strawberry. Don't forget those with allergies and make sure you have something for them to enjoy too. I purchased some gluten-free brownie bites and topped them with the whipped cream and strawberries. Always have fruit and veggies at parties just in case that's all someone is able to eat.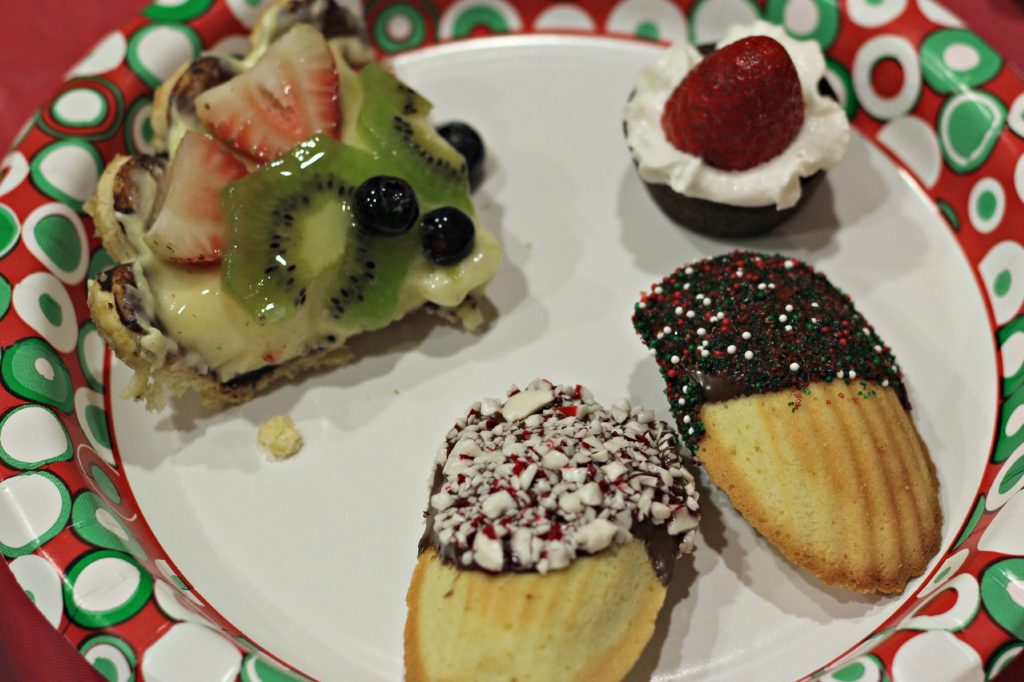 – Create a Delicious Beverage: This is my favorite easy Holiday Punch.
Ingredients:
1 (25 ounce) bottle Martinelli's Sparkling Apple-Grape
1 (24 ounce) bottle Welch's red grape juice
1 (25 ounce) bottle sparkling water
1 (2 liter) bottle Diet 7-Up
Mix together with ice in a punch bowl and serve.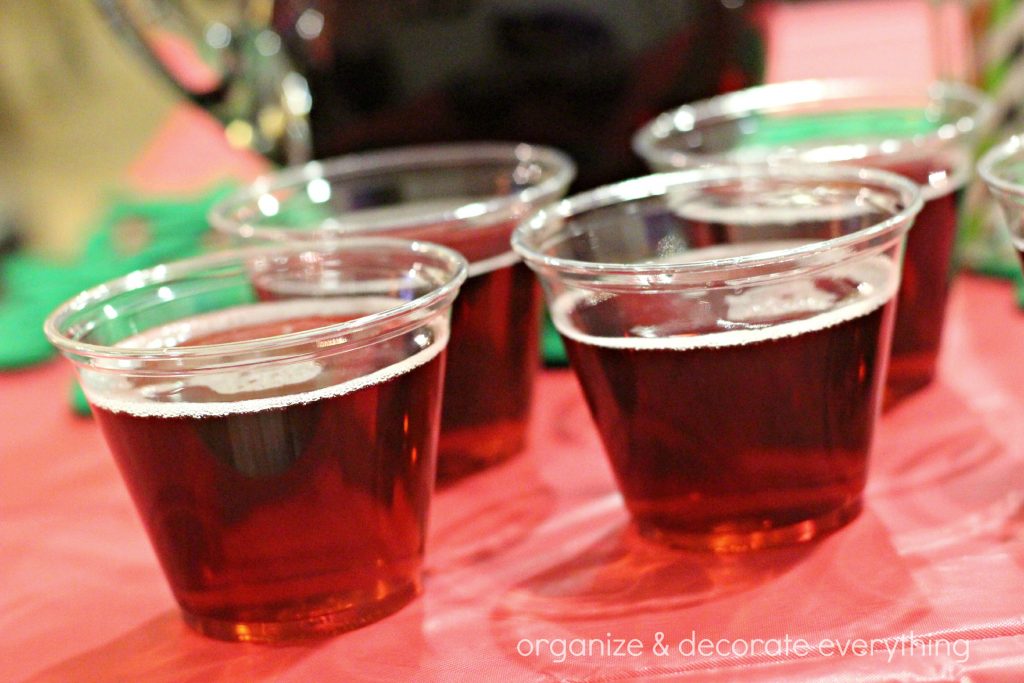 – Use Disposable Products: Who wants to spend hours cleaning up after a party? Not me! I love using clear plastic cups and Heavy Duty paper plates for quick and easy party clean-up. Not only is the clean-up easy but they also look great at the party and are easy to coordinate with your theme. Another idea is to use different colored striped straws for your guests so they know which beverage is theirs.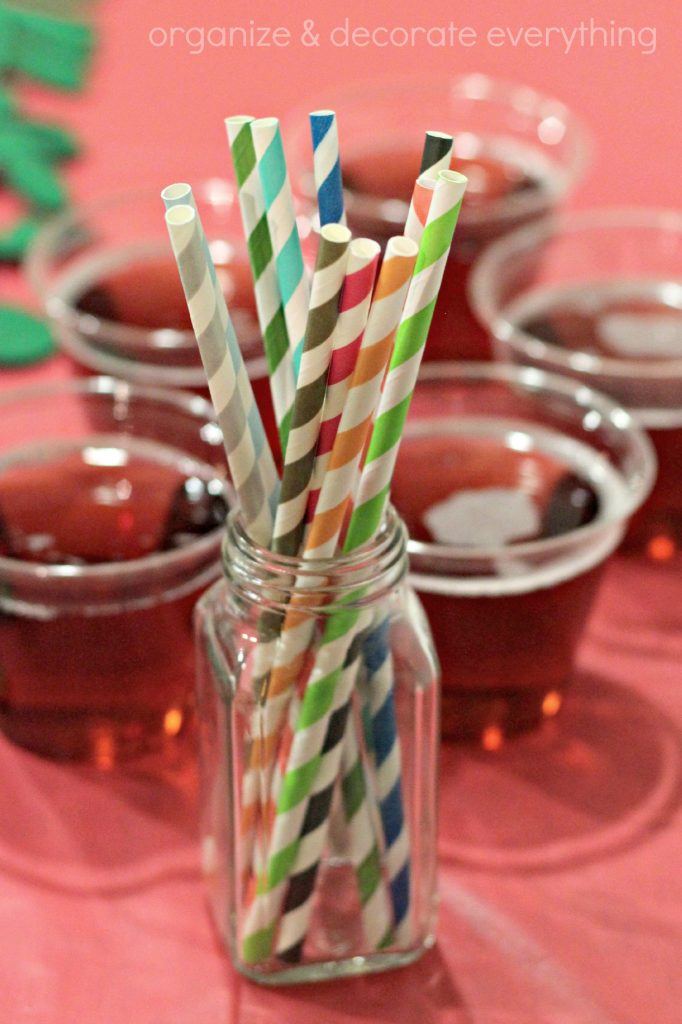 – Use What You Have: Search through your home and cupboards to see what you already have that you can use. I took an inexpensive plastic table cloth and topped it with a lovely felt runner. Then I used plates on top of candleholders and vases to display the treats. Vary heights and sizes to add interest to the table. You can also add candles for a warm glow to your table.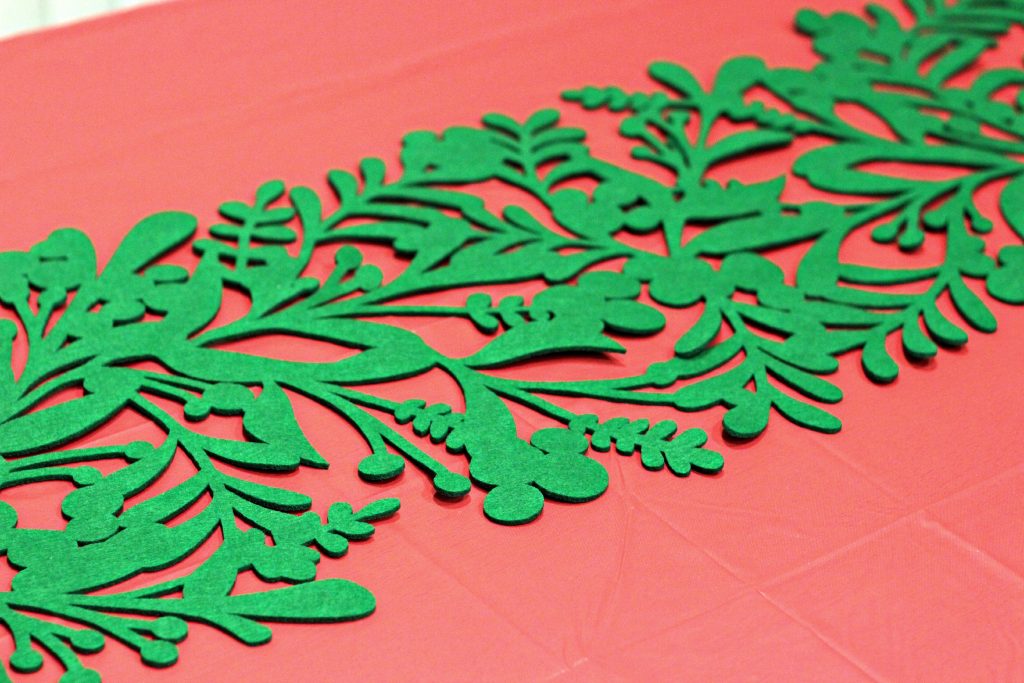 Use these great ideas for your next party to make party planning and clean up faster and easier.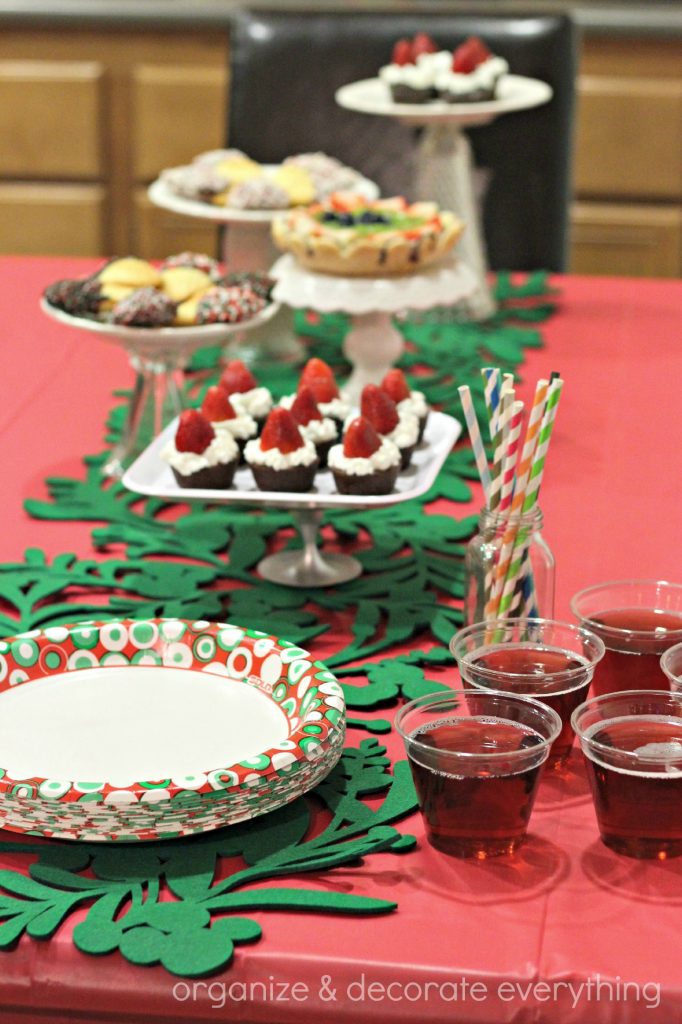 Pin it for later: 5 Quick and Easy Party Ideas and a Recipe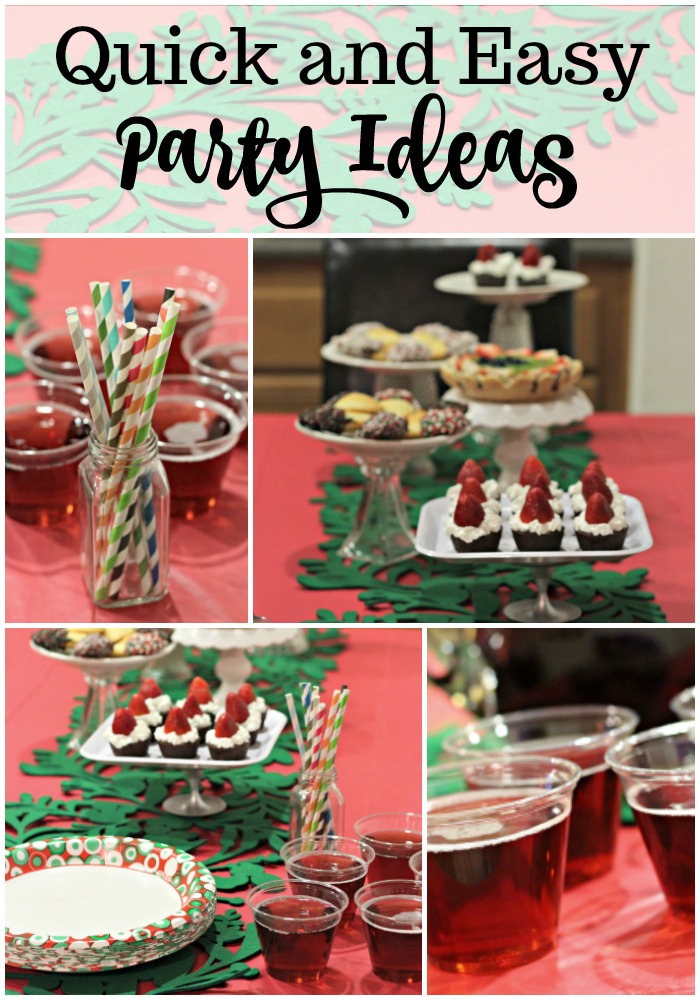 You might also like these posts:
Budget Party Ideas
15 Ideas to Make Birthdays Special