4 x 4 Glitter Firecrackers are perfect to display all Summer from Memorial Day to Labor Day.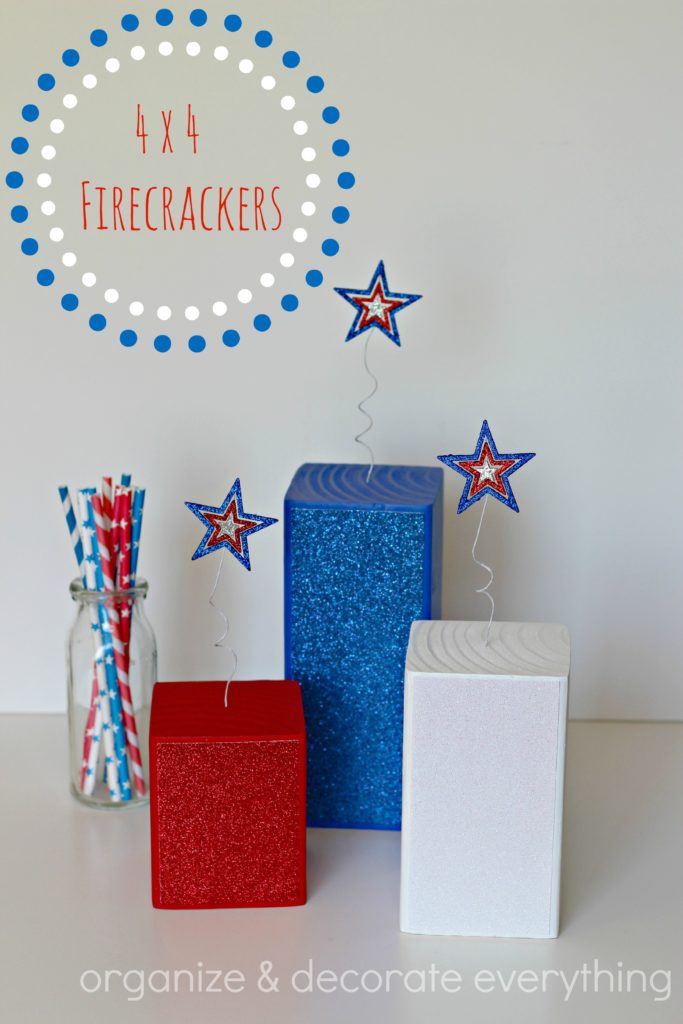 I love Summer and decorating with the colors, red, white, and blue. Since I love warm weather Summer holidays have always been my favorite, especially Independence Day. These 4 x 4 Glitter Firecrackers are perfect to make and display from Memorial day through Labor day. And you still have plenty of time to get them made before the 4th of July.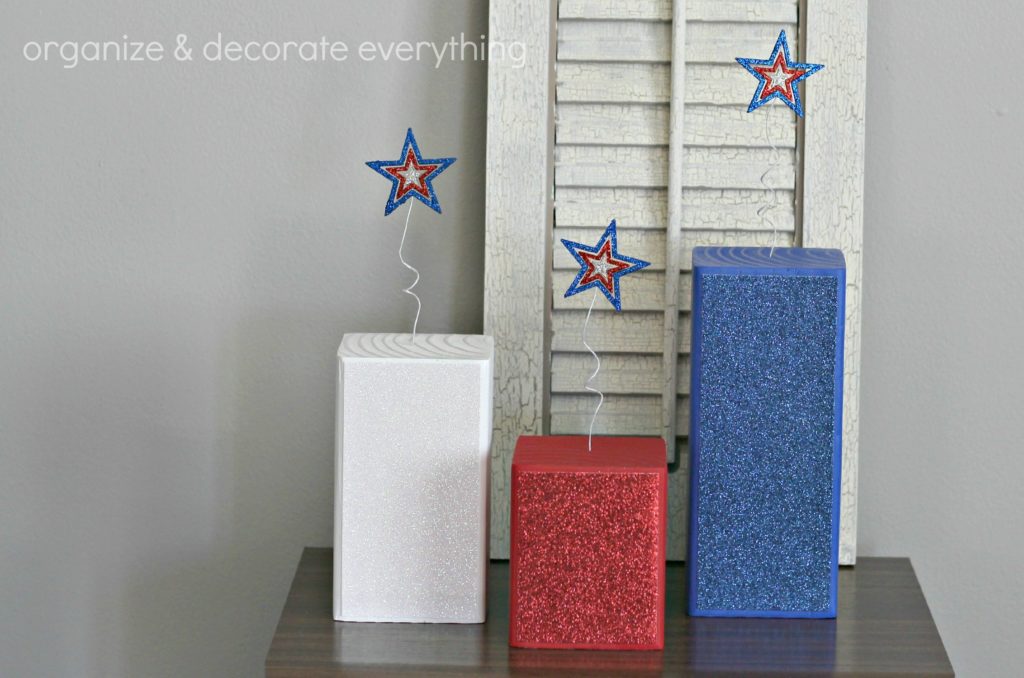 The first thing you'll want to do is cut blocks from the 4×4 for the firecrackers. Then you'll want to drill a small hole in the center of all the blocks. FYI! Did you know that 4×4's really aren't 4×4? They're more like 3 1/2″ x 3 1/2″. Also did you know that you shouldn't try to drill in the middle of a knot? Hmm, if I would have just turned the block over and drilled on the other side (without a knot) this wouldn't have happened. Luckily I had another drill bit the same size so I just hammered the broken drill bit into the "bottom" of the block and called it good.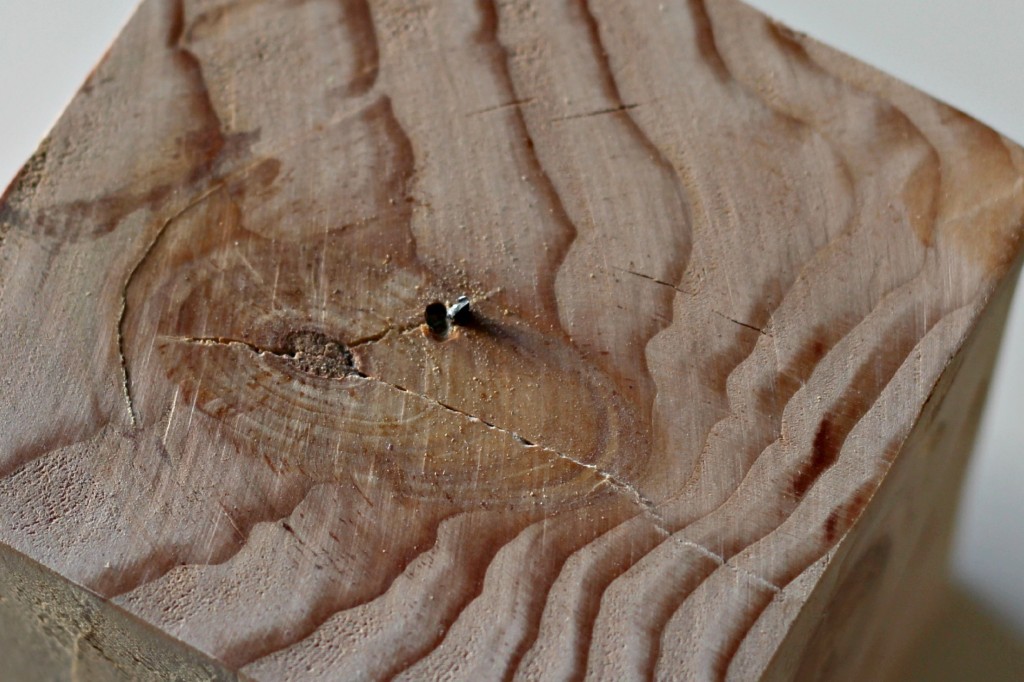 When I saw this glitter paper and cute glitter stars at Hobby Lobby I knew I had to make something for the 4th of July with them. You will also need a 4×4 piece of wood, paint, adhesive, saw, and a drill for this project. Another FYI, it's hard to take pictures of glitter and have it look as awesome as it does in person. In other words, they look way better in person.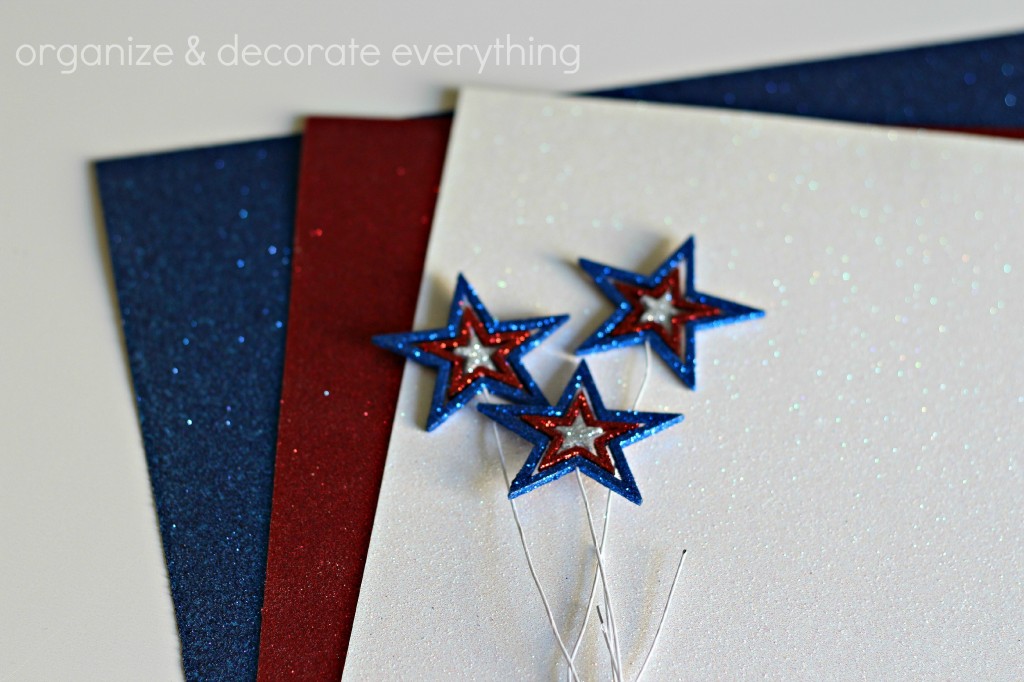 I know I usually spray paint everything but I have bottles and bottles of craft paint that were feeling neglected so I decided to use them. You can see the hole I drilled in the center of the block (not in a knot this time). My block sizes are 4″, 6″, 8″ tall if you'd like to make yours the same dimensions.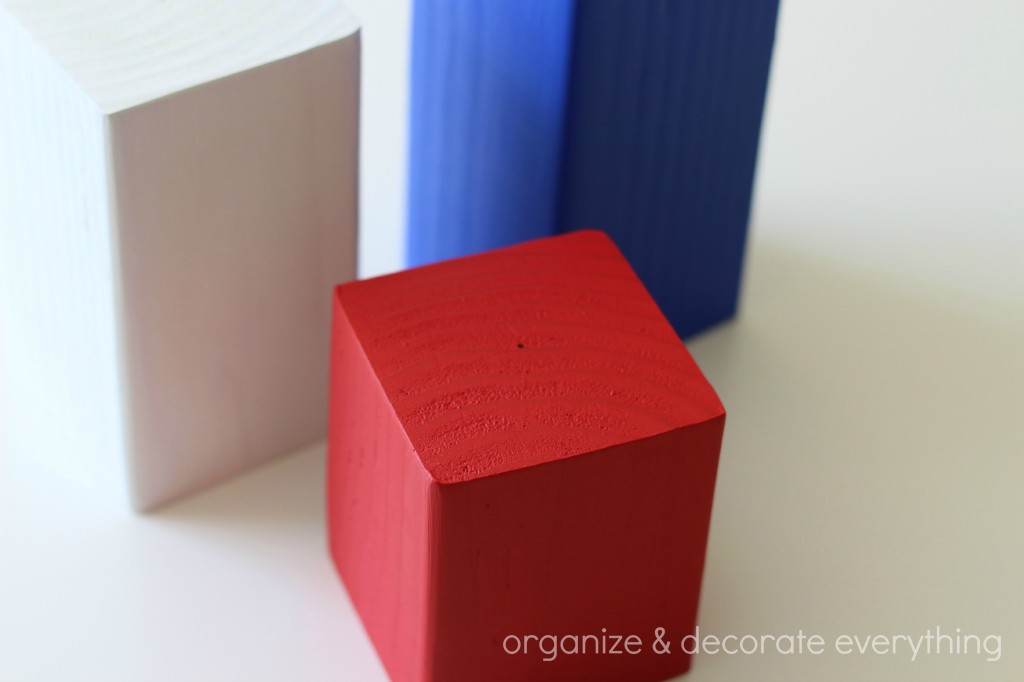 I cut the glitter papers 1/4″ smaller than the side of the blocks. And used Elmer's Craft Bond glue to adhere it to the block. It's made for fabric and paper, is really thick, and dries clear and quickly. You could put the glitter paper on all sides of the block but I just put it on the front.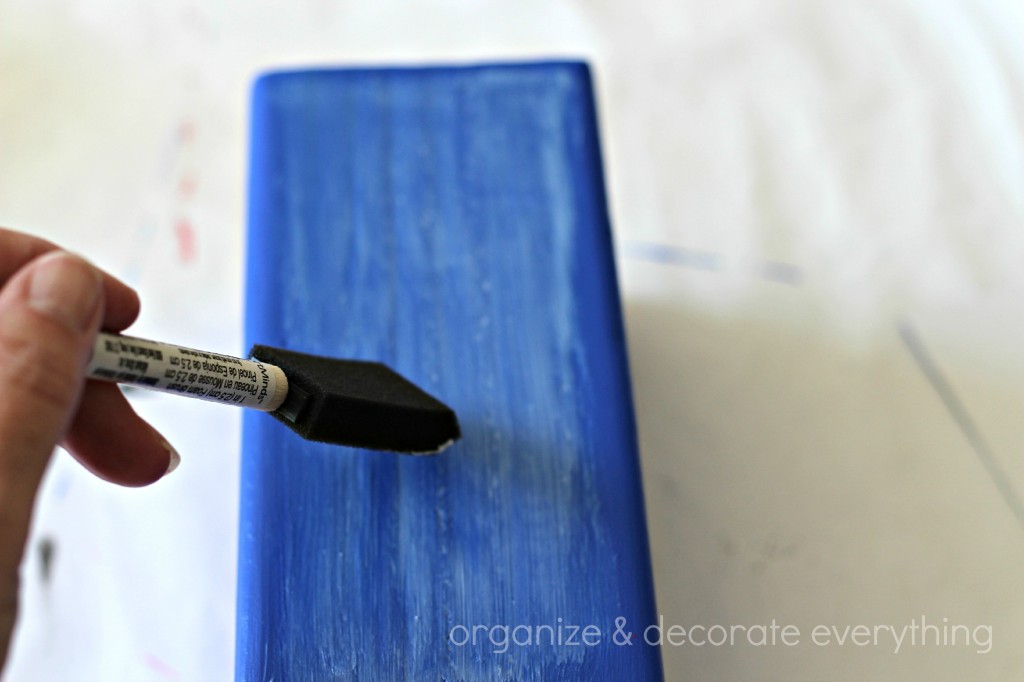 I already love the way they look but it was time to add the stars. You could also drill a little larger hole in the top if you wanted to add flags or another decoration instead of the stars.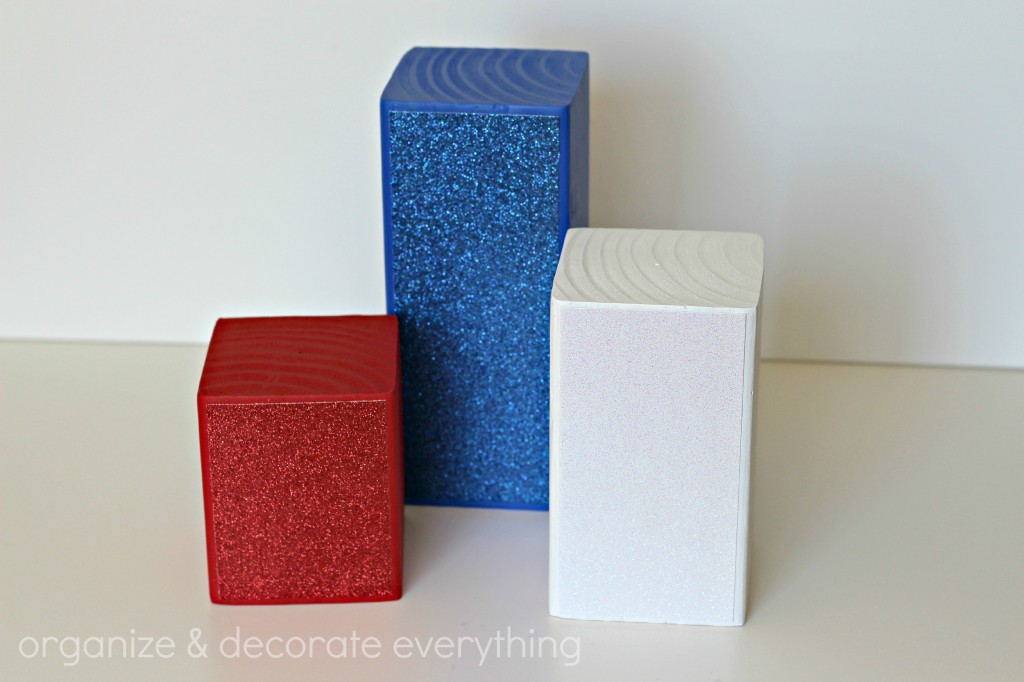 I coiled the star pick and stuck it in the top of the "firecracker" blocks. You can add a bit of glue if you'd like but I didn't find it necessary. You can also glue a piece of felt to the bottom of the blocks so they don't scratch any surfaces. I decided to do that right after I took the pictures.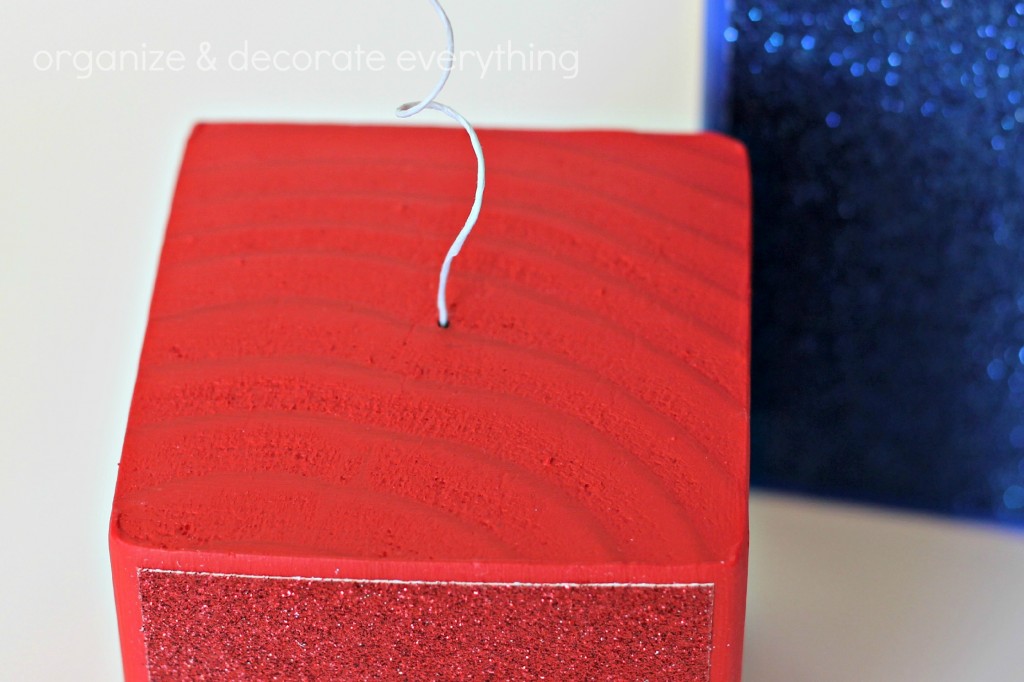 Glitter-ific Star!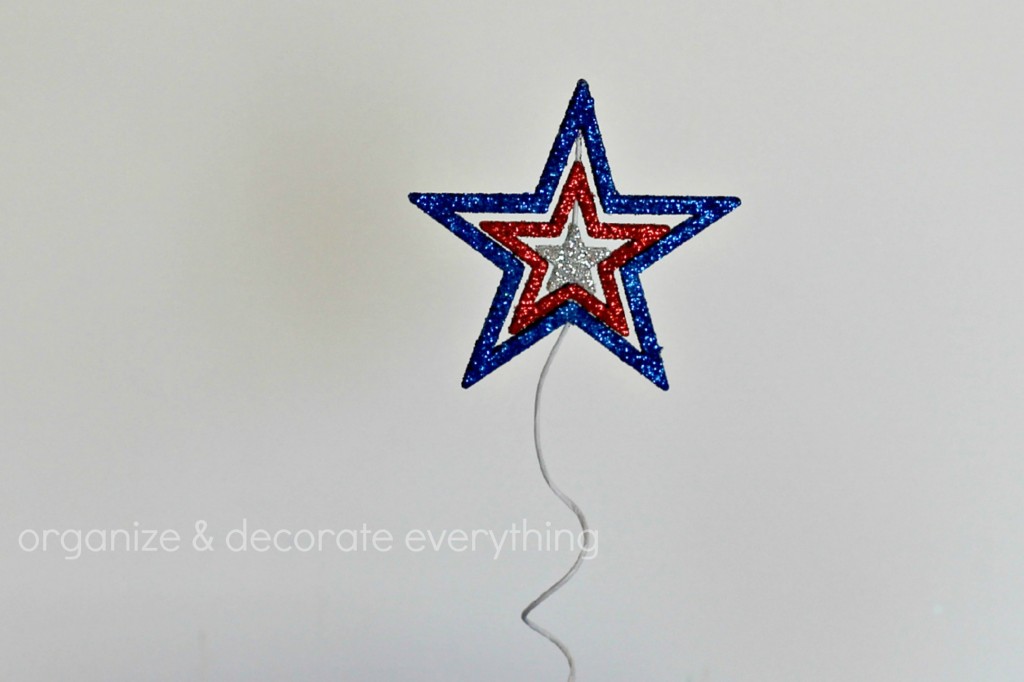 I really can't get enough of glitter and red, white, and blue this time of year. It's so festive and cheerful.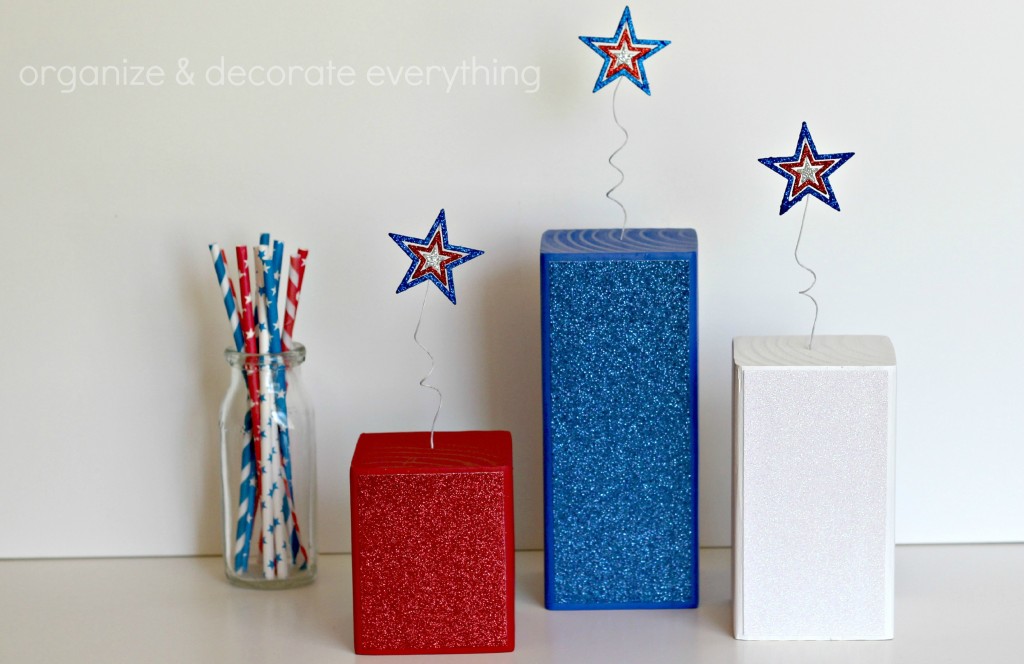 I can't wait to get all my new patriotic decorations up soon. When do you pull out the red, white, and blue? Or do you just keep it out all Summer long.
Pin it for later: 4 x 4 Glitter Firecrackers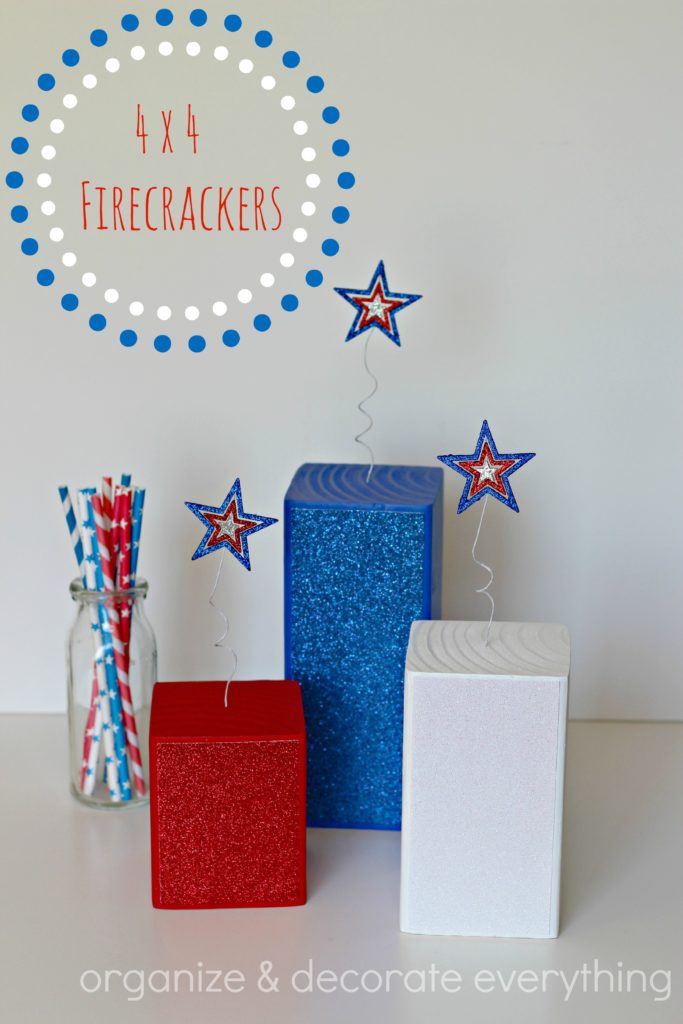 You might also like these posts:
25 Red, White and Blue Ideas
Decorating with Red, White and Blue