We're moving Zach upstairs to Adam's old room, but first it needs to be painted. The closet too, so I thought why not start there. The best part about this whole project was the total cost of $5 for the paint (It was a mis-tint and the paint can is still 2/3 full).
Here's the closet before.
Here's the rest of it. That door leads to an attic area. Hubby took the door off the playroom area and cut it to size to fit here. There was a wall panel here before that had to be unscrewed every time someone needed access to the attic. A door is so much easier.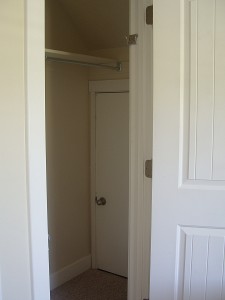 There were quite a few places that needed some patching. I love this spackle. It turns white when it's time for it to be sanded and I like not having to guess.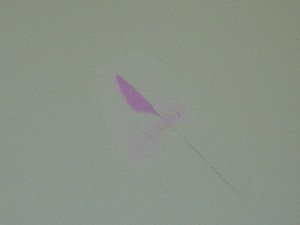 Here's a little paint roller trick I'm sure everyone knows but for the 1 of you who doesn't, here it goes. Wrap tape around your roller, make sure it's stuck good, then take the tape off. It takes all the little extra fuzzies off the roller. No more fuzzies in your paint.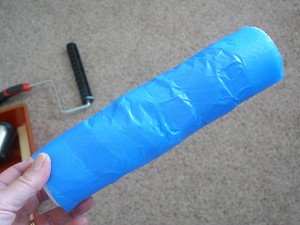 And here's the after. I was a little worried about the color at first. The closet kind of turned into a cave and there's not a light in there. I don't know why, it's a big closet. Hubby says it will be easy to add one though, because we can just bring it through the attic area.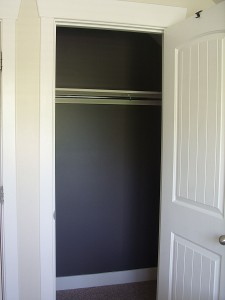 These 2 shelving units came from Ammon and Zach's old closet together. Ammon didn't need all of them now.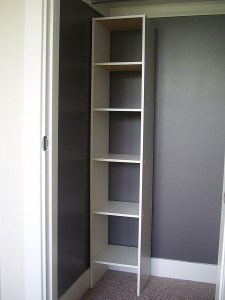 I like these units because they can be moved to where the need is for them. They hook together with these wood dowels.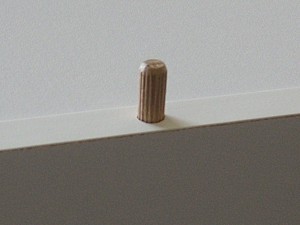 I always attach them to the wall, especially in boys rooms where they try to climb everything. Just screw the attachment to the shelf.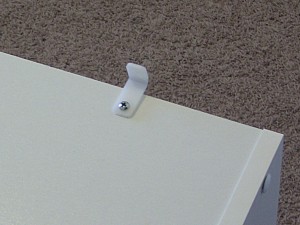 Then to a stud in the wall, once you have the shelf in place.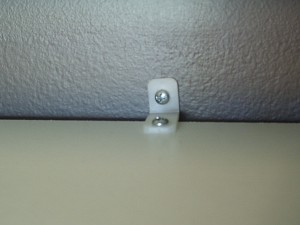 Zach is moving to the smallest room in the house, so these shelves are going to be his dresser. Because his clothes took up 2 units, he needed 2 more for other things. So I took the shelves the games used to be on. We didn't need them for the games anymore, once I got rid of the ones we never play.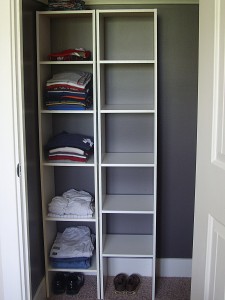 Now he has room for his books and other personal items on the shelves too.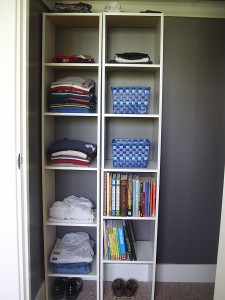 Just past the shelves are his hang up clothes, a laundry basket and a sleeping bag backpack. I can't put anything in front of the attic door that can't be moved easily. This is where the holiday decorations are going to be stored.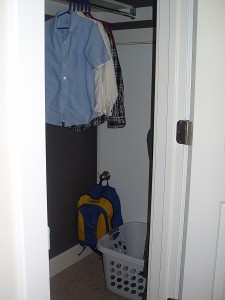 This wall is across from his hang up clothes and is wasted space so I thought I'd make use of it.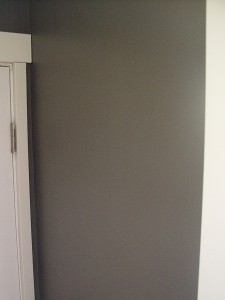 Hubby cut me 2 boards the length I had measured. Then I painted them to match the trim.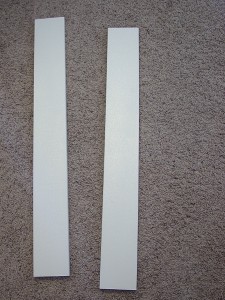 I applied liquid nails to the back of each board.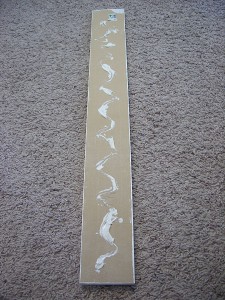 Then leveled it and stuck it to the wall.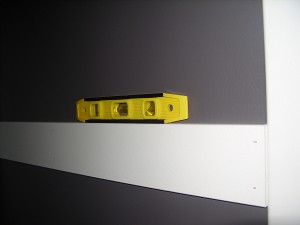 Then I used the nail gun and nailed each board into the studs. I really used the nail gun! Hubby showed me how and I did it and I didn't put a nail through myself. You have no idea how scared of that thing I've been. Can't you just see how proud I am? Yes, I know my hair is in my eyes, I was scared to let go of the gun.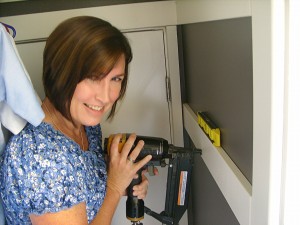 Hubby said the liquid nails and the nails were probably overkill, but I know those boards are staying put and a 10 year old boy can't even rip them off the wall.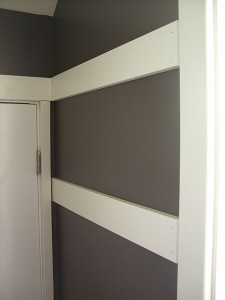 Then I filled in my little nail holes, sanded and did a little touch-up painting.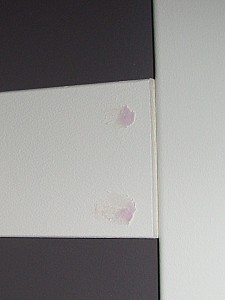 Then I screwed in these hooks I've had in a storage box forever. They were from our old house.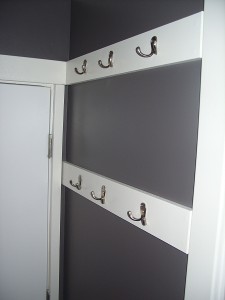 Now he has even more space to hang things in his closet and they don't interfere with the attic door.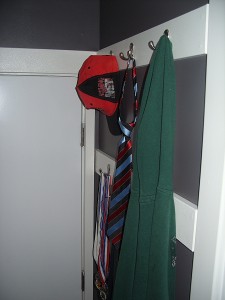 So what do you think? I love his closet and all the space he has and the best part is the total cost of $5 (actually less, because I still have a lot of paint). Are you wondering where all his toys are? I'll give you a hint: bins. That will be coming up soon. Right now I'm really happy with the closet and yes, some of his room will be gray too.