Hang them- I made this last year. It hangs outside my dining area. I love watching it blow and spin in the wind. If you'd like to make one this year, go here for the tutorial.
Clip them- I think I love these tiny clothespins almost as much as I love spray paint and mod podge.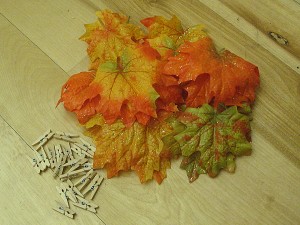 I tied some twine from the stair railing, then hung the leaves by the little clothes pins to the twine.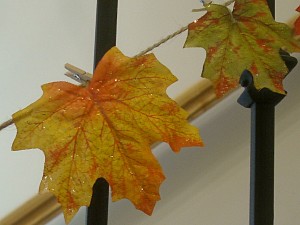 It's kind of a mix between a bunting and garland.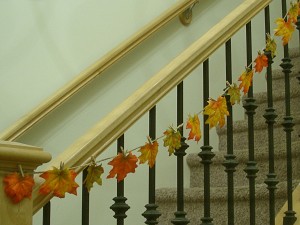 Tie them- Take some twine and just wrap it around a leaf and a vase, bottle or candle.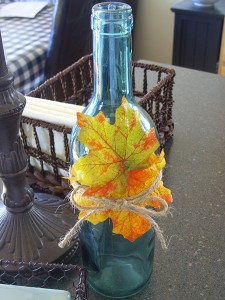 Tie a bow in the front with the twine.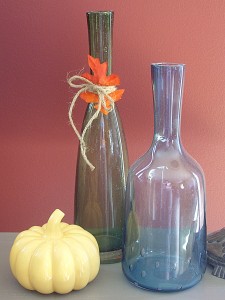 Or tie the leaves to the ends of the twine and wrap it around the lid of a jar.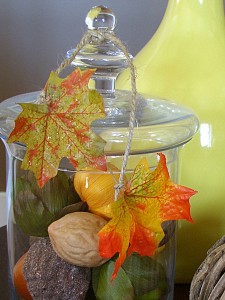 Glue them- I've had snowflakes, hearts, eggs, flowers and shamrocks hanging from these branches, but never leaves. Now I do.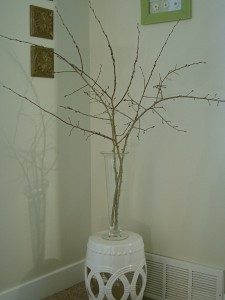 I used a glue gun and glued a few leaves here and there. This is upstairs between Emilee's room and the boy's playroom.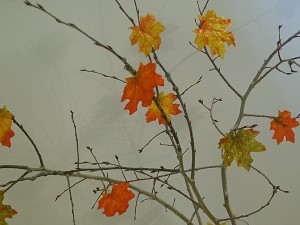 I love how it turned out. I think it's my favorite.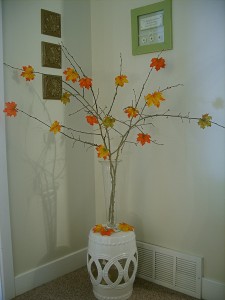 Stuff them- This one was easy. Just take a few leaves and stuff them into a candle holder, vase, bottle, etc. My mom gave me this cute candle holder last month and I love it. Thanks Mom!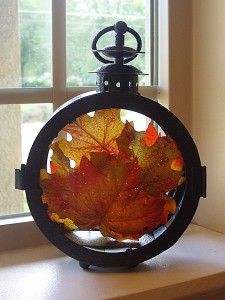 Stick them- I took three foam balls and these cheapy garland leaves and made some cute leaf balls.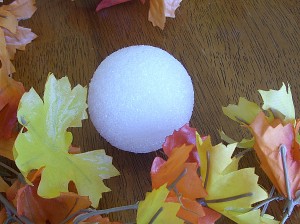 I had to use hot glue in a few places, but usually I could just stick the leaves in the foam and they stayed put.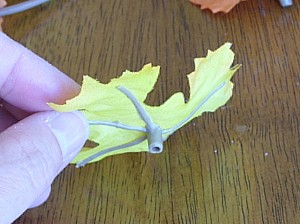 It took about 3 minutes to make each ball.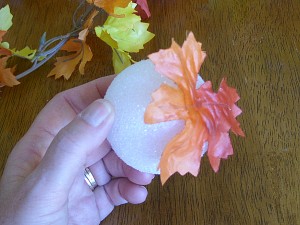 And I wasn't precise at all, just start sticking them in.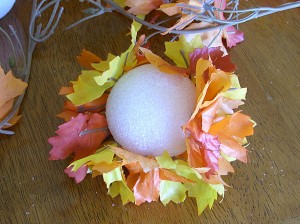 I put all three of them in this pretty white bowl. Maybe I'll add some other decorative balls later.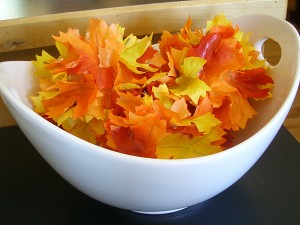 Can you guess the best part about decorating with leaves? Yeap, I had everything I needed on hand so the total cost was $0. Which fits perfectly within my budget. Can you think of more ways to decorate with leaves?
I'm linking to:
Anything Related at All Thingz Related
Show and Tell at Blue Cricket Design
Spotlight Yourself at It's So Very Cheri
Transformation Thursday at The Shabby Chic Cottage
DIY Showoff Fall Festival at The DIY Showoff
Frugalicious Friday at Finding Fabulous
Decorating Your Home at It's a Blog Party
Link Party at Twice Remembered
Fall Get Together at It's A Blog Party
DIY Project Parade at The DIY Showoff
Make It 4 Monday at Cottage Instincts
Countdown to Fall Party at Domestically Speaking
Autumn Leaves Linky Party at Centsational Girl
Saturday Nite Special at Funky Junk Interiors
Check Out These Related Posts