The Winner's of last week's Closet Challenge are:
1st: Love of Family and Home
2nd: 23Thirty
3rd: Apron Strings & Other Things
Congratulations!!! We will be putting you in contact with each sponsor so that you can get that prize…. AND, you qualify for the GRAND prize at the end of this month's challenges!!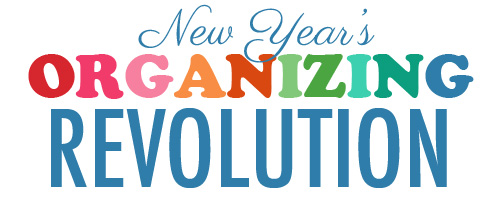 Are you ready for week 4 of our organizing challenge? This is the last challenge week. Our challenge this week is the Living room, Family room, Play room.  This is the room where family's spend a lot of time watching movies, playing games, or just hanging out together. These are rooms I consider vital for organization or they can quickly become cluttered and messy. I like to use a lot of dual purpose furniture in these areas especially since my rooms aren't very large.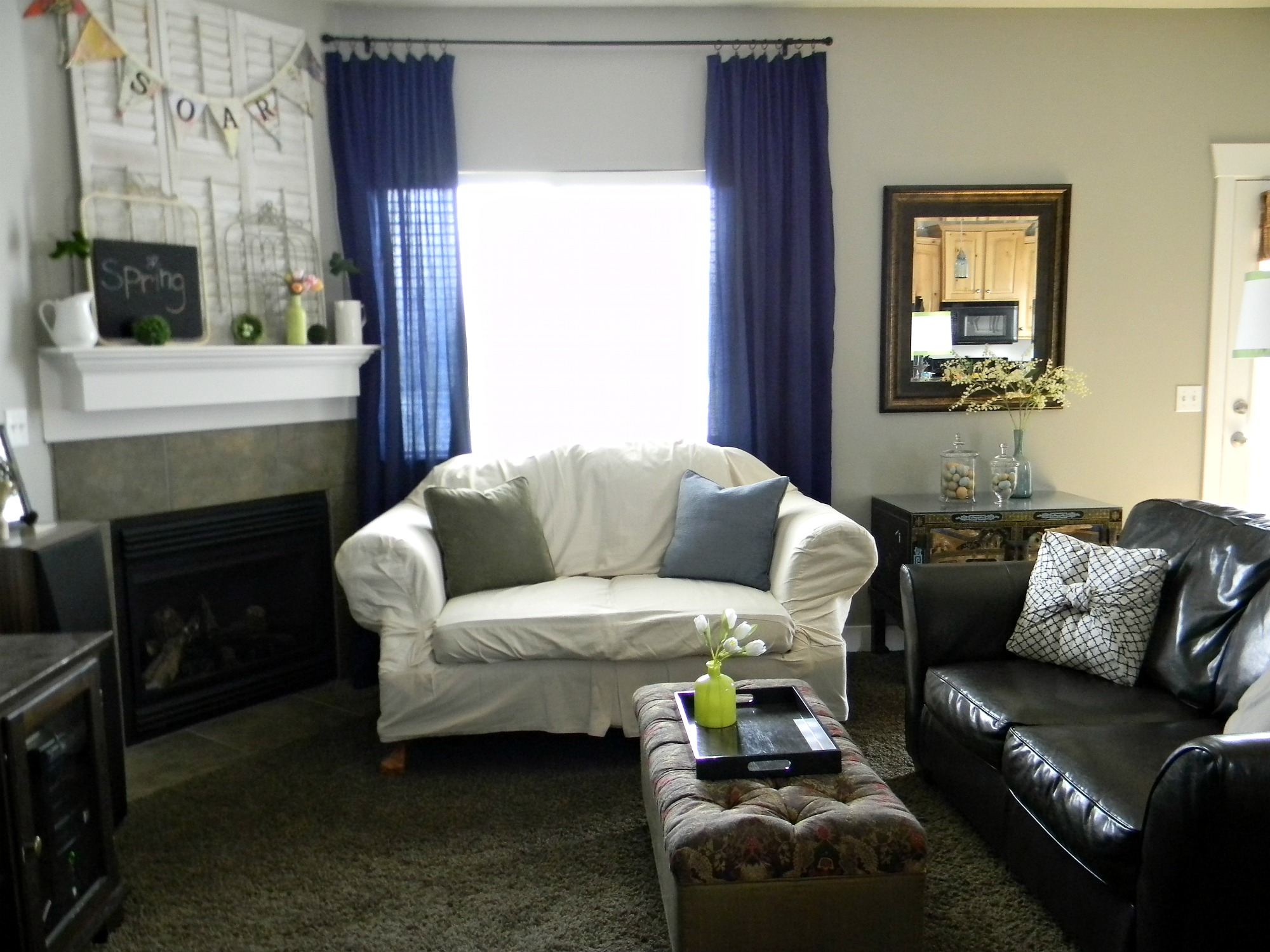 I found this little table at a thrift store for $6 and painted it blue to add color to this area of the room. The little drawer holds coasters. I use baskets in the TV stand to hold video games. And the Chinese chest holds CD's.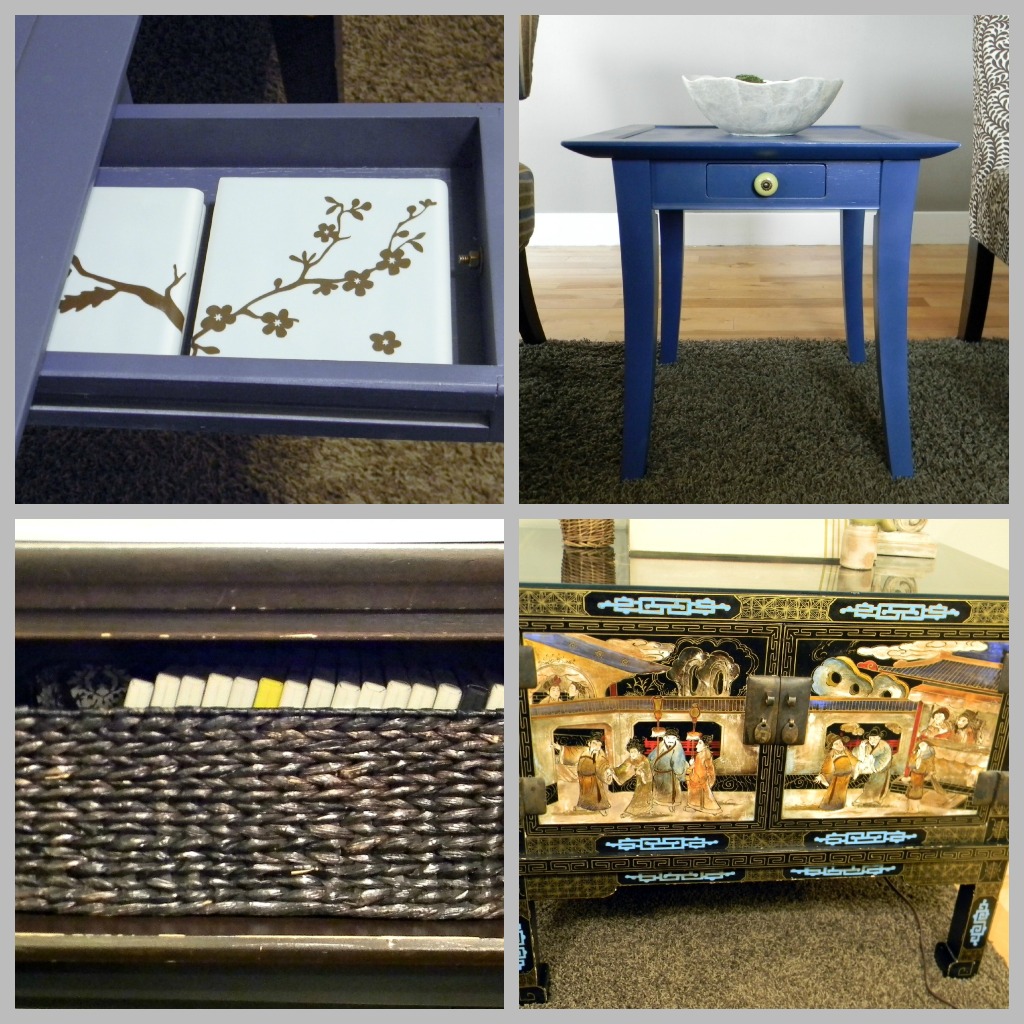 The rattan basket holds blankets to use while watching TV. I like having a storage ottoman instead of a table to hide all the video game supplies. I use a tray placed on top for a flat surface so we can still place things on it.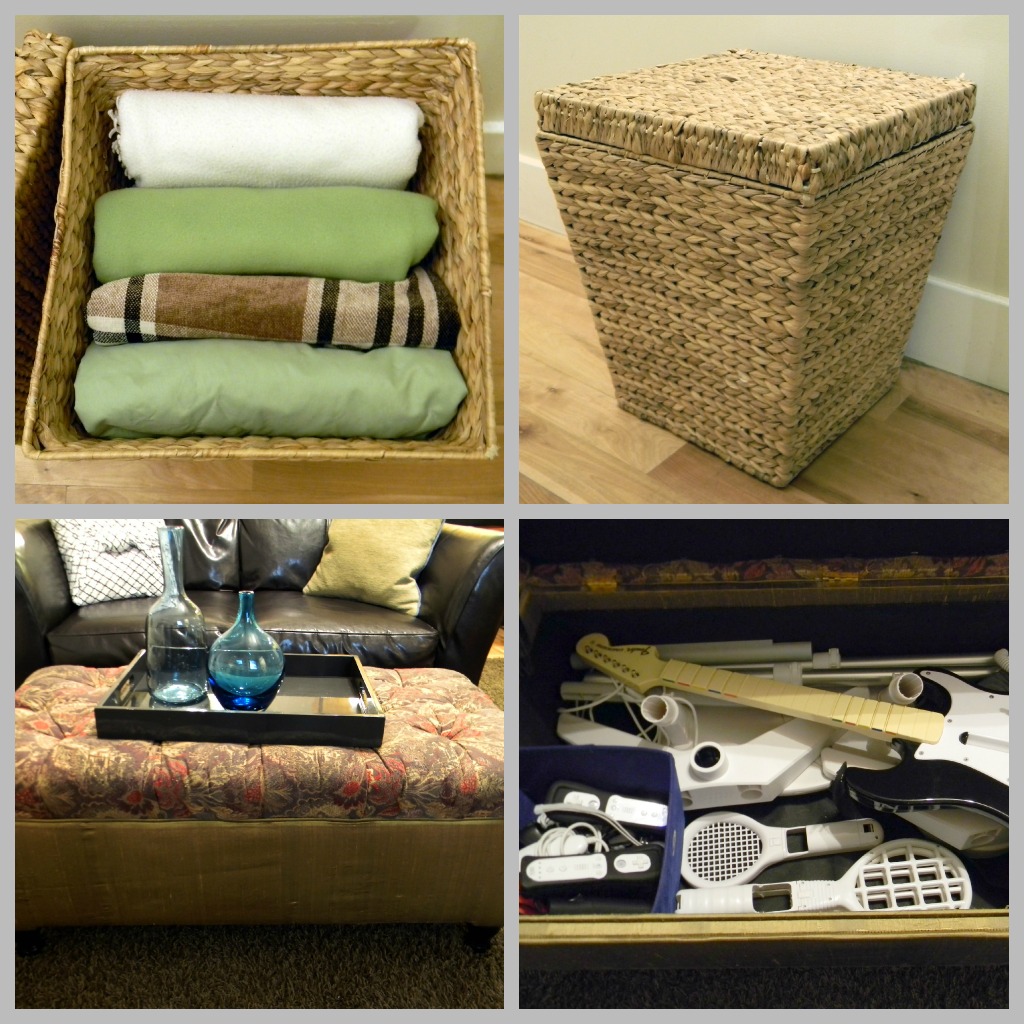 We have a loft area upstairs, between 2 of the bedrooms, where the kids can hang out, read, work on the computer, or watch TV. We also have overnight guests there sometimes.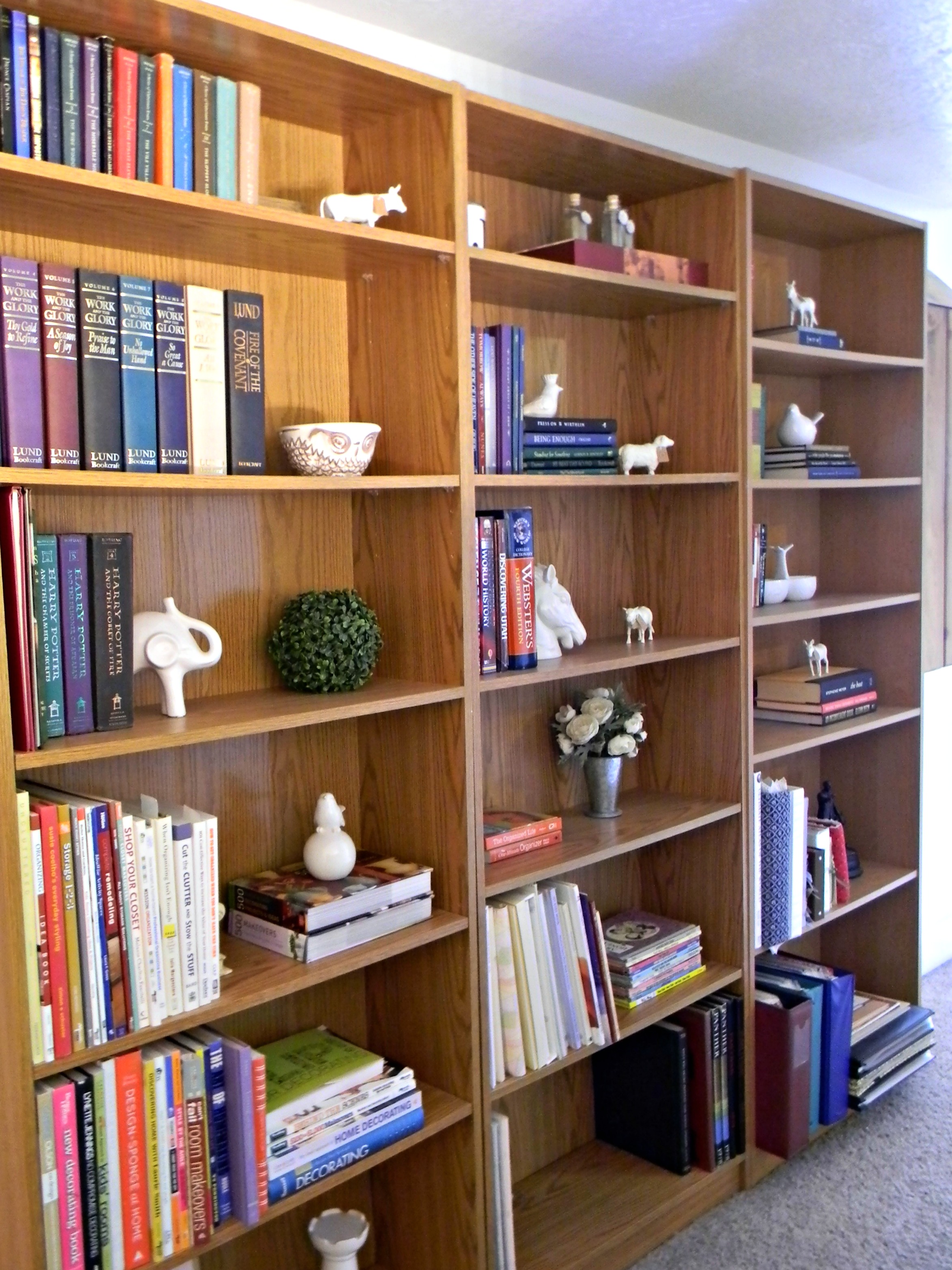 The dresser is perfect for holding bedding for guests and there's also a few empty drawers for their personal items. The futon folds down to a bed and also has drawers underneath for bedding and other items.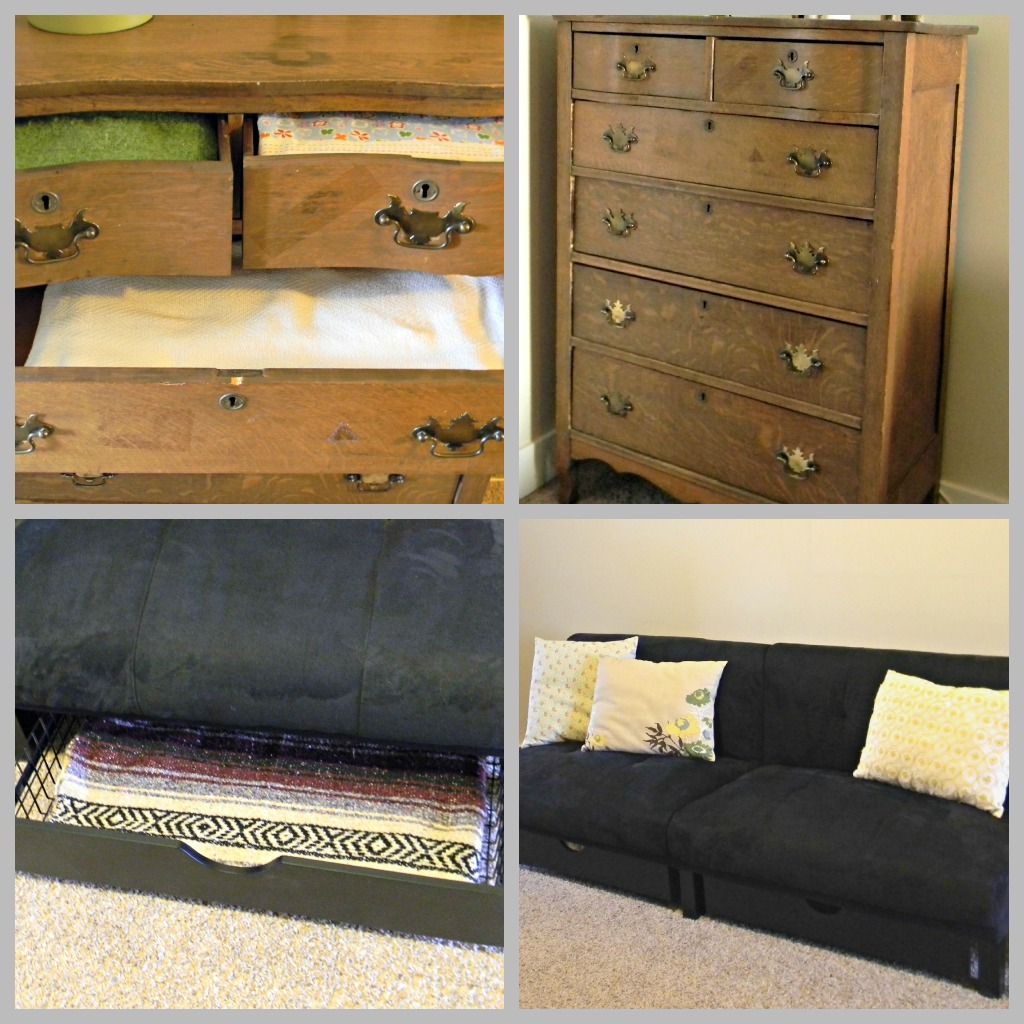 I hope this helped you get some organizing ideas.
Now it's your turn to get your living spaces organized and share them with us. Make sure to link up before Friday at 6am.
To join our week 4 challenge, follow these 5 steps:
1. ORGANIZE YOUR LIVING ROOM, FAMILY ROOM OR PLAY ROOM space.
2. TAKE PICTURES of your organized space. Anna has great photo tips here.
3. LINK UP to the challenge from your blog or Pinterest (by Friday at 6am). Becky has some great tips here.
4. FOLLOW ALL of the hosts of the challenge on Pinterest & Facebook (below).
5. VOTE for your favorite space of the week (Friday-Sunday)
HERE'S WHAT YOU COULD WIN:
1st Place:
JOYS Collection- $139 Value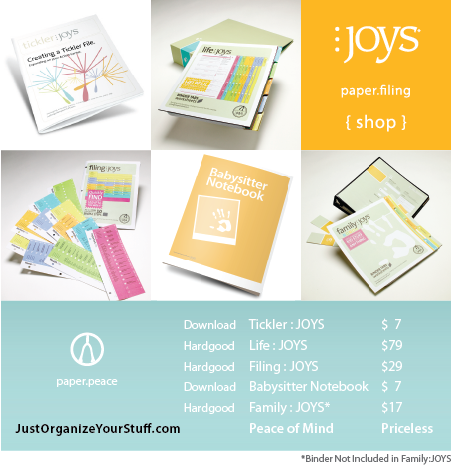 http://www.justorganizeyourstuff.com/paper-organizing-tools
Helping you find paper peace. Just Organize Your Stuff or JOYS is a collection of paper organizing techniques, philosophies, exercises and home filing system tools to help you create your personal home filing solution. A fresh twist on the old-fashioned filing techniques fit for your modern lifestyle.
2nd Place:
$101 Scentsy Gift Pack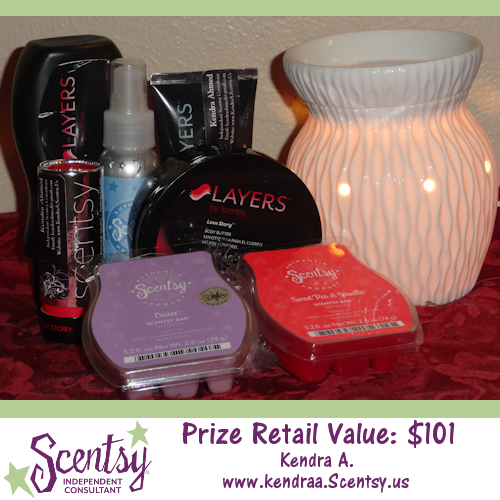 Scentsy started in 2005 after two busy moms presented an idea for a safer and healthier alternative to traditional wick and fire candles. Scentsy wants to help you warm the heart, enliven the senses, and inspire the soul. Currently Scentsy offers wax bars in over 80 different fragrances and over 75 different warmers in three different sizes. Scentsy has a patented technology that uses a low watt light bulb to warm a wax with a low melting temperature. This ensures lower temperatures to avoid burns and no open flames to avoid fire risks. As well, there are no toxins being released into the air, thus a safer and healthier way to make your house smell wonderful! Scentsy also offers a lot more than just warmers and wax though! Scentsy also has room sprays, scent circles, travel tins, buddies & baby buddies for the little ones in your life, and scent paks. On top of that Scentsy also has a layers line that includes great products like shower gel and cream and bath tablets, body butter and body lotion, body spray and solid perfume, dryer disks and wash whiffs, and hand soaps and hand creams. Check out my website to learn more information and shop these great products!
3rd Place: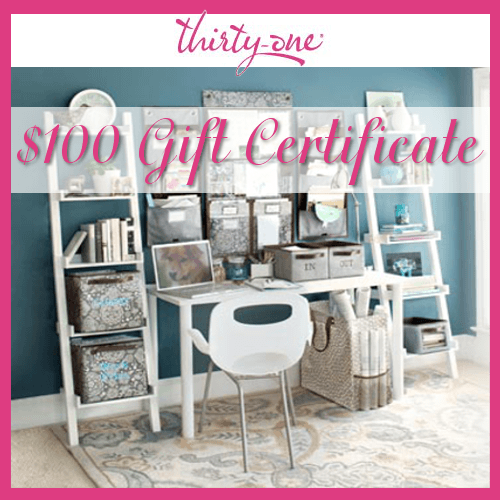 https://www.mythirtyone.com/JessicaWright/
It's a new year! Time to celebrate organizing with Thirty One! Thirty One offers you a line of bags, totes, and organizational items that can be personalized to make them uniquely your own. Whether you are organizing your home, your car or yourself, Thirty One can offer you some great solutions. From large utility totes to hang up organizers to our new "Your Way" collection, Thirty One has something for everyone! Coordinating items means everything will have a place and will be easy to find! We can help with product suggestions, fabric choices and embroidery ideas. The possibilities are endless!
REMEMBER — Anyone who enters each week and wins the top THREE spots will qualify to be entered into a HUGE Grand prize. The Grand Prize will be from Cricut, Oreck, and Office Depot!!!! So, get organizing and enter your pictures cause you might just win something HUGE!
The best part of the challenge… Its SUPER easy to enter & there are only 2 main rules. Follow each of us on Pinterest & Facebook! That's it. Remember, to be eligible to win a prize, you MUST follow us ALL!
Here is a button for you to get started! Put it on your blog and spread the word about this huge challenge! You can also tell your family that you're getting organized this year and "wow" them by actually tackling a room in your home each week!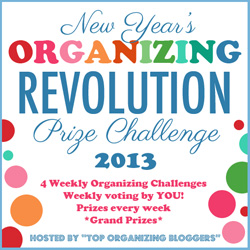 <div align="center"><a href="https://organizeyourstuffnow.com/" title="Organize & Decorate Everything" target="_blank"><img src="https://www.abowlfulloflemons.net/wp-content/uploads/2012/12/OrganizingRevolution250.jpg" alt="Organize & Decorate Everything"  width="250" height="250" style="border:none;" /></a></div>