The winners of last week's office challenge ARE:
1st: Mom, Paper, Scissors
2nd: The Davis Family
3rd: Liza
Congratulations!!! We will be putting you in contact with each sponsor so that you can get that prize….AND, you qualify for the GRAND prize at the end of this month's challenges!!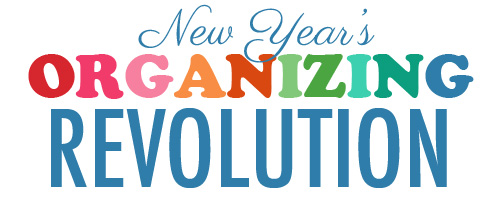 We created this challenge to help you get a jump start on your organizing this year. Our challenge will only last 4 weeks so we encourage you to join every week and be eligible to enter to win some fabulous prizes. There will also be a Grand Prize drawing at the end of the 4 weeks.
Are you ready for week 2 of our organizing challenge? This week it's the kitchen. The kitchen is the main hub of most homes and has to hold so many supplies that it's imperative it stay organized. Sometimes that's easier said than done. My #1 tip for keeping the kitchen organized is: declutter, declutter, declutter! Get rid of the excess! It takes up prime space that is needed for your most used items.
I'm happy to share with you some of my kitchen spaces to give you ideas and get you motivated to get your kitchen in shape. Let's start with the counters. I try to keep my counter top as clutter free as possible. Using a tray is one way to have things easily accessible but also corralled and neat looking.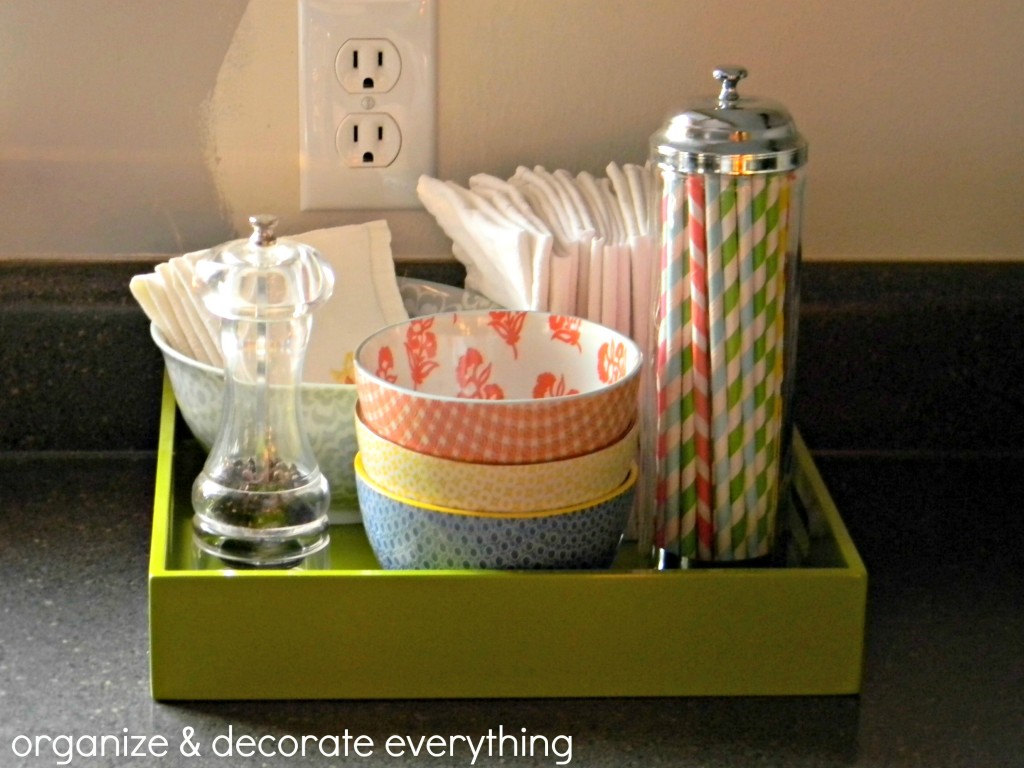 I also made a tray for the drinking cups we use throughout the day. It sits next to our fridge and has also saved space on the top rack of the dishwasher since it's not filled with cups.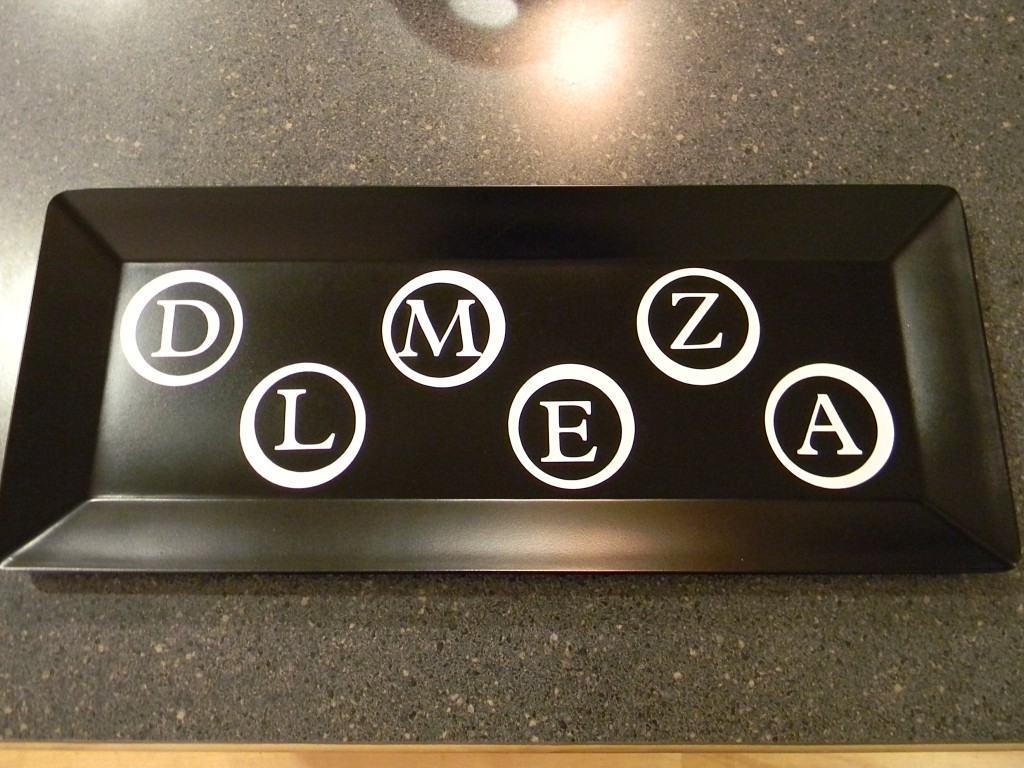 I have very few decorative items on the counters but this tray hides the outlets and plugs coming from it. It makes the area look neat and clean and I can change the decorations with the seasons.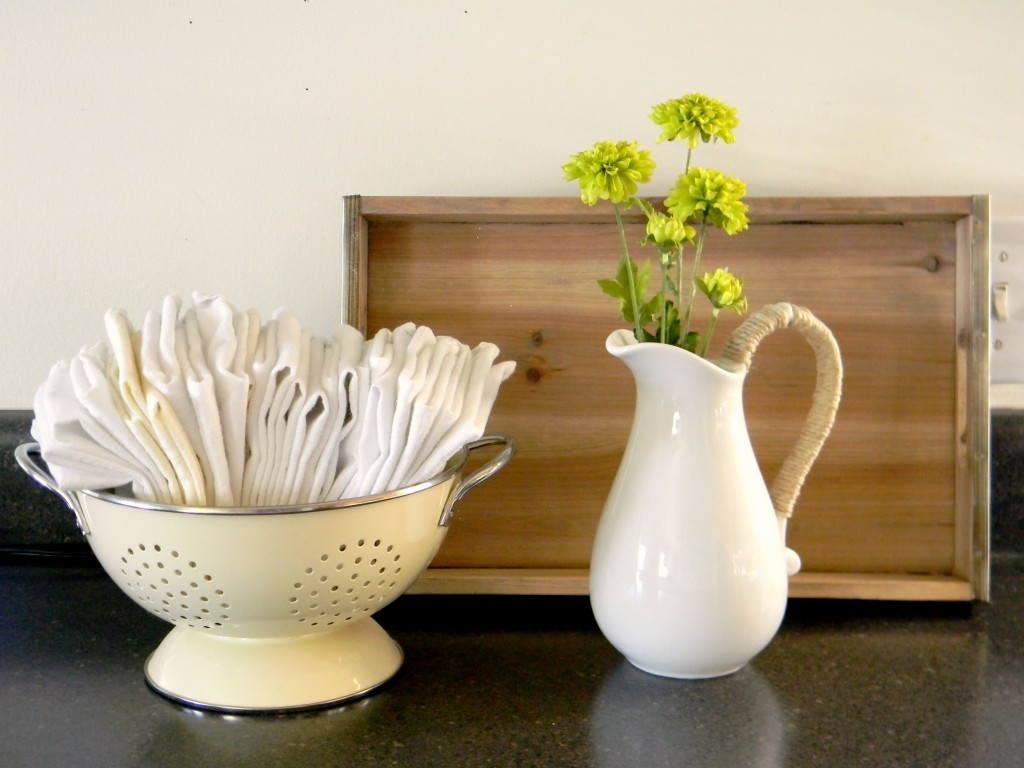 The items on the lower shelves are used daily. Since I have to stand on a stool to reach the highest shelf that's where I store items that are used less often.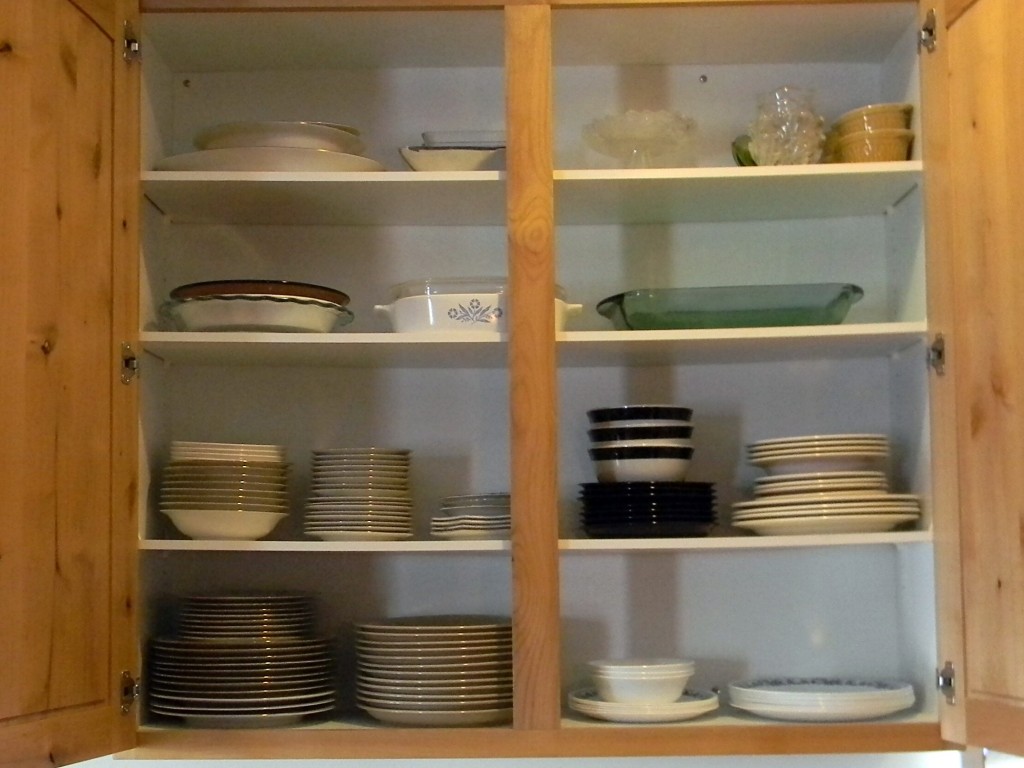 I declutter and purge my drawers about twice a year to stay on top of things. If something hasn't been used in a year I usually get rid of it.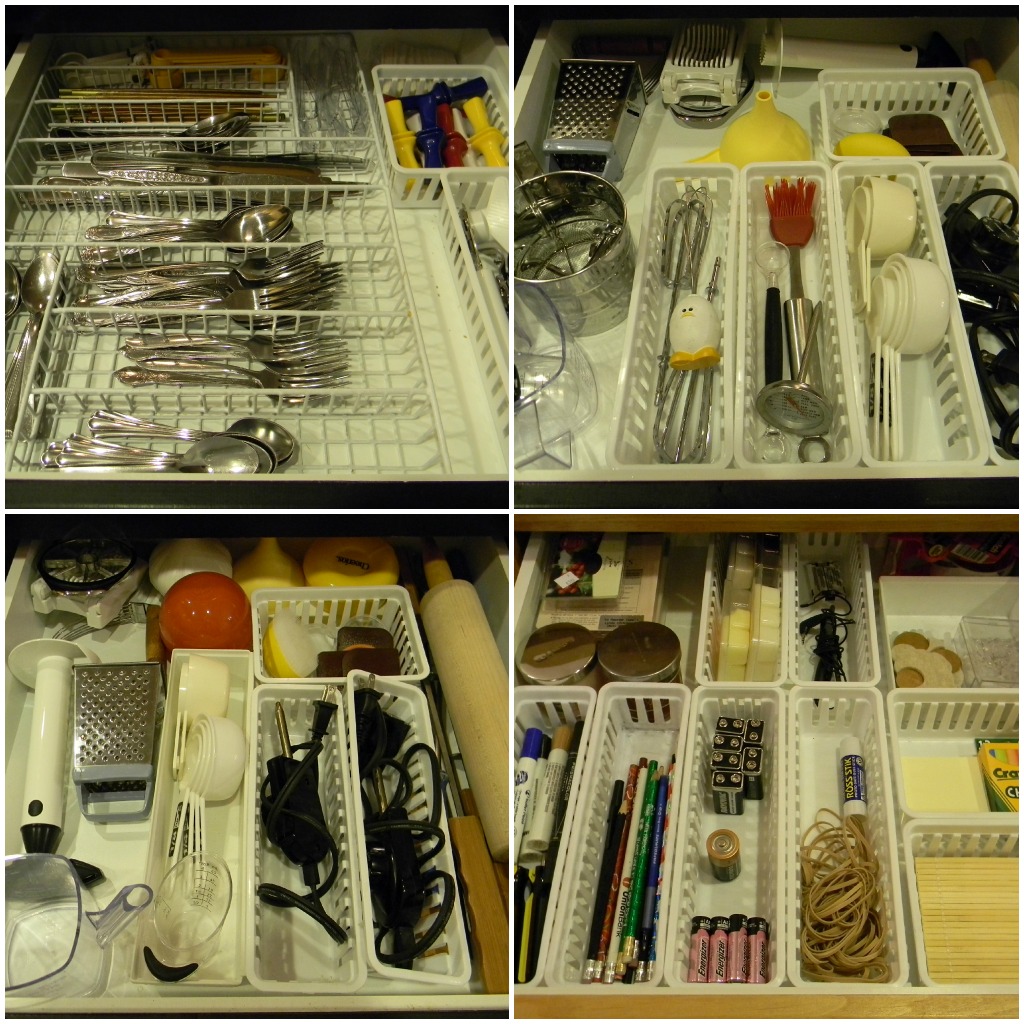 This is the space under the island that used to have a single long shelf. But since every thing I stored under there was so heavy, I broke it. That's when I bought and installed this pull-out cabinet basket. Now I'm saving for one on the other side of the cabinet. It's one of the best things I ever bought for my kitchen.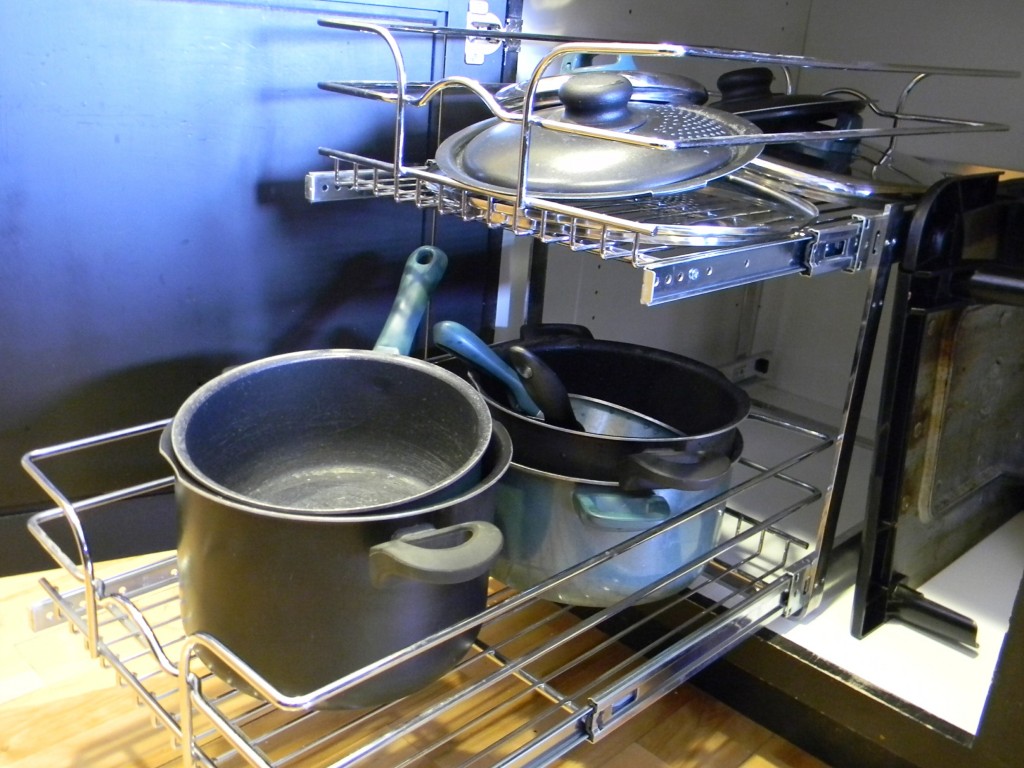 More cabinet spaces. I use my lazy susan for small appliances so they're easy to get to, but don't have to stay on my counter top. I use inexpensive baskets for under the sink storage and a small curtain rod installed on the door holds wet gloves.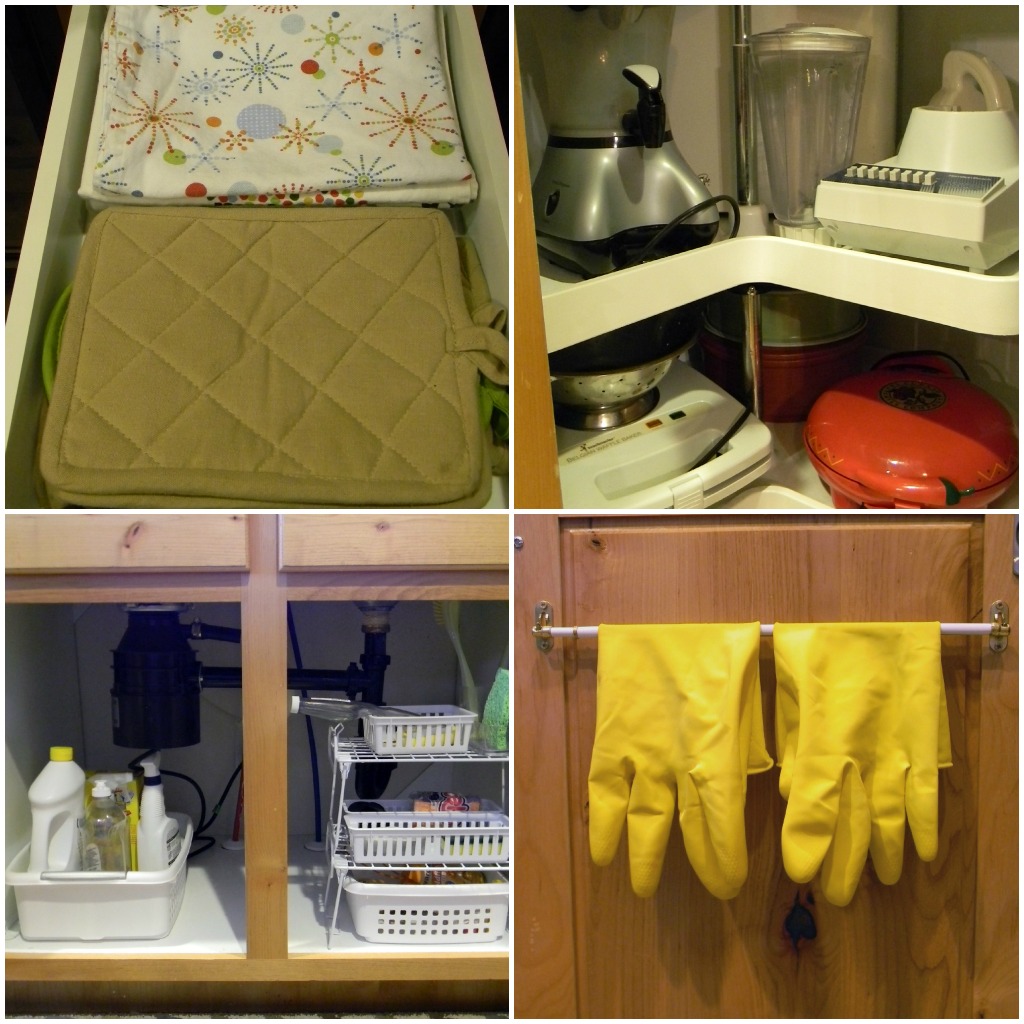 I have a very small pantry so I hung a over-the-door shoe organizer on the inside of the door for spices and small packages. I labeled the pockets using clothespins.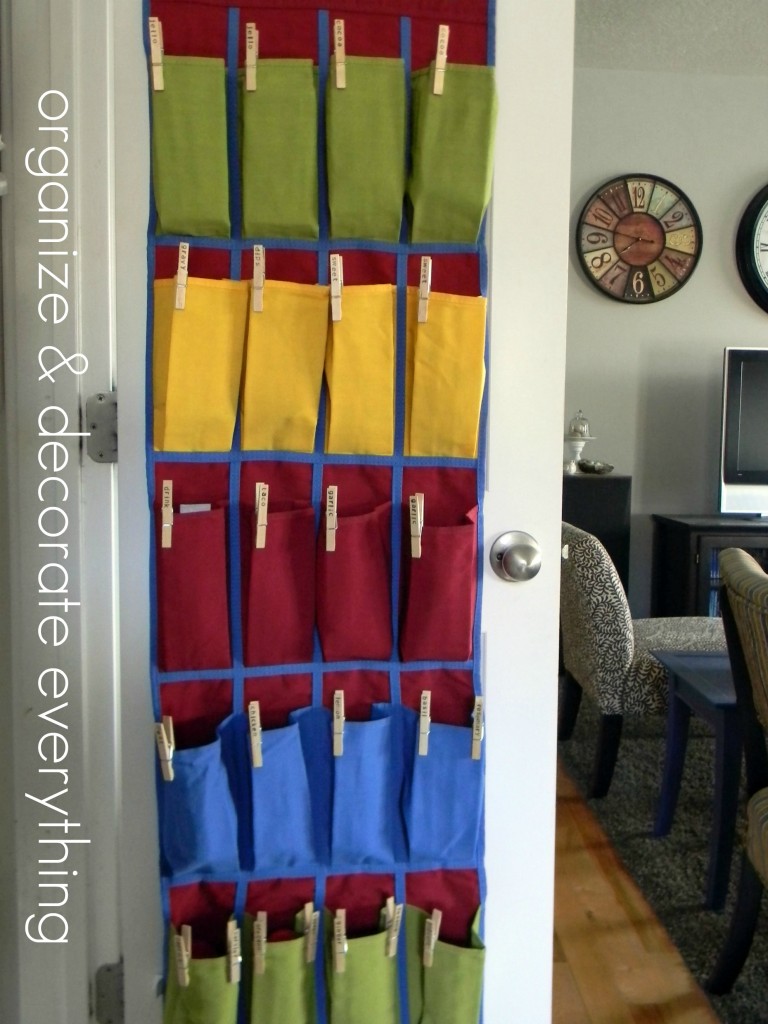 More of the pantry. I use lots of glass and plastic containers to hold everything. Then I use chalkboard labels to label the containers so they can be changed easily.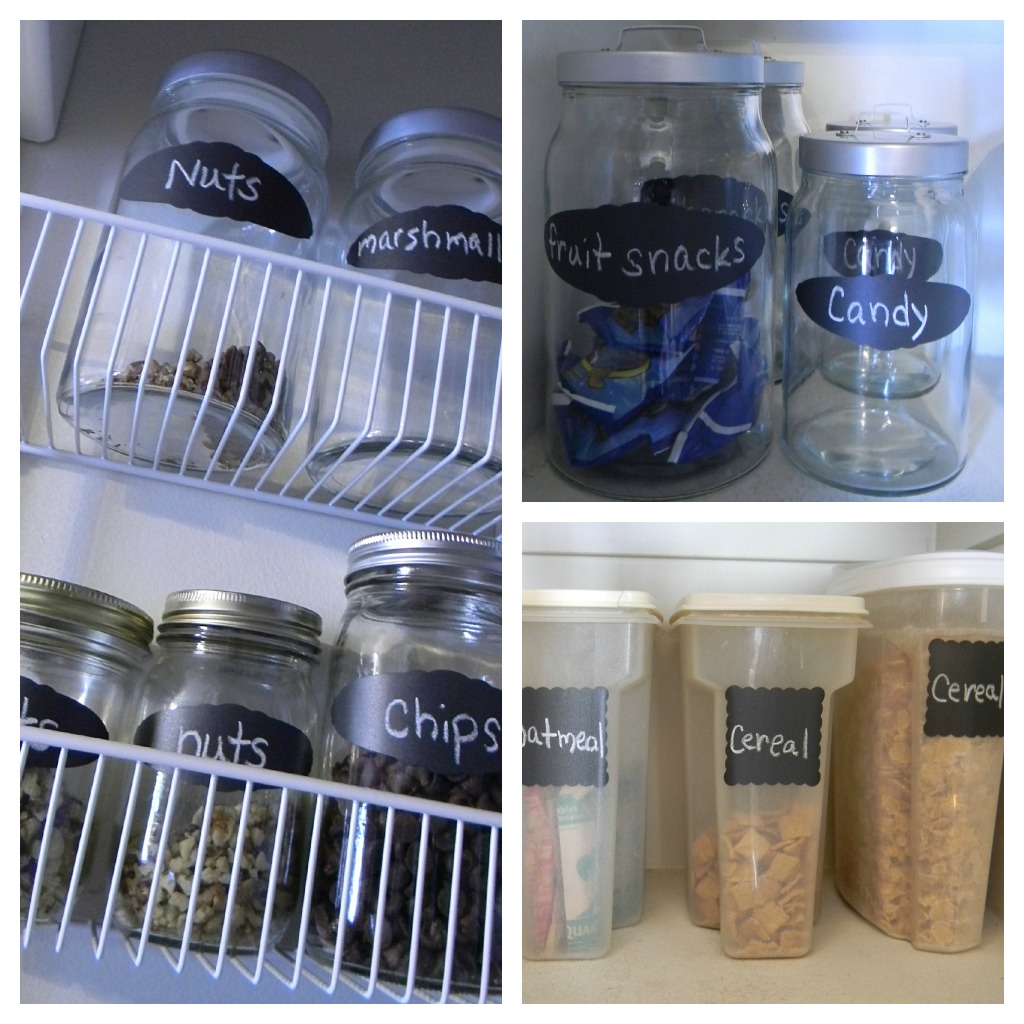 I added long shelves to the dining area to hold my excess dishes that I use when we have guests or parties. I like to use real dishes and not paper plates most of the time when I entertain. Shelves were the perfect answer for this space since floor space is limited. And I love that I can decorate them seasonally.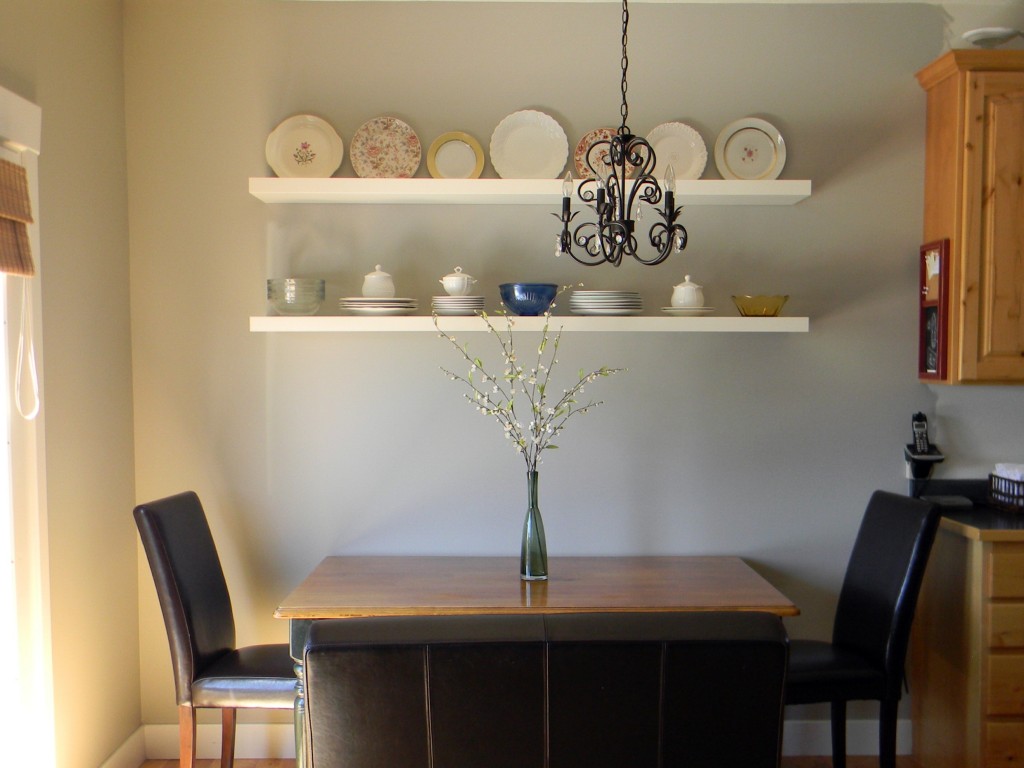 Now it's your turn to get your kitchen organized and share your space with us. Weather it's the whole kitchen, the counter, or some drawers get them organized and share them here.
To join our week 2 challenge, follow these 5 steps:
1. ORGANIZE YOUR KITCHEN space.
2. TAKE PICTURES of your organized space. Anna has great photo tips here.
3. LINK UP to the challenge from your blog or Pinterest (by Thursday night). Becky has some great tips here.
4. FOLLOW ALL of the hosts of the challenge on Pinterest & Facebook (below).
5. VOTE for your favorite space of the week (Friday-Sunday)
HERE'S WHAT YOU COULD WIN:
5 dinners in 1 hour is am make ahead meal plan system for effortless weeknight dinners. This is menu planning made easy. Spend 1 hour in the kitchen and have 5 dinners assembled for the week. Just bake, broil, slow cook or grill to have dinner on the table faster than going to the drive thru lane. Choose from Classic, Clean Eating and Gluten free plans. Each menu comes with recipes (including side dish suggestions), grocery list, assembly directions and cooking instructions all in an easy to follow format.
2nd Place will win:



Don't you hate scrubbing your refrigerator bins and surfaces? So do we! And now you don't have to. We're the husband and wife duo behind Fridge Coaster. Fridge Coasters are super absorbent "liners" that come in different sizes to fit all high traffic areas of your refrigerator. Place under produce in the crispers to keep your veggies fresh longer, or under milk and salad dressing in the doors to absorb drips that would normally dry to the bottom of your bin, ewww. Fridge Coasters provide time saving function and fashion to the inside of your refrigerator. In addition, we're really proud to say that our sustainable product is made 100% in the USA of 30% (or more) post consumer product. We then use a UV-dried printing process which means the ink never bleeds beyond its original printed shape even when fully submerged in water! How awesome is that? Long story short, Fridge Coasters will save you a ton of time and put a smile on your face every time you open the fridge.
3rd Place will win:




$100 Gift Certificate to Clean Mama Printables.
Who says homekeeping and organizing can't be adorable, fun AND easily implemented into your life? Home of the ORIGINAL printable homekeeping kit concept, including The Cleaning Kit, The Budget + Bill Pay Kit, The Resolution Kit, The Starter Kit and more!Clean Mama Printables is THE BEST place to get homekeeping printables that REALLY work for you AND make your life easier! Clean Mama Printables specializes in original organizational documents designed to take the WORK out of organizing your life
YOUR HOSTS
Who are these fabulous organizing bloggers that are hosting? They are listed below. We would love for you to stop by each of our unique blogs and say hi.

The best part of the challenge… Its SUPER easy to enter & there are only 2 main rules. Follow each of us on Pinterest & Facebook! That's it. Remember, to be eligible to win a prize, you MUST follow us ALL!
Here is a button for you to get started! Put it on your blog and spread the word about this huge challenge! You can also tell your family that you're getting organized this year and "wow" them by actually tackling a room in your home each week!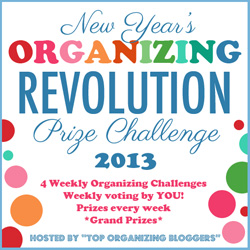 <div align="center"><a href="https://organizeyourstuffnow.com/" title="Organize & Decorate Everything" target="_blank"><img src="https://www.abowlfulloflemons.net/wp-content/uploads/2012/12/OrganizingRevolution250.jpg" alt="Organize & Decorate Everything"  width="250" height="250" style="border:none;" /></a></div>