My love for Wordle will never die. I know I said I was going to cut back on my Wordle usage, but it's so easy to make I just can't help myself. I like instant gratification when it comes to crafting on some days and today was one of those days. Is anyone else having a hard time getting back their groove after Christmas? Anyway, here's my 5 minute Winter Subway Art using Wordle.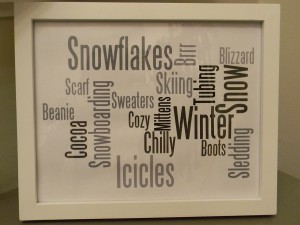 I popped it in a simple white frame and called it good. Love it! I used white, gray and black for a winter-y feel.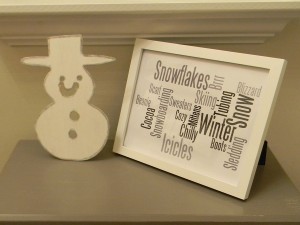 Then added my cute metal snowman. It was bought from Target many years ago for about $1 on clearance.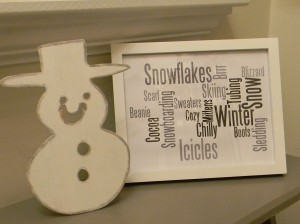 Well , I'm done decorating that area for Winter. Does anyone else have Christmas up through half of their house? I'll be working on taking care of that this weekend.
Make it a Beautiful Weekend!