I have a fairly small closet. It's between a reach-in and a walk-in for both me and hubby. Luckily, I don't have a lot of clothes and I take steps to keep it neat and clutter free.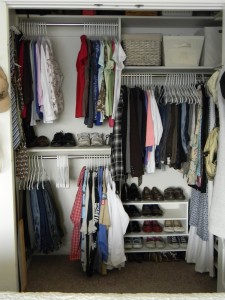 One of the things I do is purge clothing I haven't worn in 6-12 months (8 shirts here).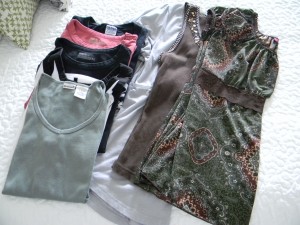 2 jackets, 2 shirts, and 2 exercise shorts ready to be out of my closet. I don't like sweatshirts and I don't wear them often, but I keep 2 just in case.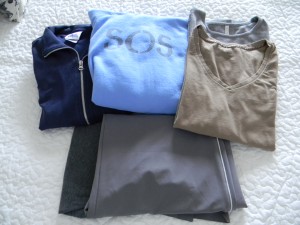 2 more shirts and a scarf to be sold at the yard sale.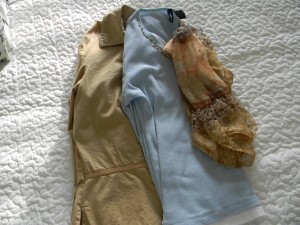 Hubby has worn this shirt once and hates the color. Yeah, I don't like it either.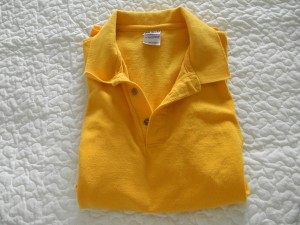 One shirt, 3 sweaters, and a belt that I'd like to recycle into something else. I'll give it a try and see what I come up with.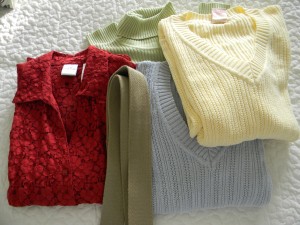 Ohhh, this is Whitney's blessing dress and blanket that I'm giving to her. Hopefully she'll be able to use it on a daughter of her own.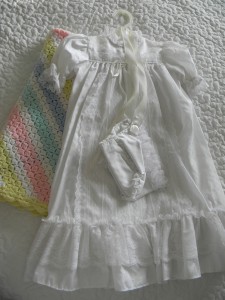 That's 25 items out of my closet and ready to be sold, given to someone else, or repurposed. And now that's a total of 125 items since last Sunday. Not to shabby!
Here's how I keep my closet organized. This is the very top shelf that holds items I don't have to get to often. Mostly computer bags and over night bags for trips. We used to take a lot of weekend trips before hubby lost his job. Hopefully that will continue again soon. The overnight bags are kept packed with most of the essentials. The computer bags hold the necessary cords and accessories for travel. Do you see all the hangers lined up? Yep, they're like that all the time. I've been doing that since I was about 10 (you can ask my mom).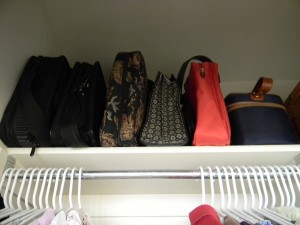 These other baskets hold bags and purses, sheets and pillowcases, my other kids blessing clothes, and things I buy for the kids I want to keep hidden from them (like Valentine gifts, etc.)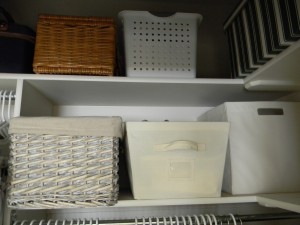 On the side wall of the closet I have shelves for folded clothes, like my exercise clothes and sweaters.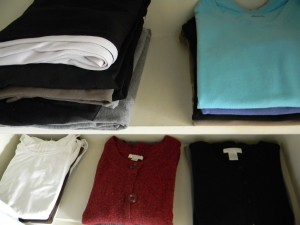 And also some of my shoes. Yes, my shoes always look like that too. I've been doing that since I was 10 also. Hubby's finally used to it.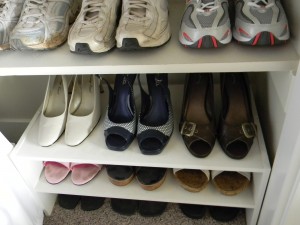 More shoe storage is under my jackets, sweaters, and pants. I just added some stacking shelves from Target. My boots are kept under my bed in a roll out storage drawer.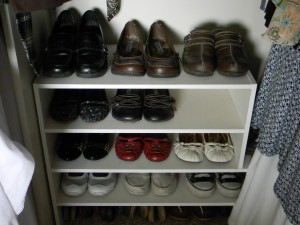 Here are all the things I was able to take from my closet that weren't being worn anymore. I don't believe in keeping things I don't wear. My closet space is valuable since there isn't much of it.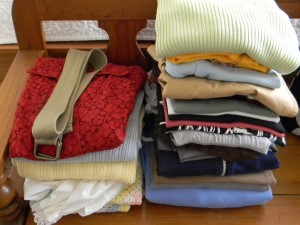 And here's the closet now. I know I don't have a lot of clothes. I don't need a lot, plus I did have a load of clothes in the washer and the dryer at the time (so I do have a few more shirts). I also added hooks on the inside of the closet doors for hubby's hats and some bags and jackets on my side. Hubby's ties also hang from hooks on the side of the closet.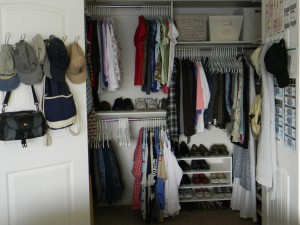 Purging my closet about 4 times a year only takes about 10 minutes each time and keeps it looking the way I need it too.