Use these quick and easy tips to a Tidy Home in 30 Minutes.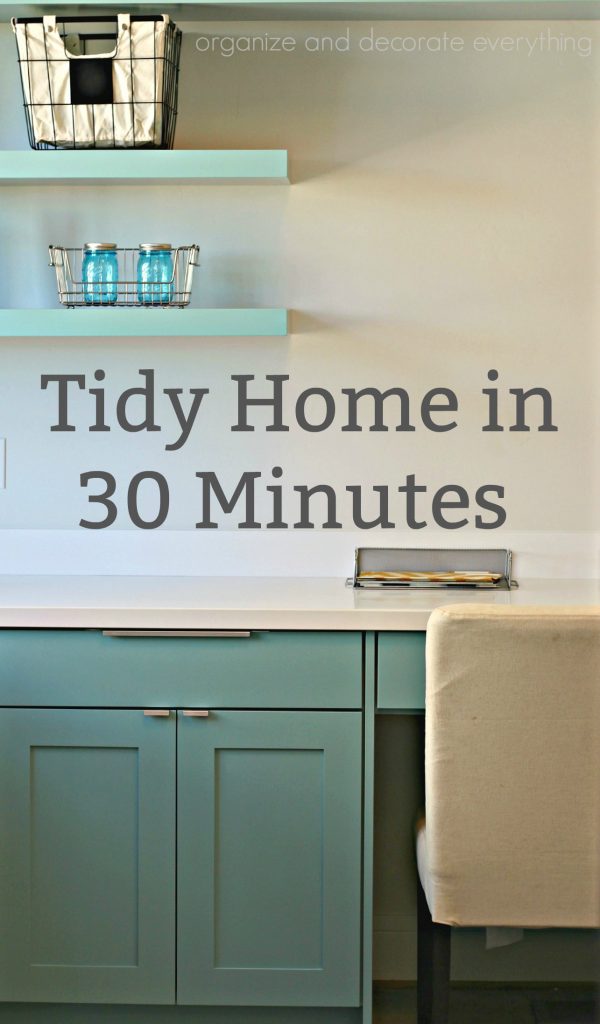 This is the second post in the Jump Start Organizing Series. Check out the first one here if you missed it: Decluttering 101.
I don't know about you but my day goes better when my house is tidy. It doesn't have to be perfect but it's hard for me to function in chaos. Whether you have a busy day ahead or unexpected guest coming over last minute there are things you can do to get your home presentable in 30 minutes.
I'm not talking about decluttering, organizing, or deep cleaning, I'm talking about making your home tidy and good enough for the day. You know how you feel when you get your bed made first thing in the morning and even if you don't accomplish much the rest of the day at least you did that? Once that one thing is checked off your list you can move on and never think about it again. Having a tidy home gives you the freedom to go throughout the rest of your day and accomplish the tasks you need too without worrying about how your house looks or what you didn't accomplish.
Okay, so let's get started! I always set a timer. Mostly because I work faster when I'm racing the clock. I might be a little competitive.
Make your bed (4 minutes) – Get in the habit of making your bed everyday and it becomes second nature. I love walking back into my bedroom throughout the day and seeing my room look 100% better because my bed is made.
Grab a basket (3 minutes) – pick things up off the floor and other flat surfaces that don't belong there and place them in the basket. If you have time at the end of the 30 minutes return them to their proper place. If not, keep them in the basket and return them later in the day when you have time.
Pillows and throws (3 minutes) – Fluff pillows and straighten or fold throw blankets. It makes such a huge difference, similar to what making the bed does. I have a lidded basket I keep my throws in so they're hidden but still easily accessible.
Quick clean kitchen (10 minutes) – Wipe down the counters, place dishes in the dishwasher, wipe out the sink, and hang a clean towel.
Quick clean bathroom (10 minutes) – Spray and wipe mirrors, wipe out the sink, wipe down the toilet, swish the bowl, and hang a clean towel. I use disinfecting wipes for quick cleans.
Remember this is not to replace your traditional cleaning days but to have a tidy home daily. If you'd like to see how I handle regular house cleaning days check out my Cleaning Schedule printable.